About Huai Kha Khaeng
If not the best, Huai Kha Khaeng Wildlife Sanctuary is one of the most interesting and diverse wildlife watching locations in Thailand. Due to relatively clear visibility through the forest and abundance of all sorts of animals it is relatively easy to spot wildlife when compared to the other protected sites in Thailand. The sanctuary is home to the largest population of tigers in Thailand, other interesting species of the sanctuary are banteng, elephants and leopards. The sanctuary also has a rich birdlife.
Inscribed as a wildlife sanctuary in 1974, together with the adjacent Thung Yai Wildlife Sanctuary both sites are the largest protected wildlife areas in mainland Southeast Asia. The sanctuary is located in the Dawna Range northwest of Thailand, covering an area of 2,780 km² in Uthai Thani, Kanchanaburi and Tak provinces.
Huai Kha Khaeng and Thung Yai were jointly added to the UNESCO World Heritage List in 1991.
Seub Nakhasathien who was a former head of the sanctuary committed suicide in 1990 in the cause of nature and left his assets to Khao Nang Rum research station. The news of his suicide got big attention on the media and shocked the nation. Shortly after his suicide, the Seub Nakhasathien Foundation was launched in his memory to crusade against the destruction of nature.
Wildlife
Huai Kha Khaeng is mainly hilly, consists of evergreen hill forest with Eleocarpus dominating the river banks, semi-evergreen, deciduous, deciduous dipterocarp and bamboo forests but also some small pockets of alluvial grasslands.
One big problem with wildlife watching in Thailand is that most forests are so dense, covered with so thick vegetation, making it very hard to spot wildlife. It is very easy to miss animals just a few meters from one, behind the bushes while passing by. In certain wildlife watching areas of Huai Kha Khaeng, that is not the case. The forests in many wildlife watching areas can be very open with big distances between trees and with very little bushes or no bushes at all.
The species found in the sanctuary are a mix of four different biogeographic zones; Indo-Burmese, Indo-Chinese, Sundaic and Sino-Himalayan. Many species found here are rare, endangered or endemic. Around one-third of all mainland Southeast Asia's known mammal species are said to be found in the sanctuary.
Mammals
Huai Kha Khaeng has over 30 bigger/medium size mammal species, of which many are cat species, bovids and primates.
Of the cat species tigers are not easy to find, but Huai Kha Khaeng is definitely the "easiest" place to target them in Thailand. Saying that, one can try to target them for years but can return home without any luck. The visitor center area is definitely one of their habitats, many sightings have been done there, people hear tigers roaring from time to time. According to official records from 2021, there are estimated 89 tigers roaming in both Huai Kha Khaeng and Thung Yai - Naresuan wildlife sanctuaries, the number was down to 42 a decade earlier.
Other cat species found in the sanctuary are; leopards, clouded leopards, jungle cats, fishing cats, marbled cats, Asian golden cats and leopard cats. Compared to the tigers, leopards are more easy to find, likely the easiest place to find them in Thailand. They can with a bit of continuous effort be seen in the forests around the visitor center and along the road into the sanctuary.
The sanctuary is home to the very rare and in Thailand critically endangered wild water buffalos. They are found deep inside the sanctuary, access to the area where they are found is very strict, getting permission is almost impossible. Another endangered species, bantengs are very easy to spot from one of the watchtowers not too far from the visitor center where they show up almost daily, showing side by side with the elephants. Gaurs are the 4th biggest land mammals in the world, they too can be seen from the watchtowers from time to time.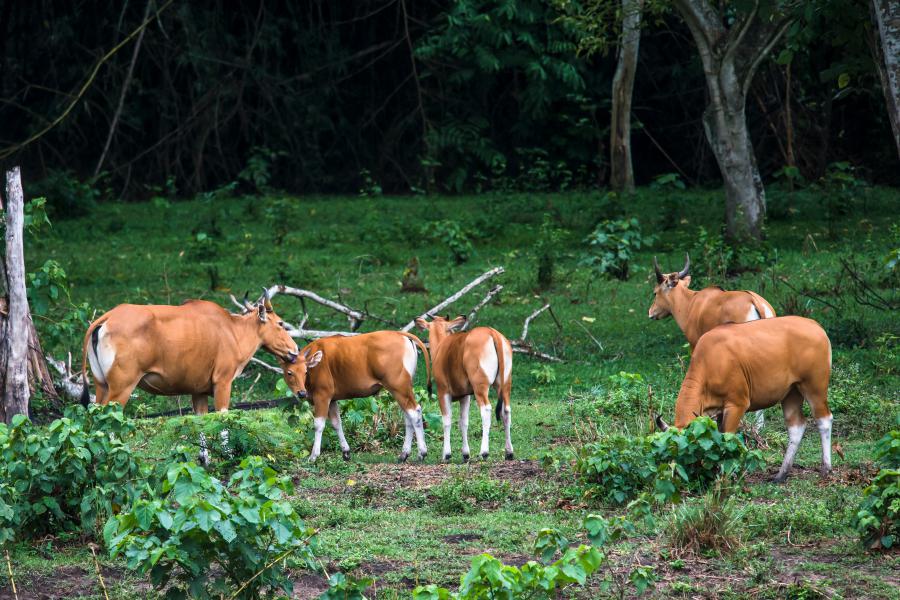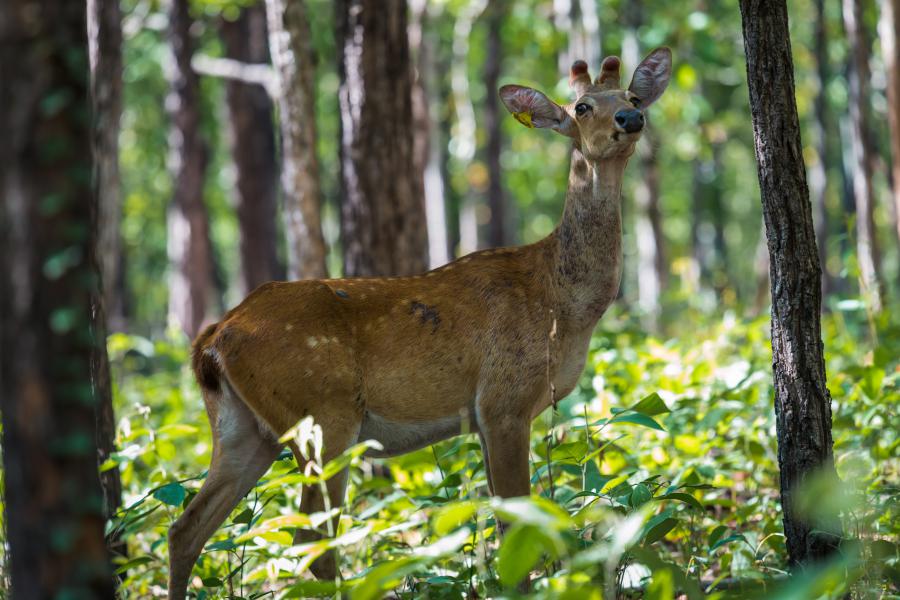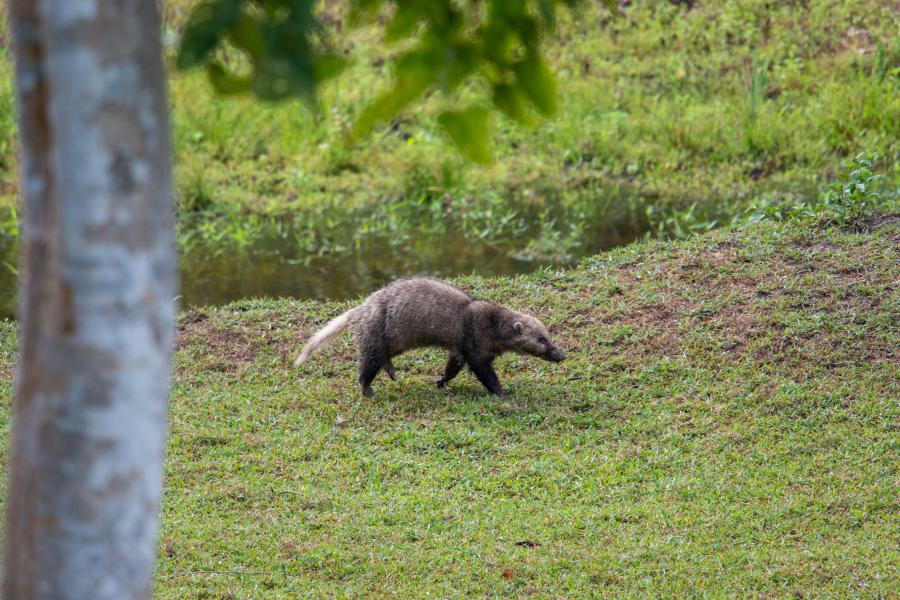 Other interesting mammals found in the sanctuary are; Malayan tapirs, Asian elephants, dholes (Asiatic wild dogs), golden jackals, hog badgers, Malayan porcupines, large-spotted civets, small-toothed palm civets, banded linsangs, binturongs, crab-eating mongooses, sun bears, Asian black bears, Eld's deers, Indian hog deers, Fea's muntjacs, Indochinese serows, Burmese ferret-badgers, European otters, Oriental small-clawed otters, smooth-coated otters and hairy-footed flying squirrels.
The sanctuary is home to many primate species; Indochinese lutungs, Rhesus macaques, Assam macaques, Stump-tailed macaques, Northern pig-tailed macaques, Crab-eating macaques, Indochinese grey langurs, lar gibbons and Bengal slow loris are all found in the sanctuary..
Birds
The sanctuary is an excellent place to see various bird species, probably due to it's remote location, underestimated by birdwatchers. With historic records included, around 270 bird species have so far been reported from the sanctuary. In numbers, perhaps not as good as Doi Inthanon or Kaeng Krachan, but quite a few rare species have been reported from the sanctuary.
Perhaps some only historic records and extirpated, but, some of the rare species recorded from the sanctuary are; red-headed vultures, white-rumped vultures, white-winged ducks, rufous-necked hornbills, Tickell's brown hornbills and greater adjutants.
Green peafowls are common in the sanctuary, seen almost daily from the same watchtowers to see bantengs. Other interesting birds found in the sanctuary are; brown fish owls, Malaysian honeyguides, silver orioles, white-throated bulbuls, masked finfoots, white-fronted scops owls, yellow-footed green pigeons, brown-chested jungle flycatchers, wreathed hornbills, plain-pouched hornbills, great hornbills, grey peacock-pheasants, Kalij pheasants, rufous-throated partridges, eared pittas, rusty-naped pittas, blue pittas, grey-headed fish eagles and lesser fish-eagles.
The sanctuary is also a great place to find woodpeckers, because of good visibility, very easy to spot many woodpecker species like black-and-buff woodpeckers, white-bellied woodpeckers, great slaty woodpeckers, heart-spotted woodpeckers, black-headed woodpeckers and black-naped woodpeckers.
Reptiles
There are currently over 110 reptile species recorded from the sanctuary which also is quite an impressive number, but most species are fairly common in the area or in the country.
Of the snake species inornate kukri snakes (Oligodon inornatus), Indochinese blind snakes (Argyrophis diardii), white-banded wolf snakes (Lycodon septentrionalis), wwin slug snakes (Pareas geminatus), Indochinese ground snakes (Gongylosoma scriptum), Indochinese sand snakes (Psammophis indochinensis), Barron's kukri snakes (Oligodon barroni), black-headed cat snakes (Boiga nigriceps), large-eyed bamboo snakes (Pseudoxenodon macrops), Brahminy's blind snakes (Indotyphlops braminus), mouhot's kukri snakes (Oligodon mouhoti) and banded wolf snakes (Lycodon fasciatus) have all been recorded from the sanctuary.
Of the other reptile species Nutaphand's narrow-headed softshell turtles (Chitra chitra), Southeast Asian softshell turtles (Amyda ornata), giant Asian pond turtles (Heosemys grandis), Oldham's leaf turtles (Cyclemys oldhamii), Malayan softshell turtles (Dogania subplana), impressed tortoises (Manouria impressa), brown tortoises (Manouria emys), variegated bent-toed geckos (Cyrtodactylus variegatus), narrow-tailed four-clawed geckos (Gehyra angusticaudata), Indian forest skinks (Sphenomorphus indicus), small-scaled spiny lizards (Pseudocalotes microlepis), Yunnan dwarf geckos (Hemiphyllodactylus yunnanensis), short-palmed bent-toed geckos (Cyrtodactylus brevipalmatus), Ulber's bent-toed geckos (Cyrtodactylus interdigitalis), Garnot's house geckos (Hemidactylus garnotii), Lang's snake skinks (Isopachys borealis) and Reeves' smooth skinks (Scincella reevesii) have all been reported from the sanctuary.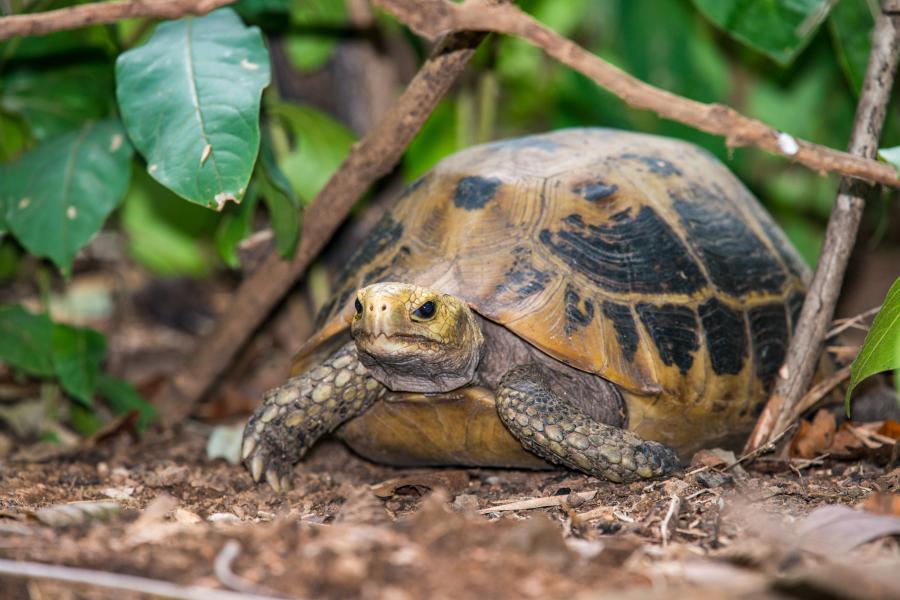 Amphibians
Thanks to two great publications, one by Thunya Chan-aege et al from 1987 and a book titled "Amphibians of Huai Kha Khaeng" by Parinya et al from 2016, the amphibians found in Huai Kha Khaeng Wildlife Sanctuary are surveyed well. There are currently 48 species of amphibians recorded from the sanctuary, of which few interesting ones are; orange bushfrogs (Gracixalus seesom), Doria's foam-nest treefrogs (Chirixalus doriae), white-spotted bug-eyed frogs (Theloderma albopunctatum), big-eared toads (Ingerophrynus macrotis), mabled torrent frogs (Amolops marmoratus), stellar bug-eyed frogs (Theloderma stellatum), median-striped bullfrogs (Kaloula mediolineata), myanmar litter toads (Leptobrachella pelodytoides), Karin horned toads (Brachytarsophrys carinense), Kio flying frogs (Rhacophorus kio), green puddle frogs (Occidozyga lima), spotted-snout frogs (Wijayarana melasma) and Nongkhor foam-nest treefrogs (Chirixalus nongkhorensis).
Visiting
Huai Kha Khaeng is in a remote area of the country, it really needs private transportation to get to, either by car via a tour operator. You are not recommended to try to get there by public transfers. The sanctuary headquarters is about 13.5 km west of Rabam village on the west end of Nakhon Sawan Province in Lak Sak District.
The sanctuary has a headquarters area that comprises administrative buildings, staff accommodations, a campsite, a visitor center but no restaurant.
Huai Kha Khaeng is not a typical tourist destination, not visited much by local or foreign tourists but popular among professionals, mainly for mammal watching. Due to more strict rules, wildlife watching possibilities are also very limited, visitors are allowed to move around with or without rangers in a few designated areas.
There are three watch-towers all not too far away from headquarters. There is quite a good chance to spot rare bantengs and elephants on the first watchtower 7 km east of headquarters. Huai Kha Khaeng is the best place in Thailand to see bantengs.
There are several trails in the visitor center area, all need to be accompanied by a ranger to walk, even a shorter 800 meters long one.Rangers can be arranged at the visitor center.
Leopards are seen relatively often, but one may need up to week(s) patient search to eventually see one. There are up to 3-5 individuals of tigers roaming in the area surrounding the visitor center, but sightings are quite rare because tigers have a huge range to move around.
Stay & eat
There are no accommodations or restaurants inside the sanctuary, however, there are a few basic hotels and restaurants in Rabam village right outside the sanctuary, just a few kilometers from the sanctuary entrance. Visitors are recommended to bring their meals/snacks with them for lunch.
The headquarters area has a spacious campsite but due to an fatal incident with an elephant stomping a sleeping tourist to death in his tent, the campsite has been closed for the last few years. There is no plan to re-open the campsite. Before the closure of the campsite, camping inside the sanctuary was giving the opportunity to see wildlife in the late hours of the day after 4:30 pm closure time.
Entrance fees & opening times
Entrance fees are 200 Baht for foreigners (children 100 Baht) and 20 Baht for Thai citizens (children 10 Baht). Cars charged with 30 Baht, motorcycles/bicycles are allowed inside the sanctuary.
The sanctuary gates are open from 8:30 am until 16:30 pm daily.
The attractions of Huai Kha Khaeng
Headquarters area
Headquarters is situated at the northeast part of the sanctuary accessible from Highway No 3438. The area comprises Sup Nakhasathien Memorial, administrative buildings, staff accommodation and a visitor center.
The campsite and the canteen are closed (see above "camping"). Tourists are advised to bring their meals/water/beverages with them.
Thap Salao River runs through the headquarters area attracting some animals specially during the dry season. The river also has two contributing streams nearby named Nam Khun and Pong, both accessible from two different directions on the surrounding roads.
Trails
The surrounding area has many official trails for hiking, relatively good maintained with good information. There are also several other non-official trails which could be allowed if permission gained from the visitor center.
All trails must be accompanied by a ranger for hiking.
Khao Hin Daeng Nature Trail
This circular and flat trail that starts from the headquarters area, passes through dipterocarp, mixed deciduous and dry evergreen forests. The trail is good for searching for both birds and mammals. There are two options for this trail; a shorter option at 2.2 km and a longer at 4.7 km.
Home of Tiger Nature Trail
A 800 meters long circular trail starting near the campsite.
Khao Pakdee Nature Trail
A 3 km long trail that gradually ascends a ridge into an area of fertile mixed deciduous forest, takes 2 hours to walk. When the rainy season ends and cold season starts, the forest gets mixed colours in red, orange, yellow and red, creating a beautiful view. Various bird species can be seen along the trail.
The trail starts from the same point as the Home of Tiger Nature Trail and splits at a fork north.
Pong Chang Puak Nature Trail
A partly circular 1.5 km long trail passing a small pond and leading to Thap Salao River. There is an observation tower with a view over open space around the river where it is possible to see bantengs, green peafowls, elephants and other mammals.
Pa Teng Rang Nature Trail
A 1.2 km long trail passing by few artificially constructed ponds that attracts animals. The area is a dry dipterocarp forest.
Huai Kha Khaeng Nature and Wildlife Study Centre
Located 40 minutes drive south from headquarters near the Cyber Ranger Station, the site has a study area, a nature trail and a viewpoint.
Cyber Waterfall
Located at the east side of the sanctuary, nearly 700-800 meters from Highway No 3282 on Khok Khwai River.
After a fatal incident involving a foreign tourist, Cyber Waterfall has been closed since 2019.
More photos