About Khao Sok National Park
Being the most popular mainland national park destination in South Thailand, Khao Sok is a rainforest with great diversity of plants and wildlife. It is one of the few national parks in the country easily accessible by public transportation. The nearest towns are Surat Thani, Krabi, Ao Nang (Railay Beach), Phuket, Khao Lak and Koh Samui.
The main attractions of the park are Cheow Lan Lake, iconic limestone hills, waterfalls, raft houses spread over the lae, trails, caves and rivers.
Khao Sok was established as Thailand's 22nd national park in 1980 by The Royal Forest Department. It covers 739 km² land area of Amphoe Phanom District and Ban Takhun District in Surat Thani province and includes the Cheow Lan Reservoir dammed by the Ratchaprapha Dam.
The park is part of the Khlong Saeng - Khao Sok Forest Complex that incorporates 12 protected sites covering an area of 5,316 km², including some offshore islands in the Andaman Sea. The mountains in the park are along the Phuket Range which extends from Phuket Island further north to Ranong Province.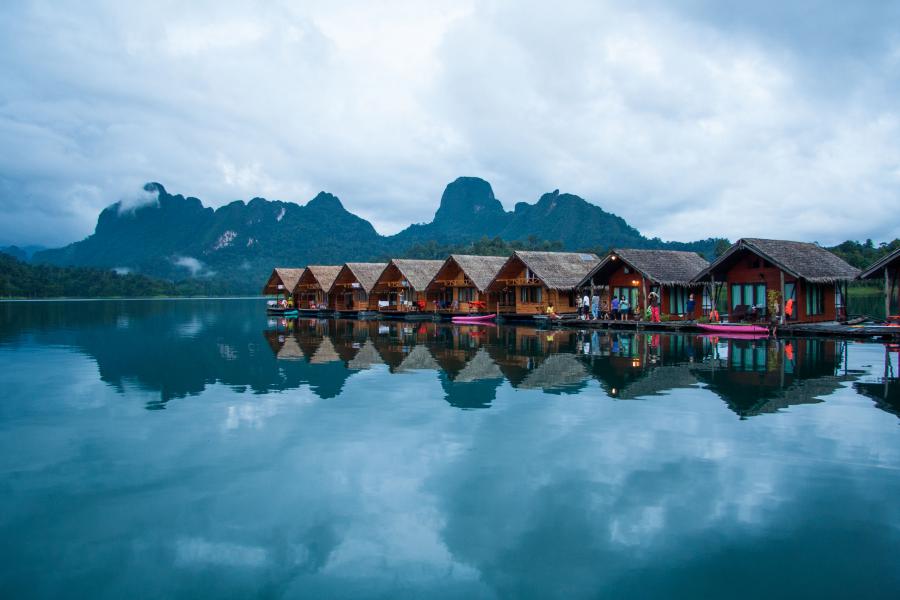 The rainy season is between late April and early December with most rainfall from May to October, the dry season is January to March. Average temperature ranges from 22°C to 36°C all year around.
Wildlife
Many of Thailand's exciting mammal species can be found in the park; elephant, gaur, sambar deer, sun bear, Asian black bear, Malayan tapir, Crab-eating macaque, gibbon, Indochinese serow, mouse-deer, porcupine, marbled cat, wild boar, Asiatic wild dog.
There are around 390 species of birds reported from the park. Although rare and some sightings are decades old, Storm's stork, Malayan peacock-pheasant, chestnut-necklaced partridge are all recorded from the park. Other interesting birds found in the park are; sooty-capped babbler, long-billed partridge, ferruginous partridge, sooty barbet, red-naped trogon. Helmeted hornbill used to be quite common in the park, but due to poaching, it is now a very rare sighting. With a bit of effort, great argus can be seen at the Khlong Saeng tributary of Khao Sok Lake.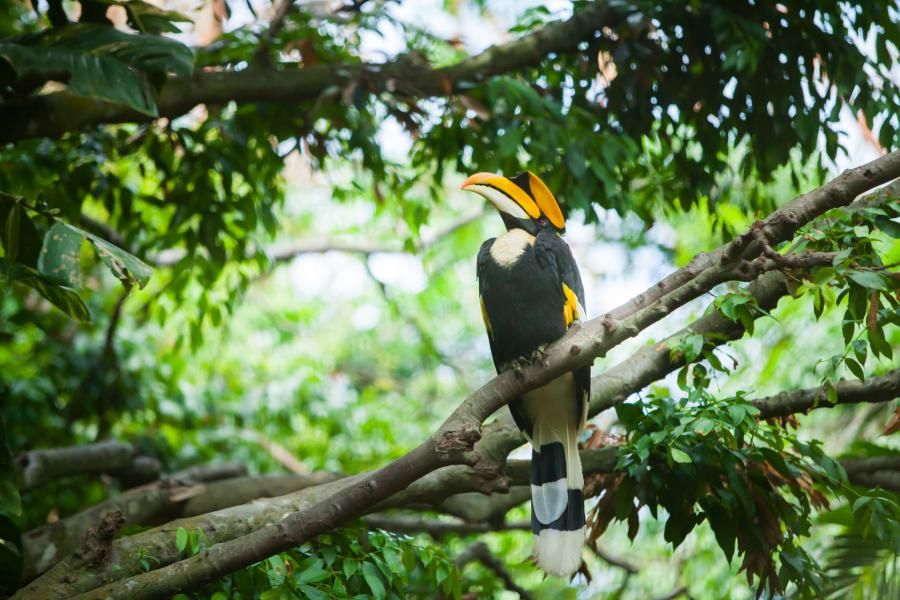 So far, around 90 reptile species reported from the park, there are likely many more. Of the rare reptile species Burmese peacock softshell (Nilssonia formosa), enigmatic leaf turtle (Cyclemys enigmatica), brown wolf snake (Lycodon effraenis), Malayan smooth snake (Liopeltis tricolor), Kopstein's bronzeback (Dendrelaphis kopsteini) are all found in the park. There are three pit viper species found in the park; Sabah pit viper (Trimeresurus sabahi fucatus), Wagler's palm pit viper (Tropidolaemus wagleri) and Malayan pit viper (Calloselasma rhodostoma).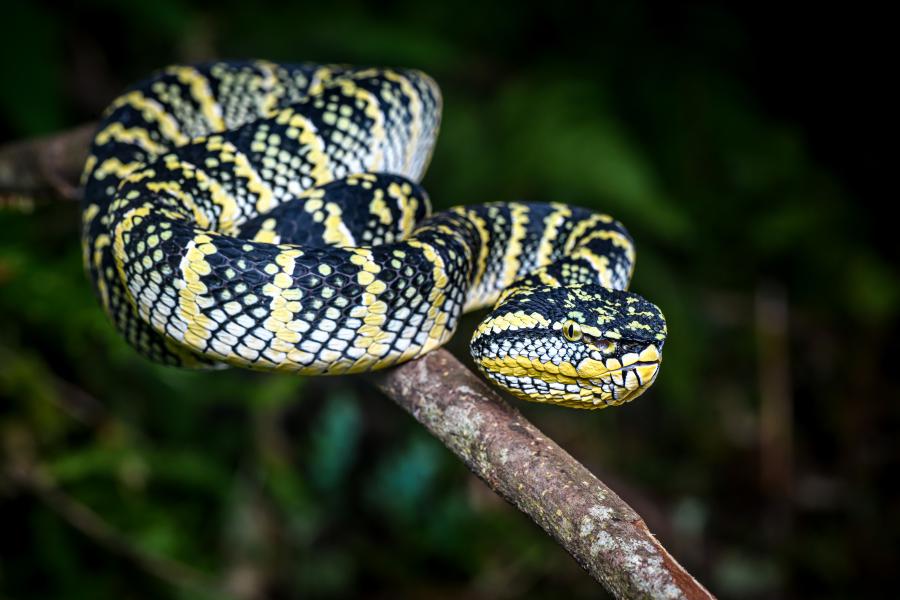 The park is more famous for the symbolic flower of Surat Thani Province, the huge rafflesia flower (Rafflesia kerrii). The flower can be up to 70-80 cm in diameter, blooming only around October to December.
For a long list of species found in the park, please visit the "Wildlife" section of Khao Sok National Park.
Visiting
Before getting to the park, it's good to know that there are two equally popular areas 67 km apart. One is the area around the headquarters generally referred to as Khao Sok or Khao Sok Village, where it is possible to walk a number of trails, visit waterfalls and join various activities in the river. The other hotspot is Khao Sok Lake east of the headquarters, best known for its raft houses, caves, viewpoints, trails, limestone hills etc.
The best way to get an understanding about the whereabouts of the points of interests in the park is to open the interactive map from this page. The map can be zoomed in/out and panned, it also displays other relevant places all over the country.
Getting to Khao Sok Village
Khao Sok Village is easily accessible by public transportation. Buses and minivans from the nearby towns stop by on the main road junction to Khao Sok, 1.8 km from the park entrance.
Many of the hotels in the area are located between the entrance and the main road, others spread out on the side roads, can be up to 2-4 km away. Once dropped off on the main road, if the hotel is nearby, it can be reached by walking, for distant ones a taxi can be arranged on the spot.
The nearest airport is Surat Thani Airport in about 1.5 hours driving distance. Two other relatively near airports are Krabi Airport and Phuket Airport. The flight options to Surat Thani Airport are the cheapest, so are the taxi and public transportation options.
For more info, please visit the "Get there & Stay" section of our Khao Sok National Park pages.
Getting to Khao Sok Lake
Just like getting to Khao Sok Village from the nearby towns, the same bus/minivans can be used to get to Ban Ta Khun village to the east. From Ban Ta Khun, it is possible to arrange songthaews to Khao Sok Lake right on the junction of the road to the lake.
The raft houses and attractions in the lake are only accessible by long-tail boats departing from Cheow Lan Lake Pier (aka Ratchaprapha Pier).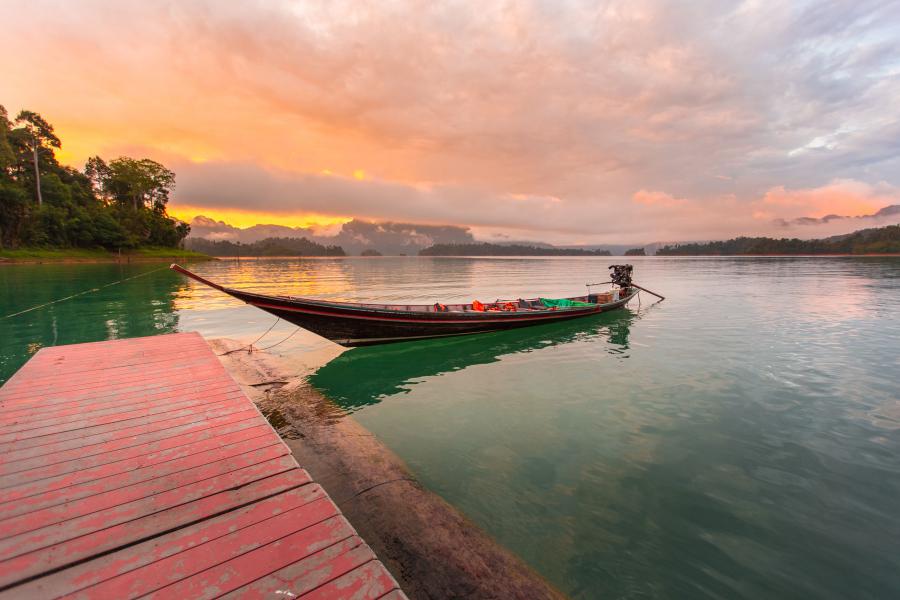 For more info, please visit the "Get there & Stay" section of our Khao Sok National Park pages.
Get there with taxi
To avoid losing valuable time, the best way to get to the park is with a private taxi. A taxi trip from nearest Surat Thani Airport will cost 1,400 Baht to Cheow Lan Lake or 1,700 Baht to Khao Sok village.
For more info about taxi service to/from Surat Thani, Phuket, Krabi, Ko Lanta or Khao Lak, visit our taxi details page for Khao Sok;
Get around in the park
Most hotels in Khao Sok Village are in a few hundred meters up to a couple of kilometers walking distance from the park entrance, others a bit further away.
There are two shorter trails starting from the park headquarters which the visitors are allowed to walk without a guide. All other trails in the park strictly needs guide accompany which can be arranged from the visitor center of the park or from the hotels. While it is possible to walk in and arrange a guide during the low seasons, visitors are recommended to book a guide at least a day in advance during the high seasons.
The only way to get around on the lake is by arranging long-tail boats. A round trip longtail boat for 10 pax is from 1,500 Baht up to 4,000 Baht, the price difference depends on the distance. It is also possible to hire a boat for overnight stay for around 400 to 500 Baht more. These boats can only be arranged on arrival to the pier, can't be booked in advance.
Entrance fees & opening times
The entrance fees are 300 Baht for adults and 150 Baht for children. Thai citizens pay 40 Baht for adults and 20 Baht for children. The entrance fee is valid for multiple days only if stayed inside the park, either when camping or staying at raft houses in the lake.
The park is open from 6 am to 6 pm daily, all year round. It is possible to enter the park in the evening with a guide for a night safari.
Activities
What not to do, ethics
Some resorts in Khao Sok offer pathetic and cruel tours with elephants in captivity. If you are considering attending one, please search and read about "elephant crushing" and see videos on YouTube about the subject. Please avoid elephant or tiger activity anywhere in the country. Bear in mind that all companies will claim that they treat the animals humane, it is never the truth. Some claim to be a "elephant sanctuary'' where sick or old, elephants still find their way to the "sanctuary" by trading, papers often fake
Hiking
There are plenty of trails around the headquarters area and the lake. Only a couple of these trails can be walked without a guide. Visitors are not recommended to walk longer trails on their own by breaking the national park rules. There is a significant chance to get lost.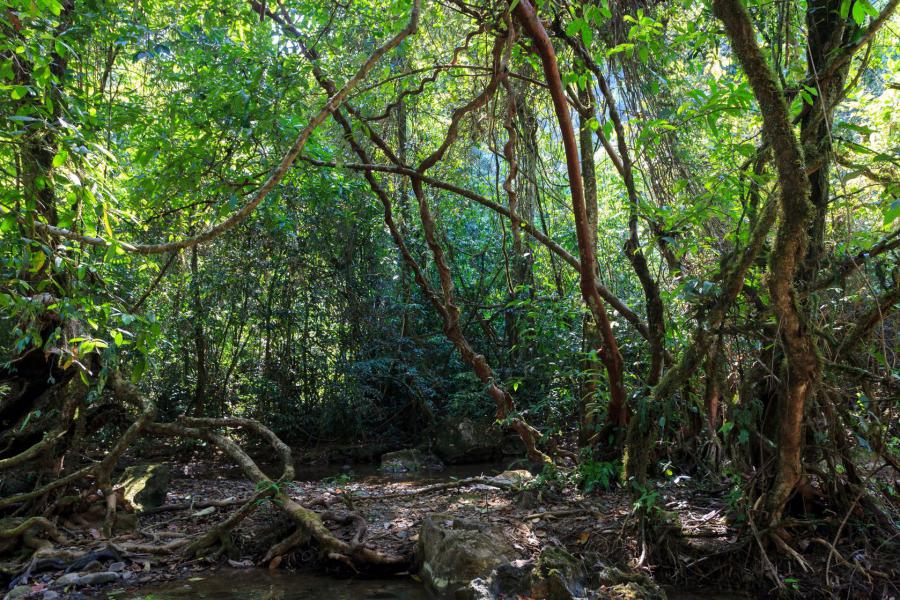 Local guides to walk the trails can be arranged from the visitor center or from the agencies and hotels in Khao Sok Village. The guides must be arranged latest a day in advance, 600 THB for half day or 1,200 THB for a full day. Night hiking costs 600 Baht for 6 pm till 9 pm.
For hiking around the lake, guides can be arranged in combination with booking raft houses.
Waterfalls, caves, limestone hills and viewpoints
The accessible waterfalls can only be found along the trails from the headquarters in Khao Sok and at a couple of spots not too far from the main road 401 south of the park. Impressive limestone outcrops can be seen at many spots in the national park; in Khao Sok Village, along the main road and on the lake. Most of the impressive caves are around Khao Sok Lake, reached by longtail boats.
Water activities
If there is not too strong current, it is possible to swim in a few ponds along the Sok River, either along the main trail west from the headquarters or in Khao Sok Village. If enough water in the river, it is possible to attend canoe or tubing activities, can be arranged from the hotels on arrival. Khao Sok lake is a great place for canoeing and swimming.
Wildlife watching
Some tour companies and websites advertise Khao Sok as a popular destination to see tigers. There have been tigers in Khao Sok, there may still be a smaller population deep inside the inaccessible areas, but no one has seen one in the park for decades.
The park has some of the most exciting mammal species found in Thailand, but it is very rare to see any around the popular touristy areas. Chance to see mammals are bigger along some of the trails in Khao Sok Lake. There are few trails where elephants and gaurs can be seen sometimes.
Around the headquarters long-tail macaques and banded-langurs are common. Sometimes boars or deer may show up on the trails. Magical call of the gibbons may be heard from the hotels near the national park in the morning.
The entire park is a great place to find reptile and amphibian species. Many of Thailand's exciting lizard, snake and amphibian species can be found along the trails to the waterfalls. Best time to find the reptiles and amphibians is during the evening.
Tours
Various tour companies offers up to 3-4 days tours including hiking deeper into the jungle on alternative trails all over the national park. Some of these trails are around Cheow Lan Lake, accessible with long-tail boats, leads to various caves and viewpoints. Tour packages may also cover tours to other protected areas around Khao Sok National Park.
It is common that raft houses are booked in combination with a tour in Khao Sok Lake, either with a private guide or by joining a group. While a private tour can be flexible, group tours follow a strict itinerary.
Following are few tour packages that include accommodation on Khao Sok Lake;
Group tour
Private tours
Stay & eat
There are many hotels in Khao Sok village, some in very short walking distance from the entrance, others a bit far. For the visitors who prefer camping, there is a campsite right next to the visitor center. For more info about camping, check "attractions" section further below.
Raft houses are one of the main attractions of the park with beautiful views over Khao Sok Lake. There are many caves, viewpoints and trails, all accessible with boats operating from the raft houses. There are also quite a few hotels near the Ratchaprapha Dam.
Eat
There are plenty of restaurants in Khao Sok Village. There are no restaurants inside the national park, but there are many restaurants in walking distance just a few hundred meters from the entrance.
Raft houses in Khao Sok Lake have their own restaurants.
Phone(s)
You are recommended to ask a Thai speaking person to call on your behalf.
077 395 154
077 395 155
077 395 139
The attractions of Khao Sok
More photos