About Ao Phang-Nga
Declared as a marine national park in 1981, Ao Phang Nga National Park is situated along the coast of Phang-Nga Province south of Thailand in the Andaman Sea. The popular attractions are James Bond Island, other picturesque limestone karst islands, a number of white sandy beaches and a few caves. The turquoise waters surrounding the islands are consistently calm, very ideal for canoeing. There are interesting canoeing spots that are sea level caves, leading to inland lagoons.
The park encompasses an area of 400 km², including the biggest native mangrove forests in Thailand along the mainland and many islands. The nearest popular towns and tourist destinations are Phuket, Phi Phi Islands, Krabi, Khao Lak and Ko Lanta.
Besides the natural beauties, the park also has a few archaeological sites that date back more than 1,000 years but also some prehistoric paintings on the cliffs. Stone tools and pottery items have been found in some sites.
Ao Phang Nga Bay is about 35 km from Rassada Pier in Phuket, about 50-65 km from various piers in Krabi and about 70 km from Khao Lak.
Wildlife
The native mangrove forests along the coast of Phang-Nga Province of which a significant bit is within Ao Phang Nga National Park is the largest in Thailand. The mangrove forest is home to a unique habitat for some species.
Some of the mangrove plant species found along the coast are; Rhizophora apiculata, Rhizophora mucronata, Avicennia alba, Avicennia officinalis, Bruguiera cylindrica, Bruguiera parviflora, Xylocarpus granatum and Xylocarpus moluccensis. The islands are covered with Hopea ferrea, Parkia timoriana (the pea plant), Acacia catechu, the mulberry tree Artocarpus lacucha, Garcinia cowa, Morinda coreia, Colocasia gigantea, Pandanus monotheca and Cycas ingas.
Around 180 bird species are recorded in the park. Some rare bird species are Kamchatka leaf warbler, Von schrenck's bittern, brown-winged kingfisher, scarlet-breasted flowerpecker, spotted wood owl, Malayan banded pitta, lesser fish eagle, thick-billed spiderhunter, red-crowned barbet, chestnut-bellied malkoha, buffy fish and lesser cuckooshrike. The park is a great place to find mangrove pitta. The park is also an ideal place to find seven different kingfisher species. Great hornbills and Oriental pied hornbills are the only hornbill species found in the park. The headquarters area is an easy place to tick off most mangrove birds but there is limited access into the park from there.
There used to be white-handed gibbons and serows in the park, but extirpated for a while. Some mammals found in the park are smooth-coated otters, dusky leaf monkeys and crab-eating macaques.
An old survey from 1991 mentions 18 reptile species found in the park. Clouded monitors and mangrove pit vipers are quite common in the national park.
There is a declining population of dugongs in the Andaman Sea, but likely still to be found in Ao Phang-Nga waters. There are also records of finless porpoise sightings in the park waters.
Activities
The most popular attraction of the park is no doubt the James Bond Island, the iconic limestone karst island rising straight up between two islands, featured in the James Bond movie "The Man with the Golden Gun" from 1974. A must see place for most tourists visiting the national park.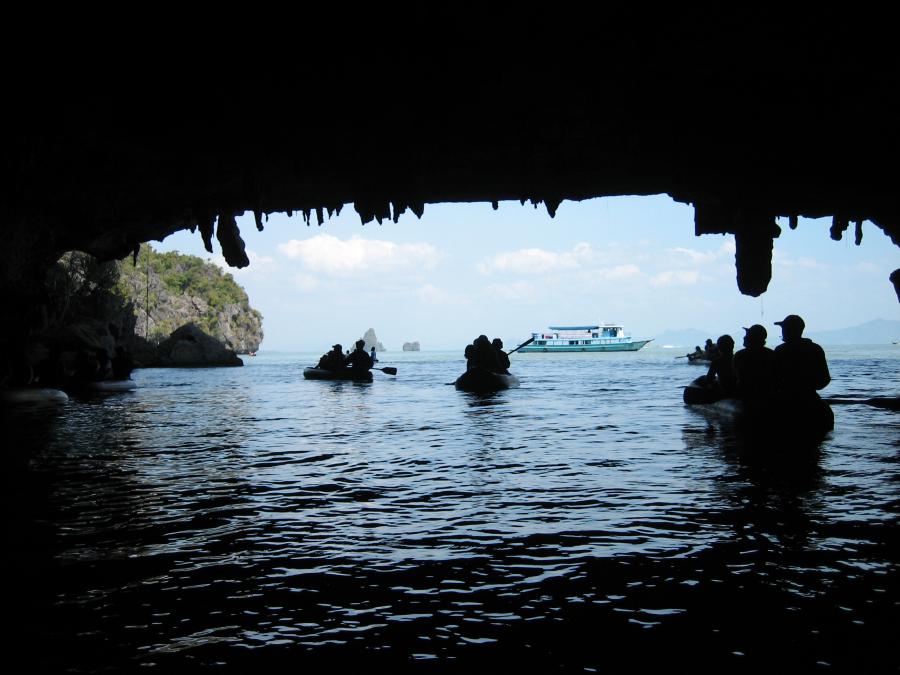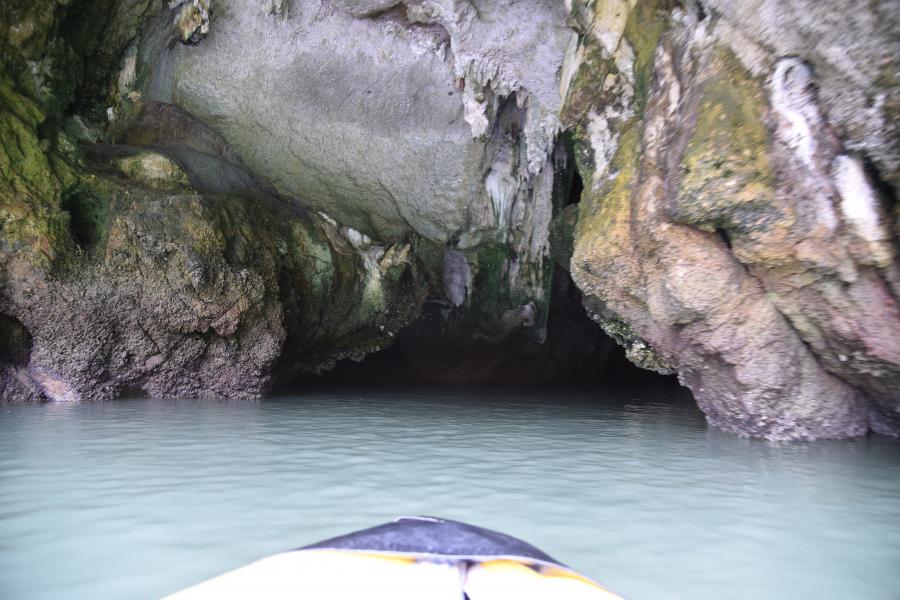 The crystal clear waters of the park is an ideal place for canoeing and snorkelling, a very popular activity in the park. It is no doubt the best canoeing destination in the country. There are a good number of lagoons in various islands accessible by canoeing through sea level caves.
There are a few islands with nice sandy beaches and a few other caves for cave exploring. It is also possible to join a tour offering overnight camping on the beaches, making it possible to explore the wildlife around.
Perhaps because most of the popular park attractions are on the smaller island, it is not known much among the tourists that the northern parts of both Ko Yao Noi and Ko Yao Yai Islands also fall within Ao Phang Nga National Park borders. While the bit north of Ko Yao Yai is only accessible by boat, the bit north of Khao Yao Noi can be reached by car/motorcycle and there are a few white beaches there.
The mainland areas of the park are also an ideal place for birdwatching in search of the mangrove species
The group and private tours offered by various companies tend to include canoeing, beach activity, snorkelling and cave exploring in their itineraries.
Visiting
The park headquarters area is relatively easy to reach by public transportation or private transportation, but the area around there doesn't have much to offer apart from a few short trails for birdwatching. Unless you are after renting a private boat for a more customized trip into the park, you are recommended to book a tour through various tour operators or agencies to explore the islands.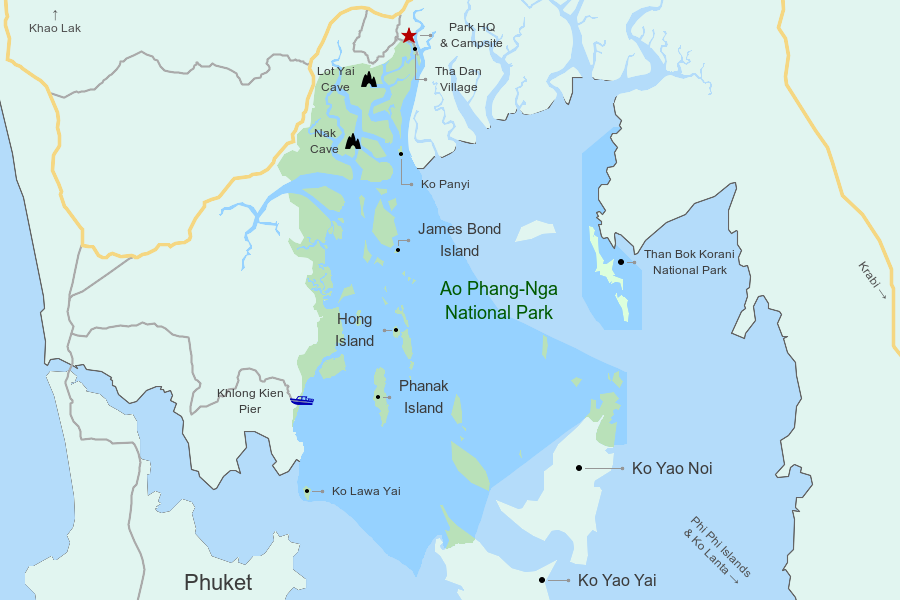 Nearest piers
Khlong Khien Pier - The nearest pier in Takua Thung District of Phang-Nga Province, located south of the park and north of Phuket Island. Can be reached by car from all nearby towns.
Rassada Pier - Phuket - Located east of Phuket Town, it is the main pier in Phuket Island.
Nopparat Thara Pier - Located on the northwest end of Nopparat Thara Beach in Ao Nang, Krabi
Floating Pier, Railay - Located on eastern Railay Bay.
Khlong Jirad Pier - Located south of Krabi City
By plane
The nearest airport is Phuket International Airport is 60 km from the park headquarters. Two other cheaper domestic airport options are Krabi Airport (90 km) and Surat Thani Airport (130 km).
By public transportation
Bus and minivans from Phuket to Krabi, Phuket to Surat Thani or Khao Lak to Krabi all stop at the main bus station in central Phang Nga. From there, it is easy to change to a songthaew to Tha Dan which is the small village where the national park headquarters is located along the coast, only around 6 km from the city center.
It is very easy to arrange a bus or minivan from hotels. Most hotels help arrange various transportation, some operators do pickup directly from the hotel.
By car/motorcycle
While driving north from Phuket, driving south from Bangkok or driving north/west from Krabi, take Highway 4 (Petchkasem Road) between Phuket and Krabi. About 3.5 km west from Phang-Nga, take the route 4144 south and follow the signs for about 2.5 km until getting to the park headquarters.
Join a tour
It is easy to join group tours to the park from all nearby touristic destinations like Phuket, Khao Lak, Krabi, Phi Phi and Ko Lanta. Tours can be arranged on arrival from most hotels reception or from travel agencies in nearby towns.
A typical tour to the islands include visiting James Bond- , Hong- and Phanak Islands. Activities offered in these tours are normally cave exploring, canoeing, visiting beaches, swimming and snorkelling.
Entrance fees & opening times
As of June 2022, the entrance fees for Ao Phang-Nga National Park are 300 Baht for adults and 150 Baht for children 3-14 years old. Thai citizens pay 60 Baht for adults and 30 Baht for children.
The park is open during the high seasons from 15th October until 15th May and closed in the rainy seasons from 16th May until 14th October every year.
Stay & eat
It is possible to stay overnight in a few hotels at Ko Panyii (island) or Tha Dan village where the park headquarters is located.
Camping at the beaches is only possible via tours. As there are no restaurants on the islands, the tours include meals and refreshments.
Conservation issues
Just like the other nearby popular tourist destinations of Similan Islands and Phi Phi Islands, Ao Phang Nga Bay also is suffering from mass tourism. The environmental impact of the mass tourism prompted Fodor's Travel to place the park on their "No List" for 2018, advising the tourists to skip the park in order to allow it to recover.
The attractions of Ao Phang-Nga
James Bond Island
Featured in the James Bond movie "The Man with the Golden Gun" from 1974, James Bond Island is a narrow 20 meters tall limestone karst that rize straight up from waters just 40 meters from Khao Phing Kan Island.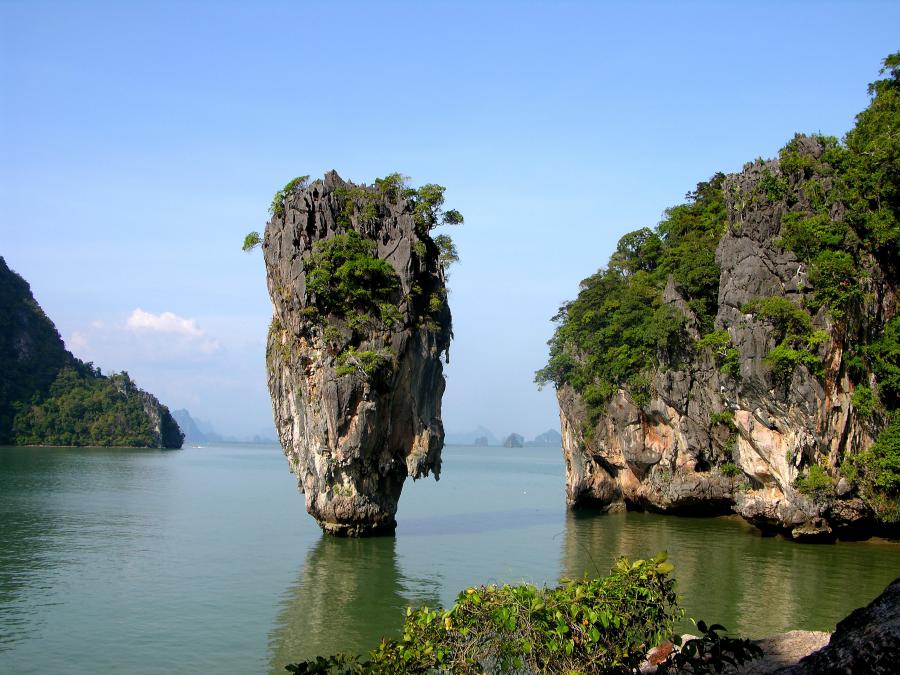 Panak Island
Panak Island is one of the larger islands in Ao Nang Bay. The island is ideal for canoeing, swimming, cave exploring and a bit of wildlife watching.
There are at least 11 significant caves on Panak Island, most of these are located at the northern tip of the island, some relatively easily accessible and even on sea level. There are a good number of lagoons on the island which can be reached by canoeing through some of these caves.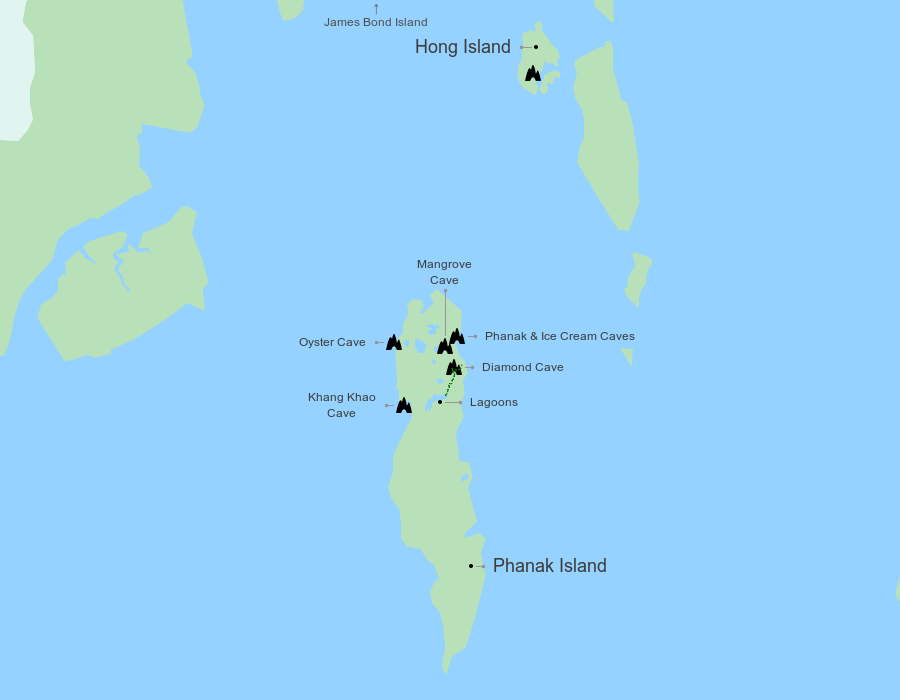 Ice Cream Cave
Locally known as Ko Nat, it is a 120 meters long cave at the north end of a small beach on the northeast coast of Ko Phanak Island. The cave consists of a single sub-horizontal gallery, about 5 meters above sea level and ends at an open air lake (lagoon).
Phanak Cave
Locally known as Them Phanak, Ko Phanak Cave is a 253 meters long cave with narrow passages. The cave is located at the southern end of the same small beach as where Ice Cream Cave is located.
Diamond Cave
Locally known as Tham Phet, Diamond Cave is a sea level cave about 70 meters long, located on the east coast of Phanak Island a bit further south from Phanak Cave.
Oyster Cave
Locally known as Tham Man Hoi or Tham Hoy Naan Rom, Oyster Cave is a 50 meters long sea level cave passage to a smaller lagoon. The cave is located on the northwest of Phanak Island.
Khang Khao Cave
Tham Khang Khao is located further south from Oyster Cave on the west coast of Phanak Island, it is a 150 meters long sea level cave passage to a lagoon.
Mangrove Cave
Locally known as Tham Pa Chai Len, Mangrove Cave is a 100 meters long sea level cave passage to a lagoon. The cave is located on the northeast side of Phanak Island.
Hong Island
Hong Island is the second most popular destination in the island for being one of the best canoeing spots in Phang-Nga Bay. The island has a sea level cave passage to a lagoon.
There are several smaller limestone karts/islands covered in forests in the immediate vicinity of Ko Hong, creating nice narrow canoeing passages between.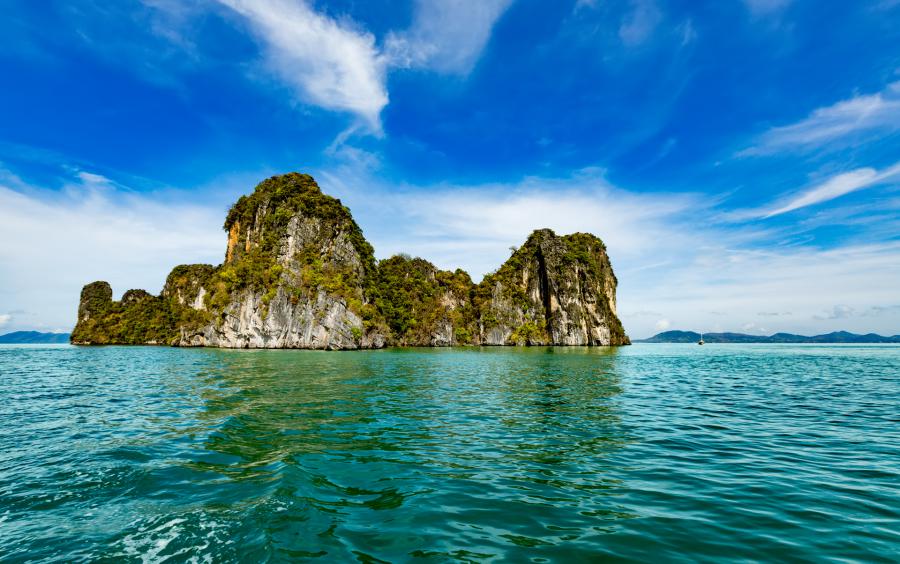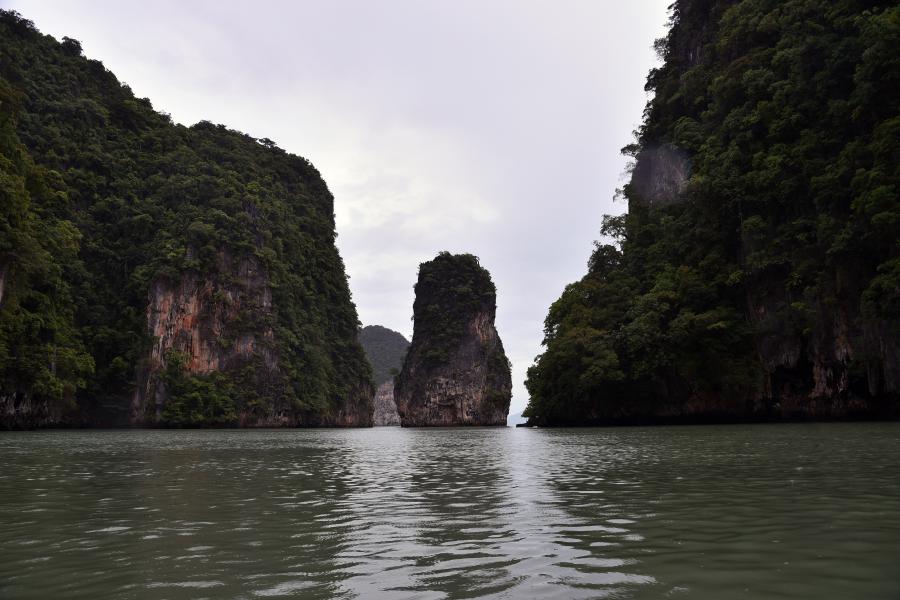 Hong Cave
Used by canoeing tour companies, it is a sea level cave passage that leads to a lagoon further inside the island.
Ko Panyi
Technically, Ko Panyi is not administered by the park authorities, it is not part of the national park, but it is inside the park boundaries. It is a very popular and touristy island with houses built very tightly next to each other on pillars rising from the sea or on the island. The north end of the island is a tall limestone karst. It is also possible to arrange trips to the entire park attractions from Ko Panyi. There are hotels, shops and restaurants on the island.
Other Caves
There are also some caves on the mainland.
Lot Nai Cave
Located in the mangrove forests on the mainland, Lot Nai Cave is a 110 meters long cave located where one of the rivers cuts through a limestone island, not too far from the headquarters area and only accessible by boat. The cave is on sea level, it can be traversed by boats through a 40 meters wide passage. The cave has some decorations.
Nak Cave
Known for its rock paintings, Nak Cave is located south of Lot Nai Cave and west from Ko Panyi, on a limestone hill along another river. The cave is about 50 meters long, consists of an immense aven opening (an opening on the "roof") into a mangrove swamp..