Bangkok - Khao Yai | 3D/2N DIY taxi tour
About our taxi services
With our full day taxi services it is possible to visit a number of attractions north of Khao Yai National Park. The attractions to visit must be agreed in advance so that we can inform you of a crystal clear quote.
Our regular taxis are MPVs for up to 3-4 people, minivans are for bigger groups up to 7-10 people, all depending on the amount of luggage. All our cars are spacious, with a/c and comfortable.
Our taxi services are private means no others will join you.
Service hours
On the first day our driver will meet you earliest at 6 am in your Bangkok hotel's lobby, at the airport meeting points or other agreed location. When necessary, our driver will hold a name plate with your name on at the meeting points.
On the second and the third days, our driver will meet you at 9 am in your Khao Yai hotel's lobby.
No matter how early/late the service starts in the morning, the taxi service will be until 6 pm at the attractions with a dinner time until 7 pm. After that, you will be returned to your hotel in Khao Yai or Bangkok, included in the price.
The included dinner time until 7 pm can be used to visit Pak Chong Night Market if time allows. If the night market visit continues after 7 pm, additional hourly charges will apply per starting hour.
How to book with us?
Simply by sending an enquiry by following the "enquiry" button further below. You can ask as many questions you like through the enquiry system, we will answer all. If you are happy with our answers, you can decide to book.
Sending an enquiry doesn't mean a commitment to booking. We answer all questions for free even if not booked.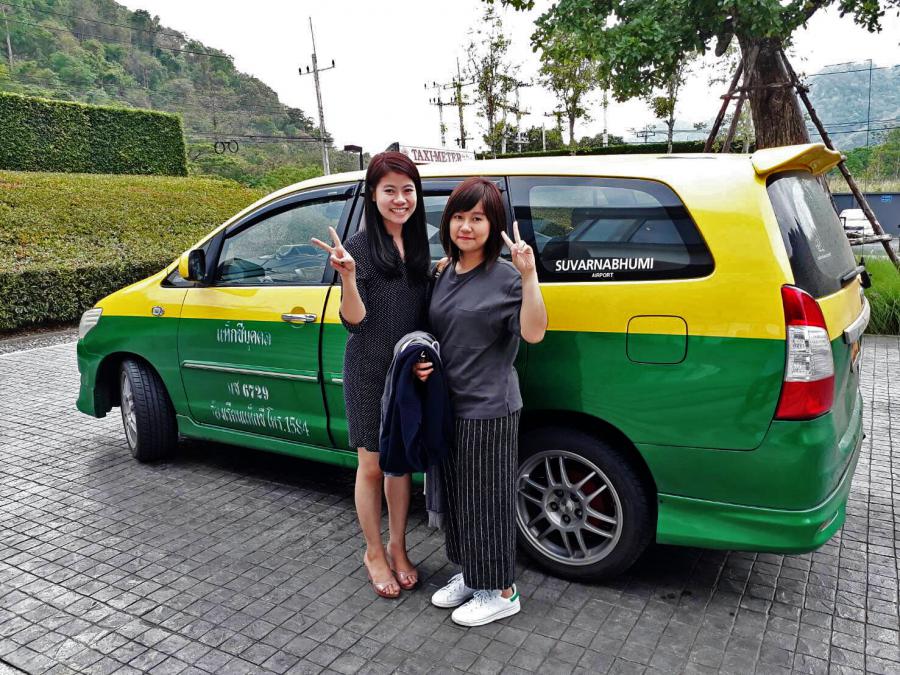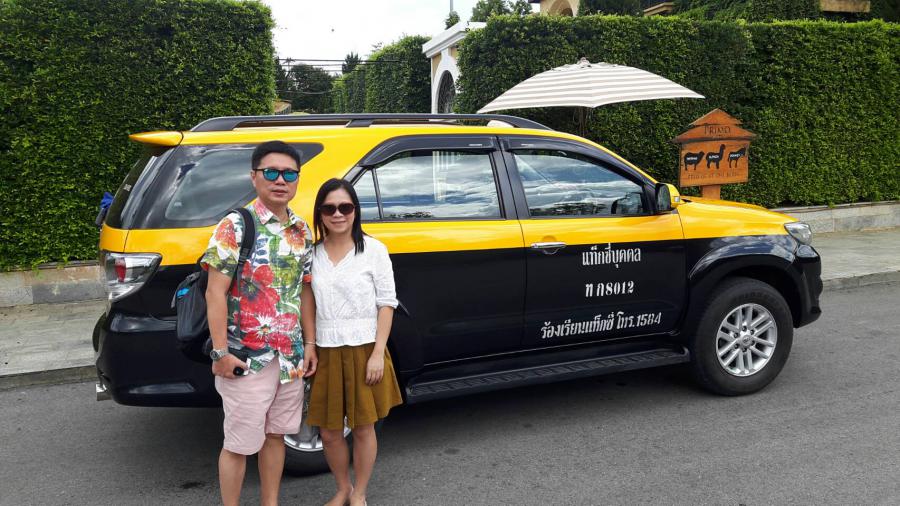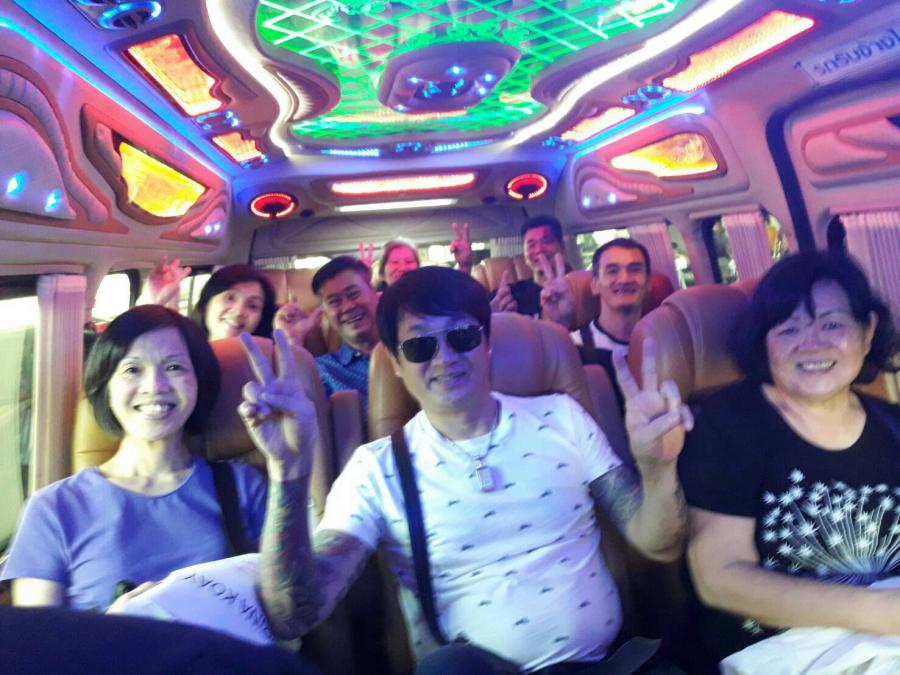 3D/2N with 3 full days planning
Below is a planning for 3 full days (Option #3 above). The first and/or the last day can be only one way service between Bangkok and Khao Yai if you like, meaning no visiting of attractions and a lower price.
The itinerary is just a suggestion. You are free to decide how rushed/relaxed your planning should be, you are free to include other places in the area.
Whether you will be able to visit all listed attractions or not will depend on how much time you will spend at each attraction. Our driver will always be waiting at the car park of the attractions and drive you to the next one when you are ready. For this reason, we will not suggest any hourly based planning.
Any attractions that you haven't managed to visit can be carried over to the next day if the next day is also booked as a full day taxi service.
Day-1
Pickup from Bangkok hotel/airport etc as early as 6 am
PB Valley, wineary
The Bloom
Primo Piazza
Palio Khao Yai
The Chocolate Factory
Pete Maze
Any restaurants/cafes along the routes
Drop off at Khao Yai hotel
Day-2
9 am - Pickup from Khao Yai hotel
Farm Chokchai (closed Mondays)
Suwan Farm (sweet corn buying 10 am)
Premium Outlet Khao-Yai
Secret Art Garden - closed Wednesdays
Wat Thep Phitak Punnaram (White Buddha & temple)
Dairy Farm and Shop
Pak Chong Night Market (optional if time allows)
Any restaurants/cafes along the routes
Drop off at Khao Yai hotel
Day-3
9 am - Pickup from Khao Yai hotel
GranMonte Vineyard and Winery
Farm Mor Por
Thames Valley Khao Yai (entrance possible only when having meal or coffee at their restaurant)
Khao Yai Art Museum
Khao Yai Speedkart
Ban Tha Chang Spring
Drop off at Bangkok hotel (expected arrival 8:30 pm to 10 pm)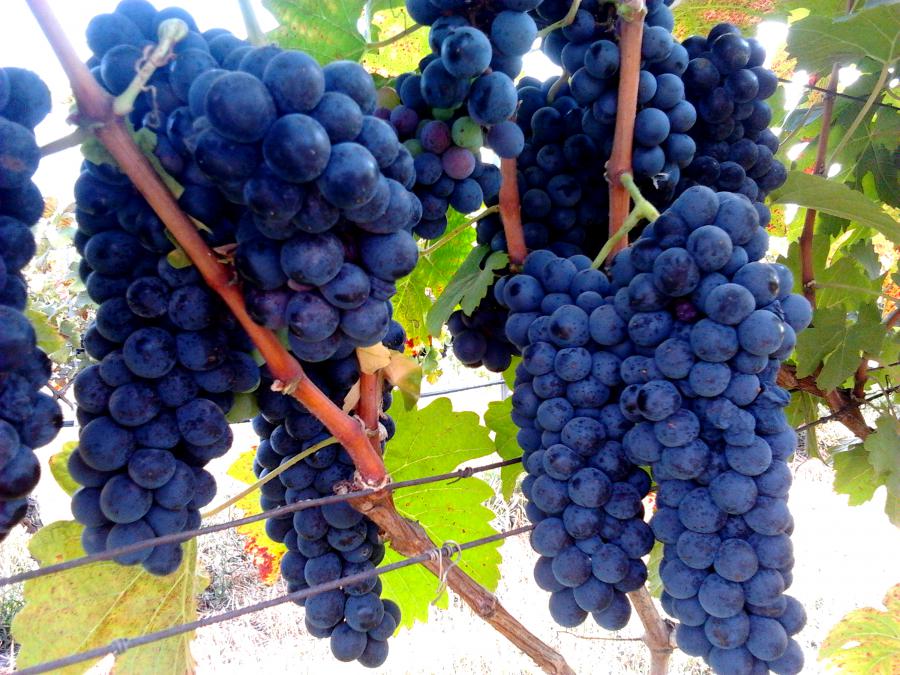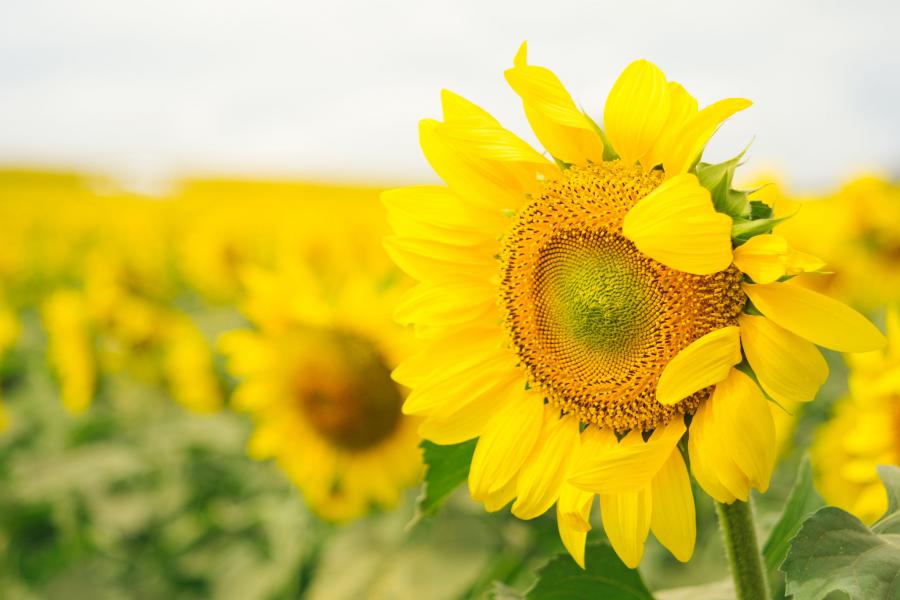 Price
The quotes shown further below are per taxi (not per person) and include fuel, eventual tollway fees. No tips needed, there won't be any hidden costs on top of what we agree in advance.
Our full day taxi services include pickup/drop off from/to Bangkok.
Additional charges apply if;
You decide to get to alternative places not mentioned below which are not in the main service area, not near the other attractions
If the service continues at the attractions after 6 pm
3 days, 2 nights Khao Yai taxi tour
| Type of car | Pax | Option #1 | Option #2 | Option #3 |
| --- | --- | --- | --- | --- |
| MPV | 3-4 | 7,600 THB | 8,800 THB | 10,000 THB |
| Minivan | 5-9 | 10,900 THB | 11,600 THB | 12,300 THB |
Option #1: The first and the third days are one way transfer, the second day is full day service
Option #2: The first or the third day is one way transfer, the other two days are full day services
Option #3: All three days are full day services
Reviews from our guests
By: Boon Guan Tan | posted Mon 3 Apr, 2023
Driver is always punctual and will try to accommodate our request that are not in the Itinerary. We changed quite a lot for the second day attractions and place to have our dinner. He do his best to fulfill our request.
By: Wen Ya | posted Tue 24 Jan, 2023
Before and during the trip, Rushen was very helpful and fast in replies. Pricing was reasonable as well.
Our driver Mr JJ was always early and safe in his driving. He was friendly and could communicate well in English. We didn't have to use google translate at all in our 4 days with him. He was great!
Overall would highly recommend!
By: Joey Chua | posted Sun 25 Dec, 2022
Good service and driver is patient toward us.
By: Ben Quek | posted Sun 18 Dec, 2022
Overall the taxi service was alright and driver friendly but the car was a bit old.
By: John Cheran | posted Sun 4 Dec, 2022
Great service from the 2 staff who brought us around. They knew the roads and we had a comfortable drive throughout the trip. Thank you we had a great time.
By: Carsten | posted Thu 20 Jan, 2022
All our booked trips were organized perfectly! Thank you very much!
By: Hon Fook Boey | posted Tue 14 Jan, 2020
Our guide Pooh and driver Nat was very good in observing and spotting the animals and birds. We had a good time in the park. Lunch was simple but taste good. We hiked in the jungle for an hour but didnt spot any animals and saw a few when we did the night safari. it's expected when u are in nature. They may not come out. Overall worthwhile trip.
By: Noriko Kawaai | posted Wed 8 Jan, 2020
It was very helpful service that we could get good advise while we are planning for a trip in advance, and indeed we could look around impressive areas during the trip.
If I am forced to say something, it would be better if we could know the order of the day at the time we had been picked up. We couldn't know where we were until we check the signs at the each view point.
Tour operator's response
Thanks for your review.
We already listed the ordering of attractions to visit in your enquiry details page during the booking process. Unless our guests tell our drivers about change of plan during the trip, our driver will follow the ordering as decided between us. :)
But yes, for a better experience, we will tell our driver to always mention the next stop to our guests.
By: S.R. | posted Thu 26 Dec, 2019
It was a breeze to plan the itinerary for our trip to Khao Yai, as the personnel managing our reservation was extremely quick to respond to our requests, and was very helpful in providing additional suggestions to us. The service is flexible enough that you can even make last-minute tweaks to the itinerary (subject to reasonable limits of course!). Overall, it was a hassle-free way to experience Khao Yai National Park and its surrounding attractions. We highly recommend this taxi service!
By: Leelin Soon | posted Sat 21 Dec, 2019
We are very happy with the service. Highly recommended. 5 star.