About Khao Phra - Bang Khram
Formerly known as Khao Nor Chu Chi, Khao Phra - Bang Khram Wildlife Sanctuary is a very popular tourist destination in Krabi Province, south of Thailand. It is located about 56 km southeast of Krabi Town and 18 km east from Khlong Thom. The sanctuary is quite small, about 183 km², parts of it very commercialized, mainly because of it's emerald green and blue ponds which attracts many foreign and local tourists every day. It is one of the most popular attractions of Krabi Province.
The main attractions are the Emerald and Blue Pools with it's clear waters and series of trails about 2.7 km long. The park is also a very popular destination among birders where few rare birds can be found.
The forest of the wildlife sanctuary is one of the last remaining lowland forests in the country. The altitudes in the sanctuary varies from around 50 meters up to around 320 meters asl.
The rainy season generally starts in May and continues until November. Most rain falls in June to October. The rest of the year is quite dry.
Wildlife
The sanctuary is a popular destination among birders. With some historic records included, over 320 bird species have been recorded in this small sanctuary. The very rare Gurney's pittas, known to be found in the sanctuary and in a very few lowland forests in Myanmar and Thailand is a critically endangered resident species. Unfortunately, the effort made to save this species from getting extirpated from the sanctuary have totally failed, there is now only one female individual left.
Other few rare sightings are (some may be historic records); black-and-white bulbuls, Malaysian crested firebacks, crested partridges, chestnut-capped thrushs, black magpies, cinnamon-rumped trogons, rusty-breasted cuckoos, white-headed munias, cinereous tits, Malaysian honeyguides, striped wren-babblers and large wren-babblers. Hornbill species found in the park are; bushy-crested hornbills, plain-pouched hornbills, white-crowned hornbills, wreathed hornbills, great hornbills and Oriental pied hornbills.
There are around 30 known reptile species in the sanctuary, likely many more. Apart from a bit rare beautiful flying dragons (Draco formosus), most other species are typical, more or less "common" species in the area like; Equatorial spitting cobras (Naja sumatrana), king cobras (Ophiophagus hannah), beautiful pit vipers (Trimeresurus venustus), Malayan pit vipers (Calloselasma rhodostoma), Wagler's palm pit vipers (Tropidolaemus wagleri), Malayan whip snakes (Ahaetulla mycterizans), brown kukri snakes (Oligodon purpurascens), Drapiez's cat snakes (Boiga drapiezii), dog-toothed cat snakes (Boiga cynodon), mangrove cat snakes (Boiga dendrophila), blunt-headed tree snakes (Aplopeltura boa), Dumeril's monitors (Varanus dumerilii), roughneck monitors (Varanus rudicollis), Chan-ard's rock geckos (Cnemaspis chanardi), black-bearded flying dragons (Draco melanopogon) and many more.
Visiting
There are no public transportation options to the sanctuary. The wildlife sanctuary can be visited easiest with private transportation, either a car or a bike. Various tour operators offer day tours to a number of places in the province, including to the Emerald Pools.
Getting to the park
Getting to the sanctuary is not straightforward, but signposted well. Easiest is to follow the directions from a navigator by entering following coordinates;
7.9226, 99.2599
While driving the old good old school way, follow route 4 towards the airport, pass the airport until you reach Khlong Thom Town. Once in the town, turn left towards Lam Thap (signposted) at the traffic lights. A couple of hundred meters into this road, turn right into road 2021, you will see a blue sign showing the direction to "Crystal Pond". Drive on this route for around 8 km until you see yet another signpost showing the direction to the right. Drive another 7 km until you reach the entrance.
Warning - When reaching the entrance, there is this big sign showing "Entrance to Crystal Ponds" which should be ignored. The sign is set up by a resort there, it is just an ugly way of fooling the tourists to use their parking space for a fee. The real entrance is 50-70 meters beyond this sign, there are plenty of other parking spaces more near the checkpoint, they too will charge for around 30 Baht to park.
Get around in the park
The touristy area of the sanctuary is limited and can only be explored by foot. The ponds inside the sanctuary are located along a 2.7 km long trail. The trail branches off to two directions, one over a boardwalk along the stream, the other a very wide one through the forest. Both branches eventually join at the main emerald pool. Walking this trail further will end at the Blue Pond, which is another nice pond but not suitable for swimming.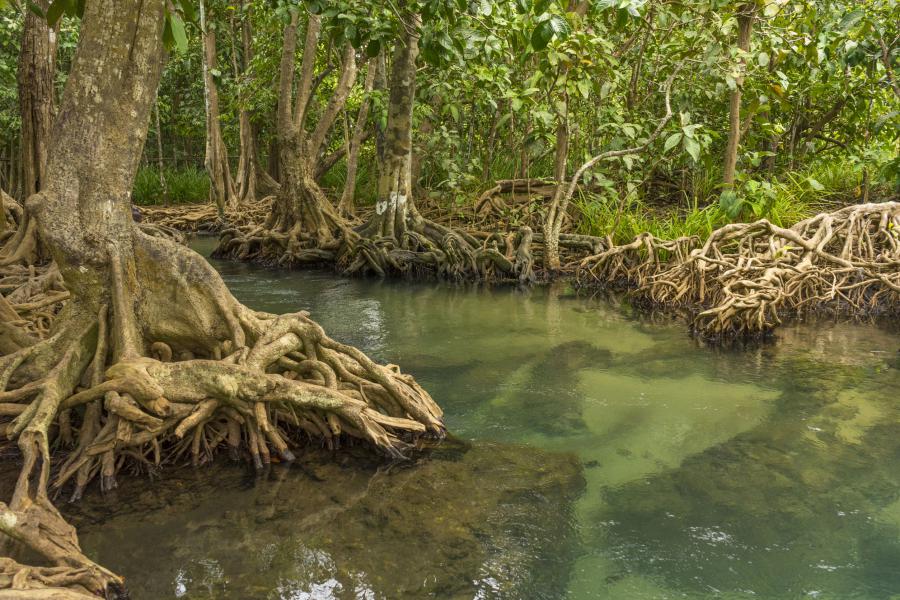 Entrance fees & opening times
The entrance fees are 200 Baht for foreigners (100 Baht for children) and 20 Baht for Thai citizens (10 Baht for children). Cars will be charged with 30 Baht when parking at private car parks, there are no free parks.
The park is open 8:30 am to 17:30 pm every day, all year round.
Stay & eat
There are a good number of restaurants, shops and cafes at the entrance.
Number of websites claim that it is possible to camp inside the sanctuary but it is not possible. There are also no park accommodations to stay in.
There are many resorts right outside the sanctuary along the main road. Morakot Resort is a popular resort just 750 meters from the entrance, frequently visited by birdwatchers.
Phone(s)
You are recommended to ask a Thai speaking person to call on your behalf.
087 477 1105
The attractions of Khao Phra - Bang Khram
Emerald Pool
Also referred to as Crystal Pools, situated at Khao Nor Chu Chi Forest east side of the sanctuary. Quite a big pool where visitors are allowed to swim. The pool can be very busy in midday, less busy in the early morning or late afternoon.
The pool is reached by following a trail that starts from the entrance. The trail branches in two directions and rejoins at the first major pool. The right branch is on a boardwalk along the stream, perhaps more interesting.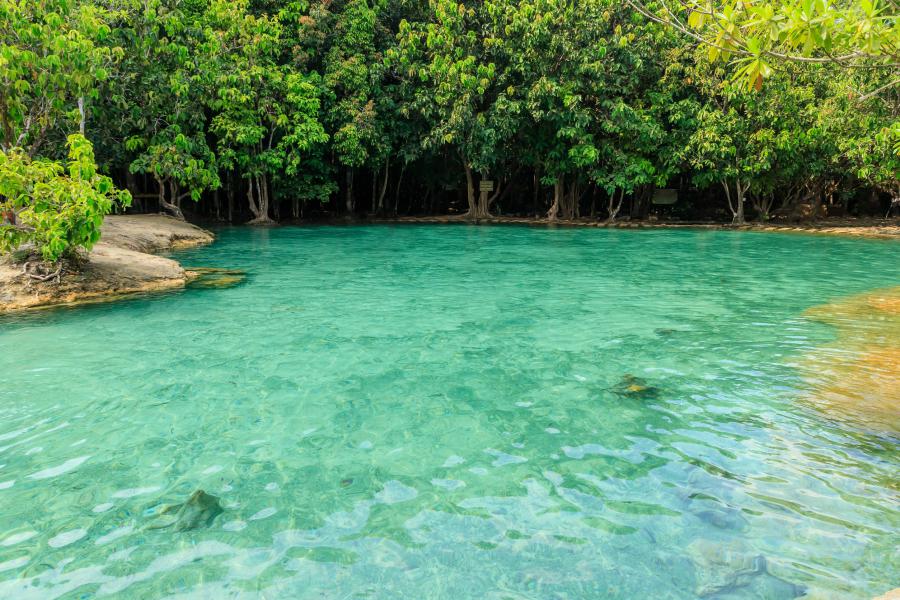 Blue Pool
It is a beautiful and picturesque blue colored pond another 600 meters further upstream from the Emerald Pool. It is not possible to swim here because of muddy quicksand.