About Pang Sida
Covering 844 km² at Sa Kaeo Province, Pang Sida was declared as a national park in 1982. The national park lies within Dong Phayayen-Khao Yai Forest Complex, a World Heritage Site declared by UNESCO, covering 5 protected areas from Khao Yai to Cambodian border. The other protected areas are; Khao Yai National Park, Thap Lan National Park, Ta Phraya National Park and Dong Yai Wildlife Sanctuary.
The park comprises lush jungle mountains with valleys, cliffs, grasslands and waterfalls. The fertile forests include moist evergreen forest, dry evergreen forest, deciduous dipterocarp, mixed deciduous forest, hill evergreen forest.
Pang Sida National Park is a popular destination for its waterfalls, butterflies and birds. Main attractions of the park are located 22 km north of Sa Kaew north from headquarters. There are two camping grounds, park accommodations for rent, trails and a few waterfalls along this road. There are also a good number of easy, moderate and challenging trails.
Wildlife
Over the years, Pang Sida National Park has suffered much from poaching, in one case 30 individuals armed with assault rifles were recorded. The main target for the poachers is Siamese Rosewood classified as vulnerable (VU) by the IUCN Red List, in China sold for ten thousands of USD per cubic meter.
As a reintroduction programme initiated by Royal Thai Forest Service and Crocodile Management Association in Thailand, 20 siamese crocodiles were released in the park 2005 and 2006. Siamese crocodiles are critically endangered (CR) species according to the IUCN Red List and the global population is estimated to be a few thousand. There is also a significant population of tigers in the national park, recent camera traps revealed increased numbers of tigers within the forest complex.
The park and Sa Kaeo Province jointly hold an annual three month long butterfly watching festival from May to July which is the best time for butterfly watching. Around 400 species of butterflies have been recorded in the park, probably the best numbers in any park in the country. Butterflies can be seen in few spots where they gather in hundreds/thousands on wet grounds nearby mineral rich puddles or near the water-streams during the winter and hot seasons.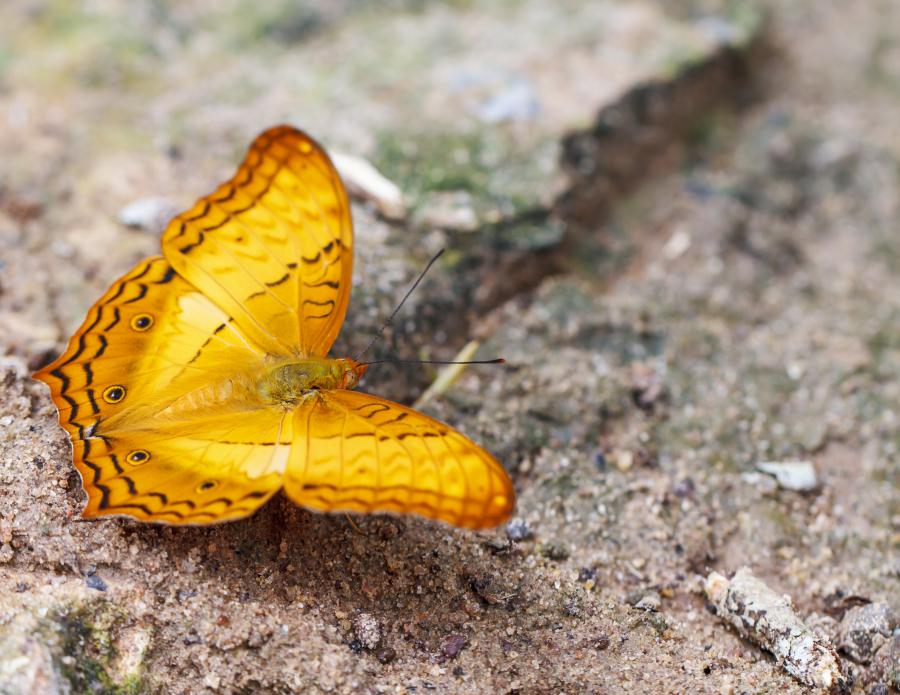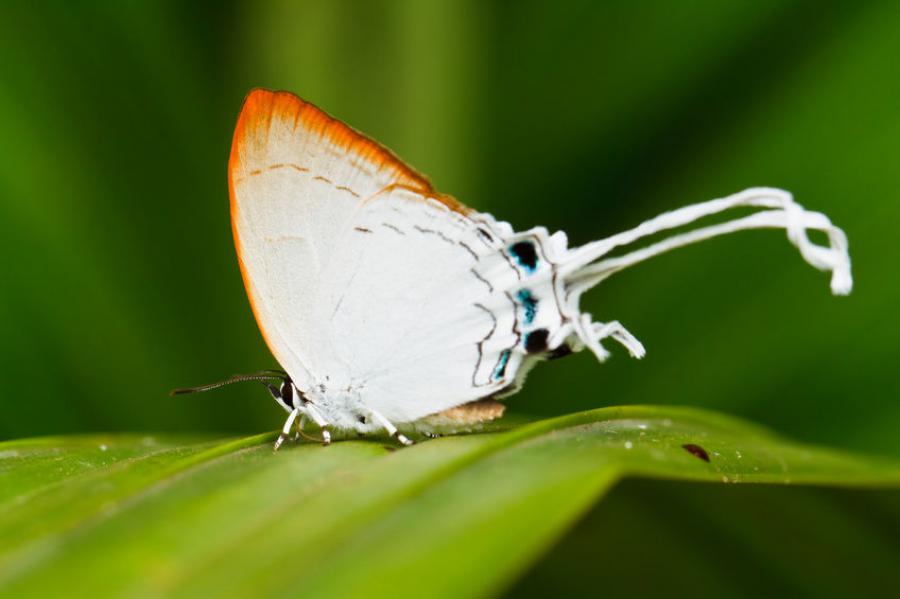 Bird, mammal, reptile and other types of species found in the park are more or less the same in the whole Dong Phayayen-Khao Yai Forest Complex.
Some of the interesting mammals of Pang Sida are; elephants, tigers, marbled-cats, gaurs, bantengss, dholes (Asiatic wild dogs), Indochinese serows, binturongs, small-toothed palm civets, large Indian civets, Sunda pangolins, spotted linsangs and Crab-eating mongooses. Of the common primates of Thailand, stump-tailed macaques, crab-eating macaques, northern pig-tailed macaques and Bengal slow lorises are all found in the park.
There are around 150 bird species currently reported from the park. As the park is not a popular birding destination, likely the numbers are much higher. Silver-backed needletails, eared pittas, Siamese firebacks, black-and-buff woodpeckers, great slaty woodpeckers, heart-spotted woodpeckers, Blyth's frogmouths, Eurasian woodcocks, moustached barbets, eastern stonechats, scaly-crowned babblers, common woodshrikes, common hill mynas, green imperial pigeons and wedge-tailed green pigeons are all reported from the park.
There are currently over 30 species of various reptiles recorded from the park, the numbers are again likely much higher. Siamese crocodiles (Crocodylus siamensis), king cobras (Ophiophagus hannah), MacClelland's coral snakes (Sinomicrurus macclellandi), large-eyed pit vipers (Trimeresurus macrops), white-lipped pit vipers (Trimeresurus albolabris), Boulenger's keelbacks (Hebius boulengeri), Barron's kukri snakes (Oligodon barroni), common mock vipers (Psammodynastes pulverulentus), Southeast Asian softshell turtles (Amyda ornata), Oldham's leaf turtles (Cyclemys oldhamii), Chinese water dragons (Physignathus cocincinus), Cambodian stream skinks (Tropidophorus microlepis) and Lacerated four-clawed geckos (Gehyra lacerata) are a few rare/common reptiles of the region found in the park.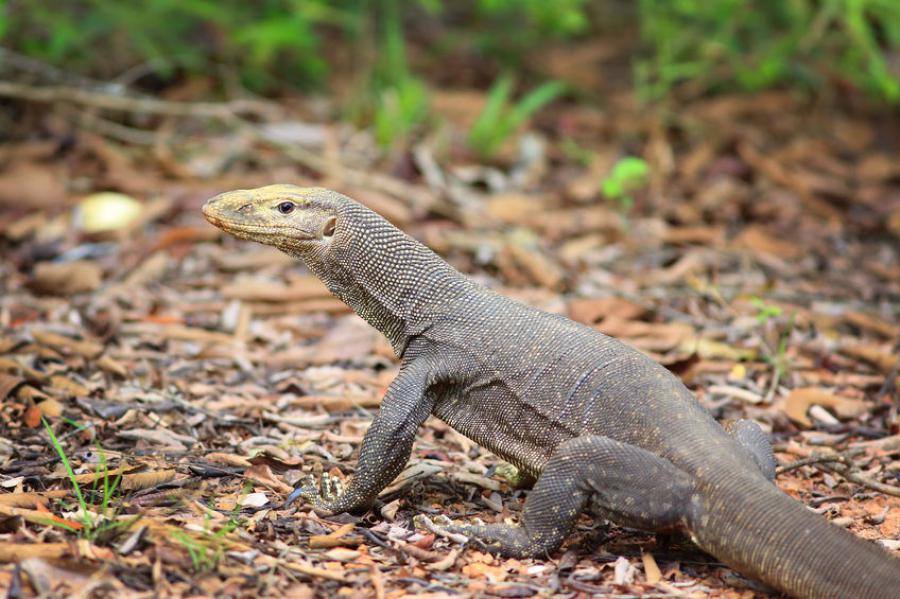 Visiting
The park is not possible to reach by public transportation options, can only be explored by your own car or with a guide.
Visiting Pang Sida National Park is mainly about wildlife watching, hiking and camping but also a nice place to visit some waterfalls. Mammal watching in Thailand's dense forests is not an easy task, interesting mammals can be seen only with a lot of effort and regular visits.
Google Maps and various sketch maps of the national park show the main road north from the headquarters extending much further north, into neighbouring Thap Lan National Park until Khon Buri, that is not the case. The road ends shortly after a parking area next to the viewpoint at km 25. It may however be possible to hike by foot after this point, the path may be blocked by overgrown vegetation further in.
Stay & eat
There are unfortunately no restaurants inside the park. The campers need to take their own food and enough water with them. There are though a few restaurants outside the park in nearby villages with irregular opening/closure times.
Park accommodations
There are a few park accommodations to rent in the park, available for booking from the DNP website. All accommodations have 3 bedrooms, 2 bath rooms and beds for 6 people, costing 1,200 Baht per night. There are also camping grounds next to HQ and further north.
For visitors who wish to do trips from the nearby resorts, Areeya Resort 9 km from the entrance is recommended. The Dutch owner of the resort speaks English well, they can arrange pick-up from nearby Sa Kaeo to their resort for 300 Baht (for 2/3 people) as well as arrange a vehicle and guide to the park. Their options are; bungalows with air-conditioning, free WiFi for 450 - 600 Baht per night or basic farmhouse with a fan for 100-150 Baht per person and night.
Camping
For visitors who wish to do camping, there are tents and accessories available for rent.
Entrance fees & opening times
As of June 2022, the entrance fees are 200 Baht for adults and 100 Baht for children 3-14 years old. Thai citizens pay 40 Baht for adults and 20 Baht for children. Cars are charged 30 Baht.
Pang Sida National Park is open from 6 am until 4:30 pm every day, the office hours are from 8 am until 4:30 pm.
Phone(s)
You are recommended to ask a Thai speaking person to call on your behalf.
081 862 1511 - Visitor Center
037 247 948 - Headquarters
The attractions of Pang Sida