About Surin Islands
Popular for its coral gardens and white beaches, Surin Islands are one of the most famous diving and marine life viewing sites in the world, no doubt the best in Thailand. The islands are within Mu Ko Surin National Park.
Surin Islands are an archipelago of five islands within Mu Ko Surin National Park, in Phang Nga Province. The islands are 55 km off the coast, 100 km north from Similan Islands in the Andaman Sea and just 18 km from the oceanic border of Burma. The national park covers an area of 135 km² of which 76% is sea.
The main islands are Ko Surin Nuea and Ko Surin Tai which are only 200 meters apart, the corridor between both islands is shallow and a popular place for snorkelling. The other three small islands are Ko Ri, Ko Khai and Ko Klang.
The islands are one of the very few untouched places in Thailand. Other than a small Moken village and park premises, there are no other buildings on the islands.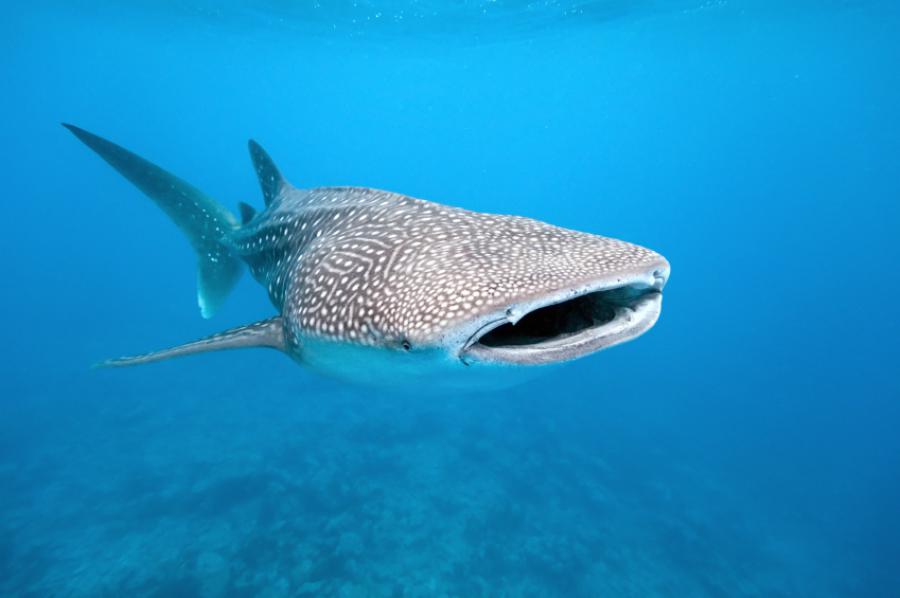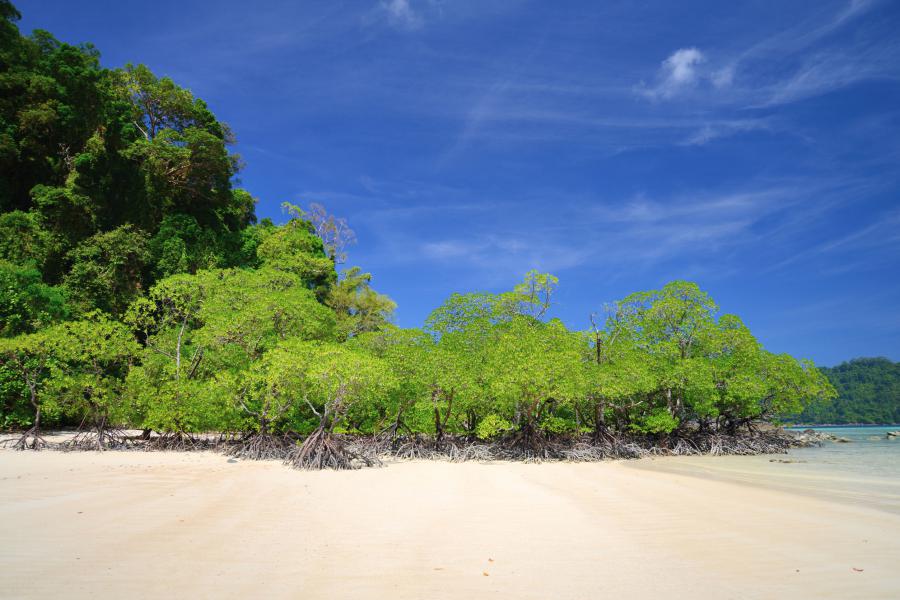 Activities
Diving and snorkelling are the main activities in the islands. The best time for diving is around December to April when the wind is minimal and the average water temperature is around 29 °C. Snorkels and lifejackets are available for rent from the visitor center of the park, each item for 40 Baht per day.
It is possible to camp at one of the two campsites or rent one of the few accommodations in the islands, right next to the white beaches.
The islands are perhaps not a popular birding destination, but there are few migratory birds visiting the islands, not found elsewhere in the country. Wildlife watching possibilities on the land side of the park is limited.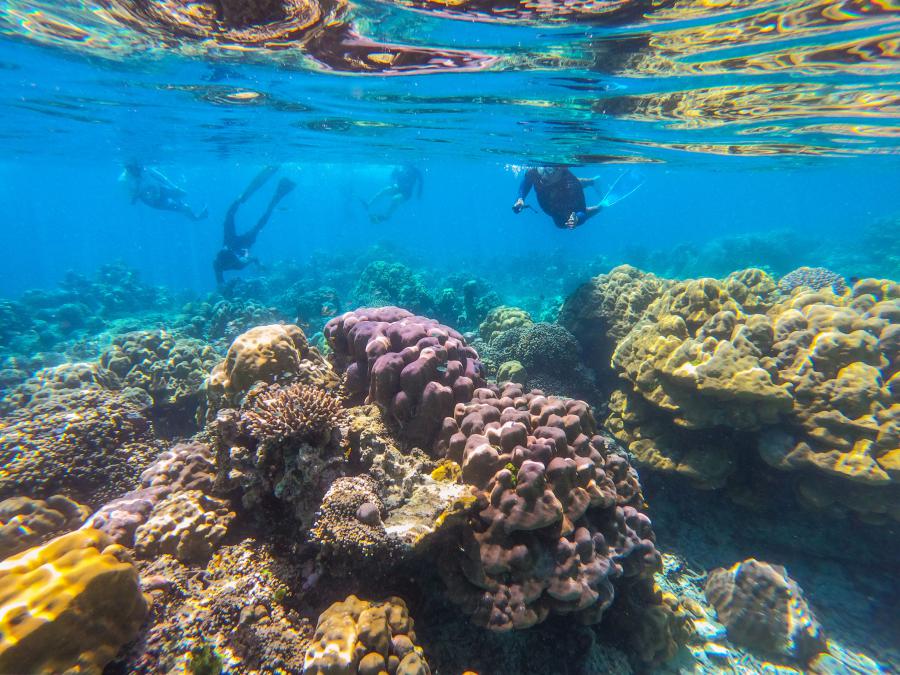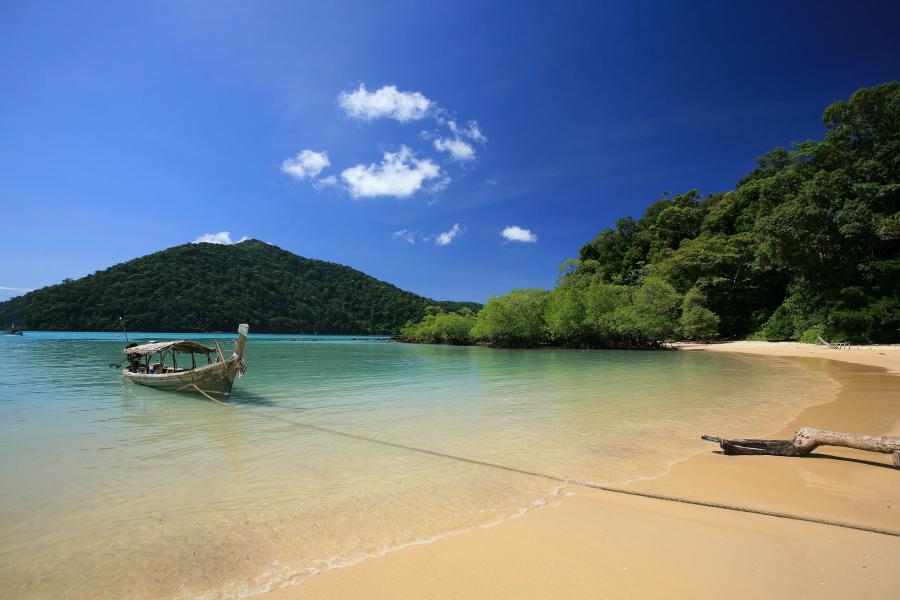 Fact corrections
When searching about Surin Islands, hundreds of commercial websites will list a number of "facts", often copied over from other websites, some not true, others intentionally misleading for business reasons or not verified for a while. Below we will list few;
The islands are not "in a quiet corner of Thailand" as claimed, the national park is visited by a significant number of tourists every day during the open months. During the peak times of year around 450-800 people visit the park every day, but compared to Similan Islands, it is relatively "quite".
The park is closed during the rainy seasons, the annual closure periods may vary from year to year. Sometimes the park may close earlier than the announced time because of bad weather. See further below for the closure dates, we will try to update the dates as much as we can.
Koh Ban and Koh Tachai Islands are not part of the Surin Islands, they are part of Similan Islands 40 km further south.
The discovery of the islands as diving sites by Jacques-Yves Cousteau and naming of Richelieu Rock by him is disputed. Cousteau never got north of Koh Bon island which is south from Surin Islands.
Wildlife
The marine life diversity of the islands is one of the best in the world. According to a series of studies from 2001 to 2002 (by Saisaeng, 2002; Sittithaweepat, 2001; Worachananant, 2000) more than 260 species of reef fish, 68 species of coral, 48 species of nudibranchs and 31 species of shrimp was recorded in the national park.
The shallow and deep waters around the islands gives the opportunity to see some of the most impressive marine species in the continent, some rare others common; great barracudas, blacktip reef sharks, whitetip reef sharks, leopard sharks, olive ridley sea turtles, hawksbill sea turtles, leatherback sea turtles, green sea turtles, bluespotted ribbontail rays, Kuhl's maskrays, giant morays, boxfishes, trevallies, puffers, butterflyfishes and many more. Although sightings are rare, February to April is the more ideal time to spot large pelagic species like manta rays and whale sharks.
There are currently around 100 known bird species reported from Surin Islands. Some of the rare birds of Thailand recorded from the islands are; Swinhoe's storm petrels, parasitic jaegers, beach thick-knees, brown noddies, large green pigeons, Von schrenck's bitterns and great-billed herons.
Very little is known about the snake species found in the Island but king cobras, reticulated pythons and mangrove pit vipers are confirmed species. Surin bent-toed gecko is an endemic species of gecko only found in Surin Islands. Two common monitor species of Thailand, clouded monitor and water monitor are both found in the islands.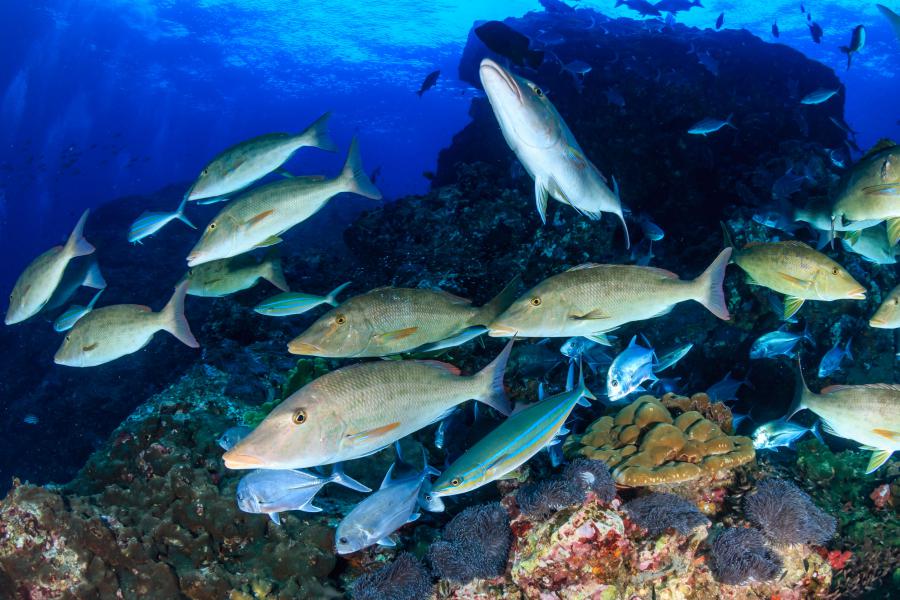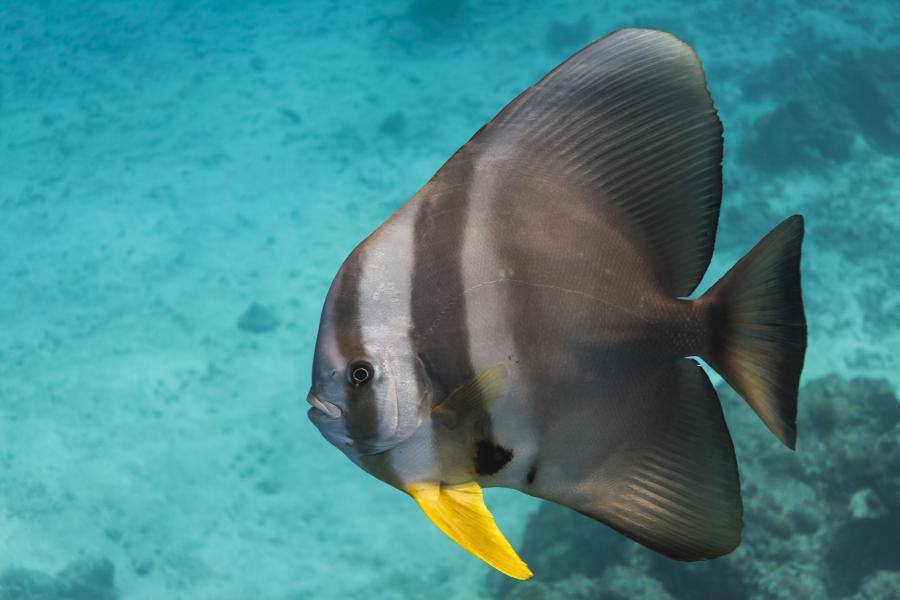 Possibly partly caused by global warming, 90% of the coral life in Surin and Similan islands died out followed by temperature changes back in 1998 and 2010. The 2010 event called Reverse Indian Ocean Dipole caused a natural "coral bleaching" that killed almost most of the marine life. In August 2019, the park authorities announced that the corals nearly fully recovered.
Visiting
Khura Buri is the nearest small town not too far from the coast. The popular tourist towns in the area are Phuket, Khao Lak, Krabi, Ao Nang and Koh Samui with Khao Lak being the nearest.
Visiting the island can be done either with day trips with speedboats or by multiple day cruises.
It is possible to make a day trip from Phuket, Krabi or Ao Nang, but the pier will be in 3.5-4 hours driving distance, not recommended. For a daytrip, it is better to get to a nearby town, either Khao Lak or Khura Buri.
To get a better understanding of the distances and location of places around Surin and Similan Islands please open the interactive map from this page. The map will outline all important spots like the piers, islands, beaches, diving spots etc. Some information can be read directly from the map.
The smoothest way to get to the islands is by booking a scuba diving liveaboard tour or a snorkelling tour via various operators. These tours normally include pickup from the hotel, ferry arrangements, diving equipment, meals and return to the hotel.
The visitors intending not to book any tour and get there by public transportation are recommended to stay in Khura Buri Town overnight. The reason for this is because the ideal time to take a ferry to the islands is in the early morning.
Ferries tend to anchor at several classic spots along the islands, of which one is Chong Kat Bay in Surin Nuea Island.
Khura Buri Pier & Surin Islands Visitor Center
The nearest embarkment point to Surin Islands is Khura Buri Pier, about 12 west of Khura Buri Town in Phang-Nga Province and 2 km west from Phet Kasem Road. This is also where the park visitor center is.
There are no public ferries at Khura Buri Pier, all ferries are operated by private companies. The easiest way to arrange ferry tickets is in Khura Buri town. Transfer to/from the pier is included in the ticket price.
There is a car park at the visitor center area. The car park is guarded 24 hours a day, there haven't been any incidents with car theft or stolen items, it is a safe place to park.
The boats to the islands will anchor at various snorkelling spots around the islands and return to the pier before the evening.
Bang Ben Pier
Also called Kapoe Pier, it is situated at the south end of Bang Ben Beach in Kapoe District of Ranong, 75 km north from Khura Buri Pier. Day trips from this pier will take longer time.
Getting to Khura Buri Pier
It is relatively easy to get to the islands by public transportation options from the major towns in the area. Minivans leave from Phuket, Krabi and Khao Lak regularly and drop off customers at the pier. Once at the pier, it is easy to purchase tickets and hop on to a ferry.
The staff at the hotels in Khao Lak, Krabi, Phuket and other towns normally help by calling minivan operators which come and pick hotel guests from their hotels, quite hassle-free. If the hotel staff can't help, they normally can give advice about the nearest agency to make arrangements from or give the directions to the minivan stations.
Coach buses from Bangkok to Phuket and from Chumphon to Phuket do stop at Khura Buri.
Liveaboard services
Below a list of liveaboard services operating from Thap Lamu Pier to Similan and/or Suring Islands. These can be booked via liveaboard.com.
Please note that the displayed price are per day and rounded up to the nearest 100 Baht.
| Liveaboard | duration | diving spots | rates from |
| --- | --- | --- | --- |
| Manta Queen 7 | 6D/5N | Similan & Surin Islands including Ko Bon, Ko Tachai and Richelieu Rock | ~ 3,300 THB |
| Dolphin Queen | 4D/3N, 6D/5N | Similan Islands, Richelieu Rock and Ko Tachai | ~ 3,400 THB |
| The Junk | 5D/4N | Similan & Surin Islands | ~ 4,100 THB |
| Manta Queen 1 | 5D/4N | Similan & Surin Isnalds, including Ko Bon, Ko Tachai and Richelieu Rock | ~ 4,100 THB |
| The Phinisi | 5D/4N | Similan & Surin Islands | ~ 4,900 THB |
| Bavaria | 4D/3N, 7D/6N | Similan Islands, Richelieu Rock, Ko Bon, Ko Tachai and the Surin Islands | ~ 5,000 THB |
| Camic | 5D/4N | Richelieu Rock, Ko Bon & Ko Tachai | ~ 5,200 THB |
| Deep Andaman Queen | 4D/3N, 5D/4N | Similan Islands & Richelieu Rock | ~ 6,100 THB |
| Marco Polo | 7D/6N | Similan & Surin Islands, Richelieu Rock | ~ 6,200 THB |
| Hallelujah | 5D/4N | Similan Islands, Richelieu Rock, Koh Bon & Koh Tachai | ~ 6,600 THB |
| Genesis I | 3D/2N | Similan Islands or Ko Bon, Ko Tachai & Richelieu Rock | ~ 6,900 THB |
| Whale | 5D/4N | Similan Islands | ~ 7,000 THB |
| DiveRACE Class E | 5D/4N, 6D/5N | Similan Islands, Ko Bon, Ko Tachai, Richelieu Rock | ~ 8,100 THB |
| Giamani | 4D/3N | Richelieu Rock, Ko Bon & Ko Tachai | ~ 9,800 THB |
| The Smiling Seahorse | 5D/4N | Koh Similan, Koh Bon, Koh Tachai, Richelieu Rock, Local Wrecks | ~ 22,500 THB |
| Ajao | 5D/4N | Similan Islands | ~ 26,200 THB |
Getting to the nearest towns
There are three airports in the area, all in nearly the same distance to Khura Buri Pier. Phuket Airport is the nearest and the only international one in about 170 km from the pier, it is also the most expensive option. Surat Thani Airport is the cheapest option about 200 km, Krabi Airport about 200 km from Khura Buri Pier.
The nearest towns to Khura Buri Pier are;
Khura Buri, ~12 km and 20 minutes driving
Khao Lak, ~85 km and 1.5 hours driving
Khao Sok National Park headquarters, ~95 km and 1.5 hours driving
Phuket, ~200 km and 3.5 to 4 hours driving
Krabi & Ao Nang, ~200 km and 3 hours driving
Surat Thani, ~220 km and 3 hours 15 mins driving
There are regular coach routes from Bangkok or Hua Hin to most towns in the area.
Surat Thani City 200 km east is a cheap option to get to with domestic flights or by train from Bangkok. It is also the nearest city to the popular tourist destination of Koh Samui. Mentioning "Khura Buri Pier" and "Surin Islands" to the taxi or minivan drivers will nearly always help, a couple of calls from the drivers and you will be taken to a minivan company that operates to Khura Buri.
Getting around
While some snorkelling and diving spots are within the reach of the campsites and beaches, boat arrangement is needed for more remote places around the islands.
Except for the Moken village and campsites, most of the land areas in the islands are off limits to visitors. Visitors breaking the rules may expect a penalty of 2,000 Baht and deportation from the islands. Due to marine conservation reasons, diving is not allowed in certain areas of the national park.
Entrance fees & opening times
The entrance fees to the national park are 500 Baht for foreigners (children 300 Baht) and 100 Baht for local tourists (children 50 Baht).
The park is open 24 hours a day from 15th October to 15th May and gets closed the rest of the year during the rainy seasons. The park may close earlier than 15th May if the weather is bad.
All details in this page are updated in December 2019. The opening times/dates, entrance fees all confirmed with the park authorities.
Mobile reception
There are mobile signal boosters in Surin Nuea Island, mobile reception is relatively good at the park accommodations, visitor center, Ao Chong Khard Campsite and Ao Mai Ngam Campsite.
Only the following providers are supported; AIS, TrueMove and DTAC.
Stay & eat
There are some resorts in Khura Buri and Khao Lak, both places ideal for day trips. There are campsites and a few park accommodations in Surin Nuea, all managed by the national park authorities.
Camping
There are two campsites in Surin Nuea Island but they are open at different periods of the year. Ao Chong Khard Campsite is open from 15th October to 30th November, Ao Mai Ngam Campsite is open from 1st December to 15 May.
There are 70 tents available for rent; 2 people size tents are 300 Baht per night, 3 people size are 450 Baht per night. Sleeping set costs 60 Baht per person, the price includes sleeping bag, pillow and mat.
While it costs 30 Baht per night to use your own tent in most national parks in Thailand, bringing your own tent to Surin Islands will cost you 80 Baht per person and night.
Tents can be booked online via DNP website (see link further below) or on arrival to the campsite if available.
Park cccomodations
There are three accomodations for rent in Surin Nuea Island. The accommodations are for 4 people, cost 3,000 Baht per night, 900 Baht discount when booking for Monday to Thursday.
Park accommodations can be booked online via DNP website (see link below), alternatively if available; on arrival to the main visitor center in Khura Buri or at Surin Nuea Island.
Booking a tent or accommodations via DNP
Park accommodations or tents can be booked through the DNP website in advance. As the money transfer must be done within 2 days and the fact that it takes a longer time with transfer from abroad, it is only possible to book from within Thailand. Payments can be done at 7-Eleven convenience stores or banks.
Eat
The restaurants are only on Surin Neua Island, one at each campsite, open from 7 am until 8:30 pm every day. These restaurants are where some tour operators take their customers for lunch.
Phone(s)
You are recommended to ask a Thai speaking person to call on your behalf.
Visitor Center at the mainland; 076-472145, 076-472146 (English speaking staff always available)
The attractions of Surin Islands
Richelieu Rock
Richelieu Rock is a horseshoe-shaped reef 18 km southeast of the islands and 45 km off the coastline. The rock formation is a solitary limestone pinnacle standing from around 30-35 meters depth with its peak right below the sea surface. The dive site is down to about 28 meters deep at most. The tip of the rock formation can be seen above the sea surface during the low tides.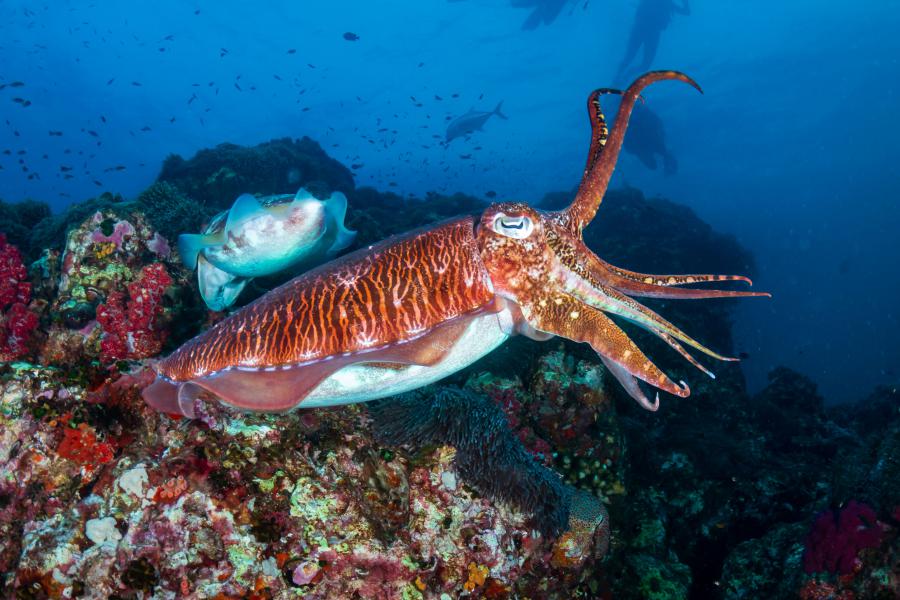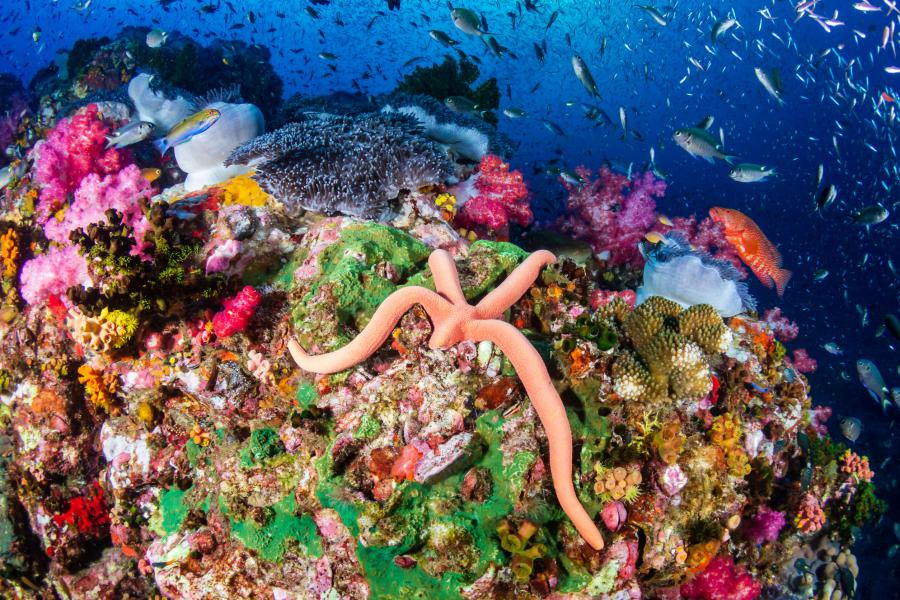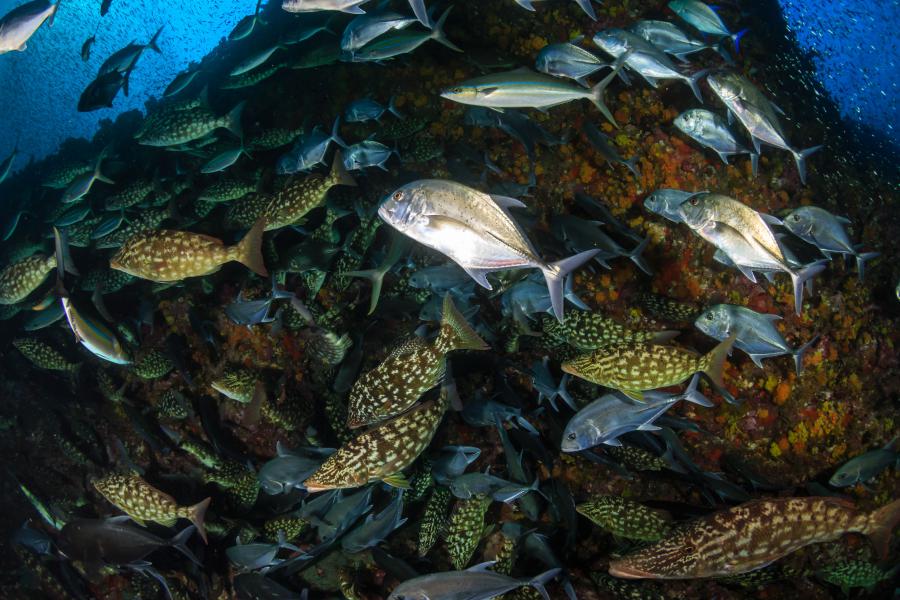 The crystal clear and healthy purple coral reef of Richelieu Rock attracts a variety of pelagic and other small sea life, making it a world class scuba diving site. Snappers, bannerfish, lionfish, triggerfish, fusiliers and shovelnose rays are seen frequently. Although rare, whale sharks and manta rays sometimes show up.
Diving in the reef is ideal both for professionals and beginners.
The reef is named after Andreas du Plessis de Richelieu, who was the first and only foreign commander-in-chief of the Thai Navy from 16 January 1900 to 29 January 1901.
Location; 9.36277, 98.02194
Ko Surin Nuea
The English name being Surin Nuea Island, it is one of the two main islands where the information center and two campsites are located. The island has many bays, beaches, snorkelling & diving spots and a nature trail.
There is snorkelling equipment for rent at the information center of the island.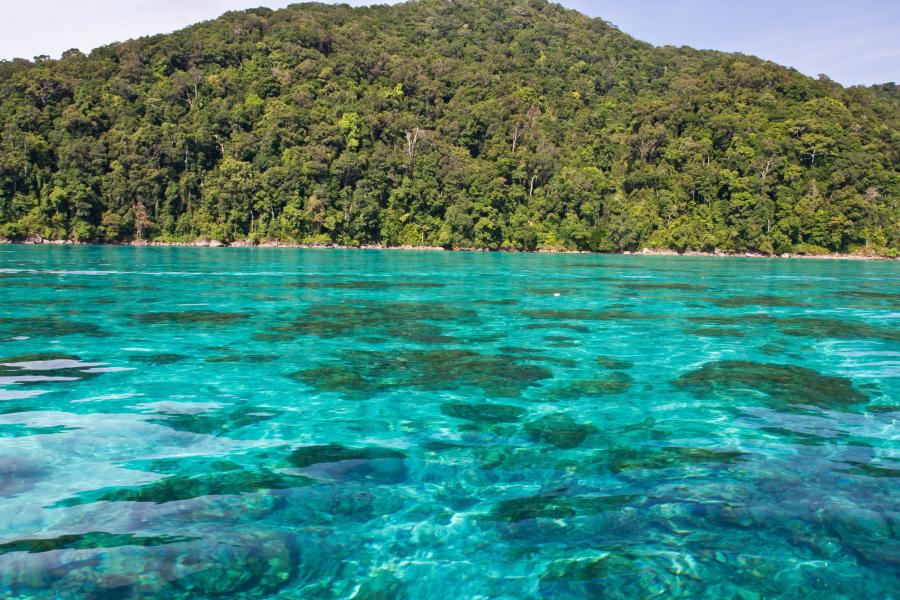 Chong Kaad Bay
Chong Kaad is the main bay where the information center is located and where the boats arrive or take off. The bay has a campsite, laundry services, a smaller shop, a restaurant, toilet and shower facilities, few accommodations and a white beach with clear water, ideal for both snorkelling and scuba diving.
There is a 2 km trail called Mai Ngam Natural Studies, starting from the bay all the way to Mai Ngam Bay Campsite on the west side of the island. Visitors can also enjoy watching the beautiful sunset on islands by a short walk to nearby Ao Krathing.
Mai Ngam Bay and Campsite
A large bay situated at the west end of the island, accessible by walking 2 km Chong Kaad Bay or by boat. This bay has shallow and calm waters, the best bay in the islands for snorkelers to swim off from the beach.
There is a campsite and a restaurant in the bay. The campsite is next to the beach, has toilet and shower facilities, administration area for the campsite and a cafeteria with limited choice of meals.
Jaak Bay
A very wide bay situated at the northeast edge of the island. The bay has a long white beache and nice coral reefs, ideal for snorkelling.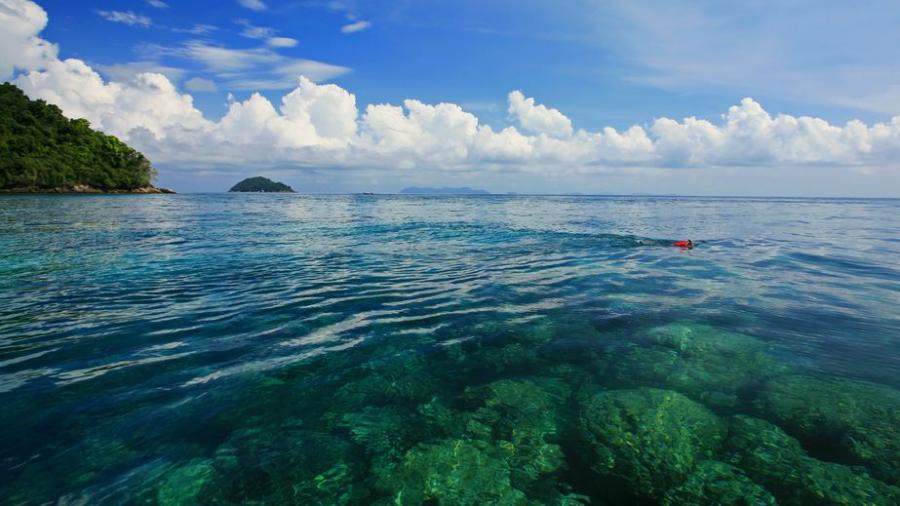 Ko Surin Tai
The English name being Suring Tai Island, it is the second biggest island in the national park. Apart from the Moken village area, it is off limits to visitors.
South side of the island is a popular place for night diving.
Moken Village
There is one small community of the ethnic Moken minority, locally known as "Chao Lay". Mokens are nomadic sea people who live in the Burmese Mergui Archipelago. The total Moken population of the Islands is around 329 people (by 2019) in 78 houses.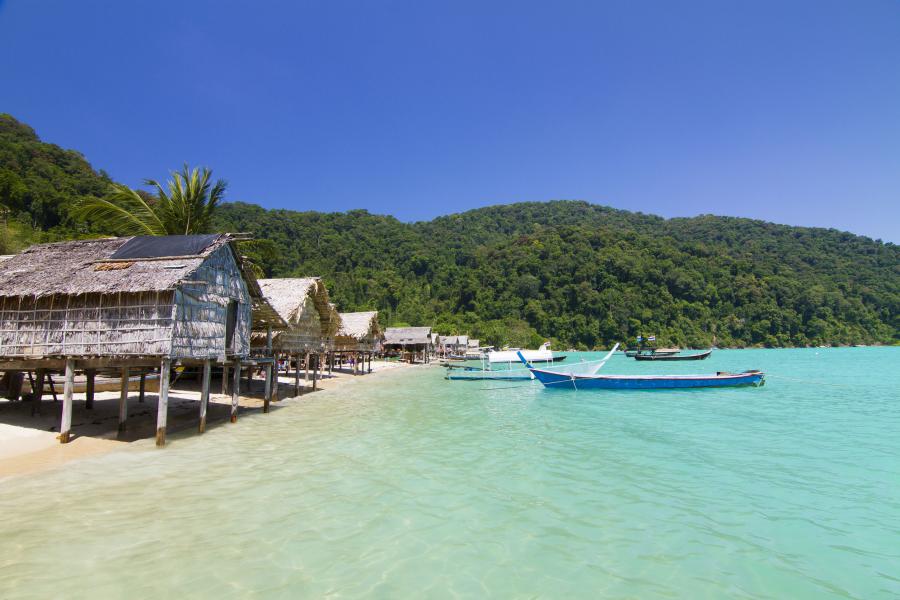 Moken community has been hit by two disasters over the last two decades;
The first disaster wiped out back then two villages during the December 2004 Tsunami. When the villagers saw the sea water draw back from the coast, they knew a tsunami was on the way. The entire population in both villages managed to escape to the higher grounds to safety but their houses, all their other belongings were completely wiped out. Only half of the boats survived the catastrophe. The community from both of the villages reconstructed a single village called Ao Bon Yai in Surin Tai Island.
After the tsunami the houses that previously were built on water were forced to be built further inland by park authorities. This resulted in houses being built very near each other. The second disaster happened in February 2019; while a villager tried repairing a boat under a house, the gas-filled engine of the boat caught fire and rapidly spread out to all 65 houses which were built tightly together.
When visiting the village please follow the common sense; respect the community by having a shirt on, do not use your camera without permission. Just imagine how you would think if you got tourists around your home every day.
Turtle Ridge
Turtle Ridge is a long sloping hard coral reef with depth of 5-20 meters on the southeast side of the island. Hawksbill sea turtles and less common green sea turtles are spotted in this area from time to time. Clark's anemonefishes, batfishes, Andaman foxfaces and yellowmask angelfishes are only a few of the many other exciting species seen here.
Tao Bay
The bay is situated on the southeast of the island, popular for snorkelling and scuba diving.
Suthep Bay
Situated on the northwest of the island, this bay has Thailand's first underwater snorkelling trail marked with signs. The bay is also ideal for scuba diving, night diving and swimming.
Pak Kaad
Situated in the south side of the island, it is a rocky bay ideal for snorkeling. Barracudas, titan triggerfish, emperor angelfishes, falcula butterflyfishes, orange spine unicornfish, pufferfishes are some of fishes seen in the bay.
Ko Khai
It is the smaller island situated south, one of the most popular dive sites in the national park. The east side of the island has a long hard/staghorn coral line where many species can be seen, ideal for both snorkelling and diving. It is home to cardinal fishes, humpnose bigeye breams, twin-spots and five-lined snappers.
Ko Klang
Also referred to as Ko Pajumba or Ko Mungkorn, it is another small island. There is no coral life or any other interesting spots on this island.
Rock formations
There are several rock formations in the national park; they can be referred to with various names on different maps found on many websites.
Hin Rap
A rock formation located 2 km north of Ko Surin Nuea. The average depth is 15 meters (12-24 meters).
Hin Kong
Few granite outcrops with an average depth of 10 meters.
More photos