About Kui Buri National Park
Known to be the best wild elephant watching spot in Thailand, it is almost 99% sure the visitors will see wild elephants any given day of the year in Kui Buri National Park's wildlife watching area. Though, on a few occations the last couple of years there has been no elephant sighting over several consecutive days, probably because of drier conditions.
Established as a national park in 1999, it covers 969 km² in Prachuap Khiri Khan Province, about 85 km southwest from the popular tourist destination of Hua Hin.
The park mountains are part of the Tenasserim Hills Range, spanning over many protected areas in Thailand and Myanmar. The forests consists of dry and moist evergreen forests with trees such as Dipterocarpus tuberculatus, Hopea odorata, Terminalia chebula and different species of palms.
The park is the only place in Thailand where sandalwood can be harvested for the cremation of royal family members. Nine trees were cut down for the cremation of King Bhumibol Adulyadej. A royal brahmin spent one month selecting trees meeting royal criteria: they must be dead and have been over 100 years old. (source: Wikipedia).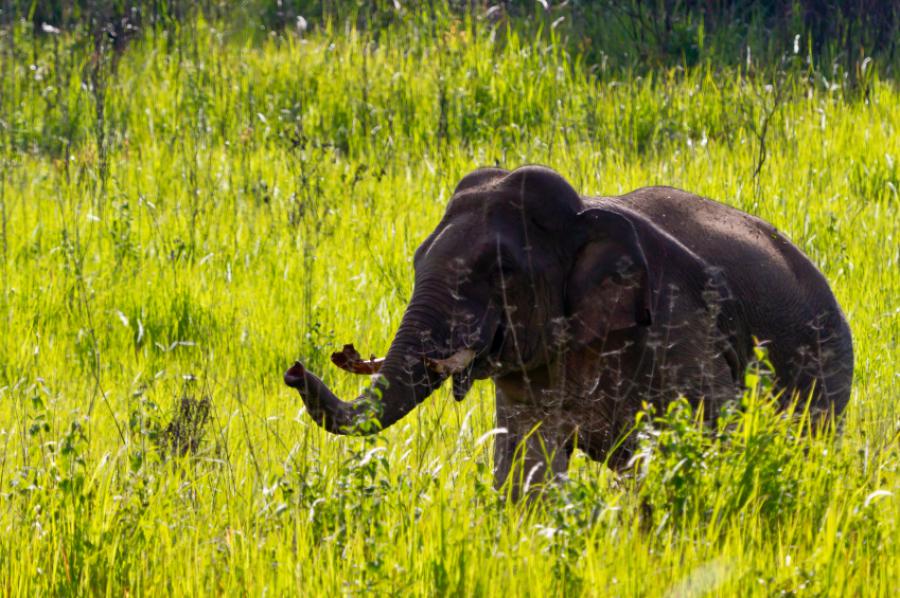 The rainy season is May to November with the most rainfall in May and August to November. The rest of the year is quite dry.
Wildlife
The national park is home to one of the biggest population of gaurs in entire Thailand, with estimated around 100 individuals and around 320 elephants (by 2016). In December 2013, 24 gaurs were found dead in the national park. Clinic tests concluded that the cause of death was bacterial. Following this incident, the national park was closed for 8 months and re-opened again in August 2014. Few years later a herd of 70 gaurs were spotted feeding near one of the ranger stations, a good sign that the population was recovering.
Although not commonly seen, the national park probably has similar rich diversity of mammal species as in Kaeng Krachan National Park to the north. Apart from elephant and gaur, the other relatively common mammals are golden jackal, deer, langur, Burmese hare, Malayan porcupine and wild boar. Other interesting but rare mammals are banteng, white-handed gibbon, leopard, Malayan tapir and Asiatic wild dog.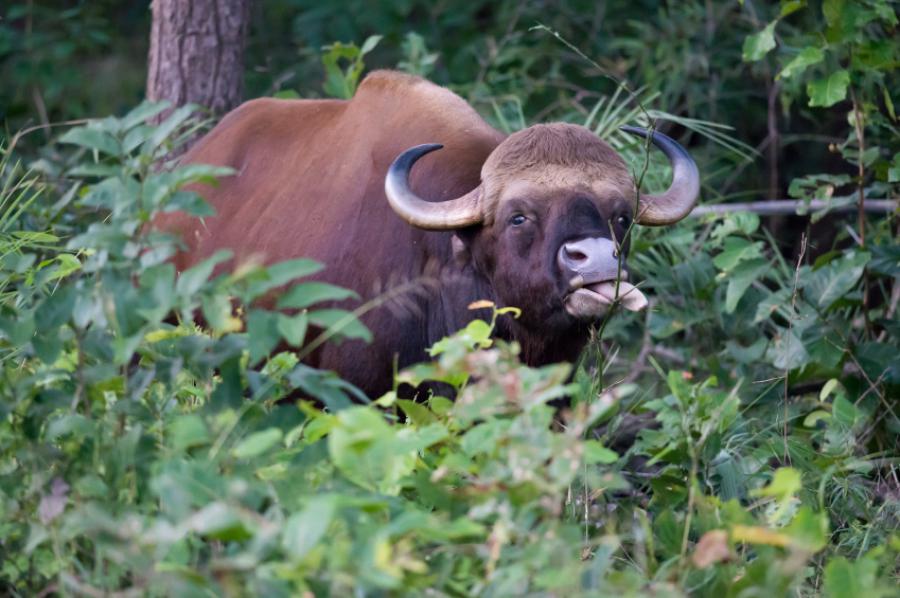 Kui Buri has a rich fauna of birds with over 250 species reported from the park. Crested fireback, grey peacock-pheasant, ferruginous partridge, Tickell's brown hornbill, brown fish owl, yellow-vented green pigeon, white-fronted scops owl, moustached hawk-cuckoo, blue-rumped parrot, spot-necked babbler and eared pitta are few of the rare ones to mention. Cattle egrets are seen daily around elephant herds. Other more common birds are red junglefowl, Indian roller and Asian openbill with many others.
Visiting
Kui Buri National Park will be closed from 1st March until 30th April every year. Other than that, the park is open every day, including on public holidays and week-ends.
One mistake many visitors do when getting to the park is; they hit "Kui Buri National Park" on their navigator and follows the suggested route. When searching, Google Maps or other navigators will simply mark the headquarters area of the park and draw a route accordingly. That's not where the wildlife watching area is, so, it is important to know where to get to. Read further below how to get there.
The best way to get a good picture of the whereabouts of the wildlife watching area and other relevant spots is to open the map of Kui Buri National Park from this page. By zooming in/out or pan the map it is possible to see the location of the different spots in the park, the roads, checkpoint, but also, when zoomed out enough and paned, other national parks and attractions in the area can be seen.
It is not possible to enter the wildlife watching area beyond the visitor center with own car. A safari pickup with a guide must be arranged from the visitor center. There is not much of a wildlife activity in the visitor center vicinity of the wildlife watching area if you are hoping to see elephants or other animals without a safari arrangement into the park.
Getting to the wildlife watching area
There is only one general wildlife watching area in Kui Buri, it is at Huai Luek Ranger Station, about 16 km north from the headquarters.
There are no public transportation options to get there, private arrangements needed. It is possible to get there with any car or motorcycle. When getting there from Hua Hin or Pran Buri end, the road is pretty good all the way to the visitor center.
The wildlife watching area is open from 2 pm to 6 pm, daily and all year round, but there won't be much wildlife activity until the late afternoon. Visitors are recommended to reach there from around 3 pm onward and allow a bit margin for arrangements.
Getting there with own car/bike
In Google Maps, the wildlife watching area is marked as "Kui Buri National Park Elephant Watching" or "Ang Kep Nam Huai Luek". Enter either of these search terms or enter the lat/long coordinates below in the search field of your navigator for the directions;
Coordinates; 12.138849, 99.646734
If you don't intend to use any navigator; Follow the highway 4 south from Hua Hin towards Kui Buri Town for 60 km. Few kilometers before reaching Kui Buri, couple of big elephant models will be seen on the left side of the road with a signpost showing the direction to "Kui Buri National Park" to the right on route 3217. Follow this road for 14 km until you see a big sign with elephant photo on it showing right to route 4024. Ignore the sign pointing straight ahead to "Kuri Buri National Park headquarters". Follow the signs on route 4024 until you reach the wildlife watching area. Last few hundred meters of the road is a bit poor, but can be accessed by any car.
Tours & private transportation
It is possible to arrange a private tour or a roundtrip taxi service from this website.
The tour offered from this website is with professional English speaking guides who have good knowledge of the national park. For more details, follow this link;
Private tour | Kui Buri elephant safari, half day
The round trip taxi service price from Hua Hin is from 2,200 Baht and up depending how many people and car type, the price also includes a mandatory insurance coverage per person. These drivers regularly gets customers to the wildlife watching area and knows the directions. For more info please follow this link;
Taxi | Hua Hin to Kui Buri Elephant Watching Area
When arranging taxi from other sources, it is very important that the driver is informed where to head. Some drivers takes their customers straight to the headquarters which causes time loss but also resulting in dispute about the price because they have to drive another 30 minutes to the wildlife watching area.
Getting to the headquarters area
There is literally nothing interesting to do at the headquarters area of the national park, even birdwatching possibilities are quite poor. There are no trails to walk around and walking along the road out will be along the tree plantations, farms and houses.
There is however a camping ground with basic facilities, but no restaurant.
Coordinates; 12.051663, 99.624023
When no navigator used, just follow the same directions as to the wildlife watching area, instead of turning left to the route 4024, just continue straight by following the signs to the headquarters.
Entrance fees & safari pickup cost
Once at the wildlife watching area, entrance fees needs to be paid and a safari vehicle needs to be arranged at the visitor center.
The entrance fee is 200 Baht for foreigners and 100 Baht for children. Thai citizens to pay 40 Baht and 20 Baht for children. Cars will be charged with 30 Baht.
Safari pickups with guide costs 850 Baht per group of max 8 people, but visitors are recommended to leave some tips because the price is too cheap to be shared between a driver and guide (not mandatory). The guides speaks no English or only very basic English.
The wildlife watching area is open from 2 pm until 6 pm every day, all year round.
Stay & eat
There is no need to stay near the national park to see the elephants. The visitors are recommended to do a daytrip from Hua Hin or other nearby towns where it is easy to arrange transportation from.
There are no camping grounds or other accommodations for rent at the wildlife watching area, but there is a basic restaurant and a cafe next to the visitor center.
Kuri Buri headquarters area has a campsite with a visitor center and basic facilities but no restaurant. Tents are available for rent at the visitor center from 270 Baht a night including accessories. There is only one bungalow, it has 3 bedrooms and 2 toilets, for 1,800 Baht per night. Bringing own tent will be charged with 30 Baht per night which is a standard fee in all national parks in Thailand.
Phone(s)
You are recommended to ask a Thai speaking person to call on your behalf.
081 776 2410 (Visitor Center)
032 646 292 (Visitor Center)
090 442 8707 (Wildlife watching area)
(In Thai only)
The attractions of Kui Buri
Huai Luek Elephant Watching Area
It is the only spot in the national park where wild elephants and possibly other animals can be seen from safari vehicles. Apart from the elephants, there is some chance to see gaur, deer, jackal and Burmese hare.
On arrival to the ranger station, a safari vehicle must be arranged to enter the wildlife watching area. These can't be arranged in advance. The safari vehicles are converted pickups with seats mounted on the trunk. These doesn't have any roofs, open so that the visitors have clear 360 degrees of visibility. Umbrellas provided in case of rain.
A safari tour costs 850 per group but the visitors are recommended to give some tips to the drivers and to the guides (not mandatory).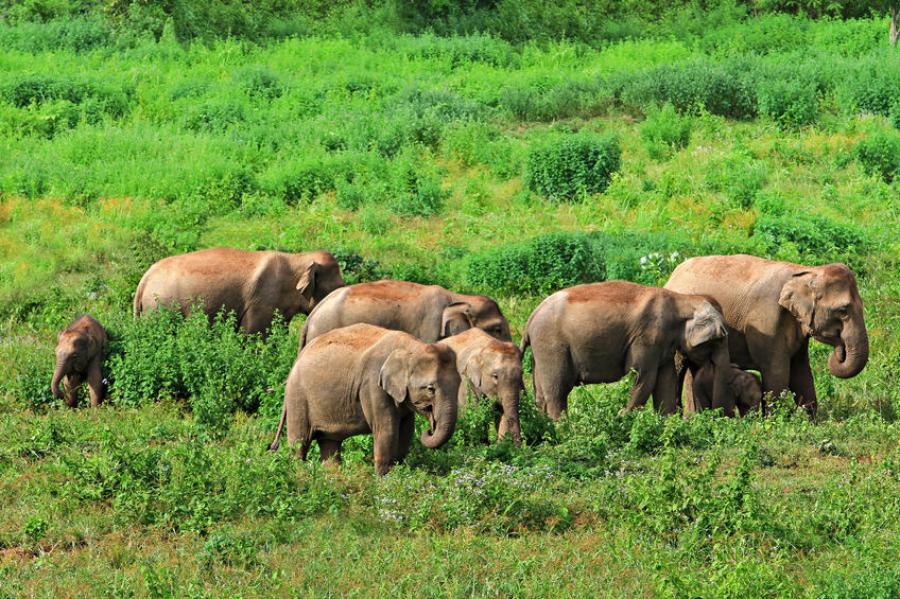 The wildlife watching area is open from 2 pm until around 6 pm daily. When enough elephant seen the tour may end earlier on request. The visitors are recommended to visit the area on the late afternoon as there won't be much of wildlife activity on the earlier hours. Wildlife becomes gradually active from around 3-3:30 pm onward. Visitors from Hua Hin are recommended to leave the town around 1:30 pm. Visitors won't be allowed to enter the wildlife watching area after 5 pm, but once inside, the tour can continue until 6 pm.
The station has a large car parking area, toilets, a visitor center, a restaurant and a cafe.
The wildlife watching area north from the substation is a forested area with several grassland areas. Two of the grassland areas have viewpoints with nice view over surrounding areas. While doing a safari trip the local guides will inform each other with walkie talkies when they see animals which increases the chances to see various animals.