Private Tour

|

Erawan Falls | day tour from Bangkok

Kanchanaburi Province in west Thailand is home to several natural and historical sites popular among both local and foreign tourists. Erawan National Park in the province, with its famous falls, is no doubt one of the most iconic attractions in Thailand but it is also one of the most beautiful falls in entire Asia.
What?
A day-tour to Erawan Falls includes transfer from Bangkok, visiting Erawan National Park where you can hike up to all seven tiers enjoy swimming in the ponds and visiting a nearby cave. The cave may get closed if there has been heavy rain lately, in case, you will be able to visit The Bridge over River Kwai in the Kanchanaburi City instead.
Where & When?
This full day tour can be booked all year round except on long week-ends and holidays when the waterfalls get too overcrowded.
Our guide will meet you at 6:30 am in your hotel's lobby in Bangkok. Driving time to the falls takes about 3 hours & 15 mins. After the tour you will be taken back to your hotel around 7 pm in the evening.
During the dry season there is not much flow of water but it will be beautiful as the water gets crystal clear.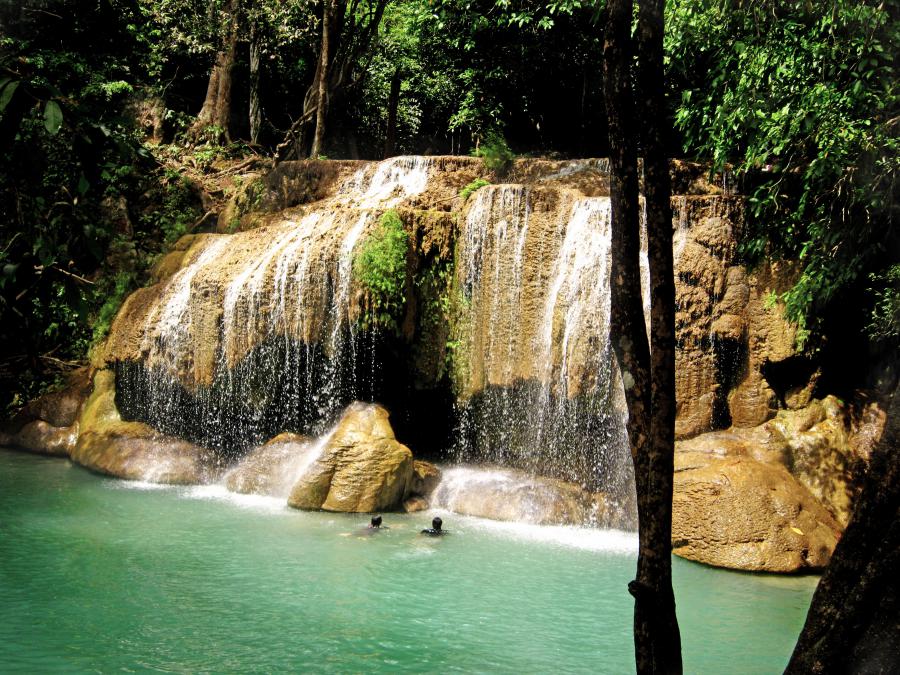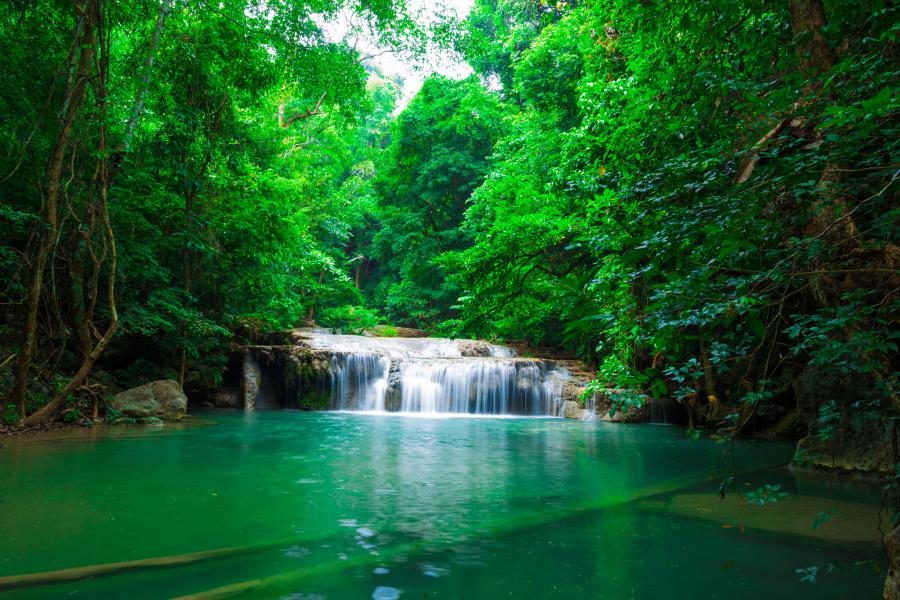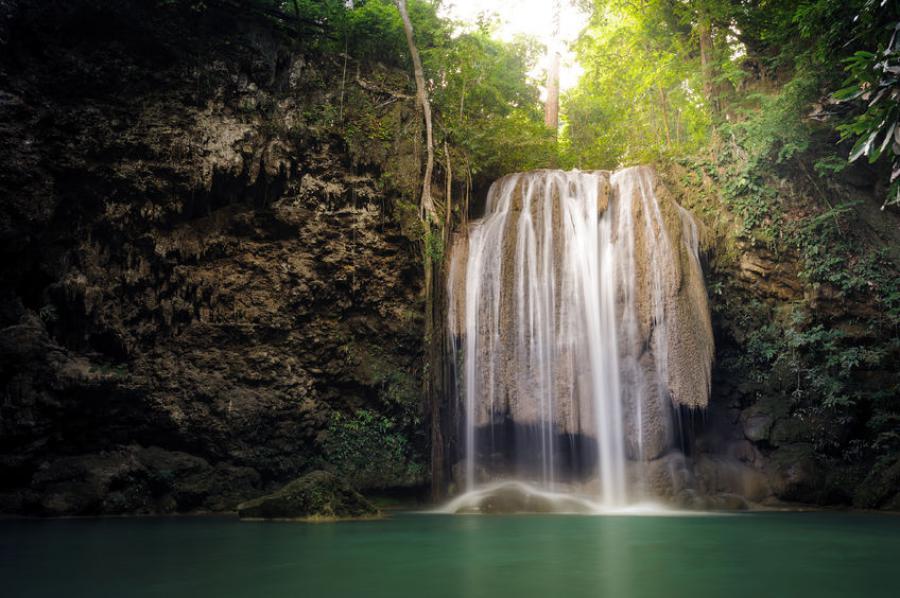 Tour details in short:
Duration: 1 day
Type: Private tour
Price: 1,750 Baht and up (per person, depending on group size)
Group size: 1 or more people
Grade: Easy to moderate
Transport: SUV or minivan with a/c from Bangkok
Start: 6:30 am
End: 7 pm
What to bring:
Swimwear, towel and dry clothes if you would like to swim
Hiking or sport shoes
Mosquito spray, sunblock lotion
How much?
This tour is strictly private. You'll be accompanied by an English speaking licensed guide and no other people will join you; the best way to explore the falls! The listed prices below include relatively new and air conditioned SUV or minivan with professional driver, entrance fees, refreshments, lunch, coffee/tea and snacks.
Pax
Rate per person
2
3,800

THB

3
2,800

THB

4
2,500

THB

5
2,200

THB

6
2,000

THB

7
1,850

THB

8
1,750

THB
Tour rates include:
English speaking guide
Transportation with SUV or minivan from Bangkok
National park entrance fees (300 Baht per person)
Lunch
Coffee/tea break
Snacks
Water
Reviews from our guests
By: Wadim Tribelhorn | posted Sat 7 Jan, 2023
The tour was very nice and well organized.
Our guide did a great job. We felt very comfortable. He knew what we wanted and was able to fullfil it. Very good job.
Thank you for the fantastic experience.
By: Sock Teo | posted Thu 22 Dec, 2022
The day tour was great, starting with the clean and comfortable van that picked my family of four. This was truly a private tour for the 4 of us, with a guide, Jacky, and the driver. I have booked with other tour operators before and there were other people in the same bus, which wasn't very comfortable.
We started with the Erawan waterfalls and I was amazed by Jacky's stamina. He trodded on effortlessly, which encouraged us to keep going. The view at each level of the waterfalls was simply mesmerising. Jacky made appropriate stops along the way to let us catch our breath. At lunch, he checked our preferences before ordering a table of delicious food for us.
After lunch, we went on another hike to the Phra That cave where we saw beautiful rock formations. We were lucky to have Jacky as our guide as it was not easy to do both hikes on the same day but Jacky ensured we paced ourselves and took appropriate rest stops.
I would also like to commend our driver who drove carefully and safely.
By: Ulf Bessner | posted Wed 21 Dec, 2022
Perfect day - thank you very much. Good guide and an amazing driver. Well organized and all have been in time and always friendly. Thanks for this Performance & BR Ulf
By: Jane Lam | posted Fri 16 Dec, 2022
Cat is very nice and good tour guide to bring us around and introduce much information about Thailand culture and tradition. She provided the honarable advice on the tour arrangement and very worth it . Want to stay longer time in Waterfalls. The restaurant for lunch is delicious and very full for 2 people . Highly recommended to my friends to join the tour.
By: Darren Dye | posted Mon 21 Nov, 2022
A must do when visiting Bangkok, the 7 tiers of waterfalls get more and more unique and beautiful , and swimming in them with the fish nibbling on you is the best experience
By: Emeline Raman | posted Sat 12 Nov, 2022
Just P-E-R-F-E-C-T !
We booked the trip when we were still in Belgium and had all the information right away. Very simple to book.
The excursion took place on the 9th of November. The entire trip went super smoothly. We received a breakfast when we met our guide (Jacky - such an amazing and kind person). We directly went to the falls, on the way there Jacky provided us with lots of information on the region. He is so knowledgeable.
Then we hiked from the first to the 7th falls. We had plenty of time to take pictures ( Jacky also took pictures of us - so great to bring back memories). After the hike, we had a lovely lunch at one of the local restaurant. Super good food !
We ended the day with one last stop at the famous Bridge of Kanchanaburi before heading back to Bangkok.
We truly recommend doing this one day trip to get out of the city one day.
The service of Thai National Parks was just amazing.
Thank you for this memorable experience 🙏
By: Mary Massung | posted Thu 11 Aug, 2022
Excellent tour to Erawan Falls, Bridge over River Kwai, and cave. Tour guide was knowledgeable and customized tour based on our interests. Great local lunch with a fantastic view.
By: Ai Chin Chua | posted Sun 3 Jul, 2022
The trip was overall excellent. The waterfalls was beautiful! Only wishes it rained more so that there would be more water but thats just the season. The itinerary started off with the hike which was great as there was hardly anyone around on the trail.
Driver was on time and attentive. The guide Mot was very knowledgeable and accomodative to our request and change of itinerary. Overall an enjoyable experience.
By: Angela Ng | posted Tue 7 Jun, 2022
Ease of arrangement. Seamless agenda from the comfortable pickup from the hotel to meeting the guide - Jackie. Jackie is friendly, energised and knowledgeable. Erawan is a beautiful place and a must go place for visitors to Thailand who wants a little adventure.
By: Olivia Martel | posted Wed 1 Jun, 2022
We really enjoyed our tour. Jackie was amazing and showed has a lot of things. He made sure we were ok and was really sweet.
Thank you again!