Private Tour

|

Erawan Falls | day tour from Bangkok

Kanchanaburi Province in west Thailand is home to several natural and historical sites popular among both local and foreign tourists. Erawan National Park in the province, with its famous falls, is no doubt one of the most iconic attractions in Thailand but it is also one of the most beautiful falls in entire Asia.
What?
A day-tour to Erawan Falls includes transfer from Bangkok, visiting Erawan National Park where you can hike up to all seven tiers enjoy swimming in the ponds and visiting a nearby cave. The cave may get closed if there has been heavy rain lately, in case, you will be able to visit The Bridge over River Kwai in the Kanchanaburi City instead.
Where & When?
This full day tour can be booked all year round except on long week-ends and holidays when the waterfalls get too overcrowded.
Our guide will meet you at 6:30 am in your hotel's lobby in Bangkok. Driving time to the falls takes about 3 hours & 15 mins. After the tour you will be taken back to your hotel around 7 pm in the evening.
During the dry season there is not much flow of water but it will be beautiful as the water gets crystal clear.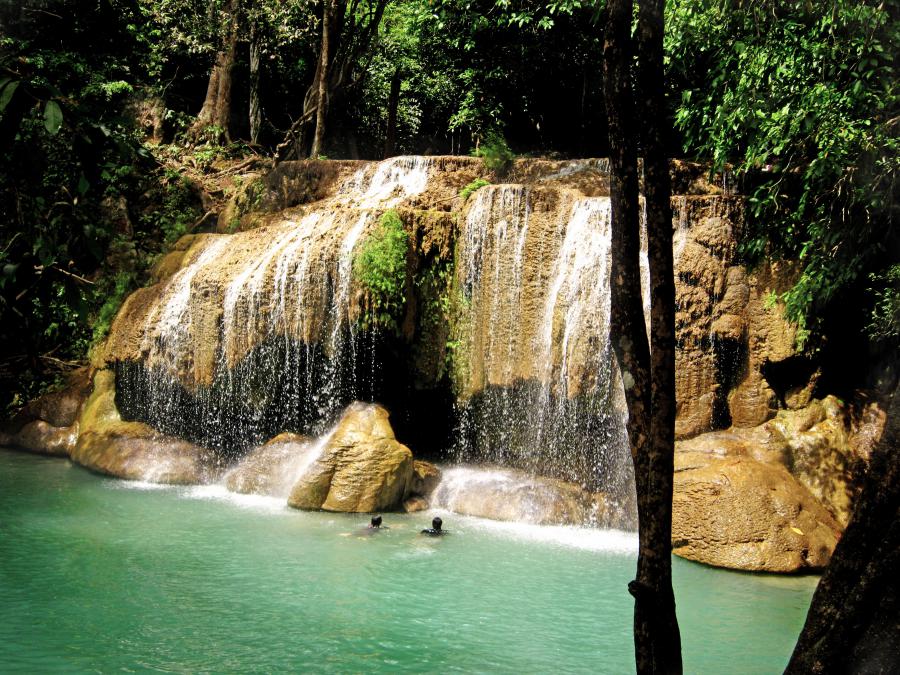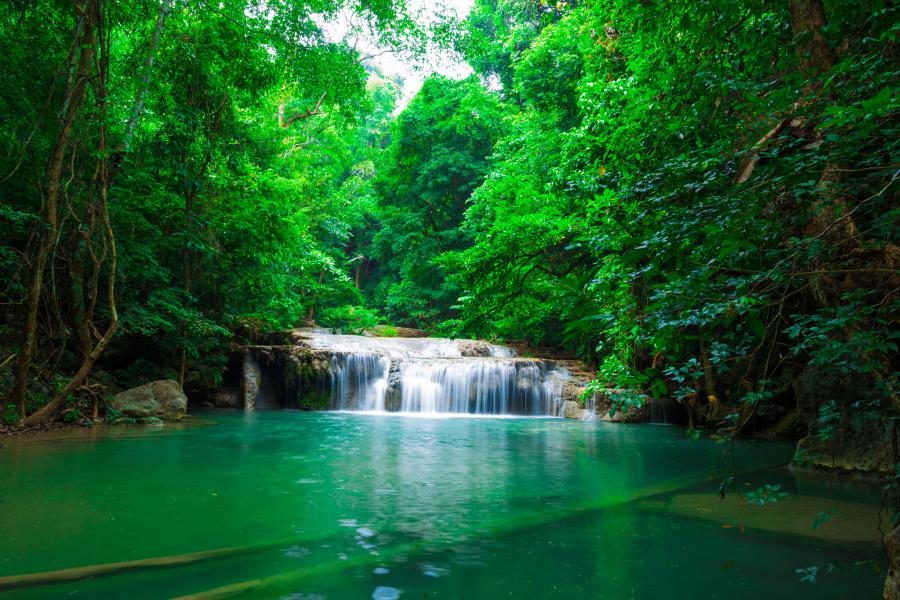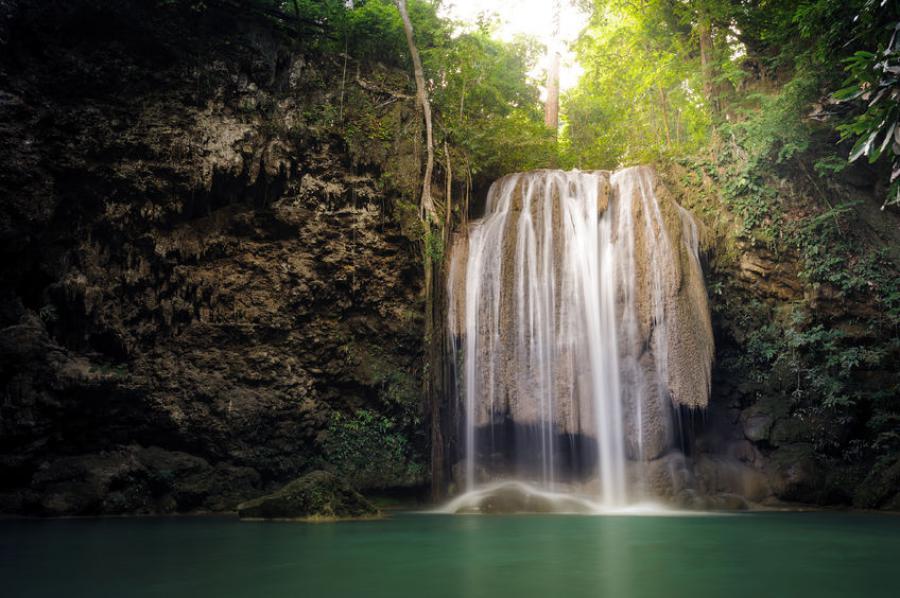 Tour details in short:
Duration: 1 day
Type: Private tour
Price: 1,750 Baht and up (per person, depending on group size)
Group size: 1 or more people
Grade: Easy to moderate
Transport: SUV or minivan with a/c from Bangkok
Start: 6:30 am
End: 7 pm
What to bring:
Swimwear, towel and dry clothes if you would like to swim
Hiking or sport shoes
Mosquito spray, sunblock lotion
How much?
This tour is strictly private. You'll be accompanied by an English speaking licensed guide and no other people will join you; the best way to explore the falls! The listed prices below include relatively new and air conditioned SUV or minivan with professional driver, entrance fees, refreshments, lunch, coffee/tea and snacks.
Pax
Rate per person
2
3,800

THB

3
2,800

THB

4
2,500

THB

5
2,200

THB

6
2,000

THB

7
1,850

THB

8
1,750

THB
Tour rates include:
English speaking guide
Transportation with SUV or minivan from Bangkok
National park entrance fees (300 Baht per person)
Lunch
Coffee/tea break
Snacks
Water
Reviews from our guests
By: Mia Kopke | posted Fri 26 May, 2023
Jackie is the best guide ever!! Highly recommend taking the tour with him.
By: Tanya Lau | posted Fri 26 May, 2023
Great service and tour, very professionally run from point of booking to tour end. Roshen from Thailand National Parks website was very responsive, prompt and transparent with costs, payment process and inclusions, and coordinating the guide even though i only booked 1.5 days in advance. As a result everything went smoothly with the tour, guide and driver were friendly and professional throughout. Would recommend for anyone who wants to get out of Bangkok for the day to Erawan National Park, Falls and cave.
By: Felix Ong | posted Mon 24 Apr, 2023
The transport was a bit run down driven by a lady driver.
She drive safely but a bit slow in my opinion. Took us close to 4 hours to reach the destination.
While at the waterfall, we were told that lvl 5 onward are not allowed to proceed as there's a fliming taking place. Super dissappointed and frustrated as you can imagine taking 8 hrs to and fro from Bangkok ended up being told we can't go up to lvl 7 of the waterfall.
By: Andrew Van Winkle | posted Wed 29 Mar, 2023
The tour was good but there was nothing unique or special about it.
Our guide was very nice and we enjoyed his company. He was helpful when it came to knowing where to go and what to do but there was nothing that we couldn't have figured out on our own.
Lunch was at one of the restaurants at Erawan Falls. It was average, neither terrible nor spectacular. I was hoping for a hidden gem that only locals knew.
The private SUV was just a standard Bangkok taxi we could have hired on our own.
I suspect we could have put together our own tour for a lower price, however nothing went wrong and it was headache free. I would recommend this tour for anyone who prioritizes convenience above all.
By: Martina Joksimovic | posted Fri 17 Mar, 2023
It was a wonderful day trip from Bangkok. Erawan National Park is a must if you have some time to escape into nature. Pat (a guide) abd Sak (driver) were so accommodating abd flexible to meet our schedule and leave us with most of the time to swimm in waterfall poole and enjoy serenety of the place. On the way to park we have stopped at Bridge over river Kwai got back in time. Had a lovely break tasting excellent Amazon Cafe coffee.
Pat climbed with us all the way to the 7th flight of the waterfalls. We had ample time for swimming on the way abd breaks wherever we needed.
In the end she did organize meal beak at homy restaurant along the river. What a lovely way to rest and enjoy food abd beautiful view.
Thank you for the experience.
Martina abd Zoran
By: Anais Figueroa | posted Tue 14 Mar, 2023
Our guide was Bass was very lovely and it was a great hassle free tour to see the falls as a day trip from Bangkok. We felt unhurried and were left to explore the levels of the falls at our own pace. the included lunch was very tasty and the car was comfortable. it is a long day but very worth it.
By: Silvia Ertl-Islam | posted Sun 12 Mar, 2023
We had a great excursion to Erawan park and Jackie, our tour guide, was amazing. He was very knowledgable, entertaining in his presentation and excellent in spotting wildlife. His English was excellent.
The hike to the top of the waterfall was beautiful and swimming at the top was a refreshing reward after hiking in 90+F degrees.
Lunch at one of the local restaurants was delicious and quite a lot of food.
Highly recommend taking this tour.
By: Manohar Zueger | posted Tue 21 Feb, 2023
It was a really nice trip. My Guide Jackie was impressive and he explained a lot. He really knows his stuff. I would do it again.
By: Lisa Glynn | posted Mon 20 Feb, 2023
Incredible day! Pick up was on time and driver was good! Calm & smooth ride. Our tour guide was informative, knowledgeable and very patient. Jackie made our day extra special. I highly recommend this tour and will book again.
By: Stephanie Burette | posted Wed 15 Feb, 2023
Retour d'expérience pour la grotte d'Erawan/ Phra That
C'était une très bonne journée, tout était bien organisé de A à Z. Nous sommes très reconnaissants d'avoir rencontré Jacky notre guide touristique, une personne si gentille et drôle. Il nous a donné beaucoup d'informations pendant la journée, de la nourriture succulente, des encouragements pour la marche difficile et un bon timing en évitant les heures de pointe.
Mention au chauffeur aussi !
Lola et Stéphanie