Private Tour

|

Erawan Falls | day tour from Bangkok

Kanchanaburi Province in west Thailand is home to several natural and historical sites popular among both local and foreign tourists. Erawan National Park in the province, with its famous falls, is no doubt one of the most iconic attractions in Thailand but it is also one of the most beautiful falls in entire Asia.
What?
A day-tour to Erawan Falls includes transfer from Bangkok, visiting Erawan National Park where you can hike up to all seven tiers enjoy swimming in the ponds and visiting a nearby cave. The cave may get closed if there has been heavy rain lately, in case, you will be able to visit The Bridge over River Kwai in the Kanchanaburi City instead.
Where & When?
This full day tour can be booked all year round except on long week-ends and holidays when the waterfalls get too overcrowded.
Our guide will meet you at 6:30 am in your hotel's lobby in Bangkok. Driving time to the falls takes about 3 hours & 15 mins. After the tour you will be taken back to your hotel around 7 pm in the evening.
During the dry season there is not much flow of water but it will be beautiful as the water gets crystal clear.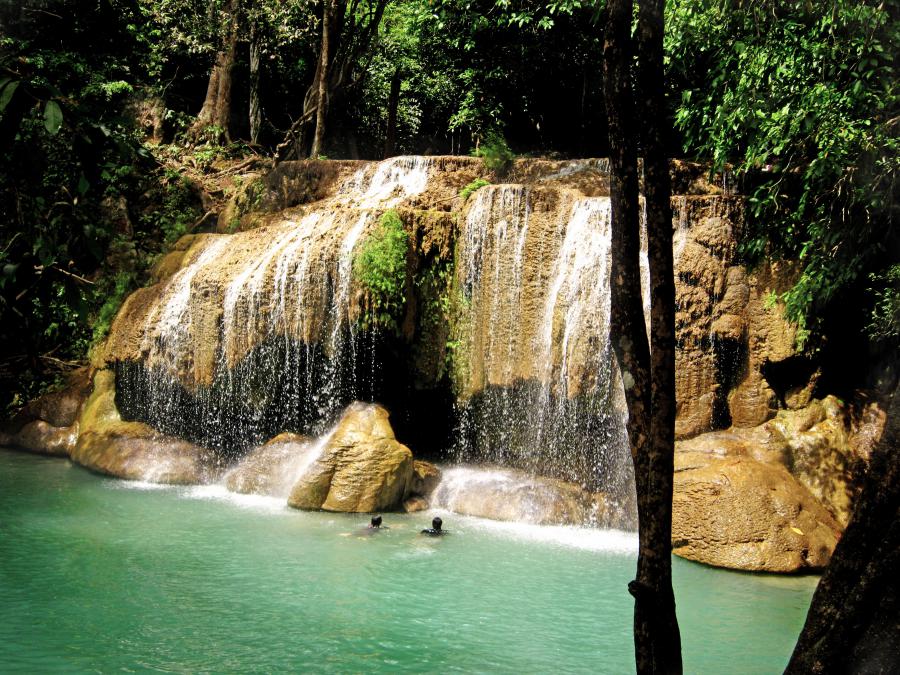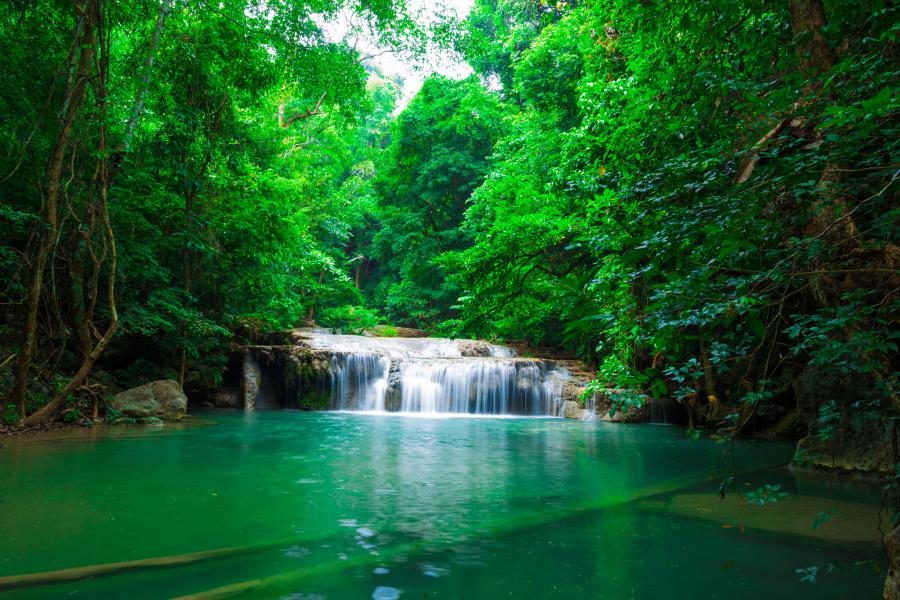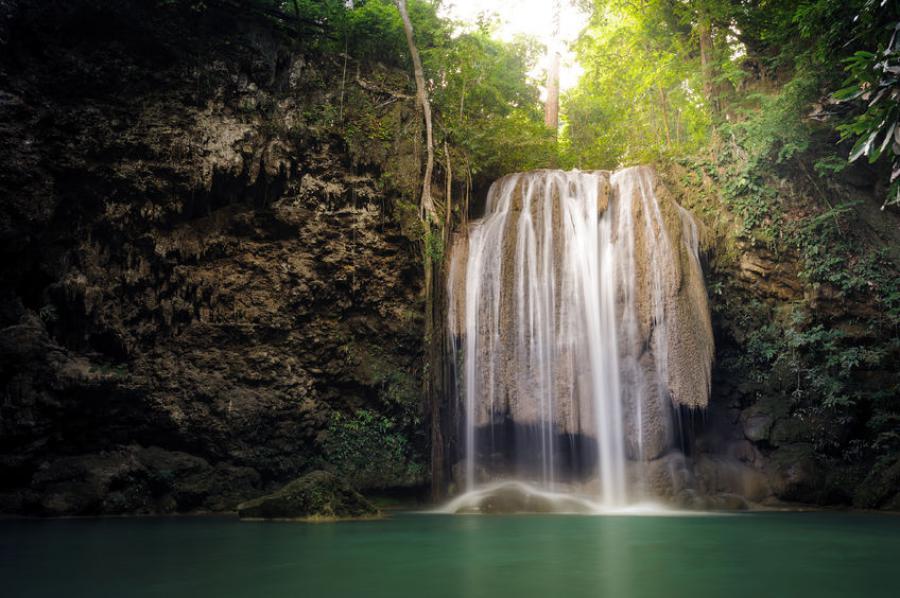 Tour details in short:
Duration: 1 day
Type: Private tour
Price: 1,750 Baht and up (per person, depending on group size)
Group size: 1 or more people
Grade: Easy to moderate
Transport: SUV or minivan with a/c from Bangkok
Start: 6:30 am
End: 7 pm
What to bring:
Swimwear, towel and dry clothes if you would like to swim
Hiking or sport shoes
Mosquito spray, sunblock lotion
How much?
This tour is strictly private. You'll be accompanied by an English speaking licensed guide and no other people will join you; the best way to explore the falls! The listed prices below include relatively new and air conditioned SUV or minivan with professional driver, entrance fees, refreshments, lunch, coffee/tea and snacks.
Pax
Rate per person
2
3,800

THB

3
2,800

THB

4
2,500

THB

5
2,200

THB

6
2,000

THB

7
1,850

THB

8
1,750

THB
Tour rates include:
English speaking guide
Transportation with SUV or minivan from Bangkok
National park entrance fees (300 Baht per person)
Lunch
Coffee/tea break
Snacks
Water
Reviews from our guests
By: Mary Massung | posted Thu 11 Aug, 2022
Excellent tour to Erawan Falls, Bridge over River Kwai, and cave. Tour guide was knowledgeable and customized tour based on our interests. Great local lunch with a fantastic view.
By: Ai Chin Chua | posted Sun 3 Jul, 2022
The trip was overall excellent. The waterfalls was beautiful! Only wishes it rained more so that there would be more water but thats just the season. The itinerary started off with the hike which was great as there was hardly anyone around on the trail.
Driver was on time and attentive. The guide Mot was very knowledgeable and accomodative to our request and change of itinerary. Overall an enjoyable experience.
By: Angela Ng | posted Tue 7 Jun, 2022
Ease of arrangement. Seamless agenda from the comfortable pickup from the hotel to meeting the guide - Jackie. Jackie is friendly, energised and knowledgeable. Erawan is a beautiful place and a must go place for visitors to Thailand who wants a little adventure.
By: Olivia Martel | posted Wed 1 Jun, 2022
We really enjoyed our tour. Jackie was amazing and showed has a lot of things. He made sure we were ok and was really sweet.
Thank you again!
By: Kelly Yanagihara | posted Wed 1 Jun, 2022
Just like the reviews said, it was amazing!!!!! Jackie, our tour guide, was 10/10. He was so funny and knowledgeable. We swam in two of the waterfalls, tier 7 has lots of fish that'll nibble your feet while tier 2 was nicer to swim in but definitely do both. Lunch was incredible and so was the bridge over the river Kwai. Would absolutely recommend this tour.
By: Anon | posted Fri 27 May, 2022
Jackie is simply one of the most affable and friendly guides. He was very knowledgeable about the waterfalls and was so encouraging, making the hike up enjoyable. He set a good pace, allowing us to enjoy each level of the waterfall but still make it up in good time.
By: Keren Farajun | posted Sun 1 May, 2022
Jackie was our tour guide and was an amazing guide and very fun to spend the day with! He has great English and was very kind to let us swim and see things at our own pace while still making it in time to everything worthy of seeing. Definitely recommend this tour to anyone who wants to experience the falls with a driver included because getting there is not very easy unless through a guided tour.
By: Kinue Hirono | posted Mon 28 Feb, 2022
It was great trip with our guide Jackie who has deep knowledge about nature and is heartwarming person. I thought it would be busy a day trip to Kanchanaburi but we had enough time to enjoy hiking and sightseeing.
I strongly recommend this tour to my friends.
Thank you, Jackie and Tank you the driver, Kuhn Samkid.
In addition, I want to say thank you to the operator, Kuhn Sushen who helped me a lot to book this tour and always replied so quick.
By: Sharon O'Dea | posted Fri 28 Jan, 2022
We spent a day exploring the Erawan Falls with Jackie, and he was a friendly, knowledgeable and confident guide.
Jackie helped to set a good pace for the hike to the top of Erwan Falls. We never felt pressurised to move on when stopped to look a beautiful sight or photo opportunity, but Jackie ensured we had an opportunity to see all levels of the falls and even find time for a swim.
Jackie's knowledge of local wildlife and customs also helped to bring the trip to life, and we'd highly recommend his services if you're planning to visit Erawan Falls or the nearby Phra That Cave.
By: Adam and Jax | posted Wed 29 Dec, 2021
We had an amazing trip to Erawan Falls and Phra That Cave.
Having a private guide made the experience very enjoyable and Jackie was a lovely guide with lots of humor. Entering the cave as a solo group magnified the mystique. The falls were beautiful and being able to swim in the top waterfall pool after the hike up the mountain was very pleasant. Transportation went smoothly from and back to Bangkok.