Private Tour

|

Erawan Falls | day tour from Bangkok

Our tours are private, meaning no others will share the transfer or the guide with you.

Kanchanaburi Province in west Thailand is home to several natural and historical sites popular among both local and foreign tourists. Erawan National Park in the province, with its famous falls, is no doubt one of the most iconic attractions in Thailand but it is also one of the most beautiful falls in entire Asia.
What?
A day-tour to Erawan Falls includes transfer from Bangkok, visiting Erawan National Park where you can hike up to all seven tiers enjoy swimming in the ponds and visiting a nearby cave. The cave may get closed if there has been heavy rain lately, in case, you will be able to visit The Bridge over River Kwai in the Kanchanaburi City instead.
Where & When?
This full day tour can be booked all year round except on long week-ends and holidays when the waterfalls get too overcrowded.
Our guide will meet you at 6:30 am in your hotel's lobby in Bangkok. Driving time to the falls takes about 3 hours & 15 mins. After the tour you will be taken back to your hotel around 7 pm in the evening.
During the dry season there is not much flow of water but it will be beautiful as the water gets crystal clear.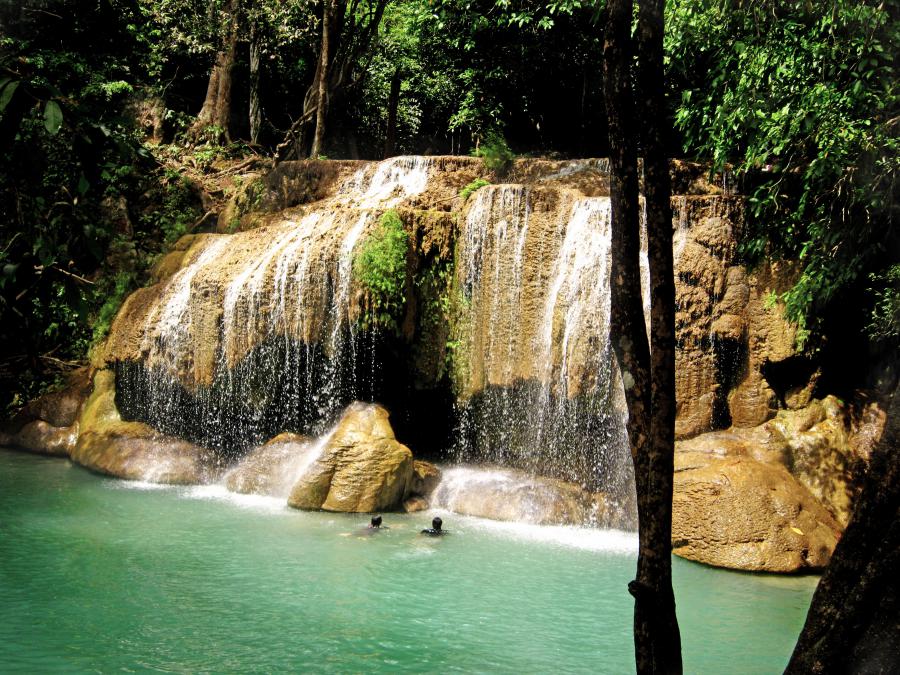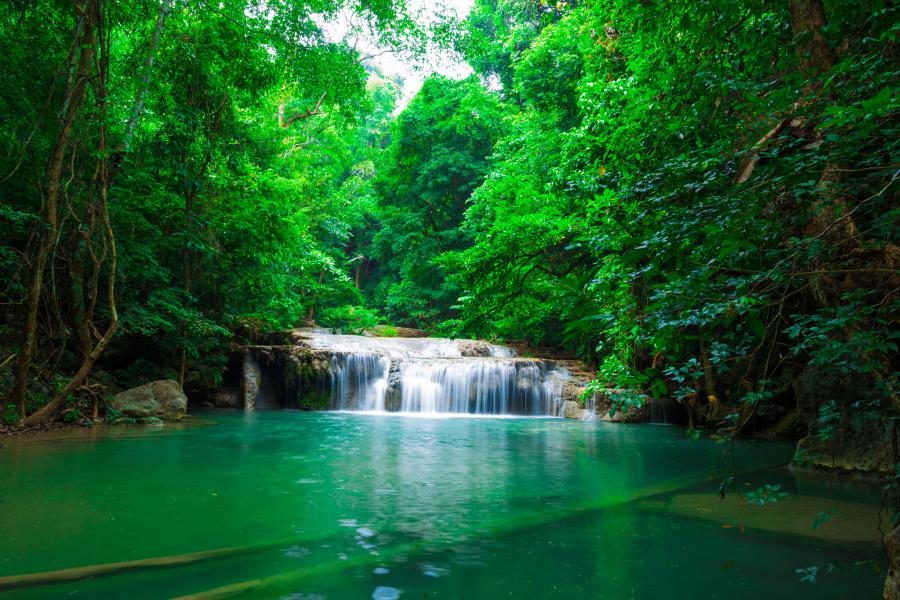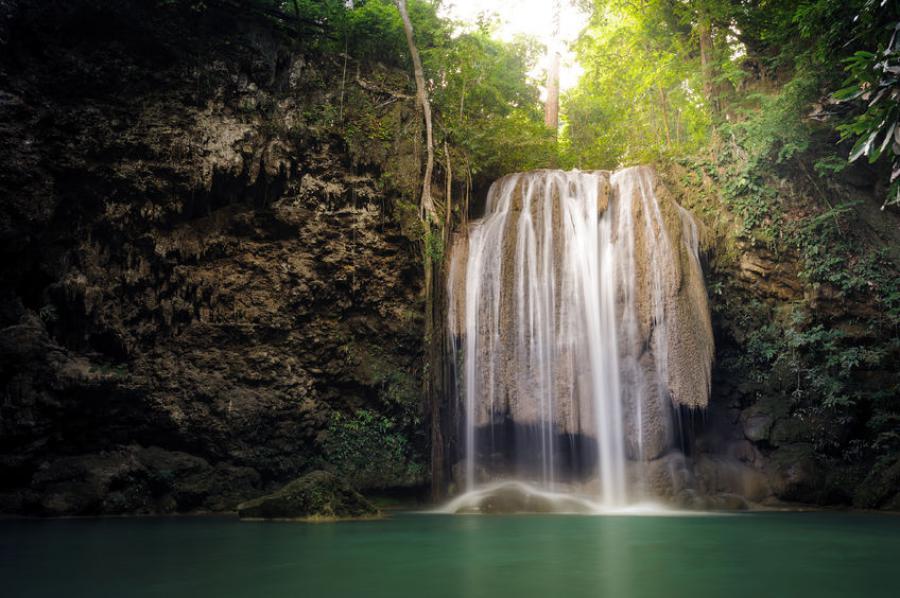 When to book?
For the high season months from November to April, we recommend booking a few months in advance because for certain periods the guides may get fully booked. Though, for certain dates there may be guides available even when booked days/weeks before.
Tour details in short:
Duration: 1 day
Type: Private tour
Price: 1,750 Baht and up (per person, depending on group size)
Group size: 1 or more people
Grade: Easy to moderate
Transport: SUV or minivan with a/c from Bangkok
Start: 6:30 am
End: 7 pm
What to bring:
Swimwear, towel and dry clothes if you would like to swim
Hiking or sport shoes
Mosquito spray, sunblock lotion
How much?
This tour is strictly private. You'll be accompanied by an English speaking licensed guide and no other people will join you; the best way to explore the falls! The listed prices below include relatively new and air conditioned SUV or minivan with professional driver, entrance fees, refreshments, lunch, coffee/tea and snacks.
Pax
Rate per person
2
3,850

THB

3
2,900

THB

4
2,620

THB

5
2,290

THB

6
2,070

THB

7
1,920

THB

8
1,800

THB
Tour rates include:
English speaking guide
Transportation with SUV or minivan from Bangkok
National park entrance fees (300 Baht per person)
Lunch
Coffee/tea break
Snacks
Water
Reviews from our guests
By: Tyler Kelly | posted Tue 5 Dec, 2023 | From Bangkok
Our Day trip to the Phratat Cave & Erawan Falls was surely one to remember! Everything from our Tour Guide, to the pickup and drop off service, food and experience itself were all a 10/10. Totally worth a day of exploring when in Thailand!
By: Ana Oliveira | posted Sat 11 Nov, 2023
Everything felt very well organised and reliable, and they always replied to messages quickly. We were picked up punctually by the driver, and both the driver and our guide, Jackie, were really nice people.
The tour went very smoothly, it was fun and we had the nicest lunch at a local restaurant. Jackie made sure we had everything we wanted to eat/try out. We also received a snack and some water at the beginning of the trip.
The only con is that we needed such a long way with the car (2-3 hours each way), but it was totally worth it and the hike to see the waterfalls was amazing.
By: Charlotte Clauwaert | posted Tue 31 Oct, 2023
By: Preeti Yarashi | posted Mon 30 Oct, 2023
We had a wonderful trip to Erawan falls. Right from enquiry to booking up the actual trip, everything was very hassle free and prompt. Our guide Jackie was very friendly and told us about the place, showed us all the good spots on the trek and treated us to a really sumptuous local lunch (my vegetarian needs were taken care of and I was recommended some really special dishes that I enjoyed). The vehicle arranged for us was also really comfortable. Overall my family and I really enjoyed the experience and recommend this tour to anyone else who wants to witness the gorgeous beauty of Erawan falls
By: Zsolt Pinter | posted Fri 27 Oct, 2023
After all a great tour, but Andy has to inform the group more about timelines. If we stop somewhere, he should tell how much time we have to spend there. It was very rushy at the end.
Tour operator's response
Thanks for your feedback. :)
It gets a bit difficult to manage the time with a bigger groups like your, there were 9 of you.
Lunch breaks, coffee breaks normally tends to take more time. With only 2-3 people in a group, perhaps not every one is interested in seeing a butterfly or a spider, a lizard etc. Over 9 people, people having different interests, it may be necessary to stop by for small photo session for every ones needs, then, it all add up to slow the hike.
By: Wil | posted Mon 18 Sep, 2023
We really enjoyed our day trip to Erawan falls and the Bridge over the River Kwai. The company was very professional, well organised and very flexible with regards to pick up times and itinerary. Andy, our tour guide, was funny and brilliant. He passed on a lot of knowledge to us about the history of the bridge and even offered us an opportunity to visit the museum. We thoroughly recommend this company to anyone who wishes to make great memories.
By: Abby Korn | posted Sun 27 Aug, 2023
Stunning park but a really long drive from Bangkok - it took over 4 hours to get back to our hotel. We were disappointed with the guide as he seemed in a rush and left us on our own after the 3rd waterfall and didn't add anything to the day.
Tour operator's response
Thanks for your feedback. We discussed this with our guide, he claims that someone from your family asked that you wanted to be alone for a bit, which our guide assumed you mean he could stay behind. I don't know if this is a case of "lost in translation", but, we generally have good feedback about this guide, we didn't hear a similar incident before. :(
By: Rabea Dencker | posted Sat 15 Jul, 2023
Die Tour war bestens organisiert mit pünktlichem Fahrer und netter Tourguidin Pat. Wir sind zuerst zur Höhle gefahren und im Anschluss zu den Erawan- Wasserfällen. Der Aufstieg zur 7. Stufe war problemlos machbar und die einzelnen Stufen sehr schön, wenn auch recht voll. Hätte es auf dem Rückweg nach unten nicht angefangen zu regnen, hätten wir drei Badepausen gehabt. Das Essen in einem von außen unscheinbaren Lokal, das aber eine tolle Terrasse zum Fluss hatte, war authentisch und sehr lecker.
Da die Erawan- Fälle der Grund für uns waren, diese Tour zu buchen, hätten wir lieber den Tag dort begonnen oder nur die Fälle besucht. Es hat sich aber auch so rundherum gelohnt! Vielen Dank an Pat und unsern zuverlässigen Fahrer, dessen Namen wir leider vergessen haben.
By: Filippo VALORI | posted Wed 12 Jul, 2023
Fantastic places, very good food and very helpful service.
By: Mia Kopke | posted Fri 26 May, 2023
Jackie is the best guide ever!! Highly recommend taking the tour with him.