About Khao Paeng Ma Non-Hunting Area
Khao Paeng Ma is montane reforestation site covering 8 km² area in adjacent to Khao Yai National Park in Wang Nam Khiao District of Nakhon Ratchasima Province. It is no doubt the best place in Thailand to easily spot gaurs. During a recent survey in 2018, around 300 gaurs were recorded in the area.
In 1995, only a couple of years after the start of the reforestation project, a smaller group of gaurs showed up on the area regularly. When the sighting brought to the authorities attention, Wildlife Fund Thailand (WFT) decided for a more strict plan to protect the area from the poachers. Since then the gaur population in the area increased, but the serious threat from the poachers still remains.
The area is an ideal place to see gaurs, much better than in Khao Yai National Park and Kui Buri National Park. It is a popular place among the locals and can be quite busy during the week-ends.
Wildlife watching
Khao Paeng Ma Ranger Station on the west side is another very good location to see gaurs. It is on a hill with good views over surrounding grasslands where gaurs regularly shows up.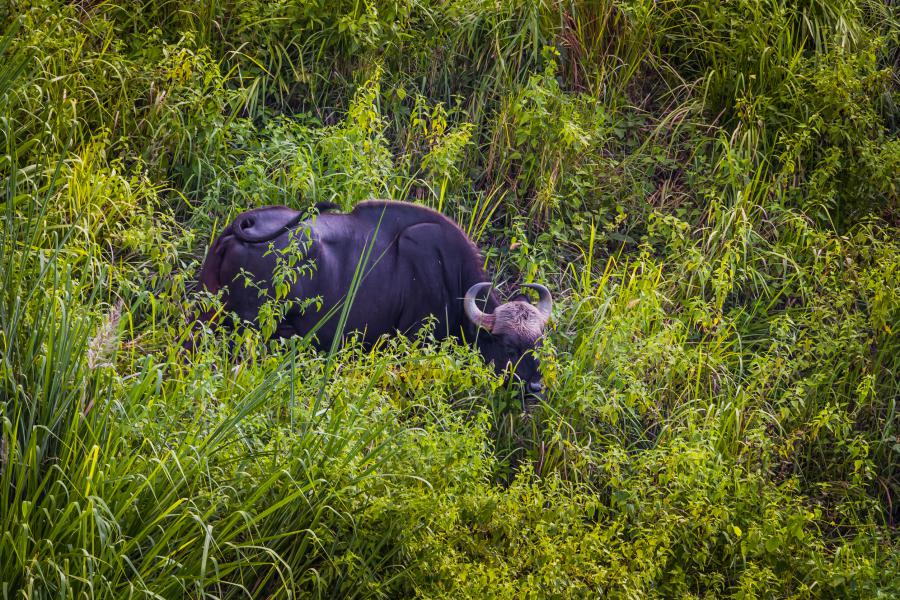 Gaurs can be seen almost daily but time of the day depending on the season;
During the rainy season from June to September they can be observed from the viewpoints, watchtowers and various spots around around 2:30 pm - 3 pm onward.
During the rainy & winter seasons from October to January they can be seen from the same spots from more from around 5 pm.
During the dry season from February to May they are more easily seen during night safaris.
There are several trails and some watchtowers in the park.
Visiting
Getting to the park
There are no public transportation options to get to the park, private arrangements needed. The road through Khao Paeng Ma to its visitor center is a dirt road and very bumpy, it requires a 4WD terrain vehicle to get to.
The non-hunting area is 68 km east from the northern entrance of Khao Yai National Park. Due narrow and poor roads it takes some considerable time to get there from Khao Yai, Pak Chong or other major towns around. The trip could take 1.5 to 2 hours from Khao Yai area.
Tours
Night safari tours can be arranged with locals, it costs 600 Baht per car (group price) for max 7 people. The contact person for the arrangements is Don (Tel: 093 5075113), in Thai only.
Entrance fees & opening times
The entrance fees to Khao Paeng Ma are 200 Baht for foreigners (children 100 Baht) and 20 Baht for local tourists (children 10 Baht).
Cars will be charged with 60 Baht, motorbikes 20 Baht and bikes (scooters?) 10 Baht.
The park is open from 6 am to 6 pm every day, all year round.
All details in this page are updated in January 2020. The opening times/dates, entrance fees all confirmed with the authorities.
Eat
There are no restaurants in the park but the rangers can call and order food from the locals when asked.
Stay
There are two campsites in the park (see further below) but there are no tents available for rent. The visitors intending to camp need to take their own tent with them. There are toilet/bathroom facilities in both campsites.
There are many resorts in nearby villages and in Khao Yai.
The attractions of Khao Paeng Ma Non-Hunting Area
Khao Paeng Ma Ranger Station & Campsite
Located on the west side of the park, it is the main gaur viewing area. It has a spacious car park and a spacious viewpoint on a hill with good views of the surrounding open grassland areas.
Khao Paeng Ma Campsite
There is a campsite in the vicinity but no tents available for rent, there is also no restaurant. There are toilet and bathroom facilities.
Nam Khiao Campsite
This camping ground is located in the central parts of the park, not too far from the main office building. No restaurants, only toilet and bathroom facilities.
More photos