Bangkok - Khao Yai | day trip with taxi
About our taxi services
With our full day taxi services it is possible to visit a number of attractions north of Khao Yai National Park. The attractions to visit must be agreed in advance so that we can inform you of a crystal clear quote.
Our regular taxis are MPVs for up to 3-5 people, minivans are for bigger groups up to 7-10 people, all depending on the amount of luggage. All our cars are spacious, with a/c and comfortable.
Our taxi services are private means no others will join you.
Service hours
Our driver will meet you earliest at 6 am in your Bangkok hotel's lobby, at the airport meeting points or other agreed location. When necessary, our driver will hold a name plate with your name on at the meeting points.
No matter how early/late the service starts in the morning, the taxi service will be until 6 pm at the attractions with a dinner time until 7 pm. After that, you will be returned to your hotel in Khao Yai or Bangkok, included in the price.
The included dinner time until 7 pm can be used to visit Pak Chong Night Market if time allows. If the night market visit continues after 7 pm, additional hourly charges will apply per starting hour.
How to book with us?
Simply by sending an enquiry by following the "enquiry" button further below. You can ask as many questions you like through the enquiry system, we will answer all. If you are happy with our answers, you can decide to book.
Sending an enquiry doesn't mean a commitment to booking. We answer all questions for free even if not booked.
Itinerary
The itinerary below is just a suggestion. You are free to decide how rushed/relaxed your planning should be, you are free to include other places in the area.
Whether you will be able to visit all listed attractions or not will depend on how much time you will spend at each attraction. Our driver will always be waiting at the car park of the attractions and drive you to the next one when you are ready. For this reason, we will not suggest any hourly based planning.
Pickup from Bangkok hotel/airport etc as early as 6 am
PB Valley, winery
The Bloom
Primo Piazza
Palio Khao Yai
The Chocolate Factory
Pete Maze
Farm Chokchai (closed on Mondays)
Any restaurants/cafes along the routes
Return to Bangkok hotel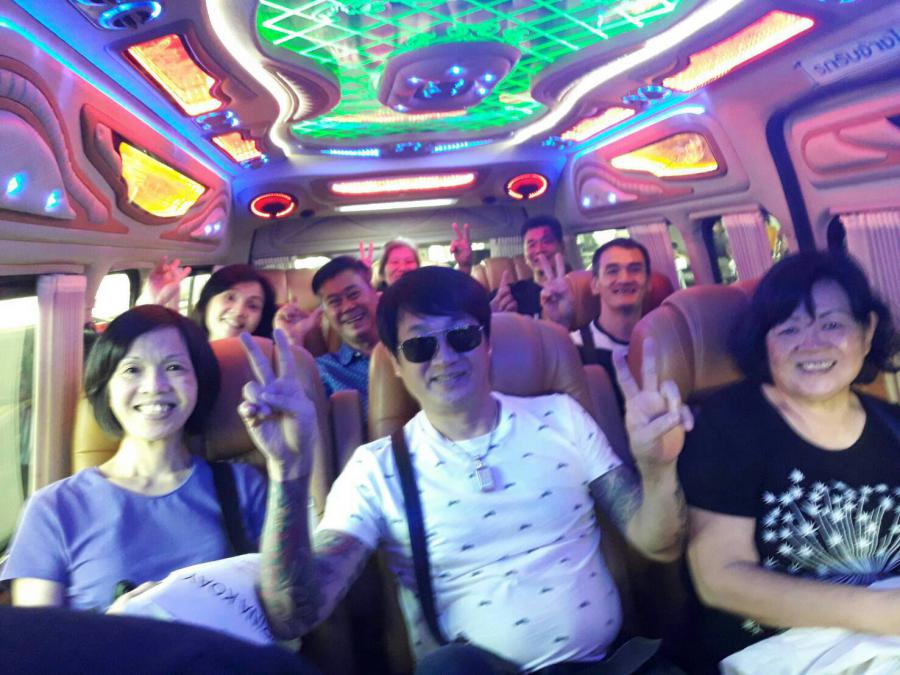 Price
The quotes shown further below are per taxi (not per person) and include fuel, eventual tollway fees. No tips needed, there won't be any hidden costs on top of what we agree in advance.
Our full day taxi services include pickup/drop off from/to Bangkok.
Additional charges apply if;
You decide to get to alternative places not mentioned below which are not in the main service area, not near the other attractions
If the service continues at the attractions after 6 pm
| Type of car | Pax | Price |
| --- | --- | --- |
| MPV | 4-6 | 3,600 to 3,650 THB |
| Minivan | 8-10 | 4,200 to 4,400 THB |
Included
Fuel, eventual tollway fees, eventual parking fees
Driver's meals & entrance fees
Visiting any other attractions nearby the ones listed above, but to be confirmed with us before the trip
Drop off at hotel after 6 or 7 pm (drive back time to hotel included)
Not included
Accommodation
Your personal expenses such as eventual entrance fees or tour costs at the attractions
Meals, refreshments
Reviews from our guests
By: Jay | posted Sat 25 Jun, 2022
The whole experience of arranging our trip to Khao Yai from Bangkok starting via email to the end of our journey was very easy thanks to the team at Thai National Parks.
Emails with our questions were answered very quickly and clearly making the planning process simple.
The final price was also slightly cheaper than most other drivers/tours we found for similar trips.
And most importantly, the driver was excellent. He knew Khao Yai National Park very well and could communicate with us well. During the trip, we made slight changes in our itinerary and our driver was happy to accommodate us.
He drove safely and very well as he told us he had been doing the Bangkok- Khao Yai loop for Thais and foreigners since 2008 so very experienced. His English level was sufficient for our needs.
We would recommend going with Thai National Parks as the price is good and the whole experience was great 👍.
By: TI | posted Sat 25 Dec, 2021
1-day taxi service is strongly recommended. We enjoyed transportation from Bangkok to Khaoyai, Khaoyai National park and other attractions in a day at a reasonable price!
By: Nilabella Ngaying | posted Wed 15 Jan, 2020
Hello, thank you for the amazing experience and great sevice. My friend very happy with the tour, thank you for the convenient transport and also flexible timetable as your provided.
(i left my sun glasses in the taxi unfortunately the driver found it but due to very tight schedule on my trips i don't get change to get it) but is not a big deal. Thank you again ??
By: Grace Wong | posted Wed 1 Jan, 2020
Driver did not bring my parents to the main sunflower field. The Sunflower field they went to seems like all the sunflower has died.
Tour operator's response
Hi Grace,
There is not much we can do if the blooming faded out at Rai Maneesorn Sunflower Fields. The blooming started early this year which resulted in this. Once a sunflower field starts blooming, it normally takes around 3-4 weeks before the blooming ends. The safest time to see sunflower blooming in Thailand is from around first week of December until around 25th December. Sometimes it can start earlier in November, sometimes it can continue a bit into January, but not always.
EDITED; Normally sunflower blooming holds around 2.5-3 weeks. We were informed that Rai Maneesorn has multiple blocks and sowing done over different periods so that there is blooming over a longer time. This year and awkward situation happened that while the sunflower blooming ended in one block, there were still no blooming in the next one. The blooming on the last block started around 6th or 7th January and this means, this year, the blooming could continue perhaps until 20th to 25th January.
By: Joanna Chua | posted Tue 17 Dec, 2019
Very good service, driver is very nice and patient. He really make our day trip to Khao Yai a very memorable one. Thanks to Thai National Parks.
By: Waiming Wee | posted Sat 14 Dec, 2019
the driver, Boy arrived on time and the drive was overall smooth. the hotel area that we stayed is a congested area and on our way back, he took another route, a longer one in terms of distance but a shorter time frame to arrive the hotel, which we appreciated very much. he's flexible fo us to change one of our itineraries to the sunflower field which we preferred. he also took us to a nice Thai restaurant where the locals eat. the only disappointment was Khao Yai national park. we told the driver that we love walking and he suggested one of the waterfalls that requires 40 mins walking to the waterfall and another 40 mins walk back to the meeting point - we were delighted! however when we reached the national park, it was more like a long drive to a few spots to take pics than any walking required. when we asked about the waterfall that he mentioned earlier, he said the park is going to close in an hour! we were disappointed and he tried to compensate and offer us a trip to the chocolate factory. we declined as we are here for the nature.
Tour operator's response
Dear Waiming,
Thanks for your kind words and feedback. :)
Following taken from the message history between you and us;
"In Khao Yai case, we have limited service inside the park. National park visit will add +300 Baht to our price to cover the driver's/car's entrance fees and the additional mileage costs inside the park. We can only take you to two waterfalls, the visitor center and a cliff with nice viewpoint in the park. The nearest waterfall is in 40 minutes driving distance from the entrance. Your entrance fees of 400 Baht per person (200 Baht for children) not included in our price. Our driver will never act as a guide as they won't be allowed to do so, they can't take you to trails for hiking etc. The only trail you can walk in the park on your own without a guide is the circular trail about 800 meters long behind the visitor center."
Our driver can't take you around to the trail heads. You need a guide, more info about that can be read on Khao Yai National Park section of this website why. Our driver can't drop you along the roads so you can walk around. We will get in trouble with park authorities if our drivers start to act like guides.
Regards
By: Mary | posted Sat 7 Dec, 2019
Very reliable and highly recomend! The driver is punctual, the car is very clean and comfortable. Will book their service again for our next vacation.
By: Jeffrey Peach | posted Mon 7 Oct, 2019
great trip
driver was enrolled
By: Estee Lim | posted Sat 7 Sep, 2019
Driver Sak is super good. We have a wonderful trip. He is caring, attentive super good attitute. Would like to come back again and definitely would prefer to have him again next trip to Khao Yai.
Thank you so much for perfect planning and advice.i would recomemnd your service to my friends.
Have a good weekend!
By: Annie Chang | posted Sat 17 Aug, 2019
Driver very helpful n polite. Thank you.