Taxi services
Bangkok - Khao Yai | day trip with taxi
About our taxi services
With our full day taxi services it is possible to visit a number of attractions north of Khao Yai National Park. The attractions to visit must be agreed in advance so that we can inform you of a crystal clear quote.
Our regular taxis are MPVs for up to 3-5 people, minivans are for bigger groups up to 7-10 people, all depending on the amount of luggage. All our cars are spacious, with a/c and comfortable. On request, we can also offer regular sedan taxis for 2 people, with a/c.
Our taxi services are private means no others will join you.
Service hours
Our driver will meet you earliest at 6 am in your Bangkok hotel's lobby, at the airport meeting points or other agreed location. When necessary, our driver will hold a name plate with your name on at the meeting points.
No matter how early/late the service starts in the morning, the taxi service will be until 6 pm at the attractions with a dinner time until 7 pm. After that, you will be returned to your hotel in Khao Yai or Bangkok, included in the price.
The included dinner time until 7 pm can be used to visit Pak Chong Night Market if time allows. If the night market visit continues after 7 pm, additional hourly charges will apply per starting hour.
How to book with us?
Simply by sending an enquiry by following the "enquiry" button further below. You can ask as many questions you like through the enquiry system, we will answer all. If you are happy with our answers, you can decide to book.
Sending an enquiry doesn't mean a commitment to booking. We answer all questions for free even if not booked.
Itinerary
The itinerary below is just a suggestion. You are free to decide how rushed/relaxed your planning should be, you are free to include other places in the area.
Whether you will be able to visit all listed attractions or not will depend on how much time you will spend at each attraction. Our driver will always be waiting at the car park of the attractions and drive you to the next one when you are ready. For this reason, we will not suggest any hourly based planning.
Pickup from Bangkok hotel/airport etc as early as 6 am
PB Valley, winery
The Bloom
Primo Piazza
Palio Khao Yai
The Chocolate Factory
Pete Maze
Farm Chokchai (closed on Mondays)
Any restaurants/cafes along the routes
Return to Bangkok hotel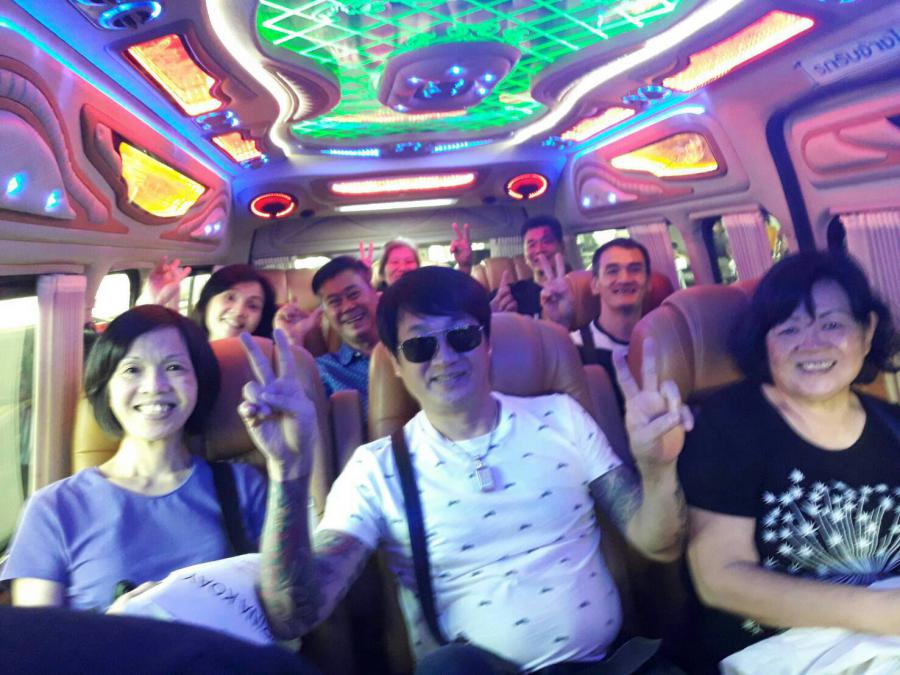 Price
The quotes shown further below are per taxi (not per person) and include fuel, eventual tollway fees. No tips needed, there won't be any hidden costs on top of what we agree in advance.
Our full day taxi services include pickup/drop off from/to Bangkok.
Additional charges apply if;
You decide to get to alternative places not mentioned below which are not in the main service area, not near the other attractions
If the service continues at the attractions after 6 pm
| Type of car | Pax | Price |
| --- | --- | --- |
| Sedan | 2-3 | 3,300 THB |
| MPV | 4-6 | 3,600 to 3,650 THB |
| Minivan | 8-10 | 4,200 to 4,400 THB |
Included
Fuel, eventual tollway fees, eventual parking fees
Driver's meals & entrance fees
Visiting any other attractions nearby the ones listed above, but to be confirmed with us before the trip
Drop off at hotel after 6 or 7 pm (drive back time to hotel included)
Not included
Accommodation
Your personal expenses such as eventual entrance fees or tour costs at the attractions
Meals, refreshments