About Doi Phu Kha
Doi Phu Kha National Park is located in Nan Province along the Luang Prabang Range in North Thailand. The park is famous for its viewpoints along the main road through the park, it's cool weather, the campsites at higher elevations, number of trails and some impressive caves. The nearest city is Nan, the main entrance point to the headquarters area of the park is from Pua Town to the west.
Doi Dong Ya Wai Mountain is the highest mountain inside the park at an elevation of 1,920 meters asl, the top of this mountain is called Doi Phu Kha. The park and this mountain top are named after chomphu phu kha tree (Bretschneidera sinensis, in Thai: ชมพูภูคา, chompu meaning pink), a tree with pink flowers, relatively common in the park.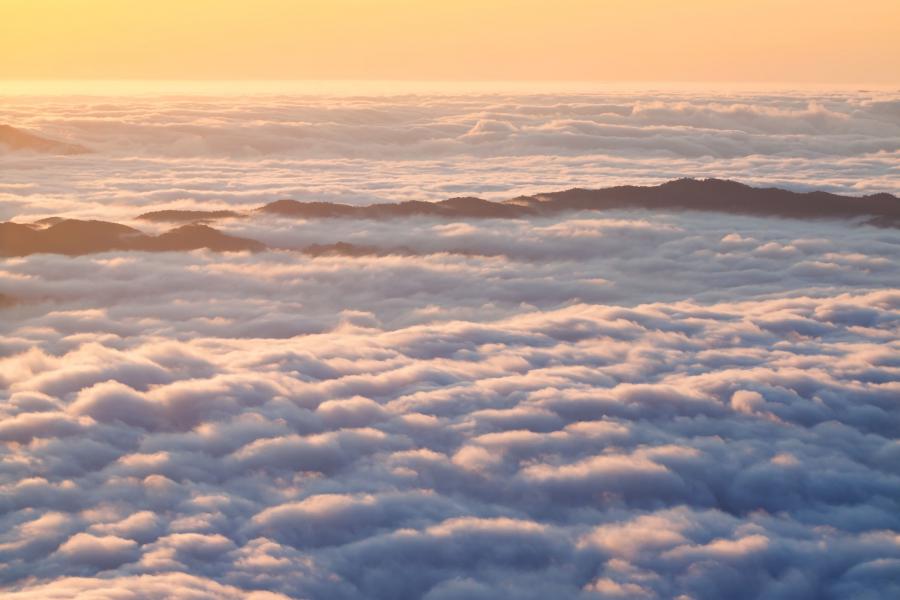 Rainy season normally starts around May and continues until September with almost daily rain around August to September. Rest of the year is quite dry.
Wildlife
A smaller herd of elephants was spotted at the southernmost edge of the park in recent years. It is unknown if the herd still roams in the area, or if it possibly moved over the border to Laos or elsewhere. Other than that, no bigger mammal activity has been observed in the park lately. Hog badgers, the very rare back-striped weasels, Assam macaques and northern pig-tailed macaques are all reported from the park.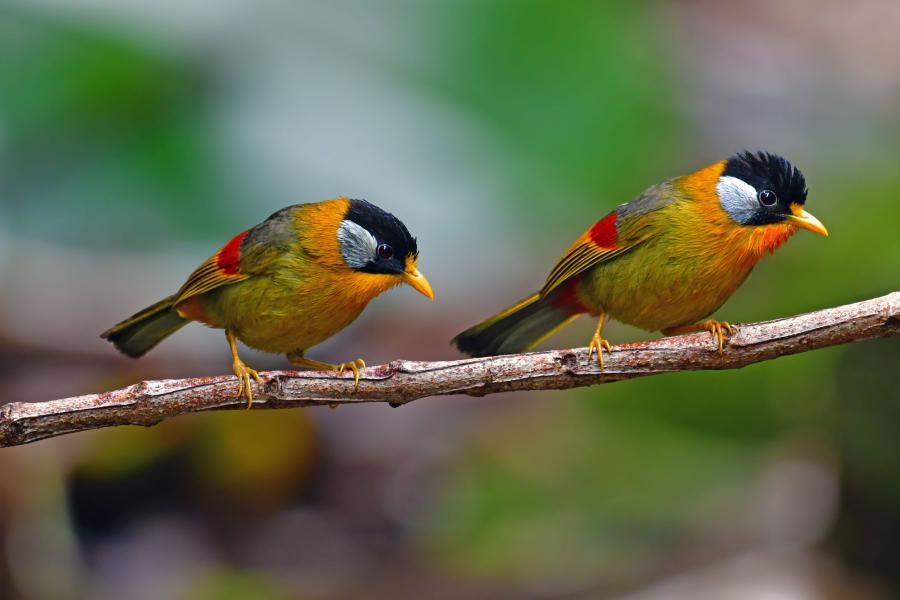 Of around 240 bird species found in the park, few of the rare species in Thailand are; chestnut-bellied nuthatch, beautiful nuthatch, grey-cheeked warblers, whiskered yuhina, grey-bellied tesia, Fujian niltava, black-throated bushtits, purple cochoa, Himalayan shortwings, lesser cuckoos, chestnut-headed tesias, fire-capped tits, yellow-bellied fairy-fantails, brown-breasted bulbuls, white-browed laughingthrush and yellow-bellied flowerpeckers.
The park has a big diversity of reptiles and amphibians. Many new species or first Thailand records are found from time to time.
In Thailand, the snake species like Laotian bearded snakes (Parafimbrios lao), Red River kraits (Bungarus slowinskii), Green rat snake (Ptyas nigromarginata), Many-banded green snake (Ptyas multicinctus) and common bamboo snakes (Pseudoxenodon bambusicola) are currently only known to be found in Doi Phu Kha National Park or from nearby districts & parks like Khun Nan National Park.
Some other interesting reptile species found in the park are; large-eyed bamboo snakes (Pseudoxenodon macrops), Assam mountain snakes (Plagiopholis nuchalis), Himalayan mountain pit vipers (Ovophis monticola), Gumprecht's pit vipers (Trimeresurus gumprechti), Guo's green pit vipers (Trimeresurus guoi), fire-back keelbacks (Hebius igneus), Günther's smooth snakes (Liopeltis frenatus), Yunnan water snakes (Trimerodytes yunnanensis), Stoliczka's smooth snakes (Liopeltis stoliczkae), twin slug snakes (Pareas geminatus), Small-scaled spiny lizards (Pseudocalotes microlepis), Kakhyen Hills long-headed lizards (Pseudocalotes akhiensis), Burmese glass lizards (Dopasia gracilis), Thai stream skinks (Tropidophorus thai), Blanford's flying dragons (Draco blanfordii) and spotted flying dragons (Draco maculatus).
Getting there & get around
There are no public transportation options into the park. The park can be visited only with your own car, bike or with private taxi arrangements. A private car/bike is a must to get around in the park to various spots.
Getting to the park
The nearest airport is Nan Nakhon Airport in Nan, about 85 km from the headquarters. AirAsia offers 3 flight options a day from Bangkok Don Mueang Airport to Nan. There are taxis that can be hired on the spot at the airport to get to Nan, Pua, the national park or anywhere else in the province.
When getting to the park, the best route to take is Highway 1256 that starts a few hundred meters from the main t-junction in the middle of Pua Town. The headquarters is 24 km from Pua.
It is possible to hire a songthaew for a relatively cheap price from Pua. Songthaews can be hired at a parking area near the main T-junction in the town, next to an open football ground called Payapanong Stadium. One way price to drop off at the headquarters area is 500 Baht or 1,500 Baht for full day service to a number of spots along the main road to Bo Kluea and return to Pua (August 2019 prices).
Songthaew coordinates; 19.17677, 100.91598
Entrance fees & opening times
As of June 2022, the entrance fees are 200 Baht for adults and 100 Baht for children 3-14 years old, 30 Baht for vehicles and 20 Baht for motorbikes. Thai citizens pay 40 Baht for adults and 20 Baht for children. It is possible to enter the park any time of the day, there are no restrictions.
Doi Phu Kha National Park will be closed from 1st June until 30th September every year.
Stay & eat
There are 3 camping areas in the park and a good number of park accommodations in the headquarters area. Apart from the cheapest option, most accommodation options have hot showers and a fridge.
There are many hotels/resorts in nearby Pua and Bo Kluea, all at around 30-40 minutes drive from the headquarters area.
During the night, in the winter months and on days with heavy rain, the temperature drops significantly, good to have long pants and a sweater.
Camping
There are three campsites in the park; one in the headquarters area and two others are further east on higher elevations. See further below "Attractions" section for more info and location of these campsites.
Park accommodations
There are several accommodation options in the headquarters area. These range from 300 Baht up to 3,200 Baht, though watch out for the cheapest option.
The very simple 300 Baht rooms are very small, the entire inner space is covered with a double bed, leaving only around 30-40 cm space at front to put belongings on. These rooms are so small that it is not even possible to stand inside, because the roof is so low. If there is not much rain, a tent would be a better option to these poor quality rooms. Toilet and bathrooms are outdoors, shared, no hot shower. There are lamps in these small rooms, but no wall socket to charge various devices. Cars can be parked at the side of the road.
The 800 and 2,000 Baht options are for 4 to 6 people, with a hot shower, fridge, water heater and parking space.
The 3,200 Baht options are for larger groups with 4 rooms, for up to 16 people. These too have a hot shower, fridge, water heater and parking space.
A 20% discount applies to all accommodation if booked for Monday to Thursday.
If there are accommodations available, they can be booked from the visitor center on arrival or booked in advance through the DNP website. As the money transfer needs to be done within 2 days of booking, it may not be possible to book these from abroad in advance. While in Thailand, the payment can be done via local banks or 7-Eleven convenience stores.
Eat
The only restaurant in the park is between the visitor center and headquarters buildings, open at irregular times. The restaurant is normally open 8 am until 5 pm, but open/closure times are quite irregular. Irregularity is more common when there are only few visitors around, often during the week-days from Monday to Thursday.
Conservation issues
The park is one of the most important in Thailand that needs urgent attention. Deforestation and illegal hunting is an ongoing problem. There are far too many villages inside or at the edges of the park where villagers are allowed to use forest resources, which causes more and more deforestation for various purposes. Deforestation is such a big problem that a significant amount of what's left may be gone within the next couple of decades.
Hunters seen along the main road openly carrying hunting rifles. These hunters use many trails into the forest from the main roads or from villages all over the park.
There are hundreds or perhaps thousands of feral cattle deeper inside the park, far from villages that cause significant damage to the montane forests. Other domestic animals seen are dogs, cats and goats.
Phone(s)
You are recommended to ask a Thai speaking person to call on your behalf.
082 194 1349
The attractions of Doi Phu Kha
Visitor center area & campsite
The visitor center area is around 24 km east from Pua District along Highway route 1256. The area has a campsite, restaurant, cafe, canteen and a long circular trail about 4.2 km.
Around 300 meters uphill from the visitor center there is a campsite. Tent for 3 people with accessories can be rented for 450 Baht per night from the visitor center. Own tent will cost 30 Baht to use the campsite space.
There is a long circular trail that starts from the visitor center area, read further below in "trails" sections.
Coordinates; 19.200472, 101.080721
The circular trail
The trail starts from the opposite side of the headquarters building at an elevation of around 1,300 meters asl, crosses few smaller streams and ends at the campsite at an elevation of 1,360 meters asl. The first 1.5 km of this trail ascends quite steep up to 1,540 meters asl, which after gradually descends all the way to the campsite.
Somewhere around the highest point of this trail another clear trail branches off, all the way up to the summit of Doi Phu Kha. Another trail branches down to the main road, ending next to the nearest village from HQ east.
No ranger/guide accompany is required to walk this trail, however, hikers need to report at the visitor center before walking this trail.
The trail could take around 2-3 hours to walk for an averagely fit hiker.
1715 Viewpoint, campsite & trail
A view point at 1715 meters asl, which is the highest point along the main road throughout the park. It is a very popular spot where many passing cars stop by to see the view and take photos.
The viewpoint area has a ranger station, smaller campground and toilet/bathroom. The camping area is for people who bring their own tent with them. There are no tents available for rent, nor any restaurants nearby.
A very long trail starts behind the ranger building. Trail mostly continues on mountain ridges to begin with, gradually descends, crosses quite few streams and ends at some villages at the edge of the park. On our last trip there, we recorded only 1.9 km of this trail which can be seen on the map. Most of the trail is quite wide and clear.
Coordinates; 19.174741, 101.106433
Lan Du Dao, Km 30 Campsite & viewpoint
A viewpoint with a new campsite around 5 km east of the headquarters. There are only toilet/shower facilities and ranger buildings in this campsite area. There are no tents available for rent, nor any restaurants nearby.
There used to be restaurants, shops and cafes at this spot, but they are all removed. Tents only available from October to December, can be booked by calling the visitor center, though can't be booked too far in advance.
Coordinates; 19.18057, 101.09581
Trails
There are many trails or smaller dirt roads along the main road. The dirt roads sometimes end after a few hundred meters or continue through agricultural areas. Some of the trails continue deep into the park.
Permission from the visitor center needed to walk any of the trails in the park.
Km 29 trail
A quite wide and clear trail that starts from the main road, less than 5 km east from the park headquarters. The first 400 meters of this trail ascends quite steep up from 1,460 meters up to 1,570 meters. We have only recorded 1.3 km of this trail which can be seen on the map.
This trail probably crosses the same river that runs under one of the bridges on the main road just a few km east from the headquarters.
Coordinates of the trail head; 19.181031, 101.087635
Caves
There are many caves in the park of which some very impressive, most of them scattered right north from headquarters area or further north & north/east. There is a cave marked on the map in the visitor center, a bit to the south/east from headquarters, but the location of this cave is very unclear, we don't recommend anyone trying to find it without the help of the locals from the nearby village.
Any caves with a stream inside are strongly advised to be avoided during the rainy seasons from June to September for good reasons.
Tham Pha Phueng
A 4,750 meters long cave with an impressively huge descending entrance and huge chambers, located right south of Baan Mani Phruk village. The 30 meters wide and 15 meters high cave entrance is at the bottom of a 50 meters tall cliff, very easy to find by a short stroll about a couple of hundred meters from the main road to the village. The trail is signposted in Thai from the road. The entrance down to the cave is a concrete path which can be very slippery during the rainy days.
A small stream runs down into the cave from the left side of the entrance, during the rainy seasons this stream gets very strong.
No entry is allowed to this cave during the rainy seasons from June to September.
Trailhead; 19.432543, 101.068574
Cave coordinates; 19.4330778, 101.0674054
Tham Maa
A nearly 2 km long cave nearby Ban Nam Pua Phatthana village, around 12 km north from headquarters area.
The road to Ban Nam Pua Phatthana is mainly a poor concrete road that requires a stronger terrain vehicle. Few spots along the road can become very dangerous to drive on rainy days when it gets muddy and slippery, high risk of cars getting out of control, sliding down the slope even when driving most slowly.
The cave is signposted from the village, but the last bit of the side trail up to the cave is not signposted, this side trail can't be seen from the main trail clearly and can be tricky to find without help from the locals.
The entrance of this cave is a spiral steel staircase that drops 50 meters down to a large chamber and from there continues to other chambers. There is a stream running through this cave. The entrance is locked during the rainy season from June to September as the stream gets very strong, making it impossible to enter the chamber.
Trailhead head coordinates (from nearest road); 19.257091,101.096352
Side trail starts at coordinates (final bit uphill to the cave); 19.255920, 101.102900
Cave coordinates; 19.2554024, 101.1031927
More photos