Private Tour

|

2-days/1-night private tour in Khao Sok Lake

Situated between Khao Sok National Park and Khlong Saeng Wildlife Sanctuary, Cheow Lan Lake has one of the most beautiful scenic views in Thailand.
Why?
The lake deserves more than one night of stay, but if you only can stay one night, you will still be able to enjoy a few activities with this tour.
What?
With the 2-days/1-night tour in Khao Sok you will be able to see scenic rock formations, hike to a viewpoint, visit a cave, hike in the jungle, kayak, swim and drive around for wildlife watching. The tour includes a stay in a raft house of your choice, a private guide and a private boat with driver. No others will share the guide or the boat with you during the tour.
Raft house options
Phupha Waree Raft House (deluxe)
Phupha Waree is set back in a private alcove just inside Klong Pey. It features modern rooms with queen size beds. Equipped with private bathrooms, a/c, balconies and can accomodate 2-4 people.
For the dates concerning high season months, week-ends (Fri-Sat nights) and public holidays, rooms at Phupha Waree should be booked well in advance. The rooms are available for booking a maximum 3 months in advance.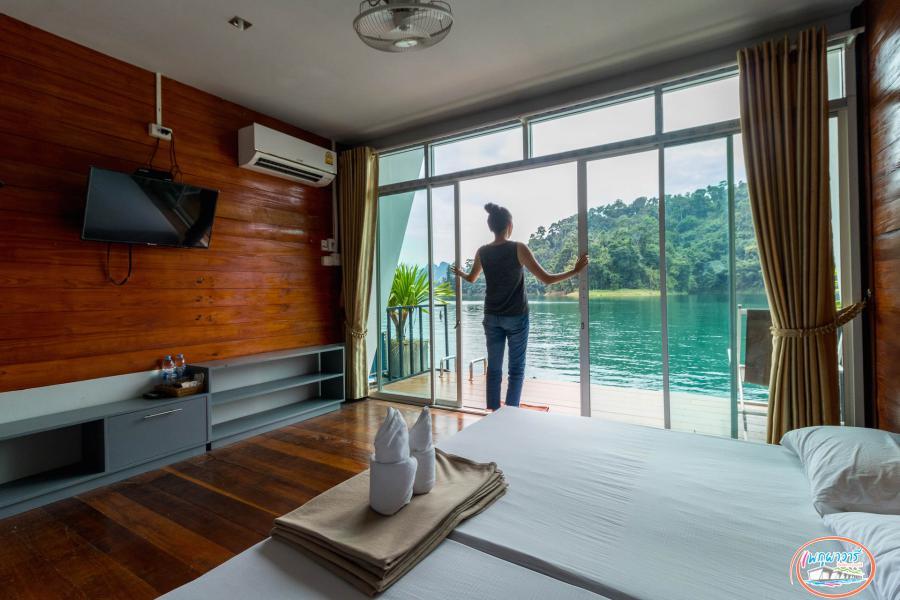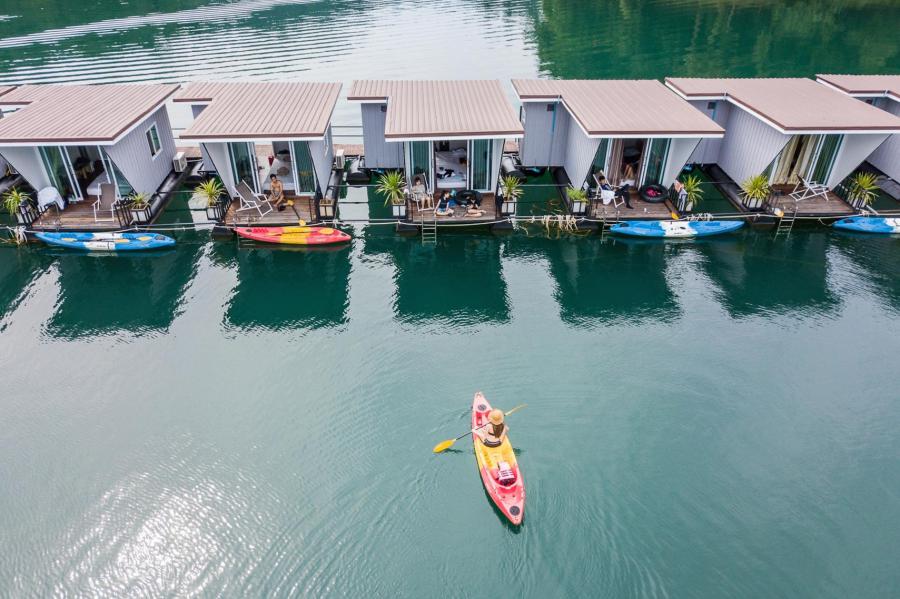 Laguna Cheow Lan (deluxe)
Laguna Cheow Lan is located in Khlong Long tributary, in the middle of the lake. It features wooden rooms with king size beds. Equipped with private bathrooms, a/c, balconies and can accomodate 2-3 people; 2 pax rooms with a king size bed, 3 pax rooms with a king size bed and a single bed.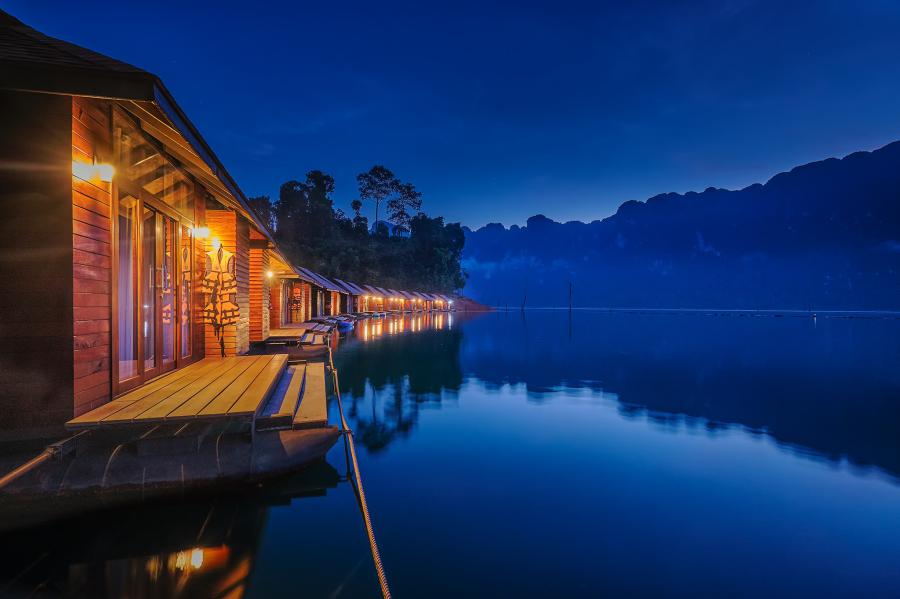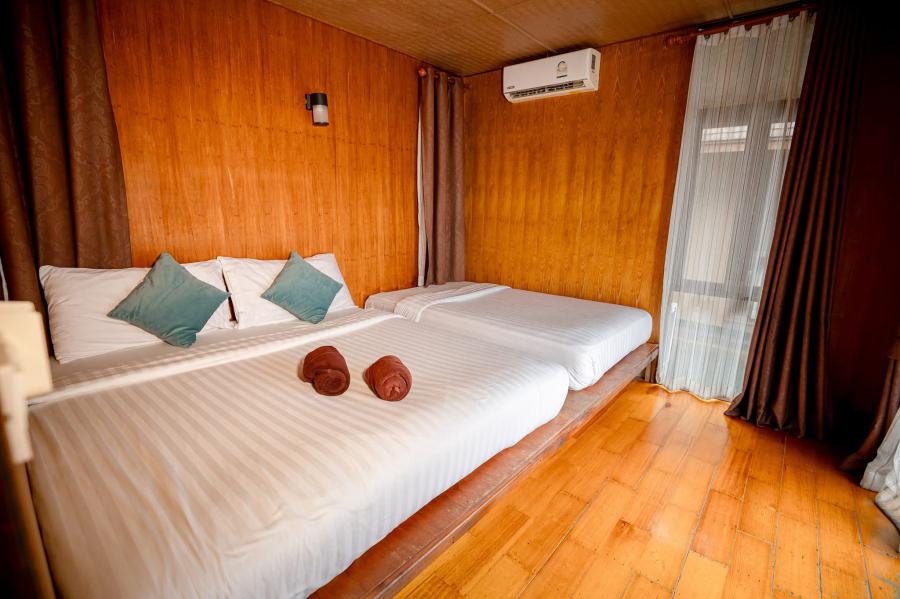 Sai Chon Raft House (wooden)
Sai Chon Raft House is a cheaper alternative compared to deluxe ones, located in Khlong Long tributary of the lake, not too far from the pier. The quality is somewhere between bamboo and deluxe options. The rooms can accommodate 2-4 people with king size beds, equipped with fans and has rooms with both private and shared bathroom facilities. As default we will try book private bathroom options, if not available we will book shared bathroom options.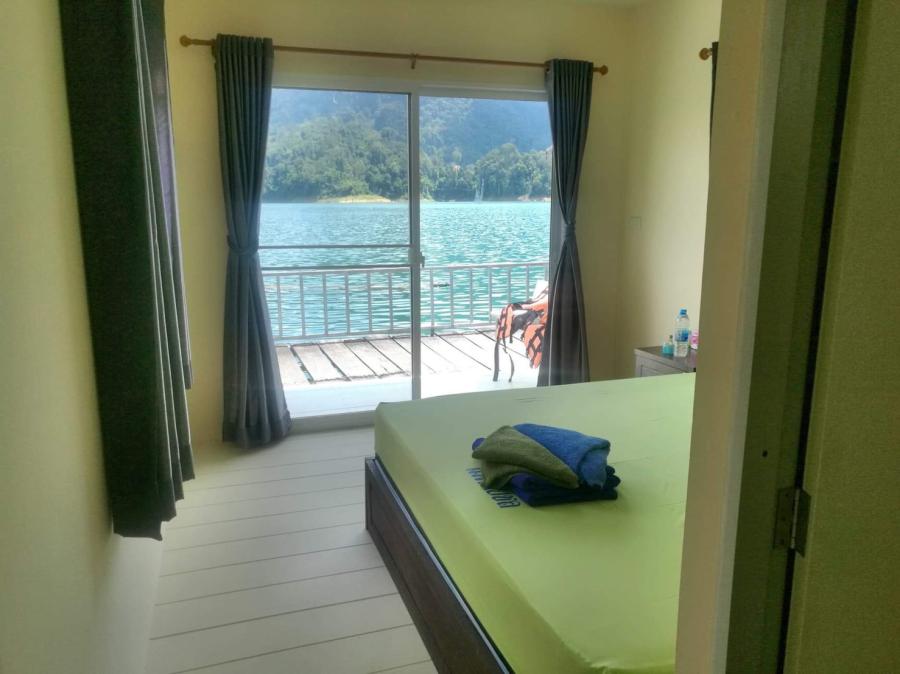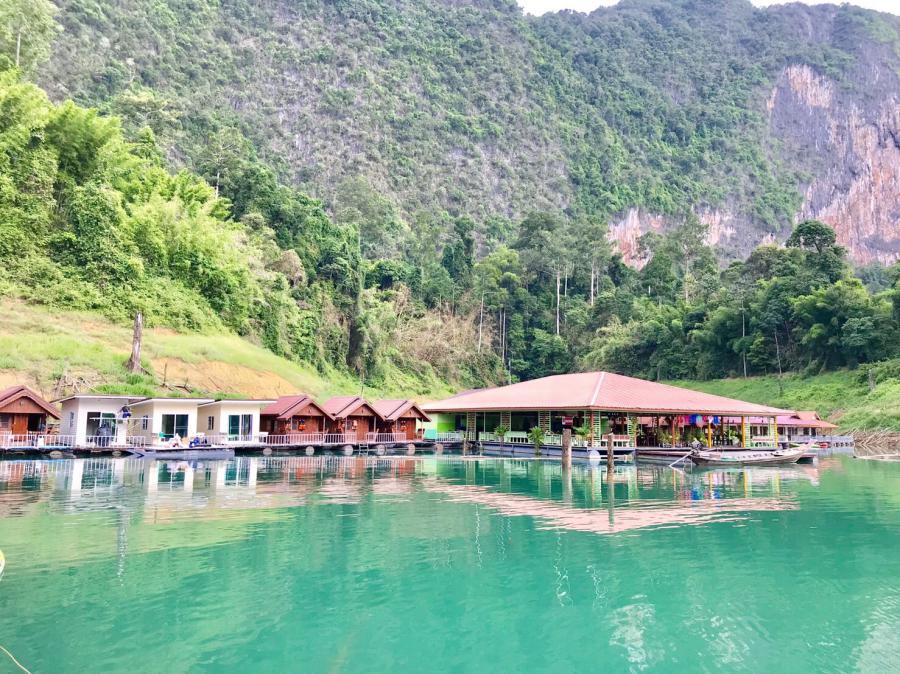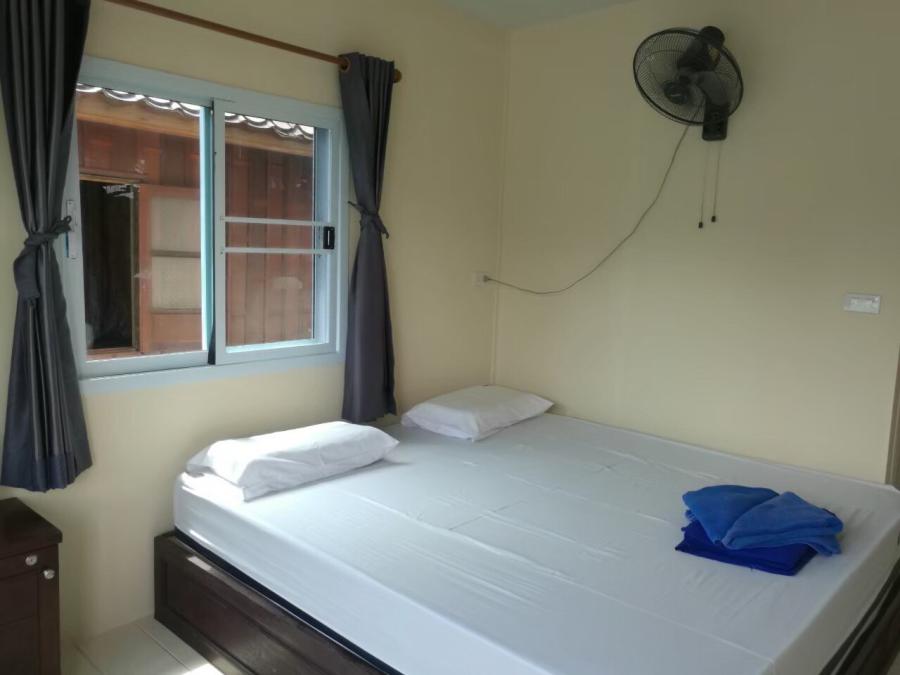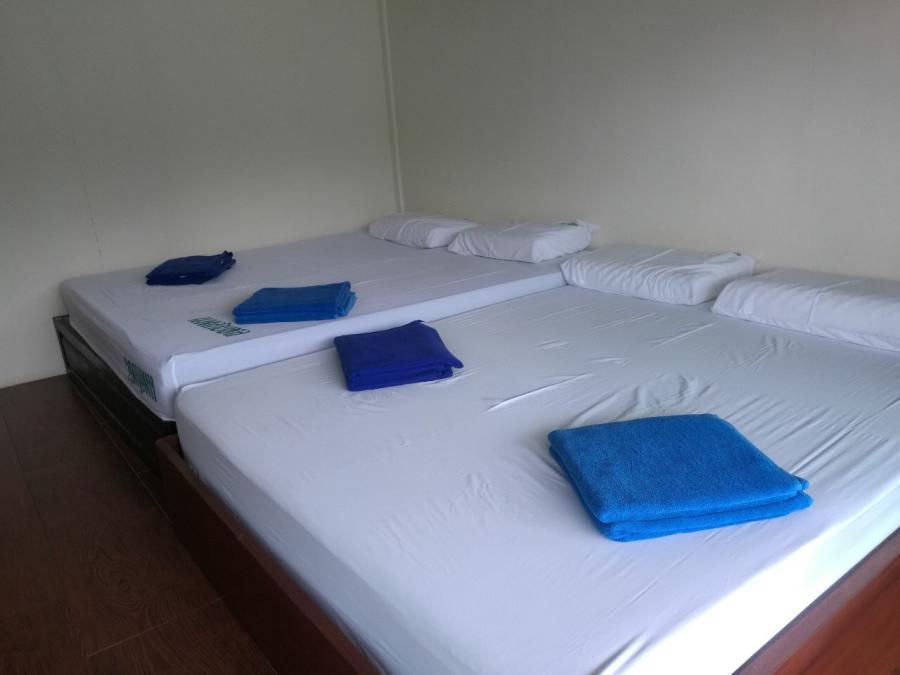 Krai Son Raft House (bamboo option, basic stay)
Krai Son is perched at the entrance to Klong Yee at the remote end of the lake. It is equipped with traditional style bamboo bungalows (2 pax, double beds), no fan, with shared bathroom facilities on land next to the raft house. It is the only raft house on the lake with a view of sunrise and sunset. Local attractions include a viewpoint hike which overlooks the entire lake, and it is close by to the Khlong Saeng wildlife sanctuary not too far from Phupha Waree.
Itinerary
The following itinerary is just an example. Depending on weather conditions, your suggestions or eventual shorter/longer time you may decide to spend at attractions may change the planning. Example; you may decide to do more kayaking, skip some activities for the other, or simply just decide to relax and spend some time with friend(s)/family at the raft house.
Day 1
10 am pickup from Cheow Lan Lake Pier to board your long-tail boat
Scenic tour of limestone karst formations on the way to your rafthouse
Check in to the raft house (deluxe or basic bamboo). Enjoy a traditional Thai Lunch prepared with rich southern Thai curries, delicious local vegetables, and fruit for dessert.
Guided hike to see viewpoints on dry season or to a waterfall on rainy season (optional)
Afternoon wildlife safari by boat
Return to the raft house for a swim, relax and enjoy the scenery
Enjoy a delectable dinner of fish, Thai soup, and veggies.
Day 2
Rise before breakfast for the morning mist safari, the best time to see gibbons, macaques, and dusky leaf monkeys
Return to raft house for breakfast
Explore the surrounding area by kayak
Check-out from the raft hour around 10:30 am, tour ends around 11:30 am to 12 pm at the pier
Where & When?
The tour starts at Cheow Lan Lake Pier (Rajjaprabha Dam), 65 km from park headquarters. It is easy to get to the nearby Ban Tha Khun Town with buses operating from various destinations like Bangkok, Phuket, Krabi or Surat Thani. Private transfers by taxi or minivan can be arranged on request. This tour is operated all year round.
Tour details in short:
Duration: 2 days/1 night
Type: Private
Price: * see price table *
Group size: 1 or more people
Grade: Easy
Transport: Long-tail boat
Start: 10a m (day 1)
End: around 12 pm (day 2)
What to bring:
Rain clothing, specially on rainy season
Personal toiletries
Swimming clothing & towel
Hat
Flashlight
Insect repellent
Sunblock lotion
How much?
The tour will be led by a private guide which means no others will join you while exploring the lake and surrounding areas. The price for this tour package depends on the choice of accommodation and number of people, please see price per person further down.
The prices below do not include entrance fees to the national park.
The listed prices for Phupha Waree below are valid until 28th February 2022, new price will apply from March onward. From 30th December 2022 to 1st January 2023 a higher rate will apply.
Price per person
Pax
Krai Son (bamboo)
Sai Chon (wooden)
Laguna (deluxe)
Phupha Waree (deluxe)
2
5,000

THB

5,500

THB

7,100

THB

6,700

THB

3
3,900

THB

4,300

THB

5,500

THB

5,000

THB

4
3,250

THB

3,600

THB

4,600

THB

4,300

THB

5
2,950

THB

3,250

THB

4,500

THB

4,000

THB

6
2,700

THB

3,050

THB

4,200

THB

3,600

THB

7
2,600

THB

2,900

THB

3,900

THB

3,450

THB

8
2,450

THB

2,800

THB

3,650

THB

3,350

THB
Displayed prices are per person
Tour rates include:
Lodging; basic bamboo, wooden or deluxe
Guide
Long-tail boat transportation & boat driver
All meals & fruit
Drinking water
Canoeing
Accident insurance during the tour (covering hospital costs)
Tour rates doesn't include:
Entrance fees to the park
Transfer to the lake from the nearby towns
Reviews from our guests
By: Barbara Anderson | posted Tue 7 Feb, 2023 | Phupha Waree (deluxe)
This is a can't miss when visiting the Phuket area of Thailand. The National Park is "natures beauty" at its best. The limestone mountains that come out of the aqua blue waters of the lake create a picturesque landscape that feels surreal. Our guide was amazing as he spent a full day and the following morning taking us by boat through the lake… hiking in the jungle to the top of a mountain peak … and finding almost every animal that was native to the area for us to see! Even an elephant!! Also a night staying at the floating huts was extremely comfortable… allowing for a beautiful sunset, starry night sky and amazing sunrise! So grateful for this experience!!
By: Martin Svolgaard | posted Fri 3 Feb, 2023 | Phupha Waree (deluxe)
All in all a perfect tour to see Khao Sok national park. Highlight of our Thailand trip.
Our guide Junn deserves all the best, she made the trip exiting and personal. A real local showing us around and taking care of us.
All the best recommendations from us 😊
By: Niklas Blaser | posted Thu 12 Jan, 2023 | Phupha Waree (deluxe)
Our tour through kao sok was great and ruam is a really funny and experienced guide. Thanks a lot!
By: Nova Klok | posted Tue 10 Jan, 2023 | Sai Chon (wooden)
We have had the most amazing time at Khao Sok National Park with our tourguide Nid. He showed us all the wonderful places, such as the caves, the three islands and took us to many more fantastic views. We were even lucky enough to witness wild elephants while they were bathing and eating. We chose to stay at the Sai Chon Raft House, which was clean and more than sufficient for one night. The food at the location, which included lunch, dinner and breakfast, was very good and our tourguide even brought us some extra fruits. In the afternoon we climbed a waterfall which resulted in amazing views. Nid could tell us all about the plants and animals of the jungle and we had a fantastic time exploring. Because we booked a private tour (just the two of us) there was a possibility for requests. We, for example, wanted to see wild life (monkeys, birds etc.) and Nid scavenged the islands to make sure we saw it all. Take note, since it is a National Park and the animals are left alone, seeing such animals is not guaranteed, but they try their hardest to fulfill every wish. All in all, a wonderful experience and we would recommend it to everyone!
By: Wouter Hoeijmakers | posted Mon 9 Jan, 2023 | Phupha Waree (deluxe)
What a beautifull experience in Khao Sok National Park. Nature is that big and we humans are so small… Big Thanks to our private tourguide Bee! By explaining the park and by asking the right questions, he will make the perfect Tour trough the park set on your personal wishes. If you still can choose, choose Bee! Bee Happy! ;)
By: Lilanie du Preez | posted Mon 2 Jan, 2023 | Phupha Waree (deluxe)
What an awesome experience! Mind Blowing! From our pickup to drop off, everything went smoothly! A Special Thanks to our guide, Junne (The Best!) - spectacular and will definately request her again for a future tour! Best experience so far in the whole of Thailand!
By: Jay Parker | posted Fri 30 Dec, 2022 | Krai Son (bamboo)
I could not recommend this trip enough, our tour guide Ty was absolutely sensational. His guidance, intelligence, kindness, knowledge and care were just some of the things that made our experience better than we could have imagined. Our guide contacted us before the tour to give us some good information on what to expect. we set off from the pier and he talked to us about the land, surroundings, some local history on the way to the caves. In the caves we saw some bats, he explained things about the cave, stalagmites and stalactites and was very interactive. We then cruised to some exotic pillars in the lake where he did some more explaining. We arrived later to the floating bungalows where they had some outstanding food prepared for us. We then had the opportunity to relax on the paddle boards outside the bungalows before we set off back on the boat to the jungle. Ty explained some things about the plants and trees and some animals and birds in the jungle with some good information whilst we climbed up to the view point. The viewpoint was amazing we could see far out into the lake and took advantage of some good photo opportunities... On the way back we went to search for some jungle animals where we saw bison, exotic birds, monkeys and more. We had a good night's sleep after some more excellent food and went back out looking for more animals in the early morning. After breakfast we headed back to land where our guide arranged for us to reach our next destination along with some tips and hints. Honestly, one of the best experiences in 24 hours you could imagine and it was mainly down to how accommodating our guide was, our captain and everyone else involved with the staff. Thank you and see you again very soon. Jay & Pippa.
By: Cosi & Mike | posted Thu 22 Dec, 2022 | Phupha Waree (deluxe)
The tour was amazing, for sure one of the highlights of our trips to Thailand. All very well organized. Our tour guide Junn was great and knew everything about the area. Very good English as well and she was smiling a lot.
We did quite some research on where to stay at the national park and the phupha waree raft house is definitely a good choice if you want a little more comfort.
By: Hh Yap | posted Sun 11 Dec, 2022 | Phupha Waree (deluxe)
We totally enjoyed the trip. From the transfer arrangement to the river safari, everything went on smoothly.
Bee was our guide. He was very attentive and taught us many tips on how to trek on waterfall and spot wild animals. With his help, we managed to spot Banteng, elephants, birds, monkeys, otters.
I had a bad knee and had difficulty trekking up and down the waterfall. Bee was there every step to guide me along and ensure my safety that I do not silp and fall.
His passion for the wild lives and national park influenced us and we learned so much from him. Thank you Bee and Ox (long tail boat driver) for a great trip!
By: Laura Bancroft | posted Mon 28 Nov, 2022 | Krai Son (bamboo)
Juan was an amazing guide. The trip was awesome. Highly recommend.