Private Tour

|

2-days/1-night private tour in Khao Sok Lake

Situated between Khao Sok National Park and Khlong Saeng Wildlife Sanctuary, Cheow Lan Lake has one of the most beautiful scenic views in Thailand.

The lake deserves more than one night of stay, but if you only can stay one night, you will still be able to enjoy a few activities with this tour.

With the 2-days/1-night tour in Khao Sok you will be able to see scenic rock formations, hike to a viewpoint, visit a cave, hike in the jungle, kayak, swim and drive around for wildlife watching. The tour includes a stay in a raft house of your choice, a private guide and a private boat with driver. No others will share the guide or the boat with you during the tour.

Out tours must be booked with "no matter the weather" in mind. We don't find the lake tours suitable for kids under 7 years old, other companies may have a different opinion about age limits.
Raft house options
Panvaree The Greenery Raft House (deluxe)
While most raft houses in the lake have on average around two dozen bungalows, Panvaree The Greenery Raft House have fewer which makes it a relatively quiet place even when the place is fully booked. Quality wise it is no doubt one of the best and popular raft houses in the lake. The raft house is located in the entrance of Khlong Long tributary.
Following are the type of rooms;
Superior 2 pax - For 2 adults or 2 adults + small child (child to share same bed as parents but quoted half price). Room can be with either a double bed or two single beds, unfortunately can't be chosen, either one can be booked depending on availability and other circumstances.
Family rooms; For 3+ pax, max 6 person per house (with exception that small childred can share bed with adults)
The price for rooms varies depending on week-day, week-end day or holidays.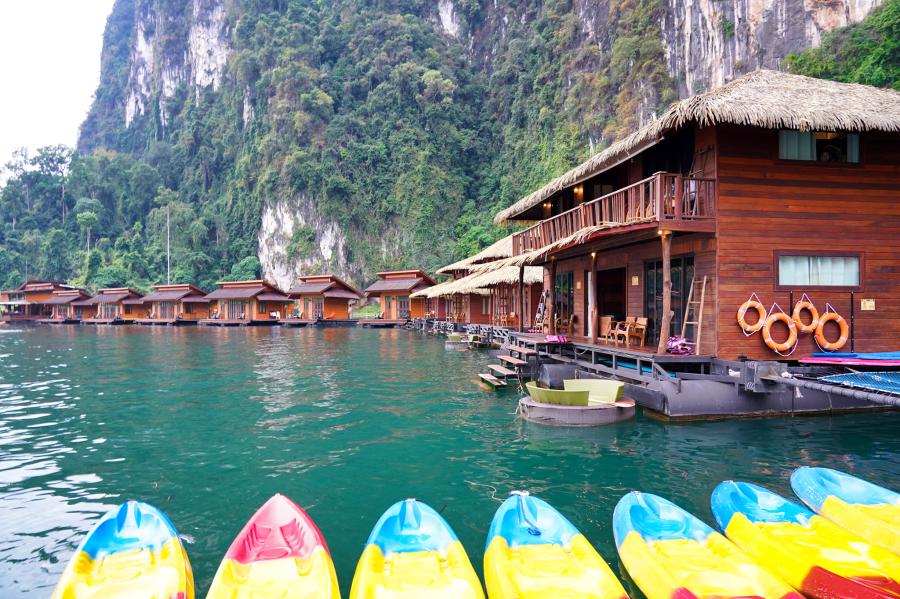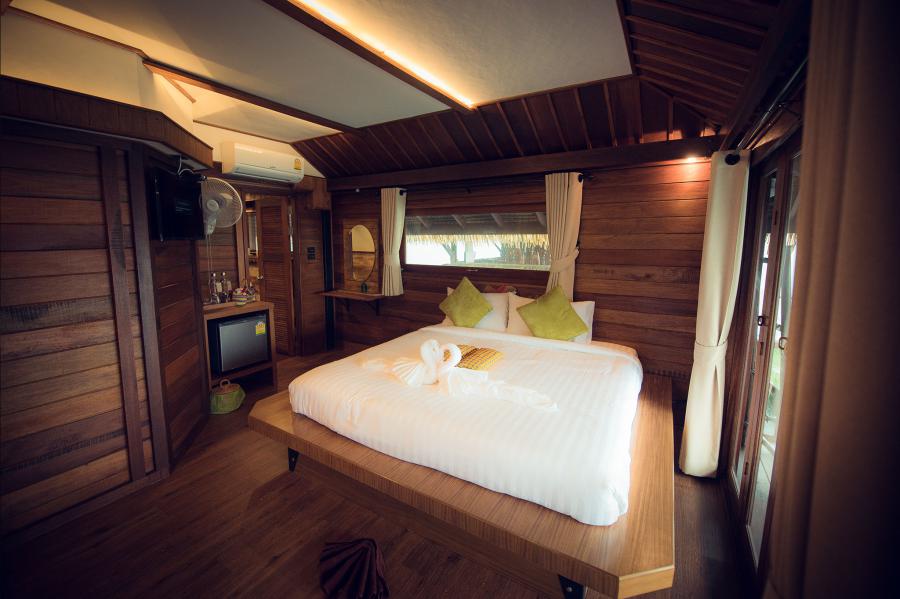 Phupha Waree Raft House
Phupha Waree is set back in a private alcove just inside Klong Pey, compared to most basic/average raft houses in the lake it is considered a bit better option. The rooms are equipped with 2 queen size beds, a private bathroom, a/c, balcony and can accommodate 2-4 people. While the smaller rooms will be booked for up to 3 people, the larger rooms will be booked for 4 people.
For the dates concerning high season months, week-ends (Fri-Sat nights) and public holidays, rooms at Phupha Waree should be booked well in advance. The rooms are available for booking a maximum 3 months in advance.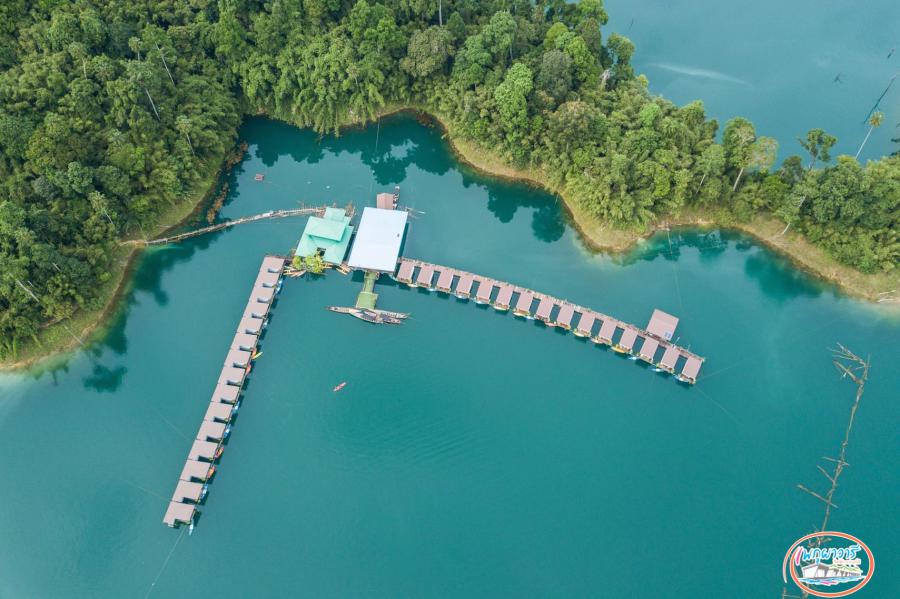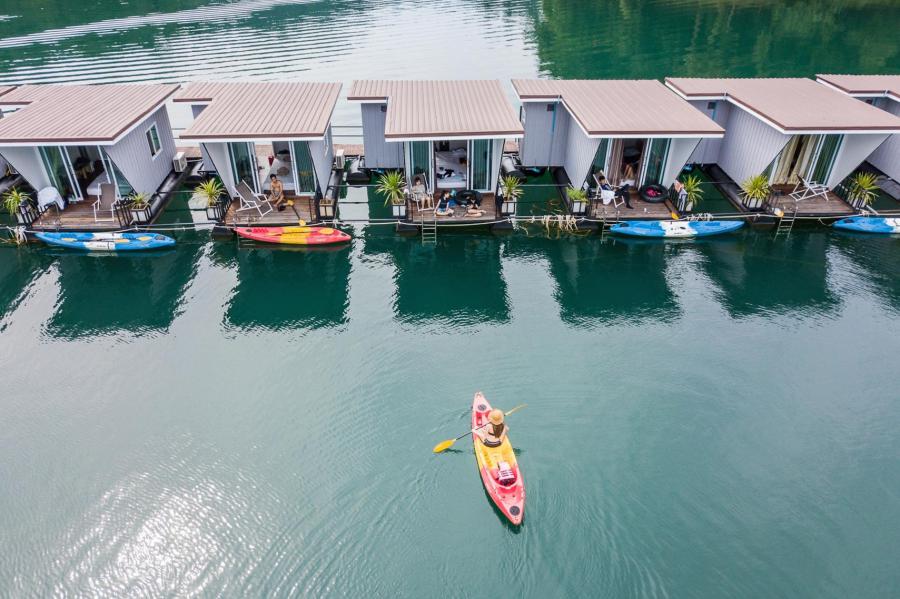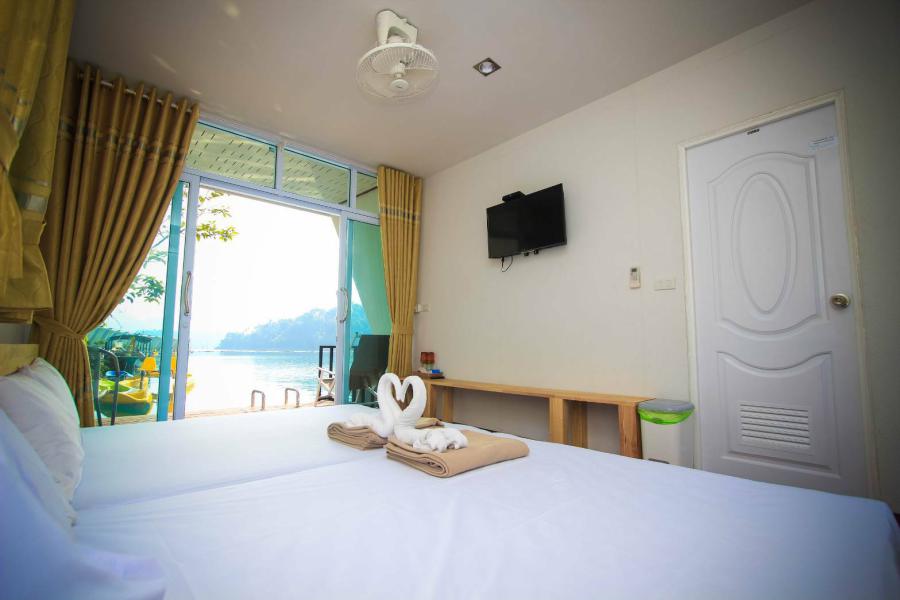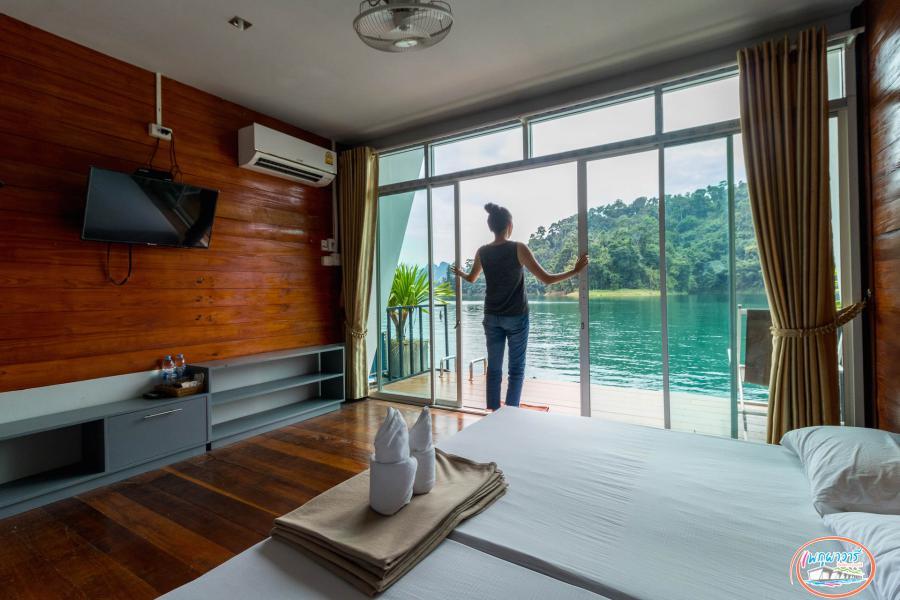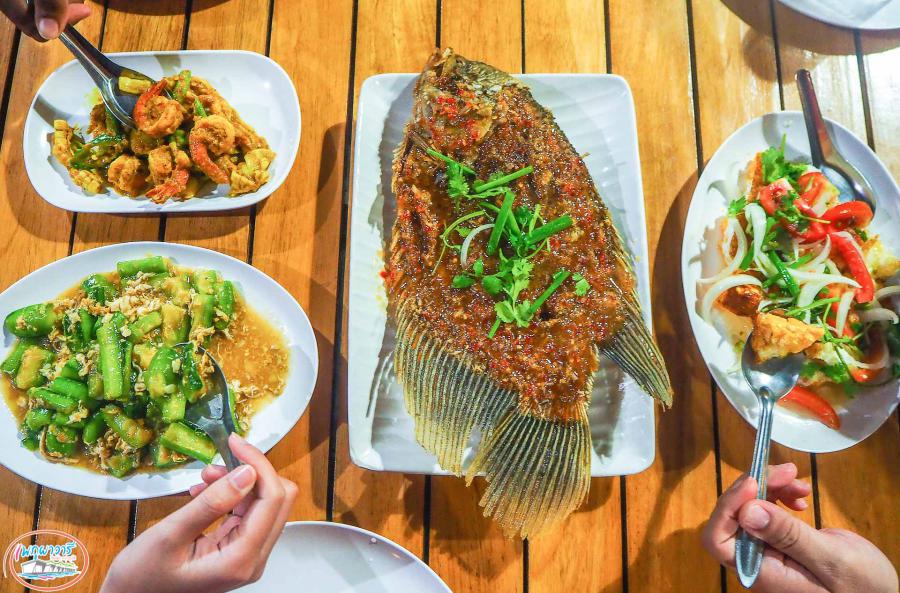 Laguna Cheow Lan
Laguna Cheow Lan is located in Khlong Long tributary, in the middle of the lake. It features wooden rooms with king size beds. Equipped with private bathroom, a/c, balcony and can accomodate 2-3 people; 2 pax rooms with a king size bed, 3 pax rooms with a king size bed and a single bed.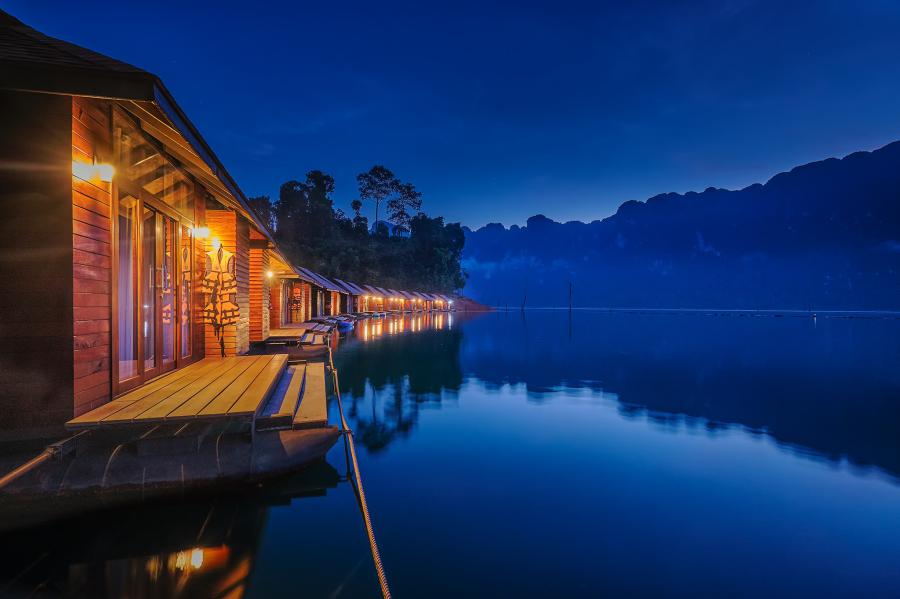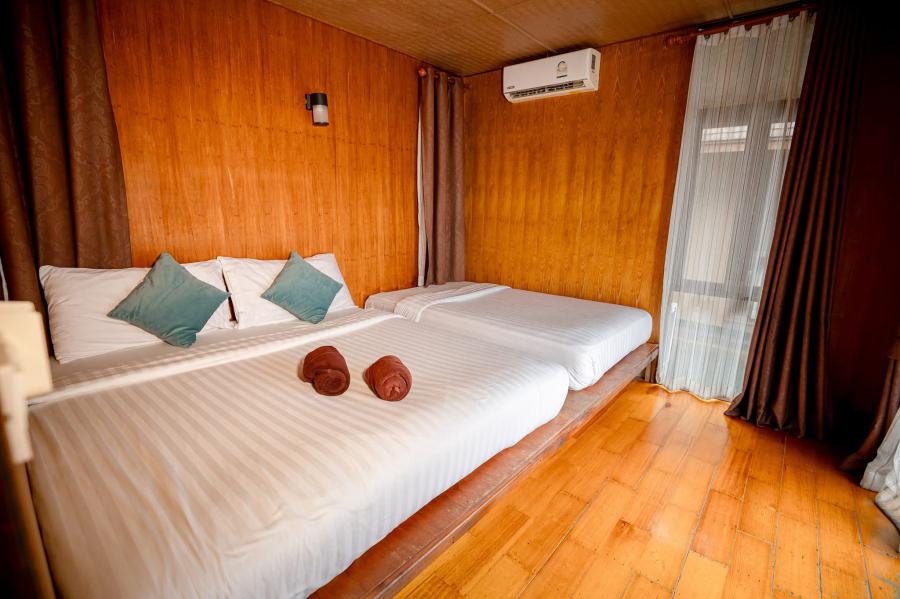 Sai Chon Raft House (wooden)
Sai Chon Raft House is a cheaper alternative compared to high end ones, located in Khlong Long tributary of the lake, not too far from the pier. The quality is somewhere between the bamboo and high end options. The rooms can accommodate 2-4 people with king size beds, equipped with fans and has rooms with private bathroom.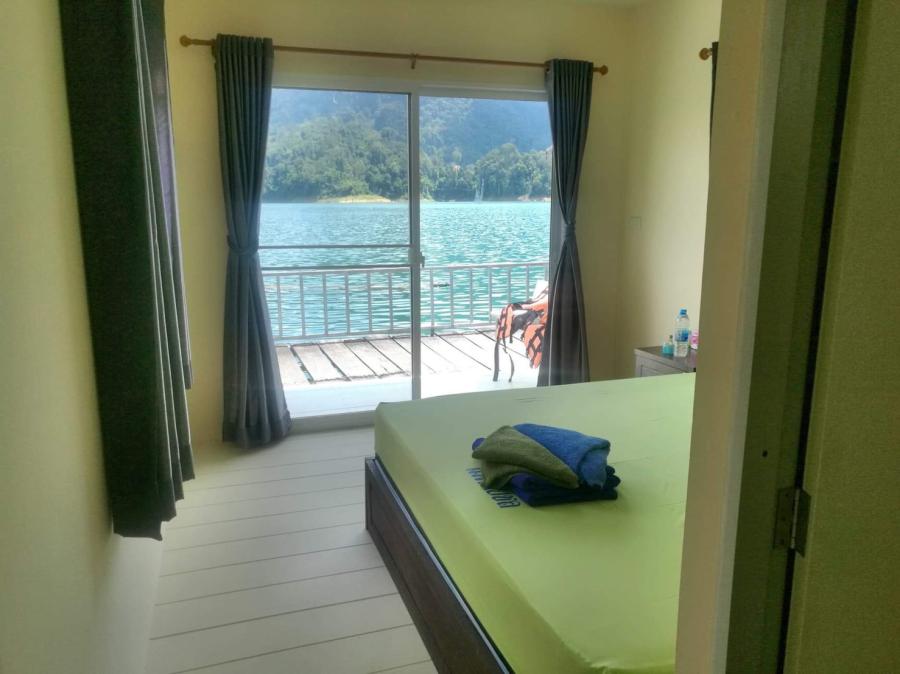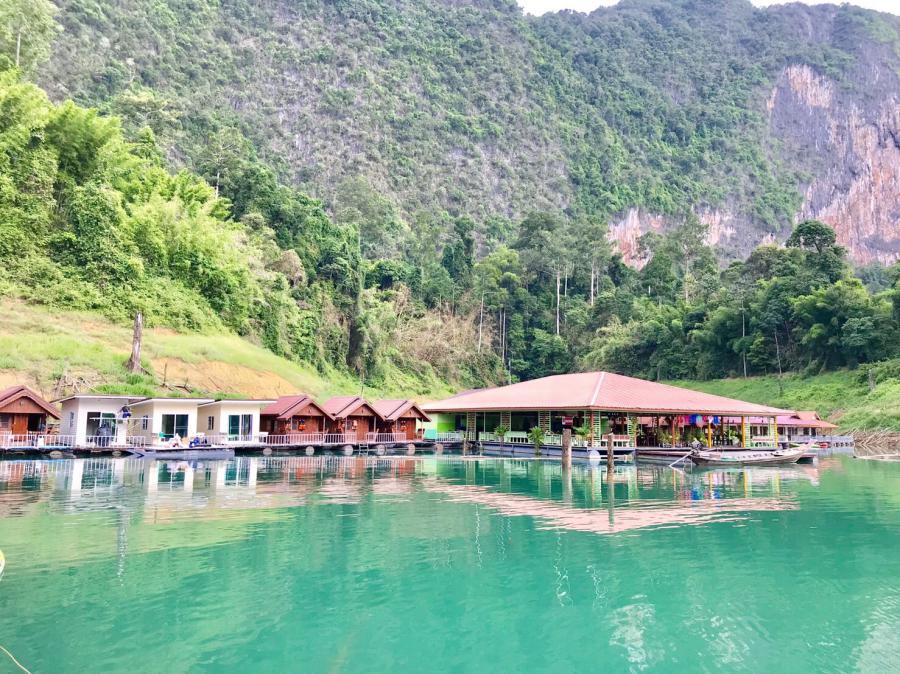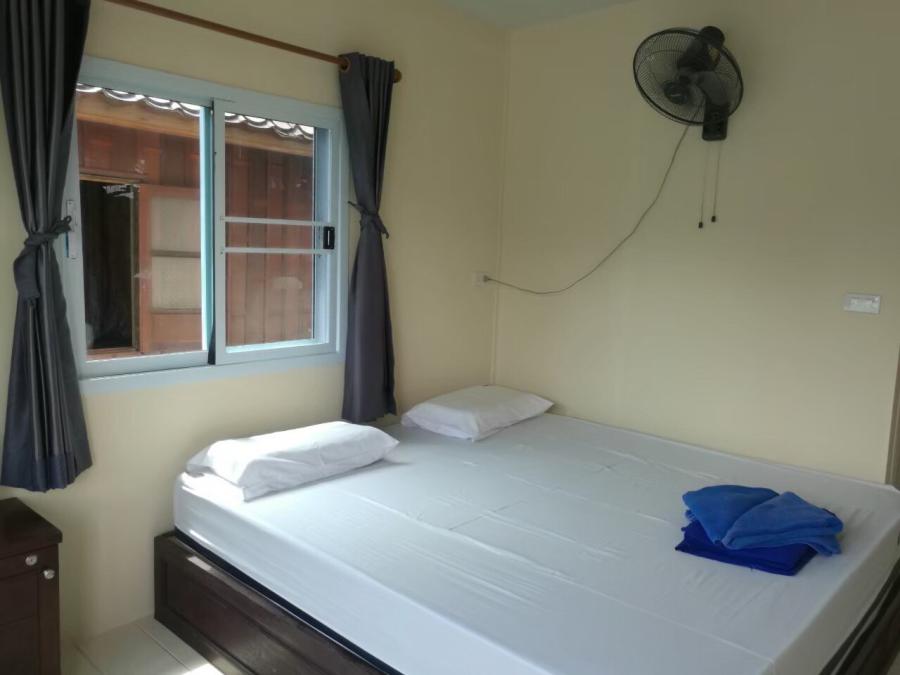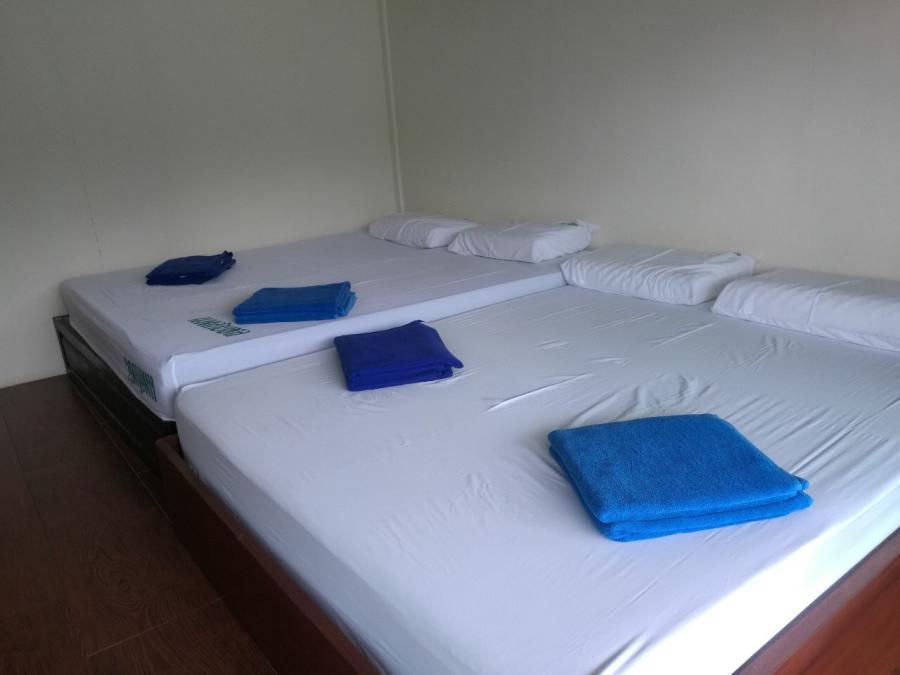 Krai Son Raft House (bamboo option, basic stay)
Krai Son is perched at the entrance to Klong Yee at the remote end of the lake. It is equipped with traditional style bamboo bungalows (2 pax, double beds), no fan, with shared bathroom facilities on land next to the raft house. It is the only raft house on the lake with a view of sunrise and sunset. Local attractions include a viewpoint hike which overlooks the entire lake, and it is close by to the Khlong Saeng wildlife sanctuary not too far from Phupha Waree.
Itinerary
The following itinerary is just an example. Depending on the location of your raft house, weather conditions, your suggestions or eventual shorter/longer time you may decide to spend at attractions may change the planning. Example; you may decide to do more kayaking, skip some activities for the other, or simply just decide to relax and spend some time with friend(s)/family at the raft house.
Day 1
10 am pickup from Cheow Lan Lake Pier to board your long-tail boat
Scenic tour of limestone karst formations on the way to your rafthouse
Check in to the raft house. Enjoy a traditional Thai Lunch prepared with rich southern Thai curries, delicious local vegetables, and fruit for dessert.
Guided hike to see viewpoints on dry season or to a waterfall on rainy season (optional)
Afternoon wildlife safari by boat
Return to the raft house for a swim, relax and enjoy the scenery
Enjoy a delectable dinner of fish, Thai soup, and veggies.
Day 2
Rise before breakfast for the morning mist safari, the best time to see gibbons, macaques, and dusky leaf monkeys
Return to raft house for breakfast
Explore the surrounding area by kayak
Depending raft house and it's location, check-out from the raft hour around 9:30 to 10 am, tour ends around 11:30 am to 12 pm at the pier
Where & when?
The tour starts at Cheow Lan Lake Pier (Rajjaprabha Dam), 65 km from park headquarters. It is easy to get to the nearby Ban Tha Khun Town with buses operating from various destinations like Bangkok, Phuket, Krabi or Surat Thani. Private transfers by taxi or minivan can be arranged on request. This tour is operated all year round.
Panvaree The Greenery should be booked at least 5-6 months in advance for nearly any period of the year. It is one of the most popular raft houses in the lake.
The rooms at Phupha Waree will become available for booking 3 months in advance. For the high season period of December to April and July/August, the rooms should be booked earliest when they become available for booking. For the rest of the year, the week-ends tend to get fully booked sooner or later.
Sai Chon should also be booked earliest possible for any week-end/holiday concerned dates.
Krai Son tends to have availability even when booked weeks/days ahead but can be fully booked months in advance for long week-end holidays.
Tour details in short:
Duration: 2 days/1 night
Type: Private
Price: * see price table *
Group size: 1 or more people
Grade: Easy
Transport: Long-tail boat
Start: 10a m (day 1)
End: around 11:30 am to 12 pm (day 2)
What to bring:
Rain clothing, specially on rainy season
Personal toiletries
Swimming clothing & towel
Hat
Flashlight
Insect repellent
Sunblock lotion
How much?
The tour will be led by a private guide which means no others will join you while exploring the lake and surrounding areas. The price for this tour package depends on the choice of accommodation and number of people, please see price per person further down.
The prices below do not include entrance fees to the national park.
Price per person
Pax
Krai Son (bamboo)
Sai Chon (wooden)
Laguna
2
5,000

THB

5,350

THB

7,100

THB

3
3,900

THB

4,200

THB

5,500

THB

4
3,250

THB

3,600

THB

4,600

THB

5
2,950

THB

3,250

THB

4,500

THB

6
2,700

THB

3,050

THB

4,200

THB

7
2,600

THB

2,900

THB

3,900

THB

8
2,450

THB

2,800

THB

3,650

THB
Price per person
Pax
Phupha Waree
Panvaree
2
6,700

THB

8,100 to 9,400

THB

3
5,000

THB

8,000 to 9,900

THB

4
4,300

THB

6,200 to 7,500

THB

5
4,000

THB

7,000 to 9,000

THB

6
3,600

THB

5,600 to 6,900

THB

7
3,450

THB

n/a
8
3,350

THB

n/a
Displayed prices are per person
Tour rates include:
Lodging
Guide
Long-tail boat transportation & boat driver
All meals & fruit
Drinking water
Canoeing
Accident insurance during the tour (covering hospital costs)
Tour rates doesn't include:
Entrance fees to the park
Transfer to the lake from the nearby towns
Reviews from our guests
By: Chan (ANDREW) | posted Sun 28 May, 2023 | Sai Chon (wooden)
I was incredibly fortunate to have the opportunity to explore Khao Sok National Park with Junn as my guide. She was incredibly knowledgeable, passionate, and well-versed in the history, culture, and natural landscapes of the area.
Junn carefully planned our journey, ensuring that we experienced every highlight of the park. We saw stunning waterfalls, ancient caves, winding streams, and a variety of wildlife, including elephants, monkeys, and hornbills.
Junn was not only an excellent guide but also a warm and friendly companion. She shared with us the local way of life and traditional culture, giving us a deeper understanding and appreciation of the place. She also provided us with a range of dining and accommodation options, ensuring that our journey was comfortable and enjoyable.
Overall, I highly recommend Junn as a guide for Khao Sok National Park. Her professionalism, enthusiasm, and attention to detail made our journey full of surprises and wonderful memories. If you are considering a trip to this beautiful destination, Junn is undoubtedly your best choice!
By: Jeroen Balk | posted Mon 15 May, 2023 | Phupha Waree (deluxe)
Overall it was a very nice tour, the nature is beautiful. We loved swimming and the longtail boat tours through the massive rocks the most. We even saw 2 elephants! The guide was friendly and it was nice that he spoke english. Overnight accommodation was not as expected, very basic but we booked the luxury cabins: mattresses were on the ground; airco stopped all the time during the night, there were no 'normal' blankets, no food menu, swimming without a lifejacket was not allowed(?!). We were told that they daily switching the power off after breakfast till 17.00 (so no wifi, no Airconditioning etc). The view was not as nice as we thought from the cabins (not worth the money).
Nevertheless khao sok was a lovely experience!
By: Fantine Verleene | posted Thu 4 May, 2023 | Phupha Waree (deluxe)
Very good tour with Cheun
We had a very nice moment
Thank you !
By: Itamar Doron | posted Tue 2 May, 2023 | Phupha Waree (deluxe)
Junn the guide was very good. she spoke good English and was very informative and attuned to our wishes. everything was perfectly organized.
Unfortunately the "safari" fell bellow our expectations. It's nobodies fault of course but from the descriptions before we came we were expecting to see much more wildlife than we actually did.
The accommodation (Phupha Waree Raft House) was very basic although we understand this was one of the best you could find. the AC and the fan in the room were very noisy. I guess it is passable for one night. Swimming in the raft house was uncomfortable due to the requirement to wear life jacket and the water were not so clean. Food was OK (Thai style) and they did pay attention to the special request of Vegan options for my wife. Overall a very nice experience.
By: Sarah Priestman | posted Mon 1 May, 2023 | Phupha Waree (deluxe)
Thank you for the most amazing couple of days. A group of 7 of us booked a two day/one night private tour staying at the Phupha Waree Raft House. The communication with the Thai National Park when arranging the trip was excellent. The accommodation was basic, but perfectly adequate for one night. The food at the raft house was plentiful and delicious. Our guide, Ruam, was exceptional in his knowledge of the area and wildlife, his humour and the care he gave us as a group of seemingly more elderly travellers than the norm. The highlight of the trip was the morning safari where we saw gibbons, hornbills, eagles and a monitor lizard. It was a fantastic experience. Thank you
By: Juergen | posted Sun 23 Apr, 2023 | Phupha Waree (deluxe)
The large lake has very beautiful spots. Our guide June was very positive and spoke good English and John was a great skipper of our longtail boat. As we had booked a private tour we could discuss the detailed agenda of the two days at the beginning of the tour. As two of us are serious hobby photographers we were looking to see some wildlife. That´s why June changed the original plan of hiking to a view point towards a very extended safari on the lake in the afternoon of the first day. We saw great hornbills, an owl, eagles, and some monkeys. Relatively to the amount of time that we were looking for animals we only saw some few animals. The Pra Kai Petch cave that we visited on the first day is rather small and not very impressive. We stayed in the Deluxe Phupha Waree bungalows. These nevertheless are rather basic rooms. Food was very good. Big thanks again to June and John.
By: World Wild Hearts | posted Sun 16 Apr, 2023 | Sai Chon
A video review from one of our guests. This clip wasn't promoted by us, nor were we informed in advance about it.
Review by; World Wild Hearts
By: Luke Chircop | posted Sun 16 Apr, 2023 | Phupha Waree (deluxe)
Tour was great and very interesting. Ruam the guide was helpful and very good tour guide
By: Sarah Oyloe | posted Wed 12 Apr, 2023 | Phupha Waree (deluxe)
Experience of a lifetime. Excellent communication, wonderful guide, comfortable accommodations, and amazing views. I'm so glad I booked Thai National Parks tours four our trip, and would recommend to anyone looking for a great experience.
By: Chris M | posted Mon 10 Apr, 2023 | Phupha Waree (deluxe)
It's a real shame we have had to write this poor review, but we were mis-sold the accommodation, paying and expecting the 'deluxe' rooms as represented on the Thai National Parks Website (https://www.thainationalparks.com/khao-sok-national-park/guided-tours/2-days-cheow-lan-lake-tour-in-khao-sok). As a party of five, we had booked two deluxe rooms, but on arrival we were given two of what they call 'smaller' rooms which had stained walls, bedding, locks that didn't work and an overall substandard of build/decor. On complaining to the company, they said that they had never received such a complaint before and were baffled at our request for some form of refund. Unfortunately, I can't add photos of the rooms in this review for you to understand.....
Tour operator's response
In this tour details page it clearly says the rooms to accommodate 2-4 people. There are two photos showing two different room sizes. There were 5 of you, so there had to be 2 rooms for 2+3 pax accordingly. You can't have a room for 4 for 3 pax or 2 pax.
In both photos, it is crystal clear with some of the interiors; same bed quality, same TV, same curtain, same type of towel etc. Restrooms are the same, a/c brands are the same. The only difference is that for 2-3 pax, it will be the slightly smaller rooms.
In your review you didn't mention that you told us you "suffered" in the rooms, this in the same sentence when you claimed refund 3 days after the tour ended. This made us stand speechless. All these reviews below tell otherwise. You also threatened us with a bad review, I assume you would skip the review if we refunded.
Given that when you booked, you missed the two different rooms that have the same quality both in photo and text, we completely understand your feedback, but we can't understand how you suffered. According to our guide, you never brought the issue up when you arrived at your rooms, you all seemed happy during the tour.