Private Tour

|

2-days/1-night private tour in Khao Sok Lake

Situated between Khao Sok National Park and Khlong Saeng Wildlife Sanctuary, Cheow Lan Lake has one of the most beautiful scenic views in Thailand.
Why?
The lake deserves more than one night of stay, but if you only can stay one night, you will still be able to enjoy a few activities with this tour.
What?
With the 2-days/1-night tour in Khao Sok you will be able to see scenic rock formations, hike to a viewpoint, visit a cave, hike in the jungle, kayak, swim and drive around for wildlife watching. The tour includes a stay in a raft house of your choice, a private guide and a private boat with driver. No others will share the guide or the boat with you during the tour.
Raft house options
Phupa Waree Raft House (deluxe)
Phupa Waree is set back in a private alcove just inside Klong Pey. It features modern rooms with queen size beds. Equipped with private bathrooms, a/c, balconies and can accomodate 2-4 people.
For the dates concerning high season months, week-ends (Fri-Sat nights) and public holidays, rooms at Phupa Waree should be booked well in advance. The rooms are available for booking a maximum 4 months in advance.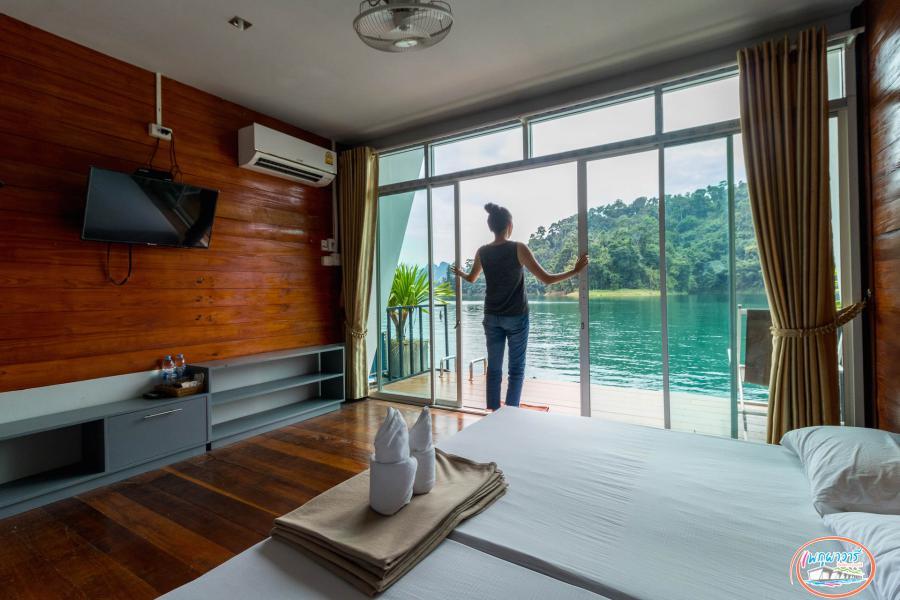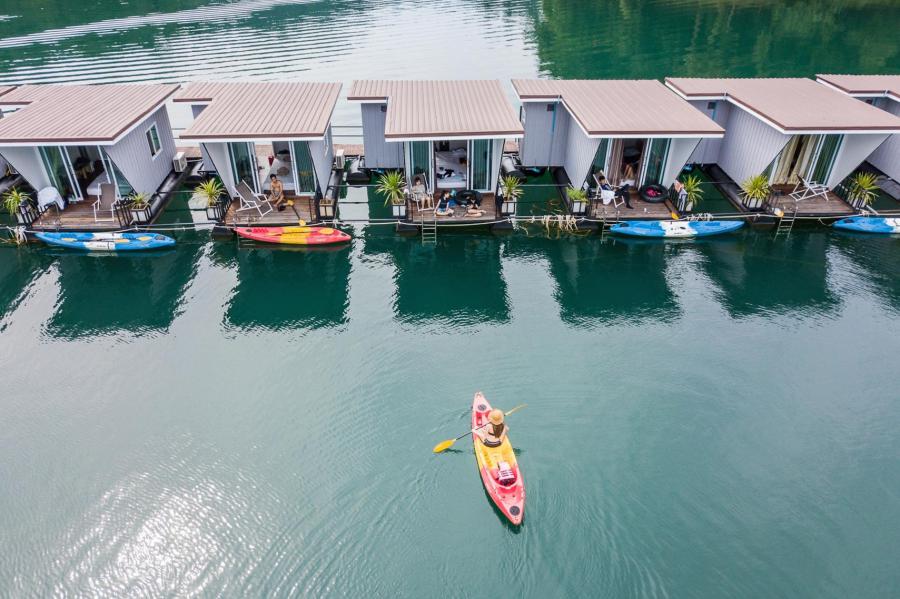 Laguna Cheow Lan (deluxe)
Laguna Cheow Lan is located in Khlong Long tributary, in the middle of the lake. It features wooden rooms with queen size beds. Equipped with private bathrooms, a/c, balconies and can accomodate 2-4 people.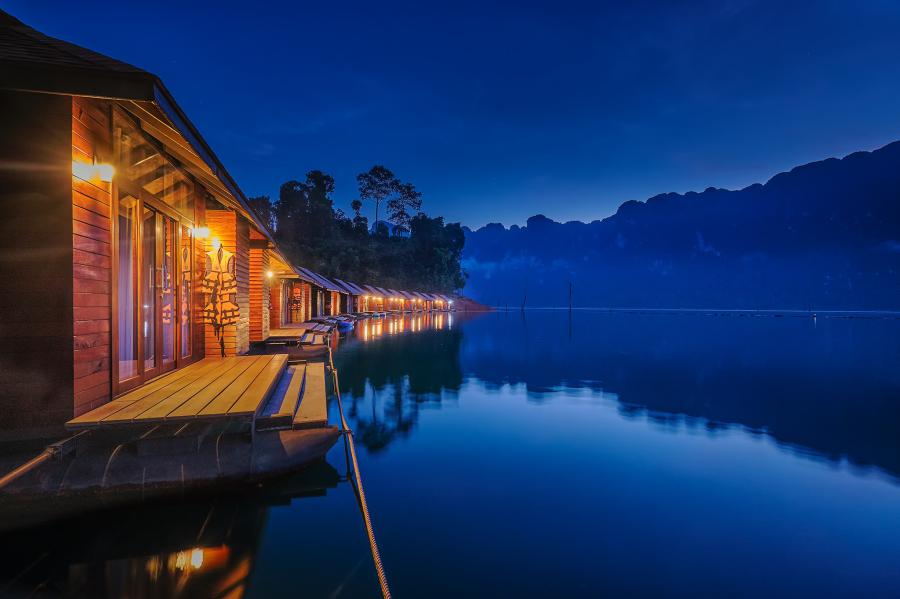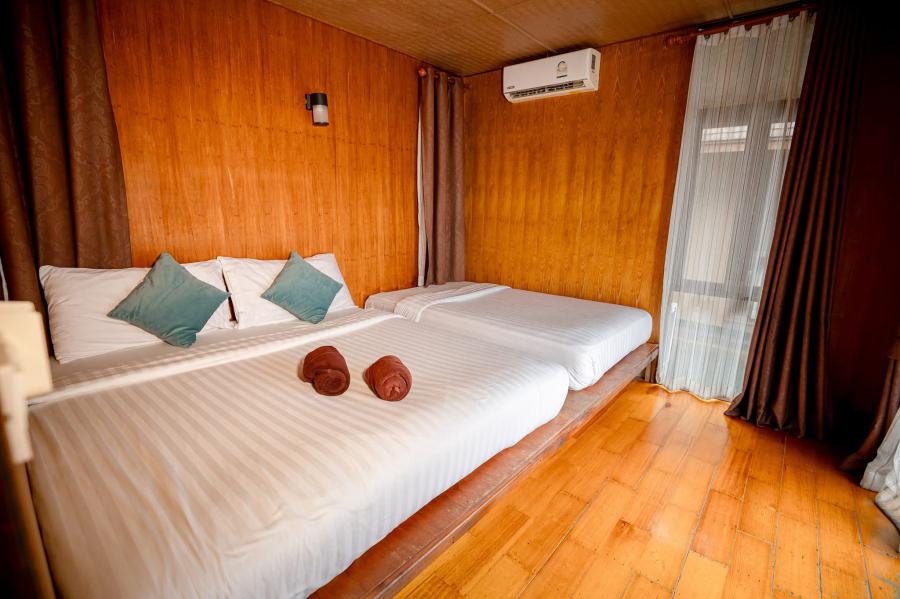 Sai Chon Raft House (wooden)
Sai Chon Raft House is a cheaper alternative compared to deluxe ones, located in Khlong Long tributary of the lake, in the middle of the lake. The quality is somewhere between bamboo and deluxe options. The rooms can accommodate 2-4 people with queen beds, equipped with fans and has rooms with both private and shared bathroom facilities. As default we will try book private bathroom options, if not available we will book shared bathroom options.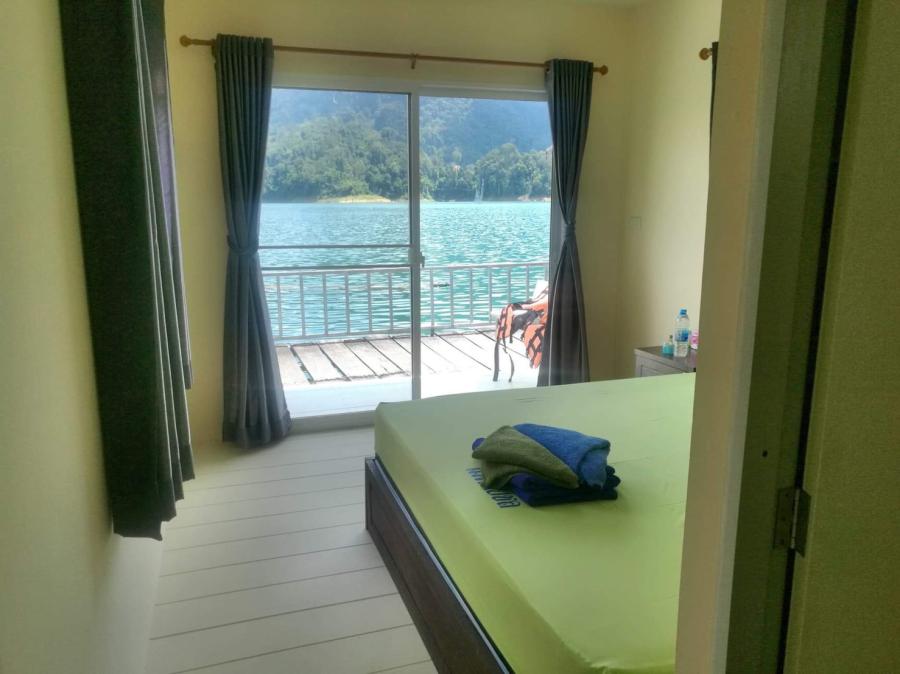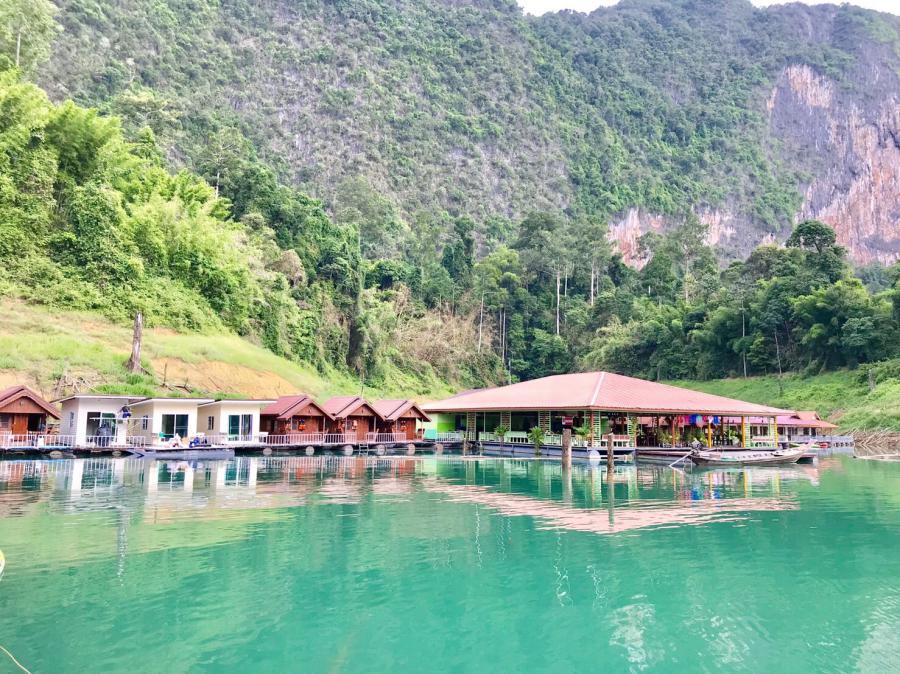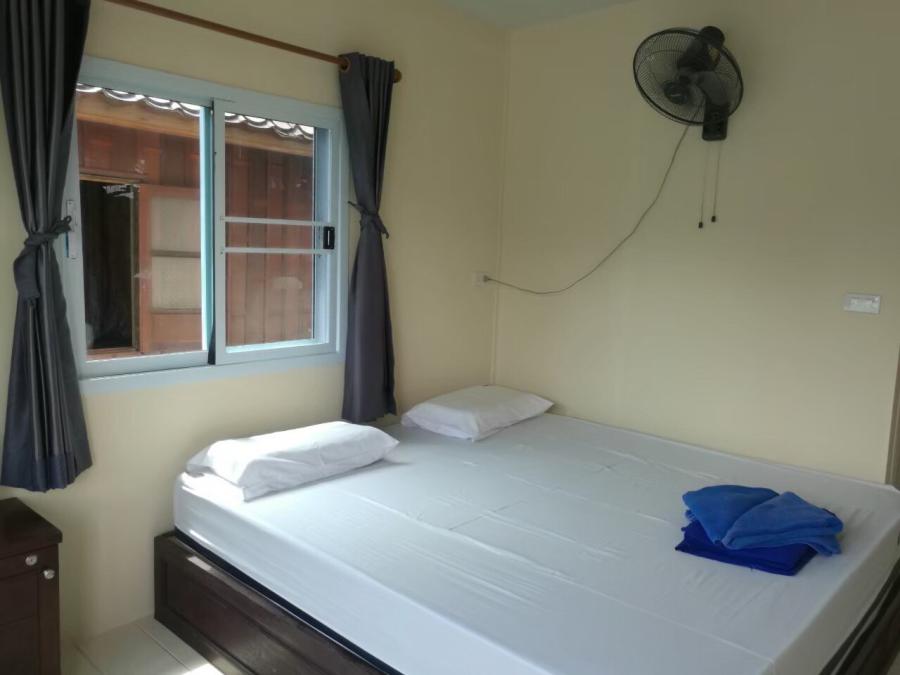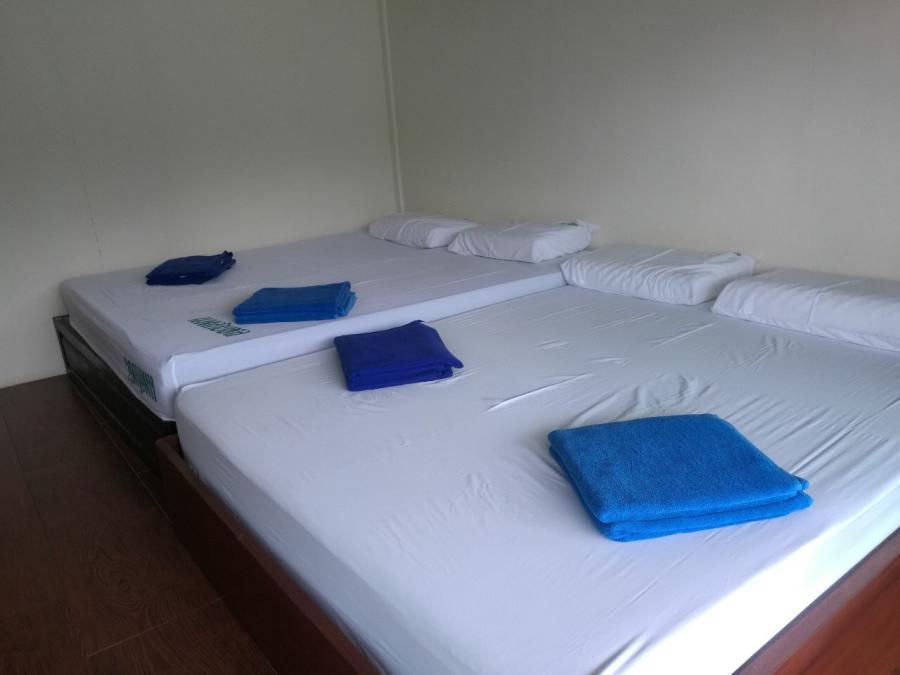 Plern Prai Raft House (wooden option)
Plern Prai Raft House is another alternative, situated in the middle of Klong Long tributary, not too far from the pier. The quality is somewhere between bamboo option and deluxe option. The rooms are for either 2 pax or 3 pax, beds on floor, equipped with fan and has shared bathroom facilities.
Krai Son Raft House (bamboo option, basic stay)
Krai Son is perched at the entrance to Klong Yee at the remote end of the lake. It is equipped with traditional style bamboo bungalows (2 pax, double beds), no fan, with shared bathroom facilities on land next to the raft house. It is the only raft house on the lake with a view of sunrise and sunset. Local attractions include a viewpoint hike which overlooks the entire lake, and it is close by to the Khlong Saeng wildlife sanctuary not too far from Phupa Waree.
Itinerary
The following itinerary is just an example. Depending on weather conditions, your suggestions or eventual shorter/longer time you may decide to spend at attractions may change the planning. Example; you may decide to do more kayaking, skip some activities for the other, or simply just decide to relax and spend some time with friend(s)/family at the raft house.
Day 1
10 am pickup from Cheow Lan Lake Pier to board your long-tail boat
Scenic tour of limestone karst formations on the way to your rafthouse
Check in to the raft house (deluxe or basic bamboo). Enjoy a traditional Thai Lunch prepared with rich southern Thai curries, delicious local vegetables, and fruit for dessert.
Guided hike to see viewpoints on dry season or to a waterfall on rainy season (optional)
Afternoon wildlife safari by boat
Return to the raft house for a swim, relax and enjoy the scenery
Enjoy a delectable dinner of fish, Thai soup, and veggies.
Day 2
Rise before breakfast for the morning mist safari, the best time to see gibbons, macaques, and dusky leaf monkeys
Return to raft house for breakfast
Explore the surrounding area by kayak
Checkout from hotel 10:30 am, tour ends around noon at the main pier
Where & When?
The tour starts at Cheow Lan Lake Pier (Rajjaprabha Dam), 65 km from park headquarters. It is easy to get to the nearby Ban Tha Khun Town with buses operating from various destinations like Bangkok, Phuket, Krabi or Surat Thani. Private transfers by taxi or minivan can be arranged on request. This tour is operated all year round.
Tour details in short:
Duration: 2 days/1 night
Type: Private
Price: * see price table *
Group size: 1 or more people
Grade: Easy
Transport: Long-tail boat
Start: 10a m (day 1)
End: around 12 pm (day 2)
What to bring:
Rain clothing, specially on rainy season
Personal toiletries
Swimming clothing & towel
Hat
Flashlight
Insect repellent
Sunblock lotion
How much?
The tour will be led by a private guide which means no others will join you while exploring the lake and surrounding areas. The price for this tour package depends on the choice of accommodation and number of people, please see price per person further down.
The prices below do not include entrance fees to the national park.
The listed prices for Phupa Waree below are valid until June 2022, new higher price will apply from Jul 2022. The listed prices for Plearn Prai are valid until end of December 2022.
Price per person
Pax
Krai Son (bamboo)
Plearn Prai (wooden)
Sai Chon (wooden)
2
4,800

THB

5,400

THB

5,400

THB

3
3,700

THB

4,150

THB

4,200

THB

4
3,100

THB

3,500

THB

3,600

THB

5
2,850

THB

3,150

THB

3,250

THB

6
2,600

THB

2,900

THB

3,050

THB

7
2,500

THB

2,750

THB

2,900

THB

8
2,400

THB

2,650

THB

2,800

THB
Price per person
Pax
Phupa Waree (deluxe)
Laguna (deluxe)
2
6,300

THB

7,000

THB

3
4,700

THB

5,400

THB

4
4,100

THB

4,500

THB

5
3,900

THB

4,400

THB

6
3,550

THB

4,100

THB

7
3,400

THB

3,800

THB

8
3,300

THB

3,600

THB
Displayed prices are per person
Tour rates include:
Lodging; basic bamboo, wooden or deluxe
English speaking guide
Long-tail boat transportation
All meals & fruit
Drinking water
Tour rates doesn't include:
Entrance fees to the park
Reviews from our guests
By: Daphne Mattille | posted Sat 18 Dec, 2021 | Phupa Waree (deluxe)
They absolutely organized everything for us on this trip! They give REAL prices (rather than having their costumers overpay). The experience at Khao Sok Cheow Lan Lake was unbelievable and the best part of our trip to Thailand! I recommend Thai National Parks more than any agency I've experienced in Thailand. Thanks again for all your help!
By: Kathryn Amey | posted Wed 17 Nov, 2021 | Krai Son (bamboo)
It was a fabulous trip. Ruam was the perfect guide and we couldn't have asked for a better host.
It was sad to hear that we were their first guests since Covid hit but what a magical experience to be there on our own.
Everything about the trip, the food, the hosts, the scenery - even the weather was just perfect.
The only feedback I would offer is to add 'bring a towel' to the packing list - luckily we brought ours otherwise would would have been without.
Thank you for providing such a wonderful trip. I will certainly be recommending it to all my friends here in phuket.
Please pass our gratitude onto Ruam.
Many thanks
Kathryn
By: Zachary Bills | posted Sun 22 Dec, 2019 | Phupa Waree (deluxe)
The tour and experience were both awesome! Our guide was exceptionally knowledgeable and capable, and did an awesome job of looking out for us and for the wildlife. The food and accommodations were excellent and I would recommend this trip to anyone looking to see the wilder side of Thailand.
By: Bjorn Grenness | posted Mon 22 Jul, 2019 | Krai Son (bamboo)
We had a nice trip with a good guide. The stay on the the rafthouse was good.
Tour operator's response
Dear Bjorn,
Thanks for your kind words - we are glad to know you enjoyed the program and the raft house.
Kind regards,
Bee
By: Rahul Bose | posted Wed 5 Jun, 2019 | Phupa Waree (deluxe)
Location is exceptional in terms of scenic beauty. Guide is very friendly and reliable.
Size of the room is quite small and bathroom doesn't have much accessories.
Food is below average. Except for guide, hardly anyone understands English in the hotel.
By: Francesca Magno | posted Wed 26 Dec, 2018 | Krai Son (bamboo)
What to say ... amazing trip, beautiful people....unique places,would stay more next time !
A special thank to Nam, dedicated to make people feel home in such a paradise!
Tour operator's response
We are so glad you had a good time at the lake - and appreciate the positive feedback.
By: Justine Parnis | posted Sat 6 Oct, 2018
The park itself was very beautiful and peaceful however the service could have been much better. We were told that we would be having basic accomodation but I do expect clean sheets, toilet paper, towels and soap even in basic accomodation. The food provided wasn't bad however other tours living in the same accomodation had much better food. The wildlife safari included in the tour wasn't what one might expect either. We only saw a couple of monkeys in the distance.
Tour operator's response
Dear Justine,
I a very sorry to hear that you were disappointed by the service on your trip, and it did not meet your expectations. I agree that the standard of the bungalows could be improved, but they are owned by the national park, so we don't have a final say in the matter.
As for the wildlife, I apologize that there were not so many animals during your trip - normally, the ability to see animals can change with the weather and time of year.
I appreciate your honest and open feedback, and we will improve the website to better explain the difference between a private and group tour.
Sincerely,
Bee