Chiang Mai - Doi Inthanon taxi service
About our taxi services
With our full day taxi services it is possible to visit a number of attractions in Doi Inthanon National Park or any other areas in Chiang Mai Province. The attractions to visit must be agreed in advance so that we can inform you of a crystal clear quote.
Our regular taxis are SUVs for up to 4 people, minivans are for bigger groups up to 10 people. All our cars are spacious, with a/c and comfortable.
Our taxi services are private means no others will join you.
Service hours
Our price is for pickup from Chiang Mai City. Additional charges will apply if pickup location is elsewhere in the province.
The service hours are flexible. We suggest a 7 am pickup with service inside the park until 4 pm. After that, you will be returned to Chiang Mai City.
To see the sunrise, it is possible to start the taxi service as early as 4 am, and continue the service in the park until 1 pm. It is easy to search online what time the sunrise will happen in Chiang Mai on a specific day of the year. Just search i.e; "Sunrise in Chiang Mai on 1st of June".
The hotspots
Doi Inthanon Summit
Ang Ka Luang Nature Trail (boardwalk) opposite side from summit trail (closed Sept to Oct)
Kew Mae Pan Nature Trail (closed Jun to Oct)
Two Chedis
Hmong Market (on the main road)
Wachirathan Waterfall
Sirithan Waterfall
Siriphum Waterfall
Sakura tree blooming (briefly in February, dates varies, no guarantee for blooming even in some February days)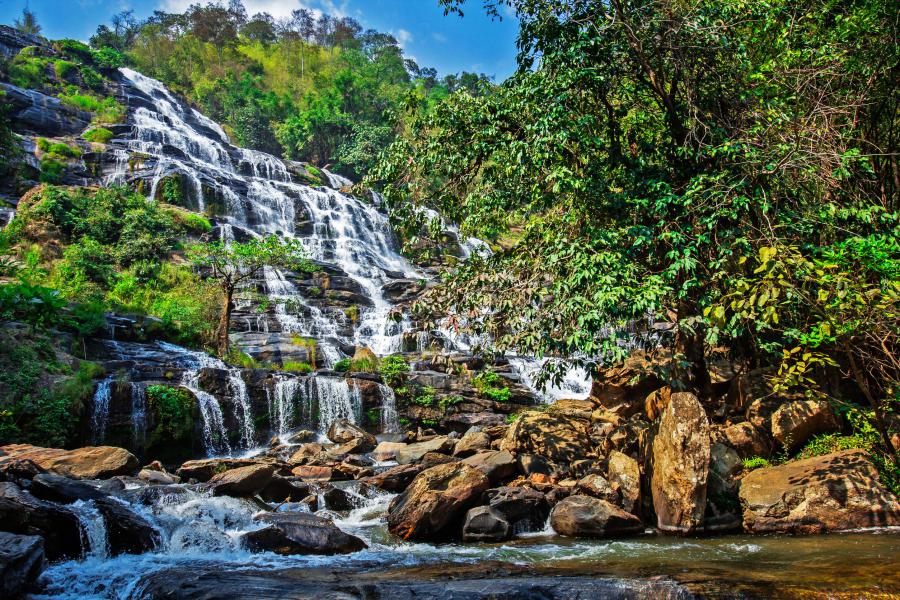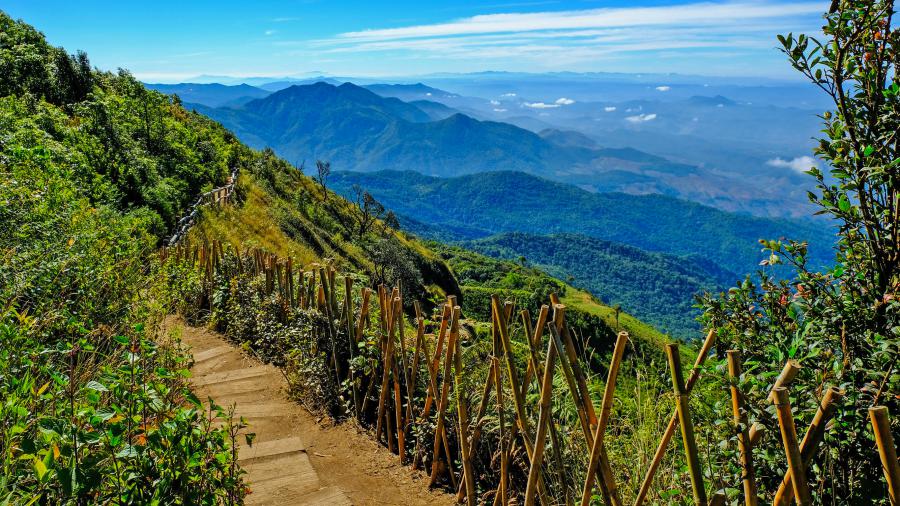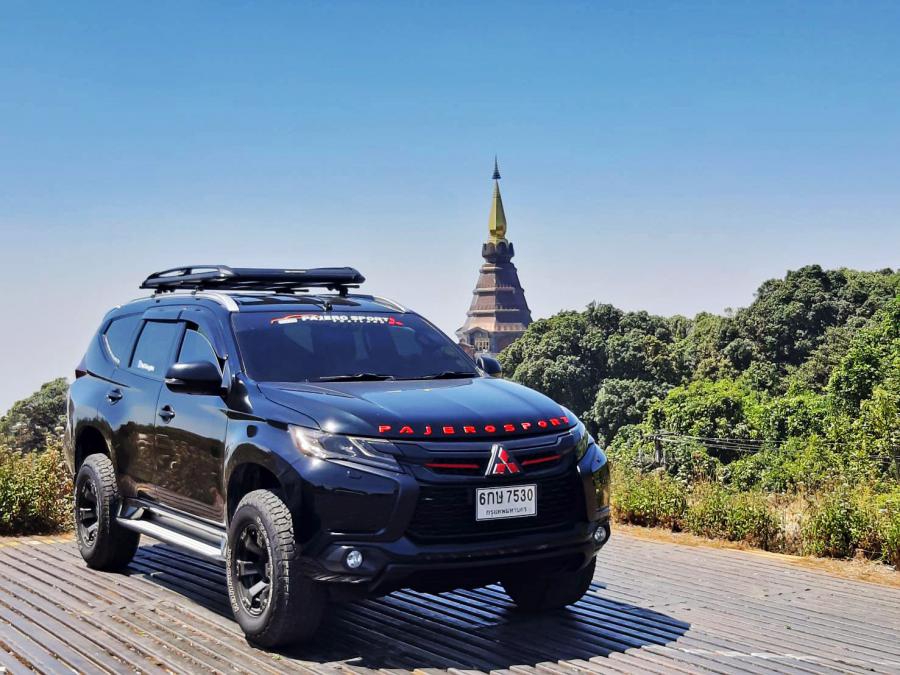 Price
The quotes shown further below are per taxi (not per person) and include fuel, driver's and car's entrance fees (not yours). No tips needed, there won't be any hidden costs on top of what we agree in advance.
The service hours can also be extended at the attractions for an additional +200 Baht per starting hour.
Additional charges apply if you include a visit to;
Mae Ya Waterfall south of the park, +300 Baht
Mae Pan Waterfall & Campsite west of the park, +300 Baht
Doi Suthep Temple (only the temple), +500 Baht
Pha Chor in Mae Wang National Park, +500 Baht (SUV only)
How to book with us?
Simply by sending an enquiry by following the "enquiry" button further below. You can ask as many questions you like through the enquiry system, we will answer all. If you are happy with our answers, you can decide to book.
Sending an enquiry doesn't mean a commitment to booking. We answer all questions for free even if not booked.
Full day taxi service
| Transfer | SUV (1-4 pax) | Minivan (5-10 pax) |
| --- | --- | --- |
| Chiang Mai – Doi Inthanon (full day service) | 3,100 - 3,200 THB | 3,500 - 3,700 THB |
One way transfers
| Transfer | SUV (1-4 pax) | Minivan (5-10 pax) |
| --- | --- | --- |
| Chiang Mai – Doi Inthanon Main Campsite | 2,500 THB | 3,000 THB |
| Chiang Mai – Doi Inthanon hotel (south/east) | 1,800 THB | 2,000 THB |
| Chiang Mai – Chiang Rai | 2,600 THB | 2,800 THB |
| Chiang Mai – Pai | 2,600 THB | 2,800 THB |
* Only one pickup location, additional pickup location to add 200 to 300 Baht each, no matter how near.
Reviews from our guests
By: Mike Ceccarelli | posted Sun 20 Nov, 2022
I decided last minute that I wanted to take a trip from Chiang Mai to Doi Inthanon. I had no car or idea how to get there but knew I didn't want to go with a big group. I found this company online and messaged them the day before in the afternoon and they immediately responded to set me up with a driver. Shortly after I was given a confirmation and my time desire was easily met. My expectations were exceeded as my driver showed up on time in a really nice SUV with his brother. They were extremely nice and took me to each spot on my itinerary even opening and closing the door for me (not expected). My driver even told me about another area I hadn't planned that he liked and took me there with no additional cost. No additional costs, hidden fees, and they even turned down my offer to buy them drinks and snacks when we stopped before the park. Being an American, the cost for this type of service was incredibly low for what I got in comparison to a slow moving group thing would have made me miserable. So glad I went there, as it was beautiful, and so glad I used this service. If you're in Chiang Mai and want to go to Doi Inthanon use these guys and you won't regret it. Happy travels. Cheers and thanks Thai National Parks for taking care of me on such short notice. Trip to Chiang Mai wouldn't have been the same without this part to Doi Inthanon.
Tour operator's response
Thanks for your positive feedback. However, we are very disturbed to hear the driver had his brother in the car for a private taxi service. We will pass the word to our drivers that during a taxi service they can't have their friends/relatives or anybody else in the car other than our guests.
Tour operator's response
I understand your desire to maintain a safe and consistent service for your clients. It is much appreciated. If you are going to communicate to your drivers that additional individuals are not allowed, please do not discipline my specific driver. The service was beyond expectations and the addition of his brother was welcome and even added to the positivity of my experience due to his added positive interaction, even opening and closing my car door. Holding this against them will certainly cause me to change my opinion and review of your company. Thank you
Tour operator's response
We won't discipline for this case or for other minor cases. It is a cultural issue, and we prefer to update our drivers with a soft tone, and explain. In this case, we would simply explain the etiquettes of different cultures, that it is not ok to have someone else in the car.
We already passed your review to him that you are happy with the service to soften the chat with him. We worked with him for a long time, we never heard any complaints. :)
However, we get very upset when we hear incidents like this. I think this is 3rd or 4th time it is happening over the all years.
We "discipline", often means "stop working" with a driver when showing some serious degree of dishonesty or other more serious behavior.
By: Bryana | posted Fri 18 Nov, 2022
This is the best way to see Doi Inthanon Natiiotnal Park! It was convenient, clean, and relaxing. My driver, Piak, was so friendly and helpful from the very start. While there was a bit of a language barrier, we used Google Translate to help when needed. One of the best parts was the Kew Mae Pan trail. Don't miss it!
By: Annie Boon | posted Mon 14 Nov, 2022
The driver, Bank is able to understand English and communicate with us. He is very helpful as he is the interpreter for us with the home stay owner. Once again, we want to thank Bank for our enjoyable trip.
By: Sabah E | posted Mon 7 Nov, 2022
Great taxi service. Booked for 5 people from Chiang Mai to doi inthanon. The messages I sent got a quick response and a clear and easy quote.after paying a deposit online securely the booking was confirmed.
Our driver Sammy showed up on time and took us to all the agreed stops on our itinerary on time and in a fantastic air-conditioned minivan.
Overall great and hassle free service for tourists with professional staff and service.
By: Elaine Bruer | posted Wed 26 Oct, 2022
Our driver was prompt, friendly and very helpful. He was well informed. He was waiting at each stage, exactly as he said he would be. It was a lovely way to experience the park.
The communication by email to arrange the taxi service was very prompt and helpful. Thanks so much!
By: Darryl Light | posted Mon 24 Oct, 2022
Our itinerary:
- Doi Inthanon Summit
- Ang Ka Luang Nature Trail
- Two Chedis
- Hmong Market
- Siriphum Waterfall
- Sirithan Waterfall
- Wachirathan Waterfall
- Pha Chor
Our driver, Piak, was brilliant! He didn't speak great English, but we managed to communicate via Google Translate on our phones. We agreed an itinerary in advance with the helpful staff online the day before, discussing what was a good plan for the day ensuring we would have enough time in each place.
Piak picked us up and drove us to the Doi Inthanon summit which was beautiful, we walked along the trail and Piak met us at the bottom. We then moved onto Two Chedi's - Absolutely incredible, and one of the benefits of a private driver is we were able to spend as much time as we wanted in each place without being rushed.
We were then driven to a market briefly to look for food or souvenirs - No pressure to buy anything.
Piak then took us to the waterfalls - Sadly one was closed due to a landslide, but the other two were remoarkable.
One extra thing we did was Piak took us for a free coffee in a village he knew, freshly made and provided us with a banana too. A nice surprise!
Finally we went to Pha Chor, which we added to the itinerary as it's a little off route. A great stop and walk to explore the old waterway. Piak then dropped us off in good time.
The driver was excellent, and the car was perfect - Definitely a better experience than cramming into a small minivan with 13 other people. Couldn't recommend this method of exploring the national park more highly!
By: Ahiad CHEN ZION | posted Wed 12 Oct, 2022
Great trip.
Mr M is very nice driver.
Although we didnt see the sunrise because of the fog it was an excellent trip.
The service from the national park is very good too
By: Farhana Tasmin | posted Sat 1 Oct, 2022
Loved our trip and loved our driver who ensured we made a quick stop to the restroom before going all the way up to Inthanon. He was very polite and kind :)
By: Emma Bradley | posted Sat 27 Aug, 2022
The taxi service was wonderful. The driver was polite and friendly, waited for us and gave us clear instructions as to where he would be waiting. The national park itself is gorgeous and is well worth a visit! I would highly recommend using the service as it is great value for money. My one complaint was that we asked for the sunrise service so met our driver at 4.30am, following the advice of the company. When we reached the park, the sun had mostly risen so we missed getting to see the whole thing. We still got some fantastic pictures so it is a minor complaint and didn't take away from the overall experience of the day whatsoever.
By: Guy Delauniere | posted Wed 24 Aug, 2022
All good. No complaint. Very profressional.