Chiang Mai - Doi Inthanon taxi service
About our taxi services
With our full day taxi services it is possible to visit a number of attractions in Doi Inthanon National Park or any other areas in Chiang Mai Province. The attractions to visit must be agreed in advance so that we can inform you of a crystal clear quote.
Our regular taxis are SUVs for 3-5 people, minivans are for bigger groups up to 10 people. All our cars are spacious, with a/c and comfortable.
Our taxi services are private means no others will join you.
Service hours
Our price is for pickup from Chiang Mai City. Additional charges will apply if pickup location is elsewhere in the province.
The service hours are flexible. We suggest a 7 am pickup with service inside the park until 4 pm. After that, you will be returned to Chiang Mai City.
To see the sunrise, it is possible to start the taxi service as early as 4 am, and continue the service in the park until 1 pm. It is easy to search online what time the sunrise will happen in Chiang Mai on a specific day of the year. Just search i.e; "Sunrise in Chiang Mai on 1st of June".
The hotspots
Doi Inthanon Summit
Ang Ka Luang Nature Trail (boardwalk) opposite side from summit trail (closed Sept to Oct)
Kew Mae Pan Nature Trail (closed Jun to Oct)
Two Chedis
Hmong Market (on the main road)
Wachirathan Waterfall
Sirithan Waterfall
Siriphum Waterfall
Sakura tree blooming (briefly in February, dates varies, no guarantee for blooming even in some February days)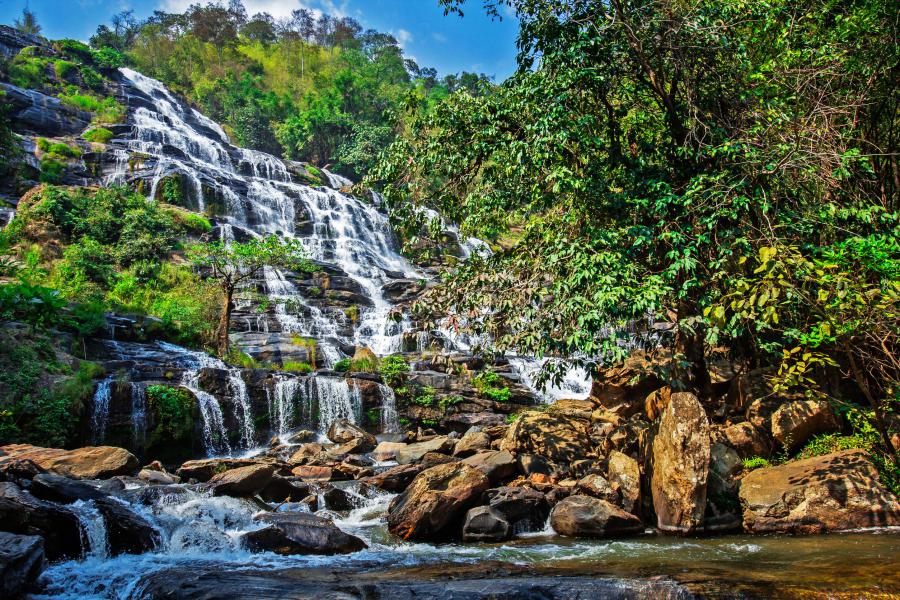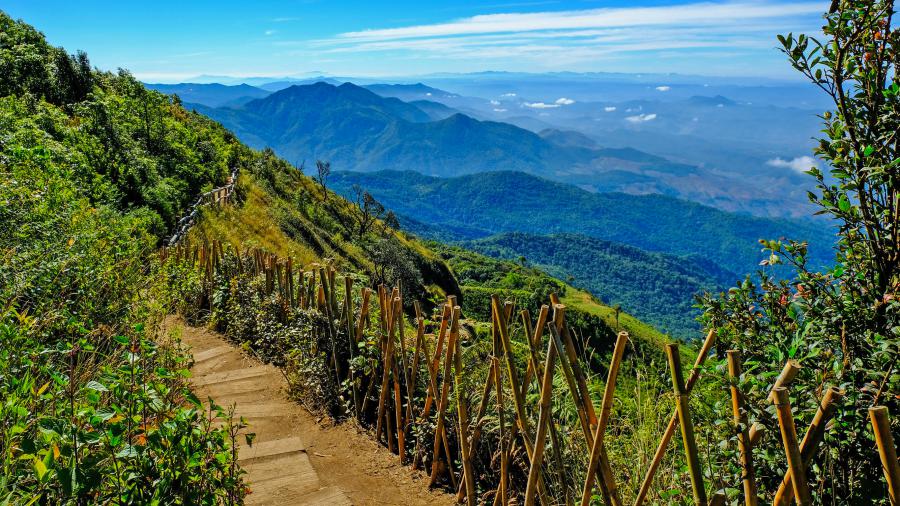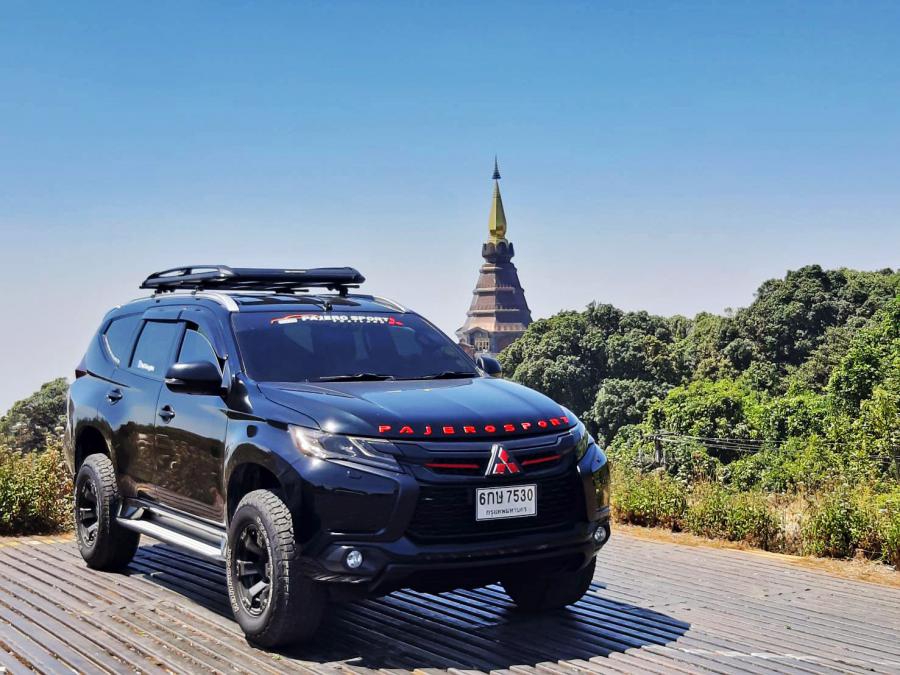 Price
The quotes shown further below are per taxi (not per person) and include fuel, driver's and car's entrance fees (not yours). No tips needed, there won't be any hidden costs on top of what we agree in advance.
The service hours can also be extended at the attractions for an additional +200 Baht per starting hour.
Additional charges apply if you include a visit to;
Mae Ya Waterfall south of the park, +300 Baht
Mae Pan Waterfall & Campsite west of the park, +300 Baht
Doi Suthep Temple (only the temple), +500 Baht
Pha Chor in Mae Wang National Park, +500 Baht (SUV only)
How to book with us?
Simply by sending an enquiry by following the "enquiry" button further below. You can ask as many questions you like through the enquiry system, we will answer all. If you are happy with our answers, you can decide to book.
Sending an enquiry doesn't mean a commitment to booking. We answer all questions for free even if not booked.
Full day taxi service
| Transfer | SUV (5 pax) | Minivan (10 pax) |
| --- | --- | --- |
| Chiang Mai – Doi Inthanon (full day service) | 3,100 - 3,200 THB | 3,500 - 3,700 THB |
One way transfers
| Transfer | SUV (5 pax) | Minivan (10 pax) |
| --- | --- | --- |
| Chiang Mai – Doi Inthanon Main Campsite | 2,500 THB | 3,000 THB |
| Chiang Mai – Doi Inthanon hotel (south/east) | 1,800 THB | 2,000 THB |
| Chiang Mai – Chiang Rai | 2,600 THB | 2,800 THB |
| Chiang Mai – Pai | 2,600 THB | 2,800 THB |
* The SUV and minivan full day service price range depends on how many people in the car.
* Only one pickup location, additional pickup location to add 200 to 300 Baht each, no matter how near.
Reviews from our guests
By: Chloe Nicholson | posted Wed 11 May, 2022
Lovely driver ! Could take as long as we needed at each place with no pressure to hurry.
By: Paige M. | posted Fri 6 May, 2022
Even though our taxi driver didn't speak the same language, he was extremely helpful. We mentioned wanting coffee and he took us right to a local farmer and grinder. He also took us to a local restaurant with excellent food! This was a great experience!
By: Travelcouple | posted Thu 10 Mar, 2022
This was the best daytrip ever! We booked a private tour to Doi Inthanon from 7am to 4pm. Our driver Tong was very friendly and patient. We could take as much time as we wanted at the different spots. We felt very safe with him driving.
The car was brand new.
We highly recommend the trip. It was just great, no other words needed.
By: Reviewer1 | posted Sun 1 Mar, 2020
Aek was very friendly and took us on a great itinerary, not rushing us while giving timing estimates to make sure we make the best of our time at Doi Inthanon
Highly recommend!
By: Steven Sum | posted Fri 28 Feb, 2020
Good driver, nice itinerary.
By: Blanka Willingham | posted Mon 24 Feb, 2020
We were picked up on time at 4.30am for our sunrise trip to Don Inthanon. On our way back we stopped at Twin Pagodas, three different waterfalls and also Pha Chor. We had a great day and our driver Itthichai was very careful, we felt very safe with him. I would not hesitate to book another trip with you in the future.
By: Mark Schaefer | posted Fri 21 Feb, 2020
Really great car with an excellent driver.
By: Peng Gao | posted Fri 21 Feb, 2020
Everything was amazing I would do it again ANYTIME
By: Jere Laine | posted Thu 20 Feb, 2020
Very beautiful park and a very good driver, but I would have liked to be informed in advance that the summit was closed due to a marathon and some of the waterfalls had no water so we did not visit them. We were back at the hotel a few hours early due to these circumstances yet I paid the full price.
By: Laura Rodríguez Marqués | posted Sun 16 Feb, 2020
Our driver was waiting for us on time at the hotel. The car was very comfortable and the proposed itinerary was perfect. We really enjoyed the trekking, the two cheddis and the waterfalls. It's the best thing you can do in Chiang Mai!!