Doi Inthanon National Park day tour
Our tours are private, meaning no others will share the transfer or the guide with you.
Also known as "The Roof of Thailand", Doi Inthanon is the highest point in Thailand at 2,565 meters above sea level. The national park is one of the best in northern Thailand, home to many attractions and a popular destination for birders. The park has a great diversity of forest types throughout different altitudes, at the higher altitudes the forests are humid all year round. The park entrance is about 70 km southwest of Chiang Mai.
What?
A day-tour in Doi Inthanon National Park with an English speaking guide includes hiking, visiting the highest point in Thailand, Two Chedis, waterfalls and Hmong hill tribe market. The transfer will be with a SUV or minivan, both options spacious and comfortable and with a/c, we use only relatively new cars.
Doi Inthanon has only two official trails which can be walked in around 1.5 to 2 hours (each) of which one is closed during the rainy seasons but there is also a shorter trail near the summit, less than a kilometer long.
If you are after hiking longer trails, you are recommended to book a Doi Suthep-Pui National Park trekking tour. Doi Suthep-Pui has many more trails from a few kilometers up to 10-12 km long.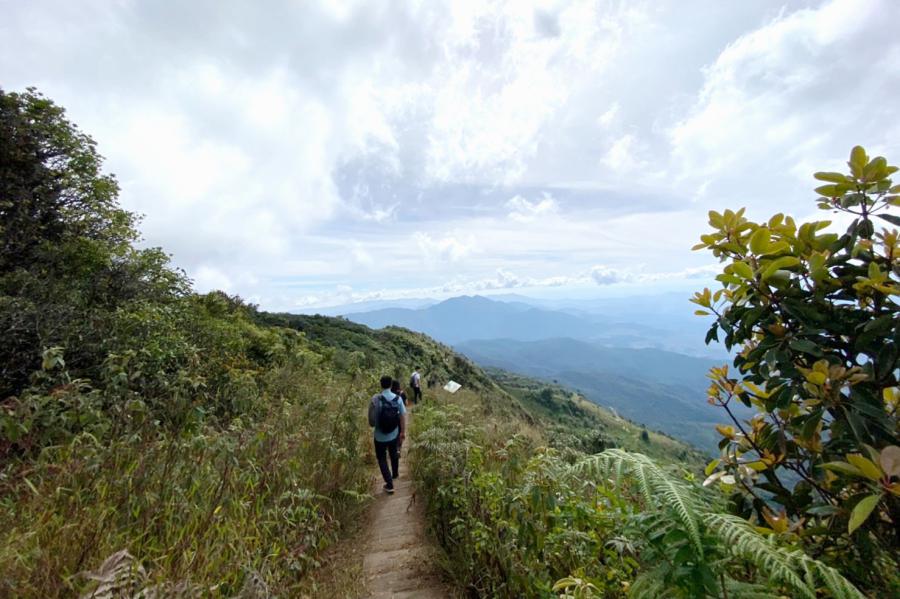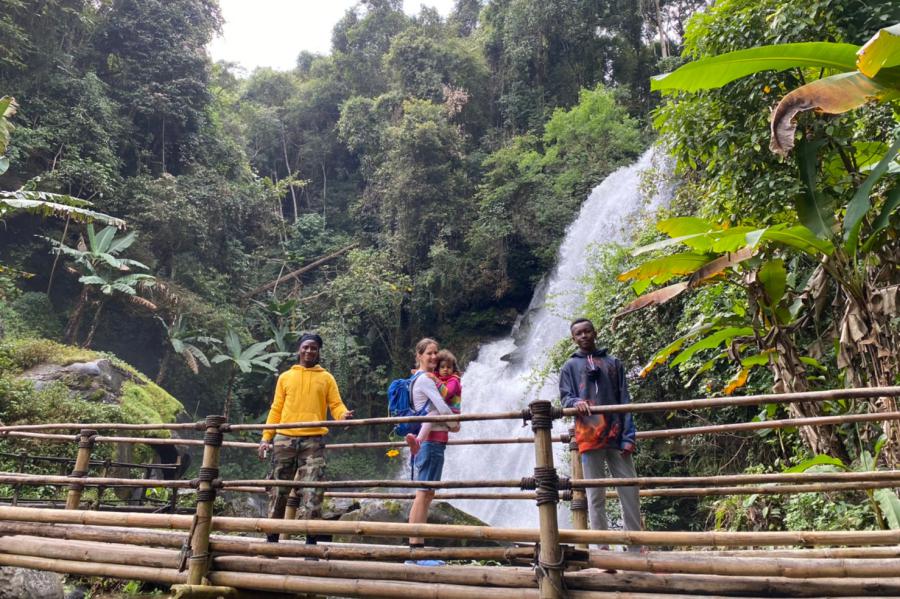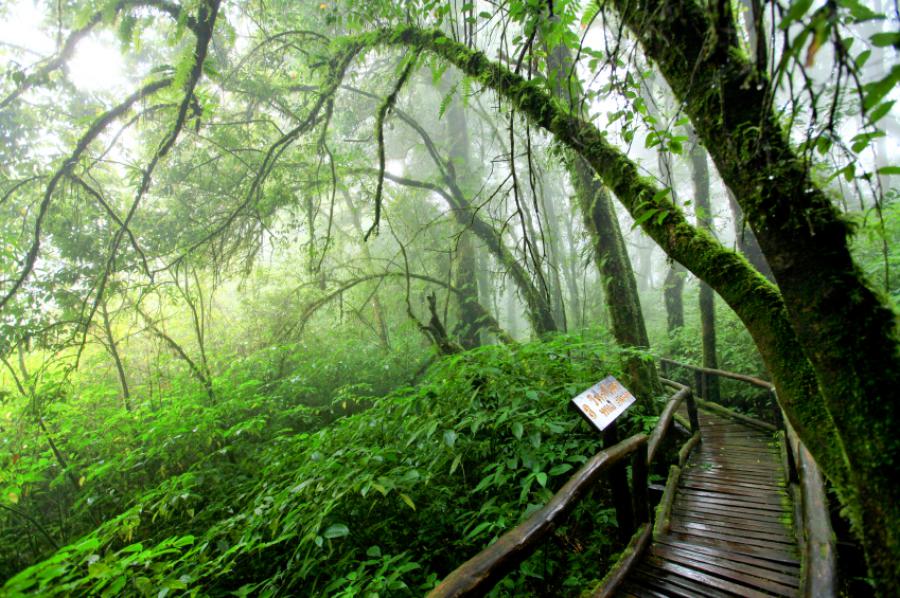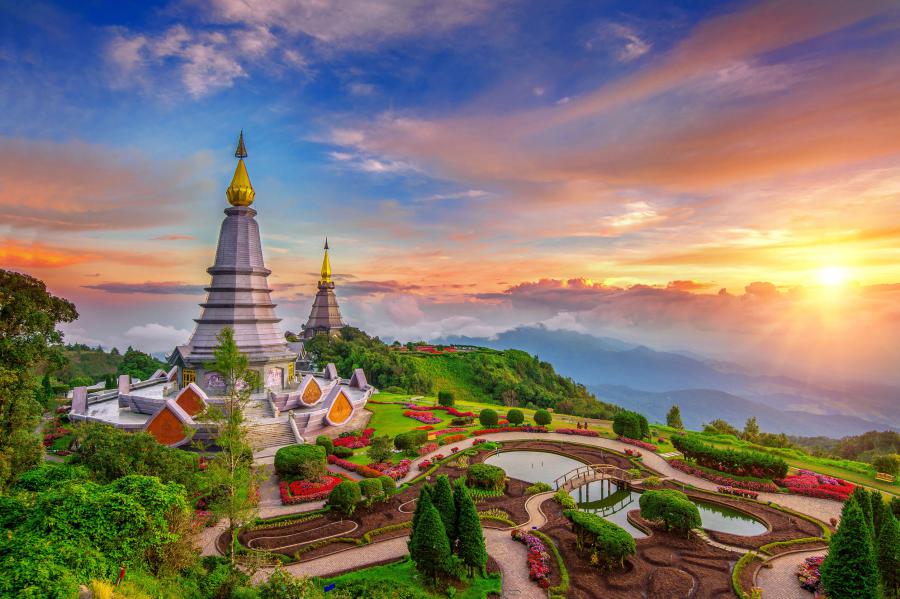 Itinerary
This is an example itinerary, which can be adapted according to your needs. The program may change depending on weather conditions, accessibility issues or any other obstacles. On eventual change of the itinerary we always make sure that the quality of our guests' experience and personal safety are safeguarded.
From 8 am to about 5 - 5:30 pm
Our guide will pick you up from your accommodation with an a/c SUV or minivan 8 am
The first stop will be the summit of Doi Inthanon which is the highest point in Thailand, we will drive all the way to the top.
After enjoying the view we will embark on a beautiful nature trail called Kew Mae Pan Nature Trail, a local guide of the Hmong tribe will accompany us through unspoilt montane forests. When the skies are clear the views along this trail are magnificent.
After having lunch at a local restaurant we will visit the Two Chedis that have been constructed to honour 60th birthday anniversaries of King Bhumibol Adulyadej and Queen Sirikit.
Later on we will continue to the Wachirathan and Mae Klang Waterfalls, along the way we will stop at a Hmong market where products from the Royal Project are for sale.
In the late afternoon our driver will take you back to your hotel.
During the rainy seasons Kew Mae Pan trail will be closed for a few months, alternative activities will be offered. The 2.6 km Pha Dok Sieo Nature Trail to a waterfall is one option if the trail is open for activity, in case hiking Pha Dok Sieo will be the first activity of the tour.
Where & When?
This tour departs from an agreed location like your hotel, apartment etc, and can be booked all year round. Chiang Mai can be reached by bus, train and flight from various destinations.
Tour details in short:
Duration: 1 day
Type: Private tour
Price: 1,700 Baht and up per person (depending on group size)
Group size: one or more people
Grade: Easy to moderate
Transport: a/c SUV or minibus
Start: 8 am
End: 5 - 5:30 pm
What to bring:
Small backpack
T-shirt and shorts for daytime
Long sleeves/Jacket during winter time (Nov - Feb)
Rain clothing (in the rainy season)
Hiking shoes with good grip
Sun cream
Insect repellent (DEET medicated)
How much?
The listed price includes the entrance fees of 300 Baht per person, an English spaking guide, a driver, a local guide to walk one of the two main trails, transportation, lunch, drinking water, coffee/tea and a mandatory insurance required from Thai Tourist Authority(T.A.T.).
You'll be accompanied by a private guide and a driver, no other people will join you; the best way to explore Doi Inthanon!
Children 3-14 years old will get entrance fee discount only. Children 1-2 will add only a minor charge for lunch + insurance cost.
Pax
Rate per person
1
6,400

THB

2
3,800

THB

3
2,900

THB

4
2,600

THB

5
2,320

THB

6
2,130

THB

7
2,000

THB

8
1,900

THB
Tour rates include:
English speaking guide
Local guide to walk one of the two main trails (200 Baht)
Transportation by a/c SUV or minivan & driver
National park entrance fees
Two Chedis entrance fees
Lunch
Coffee or tea
Drinking water
Mandatory insurance required by T.A.T.
Not Included:
Any other drinks
Personal expenses
Reviews from our guests
By: Gabriel Lopez | posted Thu 7 Dec, 2023
Amazing experience!! It really was an unforgettable experience that we'll never forget, starting from out amazing guide super informative, attentive and kind!! To the transportation, the pagodas etc... But my favourite was the hike through the wild and being with the tribe people was something magical, thank you very much for this!!
By: Jen | posted Sun 3 Dec, 2023
Enjoyable tour, especially the trek. It was a fairly easy walk but the views were amazing. Would highly recommend.
By: Cui French | posted Tue 28 Nov, 2023
The tour was such a great experience, especially the walking trail we did through the jungle with the local tribe people. Our tour guide was super helpful and friendly, always offered to take us group pictures. Highly recommended
By: Anastasiia Voronkevich | posted Wed 22 Nov, 2023
It was a great trip with a great guide.
By: Lohith Bose | posted Wed 15 Nov, 2023
My family and I loved the tour. It was one of the best experiences we have ever had. Our tour guide, Muii was incredible and was very caring towards my mom and my son. She was very knowledgeable regarding the rich history and culture of Doi Inthanon and we were fortunate to have her as our guide. The length of the tour was just right and we learnt a lot during the trip. We'll highly recommend the tour to our family and friends.
By: Allie Wassel | posted Wed 15 Nov, 2023
Pare was our guide and absolutely fantastic! They picked us up right on time from our hotel and she immediately started telling us all about Thailand. We stopped on the way to Doi Inthanon for coffee and lots of snacks. Once we got to the park we hiked Kew Mae Pan Natural Trail which was beautiful. We also went to the Twin Pagodas. Pare told us all about the history and was also a fabulous photographer for us. We would do this tour again in a heartbeat!
By: Carlina Robinson | posted Sat 11 Nov, 2023
Booked a private tour through the national parks page for 8 people. Communication was always easy with the team prior to the trip.
Would highly recommend the private tour. Our tour guide Mui was very well informed, providing us with lots of information throughout the various locations of the tour.
The hike guided by a member of the local Karen village community was so beautiful. The guide enhanced our experience by showing us plants and trees and animals we would've not known to look for and appreciate.
The lunch included was fantastic. The views were absolutely incredible. A must see and do if you make a trip to Chiang Mai or northern Thailand
By: Michaela Tonking | posted Sat 14 Oct, 2023
It was an amazing experience even in the rain! The guide and driver were so kind and really made the trip
By: Maetha AL-Sulaiti | posted Tue 26 Sep, 2023
I loved the trip, the quid was lovely and the lunch was delicious
I loved Doi Inthanon National park
In general if ever did another trip for sure I will use your Service
By: Anna Souche | posted Tue 19 Sep, 2023
Our guide Frankie gave us a wonderful, enriching excursion through the lush greenery of Thailand's highest peak. Doi Inthanon is a very well protected and regulated natural park, which once again demonstrates the importance of national heritage to Thai people.
While encountering with local people at the Hmong hill tribe market and Mae Klang Luang village (selling fruit, coffee, vegetables and a variety of other products), Frankie patiently introduced us to these local traditions and institutions. During the two hour walk in one of the main trail of the park, we passed through breathtaking waterfalls and diverse species including frogs, snakes and insects of all kinds. This was thanks to the local guide's deep knowledge of the terrain and Frankie's keen eye and enthusiasm to nature. Ending with a well deserved traditionally prepared coffee, Doi Inthanon is certainly one of the most beautiful landscape to be seen in Thailand. A little word of thanks to Rushen, with whom I communicated to organise this day tour, and who was very accommodating and prompt to reply.