Private Tour

|

Doi Inthanon National Park day tour

Also known as "The Roof of Thailand", Doi Inthanon is the highest point in Thailand at 2,565 meters above sea level. The national park is one of the best in northern Thailand, home to many attractions and a popular destination for birders. The park has a great diversity of forest types throughout different altitudes, at the higher altitudes the forests are humid all year round. The park entrance is about 70 km southwest of Chiang Mai.
What?
A day-tour in Doi Inthanon National Park with an English speaking guide includes hiking, visiting the highest point in Thailand, Two Chedis, waterfalls and Hmong hill tribe market. The transfer will be with a SUV or minivan, both options spacious and comfortable and with a/c, we use only relatively new cars.
Doi Inthanon has only two official trails which can be walked in around 1.5 to 2 hours (each) of which one is closed during the rainy seasons but there is also a shorter trail near the summit, less than a kilometer long.
If you are after hiking longer trails, you are recommended to book a Doi Suthep-Pui National Park trekking tour. Doi Suthep-Pui has many more trails from a few kilometers up to 10-12 km long.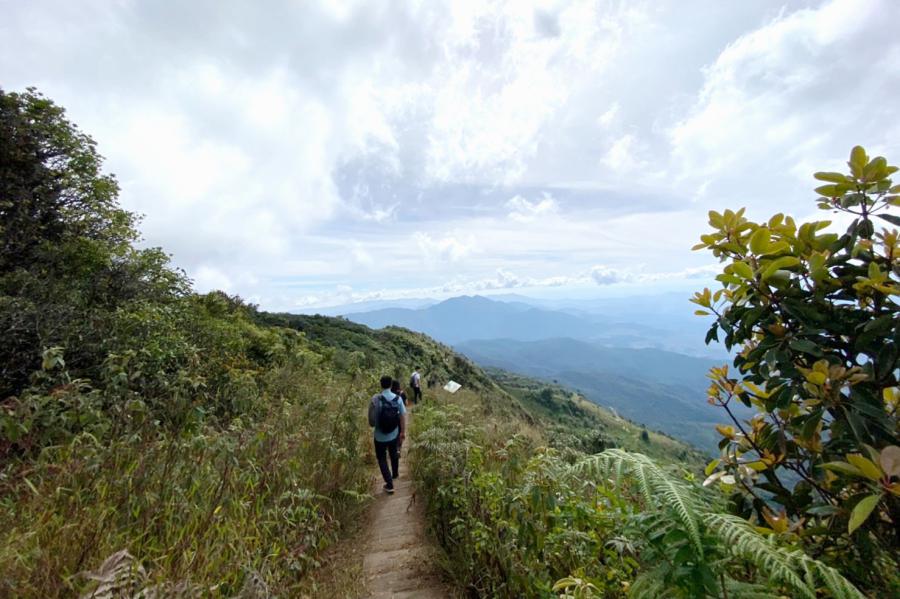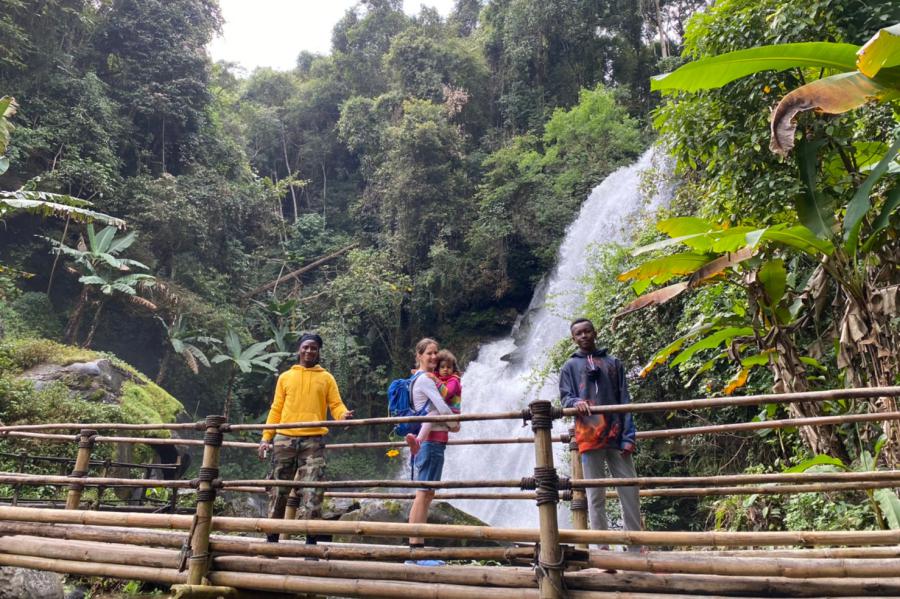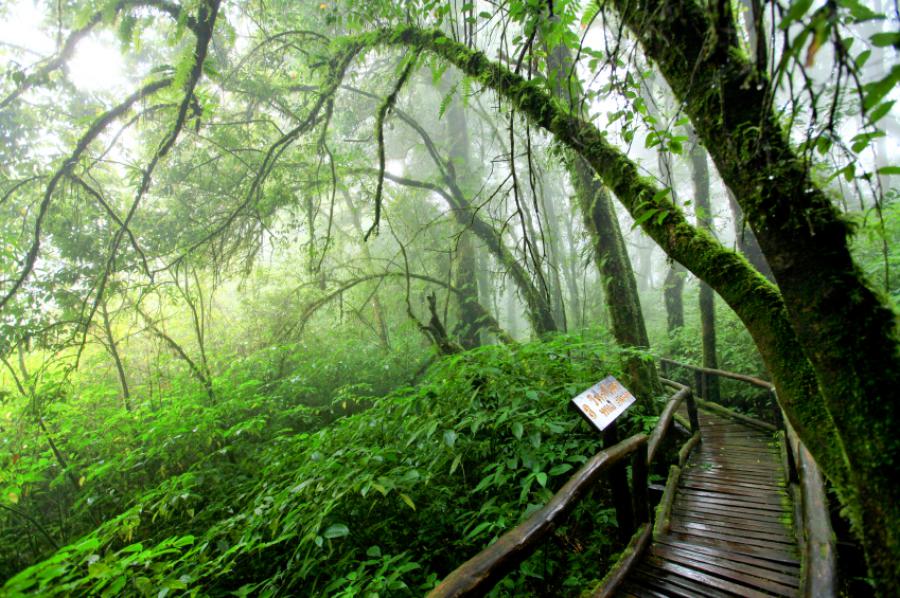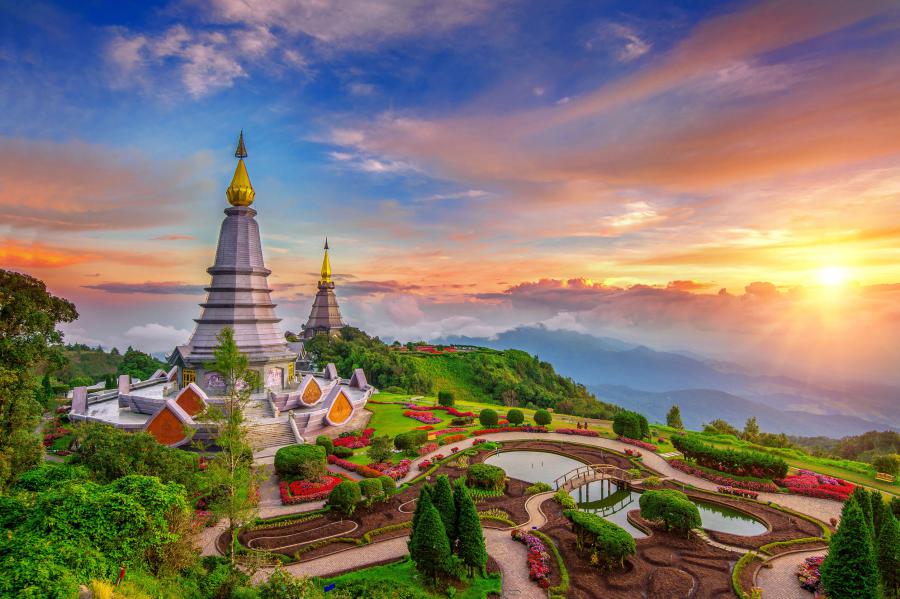 Itinerary
This is an example itinerary, which can be adapted according to your needs. The program may change depending on weather conditions, accessibility issues or any other obstacles. On eventual change of the itinerary we always make sure that the quality of our guests' experience and personal safety are safeguarded.
From 8 am to about 5 - 5:30 pm
Our guide will pick you up from your accommodation with an a/c SUV or minivan 8 am
The first stop will be the summit of Doi Inthanon which is the highest point in Thailand, we will drive all the way to the top.
After enjoying the view we will embark on a beautiful nature trail called Kew Mae Pan Nature Trail, a local guide of the Hmong tribe will accompany us through unspoilt montane forests. When the skies are clear the views along this trail are magnificent.
After having lunch at a local restaurant we will visit the Two Chedis that have been constructed to honour 60th birthday anniversaries of King Bhumibol Adulyadej and Queen Sirikit.
Later on we will continue to the Wachirathan and Mae Klang Waterfalls, along the way we will stop at a Hmong market where products from the Royal Project are for sale.
In the late afternoon our driver will take you back to your hotel.
During the rainy seasons Kew Mae Pan trail will be closed for a few months, alternative activities will be offered. The 2.6 km Pha Dok Sieo Nature Trail to a waterfall is one option if the trail is open for activity, in case hiking Pha Dok Sieo will be the first activity of the tour.
Where & When?
This tour departs from an agreed location like your hotel, apartment etc, and can be booked all year round. Chiang Mai can be reached by bus, train and flight from various destinations.
Tour details in short:
Duration: 1 day
Type: Private tour
Price: 1,700 Baht and up per person (depending on group size)
Group size: one or more people
Grade: Easy to moderate
Transport: a/c SUV or minibus
Start: 8 am
End: 5 - 5:30 pm
What to bring:
Small backpack
T-shirt and shorts for daytime
Long sleeves/Jacket during winter time (Nov - Feb)
Rain clothing (in the rainy season)
Hiking shoes with good grip
Sun cream
Insect repellent (DEET medicated)
How much?
The listed price includes the entrance fees of 300 Baht per person, an English spaking guide, a driver, a local guide to walk one of the two main trails, transportation, lunch, drinking water, coffee/tea and a mandatory insurance required from Thai Tourist Authority(T.A.T.).
You'll be accompanied by a private guide and a driver, no other people will join you; the best way to explore Doi Inthanon!
Children up to 4 years old free as long as the group size doesn't require upgrade to a minivan. Children 5-8 years old will be charged on a cheaper rate, that too depends on number of adults and group size. Please send an inquiry to clarify.
A child up to 4 years old is free of charge. Two or more children up to 4 years old will be charged differently, depending on the number of adults and group size, mainly because a minivan may be needed. Children 5-8 years old will be charged on a cheaper rate, that too depends on the number of adults and group size. Please send an inquiry to clarify.
Pax
Rate per person
1
6,300

THB

2
3,700

THB

3
2,850

THB

4
2,600

THB

5
2,300

THB

6
2,100

THB

7
1,950

THB

8
1,850

THB
Tour rates include:
English speaking guide
Local guide to walk one of the two main trails (200 Baht)
Transportation by a/c SUV or minivan & driver
National park entrance fees
Two Chedis entrance fees
Lunch
Coffee or tea
Drinking water
Mandatory insurance required by T.A.T.
Not Included:
Any other drinks
Personal expenses
Reviews from our guests
By: Adam Wang | posted Fri 27 Jan, 2023
It was an excellent trip. Both the guide and the driver were friendly, professional and welcome us warmly. The lunch and snacks they provide were delicious, which was very impressive to our whole family. I strongly recommend their trip.
By: Edwina | posted Wed 25 Jan, 2023
Yoi was a great guide. The driver was also very professional. Highly recommended tour!
By: Sonja Miller | posted Wed 25 Jan, 2023
By: Teri Hartman | posted Mon 23 Jan, 2023
We had an amazing time on our tour! Our guide Rak was the best. He gave us great information and make the whole experience very wonderful!
By: Harsh Chimata | posted Sun 22 Jan, 2023
Great service, our guide was great and went extra mile by b unf flexible with the trip. Last coffee village was a treat.
By: Francis Nge | posted Tue 17 Jan, 2023
Great tour with a great guide and itinerary, we were very satisfied with the overall experience!
By: Kristi Raschka | posted Mon 16 Jan, 2023
We had the best time on our tour - one of the highlights of our entire trip! Our guide, Gi (spelling?) was wonderful - great English-speaking skills & taught us so much. We loved our stop at the local village to try coffee. Overall an amazing day and we will recommend to others - thanks!!
By: JS Wong | posted Thu 12 Jan, 2023
Our guide George was knowledgeable, patient and fun to be around! While the course is relatively lower in difficulty, our group of 3 is not exactly the most athletic. He made sure we felt confident moving on the paths, encouraged us and was so patient with our numerous photo requests. He also shared about the plants along the way, the animals, the local tribe and the food. Will recommend anyone to hike with George!
By: Minette | posted Sun 1 Jan, 2023
Yes, we enjoyed our tour very much! Tri was a very attentive guide. Even though it is not his usual program, (he said he usually leads kayak and other adventure tours) he was able to adjust when needed, did his best to accommodate our request for what to do and share his appreciation of the plants, animals and birds of Thailand.
Both he and the driver were very caring of my mom, who has mobility and health challenges. So we felt we were in good hands.
Thank you very much for a nice experience!
We would definitely book the other tours when we return to do more trekking in the future.
Best wishes for the new year,
Minette
By: Keris Binder | posted Fri 30 Dec, 2022
What an incredible tour! Attending this tour was me, my husband, and our three children. Our guide was fantastic- he was punctual, friendly, flexible, and knowledgeable! Worth every penny!