Bangkok - Khao Yai | 2D/1N DIY taxi tour
About our taxi services
With our full day taxi services it is possible to visit a number of attractions north of Khao Yai National Park. The attractions to visit must be agreed in advance so that we can inform you of a crystal clear quote.
Our regular taxis are MPVs for up to 3-5 people, minivans are for bigger groups up to 7-10 people, all depending on the amount of luggage. All our cars are spacious, with a/c and comfortable.
Our taxi services are private means no others will join you.
How to book with us?
Simply by sending an enquiry by following the "enquiry" button further below. You can ask as many questions you like through the enquiry system, we will answer all. If you are happy with our answers, you can decide to book.
Sending an enquiry doesn't mean a commitment to booking. We answer all questions for free even if not booked.
Service hours
On the first day our driver will meet you earliest at 6 am in your Bangkok hotel's lobby, at the airport meeting points or other agreed location. When necessary, our driver will hold a name plate with your name on at the meeting points.
On the second day, our driver will meet you at 9 am in your Khao Yai hotel's lobby.
No matter how early/late the service starts in the morning, the taxi service will be until 6 pm at the attractions with a dinner time until 7 pm. After that, you will be returned to your hotel in Khao Yai or Bangkok, included in the price.
The included dinner time until 7 pm can be used to visit Pak Chong Night Market if time allows. If the night market visit continues after 7 pm, additional hourly charges will apply per starting hour.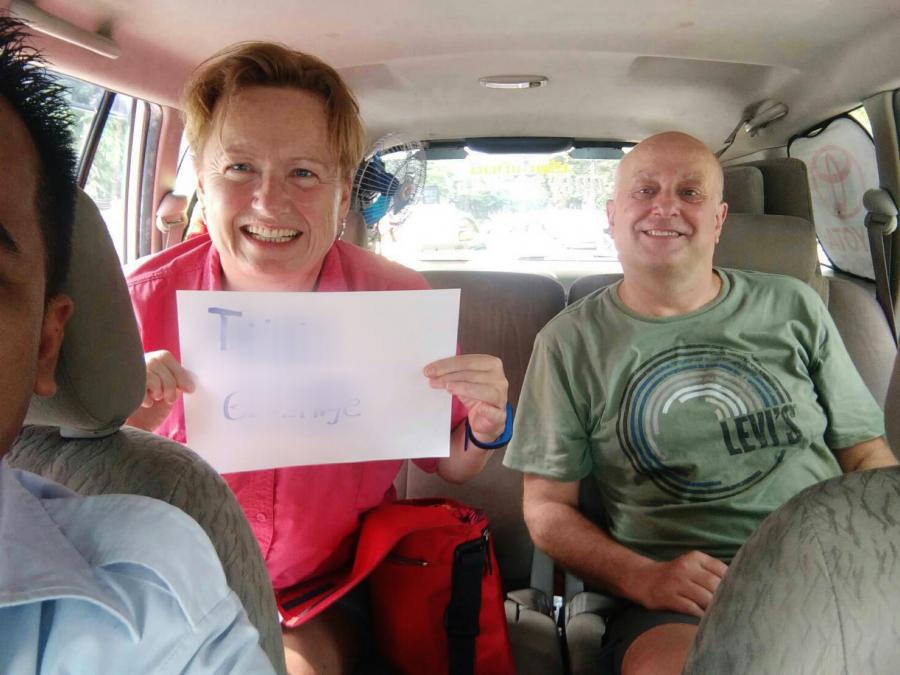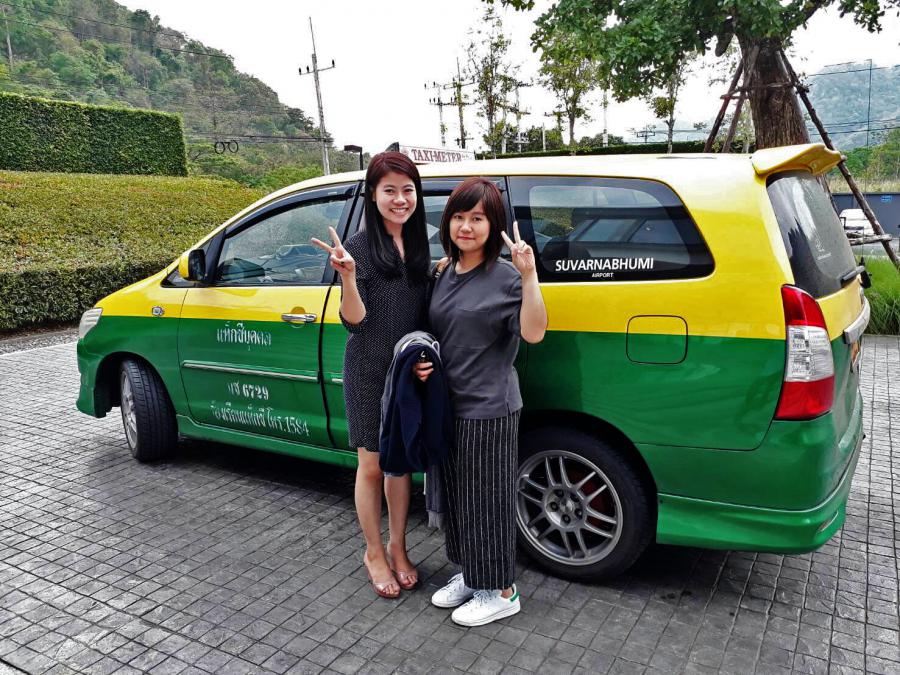 2D/1N with 2 full days planning
Below is a planning for 2 full days (Option #2 above). The first or the second day can be only one way service between Bangkok and Khao Yai if you like, meaning no visiting of attractions.
The itinerary is just a suggestion. You are free to decide how rushed/relaxed your planning should be, you are free to include other places in the area.
Whether you will be able to visit all listed attractions or not will depend on how much time you will spend at each attraction. Our driver will always be waiting at the car park of the attractions and drive you to the next one when you are ready. For this reason, we will not suggest any hourly based planning.
Day-1
Pickup from Bangkok hotel/airport etc as early as 6 am
PB Valley, winery
Primo Piazza
Hokkadio Flower Park
The Chocolate Factory
Pete Maze
Pak Chong Night Market (optional if time allows)
Any restaurants/cafes along the routes
Drop off at Khao Yai hotel
Day-2
Service hours; 9 am until 6 pm at the attractions, restaurant visit until 7 pm
9 am - Pickup from Khao Yai hotel
Farm Chokchai (closed on Mondays)
Suwan Farm (sweet corn buying 10 am)
Premium Outlet Khao-Yai
Secret Art Garden - closed Wednesdays
Wat Thep Phitak Punnaram (White Buddha & temple)
Dairy Farm and Shop
Any restaurants/cafes along the routes
Drop off at Bangkok hotel (expected arrival 8:30 pm to 10 pm)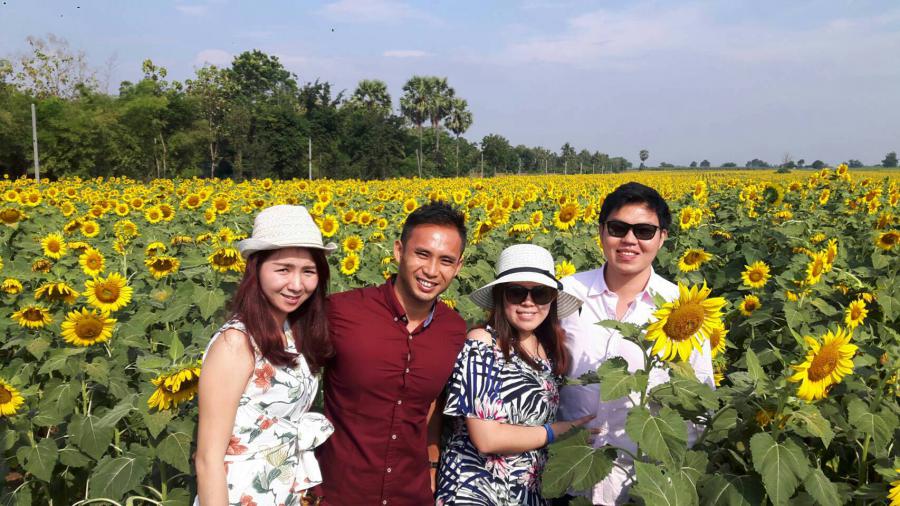 Price
The quotes shown further below are per taxi (not per person) and include fuel, eventual tollway fees. No tips needed, there won't be any hidden costs on top of what we agree in advance.
Our full day taxi services include pickup/drop off from/to Bangkok.
Additional charges apply if;
You decide to get to alternative places not mentioned below which are not in the main service area, not near the other attractions
If the service continues at the attractions after 6 pm
2 days, 1 night Khao Yai taxi tour
| Type of car | Pax | Option #1 | Option #2 |
| --- | --- | --- | --- |
| MPV | 4-5 | 5,800 THB | 7,000 THB |
| Minivan | 8-9 | 7,700 THB | 8,200 THB |
Option #1: The first or the second day is an one way transfer, the other day is a full day service
Option #2: Both days are full day services
Included
Fuel, eventual tollway fees, eventual parking fees
Driver's meals & entrance fees
Visiting any other attractions nearby the ones listed above, but to be confirmed with us before the trip
Drop off at hotel after 6 or 7 pm (drive back time to hotel included)
Not included
Accommodation
Your personal expenses such as eventual entrance fee or tour costs at the attractions
Meals, refreshments
Reviews from our guests
By: Gary PUN | posted Wed 16 Aug, 2023
It's absolutely great. Our guide, Apple gave us one of our most memorable adventure in a lifetime. Really appreciated.
By: Kyaw Swar Lin | posted Mon 17 Jul, 2023
By: Zuhurulla Siyaad | posted Sun 8 Jan, 2023
Thank you very much for the trip. It was very enjoyable. The driver had vast knowledge of the area and was very helpful.
We would definitely recommend your taxi service.
By: Panha Ly | posted Fri 30 Dec, 2022
Great experience. We had a lovely time. Strongly recommend for this service.
By: Vottanak Buntha | posted Sun 13 Nov, 2022
Very good services. The driver is very friendly and flexible.
thanks for your best service.
By: Ami Kurata | posted Thu 21 Jul, 2022
Very good service!
Quick response for every single message and great advice for planning my trip.
The driver was also very friendly and helpful. I was planning to go to the park on Sunday but the driver recommended me to change plan going to park on Monday as he could predict crowd on Sunday, and it worked very well.
The restaurant we were planning was closed during that period, but the driver immediately find alternative place and we liked it a lot.
However I can still think that planner could have predict these things while planning, we ended up changing our clothes in a toilet at a hotel for this plan change. Another -1 point is the payment for the deposit, you only accept PayPal and as i have only foreign account and the exchange rate bothered me while I have enough THB.
Anyway the overall trip I was very satisfied and I'd recommend my foreign friends if they are looking for similar service.
Thank you very much.
Tour operator's response
Thanks for your feedback. :)
We are only offering taxi service, not guided tour. We can't do day-to-day opening check for attractions/restaurants our guests want to visit, particularly one which is not in our suggested attraction list. Since the country re-opened, many points of interest in Khao Yai have a bit sporadic opening times, out of our control. But like you said, our drivers tends to help getting to equally interesting restaurants/cafes or other attractions if a place is closed.
Regarding your need to change cloth and expectation; I really don't understand what we could have planned or done better. We always ask our drivers to take our guests to spots we agree between, that's what we have done, you didn't mention to us a such need. :(
PayPal is our only payment gateway. Around 97-99% of credit/debit cards accepted, even without any need to create account. I am sorry you had issues paying on your first attempt.
Glad to hear you had a good time despite these issues you mentioned.
By: Fany Perrin-Paulus | posted Tue 4 Jan, 2022
Nice drivers and good cars
By: Eugenia Pesciallo | posted Tue 2 Nov, 2021
It was really good trip!
They were very responsive and able to adjust the trip last minute.
The driver was friendly and knew the route pretty well.
By: Mithil Deeva | posted Tue 2 Mar, 2021
The hike was a bit short for us. I think it would be helpful if the hike distance and route was mentioned in the description
Tour operator's response
Please note that we only offer taxi services, not tours. The second day tour you booked is handled by a local tour operator. Many thanks for your review.
By: Claire Tran | posted Wed 18 Mar, 2020
Great service! On time. Perfect