About Tarutao
Established as a marine national park in 1974, Tarutao National Marine Park covers 1,490 km² area at the southernmost Thailand off the coast at Satun Province in the Andaman Sea. The park consists of 51 islands within two groups; Tarutao Group to the east and Adang-Rawi Group to the west. There are three archipelagos in the park; Tarutao Archipelago, Klang Archipelago and Adang Archipelago. The name Tarutao derives from Pulau Tertua (means "the island of old") which was the original name of the main island.
Tarutao National Marine Park was declared as an ASEAN Heritage Parks and Reserves 1982. The park was also a candidate for UNESCO World Heritage Sites in 1990 but was rejected due to concerns around protection of river and forests, particularly on areas with saltwater crocodiles. The saltwater crocodile population is threatened in Thailand, sightings happen every couple of years.
Wildlife
At night, it is very easy to find mouse deer along the road, likely one of the densest populations of mouse deer in the country. While lesser mouse-deer is the dominant species in the island, with a bit of effort the very rare greater greater mouse-deer can also be found. Other mammals reported from the islands are; fishing cats, common treeshrews, Himalayan striped squirrels, dusky leaf monkeys, black giant squirrels, Sunda slow loris, Sunda colugos, grey-bellied squirrels, common palm civets, crab-eating macaques, wild boars and small flying foxes. There is also a big population of domestic cattles that has adapted to wildlife since decades ago.
The park also have a rich marine life, species like dugongs, sperm whales, irrawaddy dolphins and many others have been observed around the islands.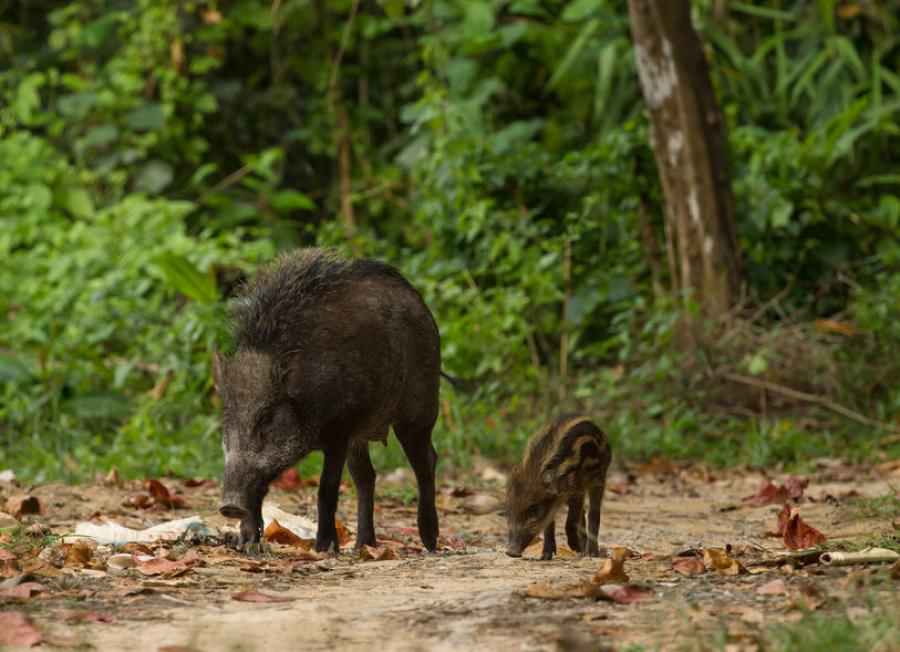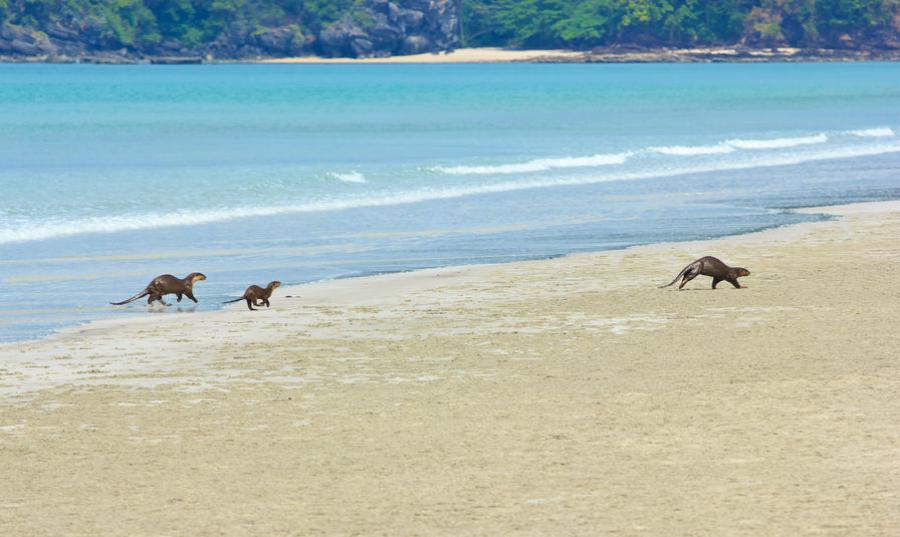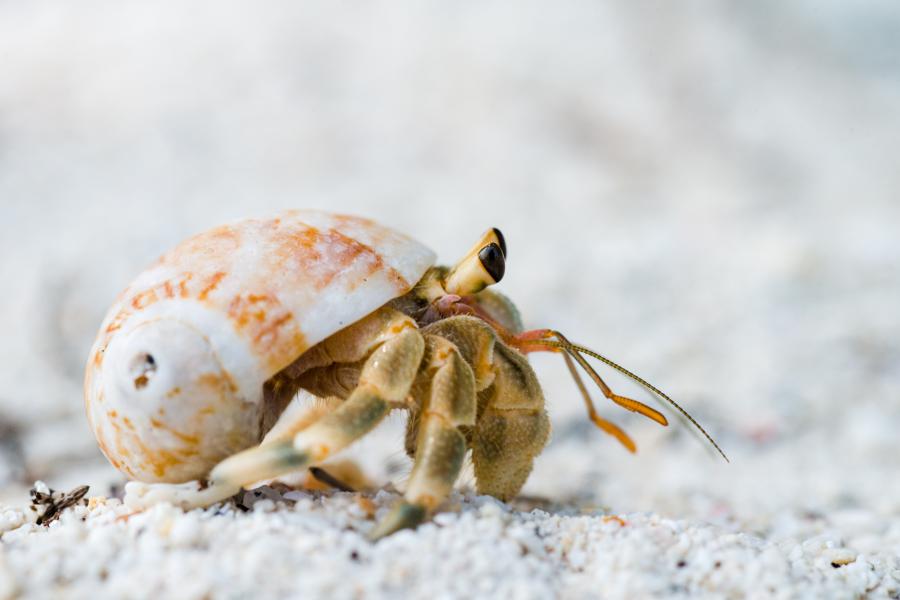 There are around 110 species of birds recorded from Tarutao Islands. Reddish scops owls, beach thick-knees, Nicobar pigeons and masked finfoot are a few rare birds in Thailands recorded in the park. Few other reported birds are; brown boobies, grey-headed fish eagles, lesser fish-eagles, wreathed hornbills, great hornbills, grey nightjars, scarlet-breasted flowerpecker, pied trillers, white-bellied munias, red-throated sunbirds and plume-toed swiftlets.
Visiting
Tarutao Island is a great place to spot some of the common animals of the country.
The two main islands, Ko Tarutao and Ko Adang are not touristy, great places for camping, to relax in peace far from the crowded beaches. There are many white sandy beaches, some kilometers long and without a single person.
The marine side of the park has many great spots for diving or snorkelling, particularly around Adang Island. Tours can be arranged from various agencies at Ko Lipe to get to the diving sites.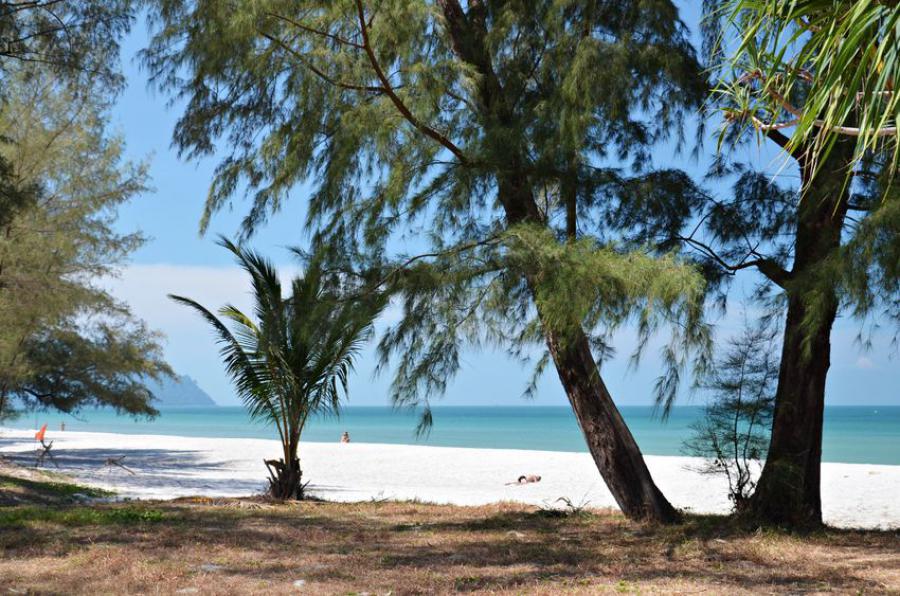 Get there
The nearest airport is Kat Yai Domestic Airport in Hat Yai district of Songkhla Province. Once arriving at the airport, there are always minivans waiting to take passengers to Pak Bara Pier. The trip to Pak Bara Pier takes less than 2 hours, about 120 km.
There are also regular minivan services from Krabi Town to Pak Bara Pier. These can be arranged from the main bus terminal in the town, or from hotels.
There are speedboats operating from Pak Bara on the mainland to Ko Lipe, they stop by at Ko Tarutao if the boat staff are informed. Price is around 300-400 Baht per person.
The boats leave Pak Bara Pier at 9 am, 11 am, 1 pm and 3 pm.
Get around
The transportation possibilities on Taruta Island are limited to a couple of mini truck style "shuttle taxis" operating during certain hours. These taxis can be arranged for around 300 Baht when needed.
A limited number of mountain bikes can be rented from HQ or at Mo Lae Bay but not always available. Motorcycles are allowed for personnel only, not possible to rent or borrow any.
Get out
Boats leave Tarutao Island at 10:30 am and Adang Island at 9 am, 11:30 am and 1:30 pm.
Entrance fees & opening times
As of June 2022, the entrance fees are 200 Baht for adults and 100 Baht for children 3-14 years old. Thai citizens pay 40 Baht for adults and 20 Baht for children.
All attractions in Tarutao National Marine Park will be closed from 1st June until 30th September every year.
Stay & eat
Park accommodations
There are park accommodations to rent at three ranger stations on Ko Tarutao and one ranger station on Ko Adang.
With the exception of very few rooms on one ranger station at Ko Tarutao, all rooms to be booked through the DNP website in advance. As the money transfer must be done within 2 days and the fact that it takes a longer time with transfer from abroad, it is only possible to book from within Thailand. Payments can be done at 7-Eleven convenience stores or banks.
The accommodation options are;
Ko Tarutao
500 Baht for 4 people, 1 bedroom with shared toilet outside
600 Baht for 2 people, 1 bedroom, toilet
800 Baht for 2 people, 1 bedroom, toilet
1,200 Baht for 4 people, 2 bedrooms, 2 toilets
Ko Adang
1,500 Baht for 2 people, 1 bedroom, toilet
Camping
There are 2 pax tents available for rent at the visitor centers of Ko Tarutao and Ko Adang. Tents cost 225 Baht a night, sleeping sets including a sleeping bag, a sleeping mat and a pillow costs 60 Baht per set.
Crab-eating macaques can be a bit of a headache for campers on various campsites. Good to not leave any food or anything that looks like a food package inside the tents.
Eat
All rangers stations have restaurants, normally open from 7 am to 2 pm and 5 pm to 9 pm. The restaurants at the ranger stations may close earlier.
History
The islands are also remembered for its dark history. Back in the late 1930s, Tarutao Island had been used to isolate political prisoners. Established in 1936, the first group of 500 prisoners arrived at the prison in 1938 and the number gradually increased to 3,000. Followed by coup attempts, the revolutionary Bowondet Coup Group and the Petty Officers' Coup Group were among the convicts isolated in the island.
When The Second World War broke out, the support from the mainland to the island was cut off causing food shortage and death of many prisoners. The guards and prisoners joined together to raid ships sailing around the island to survive.
Influenced by two prisoned British officers charged with murdering, the raiding party was led by an American plantation owner blaming the war for loss of his fortune. By the time, the raiding party got so strong that it became a major concern in the area. Until the British forces came to the rescue towards the end of the war, around 130 ships were sunk by the prisoners killing everybody onboard. Until the prison was shut down, nearly a third of prisoners lost their lives due to cruelty from guards, starvation and malaria.
After the war, farmers and fishermen took up residence on the island. By 1973, the population reached 1,000 villagers living mainly at Hak Bay. The population decreased to only 17 families after the islands got national park status.
Some villagers that left Ko Tarutao abandoned their domestic cattle behind. These cattles adapted to the wildlife and increased in numbers over the decades, they can be seen in herds sometimes.
Phone(s)
You are recommended to ask a Thai speaking person to call on your behalf.
074 783 485 - Visitor Center
074 783 597 - Headquarters
The attractions of Tarutao