About Phu Kradueng
Accessible by a challenging long hike, Phu Kradueng National Park is one of the most popular national parks in Thailand by local tourists. Due to its remote location it is less known by foreign tourists.
Situated in Phu Kradueng District of Loei Province in central north Thailand, the park is popular for its long trails, the cold winter months, number of waterfalls and viewpoints. Unlike most other major national parks in the country, Phu Kradueng National Park is accessible by public transportation from all nearby provinces and Bangkok.
The park is mainly a single big mountain mesa, covering a total of 350 km² with highest point at 1,316 meters asl. The flat summit plateau of the mountain where the major attractions are located has an area of around 60 km², averaging an altitude of around 1,200 to 1,250 meters asl.
The forests in the park are deciduous dipterocarp forest below 800 meter asl, gradually up found deciduous dipterocarp forest, mixed deciduous forest, dry evergreen forest and at the top areas hill evergreen forest. At mid elevations mixed bamboo forests are common, at the plateau pine and oak trees dominating at most parts.
Phu Kradueng National Park is part of Western Isaan Forest Complex including three other national parks and four wildlife sanctuaries covering 4,594 km² all together. The other protected sites within the complex are; Nam Nao National Park, Tat Mok National Park, Phu Pha Man National Park, Phu Khieo Wildlife Sanctuary, Pha Phung Wildlife Sanctuary, Phu Pha Daeng Wildlife Sanctuary and Taboa Huai Yai Wildlife Sanctuary.
Wildlife
The park is not a wildlife watching destination but there are some mammals seen around. Sambar deer are the most commonly seen animals at the upper camping site, they are not shy and can be seen every day. Wild boars and golden jackals are occasionally seen visiting the camping ground. While the golden jackals are a bit shy and can only be spotted at the bussy edges of the campsite, boars may be seen passing through the campsite. Other common animals are variable squirrels and western striped squirrels.
Some of the areas around the campsite are elephant habitats, so elephant warning signs will be seen on the trails. The trails may occasionally be closed for visitors if elephant activity is seen in the area. Visitors should keep their distance from wild elephants when they see one, and not get closer than 100 meters. Fatal attacks from elephants are common in Thailand.
Some other mammals of the park are; Assam macaques, Asian golden cats, white-handed gibbons, black giant squirrels and Indian giant flying squirrels. In the night, with a bit of luck civets may be seen around the campsite.
There are around 115 species of birds recorded from Phu Kradueng National Park, some of the birds are; Nepal house martins, white-bellied green pigeons, rufous-winged fulvettas, grey-sided thrushes, dark-backed sibias, lesser shortwings, striated yuhinas, red-billed scimitar babblers, golden-throated barbets, moustached barbets and mountain bulbuls.
Visiting
There are two visitor centers in the park each with a campsite;
The first visitor center & campsite are at the park entrance on the east side of the park near Phu Kradueng Town.
The second visitor center & campsite are the main ones to head for, located at the plateau, reached by a long and challenging hike. This is where all the park attractions are reached from.
Both visitor center areas have park accommodations, restaurants and a number of shopping vendors.
Getting to the park
Because there won't be enough time to reach the upper visitor center in time before it gets dark, the lower visitor center closes 4 pm every day. Good to take this into consideration when reaching there. If you are planning to get to the upper campsite, good to get to the park before noon, as early as possible. Ideally, get to the area the night before the planned hike up, stay overnight and start the hike in the early morning.
By car - From Bangkok drive north on highway-1, then turn east to highway-2, finally halfway between Pak Chong and Nakhon Ratchasima turn left to highway 201 north. The route distance is around 500 km.
When using a navigator app, enter the following coordinates;
16.8704, 101.8466
It is possible to park the car at a designated area for a number of days, the car park is guarded well at all times.
By train - From Bangkok, take a train from Hualamphong Railway Station to Khon Kaen Railway Station. Once in Khon Kaen, take the bus to Loei and get off at Pha Nok Khao or Phu Kradueng and then take a songthaew to the park.
By bus - From Bangkok, take the bus to Loei at the Mo Chit Bus Station 2 and get off at Pha Nok Khao, from there take a songthaew to the park.
At Mo Chit 2, there are multiple companies offering bus service to Loei; Air Mueang Loei at ticket counter 6 and Phu Kradueng Tour Bus at 3rd floor ticket counter 82. The Phu Kradueng one has departure times 8:30 am, 10:30 am, 8 pm and 9:30 pm. The 9:30 pm bus from Mo Chit 2 Terminal would arrive at Pha Nok Khao around 6 am in the morning.
Ask clearly that you will drop off for Phu Kradueng at Pha Nok Khao (destination) when buying a ticket.
Songthaews from Pha Nok Khao - Songthaew are smaller passenger vehicles adapted from trucks or pick-ups. Tickets cost 30 Baht per person, but if there are not enough passengers to take off, passengers between can pay 300 Baht to take off. It could take around 20 mins to reach the visitor center from Pha Nok Khao.
Getting to Bangkok or other provinces - Take a songthaew from the visitor center to Pha Nok Khao, there Phu Kradueng Tour Bus has 9:30 am, 5:50 pm, 7:30 pm, 8:30 pm and 9:30 pm departure times to Bangkok. Busses to other nearby cities like Khaon Kaen, Loei, Phetchabun also depart from Pha Nok Khao.
Getting to the upper camping ground
The visitors are recommended to start hiking uphill early in the morning. The trailhead is open from 6 am to 1 pm Mon-Thu and 5 am to 1 pm Fri-Sun.
The upper camping ground is accessible by a 8.7 km long challenging trail that takes less than 5 hours to walk for an averagely fit person. The trail is quite clear and doesn't require any guide, it starts behind the lower visitor center area where necessary arrangements can be made.
The first 5.2 km of the trail is uphill to the plateau, ascends from 285 meters asl up to 1,275 meters asl. The first 800 meters of the trail up is quite steep and the last 1,3 km before reaching the plateau is even steeper and harder to walk. At the most steep parts it is either concrete, bamboo or other wooden stairways. Once reached the top it takes another 3.5 km walk to reach the upper visitor center on a very flat dirt road.
The trail up is pretty clear, there is no risk of taking a wrong turn. At a few points on the way up, the trail splits to two directions, but shortly after they rejoin again, at those points it doesn't matter what direction to take.
Along the trail up, there are five resting spots which all will be open during the high seasons, longer public holidays and week-ends. Only three rest stops will be open during the low seasons. These resting spots have a number of food vendors each, they also sell beverages and coffees, this means, no need to carry more than a couple of small bottles of water while hiking this trail. There are also some shopping vendors at these spots selling various souvenirs, t-shirts, rain coats etc.
It is possible to get heavier bags carried all the way to the upper visitor center by local carriers for 30 Baht per kilo. The local carries can be arranged at the visitor center.
Getting around
Phu Kradueng is a great destination for hiking, unlike most other national parks in the country there is no guide requirement to walk the longer trails. Up at the plateau the trails are clear, signposted well and easy to walk between the attractions.
A grid of dirt roads and trails crossing each other at the southern plateau makes it possible to reach a number of waterfalls and viewpoints from different directions. For more information about these attractions and their location read further below in the "attractions" section.
For those who are seeking a challenge, hiking is an option, but it is also possible to rent bicycles from the visitor center to get around. There are around 100 mountain bikes available for rent, from 360 Baht to 410 Baht. It is not possible to rent bicycles during the heavily rainy periods as the dirt roads become muddy. There are no cars at the top of the mountain apart from a few light vehicles used by the park staff, so getting around can be done by foot or by bicycle.
Entrance fees & opening times
As of June 2022, the entrance fees are 200 Baht for adults and 100 Baht for children 3-14 years old. Thai citizens pay 40 Baht for adults and 20 Baht for children. Cars charged 30 Baht, bikes 20 Baht.
The park is closed for forest recovery reasons during the rainy season from June to September every year, otherwise open every day, including on public holidays.
The main visitor center is open 7 am to 3 pm every day
The upper visitor center is open 7 am to 4 pm every day
Stay & eat
Camping
The top camping ground is probably one of Thailand's biggest with enough space for around 5,000 tents. The park gets extremely busy during the longer holidays such as Songkran Festival or other week-end combined holidays that span 3-4 days. During the week-days Monday to Friday the campsite gets less busy. The recommendation is to get there during the week-days when there are much less people.
Tents are only available for rent at the spot; 150 Baht for 2 pax, 200 Baht for 3 pax or 400 Baht for 4 pax, these prices don't include sleeping accessories. For 2 people, we recommend renting the 3 pax tents as you will need a bit of space for your bags, otherwise you may have less space for your legs while trying to sleep. Same for 3 people, better go for a 4 pax option.
Sleeping accessories like sleeping bags, mats and pillows are available for rent from 10 Baht to 30 Baht, all for 60 Baht per person. During the less busy days there may be space under one of few pavilions to set up tents, good to take cover from eventual rain, also good to have some shadow.
There are many shower/toilet facilities around the camping ground, all cleaned up regularly.
It is also possible to rent a tent on arrival at the lower camping ground.
Park accommodations
Around the upper campsite there are a good number of accommodations available for rent. The options are;
6 people, share toilet outside - 900 Baht/night
6 people, 3 bedrooms + 1 toilet - 1,800 Baht/night
10 people, 1 big bedroom + 1 toilet - 2,000 Baht/night
8 people, 2 bedrooms + 1 toilet - 2,400 Baht/night
The park accommodation can only be booked online via DNP website and the bookings must be done in advance. As the money transfer needs to be done within 2 days of booking, it may not be possible to book from abroad. While in Thailand, the payment can be done via local banks or 7-Eleven convenience stores.
Eat
There are many restaurants around both upper and lower campsites. While the restaurants at the lower visitor center area are open 6 am to 8 pm daily, the upper ones are open from 6 am until 10 pm daily.
Food and beverages are more expensive at the upper campsite of Phu Kradueng compared to most other national parks because these need to be carried up by foot at a significant cost. A bottle of water is 25 Baht, beverages from around 30 Baht, a big bottle of water is 50 Baht. A simple meal at the restaurants cost from 60 Baht up.
Mobile reception & charging devices
There is mobile reception at the plateau and supported providers are; AIS, True and DTAC. The reception at the upper visitor center area and at most of the trails around is quite good. Powered by batteries charged from solar panels, there will be electricity from 6 pm until 10 pm every evening.
The restaurants have their own solar panels, allowing the visitors to charge their mobile and other devices for 30 Baht per unit.
Phone(s)
You are recommended to ask a Thai speaking person to call on your behalf.
042 810 833 - Visitor Center
The attractions of Phu Kradueng
Waterfalls
There are a number of waterfalls west and northwest from the camping ground, all accessible through a few circular trails.
Wang Kwang Waterfall
It is a 7 meters tall waterfall at around a kilometers walking distance from the upper camping ground. There is a naturally flat rocky passage behind the falling water, wide enough to not get wet and walk to the other side of the stream.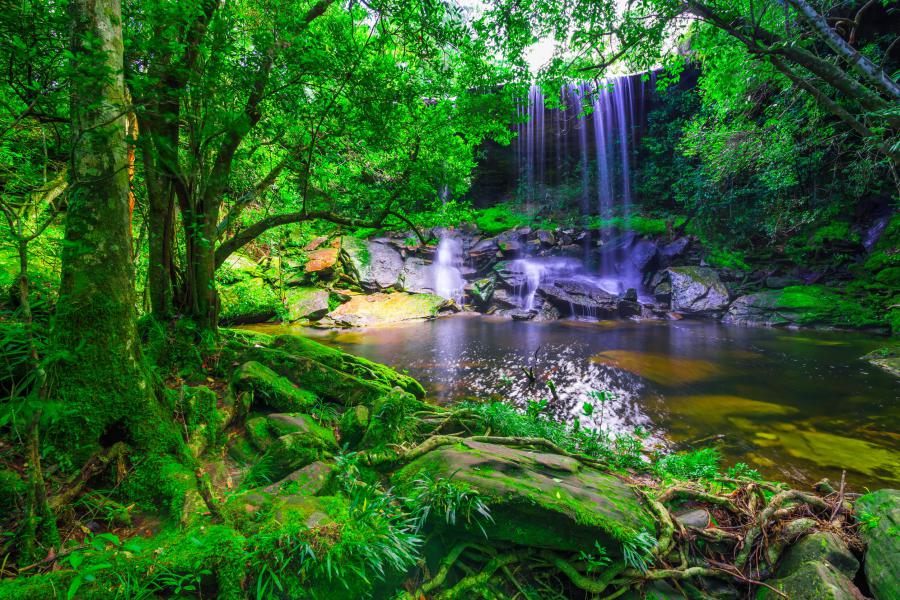 Tham Yai Waterfall
Located around 2.3 km from the visitor center and 1.4 km before Phen Phop Waterfall along the same trail. The area around this waterfall becomes impressively beautiful every year during late November to early December when maples cover the forest floor in red.
Than Sawan Waterfall
Located around 250 meters downstream, south from Tham Yai Waterfall
Phen Phob Waterfall
Located 1.1 km further north from Tham Yai Waterfall.
Phon Phob Waterfall
Phon Phob Waterfall is an 8-tiered cascading waterfall over 30 meters. The waterfall is named after the first Thai world champion boxer who found this waterfall an ideal place to train for a championship that took place in a colder climate.
Phen Phob Mai Waterfall
Nearly 600 meters north from Phon Phob, it is a medium size waterfall with a great view. This waterfall too has a nice view of falling red maples from late November to early December.
Viewpoints
There are a number of viewpoints in various directions and distances from the campsite to watch sunrise and sunset from. The nearest one is about a km from the visitor center, all others are spread from east to west along the southern edge of the plateau up to 9 km from the visitor center.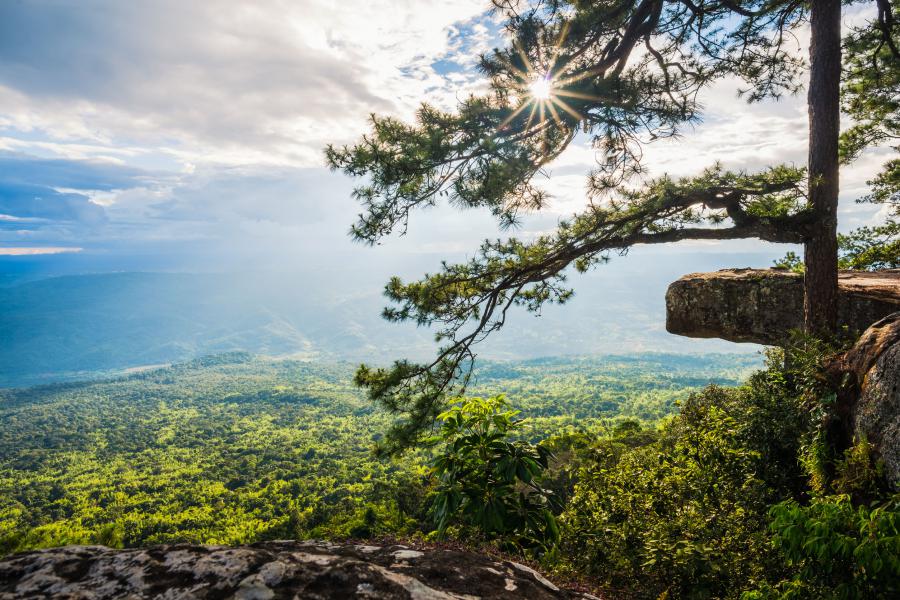 Nok Aan Cliff
This is the nearest viewpoint with a view of sunrise in the early mornings. It is located 1.1 km east from the visitor center.
Lom Sak Cliff
Located at the southwest edge of the plateau, 9 km from the visitor center, Lom Sak Cliff is the most popular viewpoint for watching the sunset.. There is a vendor nearby that sells drinks and snacks on busy days.
Mak Duk Cliff
Located around 2.5 kilometers from the visitor center, Mak Duk Cliff is the nearest viewpoint at the south edge of the plateau.
Na Noi Cliff
Na Noi Cliff is located 1.2 km further west from Mak Duk or 3.3 km from the visitor center via a shorter route.
Yiap Mek Cliff
Located about 2.1 km west from Na Noi Cliff and 5.1 km from the visitor center.
Daeng Viewpoint
Located 1.2 km west from Yiap Mek Cliff.