About Mae Wang
Mae Wang National Park (Thai: อุทยานแห่งชาติแม่วาง) is popular for a Gran Canyon like hill formation, located about 45 km southwest of Chiang Mai City. Declared as a national park in 2009, the park encompassed around 120 km² forested montane area along Thanon Thong Chai Mountain Range between Doi Inthanon National Park to the south and Op Khan National Park to the north. The altitude of the mountains ranges between 400 and 1,909 meters asl. The highest point in the park is Doi Pha Tang at 1,909 m asl.
The dry season in the area is from March to May, rainy season is June to November and colder winter season is from December to February. While the park has cooler weather all year round, it is wise to dress in warmer clothing during the winter months when the temperatures can drop significantly.
The montane forests of the park consists of mixed deciduous, dry dipterocarp, mixed dry dipterocarp on lower elevation, hill evergreen and pine hill in upper elevations. The park is the main water source of three rivers: Nam Mae Chaem, Nam Mae Wang and Nam Mae Teun, all tributaries of the Ping River (Mae Ping).
Fact corrections
Most attractions claimed to be inside Mae Wang National Park by various websites are actually not within the park boundaries, like Mae Wang Waterfall with a number of others, Khun Wang Royal Project, Mae Wang River and a number of trails. There is only one single accessible waterfall inside the park which is Man Fa Waterfall, quite a insignificant waterfall in comparison to many waterfalls in the nearby areas. A couple of other smaller waterfalls are located in the remote locations of the park, not open for tourists.
Various websites name Mae Wong National Park as a rafting destination. But Mae Wong River where the rafting activities take place is not within the park, it is along the Road #1013 further north from the park.
Visiting
Despite being relatively near Chiang Mai city, about 45 km, it takes at least an hour and 15 minutes to get to the park because of the poor and narrow side roads. It is possible to get to the park with a private car or a motorcycle.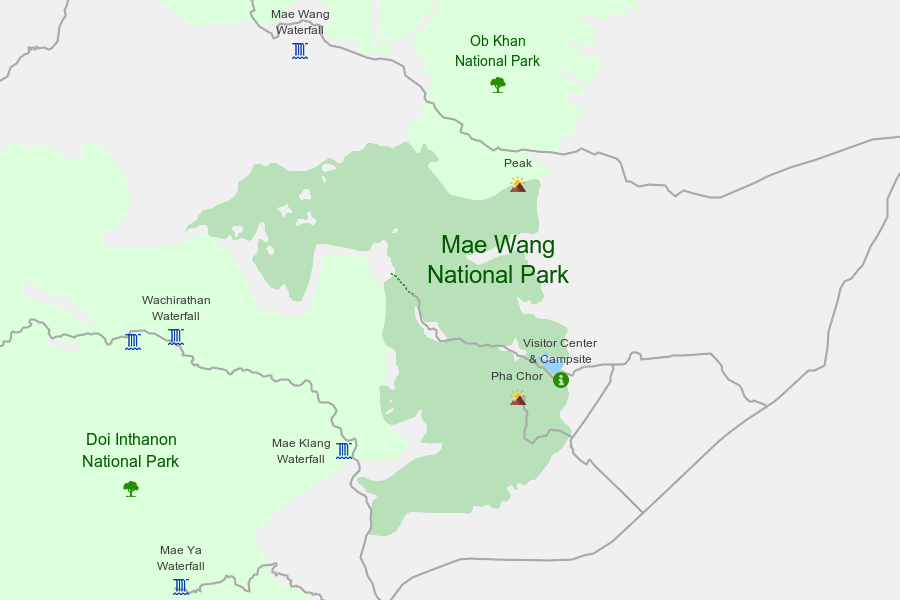 Getting to the park
To get to the park headquarters area and other attractions further inside the park; take the Highway #108 south of Chiang Mai for about 45 km until you reach Santi Suk Subdistrict. Ignore all other possible earlier side road routes various satnav applications such as Google Maps suggests as they involve quite a few turns. Once at Santi Suk, do a u-turn and drive back 800 meters and turn left to 2069 (signposted to Mae Wang National Park). Follow the route until getting to the park entrance. Pha Chor can be reached by taking another side road to the left just 2.3 km before the park entrance.
There are various companies that offer tours to the park attractions. It is also possible to arrange a private taxi through this website to visit Pha Chor and some other attractions in the area on your own. Our recommendation is to arrange a trip to Pha Chor and from there continue to the nearby Doi Inthanon National Park.
Entrance fees & opening times
As of June 2022, the entrance fees are 100 Baht for adults and 50 Baht for children 3-14 years old. Thai citizens pay 20 Baht for adults and 10 Baht for children.
The park is open 08:30 am to 4:30 pm every day, all year round.
Activities
Apart from a visit to Pha Chor Cliffs, there is nothing recommended in Mae Wang National Park. Our recommendation is to combine a trip to Pha Chor Cliffs with a visit to the nearby Doi Inthanon National Park, perhaps visiting Mae Ya Waterfall or other attraction further inside the park.
Various tour companies offer tours to Mae Wang National Park, but most attractions they list for visiting are actually outside the park. Perhaps a few tour packages include some trails inside the park but even there, most options are outside the park.
Ethics
Not only in the immediate vicinity of Mae Wong, but around most touristy areas of Chiang Mai there are always a few elephant businesses around the corner with captive elephants suffering for years to entertain irresponsible tourists.
If you claim to be a responsible tourist, please avoid any places with elephants in captivity, including any places that claim to be a so-called "sanctuary". There are no such places in Chiang Mai. The only place in Thailand that truly takes care of animals, including elephants, is WFFT based in Phetchaburi Province southwest of Bangkok. All other places have profit in mind.
Stay & eat
There are no restaurants inside the park. The nearest options are basic restaurants in nearby villages at least 5 km out from the park.
There are no park accomodations to rent inside the park.
Camping
There are three campsites in the park. One next to the visitor center, another not too far away from there next to the headquarters and finally one next to Pha Chor Cliffs. Tents are available for rent from 150 Baht for 3-5 people, sleeping mat 20 Baht, sleeping bag 30 Baht and pillow 10 Baht.
Phone(s)
You are recommended to ask a Thai speaking person to call on your behalf.
The attractions of Mae Wang
Pha Chor
Located at the south side of Mae Wang National Park about 50 km southwest from Chiang Mai city center, Pha Chor is an iconic 30 meters tall cliff attraction. The cliffs are formed by hundreds of thousands of years of natural erosion caused by change of Ping River stream direction, uplift of one of the earth's plates, wind and rain. The appearance of the hill cliffs are similar to formations in the Grand Canyon in the US.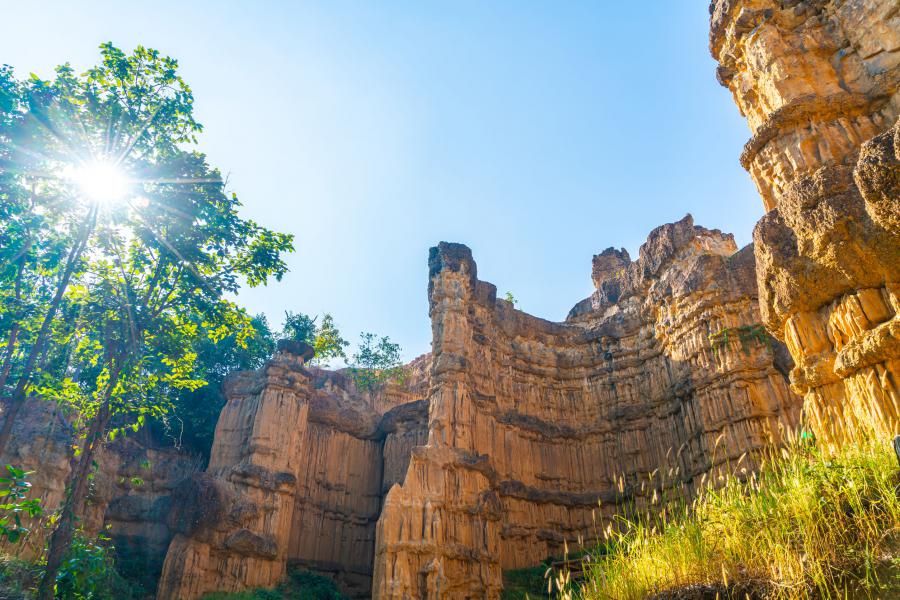 The cliffs are about 400 meters from the car park and the visitor center of Pha Chor.
There are no restaurants in the immediate vicinity of Pha Chor but there is a cafe selling soft drinks.