Private Tour

|

1-day wildlife tour with night safari in Khao Yai
Why?
Besides what a 1 day tour offers, combining one day tour with a night safari well after the dark will give you a chance to see both diurnal and nocturnal wildlife of Khao Yai National Park.
What?
A 1-day tour will start in the morning and end well after the dark. Activities include hiking in the jungle, safari driving among the roads in search of elephants and other exciting animals, safari drives in the morning and later afternoon, visiting a viewpoint and one of Khao Yai's impressive waterfalls and finally ending the day with a night safari.
Itinerary
The itinerary below is just an example and can easily be turned upside down due to the length of different activities. We adapt to mother nature and customers' interests.
We will meet you at your hotel or other pick-up location we agreed on.
The tour always starts around 8 to 8:30 am with a slow drive through jungle and grasslands in search of wildlife. Once we arrive at the first hiking point we continue the trip in the rain forest between huge trees in search of any type of animal.
After lunch the first stop will be Haew Suwat Waterfall, known from Leonardio Di Caprio's "The Beach" movie, possibly continuing the tour to one of the best viewpoints of the national park. Last couple of hours before dinner will be an ideal time for searching for elephants.
After the dinner break our tour will end with a night safari in search of nocturnal wildlife, thereafter you will be returned to your hotel or other location we agreed on around 8 to 9 pm.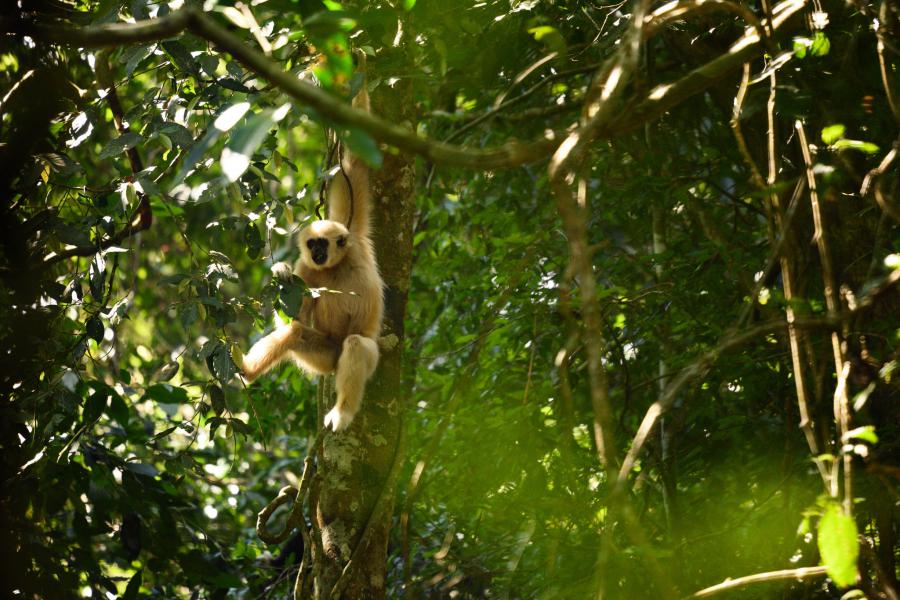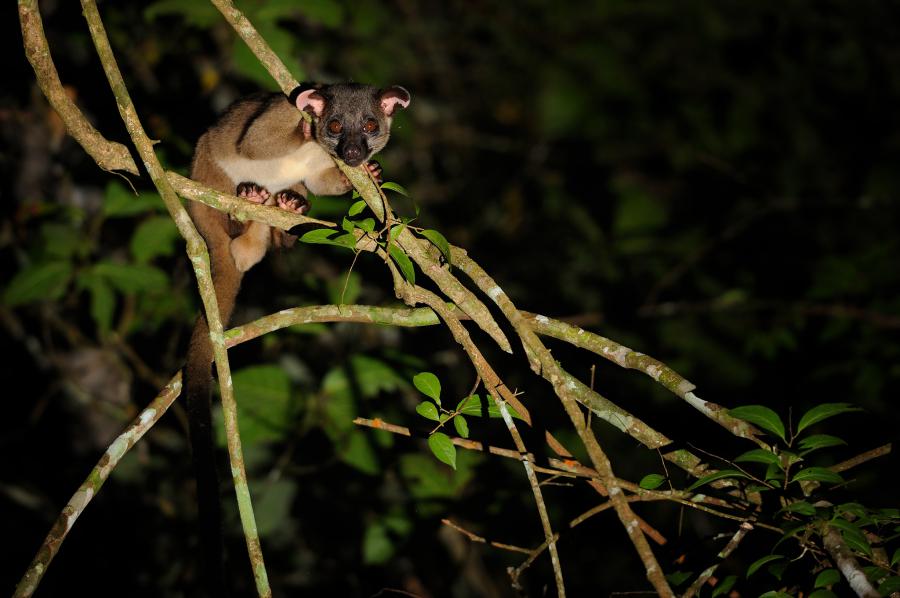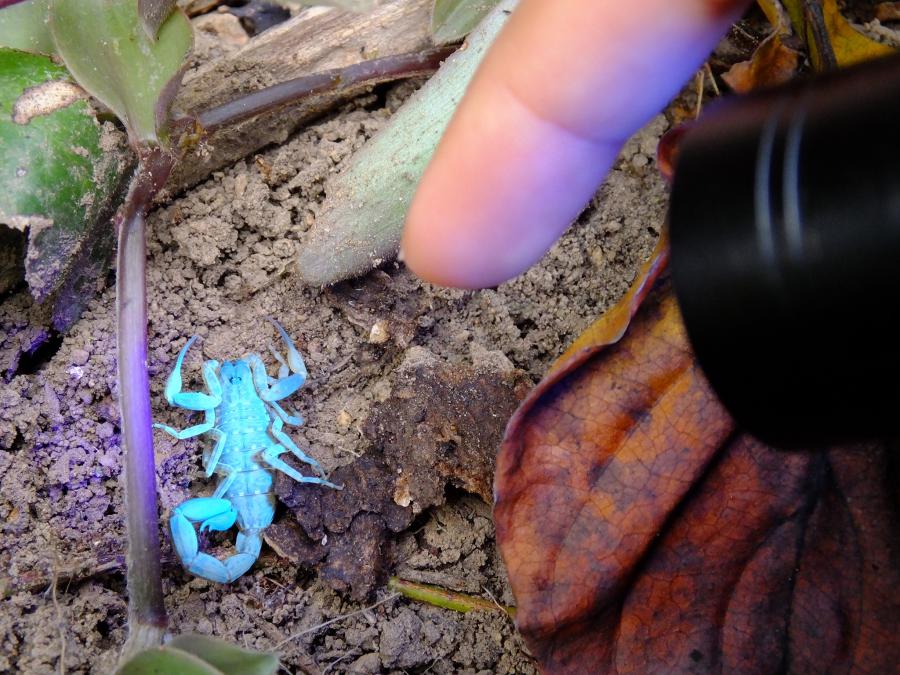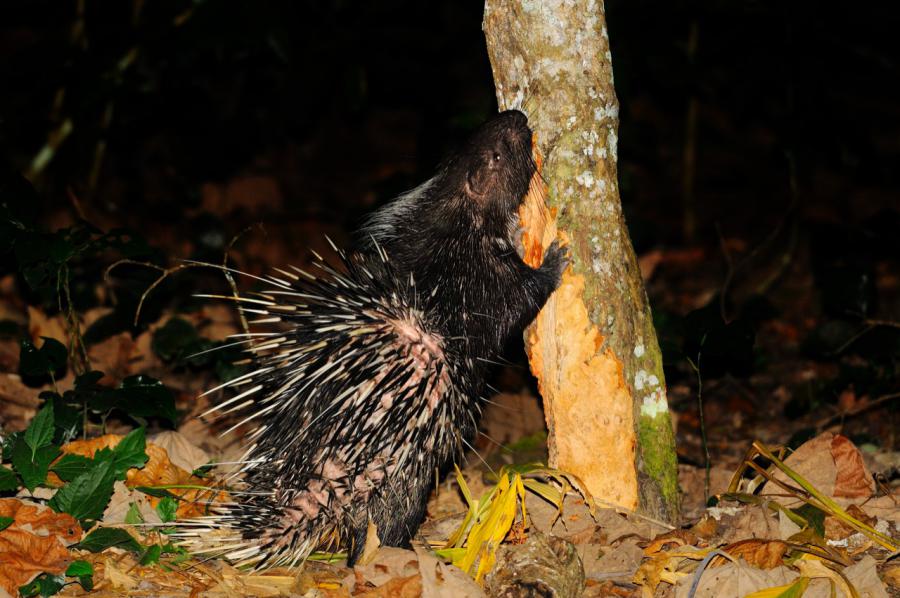 Where & when?
Khao Yai National Park is around 2.5 hours from Bangkok, easily accessible with public transportation with minivans being the fastest way. Our private guides will meet you in your hotel in Pak Chong -which is the nearest city- or anywhere between Pak Chong and Khao Yai National Park.
We can arrange a taxi from Bangkok on request. It takes 2.5 hours, it costs 2,200 Baht one way or 3,200 Baht for a round trip within the same day.
The park is open and accessible all year round but for night safaris we strongly recommend to avoid week-ends and public holidays when there are too many vehicles on the roads, reducing the chance to see animals significantly. The weather can be pretty cool during the cold season around November to February, so a sweater is a must!
Important note
Please confirm with us before booking a hotel in Khao Yai area as we don't offer pickup if your hotel is too far away. Or because some hotel owners don't like their guests to be picked up by tour operators.
Tour details in short:
Duration: 1 day(s)
Type: Private tour
Price: 1,900 - 6,400 Baht per person
Group size: 1 or more people
Grade: Easy to moderate
Transport: Safari vehicle
Start: 8 - 8:30 am
End: 8 - 9 pm
What to bring:
Long trousers
Rain clothing
Sweater or light jacket
Hiking or sport shoes
Insect repellent
Sunblock lotion
How much?
You'll be accompanied by a private guide and no other people will join you; the best way to explore nature! Our tours are all-inclusive except for the accommodation.
Pax
Rate per person
1
6,400

THB

2
3,500

THB

3
2,900

THB

4
2,600

THB

5
2,300

THB

6
2,100

THB

7
2,000

THB

8 and up
1,900

THB
Tour rates include:
Entrance fees
English speaking guide
Transportation from/to hotel or other meeting point
Lunch & dinner
Snacks & fruit
Drinking water
Leech protection socks
Reviews from our guests
By: Laura | posted Fri 4 Nov, 2022
Loved our tour! The guide was very knowledgeable and spotted so many animals we otherwise would have missed. Thanks!
By: Anna | posted Thu 27 Oct, 2022
Excellent tour and guide who did his outmost to make sure we were comfortable and got to see as many animals as possible. I also very much recommend doing the night Safari also!
By: Susie | posted Wed 12 Oct, 2022
We booked a tour for seven of us, and we all had the best time. Our guide was amazing - she was so knowledgeable, so helpful and took such good care of us (we weren't leaving the park until we saw elephants, and our guide did not disappoint us!).
Thank you so much!
Tour operator's response
Dear Susie,
Thank you for your kind review.
And good to hear luck was on your side with seeing wild elephants.
Thank you for booking with us.
By: Doreen Lee | posted Sun 4 Sep, 2022
Our guide, Lek? (not sure the spelling of his name), arrived punctually to meet us at our accommodation, and was really friendly to us.
He was knowledgeable about the different animals we saw and also was patient with my friend and me throughout the day. We might not have told him we weren't avid hikers and so our hiking speed was rather slow, but he adapted to our speed. We were well taken care of with plenty of water provided, and he happily answered any questions about the national park. He made sure we covered all the important features such as the waterfall, hiking through the forest noticing wild gibbons, squirrels and wildlife along the way. We managed to avoid the rain for the most part of the hike and only was caught in it once we got out of the forest.
He gave us plenty of time for us to roam to take photos of wherever along the road we fancied. He brought standing binoculars and a camera with him whenever he saw a reptile or an animal far away as we did not bring binoculars with us.
For the night safari, we were fortunate that it was not raining and managed to see porcupines and golden jackals in the night.
Although there were no wild elephants sighted, the trip was worth it for we hiked through the forest and heard the flight of hornbills, macaques swinging from trees, a black giant squirrel and deers.
It was a fruitful and memorable experience and both of us enjoyed it immensely.
By: Anne-Mette Damon | posted Sun 14 Aug, 2022
Excellent personally guided tour in Khao Yai. Our guide (he called himself Tatar - not sure of spelling), was so knowledgable and very observant. We never felt like we were being pushed forward, he allowed for plenty of time to let us see and explore, and he patiently answered pur many questions. Weather was really quite bad with rain basically ALL day, so this did apparently limit our possibilities for seeing wildlife. With that being said, we saw plenty: macaq monkeys, gibbons, large and small hornbills (the small hornbills we even saw 5-6 of them at a very close distance while they were eating termites from a nest - incredible sight that we shall never forget and our guide was equally excited), Sambar Deer, Barking deer (i think), squirrels, snakes, lots of incredible birds. Our night Safari was cancelled due to the poor weather conditions which was hugely disappointing but we also had a lot of respect for our guide's recommendation; that it wouldnt make sense because there'd be no animals out to see. One thing that would have been nice to know in advance which was not mentioned anywhere on the website was that there is virtually no chance of seeing Elephants at this time of year. Then we would have been prepared for it. The guide also felt it would be better to tell people in advance so as to not give them false expectations. But other than that we were very, very pleased with the tour and with our guide. He also managed to find a hiking route with no people, allowing us to walk for several hours in complete solitude, amazing (we went to Khao sok afterwards and here we did a night Safari where the trail was flooded with people with headlights, yuk) would highly recommend. Thank you.
Tour operator's response
Dear Anne-mette,
Thank you for your feedback.
Glad to hear that despite the weather you still managed to see a lot of interesting wildlife.
About the lack of elephants and your suggestion we should inform people about that. The following excerpt comes directly from the first reply we have sent you after receiving your first enquiry. We add this to every first reply we send to potential customers enquire for a tour:
"Additional Notes:
Since it is a highlight species for many, we would like to add that there is no guarantee that you will see wild elephants!! More days increases the chances, but still no guarantee. You'll understand it as soon as you visit the dense forests and see for yourself that an elephant could be 2 meters off the road but invisible behind the green curtain of leaves. If you'd like to see wild elephants, check our tours in Kui Buri NP where nearly all of our guests have seen wild elephants during our tours."
Thanks again for sharing your review!
By: OLIVIER ROBERT | posted Sat 6 Aug, 2022
We had an exceptional day with Guide Beer. He searched tirelessly for animals all day. The elephants were not there that day but we are delighted with all the species we were able to observe! Thanks !
By: Omer Mazar | posted Fri 22 Jul, 2022
We really enjoyed the tour
it was very interesting and Jay and Jum were good guides with a lot of experience with wildlife
Viewing wildlife in the dense rain-forest is hard, maybe consider adding some points of viewing in more open spaces
Thanks a lot
By: Nicholas Kridler | posted Mon 11 Jul, 2022
Our tour was great! Our guide was super knowledgeable and did a good job of finding things that didn't even seem possible (I still don't know how he was able to spot an oriental whip snake back in the forest while driving). The night safari was definitely a worthwhile add on, the only thing I would've changed is it would be great if the night safari was even longer.
Tour operator's response
Thank you for your review, Nicholas!
Glad to hear you had a great trip.
Unfortunately we are restricted by the national park regulations with the night safaris. First of all we are required to use the national park staff vehicles with park staff drivers and assistants which is one reason we have virtually no control over this part of the tour. Secondly, they have to follow the standard route and time frame. Extending it, is unfortunately not an option.
We like to believe we could provide a higher quality service if our own guides would be allowed to drive and spotlight by themselves, just like they have full control over the daytime activities of the trip.
But it is what it is. Despite these restrictions we have nonetheless decided to keep this activity in some of our tour packages because it offers the rare opportunity (in Thailand at least) to see some nocturnal wildlife.
Thank you for booking with us!
By: Heather Coffman | posted Sun 26 Jun, 2022
fantastic experience - great guides
By: KA WAI LIU | posted Fri 10 Jun, 2022
The guides are so professional and nice! We had a great time in Khao Yai, It's meaningless if you visiting the national park without a guide. They can find out many tiny wildlife that i can't see with bare eyes, haha. Feel the nature, BIG Love :)