Private Tour

|

1-day wildlife tour with night safari in Khao Yai
Why?
Besides what a 1 day tour offers, combining one day tour with a night safari well after the dark will give you a chance to see both diurnal and nocturnal wildlife of Khao Yai National Park.
What?
A 1-day tour will start in the morning and end well after the dark. Activities include hiking in the jungle, safari driving among the roads in search of elephants and other exciting animals, safari drives in the morning and later afternoon, visiting a viewpoint and one of Khao Yai's impressive waterfalls and finally ending the day with a night safari.
Itinerary
The itinerary below is just an example and can easily be turned upside down due to the length of different activities. We adapt to mother nature and customers' interests.
We will meet you at your hotel or other pick-up location we agreed on.
The tour always starts around 8 to 8:30 am with a slow drive through jungle and grasslands in search of wildlife. Once we arrive at the first hiking point we continue the trip in the rain forest between huge trees in search of any type of animal.
After lunch the first stop will be Haew Suwat Waterfall, known from Leonardio Di Caprio's "The Beach" movie, possibly continuing the tour to one of the best viewpoints of the national park. Last couple of hours before dinner will be an ideal time for searching for elephants.
After the dinner break our tour will end with a night safari in search of nocturnal wildlife, thereafter you will be returned to your hotel or other location we agreed on around 8 to 9 pm.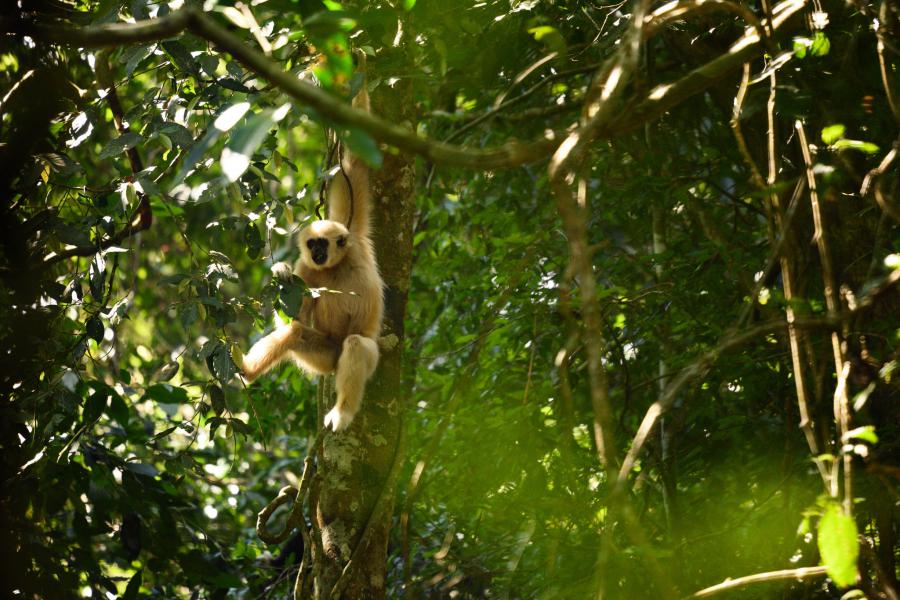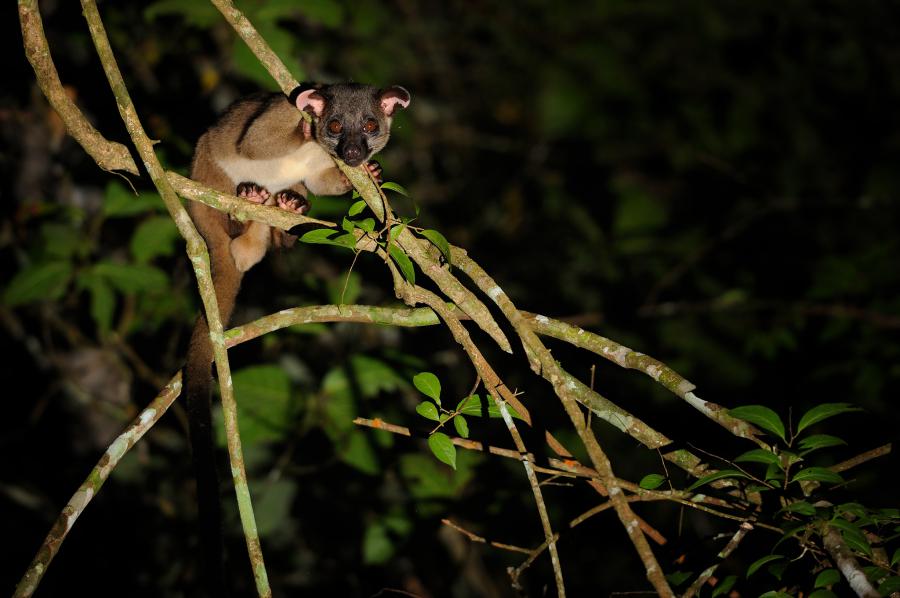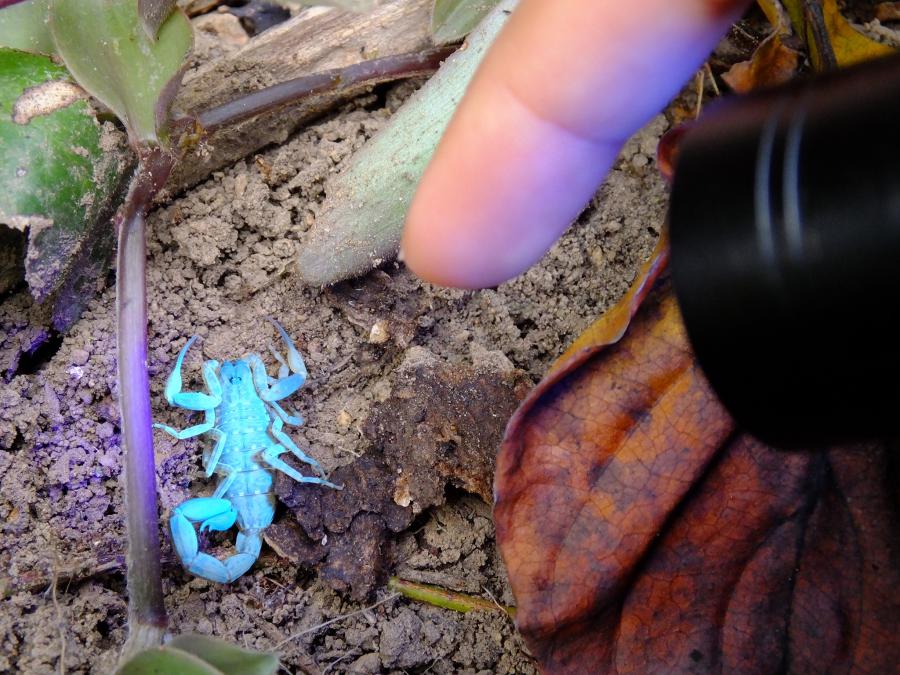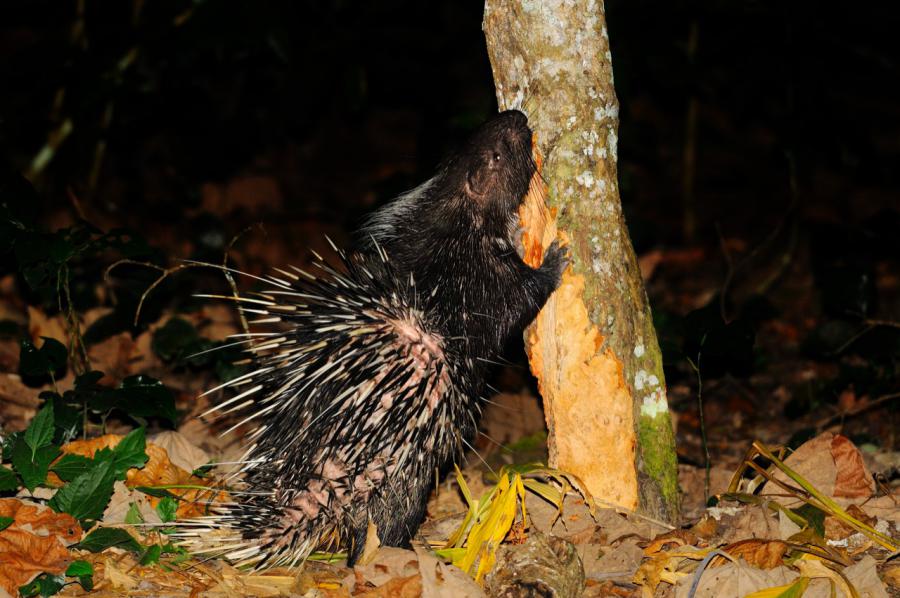 Where & when?
Khao Yai National Park is around 2.5 hours from Bangkok, easily accessible with public transportation with minivans being the fastest way. Our private guides will meet you in your hotel in Pak Chong -which is the nearest city- or anywhere between Pak Chong and Khao Yai National Park.
We can arrange a taxi from Bangkok on request. It takes 2.5 hours, it costs 2,200 Baht one way or 3,200 Baht for a round trip within the same day.
The park is open and accessible all year round but for night safaris we strongly recommend to avoid week-ends and public holidays when there are too many vehicles on the roads, reducing the chance to see animals significantly. The weather can be pretty cool during the cold season around November to February, so a sweater is a must!
Important note
Please confirm with us before booking a hotel in Khao Yai area as we don't offer pickup if your hotel is too far away. Or because some hotel owners don't like their guests to be picked up by tour operators.
Tour details in short:
Duration: 1 day(s)
Type: Private tour
Price: 1,900 - 6,400 Baht per person
Group size: 1 or more people
Grade: Easy to moderate
Transport: Safari vehicle
Start: 8 - 8:30 am
End: 8 - 9 pm
What to bring:
Long trousers
Rain clothing
Sweater or light jacket
Hiking or sport shoes
Insect repellent
Sunblock lotion
How much?
You'll be accompanied by a private guide and no other people will join you; the best way to explore nature! Our tours are all-inclusive except for the accommodation.
Pax
Rate per person
1
6,400

THB

2
3,500

THB

3
2,900

THB

4
2,600

THB

5
2,300

THB

6
2,100

THB

7
2,000

THB

8 and up
1,900

THB
Tour rates include:
Entrance fees
English speaking guide
Transportation from/to hotel or other meeting point
Lunch & dinner
Snacks & fruit
Drinking water
Leech protection socks
Reviews from our guests
By: Bart Lammertijn | posted Thu 16 Nov, 2023
Tata was an excellent guide ! It was a good mix of giving relevant information with a sense of humour.
He tried to spot as many as possible wildlife and provided info on a dynamic way!
Besides it was a beautiful tour we had also a lot of fun!
Thanks to Tata
By: Chris Esplin | posted Fri 10 Nov, 2023
What a great one day safari and night drive, for the day safari we were met at the park entrance, hotel too far out, by Khun Lek who was our guide for the day and our day safari began. On route to the first stop, the visitor centre, we were fortunate enough to see hornbills, gibbons, deer and macaques. After a coffee break at the visitor centre it was a short drive to the start of our jungle trek, as it was wet season leech socks were a must, on the trek we saw horned spiders, stingless bees, leeches, giant squirrels and hornbills, although we could hear primates we could not see any.
After a short drive it was time for lunch which, although not in the main place due to storms the night before and the power lines out, was very tasty. After lunch we went to the waterfall which featured in the movie 'The Beach', some quite steep steps to get down to get the best view.
Once finished here we went up to the top of the mountain, more deer on route and at the top we were fortunate enough to see elephant.
On the way back down we stopped for a short walk through the jungle, on a walkway, to a view point, unfortunately for us we were above the cloud so not an interesting view but the flora on the walk made it worthwhile we were also shown elephant signs.
Then it was back to the visitor centre for the night safari, on route we were fortunate enough to see a large scorpian, and if required some more food, watch out for the bats leaving the basement at dusk it is quite a sight.
We transferred to another vehicle for the night safari, which had a large light for spotting the wildlife, and set off, during the drive we were treated to deer, porcupine and jackals.
Overall the whole tour was a very worthwhile day the guide was very knowledgeable and how he spotted some of the wildlife amazed us.
Thank you
By: Jan Willem | posted Mon 6 Nov, 2023
It was a pleasure to be in the Khao Yai national park and have a tour to see the wildlife.
By: Karin Fischer | posted Sat 7 Oct, 2023
The tour was beautiful and we saw a lot of animals. Thanks for this great experience
By: Charlotte Vandenberghe | posted Sat 7 Oct, 2023
Fantastic tour in Khao Yai park with our lovely guide Apple! We were blessed to see a great number of the signature animals in the park: hornbills, gibbons, gaur, deer, jackalls, snakes, ….
The full day program has a great variation of activities and sites to visit.
Lunch and dinner were tasty.
For us th night safari also worked out fine, although rainy we got to see a lot of animals.
Thank you Apple for the fun, relaxed, active and interesting day!
By: Maddy Cooper | posted Mon 21 Aug, 2023
I know animals are not guaranteed but we were sad not to see elephants and we didn't see anything except deer and fox (that we had already seen) and a porcupine from very far away on the night tour. The night tour really let it down. They had no binoculars and drive very quickly around which we thought probably scared off any animals.
Tour operator's response
Dear Maddy,
We understand your disappointment.
In our correspondence with you before you proceeded with the booking we have attempted to lower your expectations and explain the lack of influence we have on specifically the night drive portion of the tour due to park regulations. It's unfortunate that despite our attempts we didn't succeed to lower your expectations to a feasible level. Or perhaps you missed it?
Even though you can read it back in our messages, I will quote the exact text we have messaged you in reply to your initial tour request:
"Before booking a tour with a night safari, please read our post on why the quality of the night safaris varies and why we have no influence on how this activity is carried out.
Click here for the explanation: https://tontantravel.com/en/blog/khao-yai-national-park/night-safaris-in-Khao-Yai "
And in the other note more specifically about the chance of elephant sightings, we wrote to you:
"Additional Notes:
Since it is a highlight species for many, we would like to add that there is no guarantee that you will see wild elephants!! More days increases the chances, but still no guarantee. You'll understand it as soon as you visit the dense forests and see for yourself that an elephant could be 2 meters off the road but invisible behind the green curtain of leaves."
We sent these warnings to all our clients because the last thing we want is that the guests arrive with higher expectations than we can deliver.
I wish we could guarantee elephants (the closest we get is on our safaris in Kui Buri national park where there is a 90 - 95% success rate), but that's part of wildlife watching.
And as explained in our post about the night safaris, we very much wish we had more control over the situation so we could offer a professional standard just like our daytime program where our guides are in full control, but unfortunately park regulations don't let us.
So, the best we can do is inform our guests prior to the booking.
Thank you for your feedback, hopefully it will help others to make an informed choice.
Kind regards!
By: Roelu | posted Sun 20 Aug, 2023
We had a perfect day in the Khao Yai park.
Our guide Alex found a lot of animals we never would have seen by ourselves. On request we went to see the giant horbllls.
Also the lunch and dinner were very tasty.
After the nightsafari we even saw porcupines and a giant Python. Alex was very kind and explaimed a lot about the animals we have seen.
By: Jesse | posted Wed 9 Aug, 2023
Amazing tour with Alex. He was incredibly knowledgeable about the area and the wildlife. We saw Elephants, gibbons, hornbills, monkeys, jackals, serow, golden orb spider, pit viper, and many insects and butterfly. Tour was an excellent blend of driving and trekking. Alex knew all the best places to take us to show us the beauty of Khao Yai. We will definitely be back and recommend this tour to other visitors!
By: Andrew Dunlop | posted Tue 8 Aug, 2023
Absolutely amazing. Our guide was super knowledgeable and spotted animals we would have never noticed ourselves.
We were lucky enough to see elephants, gibbons, various snakes, deer, porcupines, jackals and monkeys. Would highly recommend.
By: Ed Van Dalen | posted Mon 7 Aug, 2023