About Khao Phra Thaeo
Khao Phra Thaeo Wildlife Sanctuary is the last remaining evergreen rainforest of Phuket Island. The sanctuary covers an area of about 23 km² in Thalang District at the central-northeast side of the island, 20 km from Phuket City. The highest point is Khao Phra Mountain at 442 meters asl.
The sanctuary is known for the Gibbon Rehabilitation Centre, a couple of easily accessible small waterfalls and hiking possibilities.
The rainy season is May to October with most rain in May, September and October, the rest of the year is either humid around the rainy season months or dry.
Wildlife
The entire island was once home to some great variety of bigger mammals, but nowadays only some of the common ones left. Boars, moon rats, mouse deer, langurs, gibbons, slow loris, porcupines, Sunda colugos and civet species are relatively common but not necessarily easy to spot as they prefer to hold deeper inside the forests away from the busy trails and roads.
Only around 80 bird species have been recorded from the sanctuary. Red-legged crakes, red-billed malkohas, green broadbills, orange-breasted trogons, hooded pittas, blue-winged pittas, buff-vented bulbuls and spectacled bulbuls are a few interesting birds recorded from the sanctuary.
More than 60 reptile species are recorded throughout Phuket Island and likely most of these are also found in the sanctuary, but so far only around 20 reptiles are recorded from the sanctuary. Some of the rare/interesting reptile species found on the island are; Phuket pit vipers, Brongersma's blood pythons, Reticulated pythons, Kopstein's bronzebacks, Haas's bronzebacks, Elegant bronzebacks, Twin-barred tree snakes, Speckle-headed whip snakes, Spiny turtles, Amboina box urtles, Elongated tortoises, VanDeventer's rock geckos, Phuket bent-toed geckos, Phuket rock geckos, Herbert's slender skinks, Sumatran flying dragons and Dumeril's monitors..
Visiting
The main attractions of the park are the two small waterfalls, hiking and Gibbon Rehabilitation Centre.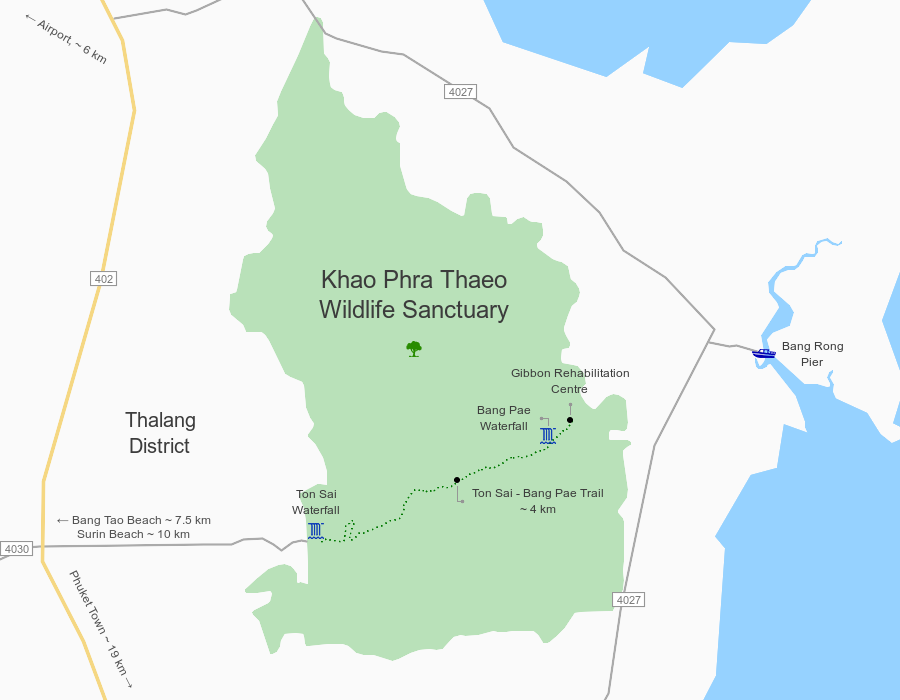 Getting there & get around
There are no public transportation options to the attractions of the sanctuary. The visitors need to arrange their own private transportation, either taxi, car, bike, etc. It is possible to arrange taxis from most hotels.
Ton Sai Waterfall can be accessed from route 402. Unfortunately there are no signs on this road pointing the directions, but in the middle of Thalang Town at a junction with traffic lights, a side road east goes all the way to the waterfall.
Ton Sai Waterfall and Gibbon Rehabilitation Centre are accessible from route 4027, same road to the busy Bang Rong Pier, about 10 km northeast from the junction at Heroine's Monument on route 402.
Entrance fees & opening times
The entrance fees are 200 Baht for adults and 100 Baht for children. Thai citizens pay 20 Baht for adults and 10 Baht for children.
The park is open from 8 am to 5 pm every day, all year round.
Stay & eat
There are no camping grounds in the wildlife sanctuary, nor any park accommodations to rent. There are many hotel options in Phuket Island, some not too far from the Sanctuary.
Eat
There are basic restaurants at both waterfalls open from 8:30 am to 5 pm.
Phone(s)
You are recommended to ask a Thai speaking person to call on your behalf.
089 873 7749
The attractions of Khao Phra Thaeo