Bangkok - Khao Yai taxi service
Our taxi services are private means no others will join you. The cars are all relatively new, comfortable and with a/c. The drivers are experienced, knows the Khao Yai area well. We work with a group of honest taxi drivers we trust.
The quotes below are per taxi (not per person) and include fuel, eventual tollway fees.
The pickup will be from hotel lobbies, the airports or in front of condo/apartments. When necessary, our driver will hold a name card with your name on at the meeting points.
Bangkok to Khao Yai | One way transfers
Our one way transfer prices don't include stopping by for restaurant visits or visiting attractions. Only toilet breaks and quick snacks/water shopping included.
For an additional hourly charge, it is possible to have a restaurant break along the roads. For visiting attractions please send a full day taxi service enquiry, see a few options further below..
| Transfer | MPV | Minivan |
| --- | --- | --- |
| Bangkok – Khao Yai | 2,300 THB | 3,500 THB |
| Suvarnabhumi Airport – Khao Yai | 2,300 THB | 3,500 THB |
| Don Mueang Airport – Khao Yai | 2,300 THB | 3,500 THB |
| Khao Yai to Bangkok hotel/airport | 2,300 THB | 3,500 THB |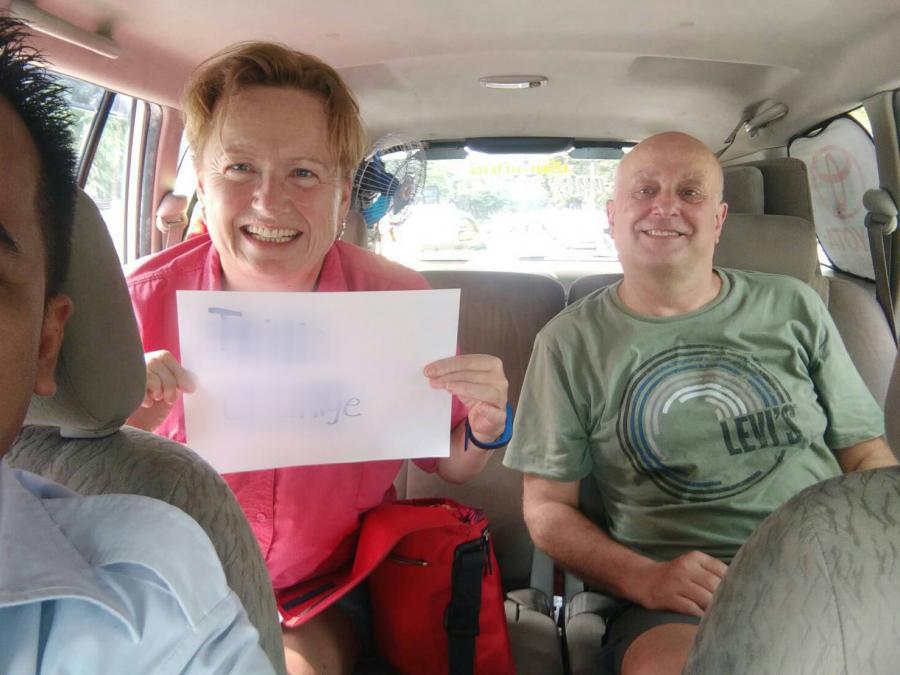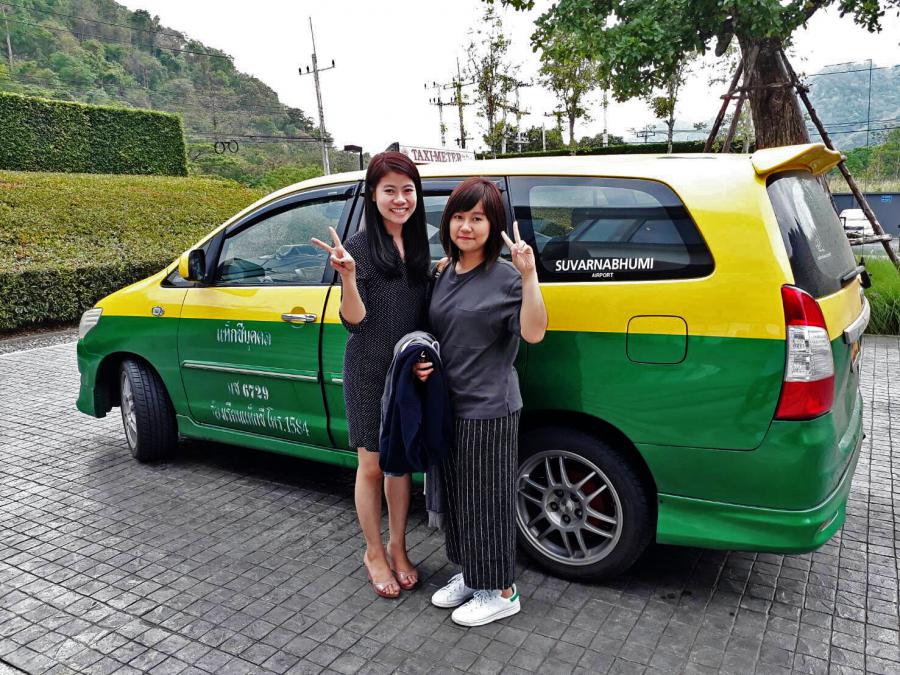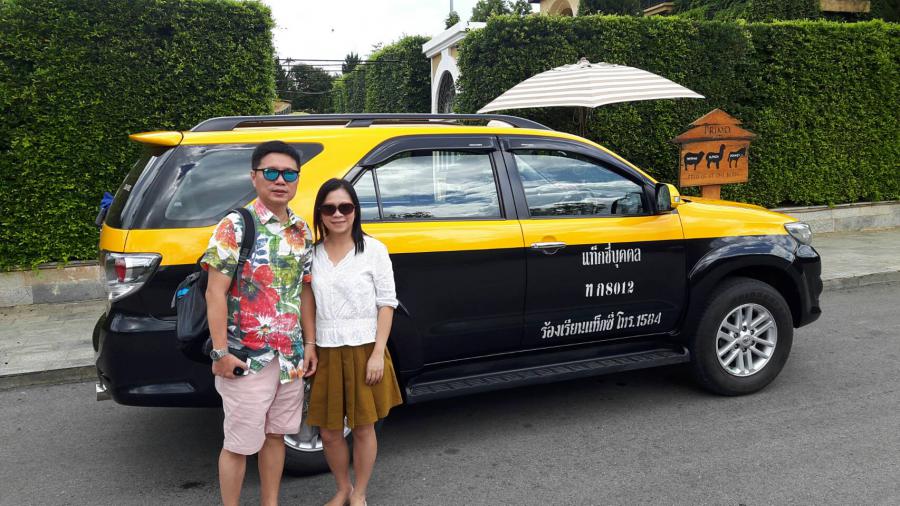 Bangkok to Khao Yai | Full day services
Our full day taxi services include pickup from hotels or airports in Bangkok, visiting a number of attractions north of Khao Yai and finally drop off at a hotel either in Bangkok or Khao Yai. The price doesn't include entering the national park.
Bangkok to Khao Yai | Day trips
| Type of car | Pax | Price |
| --- | --- | --- |
| MPV | 1-4 | 3,600 to 3,700 THB |
| Minivan | 5-10 | 4,200 to 4,400 THB |
Bangkok to Khao Yai | 2 days 1 night
| Type of car | Pax | Option #1 | Option #2 |
| --- | --- | --- | --- |
| MPV | 1-4 | 5,800THB | 7,000 THB |
| Minivan | 5-10 | 7,700 THB | 8,400 THB |
The options depend on how many days are full day service. For example the first or the last day(s) may be only one way transfer, not full day.
Bangkok to Khao Yai | 3 days 2 nights
| Type of car | Pax | Option #1 | Option #2 | Option #3 |
| --- | --- | --- | --- | --- |
| MPV | 1-4 | 7,600 THB | 8,800 THB | 10,000 THB |
| Minivan | 5-10 | 10,900 THB | 11,600 THB | 12,300 THB |
The options depend on how many days are full day service. For example the first or the last day(s) may be only one way transfer, not full day.
If you are after a longer trip, please send an inquiry from any of the options you like.
Reviews from our guests
By: Joe Kang | posted Wed 31 May, 2023
The services arranged were very punctual in responses and drivers were very courteous, friendly & accommodating.
By: SanRaj | posted Thu 13 Apr, 2023
We recently rented a taxi (two ways) from Bangkok Airport to Khao Yai and loved the company's incredible response rate for bookings and questions as well as the actual service. The vehicle used was Toyota Innova and it was very comfortable for the two of us. Both drivers showed up as planned, were very polite, and drove us nicely.
I would like to recognize Khun Rushen who was incredible in answering all questions! I will definitely plan to use this service again.
By: William Holms | posted Mon 20 Mar, 2023
Friendly, on time, good communications; good value for money.
By: Marice Badenhorst | posted Tue 14 Mar, 2023
We were very happy with this service. Couldn't be better.
By: Alexander Timofeev | posted Sat 4 Mar, 2023
On time, super polite and comfortable. Perfect !
By: David Durham | posted Mon 20 Feb, 2023
One star for each: 1) our driver, self nicknamed Thom, was waiting for us with a smile at BKK when we arrived from Tokyo at 5:30am (a Viator driver failed to show and caused us to miss boat connection a year ago in Hawaii) 2) the cab was clean and Thom had thoughtfully provided two bottles of water and a soda on each side of the back doors, especially welcome in Thailand where tab water is not potable; 3) when we stopped for gas Thom used the restroom first and warned off my wife not to go in, then we drove to another station he knew to be okay. 4) When there were no signs to an obscure cave wat I had put on our itinerary after being intrigued by it on Google maps, he pushed on over dirt roads and asked until we found a group of monks he could ask, and eventually found us an English speaking guide how turned out to be an ex-Chase bank VP, who spent two hours with us all giving lessons on meditation techniques and advice on staying happy and well. and 5) that experience didn't leave room for the last two items on our itinerary so he suggested a wonderful substiute, the excellent local Khao Yai art museum. Go with the flow, great trip. Thank you Thom, and thanks to Thai National Parks for arranging communications so they are a running commentary, which helped a great deal over months of planning.
Tour operator's response
Thanks for your feedback! Visiting caves is not suitable for our taxi services, just for the reasons you have described, poor roads, either dirt roads, or broken roads with many pot holes. This driver was kind to try take you there, but normally our drivers will refuse, if you had informed in advance, we would have explained that it is not suitable for our taxi services.
By: Yasmine C. | posted Sun 5 Feb, 2023
We booked transfer services from Bangkok to Khao Yai and back 2 days later. Service was great! Drivers arrived timely and drove safely. Good price as well. Would recommend!
By: Peter Öhman | posted Sat 14 Jan, 2023
Everything was really smooth! Response time, planning and overall communication, can only recommend!
By: Jasmine | posted Mon 28 Nov, 2022
We were a group of 6 travellers with kids. We booked the van service for 4 days and then added an additional trip.
The entire experience was very good. Starting from the enquiry/booking, Rushen was very prompt in replies, often replying within hours. Replies were clear, itineraries were suggested and easy payment method. No hidden charges. All charges and details given clearly beforehand.
The drivers assigned to our trip were very good and professional. They are always early and polite. Friendly and helpful too. The driver for our 4 day Khaoyai trip (I didn't get his name) - he offered his extra slippers to my mum when her shoes gave way. We left something at a temple we visited and the driver helped immediately to call, however the temple was closed when we called. He then helped us to collect our item at the temple the next morning before picking us up.
Thumbs up for the entire service
By: Leo | posted Tue 15 Nov, 2022
Liaised with Rushen for all the transportation arrangements, and he was extremely helpful and responsive to my inquiries. Drivers were all on time and friendly. Highly recommended!