Bangkok - Khao Yai taxi service
Our taxi services are private means no others will join you. The cars are all relatively new, comfortable and with a/c. The drivers are experienced, knows the Khao Yai area well. We work with a group of honest taxi drivers we trust.
The quotes below are per taxi (not per person) and include fuel, eventual tollway fees.
The pickup will be from hotel lobbies, the airports or in front of condo/apartments. When necessary, our driver will hold a name card with your name on at the meeting points.
Bangkok to Khao Yai | One way transfers
Our one way transfer prices don't include stopping by for restaurant visits or visiting attractions. Only toilet breaks and quick snacks/water shopping included.
For an additional hourly charge, it is possible to have a restaurant break along the roads. For visiting attractions please send a full day taxi service enquiry, see a few options further below..
| Transfer | MPV | Minivan |
| --- | --- | --- |
| Bangkok – Khao Yai | 2,300 THB | 3,500 THB |
| Suvarnabhumi Airport – Khao Yai | 2,300 THB | 3,500 THB |
| Don Mueang Airport – Khao Yai | 2,300 THB | 3,500 THB |
| Khao Yai to Bangkok hotel/airport | 2,300 THB | 3,500 THB |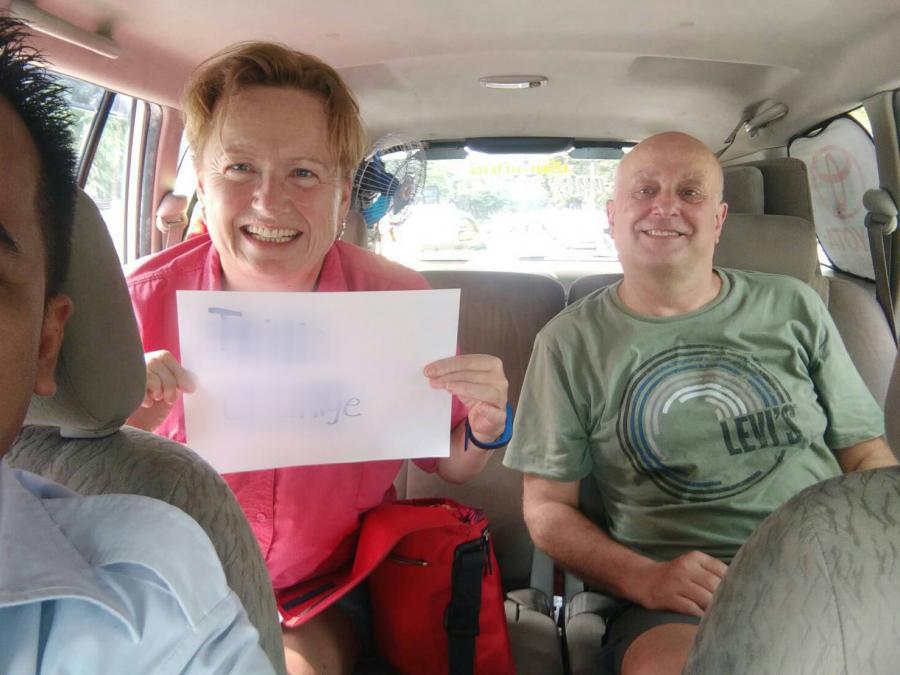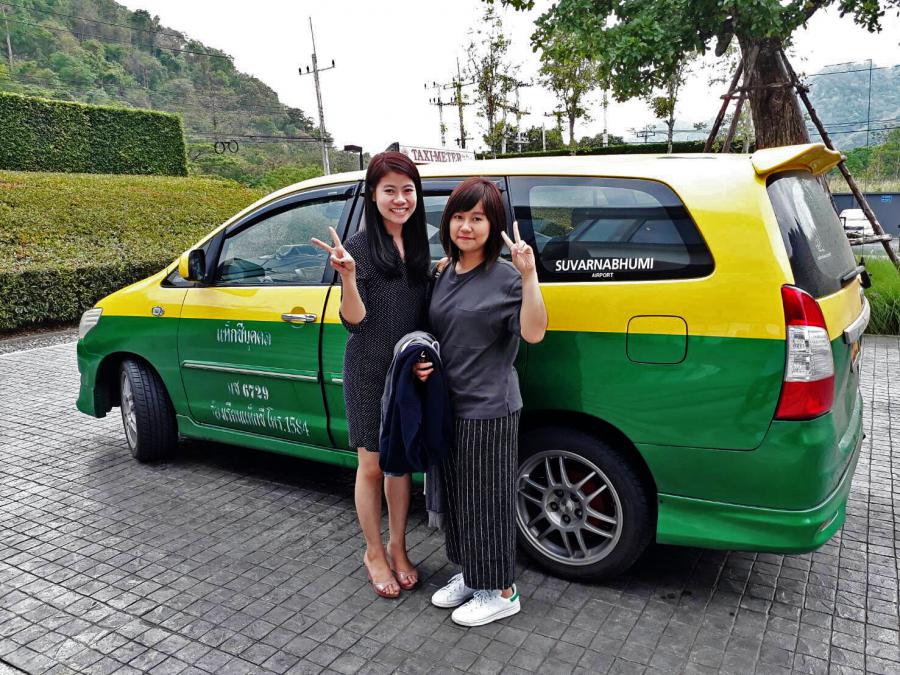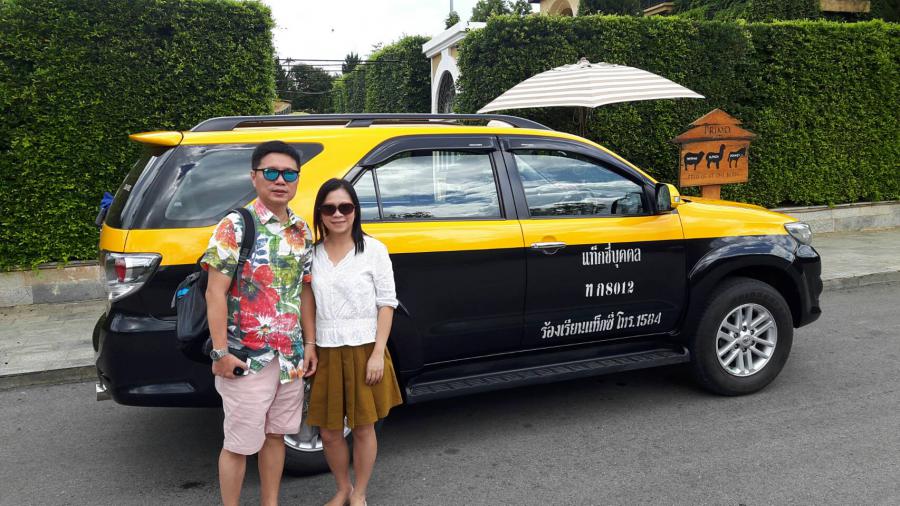 Bangkok to Khao Yai | Full day services
Our full day taxi services include pickup from hotels or airports in Bangkok, visiting a number of attractions north of Khao Yai and finally drop off at a hotel either in Bangkok or Khao Yai. The price doesn't include entering the national park.
Bangkok to Khao Yai | Day trips
| Type of car | Pax | Price |
| --- | --- | --- |
| MPV | 4-6 | 3,600 to 3,650 THB |
| Minivan | 8-10 | 4,200 to 4,400 THB |
Bangkok to Khao Yai | 2 days 1 night
| Type of car | Pax | Option #1 | Option #2 |
| --- | --- | --- | --- |
| MPV | 4-5 | 5,800THB | 7,000 THB |
| Minivan | 8-9 | 7,700 THB | 8,400 THB |
The options depend on how many days are full day service. For example the first or the last day(s) may be only one way transfer, not full day.
Bangkok to Khao Yai | 3 days 2 nights
| Type of car | Pax | Option #1 | Option #2 | Option #3 |
| --- | --- | --- | --- | --- |
| MPV | 4-5 | 7,600 THB | 8,800 THB | 10,000 THB |
| Minivan | 8-9 | 10,900 THB | 11,600 THB | 12,300 THB |
The options depend on how many days are full day service. For example the first or the last day(s) may be only one way transfer, not full day.
If you are after a longer trip, please send an inquiry from any of the options you like.
Reviews from our guests
By: Johnson Ong | posted Sun 18 Sep, 2022
Excellent and trusted service.
By: Lynn Koh | posted Thu 18 Aug, 2022
Hired drivers for two days. First day was from BKK to Khao Yai and second day was to Harajuku Thailand, then back to BKK. Total cost at about 7000 baht, including waiting cost at location for second day.
The cost is definitely cheaper than sites like KLOOK and KKDAY. But what I am really impressed is the excellent service with the coordinator, Rushen before the trip. He writes perfect English, responds promptly within the same day (even on weekends) and tries his best to provide advice on your desired itinerary. I had many rounds of conversation with him about 3 weeks before my trip to discuss my plans and he was always helpful and detailed in his replies.
On the day itself, the Thai drivers were friendly but they can't speak English. Nonetheless it was a pleasant ride. Sedan car was spacious for two pax and both drivers drove smoothly. The car for second day was a little bumpy but generally safe on road.
Overall it was an excellent experience with Thai National Parks and thank you so much! Highly recommended. :)
By: Dan Wisniewski | posted Tue 9 Aug, 2022
Driver was on time and communicated what he needed to.
By: Anthea Goh | posted Thu 28 Jul, 2022
Driver is very friendly & patient to our requests for shorter / longer time needed in the different venues. He also helped suggest some places when the Bloom & Rose Gardens are too bare for phototaking. He brought us to the Chocolate Factory and a local markets.
Communication was easy as well. We could Whatsapp to communicate time for pick ups for some locations where the parking is further.
Thai National Parks staff is also very helpful and friendly.
Trustworthy transport arrangement.
Highly recommended.
By: Sopheak Ban | posted Sat 25 Jun, 2022
I and my friends had a pleasant and nice trip around Khao Yai! It's our first time there and we had a great experience with the taxi tour service. Our drivers are from Mr. Somkid's team. They are very professional and very nice taking us from one place to another according to our preferences safely and timely. Likewise, the customer service is exceptional, very responsive, and helpful. Highly recommended!👍
By: Jinny Kim | posted Sat 2 May, 2020
By: Ronnen Sagi | posted Wed 12 Feb, 2020
Excellent service from the customer service who coordinate 4 taxi trips for us.
By: Lyn Chan | posted Fri 31 Jan, 2020
Very good and attentive driver assigned to us for this trip arrangement.
By: Sarah Charles | posted Fri 17 Jan, 2020
Excellent booking service with immediate response, excellent English and polite, relevant communication - really special. The driver was early, the car was spacious and very comfortable and the driving was also very good. An altogether perfect package, thank you!
By: Min Quan Lim | posted Thu 16 Jan, 2020
Hi
We came back from Bangkok last night. Khao Yai is indeed a beautiful place with many marvellous sceneries.
However we were a bit disappointed that we could not visit 2 places based according to our itinerary.
On the 3rd day, we were supposed to visit Khao Yai national park, farm mor por and Thames valley Khao Yai . As we spend a bit of time in the sunflower field which was pushed to the 3rd day, we arrived at Khao Yai national park close to noon.
Khao Yai national park was really big and the travelling time from one attraction to another took a bit of time. By the time we visited all the attractions, it was close to 6pm. As we did not get to visit farm mor por and Thames Valley, we told the driver that we would like to visit these 2 places the next day before we go back to Bangkok. He acknowledged. We had a long day and told the driver to send us back to the hotel.
The next day, we reminded the driver on the remaining 2 attractions we have yet to visit. To our astonishment, he told us we have to pay an extra 200 baht to visit them but we told him that the day before we would visit these 2 places today as we ended quite late yesterday.
He acted forgetful and refer to the itinerary that there was nothing on our last day and wanted to send us back to Bangkok. He seem rather concerned about being stuck in the jam at Bangkok and wanted to rush us back.
It was previously agreed on in our previous conversations that we can bring forward the attractions we have yet to visit to the following day. That's why we decided to engage your services as we would like to truly enjoy our visit. Somehow my wife and I were left rather disappointed.
Regards
MinQuan
Tour operator's response
You booked 4 days, of which the 3 first days were full day service, the last day was one way transfer to Bangkok (no visiting of attractions)
Yes we informed you that you can move forward attractions you missed to the following days, but that means you can only move forwards if the next day is a full day service. In your case, you can move forward the missed attraction to the 2nd or 3rd day. During 5 years of taxi service, we never had guests assuming that attractions can be moved forward to a one way transfer day included in the price, and we have booked ten thousands of trips.
A full day service means; driver to drive around attractions. Normally 3,000 to 3,500 Baht a day depending on the if pickup/drop off is to/from Bangkok or not.
One way transfer means; hotel to hotel (or airport), in your case pickup from Nornchill Khaoyai in Khao Yai, straight to Beat Hotel Bangkok. The only stops that included in 2,300 Baht one way transfer price are toilet breaks or snacks buying along the routes. Attractions, restaurants/cafes can't be visited for this price, pretty same as a taxi service from home to work in a city.
The price for your 4th day one way service was 2,300 Baht. If you had to visit few attraction on the last day, you had to pay 3,500 Baht (same price as the first day because it is drop off in Bangkok). But this driver has been nice to you, and offered only 200 Baht per hour flexible price.
You say you informed the driver that you want to move over two attractions to the next day and that he accepted. But you never discussed the price with him. Despite the driver did offer you a cheap option, it is sad to read that you are indirectly accusing him for dishonesty. These are wonderful drivers we work with, not random drivers we don't know anything about. We have worked with some for up to 5 years, they get a good flow of work from us and they do their best to continue work with us.
While most our guests spends 20-40 minutes at the sunflower fields, from your feedback, what I understand, you have spens around 3 hours there on the 3rd day. That is completely fine with us, because our guests choose how much time they want to spend at the attractions. We already informed you that it will take some time to visit the park; "Good to know that, only the driving time inside the national park until reached back to the park entrance will be a bit less than 3 hours. Add to that time spent at the attractions and likely a lunch break in the park, around 5-6 hours of the day may be spend in the park.". Given from this info, what you want to do with your planning that day is up to you. If you can make to all listed places in time or not, that depends on how much time you spend at the attractions earlier that same day.