About Khao Kho
Khao Kho is a very commercialised park with a number of villages, hundreds of resorts and other premises throughout the park. Situated in Phetchaburi Province in around 6 hours driving distance from Bangkok, the park is a very popular holiday destination among local and foreigner tourists. The park is popular for it's cooler weather, morning mist covering surrounding valleys, impressive viewpoints, a huge wind farm, temples, various types of gardens, waterfalls and a number of other attractions.
The main mountain Khao Khao which the national park is named after is 1,143 meters asl. The surrounding national parks are Thung Salaeng Luang National Park to the west and Phu Hin Rong Kla National Park a bit further north.
Khao Kho area and the entire mountain range south and north till Phu Hin Rong Kla National Park was an ideal place for guerrilla warfare and became a stronghold for Communist Party of Thailand (CPT) back in the 70's. The summit of the park is a memorial ground for victims of the armed conflict between the communists and Royal Thai Armed Forces between 1968 and 1981. Not too far from the memorial ground there is a military museum to display vehicles and various items from the war.
Visiting
During the colder winter months from November to December, the visitors are recommended to have warm clothes as the temperatures can be quite chilly in the night, early morning and early evening. For the rest of the year, perhaps a sweater would be nice to take with you.
Get there & Get around
There are no public transport options to get to Khao Kho from any of the nearby towns. The only option is private transfer, either with your own vehicle or other private arrangements. Getting around in Khao Kho is also not possible without a car, the distances between attractions are relatively big.
Khao Kho tends to get very busy during the week-end and holidays. Especially during the December week-ends the traffic can be miserably slow along the main roads.
The nearest airport is in Phitsanulok, about 120 km north/west from Khao Kho.
Entrance fees & opening times
The entrance fees are charged only at Than Thip Waterfall; As of June 2022, the entrance fees are 100 Baht for adults and 50 Baht for children 3-14 years old. Thai citizens pay 20 Baht for adults and 10 Baht for children.
Than Thip Waterfall is open 8 am until 4:30 pm everyday, all year round.
Stay
There are a good number of resorts along the main roads in Khao Khao.
There are also a couple of camping grounds for people who wish to set up a tent. Tents and accessories can be rented from the visitor center, 300 Baht for 2 pax tent or 450 Baht for 3 pax. An additional 30 Baht per person & night will be charged to use the campground.
Phone(s)
You are recommended to ask a Thai speaking person to call on your behalf.
081 284 5223 - Headquarters
The attractions of Khao Kho
Khao Khao Summit
The highest point at Khao Kho area, 1,143 meters asl. The summit area has a memorial and a military museum, 1.3 km apart. The road to the summit is a narrow and circular one way road that starts and ends from/at road 2196. Entrance to this road is from the southern end.
Itthi Military Base (museum)
Mainly outdoor, with a smaller indoor museum displaying military vehicles and other items. The outdoor bit of the museum displays a number of aircrafts, a helicopter, heavier war machinery and various vehicles used during the war against the communist insurgents from 1968 until 1981.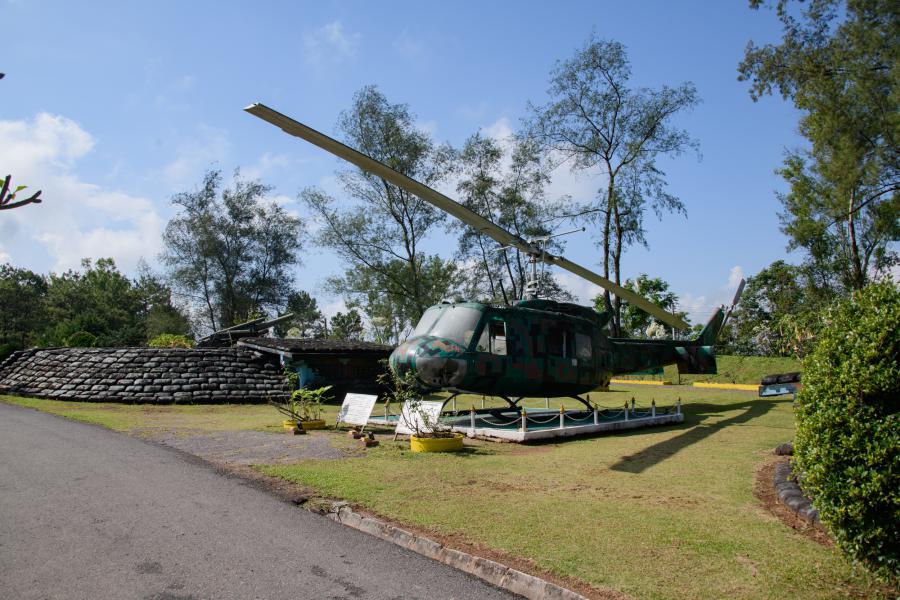 The indoor museum displays various items like lighter weapons, uniforms, photos etc from both the Royal Thai Army and the communist movement.
Khao Kho Memorial
A marbled memorial raised to honour all lost civilian and military lives during the war against communist movement from 1968 to 1981. It is at the summit of Khao Kho, which is the highest point in the area.
Khao Kho Viewpoint & Market
Situated along the main road through Khao Khao, with a very nice view point facing west and market stalls along the road.
Khao Kho Wind Farm
A wind farm with the largest wind turbines in Thailand, 24 turbines with each turbine 110 meters tall, generating a total of 60 MW power. The wind farm is at around 1,020 meters asl.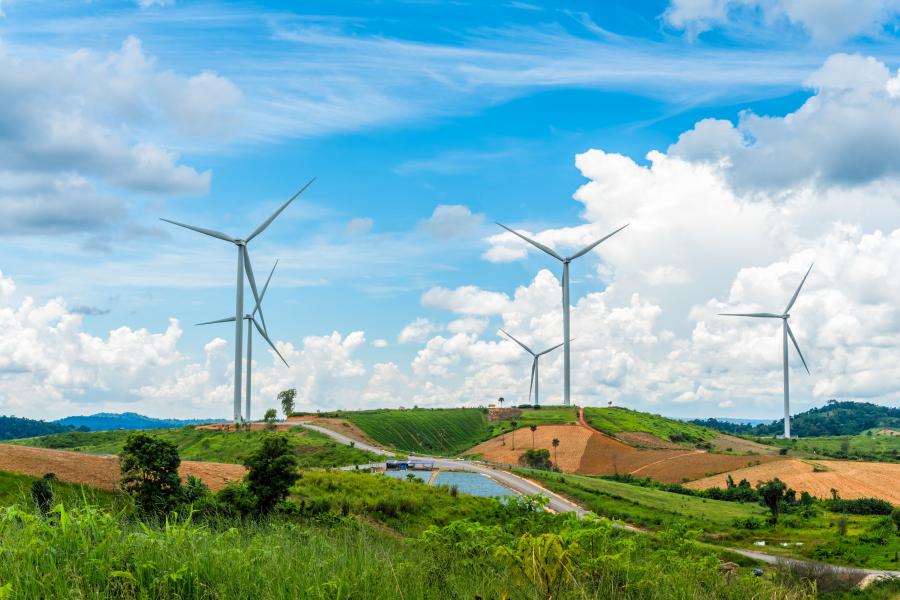 The wind farm area is accessible by shuttle busses from a local market, 40 Baht per person. The buses leave quite frequently, dropping off passengers at two different stops, of which the first one is Black Diamond, a cafe and garden with some decorations for kids. The second stop is another local market.
There are also a couple of view points along the routes that the shuttle busses take.
Black Diamond Khao Kho
Located at the wind farm, it is a cafe and resort, with a small flower garden, decorated for kids. Here you will find around 1.9-2 meters tall teletubby dolls and a playground. The shuttle buses drop visitors at this cafe as a first stop.
Pino Latte & Viewpoint
Pino Latte is one of the most visited attractions in Khao Kho area, for most visitors a must see place. At an elevation of 920 meters asl, it is a very popular café and restaurant with a very good view east, north and south. The view north is an even higher mountain summit at around 1,300 meters asl while other directions are lower mountains and valleys mostly facing Lom Sak District of Phetchabun.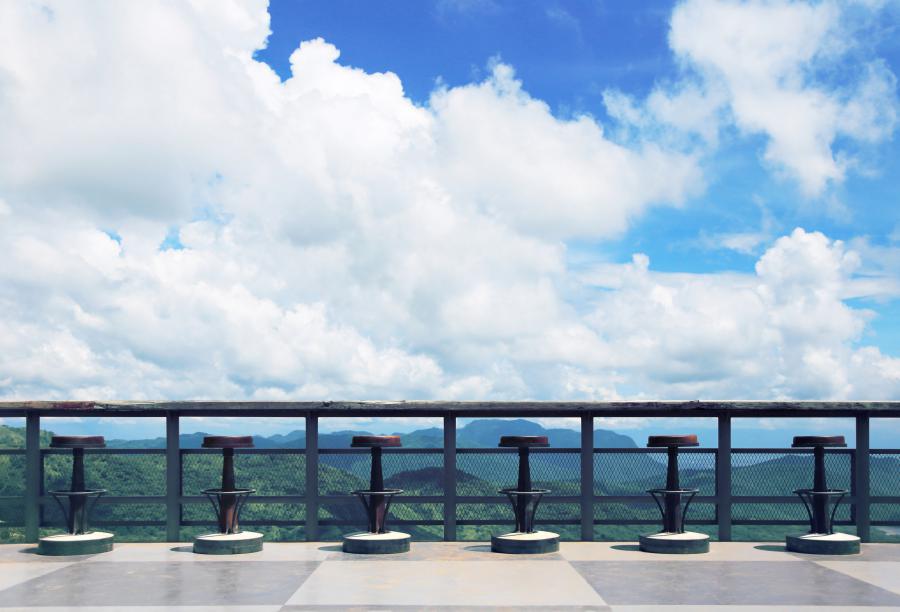 The café/restaurant area is quite big and busy even on regular working days. The price level even for a simple coffee is quite expensive compared to other cafes in the area, with a simple americano at around 80 Baht. They serve both Thai and western food, icecream, coffee, tea, beverages and pastries.
Pino Latte is accessible by quite a steep and narrow road north from Highway 12 between Lomsak District of Phetchabun Province and Phitsanulok.
Wat Phra That Pha Son Kaeo
Built in 2004, Wat Phra That Pha Son Kaeo is a very popular monastery and temple. For most people an obvious place to stop by on the way out from Pino Latte, just 1.5 km downhill from Pino Latte, at an elevation of 800 meters asl.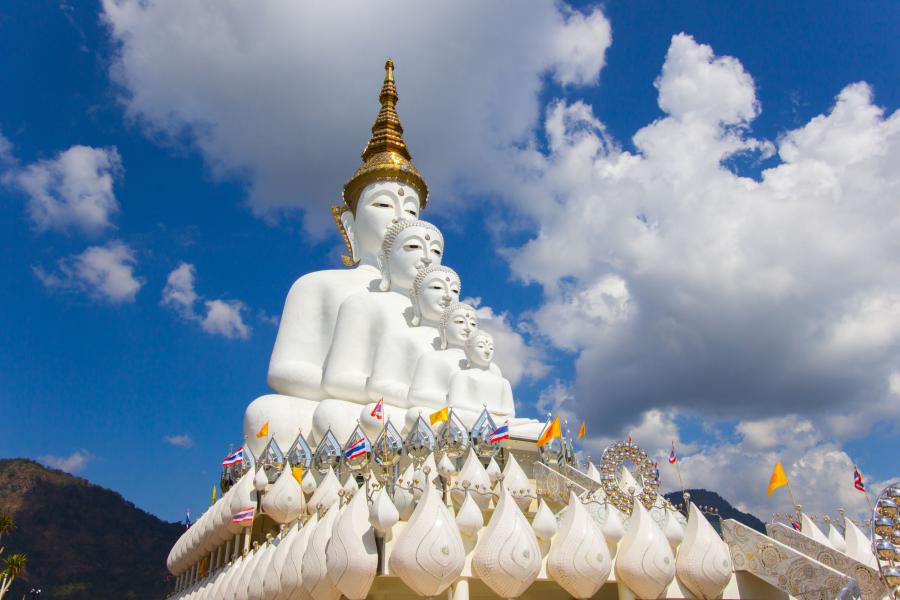 The main pagoda and various buildings are of modern design, decorated with around 5 million colorful mosaic tiles and pottery items. On the temple grounds there are also 5 large sitting Buddha statues in white with an iconic view.
The temple grounds have a good view over the surrounding areas.
Than Thip Waterfall
The main attraction of Khao Khao National Park, it is at the east end of Khao Kho. The waterfall is easily accessible by car, around 400 meters convenient walk from the car park of the waterfall, the trail to the waterfall is not steep. 100 Baht national park entrance fee for foreigners will be required.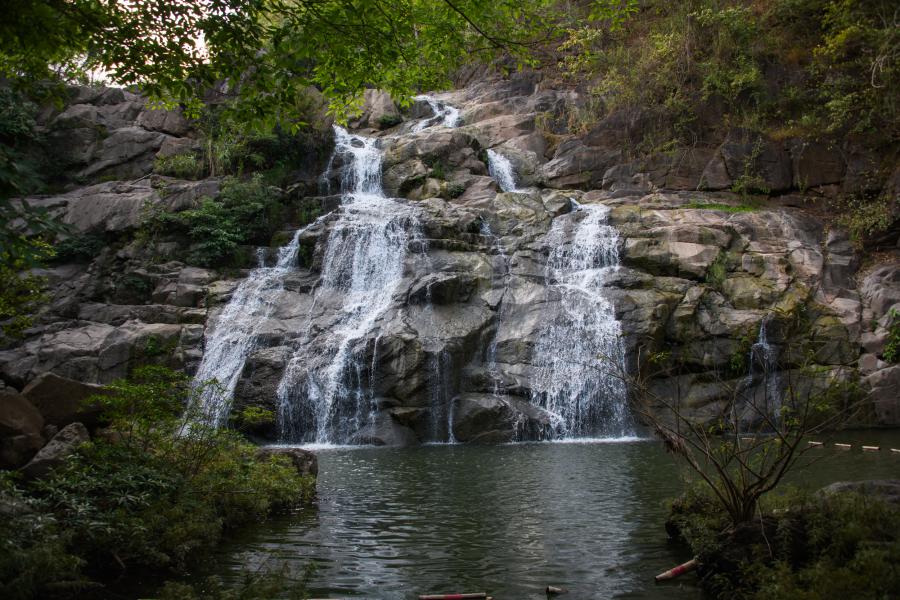 Blue Sky Resort
The biggest and most impressive garden in the area. Although it is a resort, it is possible to enter the resort grounds for a fee of 100 Baht per person. The resort grounds are on the top of a mountain ridge with a big garden spread out downhill in most directions, pretty good view from the resort's own viewpoint.
The resort architecture is of European style, the style reflects every small detail like the different premises, the garden, walls etc. The resort also has a restaurant.
Phukaew Adventure Park
Located at around 800 meters asl, it is a resort and adventure park. The adventure park side offers various activities like sliding on air, water activities including canoeing/rafting, speed kart racing, activities for children of all ages, climbing, shooting arrows with bows, and many more. Each activity charged separately.
B. N. Farm
A smaller fruit, vegetable and flower garden for a shorter stop.