About Khao Chamao - Khao Wong
Named after two mountains and designated as a national park in 1975, Khao Chamao - Khao Wong National Park is a very small national park covering an area of 84 km². The forest covering the national park is part of a much bigger forest complex including many other protected sites in Thailand and Cambodia. The park is situated mainly in Rayong Province and a smaller part in Chanthaburi Province. It is a popular destination for its waterfalls, viewpoint, caves, limestone mountains, cliffs and hiking possibilities.
The mountains of the national park reach an elevation of about 1,000 meters asl, covered with broad-leaved evergreen forests on higher altitudes. The montane forests are the source of water that flows down to Prasae River, providing surrounding agricultural areas with water.
The central south-east of Thailand where the park is located has rainy season from May till October, cold season November to February and hot season March to April.
Wildlife
Despite the small size, thanks to the extension of the mountain range and adjacent protected sites, the park has some exciting animals to offer. Animal sighting is very rare on low elevations near the villages and along the trails to the waterfalls due to high amount of daily visitors, but deeper inside the park and specially on higher altitudes animals like elephants, gaurs, Indochinese serows, bears, leopards, leopard cats, pileated gibbons, banded langurs and boars can be found.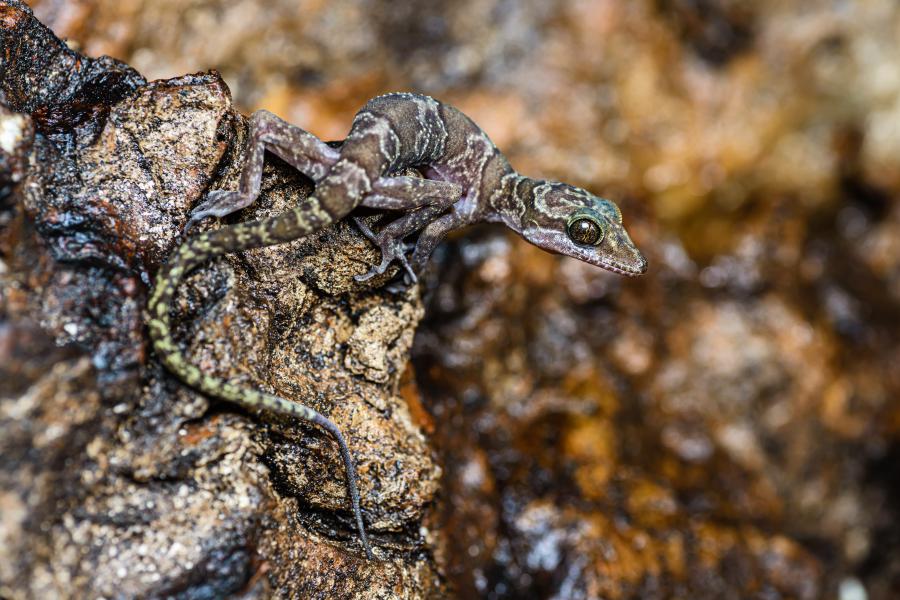 There are about 40 confirmed bird species in the park of which some are; blue pittas, brown wood owls, Van Hasselt's sunbirds, Siamese firebacks, great hornbills, common hill mynas, lineated barbets, Indochinese rollers and thick-billed green pigeons.
Visiting
The park is very popular among local tourists and can be extremely busy on holidays and week-ends during the high season. Even on normal days during the rainy seasons a lot of tourists may show up.
The visitor center area is located around 70 km from both Rayong and Chanthaburi towns and nearly 125 km from Pattaya, only 1 km off from highway 3377.
There is a spacious campsite, accommodations, various facilities, 2 restaurants and a few kiosks mainly selling beverages in the campsite from 8 am until 4:30 pm. There are few other restaurants outside the park towards the main road, these can be open up until 6 pm to 8 pm depending on day of the week or amount of seasonal tourist activity, busier times are normally week-ends.
Getting there & stay
There are no public services to the national park. It is possible to arrange a private transportation to the park from most hotels, hotel reception teams will gladly call and arrange a driver for you for various prices. There is no need for a guided tour as the trails are relatively short and well signposted.
Drive from Pattaya, Rayong and Chanthaburi
Take Sukhumvit road (east from Pattaya or Rayong and west from Chanthaburi) until Thung Khwai Kin and turn north to Khao Chamao (highway 3377) where you will see a signpost to Khao Chamao. Drive about 16 km until you see a signpost to Khao Chamao Waterfall. Turn right and drive another 1 km until you reach the checkpoint.
Entrance fees & opening times
As of June 2022, the entrance fees are 200 Baht for adults and 100 Baht for children 3-14 years old. Thai citizens pay 40 Baht for adults and 20 Baht for children. When staying inside the park in park accommodations or at the campsites, the same ticket can be used for 3 days/2 nights, otherwise, for multiple visits from outside, new tickets must be obtained on every entrance.
Khao Chamao - Khao Wong National Park is open 8:30 am to 4 pm every day.
Stay & eat
There are 17 accommodation options in the visitor center area, from 600 Baht with fans only, 800 Baht with a/c for two people and 1,200 Baht with a/c for 4 people. There are only two large ones at Klong Pla Kang Waterfall area for 3,000 Baht per night, for 23 people. A significant discount will apply when booked for Mon-Thu.
The accommodations must be pre-booked in advance through the DNP website. As the money transfer must be done within 2 days and the fact it takes a longer time with transfers from abroad, it is only possible to book from within Thailand only. Payments can be done at 7-Eleven convenience stores or banks.
The visitor center area has a spacious camping area where it is possible to set up tents. It was possible to rent a tent from the visitor center in the past, but not anymore. Visitors who wish to camp are advised to take their own tents with them.
Phone(s)
You are recommended to ask a Thai speaking person to call on your behalf.
Visitor center: 038 996 202
The attractions of Khao Chamao - Khao Wong
Khao Chamao Waterfall
This waterfall is the main attraction of the park where the national park headquarters and the main visitor center is located. The waterfall is 8-tiered, but only the first 7 tiers are accessible to the public by a 1.7 km easy to moderate trail. There used to be a trail to the 8th tier but it is closed since over a decade ago, there are no plans to re-open it. The trail starts from the visitor center area, about 300 meters into the trail there is a second "checkpoint" where visitors need to show the content inside their bag as food is not allowed beyond this point.
The waterfall has enough water all year round, but with much less water and is crystal clear during the dry to hot seasons. It is possible to swim in some of the ponds but the water stream can be quite strong during the rainy days in the rainy season.
Klong Pla Kang Waterfall
Located 5 km north from park headquarters, another 7 tiered waterfall is worth a visit, accessible by a bit over 1 km long trail. The area has an interesting mix of ferns and orchids. Several of the ponds are suitable for swimming. The visitor center area of this waterfall doesn't have any restaurants.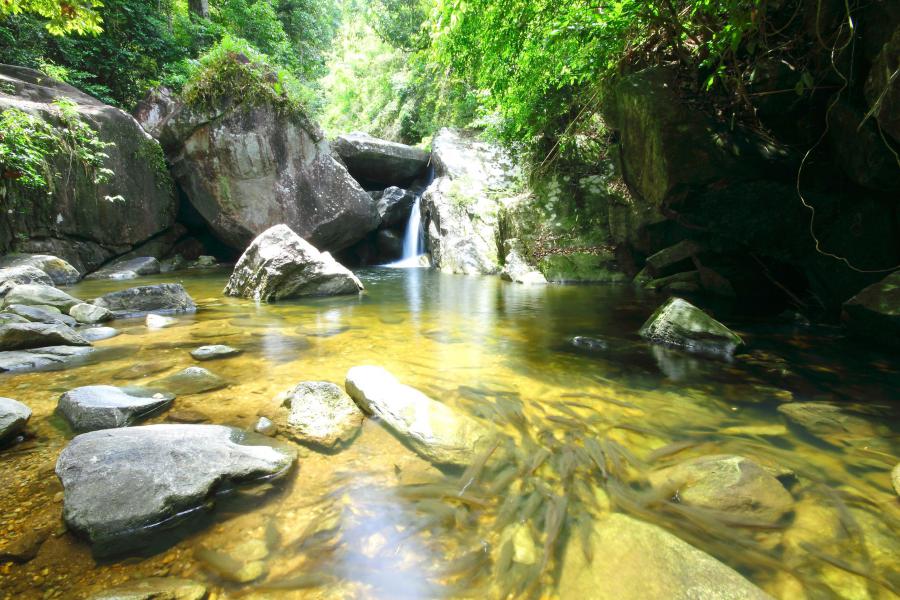 Khao Wong Caves
Khao Wong area of the national park is an isolated small mountain 5 km south east of Khao Chamao, nearly 20 km from the headquarters.
The main attraction of Khao Wong area is Khao Wong Caves, a series of caves accessible by a trail through an impressive forest habitat surrounded by limestone cliffs. The cave is very popular during the winter and dry seasons, attracting many local and foreign tourists. Due to its muddy nature the cave gets less visitors during the rainy seasons.
A trail that starts from a nearby checkpoint leads to the first shrine-cave which has nearly 7 meter wide opening and an average of 35 meters height through it. Continuing through this cave, the trail will lead to a wide and high entrance (exit) at the other end, this entrance is covered with vegetation hanging from above and with sight of forest outside, making it a spectacular view while walking out. The trail will continue between cliffs to a number of other caves through forests; entrances to these sub-caves are only a few hundred meters apart.
During the cold and dry seasons the trails are pretty dry and easily accessible. During the wet season the trail gets muddy through forested areas, many water ponds will build up blocking the route. A rubber boot nearly knee height may be required. Hiking through the caves must be accompanied by a ranger during the rainy seasons, they can be hired at the checkpoint. There are times when it rains too much, the trail will be closed.
Although some may find it unpleasant to walk in mud, in our opinion, walking this trail is best during the rainy season as the lush and green forest passage between limestone cliffs gives a true jungle feeling. Saying this, the muddy conditions can be far too much during certain times. The muddy passage makes the walk more adventurous, it is no doubt one of the best cave walks in Thailand if you don't mind mud.
There are a total 80 caves in Khao Wong area, but not all are accessible.