Private Tour

|

3-days/2-nights private tour in Khao Sok Lake

Situated between Khao Sok National Park and Khlong Saeng Wildlife Sanctuary, Cheow Lan Lake has one of the most beautiful scenic views in Thailand.

While a 2-day/1-night stay leaves less time for various activities due to check-in and check-out times from the raft houses, a 3-days/2-nights tour gives a much better opportunity to enjoy more of the attractions and activities around the lake.

With the 3-days/2-nights tour in Khao Sok you will be able to see scenic rock formations, hike to a viewpoint, visit a cave, hike in the jungle, kayak and drive around in the vicinity of your raft house for wildlife watching. The tour includes two nights stay in a raft house of your choice, a private guide and a private boat with driver. No others will share the guide or the boat with you during the tour.
Raft house options
Phupha Waree Raft House (deluxe)
Phupha Waree is set back in a private alcove just inside Klong Pey. It features modern rooms with queen size beds. Equipped with private bathrooms, a/c, balconies and can accomodate 2-4 people.
For the dates concerning high season months, week-ends (Fri-Sat nights) and public holidays, rooms at Phupha Waree should be booked well in advance. The rooms are available for booking a maximum 3 months in advance.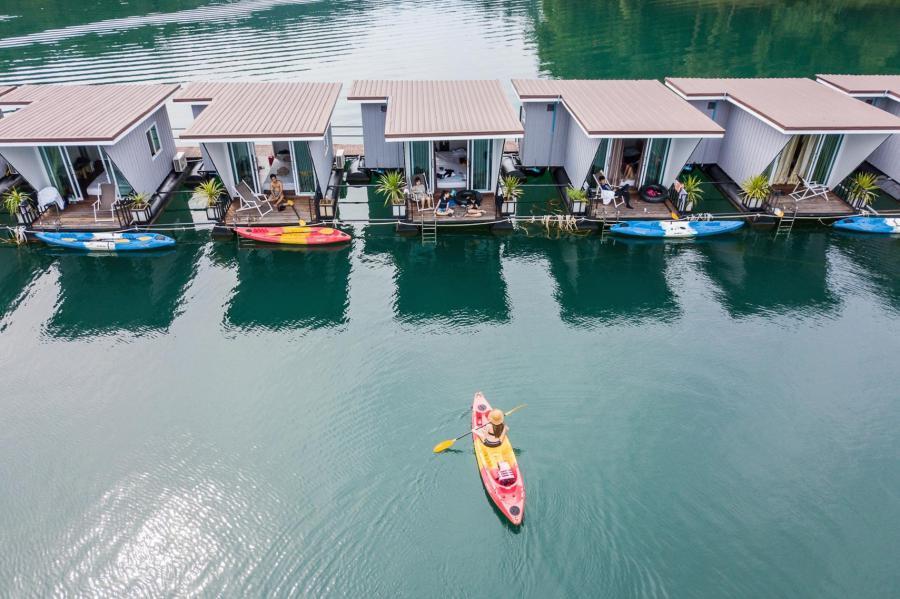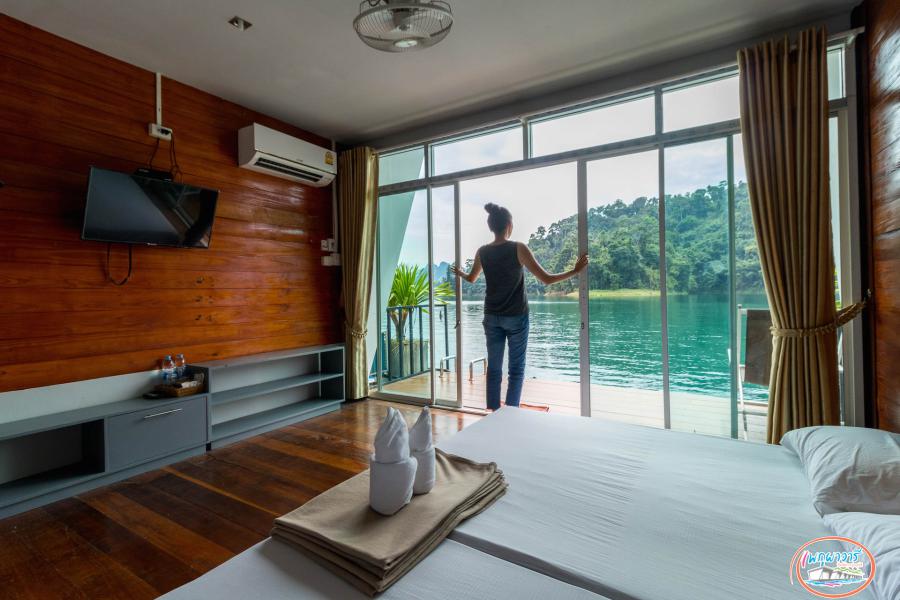 Laguna Cheow Lan (deluxe)
Laguna Cheow Lan is located in Khlong Long tributary, in the middle of the lake. It features wooden rooms with king size beds. Equipped with private bathrooms, a/c, balconies and can accomodate 2-3 people; 2 pax rooms with a king size bed, 3 pax rooms with a king size bed and a single bed.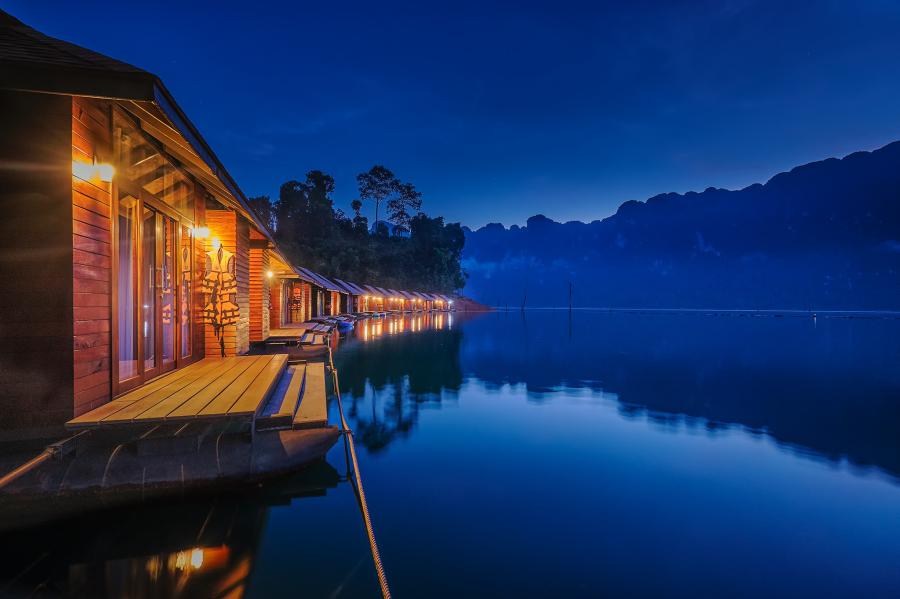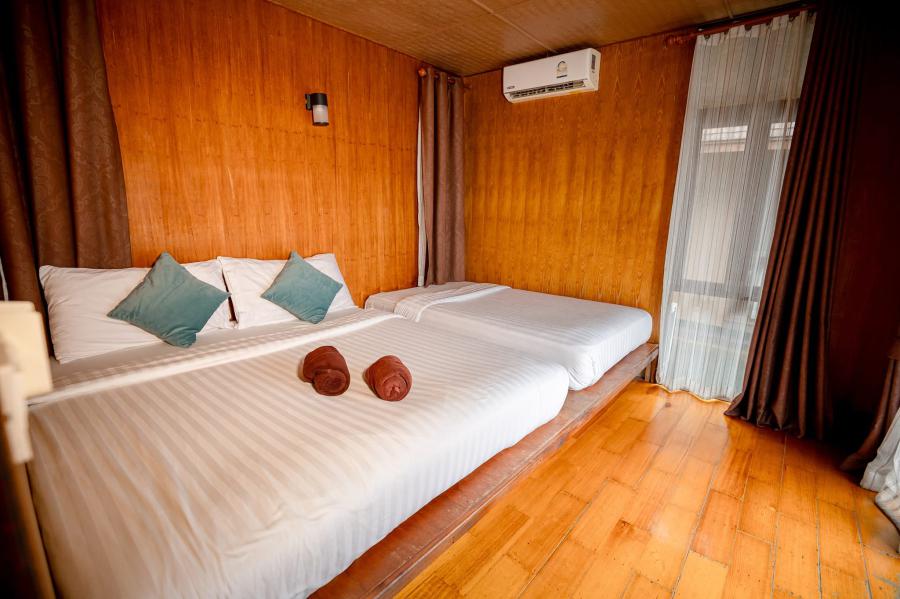 Sai Chon Raft House (wooden)
Sai Chon Raft House is a cheaper alternative compared to deluxe ones, located in Khlong Long tributary of the lake, not too far from the pier. The quality is somewhere between bamboo and deluxe options. The rooms can accommodate 2-4 people with king size beds, equipped with fans and has rooms with both private and shared bathroom facilities. As default we will try book private bathroom options, if not available we will book shared bathroom options.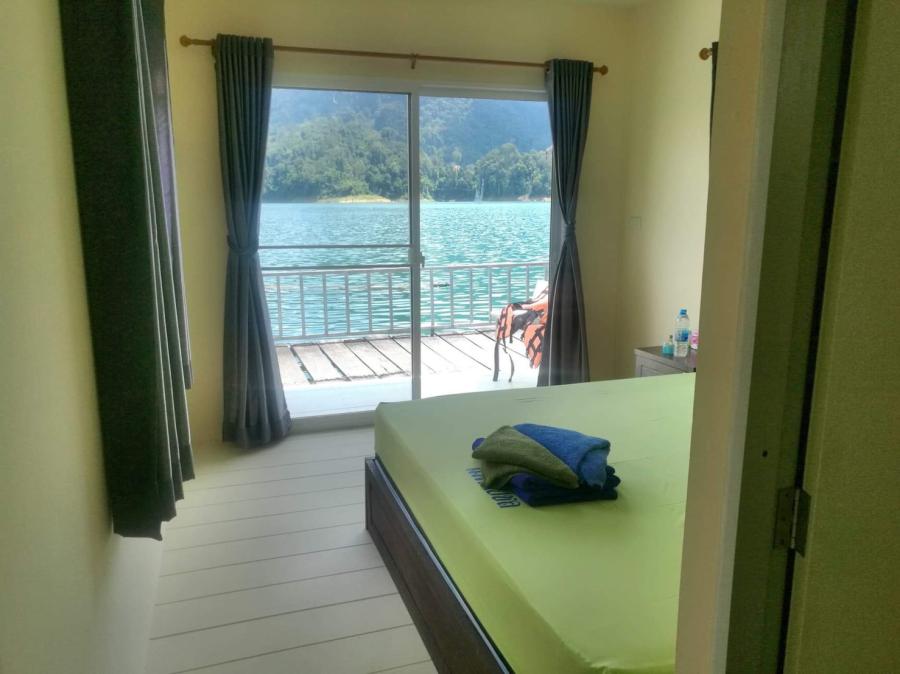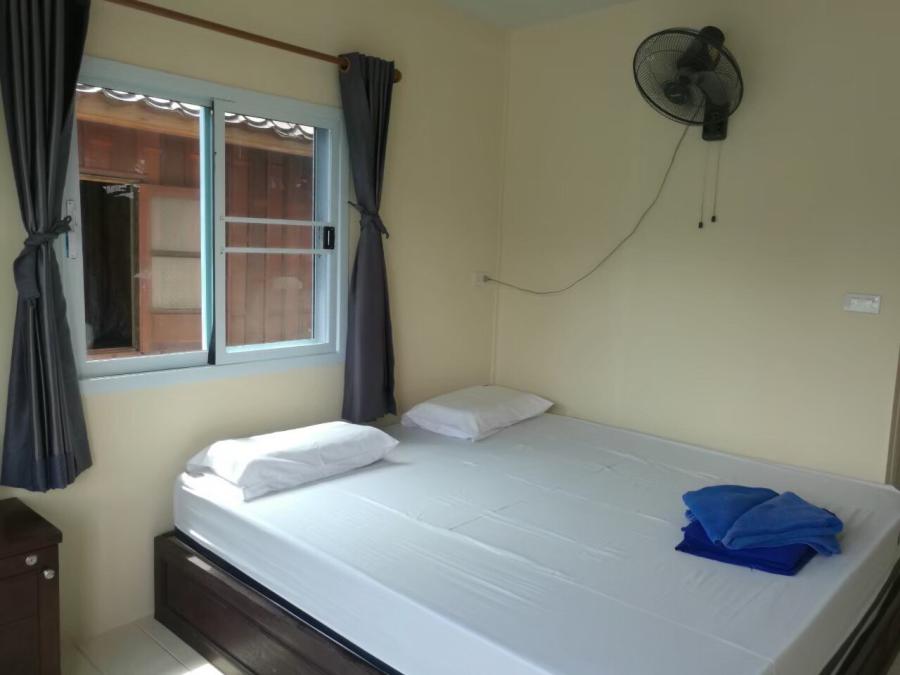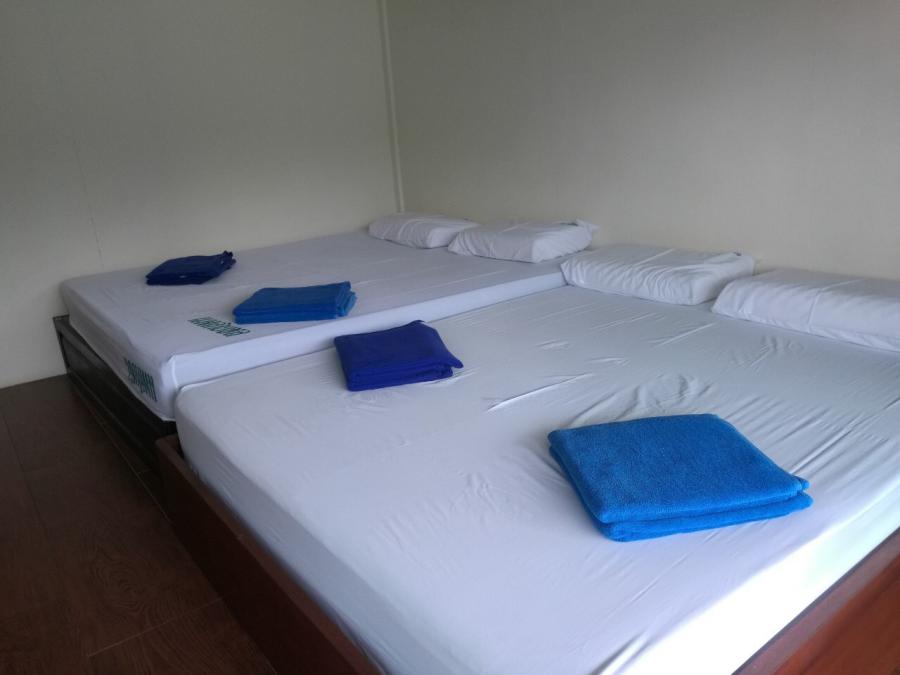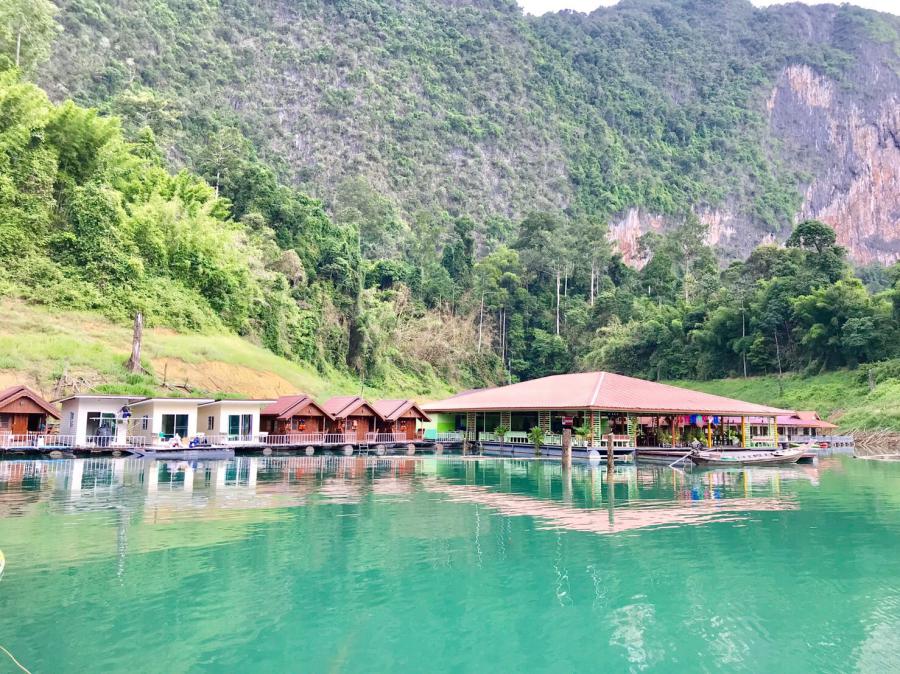 Krai Son Raft House (basic bamboo)
Krai Son is perched at the entrance to Klong Yee at the remote end of the lake. It is equipped with traditional style bamboo bungalows (2 pax, double beds), no fan, with shared bathroom facilities on land next to the raft house. It is the only raft house on the lake with a view of sunrise and sunset. Local attractions include a viewpoint hike which overlooks the entire lake, and it is close by to the Khlong Saeng wildlife sanctuary not too far from Phupha Waree.
We do not recommend Krai Son to families with kids.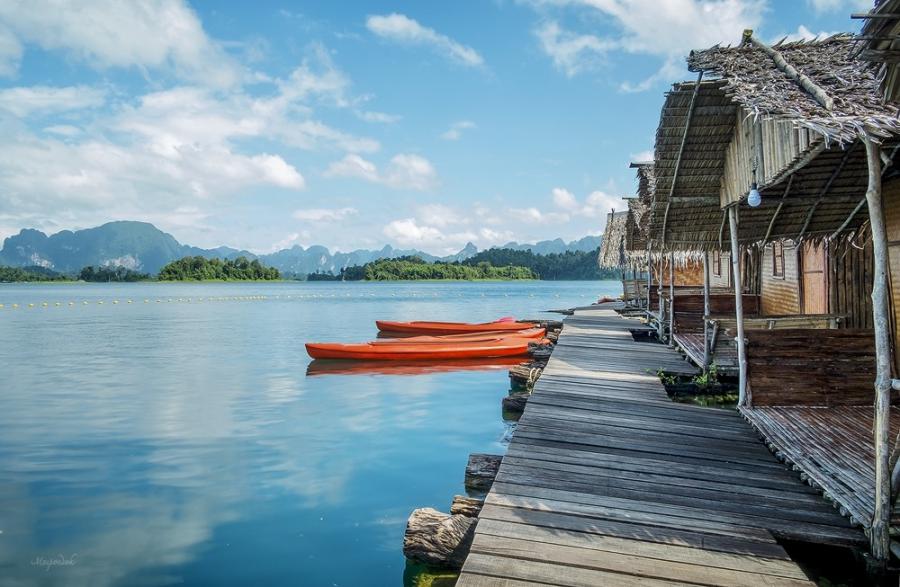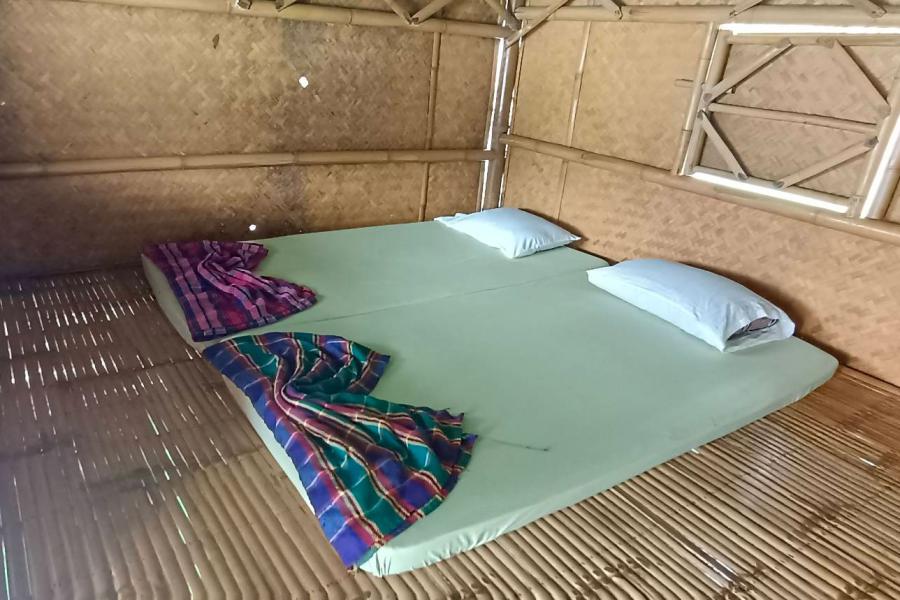 Itinerary
The following itinerary is just an example. Depending on weather conditions, your suggestions or eventual shorter/longer time you may decide to spend at attractions may change the planning. Example; you may decide to do more kayaking, skip some activities for the other, or simply just decide to relax and spend some time with friend(s)/family at the raft house.
Day 1
10 am, Board your long-tail boat at Rajjaprabha Dam (Cheow Lan Lake Pier) enjoy the scenic tour of limestone karst formations on the way to floating bungalows
Check in to the raft house (deluxe or basic bamboo/wooden). Enjoy a traditional Thai lunch
Depart for a guided hike to a nearby viewpoint which has a breathtaking view over the lake
Return to the raft house for a swim, relax and enjoy the scenery
Afternoon wildlife safari by boat
Enjoy your dinner
Day 2
Breakfast
Board long tail boat for a morning wildlife safari by boat
Return to the rafthouse for free time
After lunch, guided jungle hike
Return to the raft house for a swim, relax
Enjoy a traditional Thai dinner
Day 3
Rise before breakfast for the morning mist safari, the best time to gibbons, macaques and dusky leaf monkeys
Return to raft house for breakfast
Explore the surrounding area by kayak
Check-out from the raft hour around 10:30 am, tour ends around 11:30 am to 12 pm at the pier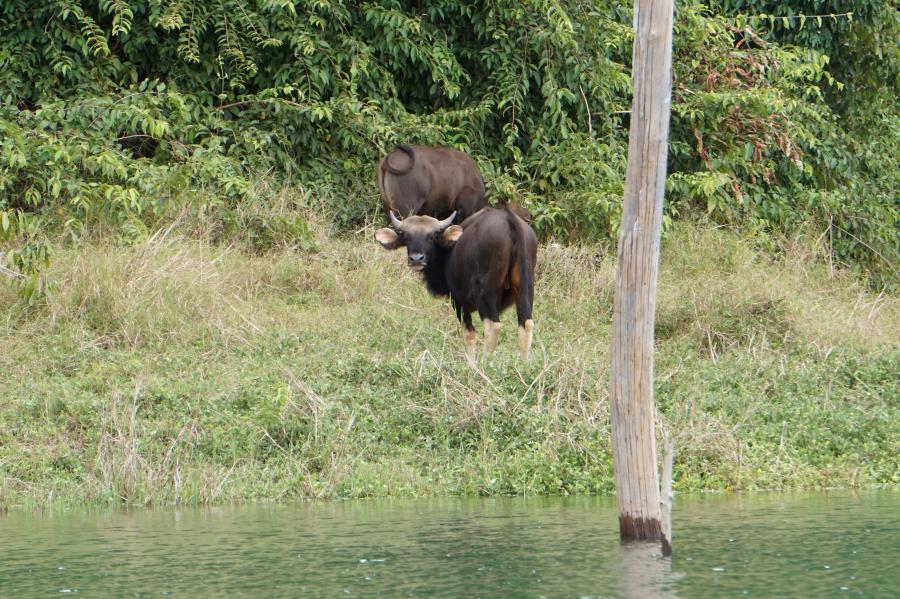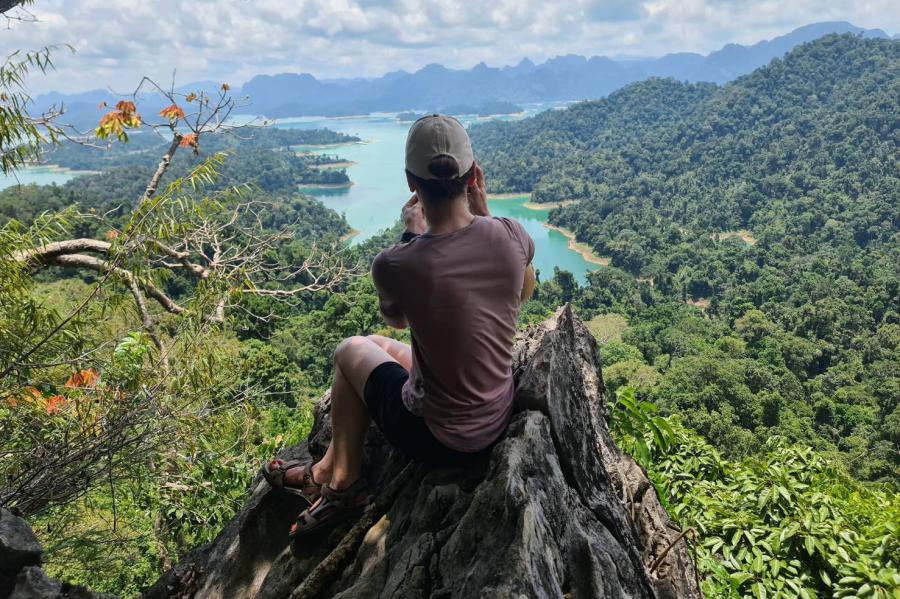 Where & When?
This tour is operated all year round.
The tour starts in Cheow Lan Lake (Rajjaprabha Dam), 65 km from park headquarters. It is easy to get to nearby Ban Takhun Town with buses operating from various destinations like Bangkok, Phuket, Krabi or Surat Thani. Private transfers by taxi or minivan can be arranged on request.
On the week-ends and long holidays the lake gets very busy with the local tourists. The high end and popular raft houses like Phupha Waree tend to get fully booked weeks ahead for Friday to Sundays. You are recommended to book for weekdays if possible, but if you need to book for week-end day(s), then we recommend booking at least 3-4 weeks prior to your planned trip date. It may also be hard to find an available guide for week-end dates, another reason to book far in advance.
Tour details in short:
Duration: 3 days/2 nights
Type: Private tour
Price: * see price table *
Group size: 2 or more people
Grade: Easy
Transport: Long-tail boat
Start: 10 am (day 1)
End: around 12 pm (day 3)
What to bring:
Rain clothing, specially on rainy season
Personal toiletries
Swimming clothing & towel
Hat
Flashlight
Insect repellent
Sunblock lotion
How much?
The tour will be led by a private guide which means no others will join you while exploring the lake and surrounding areas. The price for this tour package depends on the choice of accommodation and number of people, please see price per person further down.
The prices below do not include entrance fees to the national park.
The listed prices for Phupha Waree below are valid until 28th February 2022, new price will apply from March onward. On 30th December and 1st January 2023 a higher rate will apply.
Optional charges;
Coral Cave Rafthing
From Krai Son or Phupha Waree raft houses; 1,400 Baht fixed price and 200 Baht per person entrance fee for Khlong Saeng Wildlife Sanctuary
From Laguna Cheow Lan, Sai Chon or Plearn Prai raft houses; 400 Baht fixed price and 200 Baht per person entrance fee for Khlong Saeng Wildlife Sanctuary
Wildlife oriented tour?
Although our tour is more about visiting the attractions, enjoying the scenery and water activities in the lake, our price includes a bit of safari driving around the lake in hope to see a glimpse of wildlife around.
If you wish a more wildlife oriented tour, we can arrange it for an additional change depending on the raft house location, then our guide could take you to Khlong Saeng tributary on the north/west end of the lake one afternoon. Please let us know in case. The wildlife oriented tour is only suitable for the 2nd day over a 3D/2N tour.
From Krai Son or Phupha Waree; +2,000 Baht
From Sai Chon, Plearn Prai or Laguna Cheow Lan; +3,000 Baht
Price per person
Pax
Krai Son (bamboo)
Sai Chon (wooden)
Laguna (deluxe)
Phupha Waree (deluxe)
2
8,200

THB

9,200

THB

11,600

THB

11,500

THB

3
6,500

THB

7,200

THB

9,100

THB

8,700

THB

4
5,400

THB

6,200

THB

7,700

THB

7,700

THB

5
4,950

THB

5,700

THB

7,650

THB

7,500

THB

6
4,500

THB

5,300

THB

7,100

THB

6,800

THB

7
4,350

THB

5,100

THB

6,600

THB

6,600

THB

8
4,100

THB

4,900

THB

6,300

THB

6,300

THB
Displayed prices are per person
Tour rates include:
Lodging; basic bamboo, wooden or deluxe
Guide
Long-tail boat transportation & boat driver
All meals & fruit
Drinking water
Canoeing
Accident insurance during the tour (covering hospital costs)
Tour rates doesn't include:
Entrance fees to the park
Transfer to the lake from the nearby towns
Reviews from our guests
By: Iain Griffith | posted Tue 31 Jan, 2023 | Phupha Waree (deluxe)
We debated if it was worth the 3.5 hour taxi from Patong and all we can say it definitely was. Comfortable and picturesque.
Our guide Junn was excellent. Making sure we had a pleasant and informed trip.
The food was excellent with plenty of time to relax after a days hiking
By: Roni Aviram Einav | posted Mon 30 Jan, 2023 | Phupha Waree (deluxe)
We had an amazing and very special experience.
Our guide Bee was charming, knew the whole environment, knew how to tell us about all the plants and animals we met and heard. Gave us a lot of value and information. It is very important that he had great English and we could communicate very well.
Bee adapted the trip exactly to what we wanted, challenging us on an amazing route by climbing a cliff.
The cabin on the water was a very special experience.
We enjoyed everything! Thank you for everything! We got a lot of experiences and garage value from this trip.
By: Tony & Amanda | posted Sat 28 Jan, 2023 | Phupha Waree (deluxe)
The tour was amazing. The views in Khao Sok are unmatched. Waking up in the morning on the lake to the sunrise can't be beat even if the beds are a little uncomfortable.
We had Junn as our guide probably one of the few remaining guides that actually loved in the area before the lake was created. Her English was very good and she was very knowledgeable of the wildlife and plants. Meals were delicious as well. Would definitely recommend
By: Capers Rumph | posted Fri 27 Jan, 2023 | Krai Son (bamboo)
We had a wonderful three days in Khao Sok. The lake itself was of course unbelievably beautiful and we had many marvelous hikes, swims, laughs, and boat rides with our guide Ruam. His sly wit, dry humor and deep knowledge of the geography, plants, and animals of the area made the trip both eye opening and hilarious.
We loved the bamboo bungalows, and took full advantage of the kayaks and paddle boards available to guests.
Our only (quasi?) complaint is that the meals served were too enormous (but delicious!) -- we ended up sharing one portion between the two of us at each meal for the last two days in order to not waste any food.
By: Margo Salamon | posted Wed 25 Jan, 2023 | Krai Son (bamboo)
We have entirely enjoyed the experience! The organization was very professional and efficient, the guide very friendly, with good English and knowledge about the area and the food was exceptional. The only discomfort was caused by the compulsory life jackets during swimming.
By: Giulia Commis | posted Wed 25 Jan, 2023 | Phupha Waree (deluxe)
Hi, sorry for ma late answer. I cannot miss the opportunity to leave a feedback about the three amazing days in Khao Sok. It was the best part of our holiday in Thailand. The national park is more beautiful than expected, no photo or video can well describe the feelings when you arrive there. It's a paradise! The jungle excursion was peaceful and the stay at the resort so relaxing and recharging. Although I think that what made unforgettable it was the guide of Junn and John. We will remember the time spent with them forever! We had the feeling to be at home with friends. Thanks for everything! We will recommend it! Ps: could you share with me the Junn's Facebook profile? I would like to stay in contact with her.
By: Zeb Hellström | posted Fri 20 Jan, 2023 | Krai Son (bamboo)
Amazing tour. Amazing food. Amazing views! And Junn was a fantastic guide, a lot of energy, knowledge and spoke decent English.
Thanks!
By: Dorit Lederman | posted Sat 14 Jan, 2023 | Phupha Waree (deluxe)
We had an amazing time at Khao Sok and the 3 days 2 nights tour was amazing.
High light:
Our guide Chuen was absolutely great, smart, friendly and good with our kids as well.
The location of our accommodation is amazing and we had wonderful swims in the lake.
Opportunity for improvement:
Mattresses are quite bad and you can feel the springs. Would appreciate a better quality mattress.
Breakfast is not very good, not many options and served cold.
All together the above are small improvements but nonetheless we loved it very much!!!
Thank you
By: Bianca De Santis | posted Wed 11 Jan, 2023 | Sai Chon (wooden)
We loved the tour and especially loved our guide Junn. She made our experience very special and are very thankful for that. Please pass this onto her.
Bianca and Nathan
By: Eva Leeuwerck | posted Mon 9 Jan, 2023 | Phupha Waree (deluxe)
Amazing tour, great views and a very friendly guide. Probably our best few days we had in Thailand!