Private Tour

|

3-days/2-nights private tour in Khao Sok Lake

Situated between Khao Sok National Park and Khlong Saeng Wildlife Sanctuary, Cheow Lan Lake has one of the most beautiful scenic views in Thailand.

While a 2-day/1-night stay leaves less time for various activities due to check-in and check-out times from the raft houses, a 3-days/2-nights tour gives a much better opportunity to enjoy more of the attractions and activities around the lake.
Activities
With the 3-days/2-nights tour in Khao Sok you will be able to see scenic rock formations, hike to a viewpoint, visit a cave, hike in the jungle, kayak and drive around in the vicinity of your raft house for wildlife watching. The tour includes two nights stay in a raft house of your choice, a private guide and a private boat with driver.
Why to book?
While the group tours offered by most companies are conducted with larger boats, shared by 12-18 people and has a fixed itinerary, no others will share the guide or the boat with you during our tours. Our tours are strictly private and flexible.
Raft house options
Panvaree The Greenery Raft House (deluxe)
While most raft houses in the lake have on average around two dozen bungalows, Panvaree The Greenery Raft House have fewer which makes it a relatively quiet place even when the place is fully booked. Quality wise it is no doubt one of the best and popular raft houses in the lake. The raft house is located in the entrance of Khlong Long tributary.
Following are the type of rooms;
Superior 2 pax - For 2 adults or 2 adults + small child (child to share same bed as parents but quoted half price). Room can be with either a double bed or two single beds, unfortunately can't be chosen, either one can be booked depending on availability and other circumstances.
Family rooms; For 3+ pax, max 6 person per house (with exception that small childred can share bed with adults)
The price for rooms varies depending on week-day, week-end day or holidays.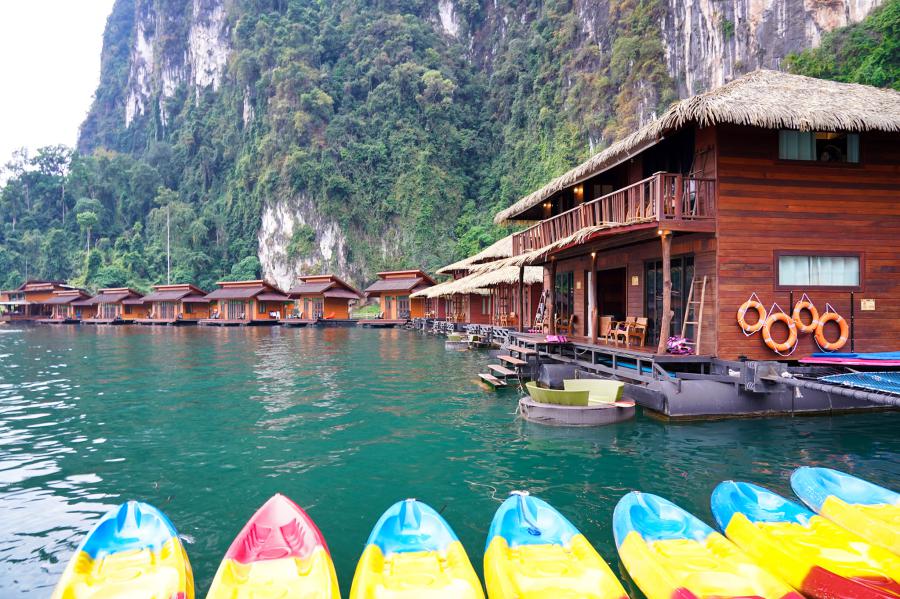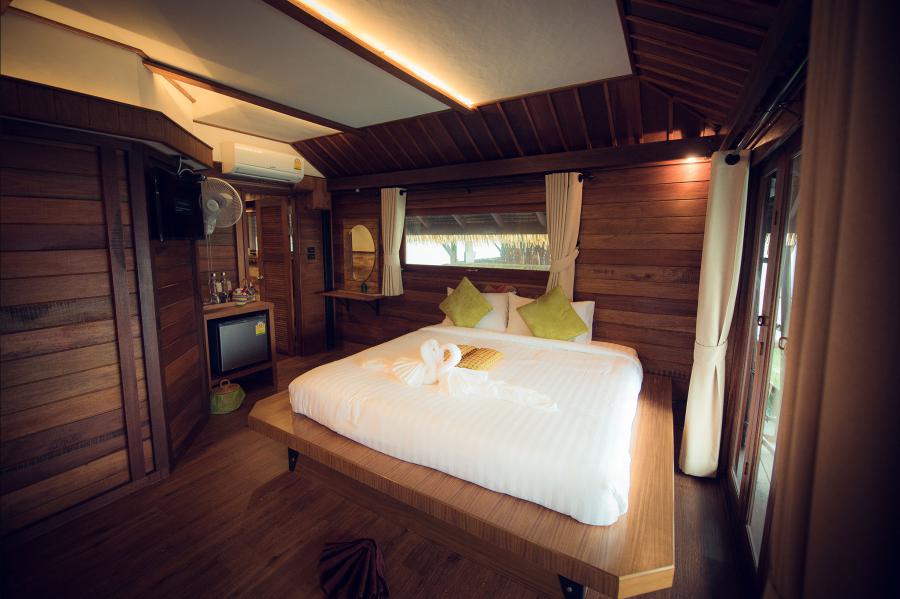 Phupha Waree Raft House
Phupha Waree is set back in a private alcove just inside Klong Pey, compared to most basic/average raft houses in the lake it is considered a bit better option. The rooms are equipped with 2 queen size beds, a private bathroom, a/c, balcony and can accommodate 2-4 people. While the smaller rooms will be booked for up to 3 people, the larger rooms will be booked for 4 people.
The rooms are available for booking a maximum 3 months in advance.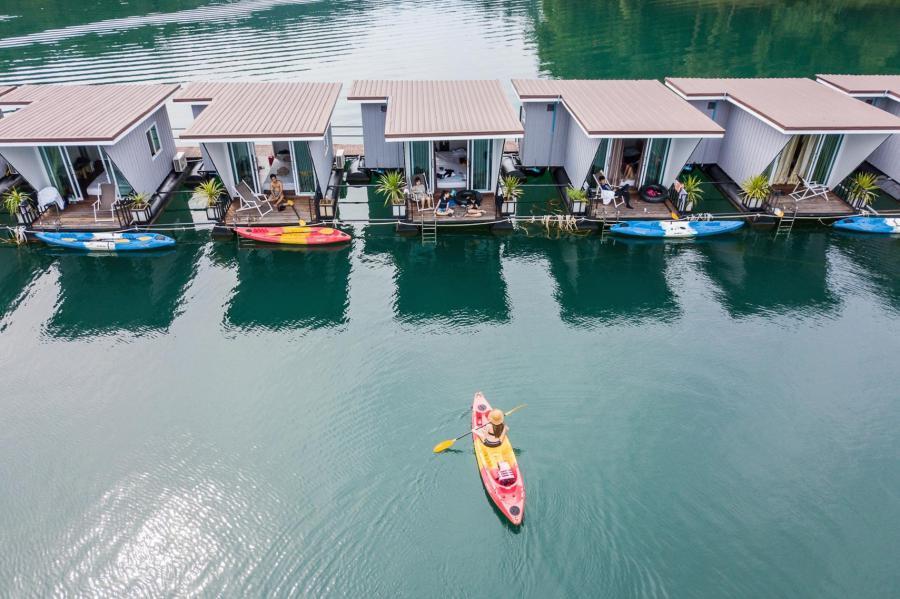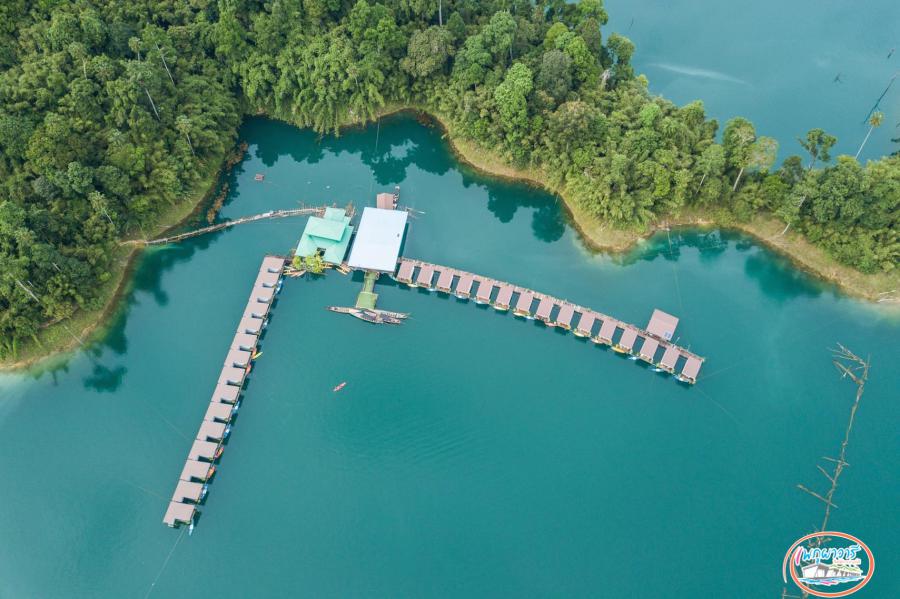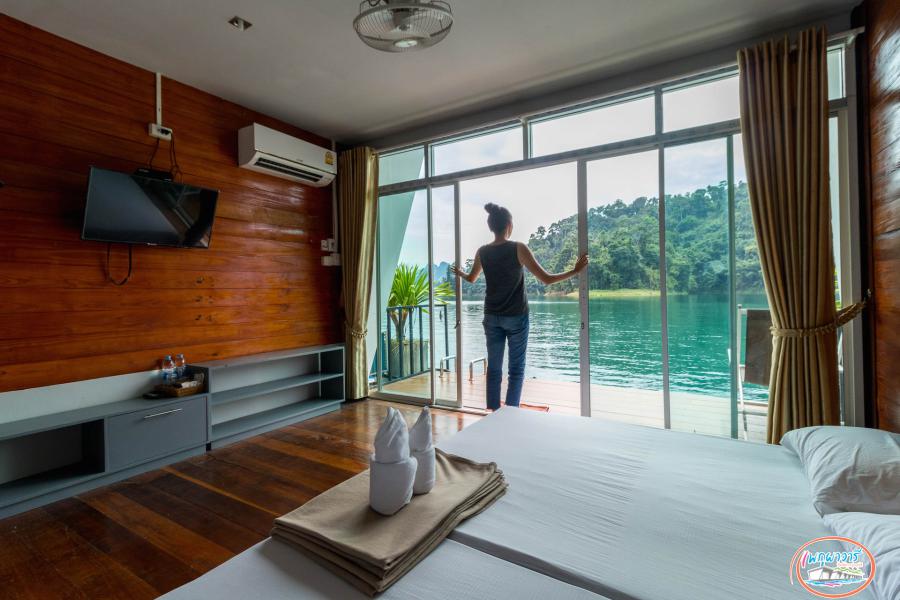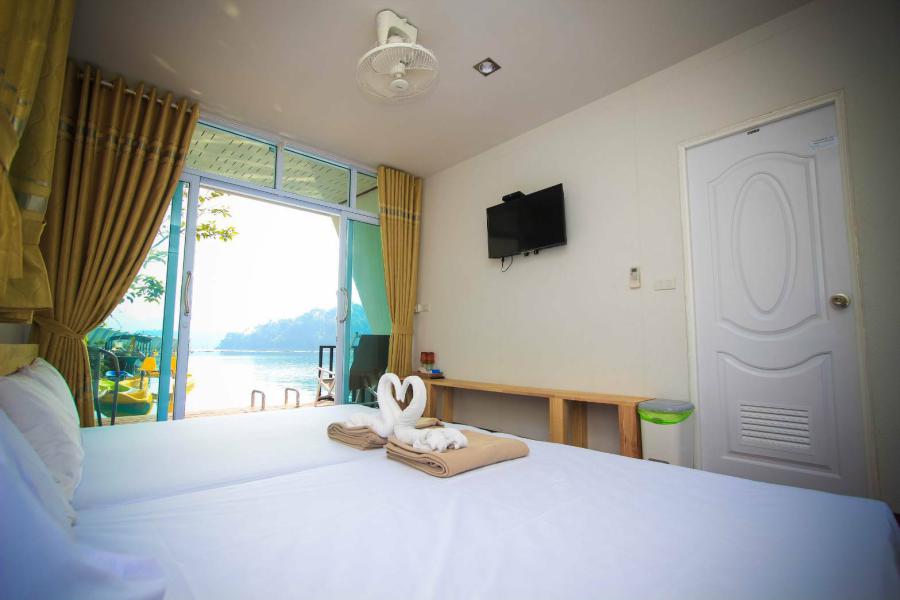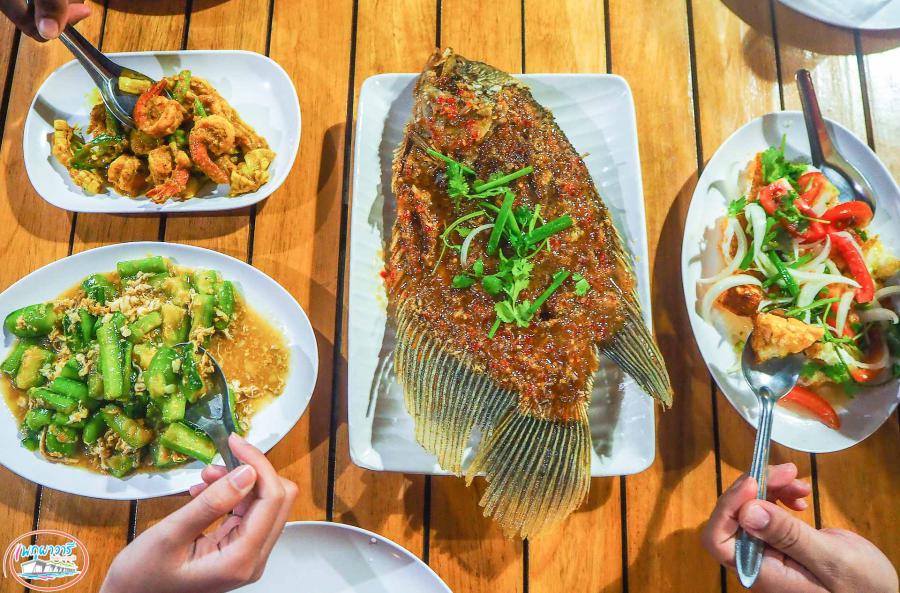 Laguna Cheow Lan
We are not offering the Laguna Cheow Lan option until further notice.
Laguna Cheow Lan is located in Khlong Long tributary, in the middle of the lake. It features wooden rooms with king size beds. Equipped with private bathroom, a/c, balcony and can accommodate 2-3 people; 2 pax rooms with a king size bed, 3 pax rooms with a king size bed and a single bed.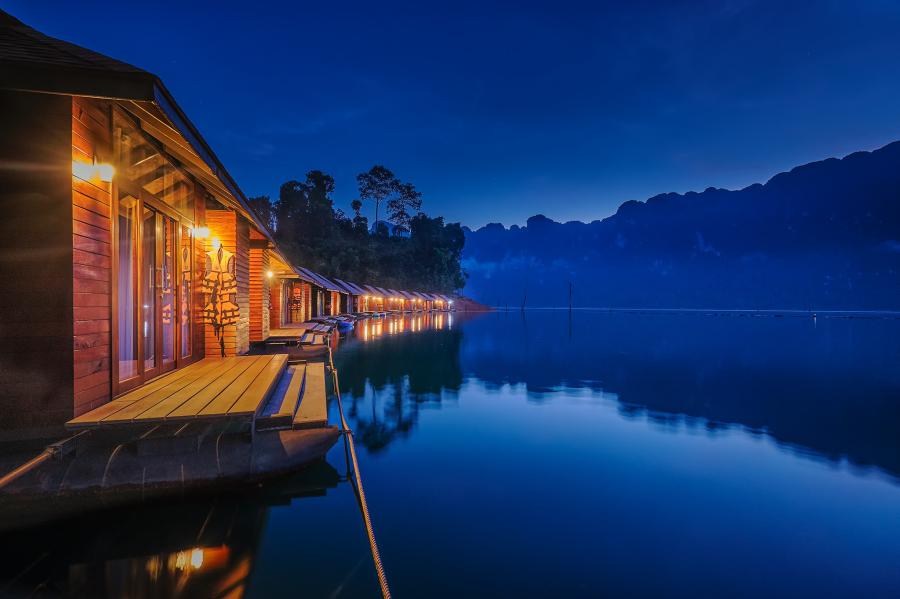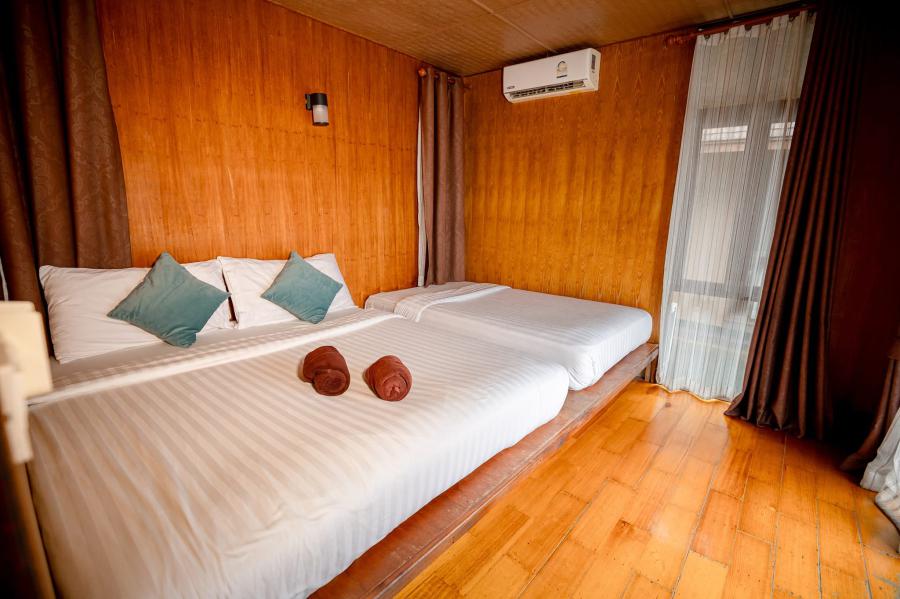 Sai Chon Raft House
Sai Chon Raft House is a cheaper alternative compared to high end ones, located in Khlong Long tributary of the lake, not too far from the pier. The quality is somewhere between bamboo and high end options. The rooms can accommodate 2-4 people with king size beds, equipped with fans and has rooms with private bathroom.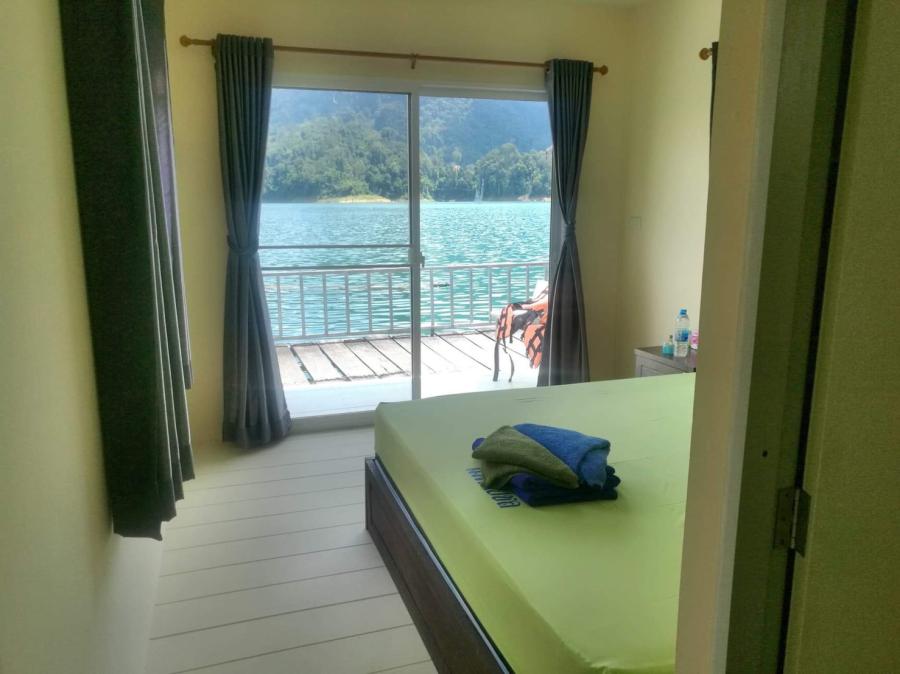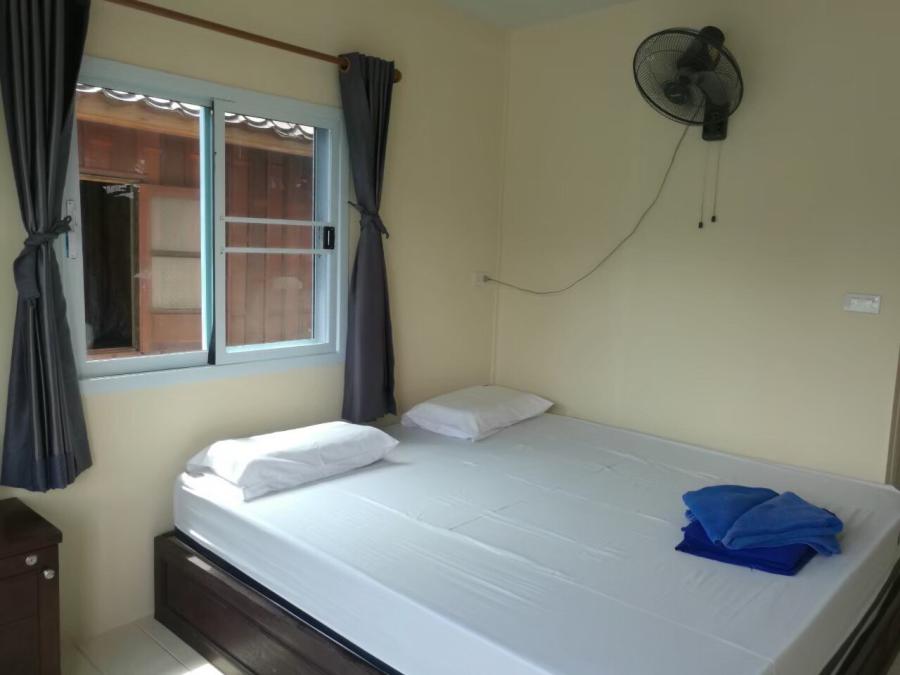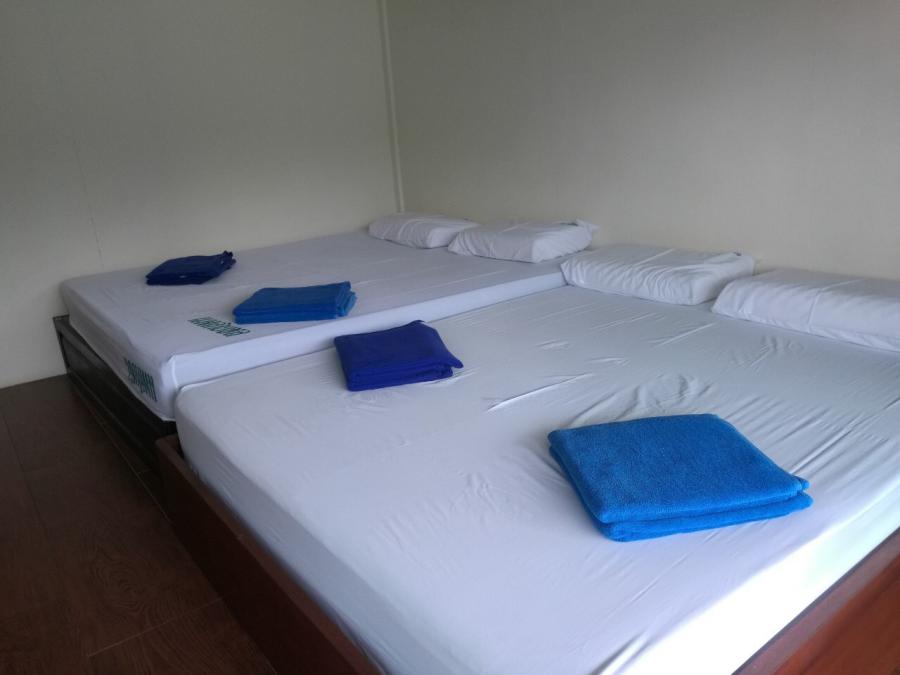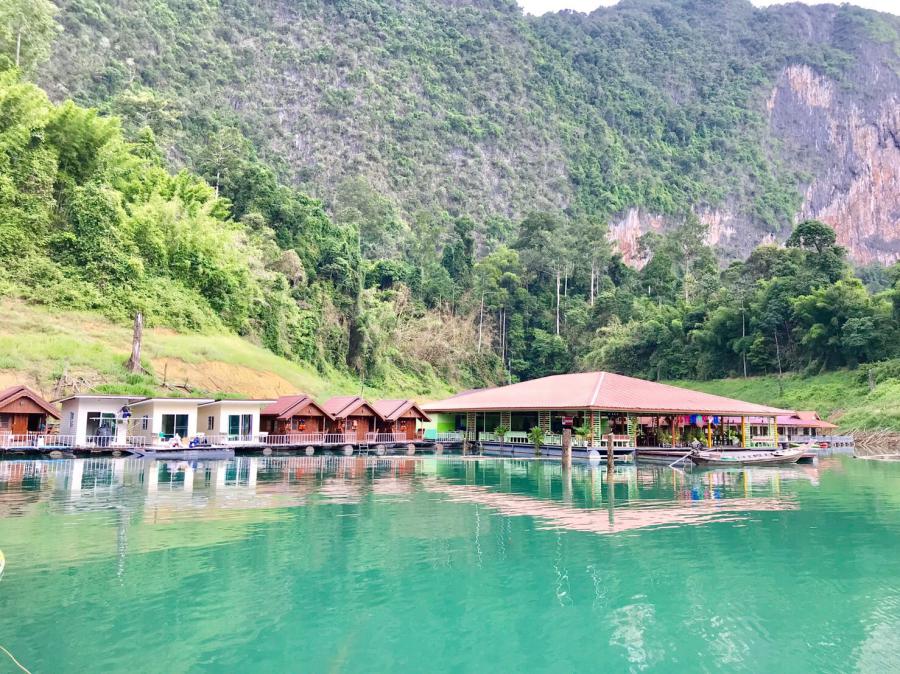 Krai Son Raft House (basic bamboo)
Krai Son is perched at the entrance to Klong Yee at the remote end of the lake. It is equipped with traditional style bamboo bungalows (2 pax, double beds), no fan, with shared bathroom facilities on land next to the raft house. It is the only raft house on the lake with a view of sunrise and sunset. Local attractions include a viewpoint hike which overlooks the entire lake, and it is close by to the Khlong Saeng wildlife sanctuary not too far from Phupha Waree.
We do not recommend Krai Son to families with kids.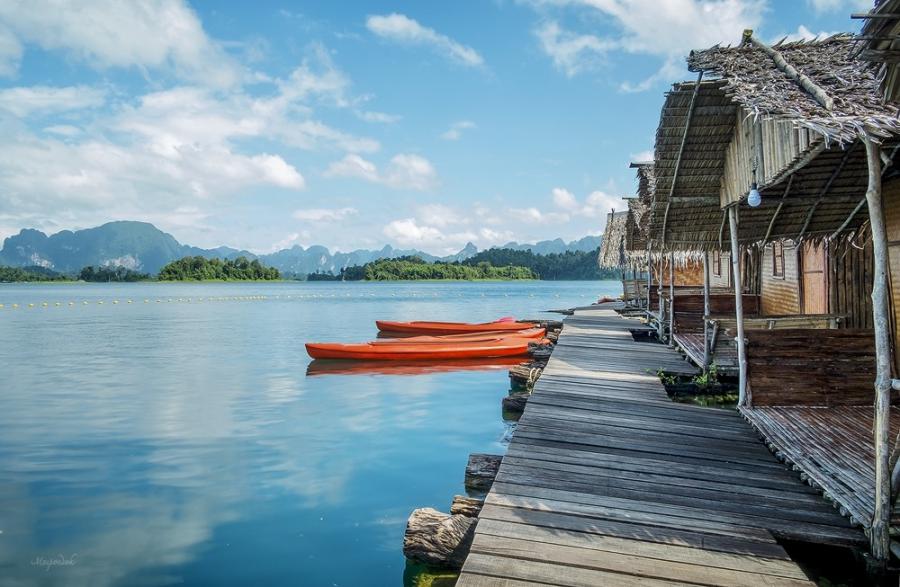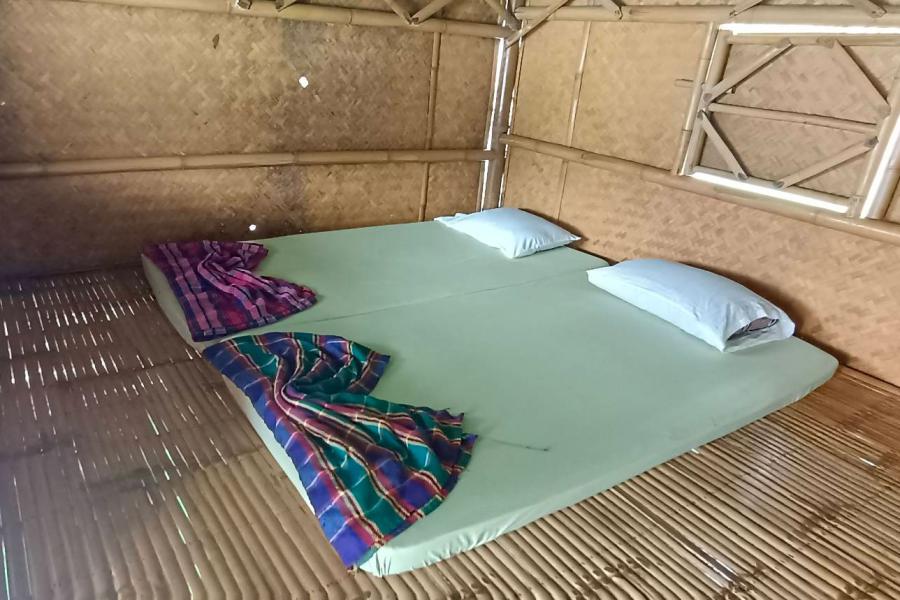 Itinerary
The following itinerary is just an example. Depending on the location of your raft house, weather conditions, your suggestions or eventual shorter/longer time you may decide to spend at attractions may change the planning. Example; you may decide to do more kayaking, skip some activities for the other, or simply just decide to relax and spend some time with friend(s)/family at the raft house.
Day 1
10 am, Board your long-tail boat at Rajjaprabha Dam (Cheow Lan Lake Pier) enjoy the scenic tour of limestone karst formations on the way to floating bungalows
Check in to the raft house. Enjoy a traditional Thai lunch
Depart for a guided hike to a nearby viewpoint which has a breathtaking view over the lake
Return to the raft house for a swim, relax and enjoy the scenery
Afternoon wildlife safari by boat
Enjoy your dinner
Day 2
Breakfast
Board long tail boat for a morning wildlife safari by boat
Return to the rafthouse for free time
After lunch, guided jungle hike
Return to the raft house for a swim, relax
Enjoy a traditional Thai dinner
Day 3
Rise before breakfast for the morning mist safari, the best time to gibbons, macaques and dusky leaf monkeys
Return to raft house for breakfast
Explore the surrounding area by kayak
Depending raft house and it's location, check-out from the raft hour around 9:30 to 10 am, tour ends around 11:30 am to 12 pm at the pier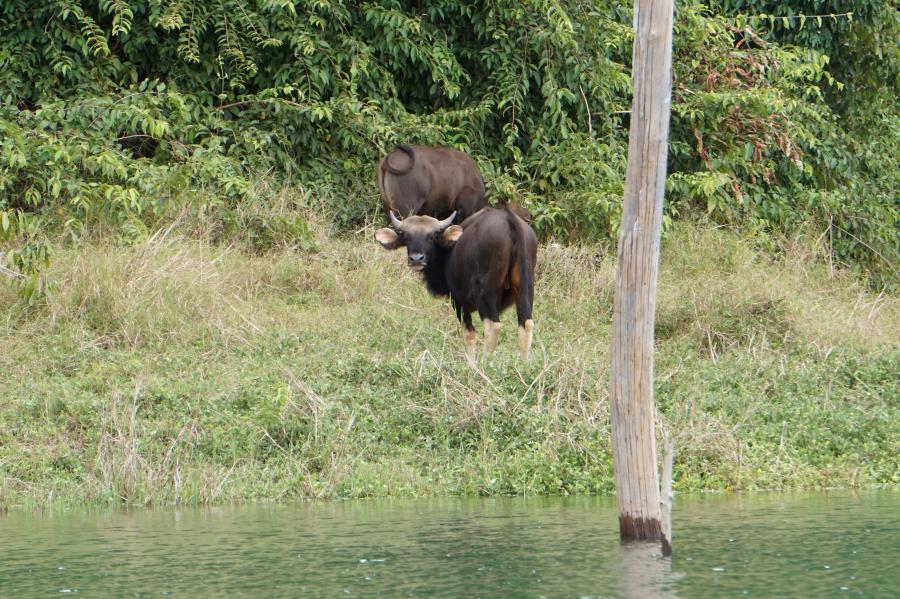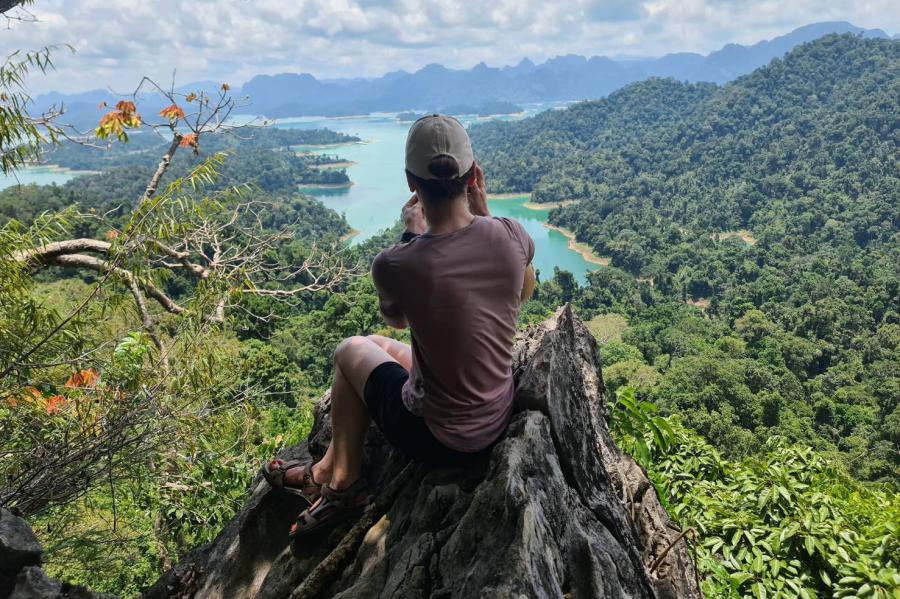 Where & When?
The tour starts in Cheow Lan Lake (Rajjaprabha Dam), 65 km from park headquarters. It is easy to get to nearby Ban Takhun Town with buses operating from various destinations like Bangkok, Phuket, Krabi or Surat Thani. Private transfers by taxi or minivan can be arranged on request.
When to book?
Panvaree The Greenery should be booked at least 5-6 months in advance for nearly any period of the year. It is one of the most popular raft houses in the lake.
The rooms at Phupha Waree will become available for booking 3 months in advance. For the dates concerning high season months from December to mid April, week-ends (Fri-Sat nights) and public holidays, the rooms at Phupha Waree should be booked well in advance.
Sai Chon should also be booked earliest possible for any week-end/holiday concerned dates.
Krai Son tends to have availability even when booked weeks/days ahead but can be fully booked months in advance for long week-end holidays.
This tour is operated all year round.
Tour details in short:
Duration: 3 days/2 nights
Type: Private tour
Price: * see price table *
Group size: 2 or more people
Grade: Easy
Transport: Long-tail boat
Start: 10 am (day 1)
End: around 11:30 am - 12 pm (day 3)
What to bring:
Rain clothing, specially on rainy season
Personal toiletries
Swimming clothing & towel
Hat
Flashlight
Insect repellent
Sunblock lotion
How much?
The tour will be led by a private guide which means no others will join you while exploring the lake and surrounding areas. The price for this tour package depends on the choice of accommodation and number of people, please see price per person further down.
The prices below do not include entrance fees to the national park.
Optional charges;
Coral Cave Rafthing
From Krai Son or Phupha Waree raft houses; 1,400 Baht fixed price and 200 Baht per person entrance fee for Khlong Saeng Wildlife Sanctuary
From Laguna Cheow Lan, Sai Chon or Plearn Prai raft houses; 400 Baht fixed price and 200 Baht per person entrance fee for Khlong Saeng Wildlife Sanctuary
Wildlife oriented tour?
Although our tour is more about visiting the attractions, enjoying the scenery and water activities in the lake, our price includes a bit of safari driving around the lake in hope to see a glimpse of wildlife around.
If you wish a more wildlife oriented tour, we can arrange it for an additional change depending on the raft house location, then our guide could take you to Khlong Saeng tributary on the north/west end of the lake one afternoon. Please let us know in case. The wildlife oriented tour is only suitable for the 2nd day over a 3D/2N tour.
From Krai Son or Phupha Waree; +2,000 Baht
From Sai Chon, Panvaree or Laguna Cheow Lan; +3,000 Baht
Price per person
Pax
Krai Son
Sai Chon
Laguna
2
8,200

THB

9,200

THB

11,600

THB

3
6,500

THB

7,250

THB

9,100

THB

4
5,400

THB

6,300

THB

7,700

THB

5
4,950

THB

5,800

THB

7,650

THB

6
4,500

THB

5,400

THB

7,100

THB

7
4,350

THB

5,200

THB

6,600

THB

8
4,100

THB

5,000

THB

6,300

THB
Price per person
Pax
Phupha Waree
Panvaree
2
11,500

THB

13,400 to 15,400

THB

3
8,700

THB

13,600 to 16,700

THB

4
7,700

THB

10,400 to 11,600

THB

5
7,500

THB

12,200 to 15,400

THB

6
6,800

THB

9,500 to 10,800

THB

7
6,600

THB

n/a
8
6,300

THB

n/a
Displayed prices are per person
Tour rates include:
Lodging
Guide
Long-tail boat transportation & boat driver
All meals & fruit
Drinking water
Canoeing
Accident insurance during the tour (covering hospital costs)
Tour rates doesn't include:
Entrance fees to the park
Transfer to the lake from the nearby towns
Reviews from our guests
By: Tobias Gierlichs | posted Mon 21 Nov, 2022 | Krai Son (bamboo)
We can highly recommend the trip to Cheow Lan Lake within Khao Sok National Park. Also we were happy with choosing the 3D/2N option as it was just more relaxed and individual than the other tours around us mainly doing the 2D/1N option.
Junn, our guide, and Dit, our skipper, did a great job giving us an impression of the landscape and nature of the park and of course spotting a lot of animals for us. Also we did spectacular hikes in an environment that one could really still call wilderness.
Some better knowledge of the park's inhabitants would have been nice as several questions in relation to animals that we saw could not fully be clarified. But as it is no defined wildlife tour and we were very spoiled from our Khao Yai tour before, it's high-level whinging ;)
Krai Son raft house is a good choice if you like staying in a relatively remote part of the lake with less boat traffic being able to listen to gibbons and birds in the morning. What you see is what you get, so it's basic, but it's okay and we didn't miss a fan or aircon.
Just the kayak equipment urgently needs to be improved.
Food was quite good, but too much. It would be good to let the customer choose how many dishes they want to reduce overproduction.
By: Daniel Marcolini | posted Sun 20 Nov, 2022 | Sai Chon (wooden)
We really enjoyed the tour. We had a private guide named Ruam. He did a fantastic job. We saw elefants, bears and many further animals.
Ruam did the tour individual to our wishes. The tour was expensive, but definitely worth the money.
By: Alexandre Roux | posted Fri 18 Nov, 2022 | Phupha Waree
We were expecting to be treated as guests, we felt like we were friends on an amazing holiday trip thanks to our super and fun guide Junn.
She was really taking good care of us at any time and spent some time to talk and tell interesting stories about the area, the lifestyle, the wildlife and more.
We can highly recommend this tour with Junn if you are looking for an amazing experience and nice people.
By: Betty C. | posted Thu 17 Nov, 2022 | Krai Son (bamboo)
We had an amazing trip, our guide Num is so so funny, amazing and gentle ! I recommand him very much, he's one of the best guide I had in all my travels 😁
By: Thom Spuijbroek | posted Sat 29 Oct, 2022 | Sai Chon (wooden)
Everything was great but the food was a little too much and the blanket was really small.
By: Josep Xarles | posted Fri 28 Oct, 2022 | Phupha Waree
The guides are very experienced, we had two tours in different national parks, Khao Yai and Khao Sok. In both guides and good was amazing.
By: Dorthe Duhm | posted Fri 21 Oct, 2022 | Phupha Waree
Es ist eine sagenhafte Natur. Unsere Guide Junn ist super nett und hatte trotz Regen immer super Ideen. Es waren sehr entspannte Tage. Toller Ausflug zum Waterfall...überraschend sind wir mit Junn sicher hoch und wieder runter gekommen. Junn hat immer schöne Fotos von uns gemacht und hatte den besten Blick für die Hintergründe. Unser lontailkapitan hatte immer Rundumblick und Tiere entdeckt...so schön zu beobachten....fragt nach Junn...she is the best....danke auch an das Team beim floating... essen sehr lecker und aufmerksam. Beim machen Mal kommen wir zur Trockenzeit :-) danke
By: Robin Hurx | posted Fri 7 Oct, 2022 | Phupha Waree
Awesome tour! Such an amazing experience, beautiful area to discover both by boat and through hikes. Our guide did his best to spot elephants and other animals together with us, and made sure all of our needs were fulfilled!
Only notable thing was that our guide didn't fully inform us about the hike towards the viewpoint, and therefore we didn't know what was coming. This would have been preferred, given that it was quite the challenge to reach the viewpoint.
By: R Walker | posted Sun 2 Oct, 2022 | Phupha Waree
Faultless service from Thai National Parks.
We travelled Phuket to Khao Sok National Park return (Sept 2022). Communication from our first enquiry to the end of our trip was prompt and clear. Rushen was extremely well-organised and pleasant to deal with throughout. The transfer service made our travel with two children (aged 6&8) seamless and easy - an excellent driver and vehicle. At the lake, our local guide and boat driver were fun, knowledgeable, thoughtful and passionate about the area. Simple but very satisfactory accommodation from which to experience this beautiful area.
Highly recommend using this company if you wish to visit this area.
By: Dolores Montenegro Gregorio | posted Fri 2 Sep, 2022 | Phupha Waree
We spent 23 days travelling around Thailand and Cambodia, including khao yai national Park in Thailand, Angkor wat, several cities, and several islands with beatiful Beaches and corales and I want to say that our tour 3d/2n to Cheown lake organized by Thai National Parks was the Best part of the trip. It was an amazing experience, the beatiful of the scenery was astonishing, the peace, the sounds of the jungle, the animals...everything. Everything was perfectly coordinated, from the fisrt untill the Last minute throught our NP contact Rushen.
Our guide in the Park, Ruam, was very kind and knew perfectly every part of the Lake and the sorrunding jungle.
We did a lot of activities, as they had told us, all of them were very well organised and planned.
We saw a lot of wild animals, including wild elephants, it was a very special moment, I will never forget.
We did a trekking to a view point where we could see a incredible image of the Lake...
We were in Phuppa waree floating houses. They were very comfortable and the food was delicious.
I went with my husband and my 13 year old son. We all agreed it was the best tour of our trip and one of the most beatiful places we have ever been.
I recomend the tour 100%. I will surely repeat if I come back again.
Thank you to Thai NP!