Private Tour

|

3-days/2-nights private tour in Khao Sok Lake

Situated between Khao Sok National Park and Khlong Saeng Wildlife Sanctuary, Cheow Lan Lake has one of the most beautiful scenic views in Thailand.
Why?
While a 2-day/1-night stay leaves less time for various activities due to check-in and check-out times from the raft houses, a 3-days/2-nights tour gives a much better opportunity to enjoy more of the attractions around the lake.
What?
A 3-days/2-nights tour includes boat tours to scenic rock formations, hiking to viewpoints, hiking in the jungle for wildlife watching and kayaking. The tour includes stay in raft houses on remote areas of the lake.
Itinerary
The following itinerary is just an example. Depending on weather conditions, your suggestions or the eventual shorter/longer time you may decide to spend at attractions may change the planning. Example; you may decide to do more kayaking and skip some other activities.
Day 1
10 am, Board your long-tail boat at Rajjaprabha Dam enjoy the scenic tour of limestone karst formations on the way to floating bungalows
Check in to the raft house (deluxe or bamboo). Enjoy a traditional Thai lunch
Depart for a guided hike to Khao Sok's highest viewpoint which has a breathtaking view over the lake
Return to the raft house for a swim, relax and enjoy the scenery
Afternoon wildlife safari by boat
Enjoy your dinner
Day 2
Breakfast
Board long tail boat for a morning wildlife safari by boat
Return to the rafthouse for free time
After lunch, guided jungle hike
Return to the raft house to for a swim, relax
Enjoy a traditional Thai dinner
Day 3
Rise before breakfast for the morning mist safari, the best time to gibbons, macaques and dusky leaf monkeys
Return to raft house for breakfast
Explore the surrounding area by kayak
Check-out from the raft hour around 10:30 am, tour ends around noon at the pier
Where & When?
The tour starts in Cheow Lan Lake (Rajjaprabha Dam), 65 km from park headquarters. It is easy to get to nearby Ban Takhun Town with buses operating from various destinations like Bangkok, Phuket, Krabi or Surat Thani. Private transfers by taxi or minivan can be arranged on request.
This tour is operated all year round.
Raft house options
Phupa Waree Raft House (deluxe option)
Phupa Waree is set back in a private alcove just inside Klong Pey. It features modern rooms with two queen size beds. Equipped with private bathrooms, hot showers, balconies and can accomodate 2-4 people. This raft house is nearby to Bang Hoi waterfall, the viewpoint hike, and Khlong Saeng Wildlife Sanctuary.
Krai Son Raft House (basic bamboo option)
Krai Son is perched at the entrance to Klong Yee in the center of the lake. It is equipped with traditional style bamboo bungalows (2 pax, double beds) and has shared bathroom facilities on land next to the raft house. It is the only raft house on the lake with a view of sunrise and sunset. Local attractions include a viewpoint hike which overlooks the entire lake, and it is close by to the Khlong Saeng wildlife sanctuary which has the best possibility for seeing macaques, boars, gaurs, gibbons and even wild elephants.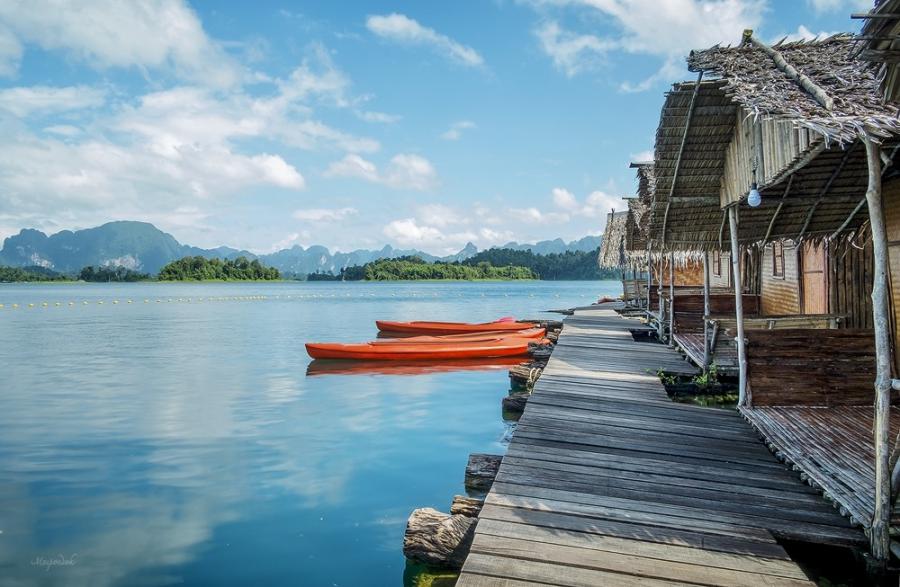 Tour details in short:
Duration: 3 days/2 nights
Type: Private tour
Price: * see price table *
Group size: 2 or more people
Grade: Easy
Transport: Long-tail boat
Start: 10 am (day 1)
End: around 12 pm (day 3)
What to bring:
Rain clothing, specially on rainy season
Personal toiletries
Swimming clothing & towel
Hat
Flashlight
Insect repellent
Sunblock lotion
How much?
The tour will be led by a private guide which means no others will join you while exploring the lake and surrounding areas. The price for this tour package depends on the choice of accommodation and number of people, please see price per person further down.
The prices below do not include entrance fees to the national park.
IMPORTANT NOTE #1 - The displayed prices are for Mon-Tue only. For Fri-Sun and any public holidays, up to +500 Baht per person and day (+1,000 Baht for 2 nights) will add depending on which rafthouse is booked.
IMPORTANT NOTE #2 - Because of frequent price changes, we only accept bookings for up to 3 months ahead.
Price per person
Pax
Bamboo
Deluxe
1
14,500

THB

16,900

THB

2
7,500

THB

10,300

THB

3
5,900

THB

7,700

THB

4
5,200

THB

6,900

THB

5
4,700

THB

6,800

THB

6
4,400

THB

6,200

THB

7
4,300

THB

6,100

THB

8 and up
4,200

THB

5,900

THB
Displayed prices are per person
Tour rates include:
Lodging, basic bamboo or deluxe
English speaking guide
Long-tail boat transportation
All meals & fruit
Drinking water
Tour rates doesn't include:
Entrance fees to the park
Reviews from our guests
By: Linda Grehn | posted Fri 29 Oct, 2021
We had a great time in Khao Sok national park! Our guide Sam was very kind, the food delicious, accommodation clean and cozy and the mix of free time and exploring the area was perfect. The jungle hikes were an adventure - so be prepared for that. Shoes might get fully soaked, you'll meet different insects and there's not always a designated path. It can be challenging but also very rewarding.
All in all we'd recommend the tour especially if you're looking for an adventure. What I liked is that we just observed the wildlife, there was no disturbance or anything else involved.
The only thing I'd encourage the tour operator / floating resort to improve is to maybe try to reduce waste a bit more… encourage guests to refill instead using new bottles every time, no straws, more buffet style as the portions were sometimes to big to finish. I think this will have an even more positive image on the whole tour and gets more and more important for future tourists ☺️
Other than that I can only recommend the tour ❤️
By: William Bender | posted Fri 21 Feb, 2020
The cabins are very rustic and hot inside due to no fans. Beds are hard and OK for a single or couple but not so much room the 2 singles. Don't expect a 3 star hotel, but it's better than tent camping. The meals were fabulous; tasty and large portions! The setting can't be beat. The ranger was very helpful and friendly. Our guide M was awesome. He went out of his way to locate elephants in the wild, which we saw on the last morning. I highly recommend the Private 2 night trip booked through Khao Sok Riverside Cottages.
By: Per Hendriksen | posted Tue 4 Feb, 2020
If you are a nature lover, this place is wonderfull.
The National park service tool care of everything from we came till we left on the 3rd day. We had a very good guide and boat driver that took us to exiting places and good experiences
Tour operator's response
Dear Per,
Thanks for your kind words. It was our pleasure to host you, and we are glad you have fond memories of your trip to the lake.
Best wishes,
Bee
By: Tamas Kelemen | posted Fri 27 Dec, 2019
It was amazing and we got the best tourguide! I never learned his name fully but I would like to say thank you to " A " ( that was the name he said to everyone ) for the amazing tour!
By: Sabine Muench | posted Mon 23 Sep, 2019
We had a wonderful trip experience with our guide Chai. We will recommend your services to our friends and your future customers. The tour with a personal guide was definatly the best decision for us and worth the significantly higher price. Our guide spoke a very good English. He showed us some very interesting places and adapted the schedule according to our wishes. Because we are an active family and wanted to see as many animals and as many interesting places as possible we started very early in the morning with our safari trips by boat. Especially the small wonders of the jungle, explained to us by our guide on the trip to the mountain, were worth getting up early and being the first on the trip. We would like to thank our guide Chai and the organizing team at Thai National Parks.
The Muench Family
Tour operator's response
Thanks so much for your kind feedback. We are glad you enjoyed your stay, and we will certainly pass on your compliments to your guide. And yes, early morning on the lake is a magical time!
By: Diane Borst | posted Sun 5 May, 2019
Amazing nature! We were with a family and stayed in a floating house. We had a guide arranged which was great. To see Thailand on its best, a stop at the National Park is a must.
By: Odile Jacquet | posted Tue 16 Apr, 2019
Remakable stay in this wonderfull site. A huge thank you to our guide and our boat pilot who were very good professionnals and very courteous.
Tour operator's response
Dear Odile,
Thanks for your kind words.
We are glad you enjoyed your trip.
All the best,
Bee
By: Michele Monahan | posted Sun 7 Apr, 2019
The scenery was beautiful and our guide took great care of me when I fell as did our boat captain. The raft houses were ok but didn't care for the swimming pool in our bathroom after a shower and no top sheet for the beds.
We felt that our guide was friendly but didn't really spot much of any wildlife, our boat captain was better. We were under the impression we would go out at first light in the morning and also go out in the evening of which neither happened and we always stayed very close the the rafthouses instead of venturing out. We saw more kayaking on our own!
Tour operator's response
Dear Michelle,
Thanks for your kind words. It was our pleasure to host you, and we are glad you have fond memories of your trip to Khao Sok.
I am sorry to hear that the guide and the wildlife safari was disappointing, and I will speak with the guide about taking longer excursions, and also about the morning safari.
Best wishes,
Bee
By: Jóhanna Sigurþórsdóttir | posted Sat 2 Mar, 2019
By: Gitte Bjerrum | posted Mon 24 Dec, 2018
The guides on the trip were great.
Tour operator's response
Thanks for your kind feedback, we're glad you enjoyed the trip :-)