Private Tour

|

3-days/2-nights private tour in Khao Sok Lake

Situated between Khao Sok National Park and Khlong Saeng Wildlife Sanctuary, Cheow Lan Lake has one of the most beautiful scenic views in Thailand.
Why?
While a 2-day/1-night stay leaves less time for various activities due to check-in and check-out times from the raft houses, a 3-days/2-nights tour gives a much better opportunity to enjoy more of the attractions and activities around the lake.
What?
With the 3-days/2-nights tour in Khao Sok you will be able to see scenic rock formations, hike to a viewpoint, visit a cave, hike in the jungle, kayak, swim and drive around for wildlife watching. The tour includes a stay in a raft house of your choice, a private guide and a private boat with driver. No others will share the guide or the boat with you during the tour.
Raft house options
Phupa Waree Raft House (deluxe)
Phupa Waree is set back in a private alcove just inside Klong Pey. It features modern rooms with queen size beds. Equipped with private bathrooms, a/c, balconies and can accomodate 2-4 people.
For the dates concerning high season months, week-ends (Fri-Sat nights) and public holidays, rooms at Phupa Waree should be booked well in advance. The rooms are available for booking a maximum 4 months in advance.
Laguna Cheow Lan (deluxe)
Laguna Cheow Lan is located in Khlong Long tributary, in the middle of the lake. It features wooden rooms with queen size beds. Equipped with private bathrooms, a/c, balconies and can accomodate 2-4 people.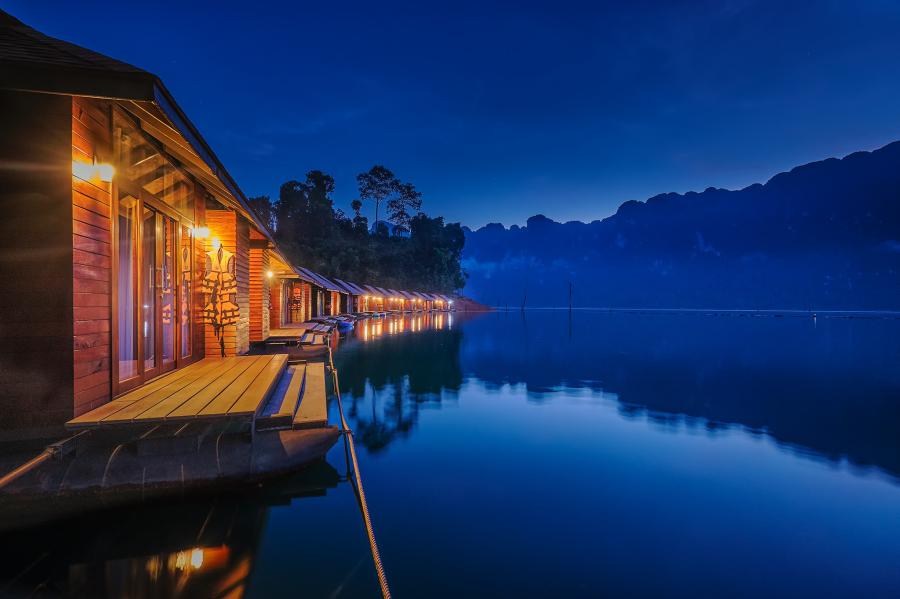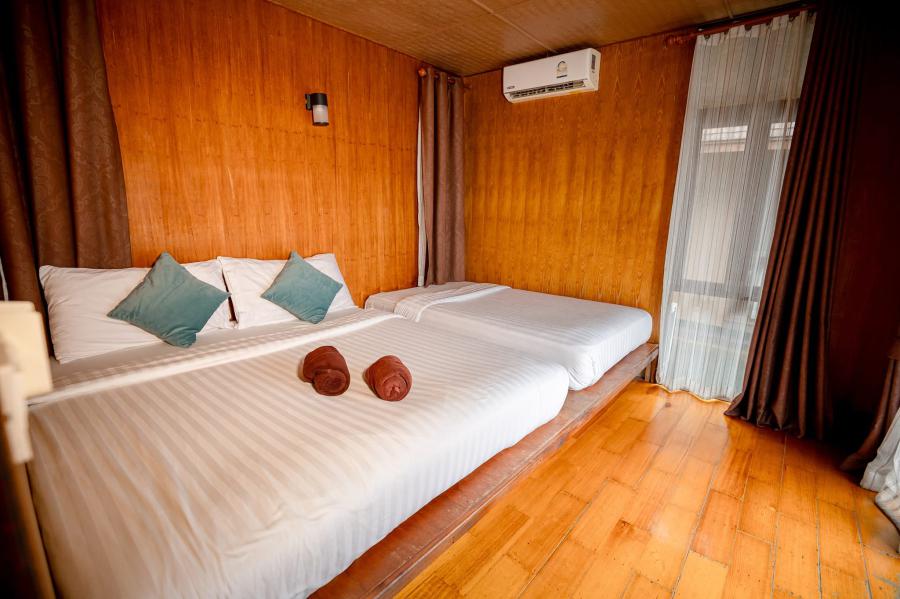 Sai Chon Raft House (wooden)
Sai Chon Raft House is a cheaper alternative compared to deluxe ones, located in Khlong Long tributary of the lake, not too far from the pier. The quality is somewhere between bamboo and deluxe options. The rooms can accommodate 2-4 people with queen beds, equipped with fans and has rooms with both private and shared bathroom facilities. As default we will try book private bathroom options, if not available we will book shared bathroom options.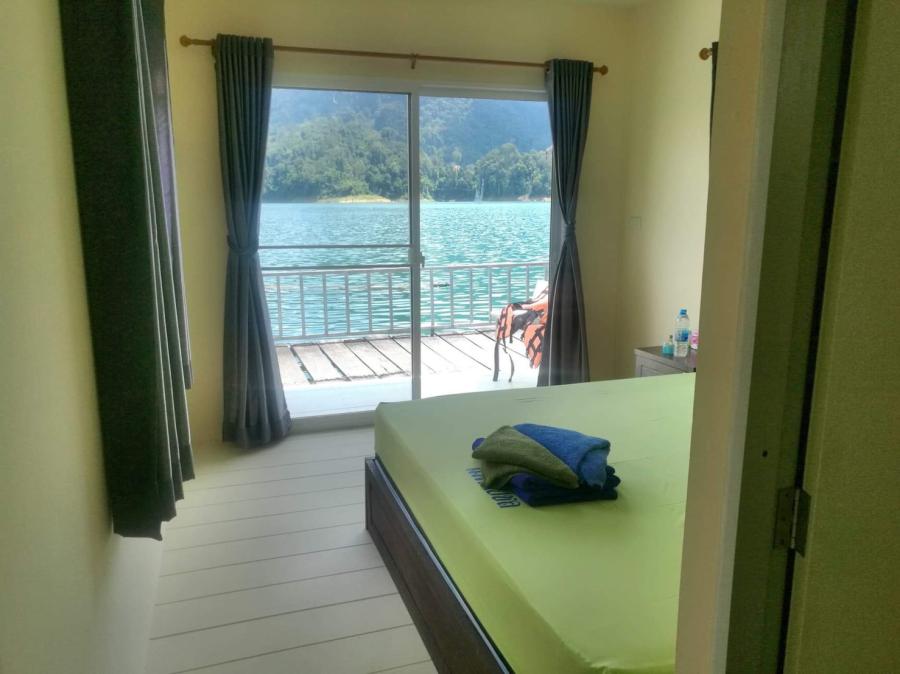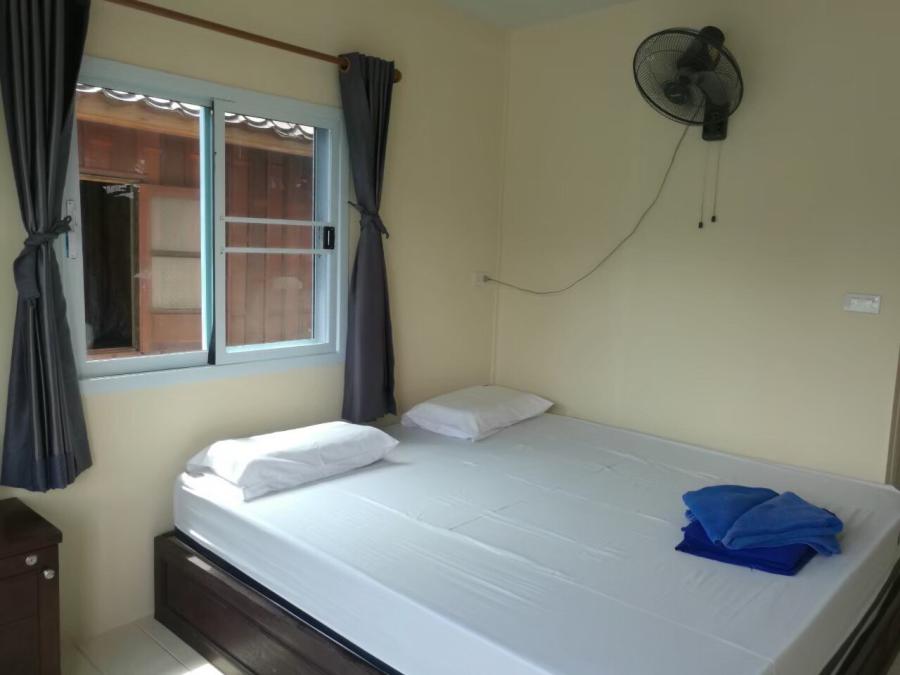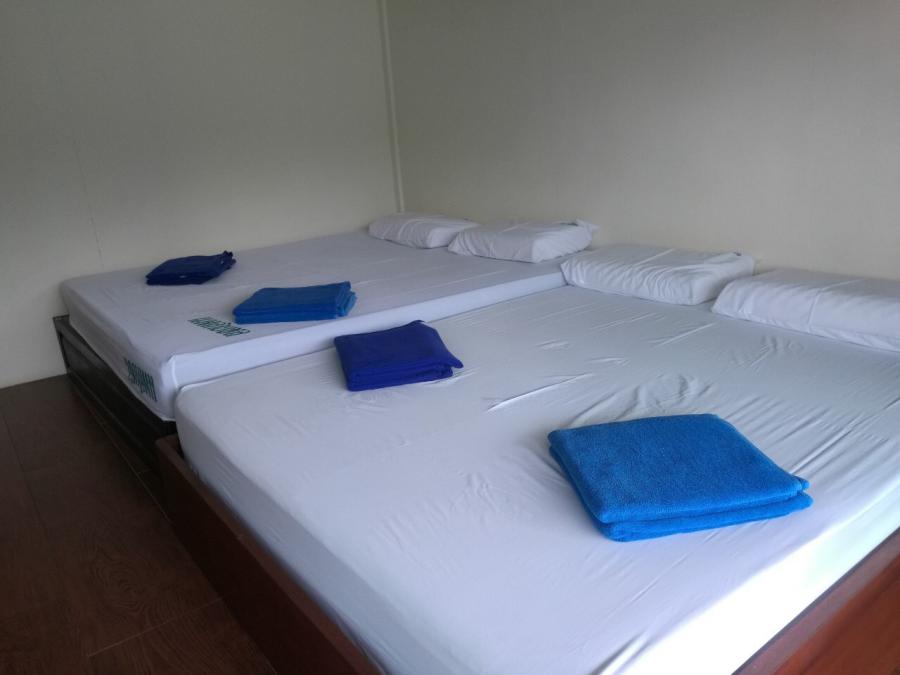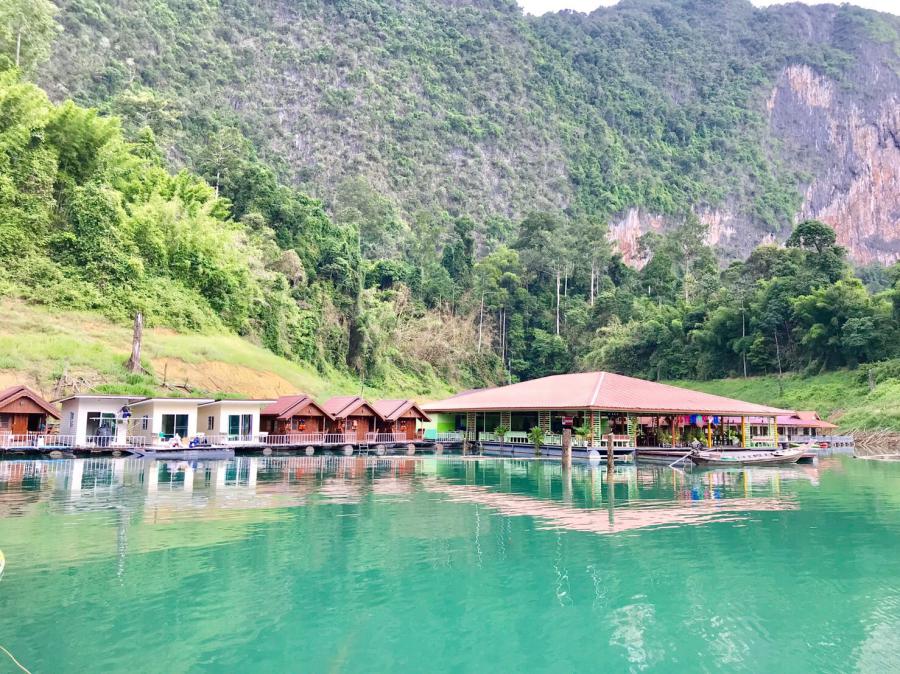 Plern Prai Raft House (wooden)
Plern Prai Raft House is another wooden alternative, situated in the middle of Klong Long tributary, not too far from the pier. The quality is somewhere between bamboo option and deluxe option. The rooms are for either 2 people or 3 people, beds on floor, equipped with fan and has shared bathroom facilities.
Krai Son Raft House (basic bamboo)
Krai Son is perched at the entrance to Klong Yee at the remote end of the lake. It is equipped with traditional style bamboo bungalows (2 pax, double beds), no fan, with shared bathroom facilities on land next to the raft house. It is the only raft house on the lake with a view of sunrise and sunset. Local attractions include a viewpoint hike which overlooks the entire lake, and it is close by to the Khlong Saeng wildlife sanctuary not too far from Phupa Waree.
We do not recommend Krai Son to families with kids.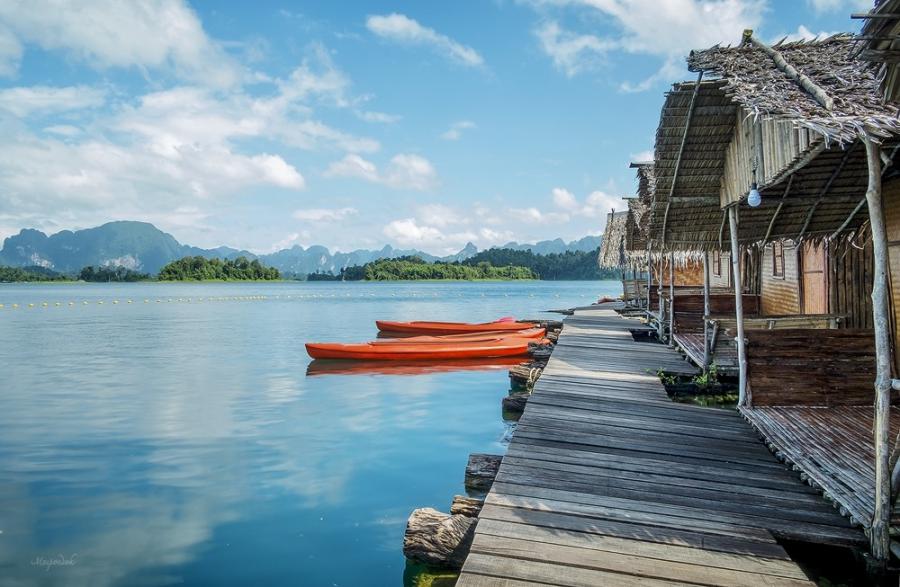 Itinerary
The following itinerary is just an example. Depending on weather conditions, your suggestions or eventual shorter/longer time you may decide to spend at attractions may change the planning. Example; you may decide to do more kayaking, skip some activities for the other, or simply just decide to relax and spend some time with friend(s)/family at the raft house.
Day 1
10 am, Board your long-tail boat at Rajjaprabha Dam (Cheow Lan Lake Pier) enjoy the scenic tour of limestone karst formations on the way to floating bungalows
Check in to the raft house (deluxe or basic bamboo/wooden). Enjoy a traditional Thai lunch
Depart for a guided hike to Khao Sok's highest viewpoint which has a breathtaking view over the lake
Return to the raft house for a swim, relax and enjoy the scenery
Afternoon wildlife safari by boat
Enjoy your dinner
Day 2
Breakfast
Board long tail boat for a morning wildlife safari by boat
Return to the rafthouse for free time
After lunch, guided jungle hike
Return to the raft house to for a swim, relax
Enjoy a traditional Thai dinner
Day 3
Rise before breakfast for the morning mist safari, the best time to gibbons, macaques and dusky leaf monkeys
Return to raft house for breakfast
Explore the surrounding area by kayak
Check-out from the raft hour around 10:30 am, tour ends around noon at the pier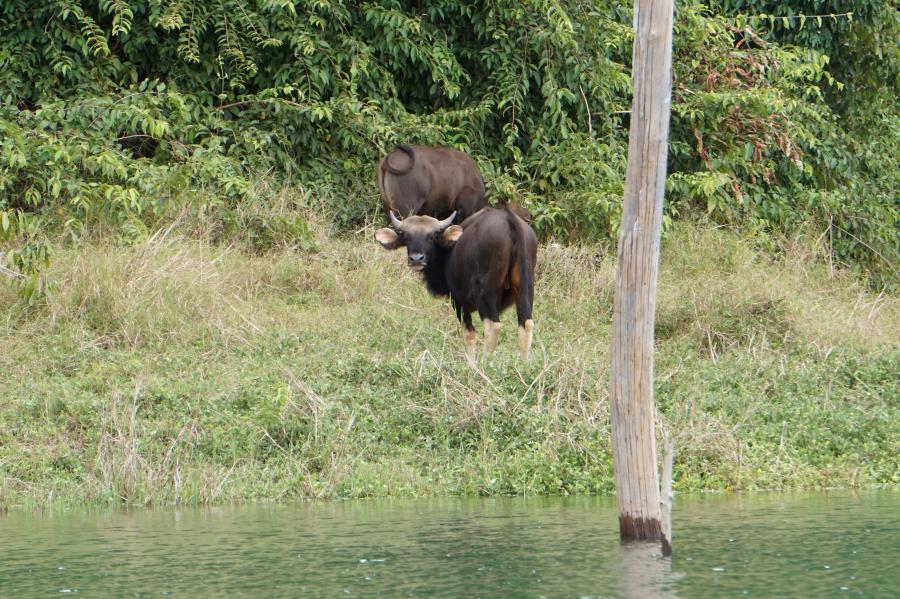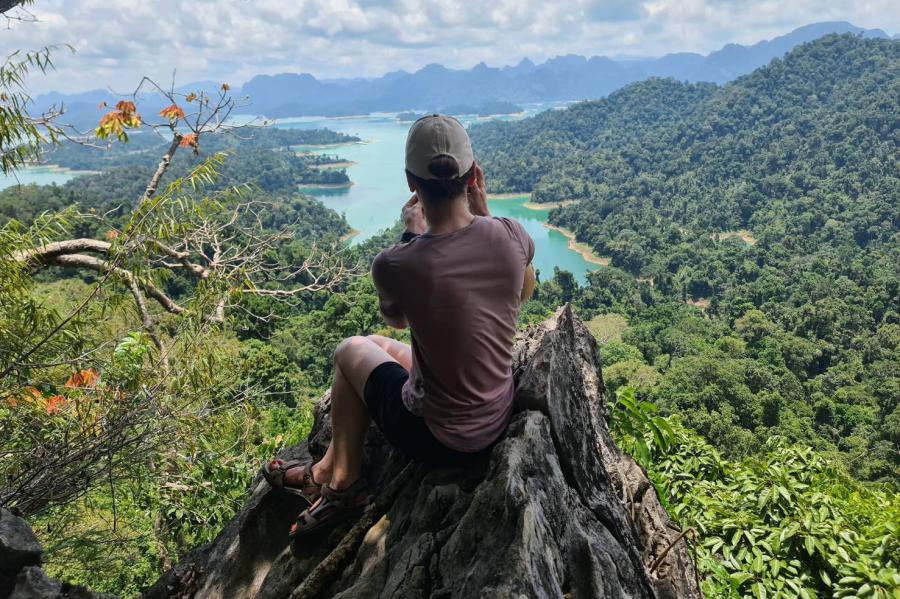 Where & When?
This tour is operated all year round.
The tour starts in Cheow Lan Lake (Rajjaprabha Dam), 65 km from park headquarters. It is easy to get to nearby Ban Takhun Town with buses operating from various destinations like Bangkok, Phuket, Krabi or Surat Thani. Private transfers by taxi or minivan can be arranged on request.
On the week-ends and long holidays the lake gets very busy with the local tourists. The high end and popular raft houses like Phupa Waree tend to get fully booked weeks ahead for Friday to Sundays. You are recommended to book for weekdays if possible, but if you need to book for week-end day(s), then we recommend booking at least 3-4 weeks prior to your planned trip date. It may also be hard to find an available guide for week-end dates, another reason to book far in advance.
Tour details in short:
Duration: 3 days/2 nights
Type: Private tour
Price: * see price table *
Group size: 2 or more people
Grade: Easy
Transport: Long-tail boat
Start: 10 am (day 1)
End: around 12 pm (day 3)
What to bring:
Rain clothing, specially on rainy season
Personal toiletries
Swimming clothing & towel
Hat
Flashlight
Insect repellent
Sunblock lotion
How much?
The tour will be led by a private guide which means no others will join you while exploring the lake and surrounding areas. The price for this tour package depends on the choice of accommodation and number of people, please see price per person further down.
The prices below do not include entrance fees to the national park.
The listed prices for Phupa Waree below are valid until June 2022, new higher price will apply from Jul 2022. The listed prices for Plearn Prai are valid until end of December 2022.
Optional charges;
Coral Cave Rafthing
From Krai Son or Laguna Cheow Lan raft houses; 1,400 Baht fixed price and 200 Baht per person entrance fee for Khlong Saeng Wildlife Sanctuary
From Laguna Cheow Lan, Sai Chon or Plearn Prai raft houses; 400 Baht fixed price and 200 Baht per person entrance fee for Khlong Saeng Wildlife Sanctuary
Wildlife oriented tour?
Although our tour is more about visiting the attractions, enjoying the scenery and water activities in the lake, our price includes a bit of safari driving around the lake in hope to see a glimpse of wildlife around.
If you wish a more wildlife oriented tour, we can arrange it for an additional change depending on the raft house location, then our guide could take you to Khlong Saeng tributary on the north/west end of the lake one afternoon. Please let us know in case. The wildlife oriented tour is only suitable for the 2nd day over a 3D/2N tour.
From Krai Son or Phupa Waree; +2,000 Baht
From Sai Chon, Plearn Prai or Laguna Cheow Lan; +3,000 Baht
Price per person
Pax
Krai Son (bamboo)
Plern Prai (wooden)
Sai Chon (wooden)
2
7,700

THB

8,800

THB

8,900

THB

3
6,200

THB

6,900

THB

7,100

THB

4
5,200

THB

5,900

THB

6,200

THB

5
4,800

THB

5,300

THB

5,700

THB

6
4,400

THB

4,900

THB

5,400

THB

7
4,250

THB

4,650

THB

5,200

THB

8
4,150

THB

4,500

THB

4,950

THB
Price per person
Pax
Phupa Waree (deluxe)
Laguna (deluxe)
2
10,800

THB

11,300

THB

3
8,200

THB

8,900

THB

4
7,400

THB

7,600

THB

5
7,300

THB

7,500

THB

6
6,600

THB

7,100

THB

7
6,400

THB

6,600

THB

8
6,200

THB

6,300

THB
Displayed prices are per person
Tour rates include:
Lodging; basic bamboo, wooden or deluxe
English speaking guide
Long-tail boat transportation
All meals & fruit
Drinking water
Tour rates doesn't include:
Entrance fees to the park
Reviews from our guests
By: Cailey Murray | posted Fri 13 May, 2022 | Krai Son (bamboo)
We had the most magical time in Khoa Sok! Booking the trip was super duper easy, the Thai National Parks website is very easy to use and the staff is super helpful, they'll answer any questions you have right away. Our tour guid Bee was amazing, he new all the cool locations and took amazing care of us throughout our stay. I'm truly grateful for all of his hard work and care. The bungalows we stayed at (Krai Son) were clean and comfortable. The food was delicious and the staff was very attentive. They kept refilling and refilling our food until we were done. They bungalows were also situated at the most beautiful spot surrounded by mountains, with kayaks and paddle boards to use whenever we wished. We truly couldn't have asked for more!
Thank you!
By: Julie Bamford | posted Mon 18 Apr, 2022 | Krai Son (bamboo)
We had a brilliant time. (stayed 3 days/2 nights)
On our first day, our guide, Ruam, took us on a hike through the jungle. At the end of the track, we climbed up some rocks and had an amazing view over the lake and jungle.
The following day, we did an adventure tour including swimming through a stream inside a cave which was super cool.
On our boat safari tours we saw eagles, monkeys and water bison. Ruam also knew the best places to take pictures and stopped for us to enjoy the scenery and take photos.
The food was delicious too. (I am a vegan and they even made special meals for me).
Overall, we would definitely recommend going there. :)
By: Wouter Beekhuizen | posted Wed 13 Apr, 2022 | Plern Prai (wooden)
Great tour. Knowledgeable guide.
Good balance between excursions (boat safari, walks) and free time for swimming, relaxing, kayaking around the resort.
Tour is quite expensive but still worth the money.
By: Josh Weaver | posted Wed 6 Apr, 2022 | Krai Son (bamboo)
Myself and my partner booked the 3-day, 2-night private tour at Khao Sok National Park and we were blown away by the whole experience. The booking process and communication from Thai National Parks was fast and very easy. Our tour guide, Wanwisa, was friendly, knowledgeable about the area and made sure that we were happy throughout the whole tour, she also spoke very good English, which was much appreciated. Our boat driver was also very helpful and welcoming and did a great job of taking us around the lake and spotting wildlife during morning and evening safaris. We stayed at Krai Sorn in a bamboo raft house which was a great, the views and waking up on the lake is an amazing experience. The staff at Krai Sorn were also brilliant and provided delicious meals during our stay, even catering to our vegan dietary requirements, which again was much appreciated. We were lucky enough to see langurs, gibbons, raptors, kingfishers, hornbills and even an elephant on our tour! The views around the lake are incredible and you have plenty of time to take everything in. Being at Krai Sorn was a chance for us to take a break from everything as we didn't get any phone signal (you can on a different network) which made the experience more peaceful. One highlight was stargazing on a clear night while an electrical storm happened on the horizon. I would highly recommend this tour to anyone and encourage you to take part in all the activities, especially the safaris if you have an interest in wildlife.
By: Stephanie Deddish | posted Tue 8 Mar, 2022 | Phupa Waree (deluxe)
The lake and the limestone karst formations are beautiful! We had a little bit of luck with seeing wild animals, such as long-tailed (crab-eating) macaques, spectacled langurs (or dusky leaf monkeys), a mother gaur and baby, and a great hornbill. Our guide, Fern, was sweet as pie! She was very attentive, and even served us dinner both nights. The food was also very good, authentic Thai to the area, and a LOT of it! We were very well fed, for sure!
We stayed in Phu Pha Waree, which is the "deluxe" option. It is still pretty basic, but you do have air conditioning and your own bathroom. I cannot speak for the shower - I did not use it. We assumed the zero water pressure in the sink was about equal to what the shower was, and just chose to rinse off by swimming, instead. There are 2 queen beds - they take up pretty much the entire room. There is no power between 9am and 5:30pm, so be aware any down time in the afternoon, you will want to spend outside. And, there is trypically down time in the afternoon.
We did go for several boat tours and hikes. There was a little tour of the karst formations on the way to the boat houses. We checked in, got lunch, went for a short hike up a waterfall (there was no water - it was dry season!), and an evening boat tour to watch sunset and "safari" for animals.
The second day, we did a morning mist tour, and saw a bunch of macaques! We did a hike after breakfast to the viewpoint. Be aware, the hike to the viewpoint is not that easy of a hike at the top! It is bordline full on rock climbing. Wear appropriate clothing! That being said, wear appropriate clothing due to leaches. I recommend long pants (no vents!), hiking boots, leach socks if you have them. They were BAD!! The view, though, was absolutely amazing and worth it!
We had a lot of time in the afternoon that day because of the hike. We did go out again to do another evening boat ride and "safari". The 3rd day, we were going to do another morning mist tour, but opted out for a kayak ride instead. We were so tired from the hike (it took us almost 3:30 hours - 2km each way), we didn't do much the night before as far as exploring on our own. So, day 3 was us on our own, and then off to the pier after brakfast. We were back to the pier by 10am. So, Day 3 isn't much of a Day 3 - it's really just one tour because checkout is actually 9 am, not 10:30. So, you really only get 1 full day and 2 half-ish days of tours.
One thing to note: Our guide was great, but I feel that she could have been set up for better success by our tour group. It is hard to find animals because they don't really like the noise of the long tail boats, so they will move away from water's edge. Our boat driver was great, and knew to find bays and cut the engine, coast in, and sit and wait a bit for the animals to come to the water. Unfortunately, they don't always come. Our guide was thrilled that I brought my Birds of Thailand book. She didn't even know such a book existed. She tried her hardest, and was very willing to look for animals, and try to point things out, but didn't always know the English or proper name for animals. Which, honestly, is totally fine. She was still awesome, and showed up to do a job to the best of her abilities. I just feel for the price we pay, they could get better resources for learning to be not just good guides, but awesome guides. I have done a couple other tours through Thai National Parks on this trip, and those guides knocked it out of the Park, so to speak! I feel Fern wants to, but just doesn't have enough resources to. I aslo realize we came at the end of Pandemic, so if you have any ways in which I could donate resources (Birds of Thailand books, or such), please let me know! I totally beleive in giving the surrounding communities the ability to have work and make a living. All in all, the tour was good, but I'm not sure I would do it the same way again. I found it slightly confusing setting up the tour, and didn't understand the 300 baht upcharge for a taxi to take me less than 10 minutes from hotel to pier (the hotel was about 2km from the pier.....or 4km when you book through the Park?).
Tour operator's response
Thanks for your kind feedback! :)
Cheow Lan Lake tours are more about scenery, hiking, lake activities and less about wildlife (possible, but limited, needs luck).. When our customers during the enquiry process request more about wildlife, we honestly tell them what to expect. In Khao Sok, one needs a bit luck to see some impressive wildlife, it is not that easy.
We always inform all our guests that (a standard message we wrote to you too"; "The tour itinerary you may have seen on our tour package page is just an example, can be adapted to your needs by talking to our guide on the start of the tour." This means i.e., if our guests prefer easy walks, visiting more scenery, more kayak etc, all these can be discussed with our guides, they can offer alternative plannings.
Many websites out there advertises Khao Sok or Cheow Lan Lake as a great wildlife destination, it kind of is, but one need some luck on their side to see something impressive. Possibilities are not like in Khao Yai, Kaeng Krachan, Kui Buri National parks and some other parks.. Same goes for the birding opportunities. While we clearly advertise tour packages in Khao Yai, Kaeng Krachan or Kui Buri as "wildlife tours", we very intentionally and for good reason don't mention our Cheow Lan Lake tours as such (see "Tours" in navigation for tour package names. At best, perhaps one in 10-15 tours in the lake result in that participants of the tour gets a glimpse of an elephant or a gaur.. We don't find this good reason enough to call our tours "wildlife oriented".. Even in a place like Khao Yai National Park the chances to see an elephant perhaps 30-40% during a 2-3 day tour, but at least there, people have more luck to see other impressive wildlife.
Regarding the 300 Baht pickup (same price for one way or round trip); most our guides lives in various places up to 10-30 km from the lake (like in Ban Tha Khun Town), some even in Khao Sok Village 65 km away. They normally get to the lake with motorcycle to keep their expenses low. If a transfer is needed from us, we need to assign a guide with car who can drive to the lake with his/her car instead. So, this 300 Baht is not just for a 4 km distance, from the guides perspective it is the cost for a 10-30 km one way trip depending on where they live. This service cost can't be compared to a city taxi transfer where a taxi can be stopped on the street. We tried to find cheap taxi service in the area, nobody seem to want to offer cheap taxi service for such short distances and we find it understandable.
By: Julia | posted Sun 23 Jan, 2022 | Krai Son (bamboo)
We had a great time in Khao Sok in November! Together with my boyfriend we chose Wildlife oriented program (2 nights/3 days) and Krai Son Raft House (basic bamboo option) as accommodation. Rushen was very helpful to organize our stay from the very beginning till the very end including waking up at 4am so we could catch our plane from Krabi. We had two amazing days full of adventures! We liked our guide Sam a lot, he was really trying to make our stay as memorable as possible. The rooms are extremely basic but clean and comfy. We were absolutely alone and we enjoyed the peace and quiet around. The food was delicious too (the best fish we had in Thailand)! We saw some animals such gaurs, horn-bills, macaques and gibbons. The views were incredible! We only regret not spotting finally an elephant (maybe next time we will have more luck) and that the hike we did was rather short and we haven't seen any animals. The path was was in a really bad shape due to the raining season...
It was a pleasure! Hope to be back one day! Thank you one more time!
By: Tobias | posted Sun 23 Jan, 2022 | Phupa Waree (deluxe)
Perfect 3-Day trip, with our wonderful guide Bee and boat driver Chun. We have seen many wild animals (even elephants) and the scenery of the lake is fantastic.
By: Annika Bartsch | posted Sat 22 Jan, 2022 | Krai Son (bamboo)
we booked a three day tour and enjoyed it very much! Our guide Em was super nice & explained us a lot.
We had booked the simple bamboo huts, these were also perfectly adequate! Because of the ongoing Corona Pandemic it was very empty at the Floating-Houses and we enjoyed the silence, the lake, the animals, the hike, the jungle and the super food with fresh fish and super much choice!
Many thanks to Em!
The only thing that annoyed us a bit was the expensive transport from our previous accommodation to the lake, this was very overpriced, in retrospect, we realized that most arrive for half of our paid price.
We enjoyed it extremely and would recommend it to anyone!
Annika & Jannik
Tour operator's response
Thanks for your feedback. :)
Regarding the taxi price, after getting further info from you and chasing this with our guides, all we can say; we are a legitimate limited company, we can't offer our guest black market taxi rates.
Considering the lake is in an hours distance from Khao Sok village (from a driver's perspective 2 hours drive when including time for getting back home) and a partly narrow 65 km road, with petrol + time cost in mind, it doesn't work out with 600/700 Baht transfer price (~18/21 USD). There is no profit to gain for the drivers, unless the transports in question are shared of course.
Our taxi transfers are strictly private, means no others will share the car with our guests.
We strongly recommend all our guests to check alternative taxi prices and compare with what we have to offer before booking with us.
By: Elisa Vergote | posted Thu 20 Jan, 2022 | Krai Son (bamboo)
This was a great tour! We had such a fantastic time thanks to our guides who knew so much and just a very beautiful environment. Must do!
By: Sarah Schmitzer | posted Thu 13 Jan, 2022 | Krai Son (bamboo)
We had the best time and enjoyed the three day trip a lot.
Both our guide and the driver were very kind and showed as a lot. The bungalow was just perfect for us too :)
Thank you for the great time!
Best
Sarah