About Ko Lanta National Park
Most people visiting Ko Lanta doesn't know there is a national park in the island up until they arrive and ask around about activities and attractions in the island. They would normally be told that there is a national park at south end of the island, not more. Mu Ko Lanta National Park actually concists of several islands covering 134 km² and there is more to see on the some of other islands than on main island.
Mu Ko Lanta National Park was established in 1990 as a marine park, situated in southern part of Krabi Province. The biggest islands in the park are Ko Lanta Noi and Ko Lanta Yai. "Mu" in thai means a group/group of, "Mu Ko" means group of islands.
The national park consists mainly of rugged hills covered with 20 km² rain-forest and beach forest along the coast lines at Ko Lanta Yai and Ko Ngai. Other islands like Mai Ngam, South Mai Ngam and Ngu islands are covered with mangrove forest.
The national park is home to nomadic sea gypsies called Chao Le. They are well known for their traditions of setting boats a drift during the full moon in June and November, according Chao Le belief to drive out evil and bring good luck.
The parks main attraction and activities are many white beaches, trails, viewpoints and some very impressive caves. The smaller islands are popular diving sites for both snorkellers and scuba divers with possibility to see some of exciting tropical marine life found in the Andaman Sea.
For visitor safety and marine life recovery, most of smaller islands are closed for visitors in the rainy seasons from 16th May until 14th October every year.
National park entrance fee is 200 THB for foreigners (children 100 THB), Thai adults 40 THB (children 20 THB), cars 30 Baht.
Phone(s)
You are recommended to ask a Thai speaking person to call on your behalf.
081 090 1466
082 816 6885
The attractions of Ko Lanta
HQ Area and Ta Nod Beach
The park headquarters is located on Laem Ta Nod at the southernmost end of Ko Lanta Yai Island, easily accessible from the paved road along the west coast. HQ area has few bungalows, a campsite and a restaurant with very few choice of meal. The bungalows have 2 rooms for 4 persons, costs 1500 THB. Entrance fee must be paid to enter this area.
The only activity apart from swimming at the beautiful white beach is a nearly 2 km long trail circular trail. The trail is moderate to difficult for hiking.
Caves and waterfalls
There are 3 easily accessible caves at Ko Lanta Yai. Tham in Thai maens cave. Flashlights needed to see around in the caves. Visitors will be asked to have guides to get into the caves for 300 THB per person (2015 price).
Tham Khao Mai Kaew
This huge and impressive cave is located at north of the national park area in Ko Lanta Yai, accessible by a very difficult jungle trail starting from the cross-island road 4245 that links east and west coastal roads. You must be accompanied by a guide and you will need some basic climbing skills to get there.
Once arriving to the very narrow opening to the cave and start orienting through, people realise that climbing bit to the cave was the easiest bit. Moving around inside the cave requires occasionally crawl on the floor.
From our own experience in some caves we know it is easy to loose orientation, so, don't ever attempt to get into this type of caves without a local guide!
Tham Seua
Located just south of Khlong Nin, this cave is accessible by 30 minute walk from a clearly signed trail starting at the end of a dirt road. The cave is supposedly occupied by tigers in the past.
Khlong Chak Cave
This bat cave is near the Khlong Chak Waterfall, accessible by an easy trail.
Khlong Chak Waterfall
A small waterfall accessible by the same trail that will lead to Khlong Jak Cave. The trail crosses a smaller water stream few times and ends at this small waterfall. During the dry season there is very little water flowing down.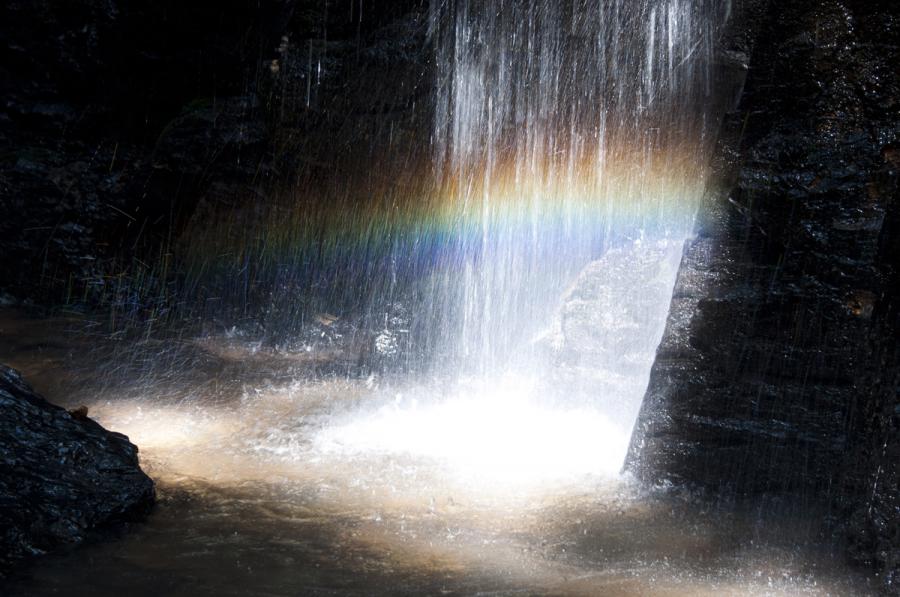 Mu Ko Rok
Probably the best destination within the park can be found in a small archipelago of twin limestone islands situated 26km south from Ko Lanta Yai and around 20-23 km southwest from Ko Ngai and Ko Kradan islands. The islands are Ko Rok Nai and Ko Rok Nok, only 250 meters apart, both with clear water, expansive coral reefs, one of best snorkelling destinations in Thailand. The channel between islands are covered with soft and hard coral, many people seen swimming across islands.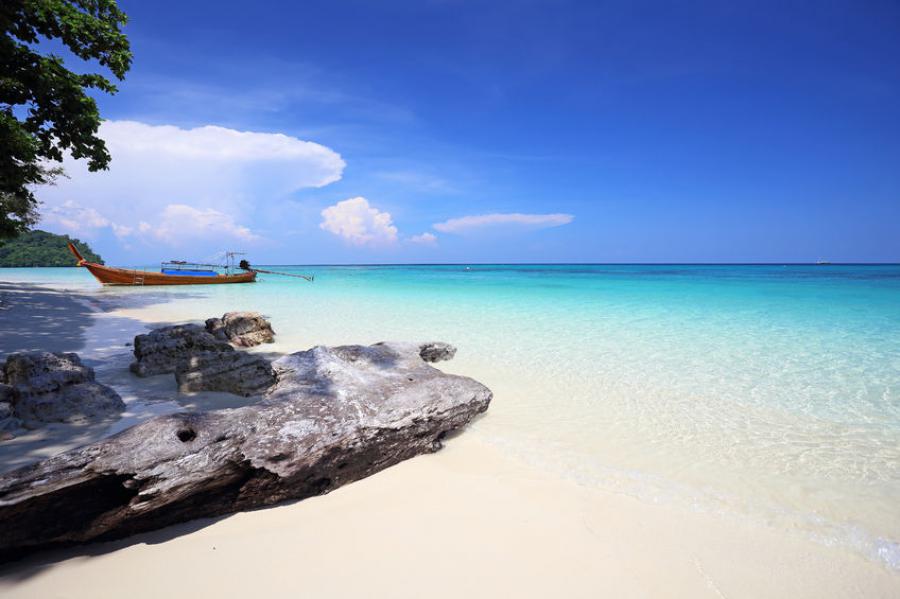 The coral reef in shallow water south and southeast consists of staghorn, table and brain corals. Max depth is 25 meters but much of the reef is only five meters below the sea surface with 30 meters visibility, making it ideal for snorkeling. The currents are generally soft but may occasionally get strong. Although Mu Ko Rok is also effected by coral bleaching like other islands in the Andaman Sea, the coral reef is relatively healthy.
Ko Rok Nai has a ranger station, restaurant and an accommodation zone. Apart from the rangers, both islands are unpopulated. Tents are available for rent form 450 THB per night, large enough for 4 people, including sleeping bags, matts and pillows. The price is well above the average 250-300 THB in most other national parks.
A one way trip to Mu Ko Rok with a long-tail boat will take around 2 hours, it is not recommended. There are many tour operators offering daily group tours with speed boats from around 1400 THB per person, the trip would take an hour.
Twin islands are closed for visitors from 16th May until end of October.
Ko Ngai
This 4 km long and 2 km wide island is situated 11km Southeast from Ko Lanta Yai, populated with villages and resorts. The island is popular for it's beautiful beaches and snorkelling/diving. There are no roads on the island, getting around is done by foot through jungle trails connecting the beaches.