About Huai Yang Waterfall National Park
Huai Yang Waterfall National Park is a smaller protected area located at the Tanao Sri Mountain Ranges at the border to Myanmar. The park covers 161 km² in Prachuap Khiri Khan Province, only 36 km from the town center. The main attractions of the park are number of waterfalls.
The park is montane area with elevations between 200 to 800 meters above the sea level, an important watershed of rivers in the area. The forest habitat is part of the vast forested area extending in Myanmar, the neighbouring Lenya National Park at the other side of the border is 1761 km². Apart from few neighbouring smaller pockets of forested areas, the surrounding areas in Thai side of the border are completely deforested.
Wildlife
The forest consists of evergreen and dry evergreen forest. Interesting mammals inhabits the park are Indochinese serow, wild boar, leopard, barking deer, porcupine, langur and gibbon.
Visiting
The main attraction is the seven-tier cascading Huai Yang Waterfall which the park is named after. The other waterfalls are Kha Aon waterfall, Khao Lan Waterfall, Bua Sawan Waterfall and Huai Hin Dat Waterfall.
There are only two bigger bungalows in the park for rent, a restaurant which is open from around 8:30am until 4pm, a souvenir shop and a campsite with relatively clean toilet and shower facilities. The price for the bungalows are 1,800 & 2,500 THB, a significant discount will apply when booked for Mon-Thu. Bungalows can be booked through DNP website in advance. As the money transfer must be done within 2 days and the fact it takes longer time with transfers from abroad, it is only possible to book from within Thailand only. Payments can be done at 7-Eleven convinicence stores or banks.
The park is open from 8am until 4:30pm every day but closed 1st May until 30th June every year.
The entrance fee is 100 Baht (50 Baht for children), 10 Baht for bikes, 20 Baht for motorcycle and 30 Baht for cars.
Get there
There are no public transportations to the national park. The only options are getting there by car/motorcycle or hire a guide/driver from Prachuap Khiri Khan.
By car/motorcycle - From Prachuap Khiri Khan, drive south on route 4, the national park is signposted well 29 km south from the town, turn off the road to right and drive 7km towards the park by following the signposts.
By private transport - Most hotels in Thailand has contact with drivers or guides, ask your hotel's reception team to arrange you one.
The attractions of Huai Yang Waterfall
Huai Yang Waterfall
A small waterfall at the main visitor center area, accessible by a signposted and well maintained circular trail. The trail is to first five tiers, 5th tear is 700 m from the start of the trail. Ranger guidance needed to visit last two tiers further upstream because they are too steep and the way to get there is through some rock climbing. It costs up to 300 Baht for few hours ranger guidance.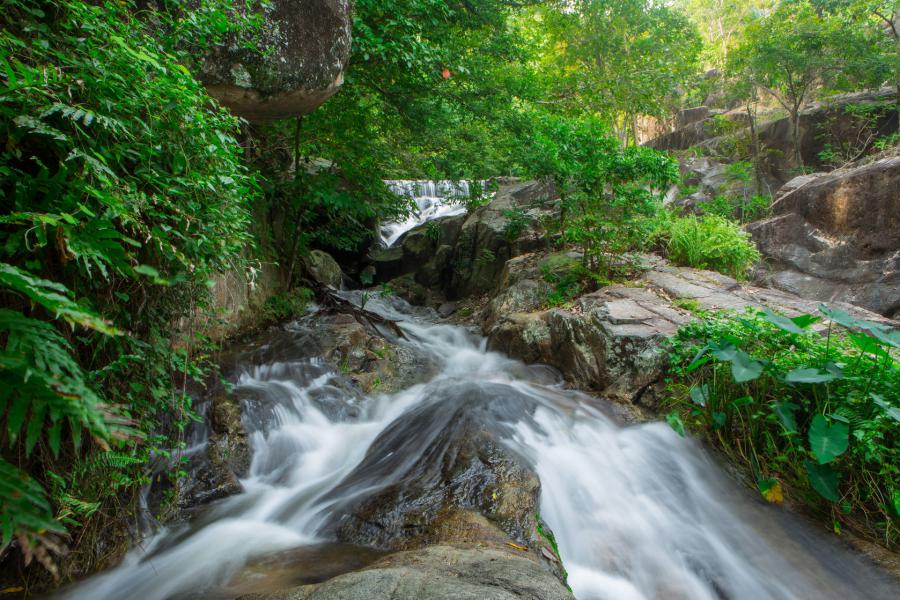 There are ponds on some tiers with full of fishes swimming towards people in hope to get fish-food. It is possible to buy fish-food next to the restaurant.
Khao Lan Waterfall
Khao Lan is the more impressive of the falls in the park if there is enough water flow. Located south from the main visitor center area in Thub Sa Kae District, this several tier waterfall is around 14 km from highway 14. The water from one of tiers drops from a 50 m high cliff. This waterfall is worth a visit during the rainy season only. It is possible to swim on top level.
There is a visitor center and camping site near the waterfall, no tents available for rent. There are no restaurants nearby.
Khao On Waterfall
A 9 tier cascading waterfall 44 km south from the main visitor center in Bang Sapan District.
Khao Luang Mountain
There are several mountains and one national park in Thailand all named Khao Luang, so it is good to not mix up this mountain with others. Khao Luang Mountain in Huai Yang National Park is accessible for visitors only in guidance with rangers. It takes nearly 5 hours to reach the peak, an overnight stay at the summit is required. The mountain summit has great view over surrounding areas, hiking there may give opportunity to see some mammals which are not common around visitor center area. In case of hiking there guests need to have all necessary equipment with them and carry it to the top.