Private Tour

|

2-days wildlife tour in Khao Yai
Why?
With a 2-day hiking in the jungle you'll see some of Khao Yai's highlights and very likely some exciting species like gibbons, macaques, hornbills, deers and with a bit luck maybe even elephants!
What?
The 2-days tour in Khao Yai includes hiking in the jungle, daytime safari drives, a night safari drive and visiting some major highlights of the park like waterfalls and viewpoints. The jungle hiking will mainly focus on seeing as much of wildlife as possible but also include visiting some beautiful scenery of the park.
Itinerary
Our trips start and end daily at your hotel or other locations we agreed on.
The itinerary below is only an example. The program may change depending on your interests or how much time you spend on different locations.
Day 1 - From 8 - 8:30 am till about 8 - 9 pm
The first day tour starts with a slow drive along the main road into the park for wildlife observation, then hiking in the jungle.
After the lunch break we will visit Haew Narok which is the highest and most impressive waterfall of the park and also visit saltlicks and other areas where wild elephants tend to visit.
After the dinner tour continues with an exciting night safari using spotlights to spot nocturnal wildlife.
Day 2 - From 8 - 8:30 am till about 5 - 6 pm
We will spend the morning hiking in the jungle to find more interesting animals.
After the lunch break we will visit the other two important highlights of the park; Haew Suwat waterfall known from Leonardio Di Caprio's "The Beach" movie and a viewpoint with a great view over Khao Yai's jungle.
Later on in the afternoon the tour will end depending on the choice of a daytime safari along the roads for search of elephants or visiting the bat caves outside the park boundaries.
After the end of the tour you'll be returned to your hotel.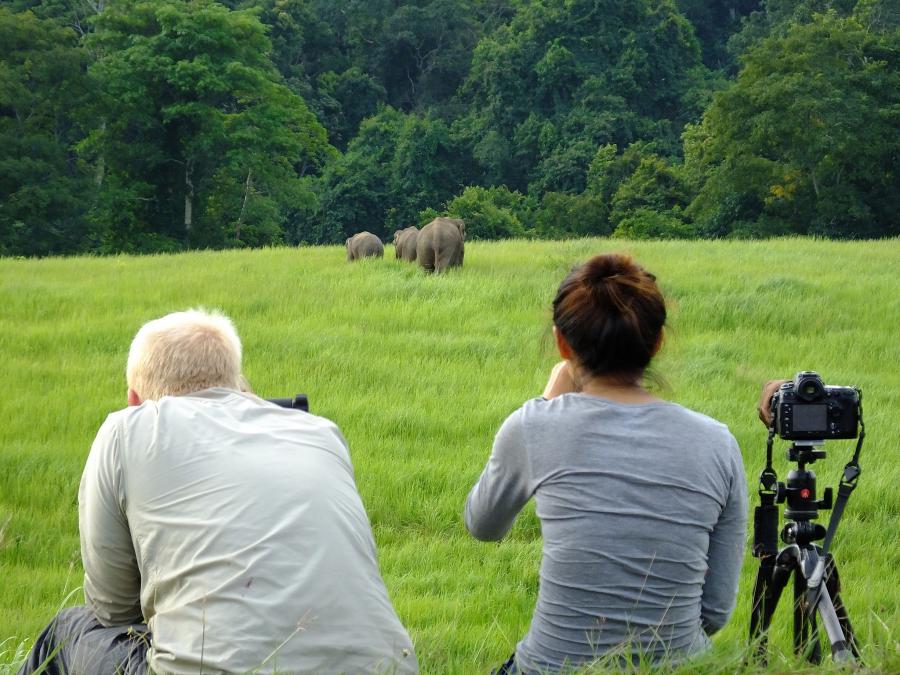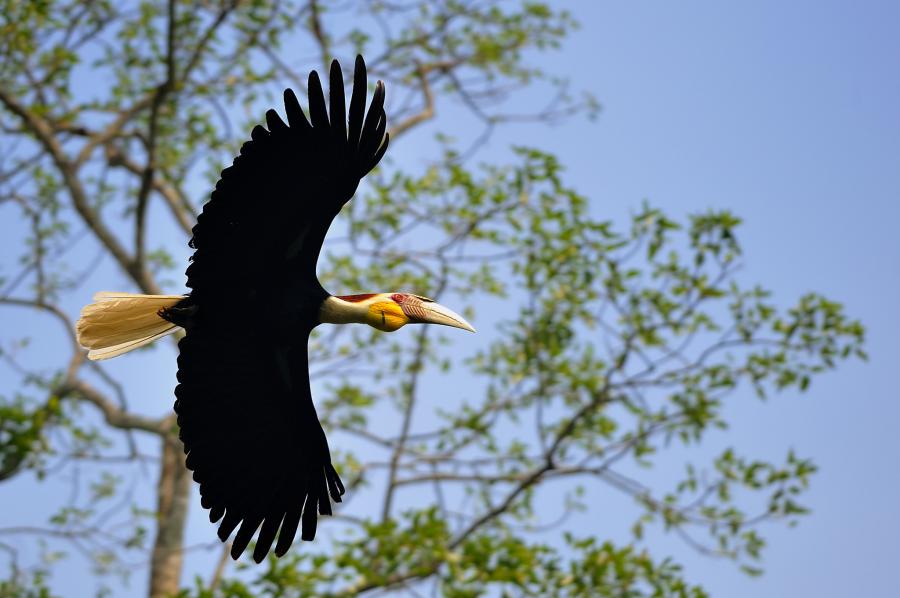 Where & when?
The tour starts from Pak Chong area which is 2.5 hours away from Bangkok, easy to reach by bus, shuttle minivan.
Private transfers by taxi or minivan can be arranged on request. We can also arrange pick up from Bangkok. It takes 2.5 hours, it costs 2,200 Baht one way.
Our tours are operated all year round.
Important note
Please confirm with us before booking a hotel in Khao Yai area as we don't offer pickup if your hotel is too far away. Or because some hotel owners don't like their guests to be picked up by tour operators.
Tour details in short:
Duration: 2 day(s)
Type: Private tour
Price: 3,300 - 11,700 Baht
Group size: 1 or more people
Grade: Easy to moderate
Transport: Safari vehicle
Start: 8 - 8:30 am (day 1)
End: 5 - 6 pm (day 2)
What to bring:
Long trousers
Rain clothing
Sweater or light jacket
Hiking or sport shoes
Towel
Flashlight
Insect repellent
Sunblock lotion
How much?
You'll be accompanied by a private guide and no other people will join you; the best way to explore nature! Our tours are all-inclusive except for the accommodation.
Pax
Rate per person
1
11,700

THB

2
6,400

THB

3
5,100

THB

4
4,500

THB

5
4,100

THB

6
3,800

THB

7
3,500

THB

8 and up
3,300

THB
Tour rates include:
Entrance fees (400 Baht per person & day)
English speaking guide
Transportation from/to hotel or other meeting point
All meals
Snacks & fruit
Drinking water
Leech protection socks
Reviews from our guests
By: James Ward and Meg Ward | posted Mon 25 Apr, 2022
Our tour guide for our two days in Khao Yai was Tata. We had an absolutely wonderful time, thanks both to the park's natural beauty and our guide's friendly, observant and informative nature.
He constantly did his best to show us everything he could during our time in the park, while giving us space and freedom to go at the pace we preferred. And we were lucky enough to see a family of elephants at the end of the first day!
An extremely memorable experience of a beautiful place. Thanks Tata!
By: Sharon O'Dea | posted Thu 14 Apr, 2022
Tata is one of the best guides we've had in over 20 years of travelling in Asia.
We spent two days with Tata while exploring Khao Yai National Park, where we searched for elephants, gibbons and other natural wonders.
Aside from having excellent knowledge of the park's wildlife – the best places to see it – Tata speaks incredibly relaxed and fluid English, and has a great sense of humour that makes him fun to be with.
Tata is clearly passionate about Khao Yai and the animals that live there, and is also a great photographer who can give you advice on how to take the best shots.
Khao Yai is an exciting place to visit. But with Tata as your guide, you'll have a fun and unforgettable experience.
By: Annemieke van Herk | posted Sun 27 Mar, 2022
Khao Yai is beautiful and well worth a visit. We were lucky to spot an elephant, a huge python, lots of monkeys including black and white gibbons, lots of deer, the giant hornbill, and many other smaller birds and animals. Our guide Lek was great at spotting animals well before we did and happy to change our route when there were too many leeches on the one we initially planned. I can definitely recommend this tour!
By: Tijn van Splunder | posted Thu 3 Feb, 2022
Tata was the best guide we could wish and the tour was amazing
By: Peter Christiaen | posted Mon 25 Oct, 2021
Excellent 2 day wildlife tour, with very knowledgeable guide Jay.
Without him we would not have seen one third of the species we saw now. A very sharp eye, even spotting a snake on a tree while driving !
Thanks for a wonderful experience, which all of our family enjoyed very much !
By: Sandy Boe | posted Mon 31 May, 2021
Great two day wildlife tour. Our tour guide, Tata, was very accommodating, knowledgable and timely. He did a great job of pointing out wildlife, but also being respectful to its boundaries. We appreciated how much he seemed to care for both the park and those that inhabit it. Thank you for a great time!
By: Rachel Pifher | posted Fri 16 Apr, 2021
We loved our two day tour! Khun Tata was fantastic, and our kids say that they miss him already. :) We really enjoyed being in nature with someone who appreciates it as much as we do. We also appreciated Tata's flexibility with our tour. Great park and great tour!
By: Wachiraphorn Jetjoho | posted Mon 22 Mar, 2021
Everything was incredible. The whole group really enjoyed it and were lucky enough to see wild elephants! Highly recommended!
Tour operator's response
Thank you for your review. Glad to hear everyone enjoyed the trip.
Thank you for booking with us!
By: Alexandra Augustijn | posted Tue 23 Feb, 2021
Tata was a great guide. He was very involved and enthusiastic and knew a lot to tell. We made beautiful trips. He saw a lot of mammals and birds that we could see even better through his telelens. If he wasn't there, we wouldn't have seen or experienced much. A guide is really recommended. Also because the paths are not clearly indicated. We really experienced the jungle feeling. Too bad we didn't run into any elephants. We did spot whole families of Gibbons though. Also the food was well taken care of. The only thing which was a bit disappointed was the night safari. This was only in the safari truck with big light looking at animals. We didn't see many animals, We actually expected to take a night walk. Apparently, that's is not allowed in the park. All in all we had a great weekend. Highly recommended!
Tour operator's response
Dear Alexandra,
Thank you for your review.
Yeah, unfortunately night walking is not allowed. Then again, at least for mammals you will see more on a drive than on a walk (though obviously being nature, luck is also a factor so it doesn't mean a drive is always successful), a night walk is usually more interesting for things like snakes and smaller critters.
It doesn't help that the night safari part we have to do with park staff. We feel like we could do better if we could do the driving and spotlight by ourselves, but we have to follow the rules, unfortunately.
Still, we have decided to keep it in our itineraries because it is the only possibility to see some nocturnal wildlife. Sometimes only deer appear, but other nights you can be lucky to see various civet species, porcupines and slow loris, owls etc. Also elephants can be active at night. And some of our guests have even been lucky to see some wild cat species.
Too bad it didn't work out too well for you, but that's nature ;-)
Thank you for booking with us!
By: Julie Gamponia | posted Fri 17 Jul, 2020
Thank you for a great two-day trip! When I read others' reviews, I noticed a few comments about the guides not talking too much. My guide Beer, and my driver Boy, were perfect hosts. They were amazing at finding the animals: hornbills, elephants, deer, barking deer, jackals, snakes, lizards, moths, beetles, the Khao Yai dinosaur. They didn't over-talk, but they were sensitive to my needs. Beer carried his heavy telescope, so that I could see the animals' colors and details from afar, and he took some great pictures from my camera for me. I liked it when he explained about the animals' habits and habitats. He is very knowledgeable and readily answered all of my questions. Boy's driving and sensing skills were outstanding. He has an amazing gift of knowing where the animals are, and I appreciate all he did to make my trip safe. I will definitely return to Khao Yai, and I will recommend this trip to others who want to go hiking. I can't wait to visit other Thai national parks. Thank you.