Private Tour

|

2-days wildlife tour in Khao Yai
Why?
With a 2-day hiking in the jungle you'll see some of Khao Yai's highlights and very likely some exciting species like gibbons, macaques, hornbills, deers and with a bit luck maybe even elephants!
What?
The 2-days tour in Khao Yai includes hiking in the jungle, daytime safari drives, a night safari drive and visiting some major highlights of the park like waterfalls and viewpoints. The jungle hiking will mainly focus on seeing as much of wildlife as possible but also include visiting some beautiful scenery of the park.
Itinerary
Our trips start and end daily at your hotel or other locations we agreed on.
The itinerary below is only an example. The program may change depending on your interests or how much time you spend on different locations.
Day 1 - From 8 - 8:30 am till about 8 - 9 pm
The first day tour starts with a slow drive along the main road into the park for wildlife observation, then hiking in the jungle.
After the lunch break we will visit Haew Narok which is the highest and most impressive waterfall of the park and also visit saltlicks and other areas where wild elephants tend to visit.
After the dinner tour continues with an exciting night safari using spotlights to spot nocturnal wildlife.
Day 2 - From 8 - 8:30 am till about 5 - 6 pm
We will spend the morning hiking in the jungle to find more interesting animals.
After the lunch break we will visit the other two important highlights of the park; Haew Suwat waterfall known from Leonardio Di Caprio's "The Beach" movie and a viewpoint with a great view over Khao Yai's jungle.
Later on in the afternoon the tour will end depending on the choice of a daytime safari along the roads for search of elephants or visiting the bat caves outside the park boundaries.
After the end of the tour you'll be returned to your hotel.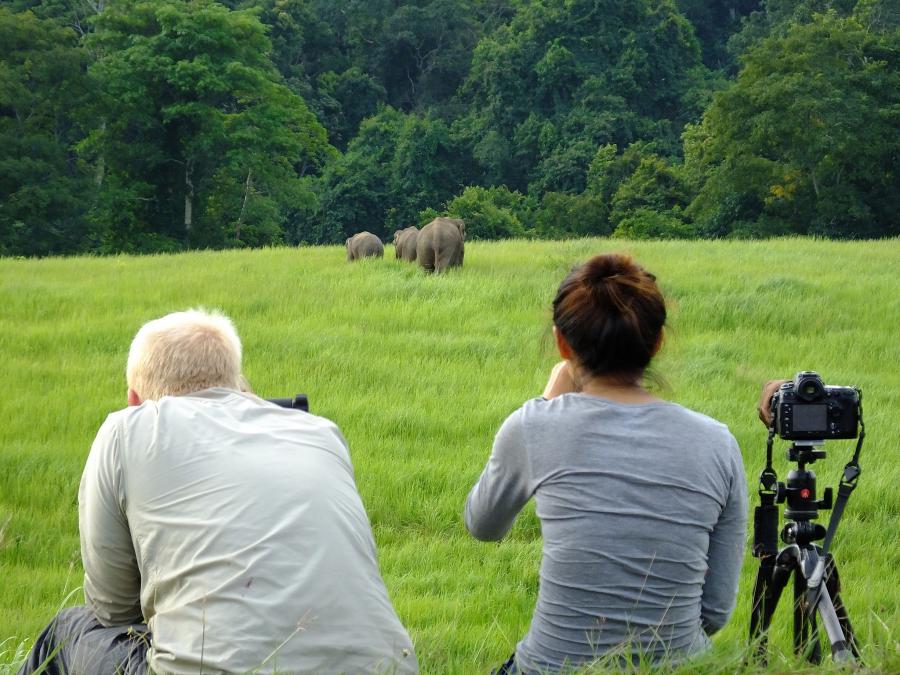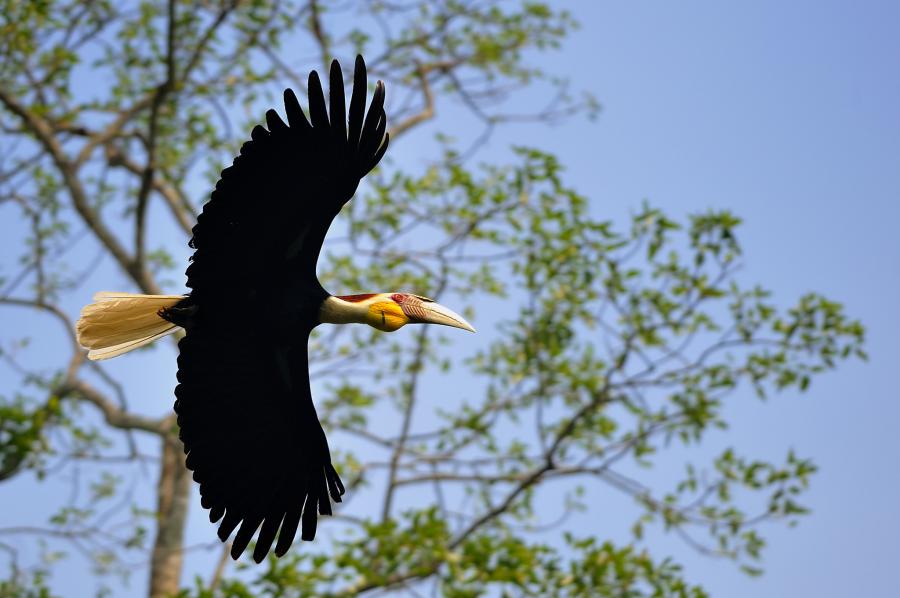 Where & when?
The tour starts from Pak Chong area which is 2.5 hours away from Bangkok, easy to reach by bus, shuttle minivan.
Private transfers by taxi or minivan can be arranged on request. We can also arrange pick up from Bangkok. It takes 2.5 hours, it costs 2,200 Baht one way.
Our tours are operated all year round.
Important note
Please confirm with us before booking a hotel in Khao Yai area as we don't offer pickup if your hotel is too far away. Or because some hotel owners don't like their guests to be picked up by tour operators.
Tour details in short:
Duration: 2 day(s)
Type: Private tour
Price: 3,300 - 11,700 Baht
Group size: 1 or more people
Grade: Easy to moderate
Transport: Safari vehicle
Start: 8 - 8:30 am (day 1)
End: 5 - 6 pm (day 2)
What to bring:
Long trousers
Rain clothing
Sweater or light jacket
Hiking or sport shoes
Towel
Flashlight
Insect repellent
Sunblock lotion
How much?
You'll be accompanied by a private guide and no other people will join you; the best way to explore nature! Our tours are all-inclusive except for the accommodation.
Pax
Rate per person
1
11,700

THB

2
6,400

THB

3
5,100

THB

4
4,500

THB

5
4,100

THB

6
3,800

THB

7
3,500

THB

8 and up
3,300

THB
Tour rates include:
Entrance fees
English speaking guide
Transportation from/to hotel or other meeting point
All meals
Snacks & fruit
Drinking water
Leech protection socks
Reviews from our guests
By: Nicolas SUSSAN | posted Sat 11 Feb, 2023
Very good tour with a pationated guide
Evryrhing was nice we saw gibbons birds and éléphants.
Thank you
By: Jack Parker | posted Sun 5 Feb, 2023
We saw a very wide range of wildlife including elephants, gibbons, hornbills, lizards, otters and much more.
Everything from the hotel pickup to drop-off Inc. lunch was punctual, and our guide always friendly and accommodating.
Thank you!
By: Camilla Menestrina | posted Thu 2 Feb, 2023
Our guide Apple was amazing. We were lucky enough to see the elephants both days and lot of beautiful birds too. We loved the 2 trekking in the forest and also the food. We recommend to join the 2 days tour! Thanks again!
By: Sarah Wennmacker | posted Fri 6 Jan, 2023
Very friendly and good guide. Spotted many animals. Food is Nice. Bring a warm sweater for in the back of the truck
By: Jennifer & David Zidar | posted Sun 1 Jan, 2023
Our 2-day tour with Jum was amazing!
Her experience, knowledge and enthusiasm made our tour. We saw so much - hornbills, gibbons, great squirrel, monitor lizards, porcupines, jackals, monkeys, spiders, birds, deer and elephant bulls 4 times plus much more!! All thanks to Jum's eye's of a hawk for spotting the wildlife enthusiasm which exceeded our expectations! It was 2 days we will never forget, thank you Jum!!
By: Thibault | posted Fri 16 Dec, 2022
We had a great 2 days trip with our guide named Beer. He is very passionate and knowledgeable about all animals in the park, and his English is very clear.
We were lucky to see elephants twice, hornbills, two kinds of gibbons, porcupines, civet cat, and many more wild animals. Thank you again!
By: Patrik Mackových | posted Mon 28 Nov, 2022
The pure trip was amazing. Our english speaking guide was a great man. We faced a lot of beautiful moments in the nature. We saw the beauty od Thailand also from different point od view. We saw many great wild animals. My wife and me fully recommend this trip to everyone.
By: Bangkok Johan | posted Thu 24 Nov, 2022
Customer oriented, nature respectful, positively educational, good communication in both English and Thai. I highly recommend a tour with them.
By: Joanne Joseph | posted Thu 17 Nov, 2022
We have been on many guided nature tours in many parts of the world, and I can say without reservation that Tata was the very best guide I have ever had. He is kind, funny, considerate, and extremely skilled at finding animals we would never see on our own. In 2 days we saw dozens of species, including snakes, monitor lizards, civets, porcupines, an elephant, 2 species of primates (including extended time with gibbons, which was remarkable and moving), and more species of birds than we could count, including several types of hornbills. The entire experience was fabulous, through and through. Highest possible recommendation!
By: Pei Shan Lee | posted Fri 4 Nov, 2022
It is such an amazing experience at Khao Yai National Park. We decided for a long time between self vs guided-tour and we were really glad that we picked the latter. We definitely recommend to do the guided tours as the guides are very experienced and trained in spotting wildlife in these jungles, they have amazing senses in sight and hearing and they know the best places where the animals will likely appear. Our guide is Jum and she is such a happy and fearless person, we had a great time under her care. She really did her best to scout wildlife at every moment possible so that we could see a variety of wildlife and the elephants. I'd love to come back here again :)