Private Tour

|

1-day wildlife tour in Khao Yai
Why?
Khao Yai National Park deserves more than just a 1 day visit, but for those with limited time a day tour is still a great way to get a taste of the jungle.
The reserve is great for wildlife watching, but with just one day you will need quite a bit of luck.
What?
A day tour in Khao Yai contains hiking, safari drives, a visit to a waterfall and a scenic viewpoint. A mix of wildlife watching and enjoying scenery.
Itinerary
This is an example itinerary. The program might be changed due to weather conditions, accessibility issues or any other obstacles.
The tour is from 8 am to about 6 pm
We will meet you at your hotel or other pick-up location we agreed on.
The daytrip starts with a drive looking for wildlife like gibbons, hornbills, macaques and other animals along the road.
We continue the tour by heading to a trailhead to set out on a jungle hike to learn more about the forest inhabitants and the plantlife. Even if you're not lucky with wildlife encounters, the massive strangler fig trees make it all worthwhile. By the end of this walk we'll have a Thai lunch at one of the park restaurants.
We continue the program with a visit to one of Khao Yai's famous waterfalls known from Leonardio Di Caprio's "The Beach" movie, and the late afternoon we spend mostly by car to check the various saltlicks and foraging areas where elephants might show up.
At the end of the trip, you will be returned to your hotel or other destination we agreed on.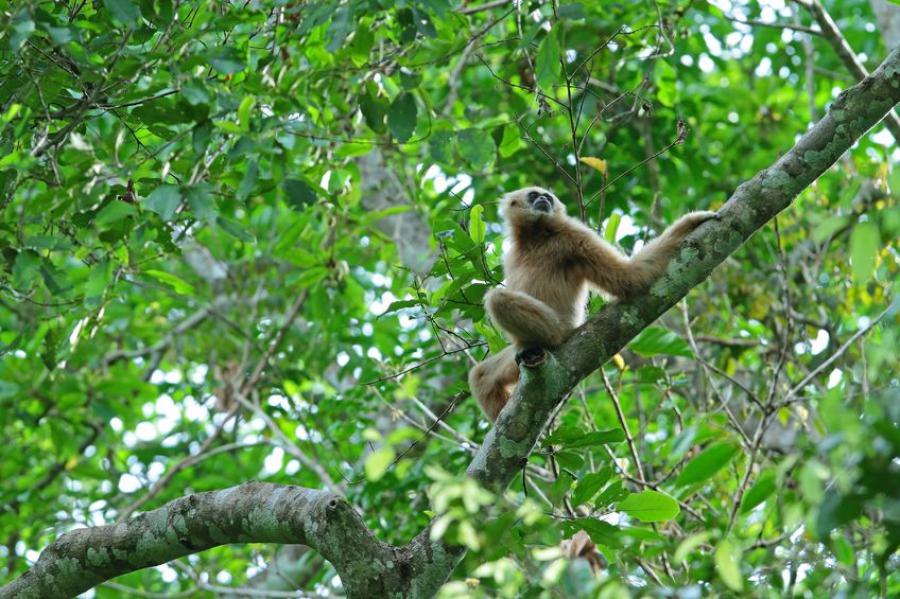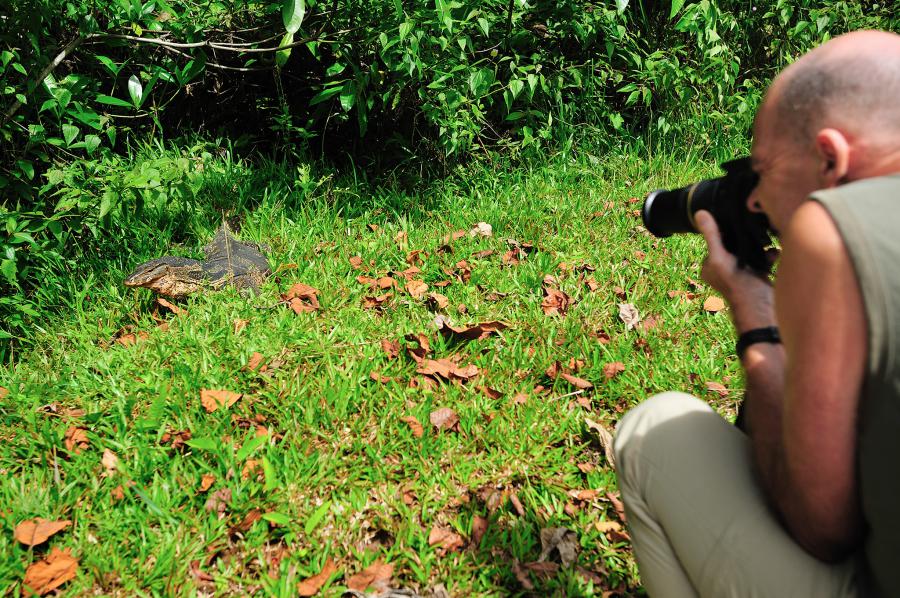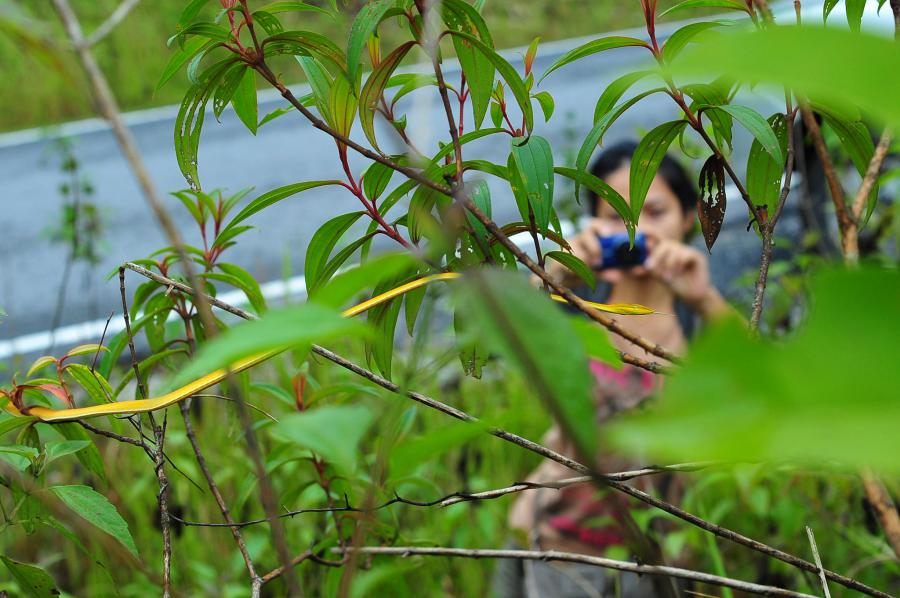 Where & When?
This trip departs from Pak Chong and can be booked all year-round. Pak Chong can be reached by public transport from Bangkok. If you are interested in a private transfer by taxi or minivan, just let us know! A taxi trip from Bangkok takes 2.5 hours, it costs 2,200 THB one way or 3,200 Baht for a round trip within the same day.
Our tours are operated all year round.
Important note
Please confirm with us before booking a hotel in Khao Yai area as we don't offer pickup if your hotel is too far away. Or because some hotel owners don't like their guests to be picked up by tour operators.
Tour details in short:
Duration: 1 day
Type: Private tour
Price: 1,600 - 5,400 Baht
Group size: 1 or more people
Grade: Easy to moderate
Transport: Safari vehicle
Start: 8 - 8:30 am
End: 6 - 7 pm
What to bring:
Long trousers
Rain clothing
Sweater or light jacket
Hiking or sport shoes
Insect repellent
Sunblock lotion
How much?
You'll be accompanied by a private guide and no other people will join you; the best way to explore nature! Our tours are all-inclusive except for the accommodation.
Pax
Rate per person
1
5,400

THB

2
3,000

THB

3
2,500

THB

4
2,300

THB

5
2,100

THB

6
1,800

THB

7
1,700

THB

8 and up
1,600

THB
Tour rates include:
Entrance fees
English speaking guide
Transportation from/to hotel or other meeting point
Lunch
Snacks & fruit
Drinking water
Leech protection socks
Reviews from our guests
By: Diana Chua | posted Sat 24 Dec, 2022
All of 7 of us enjoyed the tour. Thank you Apple for showing us the beauty of Khao Yai National Park and the creatures inhabiting the park. It was especially rewarding to see a wild elephant at the end of the tour. The tour is the highlight of our visit to Khao Yai. Thank you.
By: Evelyn Chye | posted Mon 19 Dec, 2022
Jum is an awesome guide for us. She was very passionate about wild life and have very knowledge. She was able to explain a lot about the Park to us. We are also happy she has a lot of patience in waiting for animals to appear and showed us through the binoculars. Jum is friendly and get along well with our children. We love Jum and the tour. Happy to do tour again if we are back in Khao Yai!
By: Lim (Malaysia) | posted Fri 2 Dec, 2022
Good. Our tour guide can speak better English than us. He is accommodative to us even for some requests after trip is finished. Thanks for the amazing experience!
By: Janey Wu | posted Mon 28 Nov, 2022
Wonderful experience in full. Both the taxi driver and safari guide were nice and helpful. Our guide Tata is very knowledgeable and passionate, showing us the charm of the jungle. Foods were authentic too.
By: Sebastian Wiesinger | posted Sun 27 Nov, 2022
The tour was nice. The guide Jum showed us a lot of things we wouldn't have noticed.
Punctuality was perfect.
Thank you for the experience!
By: Karolina Kruszewska | posted Tue 15 Nov, 2022
Our guide known English very well,in ad he was very kind. everything On a big +
By: SALLY LEE | posted Wed 9 Nov, 2022
We truly enjoy the tour with our tour guide Apple, he is very professional and we have learnt a lot of knowledge from him on wild animals. We will definitely recommend to our friend and family to visit Khao Yai National Park. Thank you for your prompt responding to our request and arrangement.
Well done!
By: Keanu Lyau | posted Tue 8 Nov, 2022
The tour started off perfect with a early on time hotel pick up. my tour guide (Lai?) was very knowledgeable and put great effort into finding the right Spots to view wild animals I would highly recommend tontan tours
By: James Hills | posted Sun 6 Nov, 2022
This tour of beautiful Khao Yai was everything we hoped for. We had an extremely helpful and knowledgeable guide Lek for our whole day. The truck driven by the guide with raised seating and shelter in the back was perfectly equipped for wildlife spotting. While wildlife are not always predictable and you cannot be guaranteed to see anything particular we were blessed with sightings of Hornbills, Gibbons and Elephants among other creatures thanks to to the keen eyes of our guide. There was a surprisingly hearty and delicious cooked lunch provided which exceeded our expectations. Overall I loved this day tour, great value for money, we were limited to one day but next time we will also do the night tour. Could not recommend more highly
By: Samantha Lee | posted Sat 22 Oct, 2022
Our guide was friendly and knowledgeable and the park itself is absolutely beautiful!