About Nam Nao National Park
Designated as national park in 1972, Nam Nao covers 966 km² in the mountainous forests of Phetchabun and Chaiyapum provinces in Northeast Thailand. It is the best national park in the area and one of best in the country with good wildlife viewing, birdwatching and hiking possibilities, supporting a range of IUCN red listed animals and birds.
The flora consists mainly of dry dipterocarp, mixed deciduous, hill evergreen, vast bamboo groves, pine forests and some grassland areas.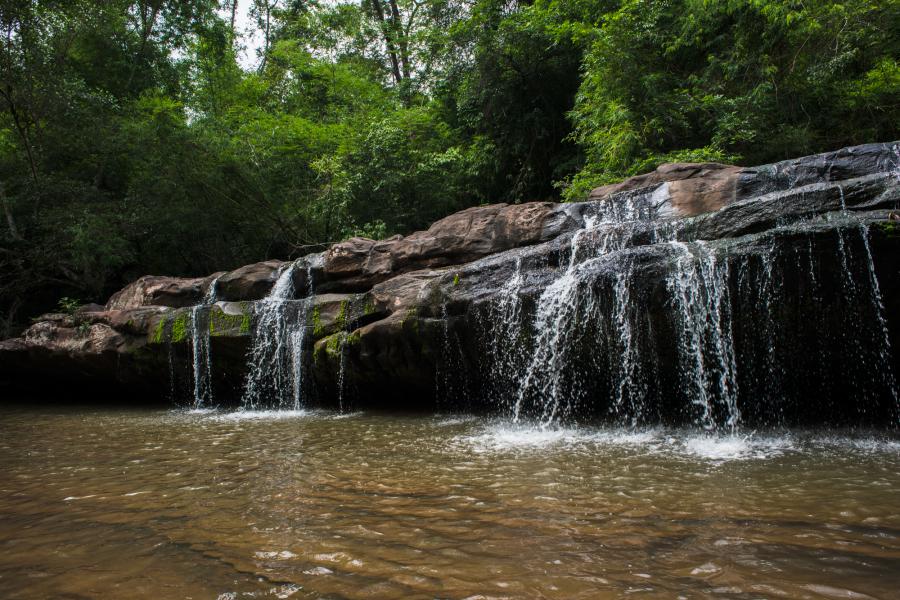 Nam Nao National Park is very popular among local tourist on week-ends and public holidays for it's picturesque viewpoints, especially during the cold season when morning mist covers forests in white.
Visiting
Getting to the park is relatively easy with many public transportation options available between Khaon Kaen to west and Lom Sak or Phetchabun to east on Highway 12, buses will stop at main checkpoint. Headquarters and facilities located 50 km east of Lom Sak and another 1.7 km north from checkpoint on the main road. The options to get to HQ from the checkpoint are walking, hiking or ask rangers at the checkpoint to call for a lift if there are any drivers available.
The entrance fees are 200 Baht for foreigners (100 Baht for children) and 40 Baht for Thai citizens (20 Baht children).
Nam Nao National Park is open from 6 am until 9 pm every day but will be closed from 1st June until 31st August every year.
Facilities
HQ area has a visitor center and other administrative buildings, three flat and specious camping zones, three restaurants with good selection of foods open 6 a.m. to 9 p.m., two shops and toilet/shower facilities. Tents with necessary camping gears like mats, sleeping bags/blankets, pillows are available for rent from the visitor center.
There are number of bungalows at the visitor center area. The price range from 1,000 THB for 4 people up to 4,000 THB, a significant discount will apply when booked for Mon-Thu. All bungalows are equipped with fan and hot shower. Bungalows can be booked through DNP website in advance. As the money transfer must be done within 2 days and the fact it takes longer time with transfers from abroad, it is only possible to book from within Thailand only. Payments can be done at 7-Eleven convinicence stores or banks. (July 2018 prices)
Wildlife
The park is home to many exciting animal species like elephant, gaur, banteng, leopard, barking deer, sambar deer, golden jackal, Asian black bear, sun bear, wild boar and many more. Elephant droppings on the roads are very common sight, proofs how common the elephants are, so common that the camping grounds are surrounded with electric fence.
Nam Nao has over 220 known bird species, dry condition of the forests makes it easy for birdwatching. Around HQ area it is possible to see species like red-headed trogon, red-billed blue magpie, great barbet, greater yellownape, grey-headed woodpecker, grey-capped pygmy woodpecker, bamboo woodpecker, large woodshrike, eurasian jay, black-throated laughingthrush, lesser necklaced laughing-thrush, golden-crested myna, golden-fronted leafbird, plain flowerpecker and ruby-cheeked sunbird. Getting aorund the park by foot on many trails or driving further away to distinctly different habitats of the park will give more rewarding possibilities to see silver pheasant, blue pitta, bar-backed partridge, collared owlet, collared falconet, blossom-headed parakeet and oriental turtle dove.
Average elevation of 800 meters makes this park comfortably cool all year-round. Annual average temperature is about 25 °C, frost may occur November to January with night temperatures occasionally dropping to as low as 0 °C. Visitors are advised to have some warmer clothing during the cold season.
Western Isaan Forest Complex
Nam Nao National Park is part of Western Isaan Forest Complex including three other national parks and four wildlife sanctuaries covering 4,594 km² all together.
The protected areas within the complex are;
Nam Nao National Park
Tad Mok National Park
Phu Pa Man National Park
Phu Kradueng National Park
Phu Khieo Wildlife Sanctuary
Pha Phung Wildlife Sanctuary
Phu Pha Daeng Wildlife Sanctuary
Taboa Huai Yai Wildlife Sanctuary
Phone(s)
You are recommended to ask a Thai speaking person to call on your behalf.
The attractions of Nam Nao
Visitor Center & Campsites
There are many circular trails around the headquarters, most of them circular and crossing each other at few points. Trail options are 1 km, 3 km, 4.5 km and 5.8km. Elephant activity during the night is high but campgrounds are protected with electric fences, avoid touching it. The only area visitors allowed to walk during the night is the road between visitor center and the checkpoint at the main road, permission needed from visitor center though.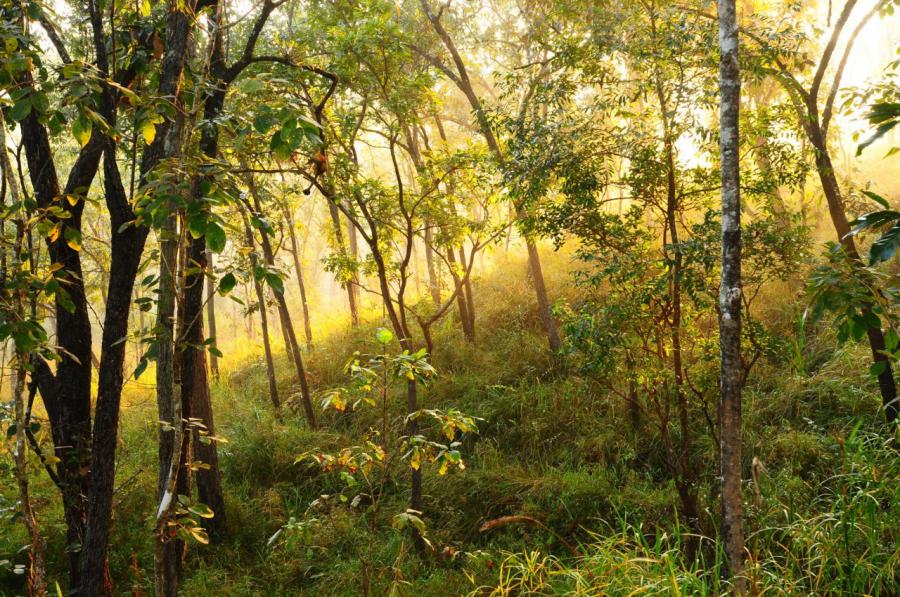 Next to the visitor center there is a parking area, number of shops and couple of restaurants serving one of best foods in any national parks we have visited. Few hundred meters east there are three very spacious campgrounds which can be very busy during the week-ends, particularly during long holidays. Toilet facilities has electricity at all times and relatively clean compared to most other parks.
During the busier days pick-up trucks will make loud announcements in early morning before sunrise, asking people to join group tours to nearest view point for a smaller fee.
Caves
Nam Nao is one of more exciting areas for cave exploring. One of longest caves in Thailand among many others can be found on northern parts of the park, easily accessible by road and some hikings.
Tham Yai Nam Nao System
With impressive length of 9,817 meters, decending 76 meter from nearly 700 meters above sea level Tam Yai Nam Nao is the third longest known cave in Thailand. It has 5 entrances, impressive formation of stalagmites and stalactites. There are many other smaller and medium size caves up to 1,000 metres long in same area.
Tham Yai Nam Nao is a popular destination among local tourist during the week-end and public holidays. During the week days it gets a bit more quite, only few guides around to assits tourists.
The first part of the cave has metal ladder and walkway that leads to a the second entrance exit. Ascending further up will lead to one smaller entrance, than a bit further up to the "bat entrance" and finally to a entrance called "tourist entrance" which leads to a large fossil passage and bat chambers.
Tam Yai Nam Nao is located on the northern part of the park at Tham Yai mountain, clearly signposted from the Highway 2216 in Ban Non Chat and accessible by a 3 km long hiking from nearest ranger station.
Tham Pak Now
Situated at the west side of Tham Phaya Naak Cave System at Tham Pak Now area, accessible from a parking spot and a path that follows the valley floor until cliffs on right.
This 75 meters long cave is a limestone outliner on the western edge of the mountain. The cave has a large chamber about 30 metres across and used by monks in the part.
Tham Phaya Naak System
Three sub-caves called Tham Wi Mahn Mek, Tham Nop Pa Krauw and Tham Phaya Naak with a total length of 1,285 metres over altitudes of 801 to 875 meters. There are also number of caves around, most notable the 655 meters long Tham Bah Dahn
Tham Monhwa Cave
Also known as Tree Forest Cave, this cave is located at Khao Tham Yai mountain north in the same area as Tham Yai Nam Nao Cave.
Tham Par Hong
A 105 meters long cave in an isolated limestone outliner about 12.5 km west from HQ on the main road (Highway 12). The cave is signposted well from the road. Altitude: 885 meters.
There is another 10 meters long cave only 100 meters away from Tham Par Hong.
Sunrise Viewpoint
4.2 km west from main checkpoint near HQ, good view over east to see the sunrise.
Sunset Viewpoint
10.7 km west from main checkpoint, good view over west to see the sunset. The viewpoint is only few hundred meter away from Par Hong Cave.
Haew Sai & Sai Tong Waterfall
Haew Sai and Sai Tong Waterfalls are two waterfalls accessible from a trail 17.5 km east from checkpoint at the main road.
Haew Sai Waterfall
20 meters high waterfall, flowing into a pool, 700 meters from the main road.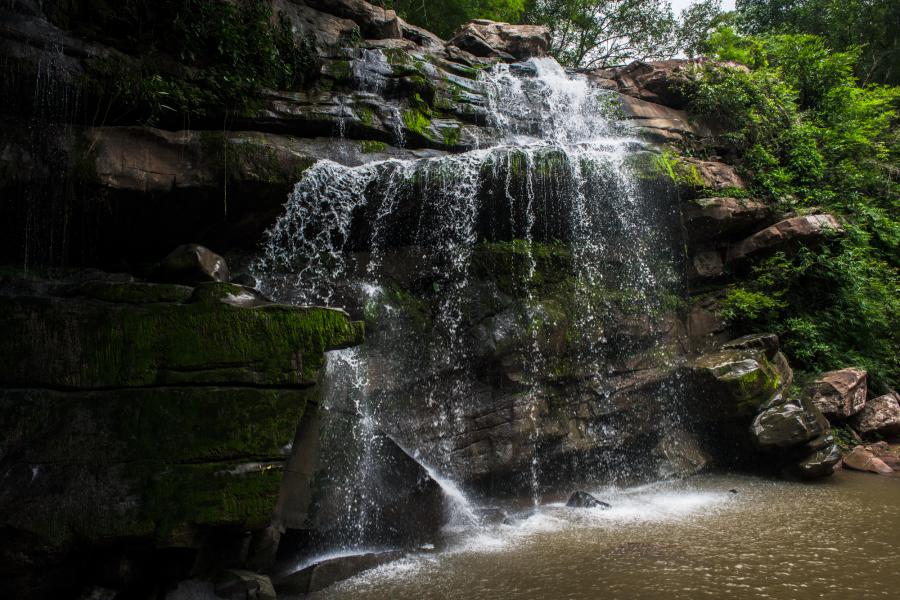 Sai Thong Waterfall
A 30 meters wide and 4 meters high beautiful waterfall, 1.5 km from the main road.
Phu Pha Chit Summit
1,271 meters above the sea level, it is the higest peak of the park, accessible by hiking on a trail from km 69. The trail is 10 km and takes about 6-7 hours to walk.
More photos