About Doi Suthep-Pui National Park
Formerly known as Doi Aoy Chang, Doi Suthep-Pui National Park is named after two mountains within tha park; Doi Suthep and Doi Pui. Doi Suthep is where the hermit Sudeva lived on it's slopes for many years. The park is situated in Chiang Mai Province, only few kilometers northwest of Chiang Mai City covering 265 km².
The main attractions of the park are; Wat Phra That Doi Suthep, Doi Pui Mountain, waterfalls, viewpoints and trails. The national park is one of the best in the country for hiking thanks to its "endless" trails throughout the park from all directions and elevations. Cycling is also very popular.
There are a number of websites and a tourist information map at Doi Suthep claiming that there is a cave called Tham Ruesi not too far from Doi Suthep Temple. It likely refers to some small rock shelter or a shrine. Noone seems to know where this cave is. There are no known caves in Doi Suthep, at least none of significant importance for visiting. There is though few caves around Samoeng right west from Doi Suthep National Park of which one is 150 meters long.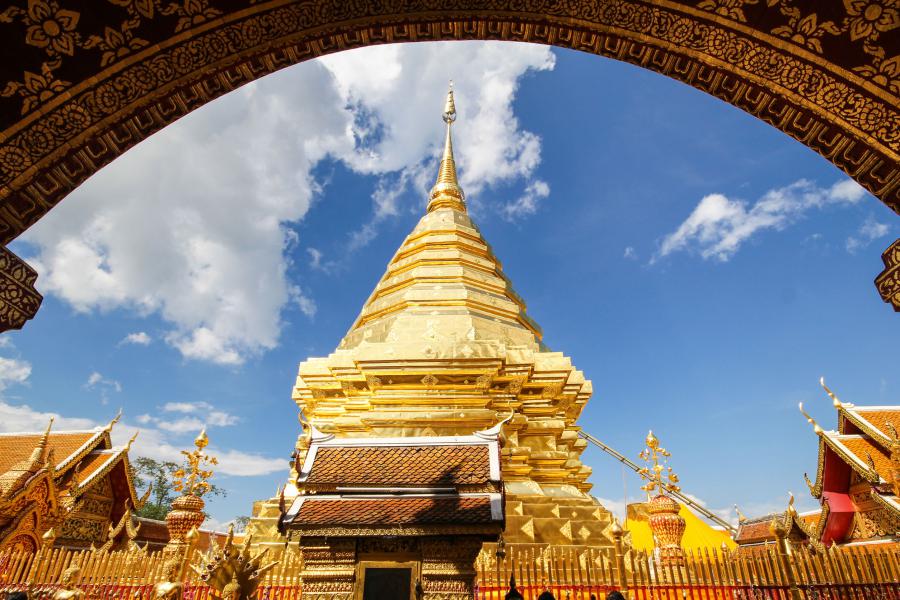 The mountains in the park are within the Thanon Thong Chai Range, most of its bedrock is granite. Two of the highest peaks in the park are Doi Pui which is the highest in the park at 1,685 meters asl and Doi Buak Ha.
The park is separated into two areas; In south Doi Suthep and Doi Pui area where most of the major attractions and the headquarters is, 10 km further north a smaller area around Mok Fa Waterfall.
Forests in the park consists of evergreen forest on higher altitudes above 1,000 meters and deciduous forest on lower. Some forest pockets in the gullies and along the streams are mixed deciduous-evergreen forest. Common trees include oaks, dipterocarps and trees of the magnolia family. There are nearly 2,000 species of ferns and flowering plants, nearly 360 species of birds and a good number of mammal species reported in the park.
The rainy season is May to November, August and September are the wettest period of the year with almost daily rainfall. The rest of the year is quite dry. The high altitudes of the park makes the climate cool and pleasant all year round, average temperatures are around 20-23 °C. During the winter months the temperatures may drop to as low as 5-6 °C, often around February.
Wildlife
Despite being a busy park with quite a few villages in and around the park, there are some impressive mammal species recorded in the park. Dholes which are very rare species were spotted just recently. Some of the other mammals seen in the park are; Indian muntjac, wild boar, Assam macaque, Indochinese serow, Asian golden cat, Malayan porcupine and Asian black bear.
Perhaps not as rich as the nearby Doi Inthanon in variety, but Doi Suthep has an impressive fauna of birds with around 360 reported species. Some of the bird species seen in the park are; black-headed greenfinch, brown bush warbler, Tristram's bunting, grey-winged blackbird, dusky thrush, chestnut thrush, white-browed shortwing, purple cochoa, chestnut-tailed minla, yellow-browed tit, large blue flycatcher, Chestnut-capped thrush, Long-tailed thrush and Himalayan cutia.
Cyrtodactylus doisuthep (Doi Suthep bent-toed gecko) is an endemic species currently only known to be found in Doi Suthep-Pui National Park. Indotyphlops porrectus (slender blind snake), Ovophis monticola (Himalayan mountain pit viper) and Cuora amboinensis (amboina box turtle) are a few of the many other reptile species found in the park. Trimeresurus popeiorum (Pope's pit viper) is a very common red-eyed pit viper found on higher elevations of the park.
Few of the rare amphibian reposted from the park are; Theloderma gordoni (Gordon's bug-eyed frog), Tylototriton uyenoi (Chiang Mai newt), Ichthyophis youngorum (Chiang Mai caecilian), Leptobrachium chapaense (Sapa spadefoot toad) and Megophrys parva (Small horned toad)
Getting there & get around
The park is in easy reach of Chiang Mai by car or bike from the west end of the city (see map or "Get there & stay" section). Higher elevations beyond Doi Pui better to be visited with a stronger terrain vehicle because of poor roads.
Getting to the park
It is possible to get to Doi Suthep Temple with a songtaew which is a converted pickup taxi. It can though be tricky to find a convenient spot to jump into one. It takes less than 40 mins to reach the temple with the songtaew option.
Get around in the park
The best way to explore the park beyond the temple is by bike or car. Unless dressed well taking a bike can be a very chilly experience that sometimes ends up with people getting cold, ruining their holiday.
It is also possible to explore the park by bicycle, but it can be a challenging experience while cycling uphill.
Tours & private transportation
Most of the park can easily be explored without a guide. But, to hike longer trails or get to more remote places like villages, coffee plantations etc, a guide with an English speaking guide is recommended. Guided tours can be booked via various tour operators, or on arrival to the hotels.
It is possible to via this website book a guided tour or a roundtrip taxi service with an experienced driver to take around to a few spots in the park and return to the hotel. See below;
Entrance fees & opening times
No entrance fee needs to be paid to enter Doi Suthep Temple or any other temples. The entrance fee applies only when camping or visiting major waterfalls. Entrance fee for foreigners is 100 Baht for adults and 50 Baht for children.
The park premises like the campsites, visitor center and waterfalls are daily open from 8 am until 4 pm, but there are no time limits to enter the park.
Activities
The park can be visited for many types of activities suitable for most ages. The most popular activity is visiting the popular attractions along the main road like Doi Suthep Temple, waterfalls, Bhubing Palace (royal residence) and Doi Pui mountain & village.
There are many trails in the park, though most requires guides because it is easy to get lost.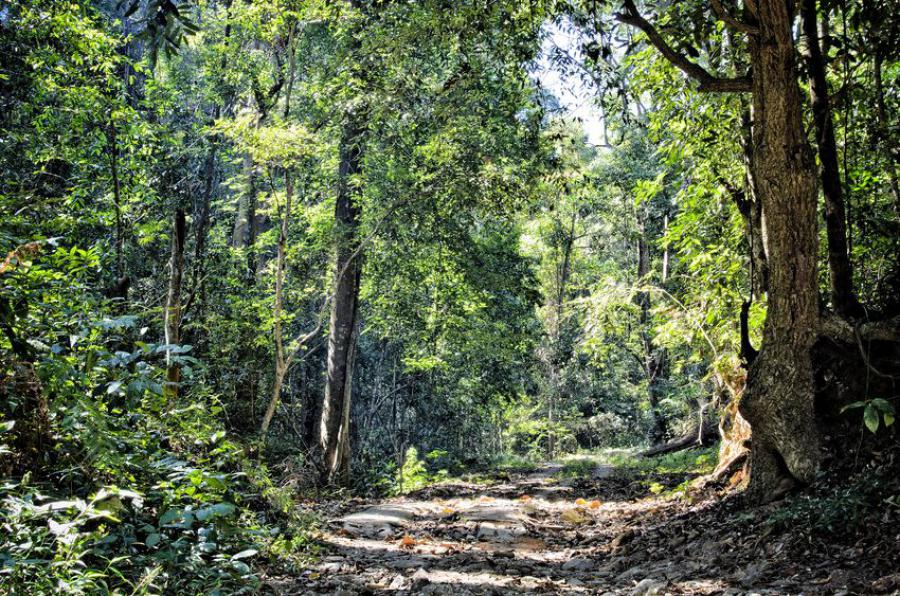 Wildlife watching is not easy, it requires daily walking along the trails to eventually get a glimpse of elusive mammals of the park. Birdwatching is perhaps more easy. With good variety of accessible roads/trails on various altitudes, it is possible to see a good number of birds over a day.
Stay & eat
Camping
There are two main camping areas the park. One is north of Doi Pui Hmong Village and the other is at Mon Tha Than Waterfall not too far from the park entrance. See further below in "attractions" section for more info and location of the campsites.
Bungalows
There are a good number of bungalows on the headquarters area, Doi Pui Campground, Man Tha Than Waterfall Campground, and Mok Fa Waterfall Ranger Station. The price ranges from 400 Baht up to 3,000 Baht, a 20% discount applies when booked for Mon-Thu.
Headquarters of the park where many of these bungalows are found is located less than a kilometer northwest of Wat Phra That Doi Suthep.
Bungalows can be booked through DNP website in advance. As the money transfer must be done within 2 days and the fact that it takes time with transfers from abroad, it is only possible to book from within Thailand only. Payments can be done at 7-Eleven convenience stores or banks.
Eat
There are a good number of restaurants and cafes inside the park along the roads. Many options at Doi Suthep Temple and Doi Pui Village.
Phone(s)
You are recommended to ask a Thai speaking person to call on your behalf.
The attractions of Doi Suthep-Pui
Wat Phra That Doi Suthep
Generally referred as Doi Suthep Temple, it is a Theravada Buddhist temple with holy shrines, pagodas, statues and murals around. The temple is build near the peak of Doi Suthep mountain at 1055 meters above the sea level, 14.5 km from Chiang Mai City Center (Old City). The first chedi is said to have been founded in 14th century as a Buddist monastery and still is a working monastary. It is one of the most sacred sites in the region. Aspects of the temple draw from both Buddhism and Hinduism. A model of the Emerald Buddha and a statue of the Hindu God Ganesha can be found in the temple site.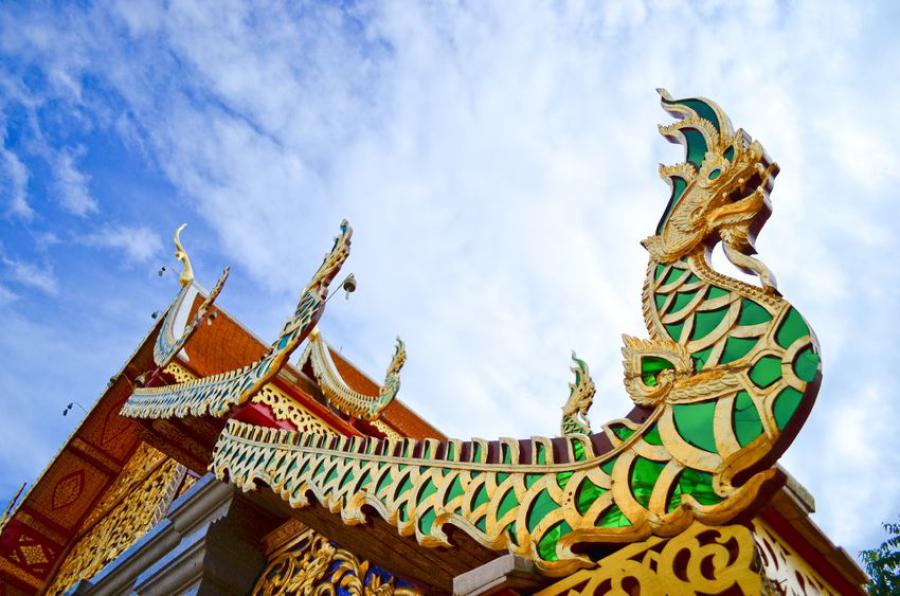 The temple can be reached from the main road through the national park, accessible by walking 309 steps steep up or by tram for 30B. The way up is flanked by trees and Naga snake figures. All visitors must take off their shoes and dressed appropriately to enter the temple terrace. No shorts allowed and shoulders must be covered, there are clothes available for rent. Opening times are irregular, people seen in the temple from very early in the morning from around 5 to 6 am, closes around 7 pm.
Yod Doi Pui Campsite
Located north of Bhubing Palace, accessible from the road that turns right 900 meters west from the palace and then 3.8 km further north. The campsite has basic facilities, a visitor center and a restaurant.
The camp visitor center has tents and mountain bikes available for rent. Two people tents costs 225 Baht per night, sleeping bags and other accessories are also available for rent from 60 Baht. It is possible to rent a tent with all accessories for 405 Baht. Mountain bikes costs 100 THB a day.
Camping visitors are recommended to use warmer sleeping bags as night temperatures may drop down to as low as 5-6 °C.
Waterfalls
Doi Suthep-Pui National Park has many waterfalls, he we list few popular ones.
Mon Tha Than Waterfall, Trail & Campsite
A popular and quite often busy nine-tiered waterfall 3 km into the national park. Entering the park less than 1.5 kilometers, a side road on the right side will lead to this waterfall. Just a bit into this sideroad a checkpoint will be seen.
The waterfall area has a campsite and few bungalows which are available for booking through DNP website from 1,500 Baht.
Huey Kaew Waterfall
A very small waterfall located at the edge of Chiang Mai City on a short walking distance from the main road near the park entrance. It is popular among local tourists. Lot of butterflies seen around the waterfall.
A nearly 500 meters short trail from this waterfall ends up on the main road of the park.
Mok Fa Waterfall
Mok Fa or Mork Fa with various other spelling is a waterfall, accessible by car, bike or songthaew. The waterfall is located at the northmost edges of the park just 1.4 km from the highway 1095 to Pai. The waterfall is in about 5-10 minutes walking distance from the car park.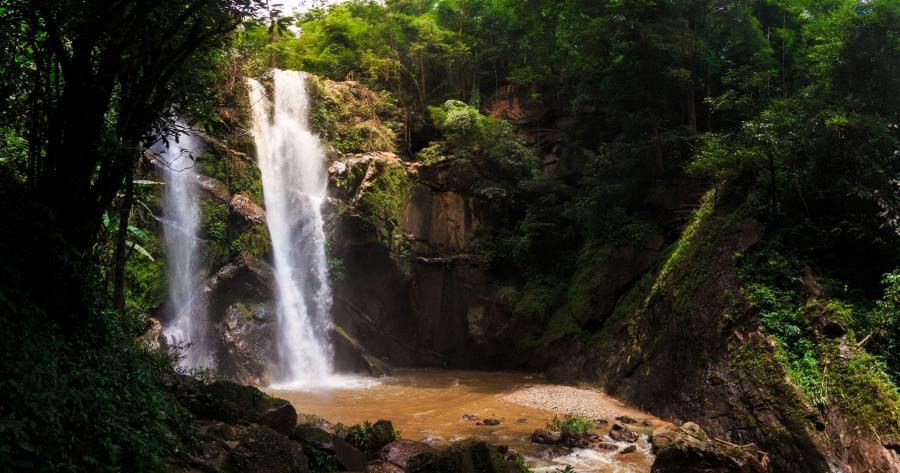 There is a visitor center and number of bungalows for rent for 1,500 THB per night.
A 100 Baht entrance fee for adults and 50 Baht for children will be charged to enter the waterfall.
Mae Sa Waterfall
A popular 10-tiered cascading waterfall along a nearly 2.5 km trail into the forest. The waterfall is located 5 km west of Mae Rim, about 600 meters off from highway-1096. There are few food vendors at the car park area.
A 100 Baht entrance fee for adults and 50 Baht for children will be charged to enter the waterfall.
Dtaat Mook Waterfall
Accessible by a short stroll from the nearby ranger station, it is a medium size waterfall with a bit less water flowing down during the dry seasons.
A 100 Baht entrance fee for adults and 50 Baht for children will be charged to enter the waterfall.
Bhubing Palace
Built in 1961, Bhubing Palace is the royal winter residence to accommodate the royal family during their visits to the northern Thailand. The official name of the palace is Phra Tamnak Phu Phing.
The palace is 4 km west of Wat Phra That Doi Suthep. There are a number of buildings including guesthouses for state visitors from abroad. The palace is open to the public except when the royal family is in the residence. The area is ideal for birdwatching, butterfly watching and has good view over Chiang Mai. Opening times are 8:30 am to 4:15 pm, but sometimes may get closed as early as 3 pm.
Trails
The national park is full of trails, below we will list only a few popular ones. To see where these trails are on map, just click "show on map" link next to the title. Please do not ignore the guide requirement for certain trails as the park is full of crossing trails from different directions, it is very easy to get lost, particularly because not all trails are signposted well.
Buddha's Footprint Trail
Starting from Doi Pui Hmong Tribal Village in the middle of the park, it is a 13 km trail. The trail head is right north of the village at about 1,320 meters asl. The highest point of the trail is at about 1,490. Quite easy walk, but the length of it makes this trail a moderate one.
When walked clockwise, the trail gradually ascends to start of a mountain ridge and follows the ridge north till the northernmost point, which after it descends and joins to another trail called False Buddha's Footprint Trail all the way back to the same village.
A ranger or a guide is required to walk the trail. It may even be possible to arrange a local at the Hmong village for an unknown price.
Coordinates of the trailhead: 18.82038, 98.88296
Monk's Trail
One of the most known trails in Doi Suthep, starting from a trailhead west of Chiang Mai University and ending at Wat Phrathat Doi Suthep.
It takes around 1.5 hours to walk this trail. Half way through this trail in about 45 minutes hiking is another temple, Wat Phra Lat which is near the main road into the park. Once on the road, the hikers needs to walk a couple of hundred meters and continue the trail from the other side of the road.
Coordinates of the trailhead; 18.797678, 98.942200
Coordinates of the trailhead from the main road; 18.798995, 98.931719
Huay Tung Tao Circular Trail
It is poorly maintained, nearly 7 km long circular trail. The trail is difficult to walk, not signposted and shouldn't be walked without a ranger or a guide. The trail often fades away, makes it difficult to guess what direction to walk.
The trailhead it nearby Golden Buddha statue near the Huay Tung Tao Reservoir on the east edge of the national park. Half way through the trail there is a waterfall.
Coordinates of the trailhead: 18.865958, 98.937307