Private Tour

|

Kui Buri elephant safari | half day

Kui Buri National Park is known to be the best place in Thailand to spot elephants and relatively good chance to spot gaurs, and that sometimes in big herds. Gaurs are the biggest cattle species and the fourth biggest land-mammal species in the world. Other possible sightings during the tours include sambar deer, banteng and wild boar.
What?
Due to strict regulations this half-day wildlife safari tour doesn't include any hiking activities apart from leaving the vehicle for short walks to viewing areas, we will only be allowed to do safari driving. During our tour we scan the forest edges on grassland areas known to be prime elephant habitat in hope to see mainly elephants and/or gaurs.
Tour itinerary
From 2:30 pm till 6 pm
Wildlife tours in Kui Buri National Park are strictly regulated and limited to certain hours. After a mandatory registration we will get assigned an open-air vehicle with driver and an assistant. The tour will begin by driving slowly into the reserve on the main dirt road north heading to the main grassland areas. While driving slowly, we will search for any wildlife including birds or any other smaller/bigger animals.
Our first stop will be a viewing area where we leave the vehicle in hope to spot wildlife, mainly elephants. We will later on continue to the next viewing area at the end of the road, best known for spotting gaurs, but also elephants and sometimes bantengs.
During the tour, your guide will give you information about the habitat, wildlife and history of the park.
The type of assigned vehicle is an open-air pick-up truck driven by locals. It is the Kui Buri National Park's policy to let locals do the driving, a policy that showed to be a success in reducing the poaching in the park.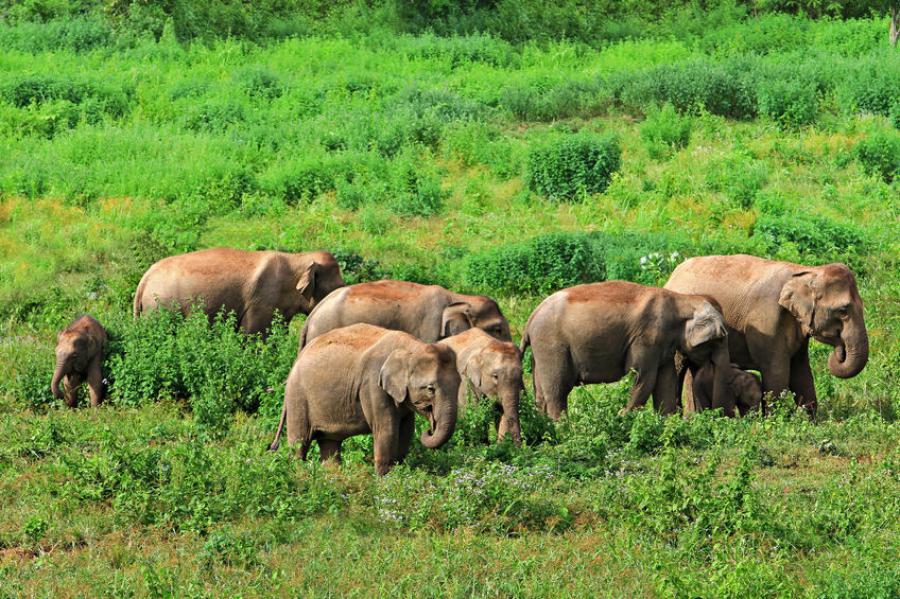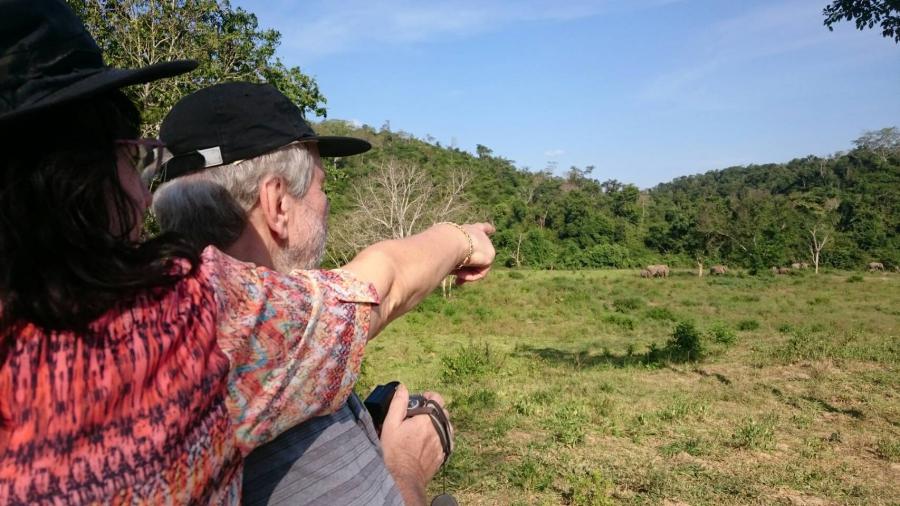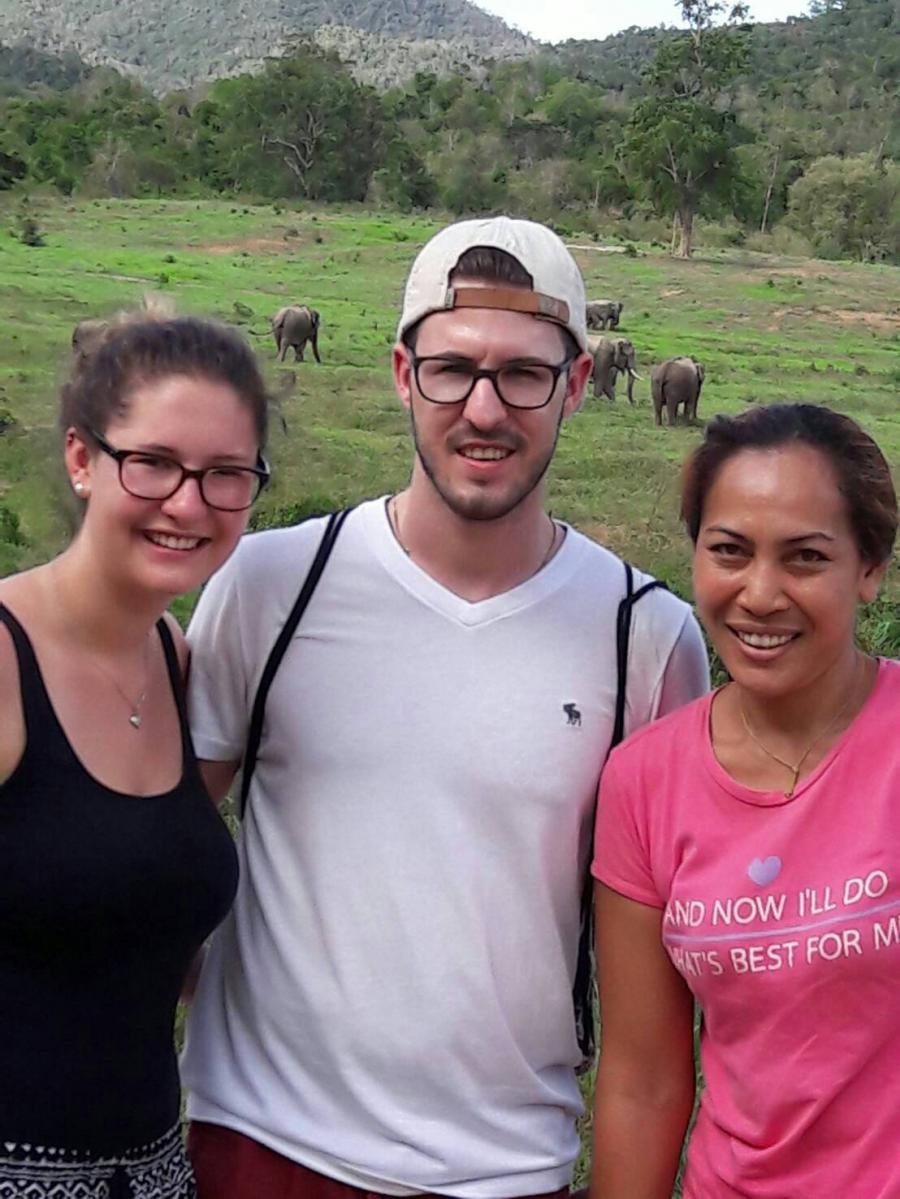 Where & When?
Kui Buri National Park lies about 1.5 hours driving distance from Hua Hin and nearly 4 hours from Bangkok. We can offer private transfers from Bangkok, Hua Hin or other destinations. The park is open all year round.
Tour details in short:
Duration: half day
Type: Private tour
Price: 1,050 to 3,500 Baht per person
Group size: 1 or more people
Grade: Easy
Transport: Safari vehicle
Start: 2:30 pm
End: 6 pm
What to bring:
Rain clothing
Insect repellent
Sunblock lotion
Hat or cap
How much?
Our half-day safaris are private tours. You'll be accompanied by an English speaking licensed guide and no other people will join you; the best way to explore Kui Buri Wildlife Watching area!
Pax
Rate per person
1
3,500

THB

2
2,000

THB

3
1,600

THB

4
1,300

THB

5
1,200

THB

6
1,150

THB

7
1,100

THB

8
1,050

THB
Tour rates include:
Entrance fees
English speaking guide
Drinking water
Reviews from our guests
By: Sylvain | posted Sun 13 Aug, 2023
Great tour with great guide !
We really liked it, saw many elephants, birds and other animals !!! Also we appreciated so much the fact that we had a private car, and inside the reserve there is not too many tourist.
My kids and wife really enjoyed it !!!
By: Daniel Musso | posted Tue 16 May, 2023
Safari was super fun and we managed to see one elephant which made it all worth it. The guides were friendly and determined to spot elephants and other animals for us!
By: Beatrice De Neve | posted Tue 7 Mar, 2023
We had a chance to see one elephant but only one. We saw also some gaurs ands deers but at the end of the day. We saw great horn bills because the local guide has seen them. In my opinion it is not useful to begin the tour at 2:30 p.m, 4 p.m should be enough. We were a bit disappointed that the special guide didn't do more than the local guide actually. We thought that having a special guide we will walk a bit more in the park instead of just staying and waiting.
Tour operator's response
Thank you for your feedback.
I am sorry if it wasn't clear in our itinerary that it does not include any jungle walks. Unfortunately we are restricted by the park regulations, which means we can not do any more activities than what the authorities allow. We very much wish we would have more freedom in the park to fully optimize our time and opportunities, but unfortunately that is not the case.
Perhaps the starting time is somewhat early, especially in this hot season. But on the other hand, we have also done trips on which we saw elephants right at the start of the trip, and none later on. Surely, on average the chance to see wildlife tends to increase later on the day, but still, being wildlife it is impossible to tell when they will show up and for how long. Spending more time is going to increase the chance, but indeed may mean you wait for quite some time for any action to happen. This may feel like a waste of time, if you are not lucky of anything to happen.
I hope that despite these issues, you have enjoyed your visit.
Thank you!
By: Patrick Drogné | posted Fri 3 Mar, 2023
TOP ORGANISATION (pick up from and to HuaHin and local guiding)
TOP RANGERS (Som and her colleagues)
Furthermore, even in very dry conditions, we were very lucky to see twice elephants, even 1 at less than 100m. We saw also more than 30 gaurs in 6 different opportunities. IT WAS A GREAT DAY.
Thanks to the park and all his team (including animals).
By: Alissa | posted Mon 27 Feb, 2023
Our experience booking a day trip through Thai National Parks was perfect. During our holiday we first booked an excursion to Khao Yai National Park. Although it was "full" for that day, we were given the opportunity to start on the south side of the park with a different type of car. Which was no problem for us. We saw many animals and beautiful nature that day. We have seen monkeys, deer, snakes, various birds, spiders, butterflies, a white and black squirrel. Beautiful trees, a waterfall and beautiful views of various landscapes. Our guide and driver were very friendly and told us a lot. Unfortunately, after all the beautiful things we have seen, we had not spotted any elephants and we would have loved to see them in nature. After reading the reviews on this website, I read that the chance of seeing elephants would be greatest in the Kui Buri park with an elephant excursion. So we booked this in the 2nd week of our holiday. Once there we had a very cheerful female guide. (Sorry, unfortunately we don't remember the names) In the first part we drove we saw a back of an elephant in the distance. We then drove to various points where we could best spot elephants. Although the view was beautiful, we unfortunately did not see any elephants. After waiting for the last point, our patience was rewarded. 1 of the guides received a report that elephants had been seen at the start of the tour. So everyone went back quickly with his/her guide. Once we arrived at the first point we saw no less than 6 elephants! According to the guide, this was one of the best days of the past period given the dry season. We are very happy that we were able to experience this and that we were so lucky that day. If you want to do an excursion to one of the national parks in Thailand, I will definitely book it through this organization. From the beginning to the end when you are dropped off at your hotel by the taxi, everything is perfectly arranged! Friendly and informative guides, the lunch was perfect, the communication and thinking along with booking these excursions was also fast and pleasant! Thank you for the beautiful days we have experienced with you.
By: Marco | posted Sun 19 Feb, 2023
Excellent tour and very nice and helpful guides. Saw 3 elephants, some gaurs and a lot of hornbills. Thank you very much
By: Millie Young | posted Mon 3 Jan, 2022
Som our guide was extremely informative and friendly. Gauging our interests and keeping us looking right till the last moment for the elusive elephants. Despite not seeing them (only the 4th time in her 6 year career) we were engaged and felt fulfilled in our visit. Seeing an eagle, two Guar from afar, and being introduced to many plants and their various uses. And scouting for the elephants, noticing their tracks, trees that had been felled, and the gouges on the wild mango tree. I will return and hope to get to see the herd, but either way it will be worth areturn again and again. Big thanks to the Forestry rangers
Tour operator's response
Dear Millie,
Thank you for your kind review even after you have been so unfortunate :(
It is indeed rare to NOT see any elephants in Kui Buri. It's nature, the animals are wild, and do as they please. A shame this had to happen during your visit.
Hopefully you will get another opportunity some day to try it again.
Kind regards and Happy New Year!
By: Jared | posted Tue 18 Aug, 2020
A lovely afternoon out, but unfortunately we didn't see any elephants! Our guide was very sad for us and even invited us to her farm that evening to see some, but we had other plans.
It's not their fault that the elephants didn't want to show up, but I also would feel strange putting a 5 star review for a day that actually just consisted of sitting and staring at trees for a few hours!
I'm sure it would be amazing if elephants were there though..
Tour operator's response
Thank you for sharing your experience.
It's quite unfortunate for sure :( . We have been offering these trips since 2015. And till this year we had only 1 or 2 trips on which the guests did not see any elephants. Our guide has been going in the park for even longer than that and had literally a 99% success rate.
But beginning this month your trip and another group 2 days after yours both were unsuccessful.
It's hard to say why this happened. I guess it is just a reminder that nature follows its own path and seeing wild animals is never a guarantee. Even though Kui Buri seems as close as one can get to guarantees when it comes to elephants in Thailand.
Indeed, as the guide has suggested, the elephants are still there, and have still been visiting local pineapple farms each night during that time.
But unfortunately we have no idea why they didn't show up in the afternoon. If only we could predict that in advance :(
I guess, we have to start to be slightly more careful with saying it is the best place. We can only hope this is not going to repeat itself more often.
Thank you for taking the time to share your experience.
By: Antoine FERRANT | posted Sun 9 Aug, 2020
The guide was really nice, likewise the ranger. Quite good information shared and everything was well organized. We were unlucky not to have seen elephants, but we have seen other types of fauna. Yet, the added value of having a toured guide was rather limited if compared with the other cars : same route, same sceneries, etc. It was a good experience, but slightly below expectations.
By: Ela Leks | posted Mon 30 Mar, 2020
We highly recommend going to elephant photo safari in Kui Buri National Park. Our guide, Som (hopefully I'm not mispronouncing her name) was very friendly, knowledgeable and did her best to make our experience unforgettable. Thanks to her, the local guide and the driver we saw a family of 7 elephants, a single male and two other elephants. They were all very involved in tracking the animals and Som provided us with some interesting insights into park's wildlife. If you would like to see elephants in Thailand, going to one of the national parks, supporting local economy and seeing these majestic animals in the wild seems to be the only ethical option (at least for me). So called "elephant sanctuaries" seem to be just another way of exploiting them.
Hiring a guide from Tontan is not a must (if you are lucky you may end up visiting the park with a local guide who is involved in his/her job and whose English is decent enough), but we didn't want to risk and we are happy with the way it turned out. The owners were very responsive and accomodating. We also asked them to organize a taxi transfer from/to Hua Hin, which was very good too. All together, a great experience!