Private Tour

|

Kui Buri elephant safari | half day

Kui Buri National Park is known to be the best place in Thailand to spot elephants and relatively good chance to spot gaurs, and that sometimes in big herds. Gaurs are the biggest cattle species and the fourth biggest land-mammal species in the world. Other possible sightings during the tours include sambar deer, banteng and wild boar.
What?
Due to strict regulations this half-day wildlife safari tour doesn't include any hiking activities apart from leaving the vehicle for short walks to viewing areas, we will only be allowed to do safari driving. During our tour we scan the forest edges on grassland areas known to be prime elephant habitat in hope to see mainly elephants and/or gaurs.
Tour itinerary
From 2:30 pm till 6 pm
Wildlife tours in Kui Buri National Park are strictly regulated and limited to certain hours. After a mandatory registration we will get assigned an open-air vehicle with driver and an assistant. The tour will begin by driving slowly into the reserve on the main dirt road north heading to the main grassland areas. While driving slowly, we will search for any wildlife including birds or any other smaller/bigger animals.
Our first stop will be a viewing area where we leave the vehicle in hope to spot wildlife, mainly elephants. We will later on continue to the next viewing area at the end of the road, best known for spotting gaurs, but also elephants and sometimes bantengs.
During the tour, your guide will give you information about the habitat, wildlife and history of the park.
The type of assigned vehicle is an open-air pick-up truck driven by locals. It is the Kui Buri National Park's policy to let locals do the driving, a policy that showed to be a success in reducing the poaching in the park.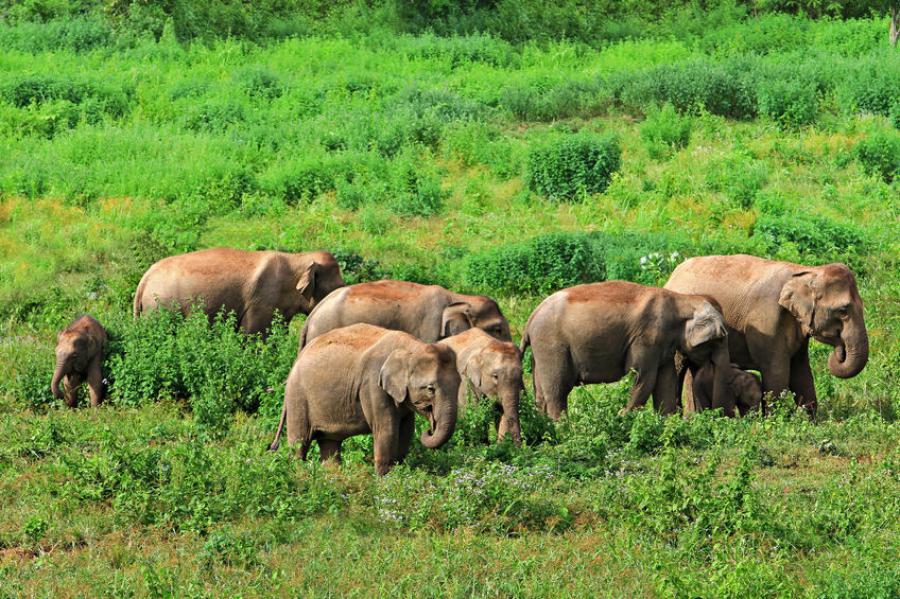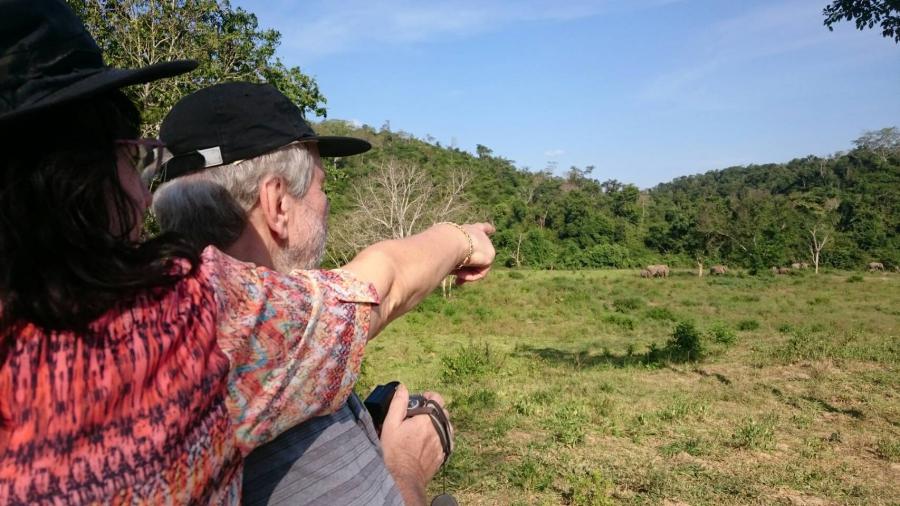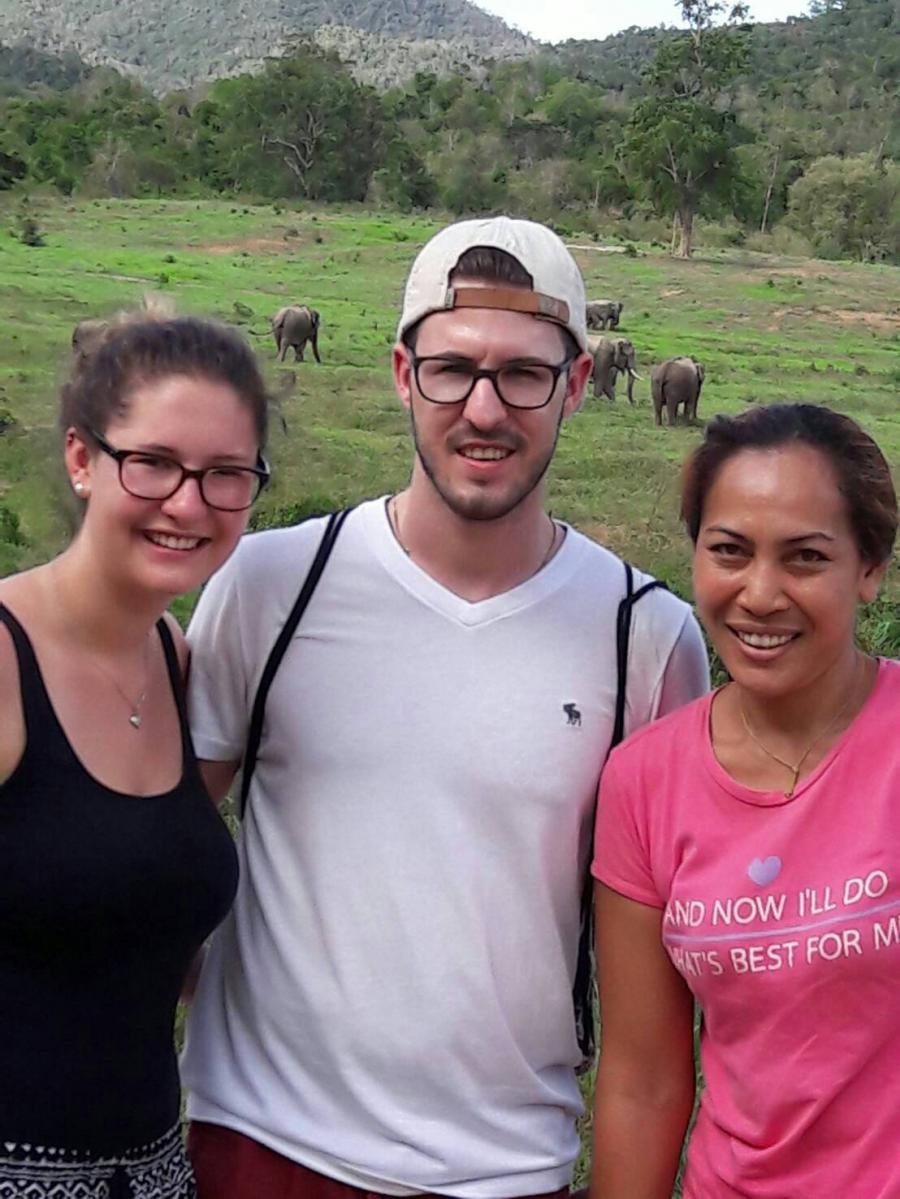 Where & When?
Kui Buri National Park lies about 1.5 hours driving distance from Hua Hin and nearly 4 hours from Bangkok. We can offer private transfers from Bangkok, Hua Hin or other destinations. The park is open all year round.
Tour details in short:
Duration: half day
Type: Private tour
Price: 1,050 to 3,500 Baht per person
Group size: 1 or more people
Grade: Easy
Transport: Safari vehicle
Start: 2:30 pm
End: 6 pm
What to bring:
Rain clothing
Insect repellent
Sunblock lotion
Hat or cap
How much?
Our half-day safaris are private tours. You'll be accompanied by an English speaking licensed guide and no other people will join you; the best way to explore Kui Buri Wildlife Watching area!
Pax
Rate per person
1
3,500

THB

2
2,000

THB

3
1,600

THB

4
1,300

THB

5
1,200

THB

6
1,150

THB

7
1,100

THB

8
1,050

THB
Tour rates include:
Entrance fees
English speaking guide
Drinking water
Reviews from our guests
By: Tim Cotterell | posted Tue 12 Nov, 2019
Thank you for a fabulous day - we saw 3 groups of elephants totaling 17 (I think). Our guide really brought the experience to life, and her knowledge and obvious enthusiasm for her subject shone through. She knew that we should stay where we were because they would return, and they did ! Thanks.
By: Bill Miranda | posted Tue 15 Oct, 2019
Our family enjoyed the experience
By: Susan Shields | posted Wed 2 Oct, 2019
We had an absolutely amazing time. Our guide was very good and certainly knew her stuff. We were lucky to see lots of elephants. Thank you all very much it was a fantastic trip and we will definitely recommend to others
By: Danielle | posted Fri 27 Sep, 2019
This tour was incredible. We saw 15 elephants in total as well as great hornbills which was amazing. Our guide was very informative, helpful and friendly. We had such a great day, seeing the reforestation work and care for the environment apparent was also a highlight. I would recommend this tour to anyone!
By: Stephen Dunne | posted Thu 12 Sep, 2019
Didn't see many elephants and that was ok, but as a national parks did expect to see other animals. Unfortunately there were none?.... which made us wonder, why.
Tour operator's response
Dear Stephen,
The reason why has primarily to do with the history of the area. The elephant watching area used to be farmland until the king suggested to return it to nature due to the human-elephant conflict. So the area is slowly regenerating forest that is suitable for some grazers like elephants and gaur, but due to lack of continuous forest it is not suitable for many animals like e.g. primates.
Still we have seen a variety of species in the area but obviously with nature luck is a major factor too.
In the elephant watching area we have seen e.g.
Gaur, Banteng, Hog Deer, Sambar deer, Indian Muntjac, Wild Boar, Golden Jackal, Dhole, Burmese Hare, Yellow-throated Marten and even Asian Golden Cat.
But apart from Gaur which is fairly regular, most other species are not often seen.
So the trips are primarily focused on elephants which sometimes show in small, sometimes in big numbers but so far we have about a 99% success rate with elephants. Definitely the most reliable place in Thailand.
Thank you for joining and enjoy your travels!
By: Julie | posted Mon 9 Sep, 2019
The organisation leading up to the visit was excellent. The guide, K Bill, was very informative, professional and good fun.
It was a totally unforgettable experience to see not just elephants but many different types of wildlife. It was so beautiful and peaceful too. It was just great to see elephants living free.
Thank you.
By: Arjen Fledderman | posted Wed 14 Aug, 2019
We had two very good guides. A local and a very good English speaking. They told us a lot about the nature and the wild in the park. Although it was very wet (the guide had ponchos) we were lucky to see a group of seventeen elephants. They do amazing work on the park and give all the animals enough space.
By: Belinda Braggs | posted Mon 12 Aug, 2019
Our guide, Worravoot, was really fantastic and made sure that we saw the elephants, he was very informative and had a lot of knowledge of the National Park and the life of the elephants and the people in the area. It was a wonderful experience and I will definitely go back again. The National Park is so important for the preservation of the Thai people's elephants, the interaction of the local Thai people with the National Park and the elephants is really wonderful.
By: Charlotte Sermet | posted Mon 12 Aug, 2019
Hello,
We enjoyed very much our visit to Kui Buri park. Son was a very nice guide. We learned a lot of things, and were happy to see elephants.
Thank you
I'll recommend the tour to friends coming to Thailand.
By: Maartje Van Meel | posted Thu 8 Aug, 2019
What a beautiful park, with such amazing vista's. Som, our guide, is very knowledgeable and even brought snacks with her, which the kids loved. Despite the rainy weather we had a great trip and even saw 11 elephants!