Private Tour

|

Kui Buri elephant safari | half day

Kui Buri National Park is known to be the best place in Thailand to spot elephants and relatively good chance to spot gaurs, and that sometimes in big herds. Gaurs are the biggest cattle species and the fourth biggest land-mammal species in the world. Other possible sightings during the tours include sambar deer, banteng and wild boar.
What?
Due to strict regulations this half-day wildlife safari tour doesn't include any hiking activities apart from leaving the vehicle for short walks to viewing areas, we will only be allowed to do safari driving. During our tour we scan the forest edges on grassland areas known to be prime elephant habitat in hope to see mainly elephants and/or gaurs.
Tour itinerary
From 2:30 pm till 6 pm
Wildlife tours in Kui Buri National Park are strictly regulated and limited to certain hours. After a mandatory registration we will get assigned an open-air vehicle with driver and an assistant. The tour will begin by driving slowly into the reserve on the main dirt road north heading to the main grassland areas. While driving slowly, we will search for any wildlife including birds or any other smaller/bigger animals.
Our first stop will be a viewing area where we leave the vehicle in hope to spot wildlife, mainly elephants. We will later on continue to the next viewing area at the end of the road, best known for spotting gaurs, but also elephants and sometimes bantengs.
During the tour, your guide will give you information about the habitat, wildlife and history of the park.
The type of assigned vehicle is an open-air pick-up truck driven by locals. It is the Kui Buri National Park's policy to let locals do the driving, a policy that showed to be a success in reducing the poaching in the park.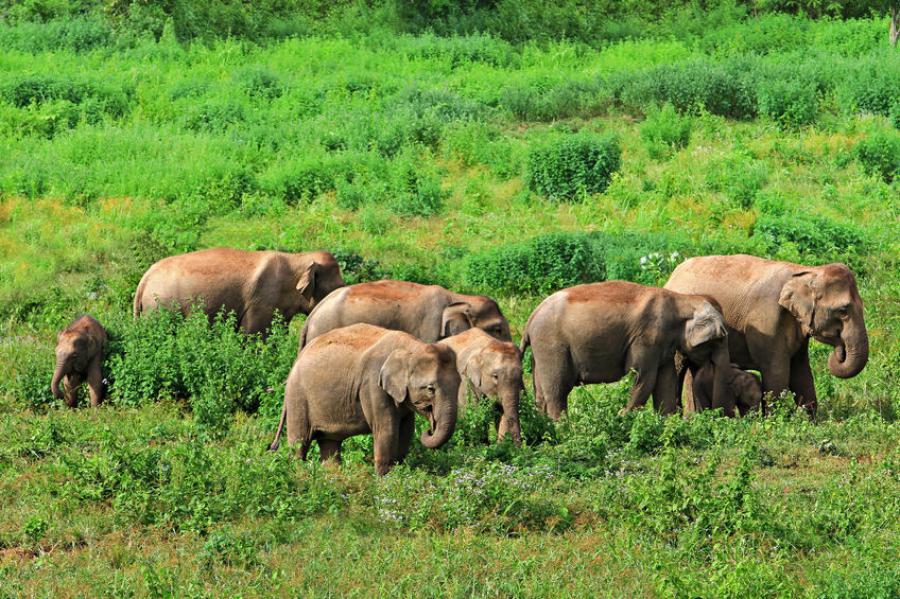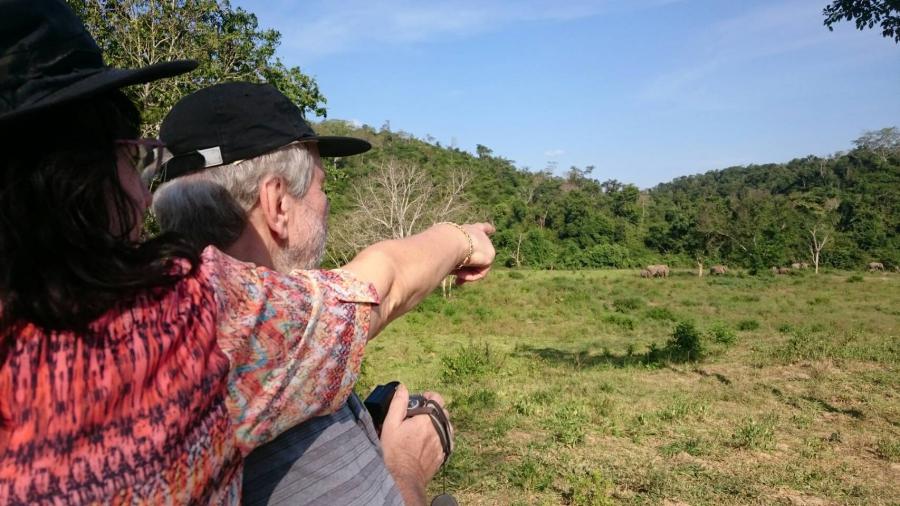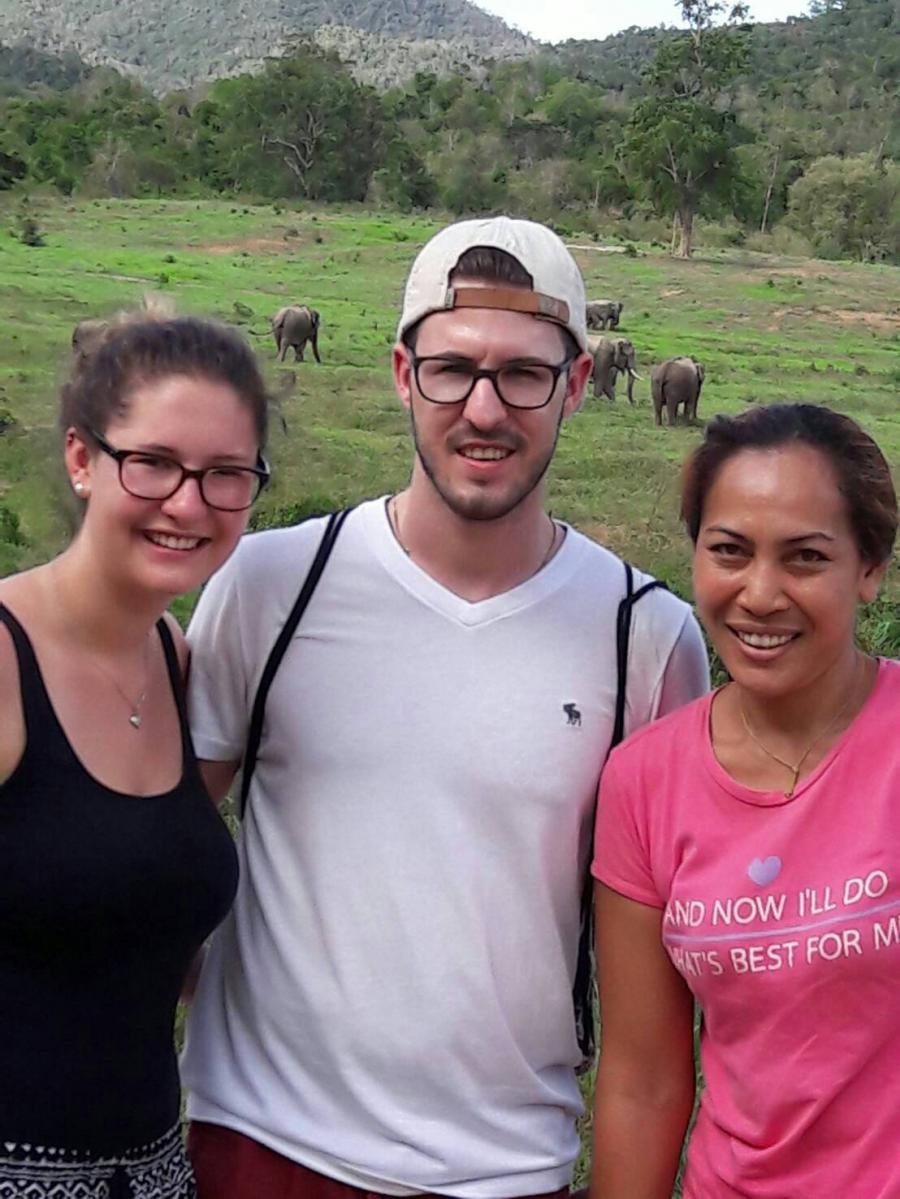 Where & When?
Kui Buri National Park lies about 1.5 hours driving distance from Hua Hin and nearly 4 hours from Bangkok. We can offer private transfers from Bangkok, Hua Hin or other destinations. The park is open all year round.
Tour details in short:
Duration: half day
Type: Private tour
Price: 1,050 to 3,500 Baht per person
Group size: 1 or more people
Grade: Easy
Transport: Safari vehicle
Start: 2:30 pm
End: 6 pm
What to bring:
Rain clothing
Insect repellent
Sunblock lotion
Hat or cap
How much?
Our half-day safaris are private tours. You'll be accompanied by an English speaking licensed guide and no other people will join you; the best way to explore Kui Buri Wildlife Watching area!
Pax
Rate per person
1
3,500

THB

2
2,000

THB

3
1,600

THB

4
1,300

THB

5
1,200

THB

6
1,150

THB

7
1,100

THB

8
1,050

THB
Tour rates include:
Entrance fees
English speaking guide
Drinking water
Reviews from our guests
By: Millie Young | posted Mon 3 Jan, 2022
Som our guide was extremely informative and friendly. Gauging our interests and keeping us looking right till the last moment for the elusive elephants. Despite not seeing them (only the 4th time in her 6 year career) we were engaged and felt fulfilled in our visit. Seeing an eagle, two Guar from afar, and being introduced to many plants and their various uses. And scouting for the elephants, noticing their tracks, trees that had been felled, and the gouges on the wild mango tree. I will return and hope to get to see the herd, but either way it will be worth areturn again and again. Big thanks to the Forestry rangers
Tour operator's response
Dear Millie,
Thank you for your kind review even after you have been so unfortunate :(
It is indeed rare to NOT see any elephants in Kui Buri. It's nature, the animals are wild, and do as they please. A shame this had to happen during your visit.
Hopefully you will get another opportunity some day to try it again.
Kind regards and Happy New Year!
By: Jared | posted Tue 18 Aug, 2020
A lovely afternoon out, but unfortunately we didn't see any elephants! Our guide was very sad for us and even invited us to her farm that evening to see some, but we had other plans.
It's not their fault that the elephants didn't want to show up, but I also would feel strange putting a 5 star review for a day that actually just consisted of sitting and staring at trees for a few hours!
I'm sure it would be amazing if elephants were there though..
Tour operator's response
Thank you for sharing your experience.
It's quite unfortunate for sure :( . We have been offering these trips since 2015. And till this year we had only 1 or 2 trips on which the guests did not see any elephants. Our guide has been going in the park for even longer than that and had literally a 99% success rate.
But beginning this month your trip and another group 2 days after yours both were unsuccessful.
It's hard to say why this happened. I guess it is just a reminder that nature follows its own path and seeing wild animals is never a guarantee. Even though Kui Buri seems as close as one can get to guarantees when it comes to elephants in Thailand.
Indeed, as the guide has suggested, the elephants are still there, and have still been visiting local pineapple farms each night during that time.
But unfortunately we have no idea why they didn't show up in the afternoon. If only we could predict that in advance :(
I guess, we have to start to be slightly more careful with saying it is the best place. We can only hope this is not going to repeat itself more often.
Thank you for taking the time to share your experience.
By: Antoine FERRANT | posted Sun 9 Aug, 2020
The guide was really nice, likewise the ranger. Quite good information shared and everything was well organized. We were unlucky not to have seen elephants, but we have seen other types of fauna. Yet, the added value of having a toured guide was rather limited if compared with the other cars : same route, same sceneries, etc. It was a good experience, but slightly below expectations.
By: Ela Leks | posted Mon 30 Mar, 2020
We highly recommend going to elephant photo safari in Kui Buri National Park. Our guide, Som (hopefully I'm not mispronouncing her name) was very friendly, knowledgeable and did her best to make our experience unforgettable. Thanks to her, the local guide and the driver we saw a family of 7 elephants, a single male and two other elephants. They were all very involved in tracking the animals and Som provided us with some interesting insights into park's wildlife. If you would like to see elephants in Thailand, going to one of the national parks, supporting local economy and seeing these majestic animals in the wild seems to be the only ethical option (at least for me). So called "elephant sanctuaries" seem to be just another way of exploiting them.
Hiring a guide from Tontan is not a must (if you are lucky you may end up visiting the park with a local guide who is involved in his/her job and whose English is decent enough), but we didn't want to risk and we are happy with the way it turned out. The owners were very responsive and accomodating. We also asked them to organize a taxi transfer from/to Hua Hin, which was very good too. All together, a great experience!
By: Benjamin Shread-Hewitt | posted Tue 24 Mar, 2020
Had a great time, guides were knowledgable and quick to take me to the hotspots! even though it was the dry season I managed to see plenty of wildlife and a good look at the elephants!
By: Katriina Laine | posted Tue 24 Mar, 2020
We had a truly wonderful experience. Everything worked as promised with pick-ups and all. The English guide we had was great. A huge bonus of course was seeing two elephant herds. Anyone comes that way, I am truly recommending using your service. Thank you for an experience of a lifetime!
By: Gerda Estl | posted Wed 4 Mar, 2020
Easy booking via Internet. Sometimes you get answers during the night and you have a certain time to answer or book... not easy when you are not online all the time.
Payment is via Paypal- which means you have first to register, but then you can pay with creditcard.
Perfect organisation of taxi and tour. We were very lucky with our guide Som, she was really eager to find elefants- though we only saw one single elefant ? wirhin ca 4 hours ? we enjoyed the time, the view, the sound of nature...
Tour operator's response
Dear Gerda,
Thank you for your review.
Of course with a last minute booking there is limited time to confirm, we also need the time to arrange the requested services like the transfers and guide etc. That's one reason why the invoices are automatically deactivated if not paid before a certain time.
We can not be online 24 hrs a day ;-) So, we prefer having things arranged before the end of a normal workday. Though nevertheless usually we make exceptions on this on a daily basis, just like in your case. That's why we are usually still at work till (after) midnight...
A shame the elephants did not come out in larger numbers, but well that is nature. One is still better than none.
Thank you for booking with us.
By: Uwe Zierke | posted Mon 24 Feb, 2020
Wir hatten eine tolle Tour und haben auch an drei Stellen die wilden Elefanten gesehen, zweimal 6 Elefanten und einmal einen einzelnen Bullen. In weiter Ferne mit dem Fernglas haben wir auch die wilden Rinder (Gaur) gesehen. Die Ranger sind gut per Funk vernetzt, was die Wahrscheinlichkeit der Elefantensichtung erhöht, auch wenn es keine Garantie dafür gibt. Wir können die Tour auf jeden Fall empfehlen!
By: Ella Van Westendorp | posted Sun 23 Feb, 2020
Our guide Billy and a lady I do not know the name of went out of their way to show us elephants and birds. Absolutely lovely. Will book again!
By: Jukka Ronkainen | posted Sat 22 Feb, 2020
Wonderful afternoon, perfect arrangements and a great guide. Thank you!