About Sai Yok
A popular national park for local and foreign tourists, known for its waterfalls, caves, historical sites and raft houses along its main river Khwae Noi. The park covers 958 km² in Sai Yok District of Kanchanaburi Province, the entrance is about 100 km northwest of Kanchanaburi City.
The main attractions of the park are; Khwae Noi River, Sai Yok Lek Waterfall, remains of the Death Railway, Dao Wadung Cave, Khang Khao Cave and Lawa Cave.
Sai Yok National Park is part of a huge continuous forest complex called Western Forest Complex, about 18,730 km², comprising 19 protected sites in Myanmar and Thailand.
The mountainous regions of the park are covered with deciduous and dry evergreen forests, mixed with bamboo. The lower areas along the Khwae Noi River are teak forest which was deforested during the Japanese occupation of Thailand but later replanted in 1954. The highest elevation in the park is 1,328 meters asl at the border to Myanmar.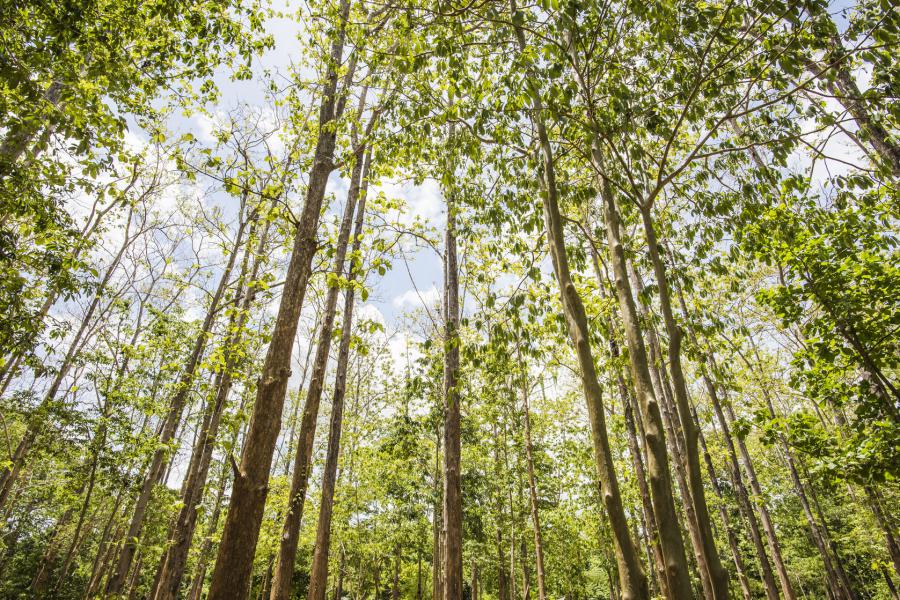 The rainy season is May to October/November with most rainfall around September to October. Rest of the year is quite dry with cooler weather around November to January.
Wildlife
Chances to see some of the interesting animals around the visitor centre area is quite rare because the area is quite commercialised. Water monitors and Sambar deer are the only interesting animals that can be seen along the river. Most of the interesting animals hold to more remote areas deeper inside the park along the border to Myanmar, like; leopard, dholes, Asiatic wild dog), Asian elephants, Indochinese serows, white-handed gibbons, stump-tailed macaques, crab-eating macaques, red giant flying squirrels, black giant squirrels and wild boars. Tigers have been camera trapped from the park and they are possibly still around.
A quite rare species of bat called Kitti's hog-nosed bat (Craseonycteris thonglongyai) can be found in a limestone cave on a convenient walking distance from the visitor centre in Sai Yok. It is named after Kitti Thonglongya who found it for the first time in 1973. These bats weigh around 2 grams, have 2.5-3 cm body length and up to 10 cm wing-span. The bat is claimed to be the smallest one in the world.
There are around 105 bird species reported from the park. Because the park isn't really a popular bird destination, it is possible that there are many more bird species yet to be found. The birds are mostly just common birds that can be found in any other park in the area, some to mention; greyish limestone babblers, large scimitar babblers, chestnut buntings, common woodshrikes, grey-headed parakeets, grey nightjars, eastern uzzards, eastern barn owls, besras, black-naped woodpeckers, common green magpies, greater necklaced laughingthrushes and lesser necklaced laughingthrushes.
A quite unique and interesting species known to be only found in Sai Yok National Park is a colorful queen crab species in red, white and blue colors (Thai name; Poo Rachinee). They can be spotted along the small streams right next to the campsite.
Of the reptile species, the rare Kanburi pit vipers (Trimeresurus kanburiensis) are found in the park. Cave racers (Elaphe taeniura) are very common in some bigger caves, other interesting snakes reported from the park are; Brongersma's blood pythons (Python brongersmai), Indochinese ground snakes (Gongylosoma scriptum), common collared snakes (Sibynophis collaris), speckle-bellied keelbacks (Rhabdophis chrysargos), Siamese cat snakes (Boiga siamensis) and many more.
Of the gecko species like Yellow-headed rock gecko (Cnemaspis huaseesom), Sai Yok bent-toed gecko (Cyrtodactylus saiyok), Tiger bent-toed gecko (Cyrtodactylus tigroides) and Nutaphand's red-eyed gecko (Gekko nutaphandi) are a few gecko species currently only known to be found the park or a few locations in Kanchanaburi Province.
Visiting
The visitor centre area is located at the northeast edge of the park 19 km north of Hellfire Pass. The attractions around the visitor centre are smaller waterfalls, springs, trails and a few smaller caves. One of the more recommended activities is a visit to Dao Daung Cave.
There are park accommodations and a few private raft houses in the park, also tents available for rent at the visitor centre.
Getting to the park
The main visitor centre of the park is about 100 km northwest from Kanchanaburi, 19 km north of Hellfire Pass and 3 km from Highway 323 next to the Kwae Noi River.
Sai Yok National Park is one of the few parks in the country that can relatively easily be reached by public transportation, but not all the way to the park visitor center area. Buses stop by at the highway, the last 3 kilometers into the park can be done by motorcycle taxis.
Like in many other popular parks, Sai Yok National Park will get very busy during the week-end and holidays.
Get around in the park
The attractions nearby visitor center area like the smaller caves and the waterfall can be reached by foot via trails, all signposted well and no guide required. Other caves require a car/boat/motorbike to get to.
Tours & private transportation
It is possible to book a 2-day tour to Erawan and Sai Yok National Parks with a night stay in one of the raft houses in Sai Yok National Park. For more info, please follow the link below;
Entrance fees & opening times
As of June 2022, the entrance fees are 300 Baht for adults and 150 Baht for children 3-14 years old. Thai citizens pay 60 Baht for adults and 30 Baht for children. Bikes will be charged with 20 Baht and cars with 30 Baht.
Sai Yok National Park is open from 8 am until 4:30 pm every day, including on holidays and week-ends.
Some caves inside the park may be closed during the rainy seasons.
Stay & eat
There are a good number of restaurants and cafes, a campsite, park accommodations around the visitor center area. Not too far from the visitor center, there is also a floating rafthouse on the river.
Park accommodations
The park accommodations are for 4 up to 7 people, all located at the visitor center area. While some of the options are a few hundred meters away from the premises, a group of accommodations are a couple of kilometres away. When booking, you are advised to double check at the DNP website which one you are about to book, otherwise you may end up being too far from the visitor center if you don't have your own car to get to the park. The price ranges from 800 up to 3,000 Baht, a 20% discount applies when booked for Mon to Thu.
Accommodation options are;
800 Baht 4 pax, 2 bedrooms
1,500 Baht for 4 pax, 2 bedrooms
1,800 Baht for 6 pax, 3 bedrooms
2,100 Baht for 7 pax, 3 bedrooms
The park accommodations can be booked through the DNP website in advance. As the money transfer must be done within 2 days and the fact that it takes time with transfers from abroad, it is only possible to book from within Thailand only. Payments can be done at 7-Eleven convenience stores or banks.
Camping
The campsite is spacious, tents and accessories available for rent at the visitor centre. A tent for 2 pax cost 225 Baht a day, a sleeping set including a sleeping bag, a mat and a pillow cost 60 Baht per person. It costs 30 Baht a day to use your own tent in the campground.
It is also possible to camp in the jungle when booking a private tour, a much better alternative to camping in the commercialised visitor center area. These private tours are not managed by the park authorities.
Rafthouses
Although being inside the national park, the raft houses along Khwae Noi River are all private, some with better quality of stay and definitely better view than the park accommodations.
Eat
There are many basic restaurants in the visitor center area, open from 8 am until 4:30 pm.
Phone(s)
You are recommended to ask a Thai speaking person to call on your behalf.
034 686 024 - Visitor Center
089 028 1958 - Visitor center
The attractions of Sai Yok
Campsite & Visitor centre
There are few shorter trails up to 2 km around the visitor centre area leading to caves, remains of the Death Railway Bridge, a natural spring, riverside viewpoints and waterfalls. There is no guide requirement to walk the short trails.
Other trails leads to nearby dirt roads which continues in various directions west.
Kwae Noi River
Kwae Noi is a tributary river to the River Kwai, the main river that runs through the national park on the eastern end of the park. There are several raft houses along the river with good view over the forest. These raft houses are one of the most popular attractions in Kanchanaburi Province. It is possible to hire a long-tail boat for around 400-500 Baht for a half hour trip along the river.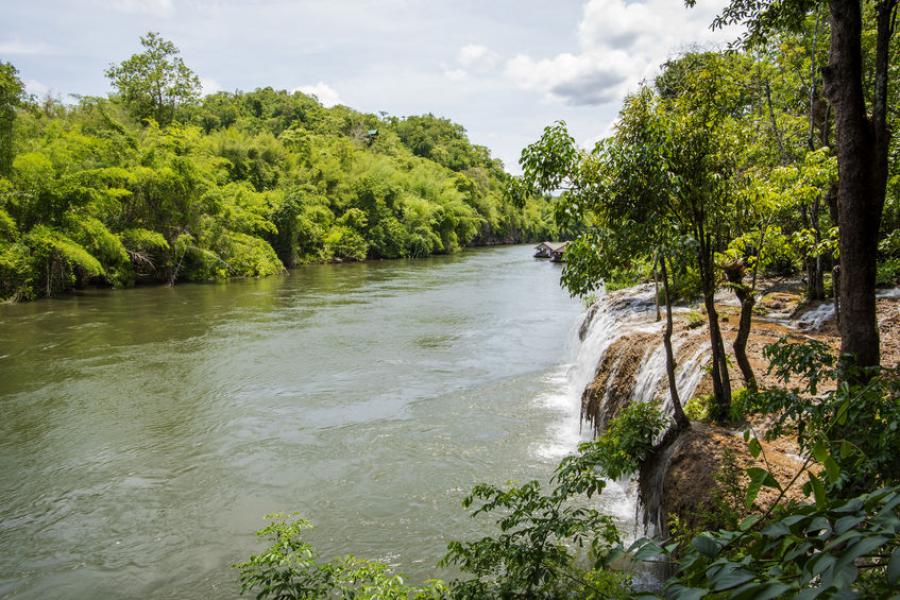 Sai Yok Yai and Sai Yok Lek Waterfalls
Two smaller falls that flows into Kwae Noi River from tributary streams. Sai Yok Yai is right next to the suspension bridge near the visitor centre area, Sai Yok Lek is 300 meters further down-streams. There are viewpoints at the opposite side of each waterfall with relatively good view over them, both accessible by a short stroll from the west side of the suspension bridge. The water flow is best during the rainy season from June/July onward.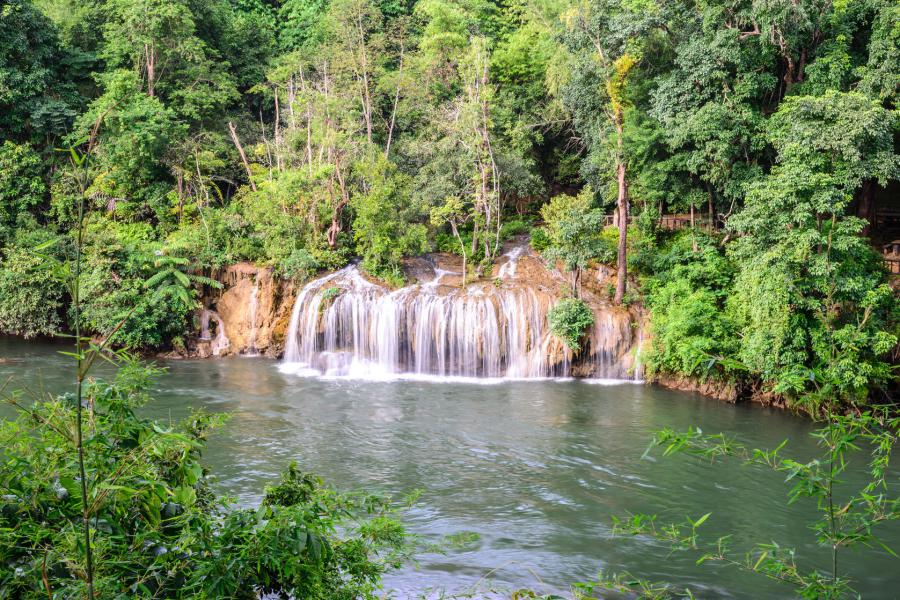 Both falls are beautiful but the beauty and the size are too exaggerated on various websites causing some foreign tourists visiting the park getting disappointed once visited.
Sai Yok Noi Waterfall
This limestone waterfall is right outside the national park boundaries, only a couple of kilometres north of Nam Tok Railway Station (Nam tok in Thai means waterfall) which is the end station of the historic "Death Railway" line. This waterfall is really part of Erawan National Park, because name similarity that refers to Sai Yok District, many think it is part of Sai Yok National Park.
Originating from a springs the waterfall flows through forest and cascading over limestone rocks. It is much taller than Sai Yok Yai and Sai Tok Lek Waterfalls, but with less water and no doubt more tourist friendly and more beautiful. The best time of the year to visit is during the rainy season from June/July onwards. The water flow will be less during the dry season but still worth visiting it.
There are regular bus services from Kanchanaburi from 6:45 am until 6 pm, the trip takes about 2 hours. It is also possible to take a train from Kanchanaburi for 17 Baht at 6:11 am, 11:00 am and 4:37 pm, return at 5:25 am 1:00 pm and 3:15 pm. There are plenty of restaurants and shops along the road.
Caves
Sai Yok National Park has many caves, only in immediate adjacent of the visitor centre there are 4 smaller caves. Remember to have a flash-light with you to visit the caves.
Dao Wadung Cave
A 240 meters long cave not too far north from the visitor center area, on the west side of the river. The cave is accessible by car/bike from the highway or by a long-tail boat trip 6 km north along the river. The cave is 1.5 km uphill from the nearby ranger station. The cave has 8 chambers consists of rock, stalagmite and stalactite formations. Bat species seen streaming out of this cave before sunset during rainy and cold seasons.
Khang Khao Cave
Accessible by short stroll on a 2 km long trail from the visitor centre area. This is the cave where one of the world's smallest mammal species, the very rare Kitti's hog-nosed bat can be found. This species weighing around 2 grams has a body length around 2.5-3 cm and a wing-span up to 10 cm. The trail to this cave also passes by foundation of Death Railway Bridge.
Lawa Cave
One of the more impressive caves in the national park, 500 meters deep with small entrance but with huge chambers containing large stalactites and stalagmites. This cave is on the west side of the river, easily accessible from a nearby raft house or by long-tail boats from other raft houses along the river. To get there by car, use a bridge nearby rail station 20 km south and follow the signs.