Private Tour

|

Sai Yok NP, Erawan Falls, cave, historical sites & raft house stay | 2D/1N tour

We don't offer this guided tour until further notice.

Kanchanaburi Province in west Thailand is home to several natural and historical sites popular among both local and foreign tourists. While Erawan National Park is famous for its waterfalls, Sai Yok National Park to the west is more popular for its raft houses over Khwae Noi River.
What?
This strictly private 2-day tour includes a visit to popular Erawan Falls in Erawan National Park, Hellfire Pass & Memorial Museum, overnight stay at Krit Raft House in Sai Yok National Park for various activities, a cave, Prasat Muang Sing Historical Park and The Bridge over the River Kwai in central Kanchanaburi.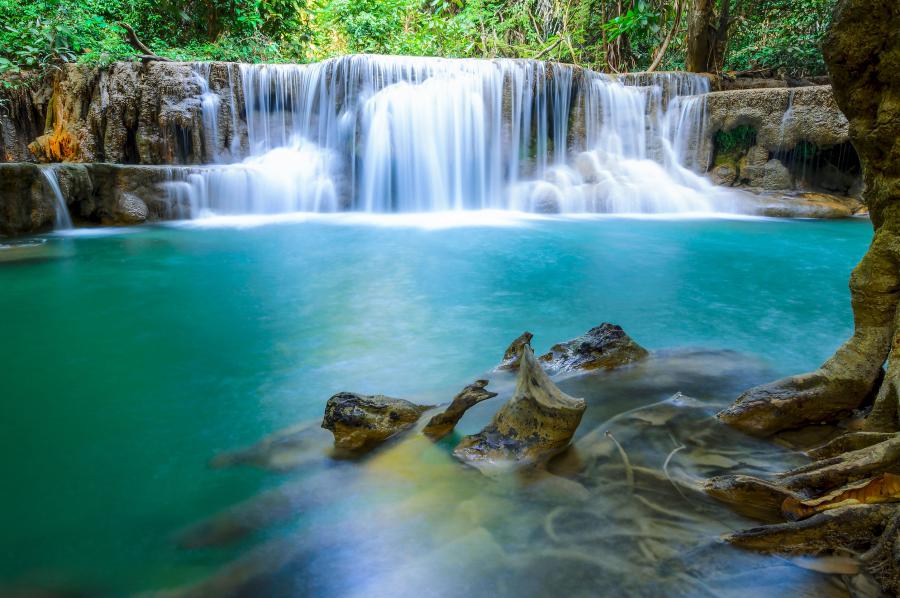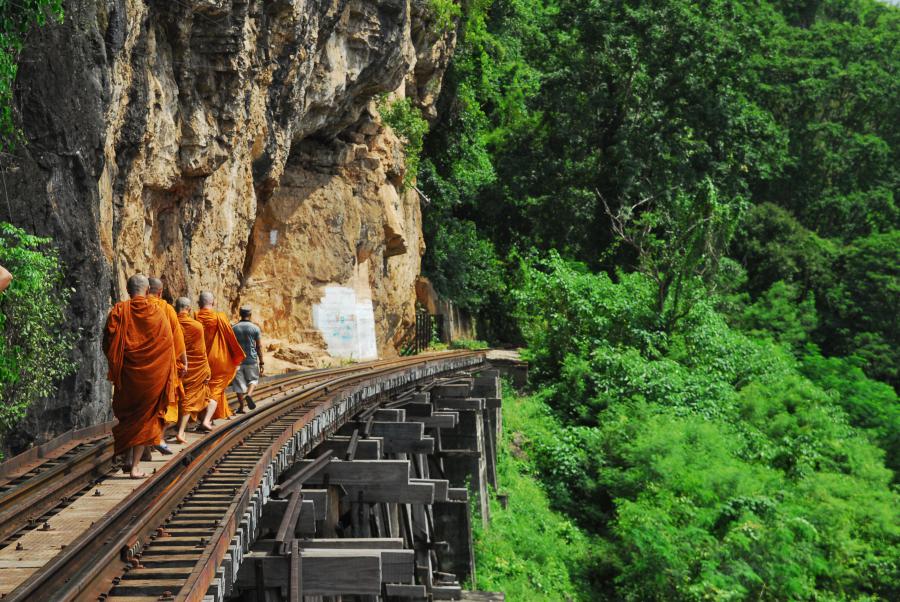 Itinerary
Day-1
8 am - Our guide will pick you up from your hotel with an a/c car in the early morning to avoid the crowds at Erawan Falls.
9 am - Arrive at Erawan Falls to spend 3 hours walking and enjoying the seven tiers of Erawan Falls. If you are faint hearted we will only walk to the easily accessible tiers. It is possible to swim in blue/emerald green waters which are full of fish. Good to bring with you hiking shoes, swimwear and towel.
12 pm - Lunch at a local restaurant
1:30 pm - Arrive at Hellfire Pass & Memorial Museum, dedicated to the memory of all men and women who worked and died during World World II. The complex consists of a memorial site located within Hellfire Pass (Konyu Cutting), a museum exhibiting artefacts and the Memorial Walking Trail where we are going to hike.
3:30 pm - Arrive at Krit Raft House (floating bungalows) Sai Yok National Park - The raft house floats on the river on the opposite side of the Sai Yok Yai Waterfall, with a very good view. This is where you will stay overnight. You will be provided with a spacious and comfortable private floating wooden raft, the bungalows are simple but charming, very clean, with a toilet, shower (cold water) and fan. The raft will be pulled upstream by a long tail boat so you can enjoy the view of other tiers. It will be possible to swim and do private raft & body rafting downstream with a life vest. Drinks, snacks, dinner and breakfast will be served on the raft. The electricity will be available from 6 pm to 6 am by a generator.
What to bring: Swimwear.
Day-2
7:30 am - Breakfast at Krit Raft House
8:30 am - Long tail boat trip downstream on the River Kwai - An experienced guide will accompany you.
10 am - We pick you up by the river
11 am - Arrive at Lawa Cave - It is one of the most beautiful caves in this region. The cave has many spacious chambers with stalactites and stalagmites. The entrance to the cave is a bit narrow. What to bring: Good shoes (e.g. running/hiking shoes)
12:30 pm - Lunch at a local restaurant
1:30 pm - Visit Rim Nam Café - A beautiful "of the track" riverside coffee shop by the River Kwai Noi making possibly the best coffee in Thailand. The shop is not known to foreign or local tourists, only known by local Thai people. There will be other beverages to be served if you like.
2:30 pm - Arrive at Death Railway Wooden Bridge & Krasae Cave - Walk along part of the old railway along beautiful slopes of steep mountainside on a wooden bridge. The bridge is still in working condition. We will also do a short visit to a nearby cave called Krasae cave. This smaller cave was used as a hospital by the Japanese during WWII.
3:30 pm - Arrive at Prasat Muang Singh Historical Park - The most important historical site in the Kwai Noi basin. The park is home to a number of e Bayon-style temples as seen in Angkor Wat in Cambodia. The temples date back to the 13th and 14th centuries.
5 pm - Arrive at The Bridge Over the River Kwai
5:30 pm - Tour end in Kanchanaburi city
Where & When?
This full day tour can be booked all year-round. Our guide will meet you at 8 am on day-1 at your hotel or any other location you prefer where the tour will start from.
We don't offer this guided tour until further notice.
Tour details in short:
Duration: 2 days
Type: Private tour
Price: 6,400 to 17,900 Baht per person
Group size: 1 or more people
Grade: Easy to moderate
Transport: SUV or minivan with a/c
Start: 8 am day-1
End: 6 pm day-2
What to bring:
Hiking or sport shoes
Towel
Swimming clothing
Insect repellent
How much?
This tour is a private tour. You'll be accompanied by an English speaking licensed guide and no other people will join you; the best way to explore attractions in this 2-day tour. The listed prices below include private transport, entrance fees, raft house stay, refreshments, meals and more. Please see the full list below.
Pax
Rate per person
1
17,900

THB

2
10,900

THB

3
9,500

THB

4
8,400

THB

5
7,900

THB

6
7,300

THB

7
6,900

THB

8
6,600

THB

9 and up
6,400

THB
Tour rates include:
Private transport from/to your location/destination in Kanchanaburi
Private tour (Not joined by others)
Private air conditioned car/minivan
Private tour guide (Great local knowledge and good English speaking)
All entrance fees
Visit Erawan Waterfalls
Visit Sai Yok National Park
Visit Sai Yok Yai Waterfalls
Visit Private floating raft
Visit Hellfire Pass & Memorial Museum
Long-tail boat trip (followed by an experienced guide)
Visit Lawa Cave
Visit Prasat Muang Singh Historical Park
Visit Krasae Cave
Visit Death Railway wooden bridge
Visit The Bridge Over River Kwai
4 meals
Accommodation (floating bungalow, double room)
Coffee break and snacks
Drinking water
Soft drinks
Reviews from our guests
By: Rama Krishnamurthy | posted Sat 1 Jun, 2019
It was an overall wonderful experience and made more so by the way it was planned and organized. Our guide Mod was was very professional and friendly. He never rushed us through any of the treks or activities while at the same time ensured that we covered all that we were supposed to do over the 2 days. I am especially thankful that the organizers and Mod took care of our special need for Vegetarian food which was arranged at all the places. It was an overall wonderful experience. Thanks to the entire team (including those behind the scenes) who made it an awesome experience for our entire family.
By: Joyce Bul | posted Wed 24 Apr, 2019
Excellent Service, Excellent Trip, Excellent Communication. We had an amazing time thank you so much
By: Samuel ROZE | posted Fri 29 Mar, 2019
It truly was a great experience. We felt very privileged to be given a tour like this, thank you.
By: Sandrine Bernard | posted Sat 9 Mar, 2019
Hello,
I'm sorry to tell you that we've been disappointed by the 2 days we spent with Ricky .
Erawan waterfalls : very nice but in a hury ( waterfalls 3 and 4 were closed because of a movie ), only waterfall 2.
First meal : OK.
Krit Raft Hotel : Nice but a short moment near the waterfall, short rafting. Not possible to swim ( was included in the program ) Meal and breakfast OK. Nice room but much grinding and hard to sleep.
Day 2 : Hury for kayak. We were 3 boats : one adult and one child per boat : Ricky was hurying up far from us and even asked our son who was in the boat with him to text us to hury...no time to enjoy! And when we finally arrived, the driver was not there yet and we have waited for him for about 30 minutes. We would have liked to spent those 30 minutes on the river instead!
Death Railway : very interesting .
Then the cave : OK.
The meal : Hury again and again : Ricky saying that a bus was arriving and that we should serve quickly before. Not true, no bus never arrived after us! Just a trick to make us hury!
Since it was not a pleasure to hury all the time, we decided to skip some scheduled activities for the afternoon. We went to the wooden bridge , Krasae Cave and bridge over River Kwai.
By the end, when we left Ricky, we asked him to share with the driver ( Top, a good driver, very nice ) entrance fees of places we had not been as a tip, he answered that he wouldn't share and did not propose any refund. It's a huge tip for him then.
You understand that we are disapointed. We paid a lot of money for that and did not enjoy, we had to hury because the program was too busy, but also because of the guide : not adaptative, didn't answer our questions,only repeating what he had said before...
Sorry for that, Sandrine
By: Angela Mariano | posted Sun 20 Jan, 2019
We had a fantastic time for the 2 day tour at Erawan, our guide Mai was really nice and the driver Bu very kind.
By: Elisabetta Erba | posted Sun 19 Aug, 2018
It was a wonderful and unforgettable experience. Our guide was competent and very friendly to us. everything was very well organized and I wish to recommend it to anyone who wants to experience a visit to Thai Parks.
Thank you for everything!
Elisabetta&Giacomo
Tour operator's response
Dear Elisabetta & Giacomo,
Thank you for your review, we really appreciate your feedback.
We are happy to hear that you enjoyed the tour with us and hopefully we will see you again sometimes in the future...
We wish you all the best
Steffen
By: Knud Schulz | posted Mon 11 Jun, 2018
The trip was really nice with a lot of different varied spots and topics.
All things were well organized and the staff were perfect prepared.
We had a lot of fun.
Thanks for this great trip.
Tour operator's response
Dear Knud,
Thank you so much for your review, we are pleased to hear that you enjoyed the tour with us.
I hope we will be able to offer you our services again some time in the future..
Thank you again for choosing us..
Best Regards
Steffen
By: Erwin Flatscher | posted Sun 10 Jun, 2018
we had a perfectly organized 2 day trip in Phetchaburi national park with Rush as a tour guide and a great driver.
we especially liked the overnight stay at the floating bungalows :)
Thank you for the great 2 days with you.
Best regards
Regina & Erwin
Tour operator's response
Dear Regina & Erwin,
We are so pleased to hear that you enjoyed the tour with us, thank you again for joining us on tour, hopefully we will see you again.
Best Regards
Steffen
By: Dita Guilhem-hesselberg | posted Mon 25 Dec, 2017
Very impressed by the green forêts this time of the year - kindness of the locals and their
Services - always with big smileys 😃
By: Anna Keys | posted Thu 2 Nov, 2017
My husband and I only had a short time and wanted to fit in as much as possible, I wanted to take the stress out of organising it ourselves, finding transportation, using busses etc. I found this trip and thought that is exactly what we were looking for, we see the highlights and more.
Our guide Mai and driver Bird were fun and very knowledgeable, they did an excellent job and making us feel safe and secure, we totally trusted them
When traveling to a different country food is always a concern for me, I like to try new things and don't want to live within my comfort zone but I get anxious about what to order, what if it's too hot, what if I've accidentally ordered something really weird! Mai took this anxiety away and suggested dishes for us to try and the food was spot on! Aroi Mak Mak (very delicious to you and I) nothing to worry about at all, we felt totally spoiled.
The accommodation, although basic, it was magical, I am actually scared of water so picking to sleep on a raft house is not necessarily the best option for me! I actually couldn't have been more at ease! We were totally safe, much to my delight there were no crocodiles that would eat me and the dining raft and bedroom raft were tightly bound together with very little movement.
I was nervous about the kayak so chose to get in the safety boat with our additional guides for the morning, Mai stepped in and paddled with my Husband, they had a fabulous time, I like to think I had a better time just sitting and watching the world go by, it was truly paradise
We felt truly privileged to have experienced it all
I'm not sure what my favourite bit was, but it could have been getting to the top of Erawan Falls, or maybe the food, or was it the raft house and waterfalls, no wait the kayaks, but the lawa cave was excellent too and then the sad history of Death Valley! I can't actually decide!
One tip! Pack more clothes than you think you'll need, it's hot and sweaty and there are biting insects, I only took one pair of long trousers, I needed at least 3!
Thank you for an amazing experience we will never forget
Tour operator's response
Dear Anna,
Thank you very much for taking the time to review us, your feedback means a lot to us. I am happy to hear that you enjoyed your adventure with us and appreciated our service. I will gladly forward your kind words to Mai and Bird.
We hope you had a safe trip back and thank you for choosing us. Keep in mind, shared memories are the best memories :)
Best Regards,
Steffen