Private Tour

|

Erawan Falls, Sai Yok NP, cave, historical sites & raft house stay | 2D/1N tour

Kanchanaburi Province in west Thailand is home to several natural and historical sites popular among both local and foreign tourists. While Erawan National Park is famous for its waterfalls, Sai Yok National Park to the west is more popular for its raft houses over Khwae Noi River.
What?
This strictly private 2-day tour includes a visit to popular Erawan Falls in Erawan National Park, Hellfire Pass & Memorial Museum, overnight stay at Krit Raft House in Sai Yok National Park for various activities, a cave, Prasat Muang Sing Historical Park and The Bridge over the River Kwai in central Kanchanaburi.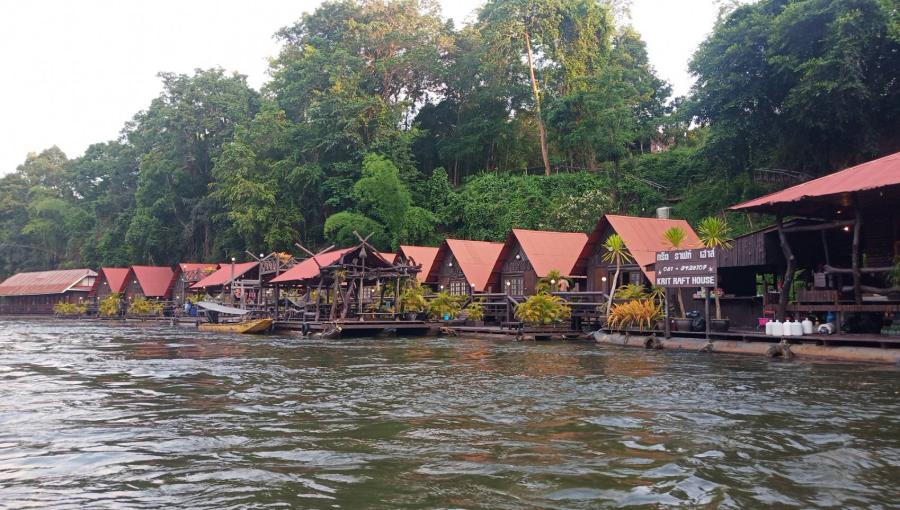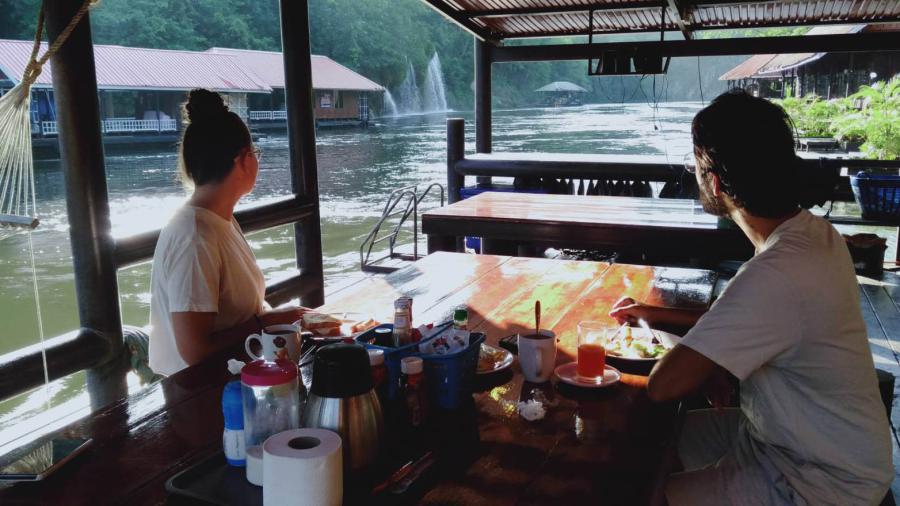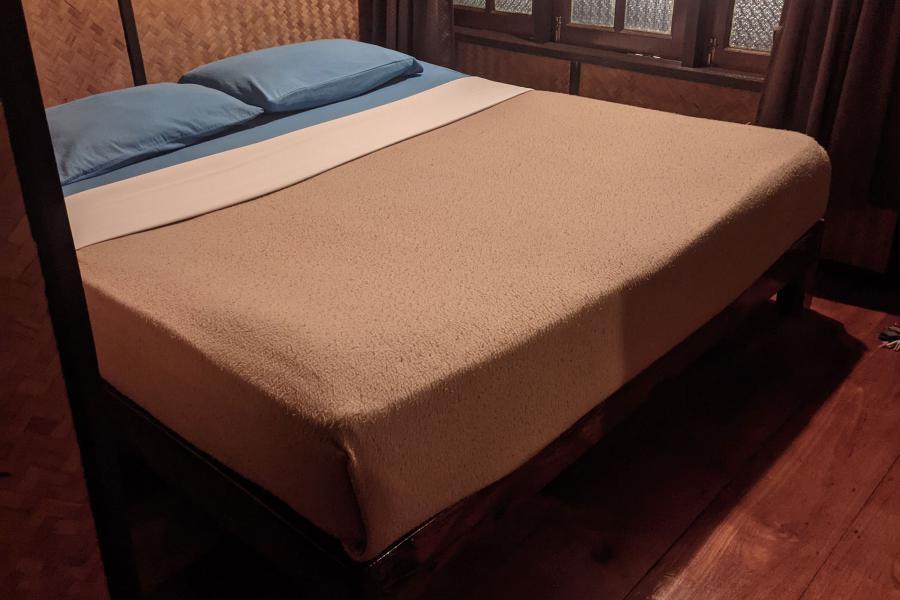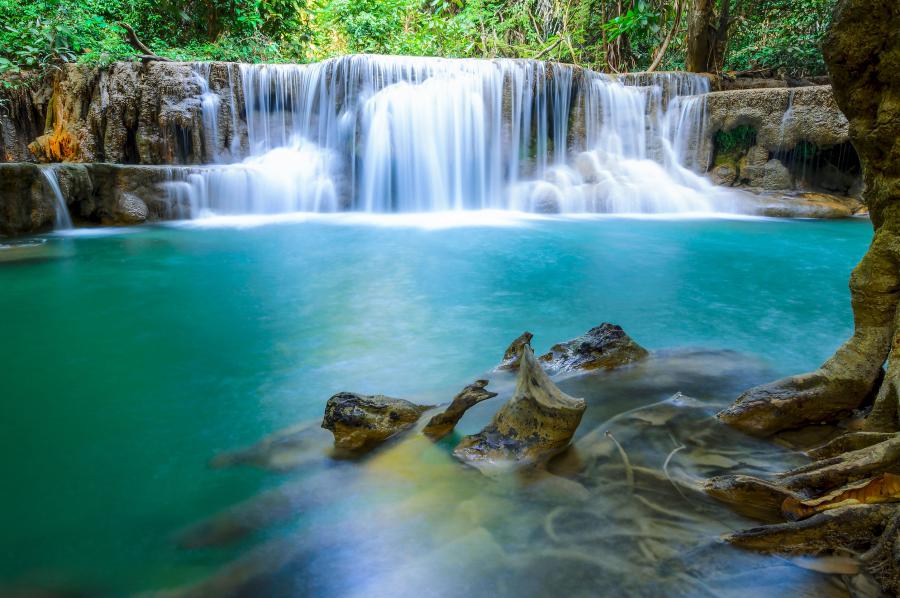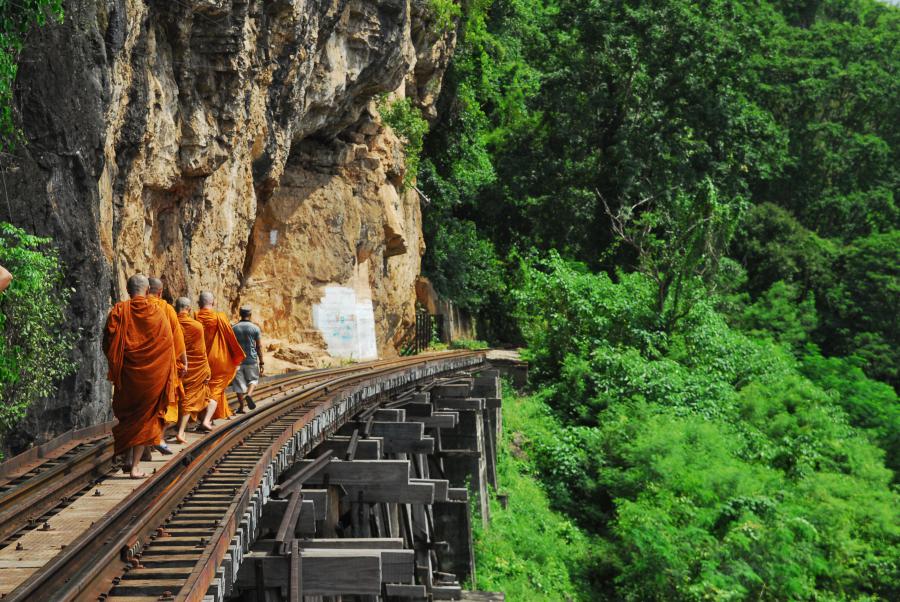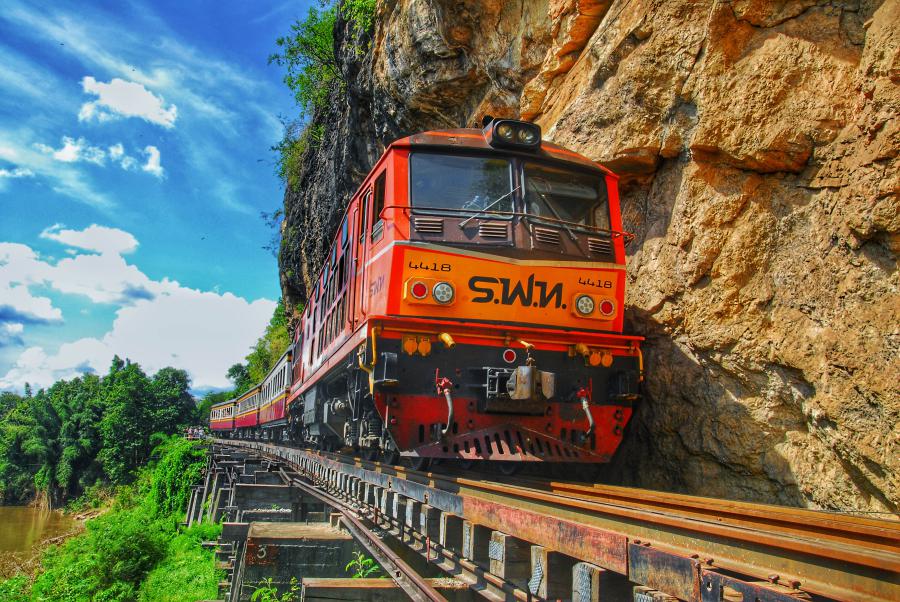 Itinerary
Day-1
8 am - Our guide will pick you up from your hotel with an a/c car in the early morning to avoid the crowds at Erawan Falls.
Visit Erawan Falls to spend 3 hours walking and enjoying the seven tiers of Erawan Falls. If you are faint hearted we will only walk to the easily accessible tiers. It is possible to swim in blue/emerald green waters which are full of fish. Good to bring with you hiking shoes, swimwear and towel.
Lunch at a local restaurant
Visit Phra That Cave north of Erawan Falls
Latest 3:30 pm - Arrive at Krit Raft House (floating bungalows) Sai Yok National Park
4 pm - The raft house floats on the river on the opposite side of the Sai Yok Yai Waterfall, with a very good view. This is where you will stay overnight. You will be provided with a spacious and comfortable private floating wooden raft, the bungalows are simple but charming, very clean, with a toilet, shower (cold water) and fan. The raft will be pulled upstream by a long tail boat so you can enjoy the view of other tiers. It will be possible to swim and do private raft & body rafting downstream with a life vest. Drinks, snacks, dinner and breakfast will be served on the raft. The electricity will be available from 6 pm to 6 am by a generator.
Day-2
8 am - Checkout from Krit Raft House after the breakfast
Visit Hellfire Pass and memorial museum
Take train from Namtok Station to Krase Cave Station
Lunch at a local restaurant
Walk along Death Railway Wooden Bridge, part of the old railway along beautiful slopes of steep mountainside on a wooden bridge. The bridge is still in working condition. We will also do a short visit to a nearby cave called Krasae cave. This smaller cave was used as a hospital by the Japanese during WWII
Visit Rim Nam Café - A beautiful "of the track" riverside coffee shop by the River Kwai Noi making possibly the best coffee in Thailand.
Visit Prasat Muang Singh Historical Park - The most important historical site in the Kwai Noi basin. The park is home to a number of e Bayon-style temples as seen in Angkor Wat in Cambodia. The temples date back to the 13th and 14th centuries
Visit The Bridge Over the River Kwai
6 pm - Tour end in Kanchanaburi city
Where & When?
This full day tour can be booked all year-round. Our guide will meet you at 8 am on day-1 at your hotel or any other location you prefer where the tour will start from.
Tour details in short:
Duration: 2 days
Type: Private tour, 2D/1N with accommodation
Price: 3,950 Baht and up (per person, depending on group size)
Group size: 1 or more people
Grade: Easy to moderate
Transport: SUV or minivan with a/c
Start: 8 am day-1
End: 6 pm day-2
What to bring:
Hiking or sport shoes
Towel
Swimming clothing
Insect repellent
How much?
This tour is a private tour. You'll be accompanied by an English speaking licensed guide and no other people will join you; the best way to explore attractions in this 2-day tour. The listed prices below include private transport, entrance fees, raft house stay, refreshments, meals and more. Please see the full list below.
Price per person
Pax
From Kanchanaburi
From Bangkok
2
7,100

THB

9,000

THB

3
5,900

THB

7,100

THB

4
5,200

THB

6,700

THB

5
4,800

THB

6,050

THB

6
4,400

THB

5,450

THB

7
4,300

THB

5,150

THB

8
4,050

THB

4,800

THB
Displayed prices are per person
Tour rates include:
Private tour (not joined by others)
English speaking local guide
Private transport from/to your location/destination in Kanchanaburi (SUV for 3 pax or minivan for bigger groups)
All entrance fees (700 Baht per person)
Visit Erawan Falls
Visit Phra That Cave
Visit Sai Yok National Park
Visit Sai Yok Yai Waterfall
Visit Hellfire Pass & Memorial Museum
Visit Krasae Cave
Visit Death Railway wooden bridge
Visit Prasat Muang Singh Historical Park
Visit The Bridge Over River Kwai
Train tickets
4 meals
Accommodation (floating bungalow, double room)
Coffee/tea break and snacks
Drinking water
Reviews from our guests
By: Jason Coombes | posted Tue 15 Aug, 2023 | From Kanchanaburi
Absolutely loved this tour! It was amazing from start to finish. Bass was an excellent tour guide with very proficient English skills. He was able to provide us with the history behind the sites as well as make it enjoyable and fun. The raft house blew us away with a delicious dinner and welcoming snacks, as well as fun activities. The accommodation was basic but all you need. I highly recommend this tour!
By: Eric van der Weegen | posted Tue 8 Aug, 2023 | From Bangkok
Goede ervaring, duidelijke communicatie, geïnteresseerde reisleidster. Alles prima geregeld
By: Hassan Farish Rasheed | posted Fri 4 Aug, 2023 | From Bangkok
The entire experience was great. Guide was really good. He went out of his way to help us in every way. Andy is really a wonderful person and a great guide who knows his stuff.
By: Pascal Morber | posted Sat 3 Jun, 2023 | From Kanchanaburi
Dear team of the nationalpark, thank you for the awesome two days we could spend in the Sai Yok National Park. We saw beautiful nature and wonderful landscapes. The organization was good and we had lots of informations about plants, animals and history from our friendly guide Jackie. It was an amazing tour that we never would have been able to organise ourselves. Thank you a lot for the organisation and a very special thank to the guide Jackie and the taxi driver Dschan. Best regards. Pascal.
By: Nhu Do | posted Tue 30 May, 2023
It's an absolutely amazing experience for me when booking a 2D1N tour at Erawan National Park. The nature is spectacular, as always. The people are kind and cool, from the driver, tour guide to staff of places that I've visited.
My tour guide, Dominic, supported me a lot during and after my trip. As an alone traveller, I feel way much better when having someone understands Thai culture, tells me a lot of great story about Kanchanaburi and Thailand. By the way, he has good skill of taking photographs and video - a great support for alone traveller who loves taking pics and vids.
In short, it's even better than my expectation. Totally worth it. Will be back for other tours on the list ;)
Keep up the good work and thanks for everything.
By: Ana Aguilar | posted Sun 30 Apr, 2023
The tour itself was very good in the sense, of the time and locations selected. Potentially a Kayak activity to complete a full body workout would have been nice too. The only downside was the limit English or knowledge of the guide, who served more as a companion that actually explaining so much of what was happening.
By: Narelle Pratt | posted Thu 27 Apr, 2023
What an amazing tour! Pat, our guide, was an absolute gem as was our driver Mr Sax. She was very informative and showed us many places that we would never have found ourselves. Do not hesitate to book this tour if you're thinking about it, you won't be disappointed.
By: Julia Tachihara | posted Wed 29 Mar, 2023
Even though itinerary changed, we had a great couple days. Ome did a good job taking care of us and making sure we had a good experience.
Tour operator's response
Very sorry you couldn't make to Erawan Falls because after a storm on 20th March the park got closed for a long time, as of today (29th March), Erawan Falls is still closed.. :(
By: Natália Capeto | posted Tue 28 Mar, 2023
Amazing tour. Much more than expected. Our guide Jackie was very attentive and concerned that we would enjoy the best of everything he had to show us - Jackie, we miss you already. The tour added the exuberant Nature and the historic part of the River Kwai. Simply exciting! It was fantastic!
By: Amanda Badger | posted Mon 6 Mar, 2023
We had an amazing trip, Jackie was great and shared so much knowledge, the places we ate where delicious.
The whole process to book was easy and was so worth the money, the raft hotel was such an experience and exceed our expectations, will put a review on Tripadvisor when we get home. Thank you for a great trip. Amanda