Private Tour

|

Erawan Falls, Hellfire Pass & historical sites | day tour

Our tours are private, meaning no others will share the transfer or the guide with you.

Kanchanaburi Province in west Thailand is home to several natural and historical sites popular among both local and foreign tourists.

Erawan National Park with it's famous falls are no doubt one of the most iconic attractions in Thailand but it is also one of the most beautiful falls in entire Asia.
What?
This one day tour includes a visit to popular Erawan Falls in Erawan National Park, Hellfire Pass & Hellfire Park Memorial Museum and Death Railway Wooden Bridge & Krasae Cave.
Itinerary
The itinerary below is for a tour to start from Kanchanaburi City. For an additional fee, the tour can embark from the Sai Yok area but the ordering of attractions to visit will be different.
The tour will embark at 8 am from your hotel in Kanchanaburi City where our guide will meet you. Our first destination will be Erawan Falls.
Once at the falls, we will spend 3 hours walking up to all 7 tiers of Erawan Falls. If you are faint hearted we will only walk to the easily accessible first few lower tiers, you will decide how far we should go. It is possible to swim in blue/green waters which are full of fish. Good to bring with you hiking shoes, swimwear and towel.
After having lunch at local restaurants near the visitor center we will drive you to Hellfire Pass and the Memorial Museum dedicated to the memory of all men and women who worked and died during World World II. The complex consists of a memorial site located within Hellfire Pass (Konyu Cutting), a museum exhibiting artifacts and the Memorial Walking Trail where we are going to hike.
Before continuing our trip to the next destination we will stop by at a café.
After the coffee break we will drive to Death Railway Wooden Bridge and Krasae Cave. There we will walk along the spectacular part of the Death Railway that bends and cuts through steep mountain slopes but also over an interesting wooden bridge which is still in working condition. The nearby Krasae Cave was used as a hospital during WWII.
Around 5:30 pm we will arrive back at Kanchanaburi City to walk over The Bridge over River Kwai. The bridge is named after the film from 1957 based on the novel written by the French writer Pierre Boulle. Around 6 pm you will be taken back to your hotel.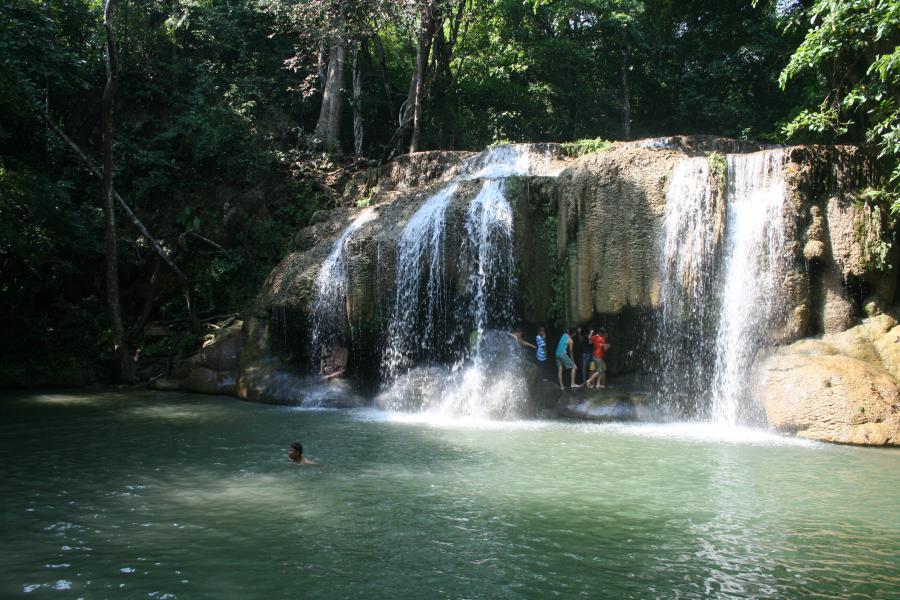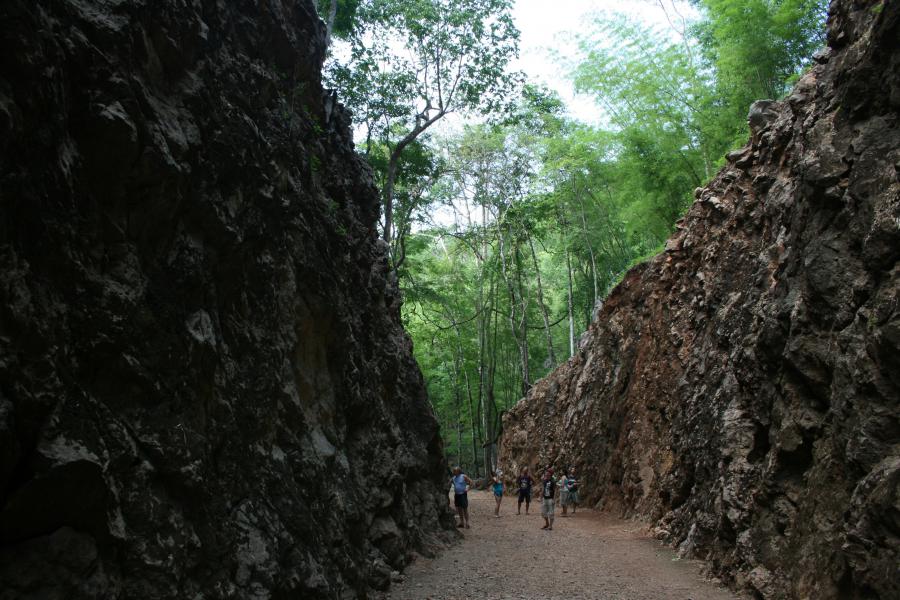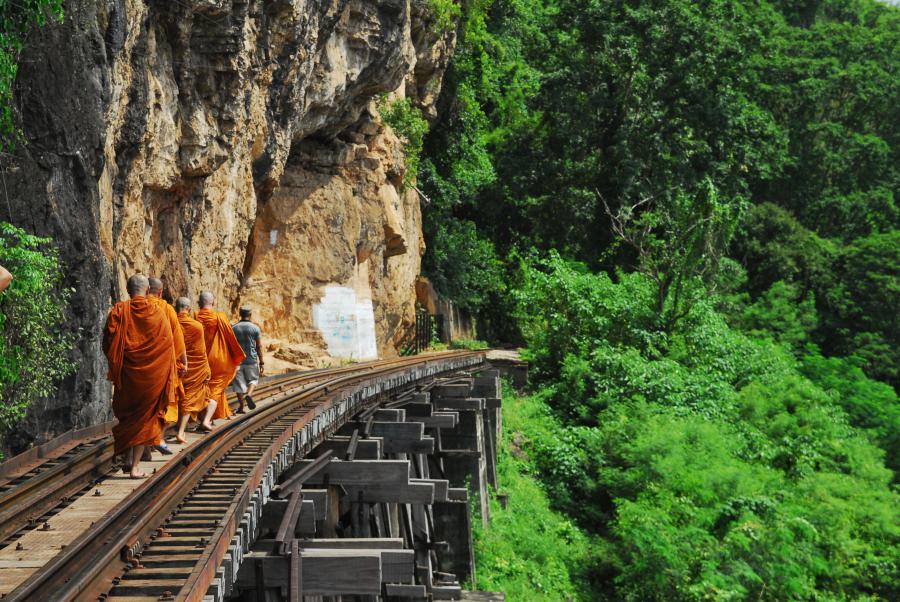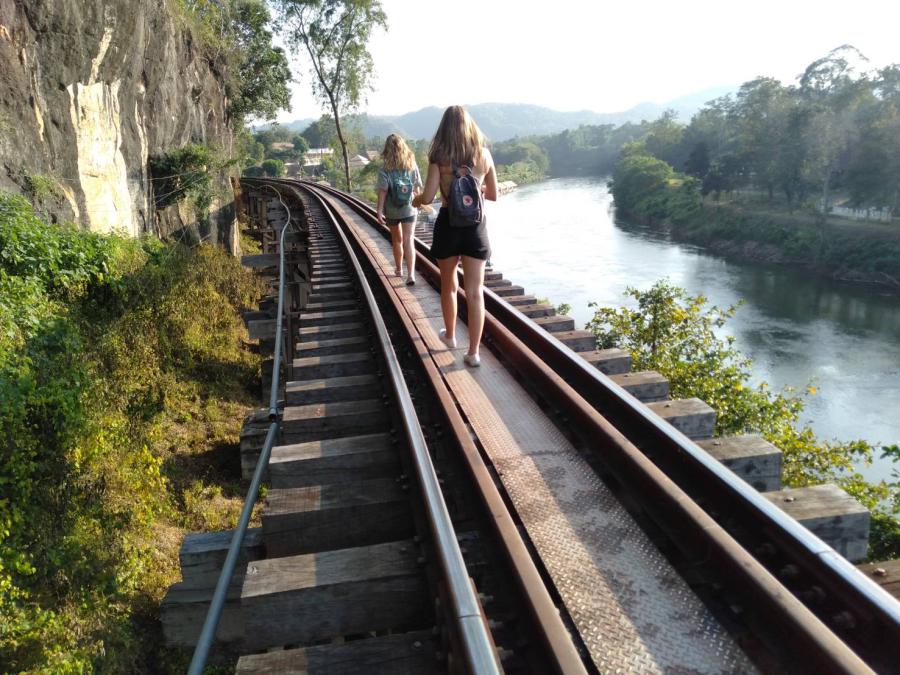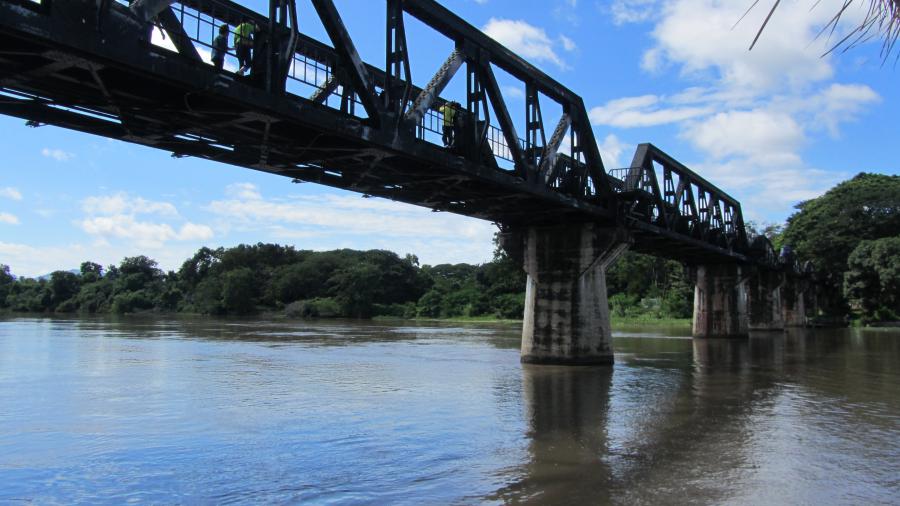 Where & When?
This full day tour can be booked all year-round. Our guide will meet you at 8 am in your hotel's lobby where the tour will embark from.
During the dry/hot seasons the water flow is less in Erawan Falls, but it will be beautiful as the water gets crystal clear and more ideal for swimming.
This tour is available all year round, with exception of long public holidays when Erawan Falls gets painfully overcrowded.
When to book?
For the high season months from November to April, we recommend booking a few months in advance because for certain periods the guides may get fully booked. Though, for certain dates there may be guides available even when booked days/weeks before.
Tour details in short:
Duration: 1 day
Type: Private tour
Price: 1,500 Baht Baht and up per person (depending on group size)
Group size: 1 or more people
Grade: Easy to moderate
Transport: SUV or minivan with a/c
Start: 8 am
End: 6 pm
What to bring:
Hiking or sport shoes
Swimming clothing
Towel
Insect repellent
How much?
This tour is a private tour. You'll be accompanied by an English speaking licensed guide and no other people will join you; the best way to explore the falls and the historic sites. The listed prices below include private luxury transport, entrance fees, refreshments and lunch.
A day trip to the falls including visiting all historic sites mentioned in this trip is possible due to the long driving time from/back to Bangkok. If you need a tailored trip from Bangkok, please let us know and we can inform you of the feasibility with a price.
We can however arrange an early pickup from Bangkok if the drop off location is a hotel in Kanchanaburi.
The listed price below doesn't include pickup from the Sai Yok area where some popular raft houses are located. For an additional fee, it is possible to embark the tour from the Sai Yok area.
Price per person
Pax
From Kanchanaburi
From Bangkok
1
5,000

THB

7,500

THB

2
2,950

THB

4,250

THB

3
2,300

THB

3,150

THB

4
2,060

THB

2,770

THB

5
1,850

THB

2,400

THB

6
1,700

THB

2,170

THB

7
1,600

THB

2,000

THB

8
1,520

THB

1,900

THB

9
1,460

THB

1,800

THB
Displayed prices are per person
Tour rates include:
Private good English speaking tour guide
Private transport from/to your hotel in Kanchanaburi City
Erawan Falls
Hellfire Pass & Memorial Museum
Death Railway Wooden Bridge
Krasae Cave
All entrance fees
Lunch
Coffee/tea break & snacks
Drinking water
Soft drinks
Reviews from our guests
By: Emily Nuttall | posted Wed 18 Oct, 2023
We did the private tour for the day. Our guide Pat was excellent, we arrived 1.5 hours earlier from the overnight bus than we expected. Pat was more than accommodating to start our day earlier. The lunch was amazing and the time given at each today was more than enough, never felt rushed
By: Odette Hateley | posted Tue 17 Oct, 2023
I would highly recommend The Hell Fire Pass and Erawan fall tour. We had a fantastic day with our guide and sensational driver Mr Tong. Our guide, Jackie was extremely knowledgeable, spoke excellent English, with a great sense of humour. In addition to our tour Jackie also helped us with local information and assistance. Which took the stress out of our additional travels in the Kanchanaburi area. Jackie is a fabulous ambassador for Thai National Parks and Thailand.
Steve and Odette
Australia
By: Cheryl Teague | posted Sat 7 Oct, 2023
Absolutely fabulous guide, very informative.
By: Serena Marchi | posted Fri 8 Sep, 2023
Tour ben organizzato, è stato un piacere scoprire la storia e le bellezze naturali di kanchanaburi, grazie a Ome per gentilezza e simpatia. Consigliamo a tutti di poterlo fare.
By: Jacqueline Davies | posted Fri 25 Aug, 2023
The itinerary and guide were amazing. Bass, our guide was also very in tune with the customers needs, and provided ample time for us to enjoy each section of the tour throughout the day. Definitely preferred having a private tour as opposed to a group one, as it meant we could ask questions more freely and also have the freedom to do what we wanted to do. A wonderful experience. Thank you Bass!
By: Adam Manuel | posted Sat 12 Aug, 2023
We had a fantastic time with Bass. He was attentive, never rushed us, answered all of questions, and was a friendly easy-going tour guide. Overall we were very satisfied and felt that it was worth every penny :)
By: Sharon Taylor | posted Sat 5 Aug, 2023
Om was a great guide and gave us a wonderful tour around hell fire bridge and the waterfalls. Many thanks
By: Iris Merken | posted Mon 24 Jul, 2023
We had a great time. Fist stop was the Erawan falls. We where early so we had a few levels for ourselfs or maybe one other family. On the way down (went till level 5) it got busy. We had a awesom guide who had a lot to tell and was great with my son. Would defenately recommend.
By: Leon Den Braber | posted Sun 23 Jul, 2023
Very nice tour at a good pace. Quite some driving time between the spots (Bridge, Hellfire, Erawan), but we did see a lot of highlights and the guide informed us well.
By: Henny Ransdell | posted Sun 11 Jun, 2023
Our tour guide Pat was absolutely amazing! She was not only very knowledgeable on the ecological and historical background of everywhere we traveled, but also very very accommodating of our logistical challenges. (My friend had recently broken her ankle, and Pat made arrangements with each location we visited to make the experience as accessible as possible.) I truly cannot speak highly enough of her and our driver. This tour is great for folks hoping to see all the major landmarks in one outing. And they provide great insight, like visiting the Bridge first before it was very crowded. Thanks again to Pat and the Thai National Parks!