About Khao Sam Roi Yot National Park
Covering about 98 km², Khao Sam Roi Yot National Park is located on the coast of Prachuap Khiri Khan Province right south of Hua Hin. It is the first marine national park of Thailand.
Khao Sam Roi Yot means "The mountain with three hundred peaks" and refers to a series of limestone hills along the Gulf of Thailand with the highest one at 605 meters asl. The northwest corner of the mountain range is called Thung Sam Roi Yot and is mainly freshwater marsh covering nearly 37% of the national park which makes it the largest wetlands area in Thailand.
The main attractions of the national park are Phraya Nakhon Cave with its iconic royal pavilion and huge chamber, Kaeo Cave and Thung Sam Roi Yot Freshwater Marsh. The park is also a nice destination for its rich wildlife in freshwater marsh and mangrove forests, beautiful beaches, limestone islands, trails and viewpoints. It is easily accessible, only 60 km south from Hua Hin and nearly 3 hours from Bangkok.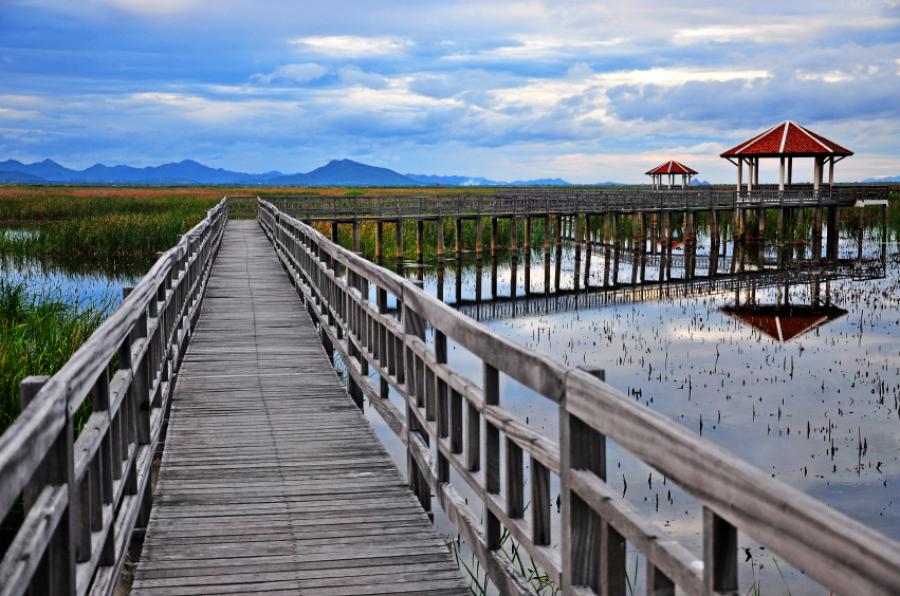 The rainy season in the national park is May to November with the most rainfall in September to November. The rest of the year is quite dry.
Wildlife
Khao Sam Roi Yot is home to a great diversity of bird species making it another great destination for birders. Around 355 bird species recorded from the park, half of them migratory birds. It is one of the best places in Thailand to see waterbirds on the flight path between Asia and Australia around January/February. Few of the interesting bird species that has only been recorded in the park are Jack snipe, grey-headed swamphen, spotted crake and water rail. Few other birds to mention are; Malaysian plover, Kentish plover, white-bellied sea eagle, greater spotted eagle, oriental hobby, eastern marsh harrier, spoon-billed sandpiper.
The forests on the mountains are home to some mammals like fishing cat, dusky leaf monkey, crab-eating macaque, Malayan porcupine, Indochinese serow, Sunda slow loris and barking deer. Dolphins are regularly seen off the coast, although not guaranteed there is a good chance to spot some by boat trips that can be arranged from most hotels in the area. Occasionally irrawaddy dolphins also shows up near the coast.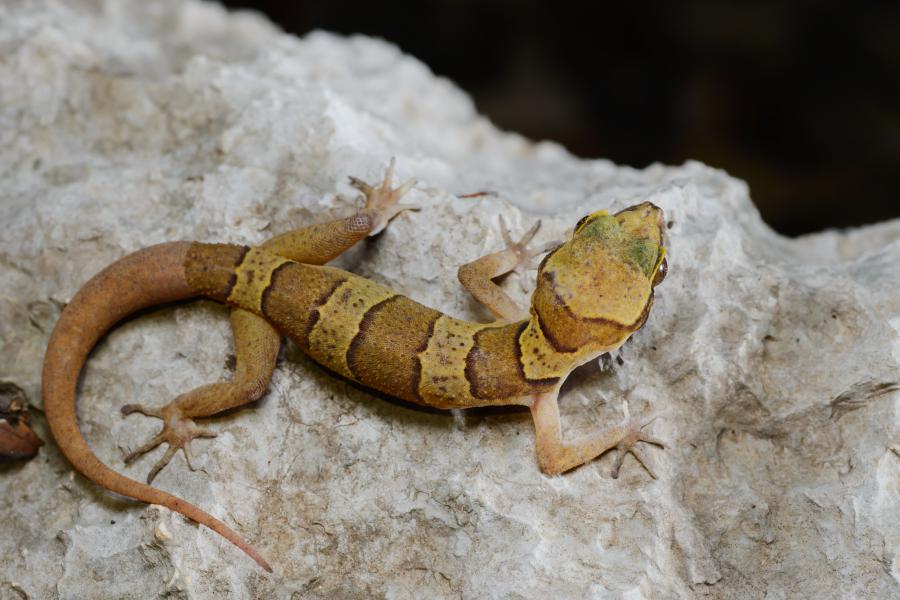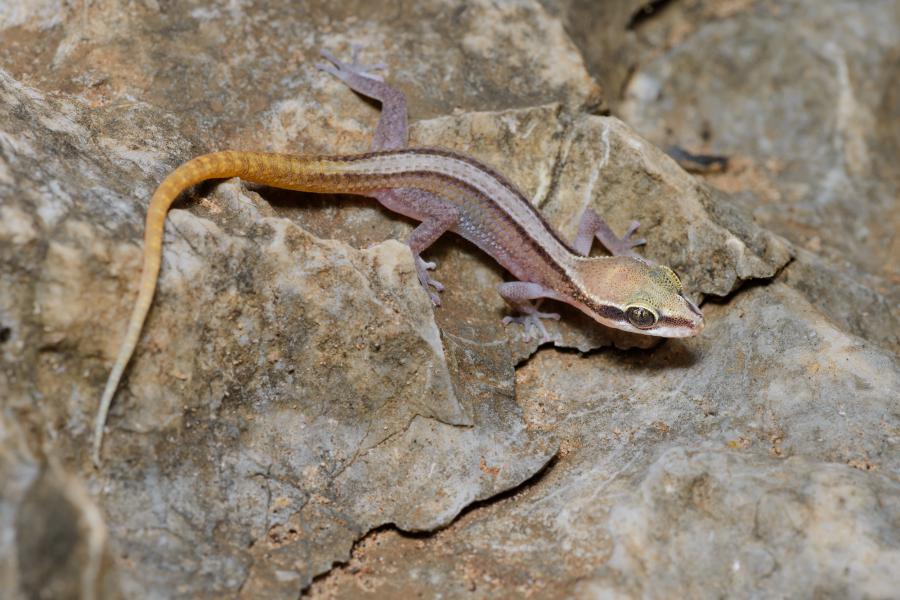 Sam Roi Yot leaf-toed gecko (Dixonius kaweesaki) and striped-throated rock gecko (Cnemaspis lineogularis) are two species that's currently only known to be found in Khao Sam Roi Yot National Park. South Asian bockadam (Cerberus rynchops) is a snake species very common in mangrove forests and canals, with a little bit of effort can easily be found along the small canals near Khao Daeng Village. Many of the most common snake species in the region can also be found in the national park.
Getting there & get around
The main visitor center, headquarters and some attractions are situated on the south side of the national park.
Getting to the park
It is not possible to get to the park with public transportation options. A private vehicle needed, either own car/bike or with taxi arrangements.
If is possible to arrange a day trip from Hua Hin to Khao Sam Roi Yot for 2,000 Baht. Please see our taxi details page for more info.
Get around in the park
The distances between attractions are too big to walk. There are not many trees along the roads for shadow, so, try walking between attractions can be very uncomfortable in sunny days. A private car/bike/bicycle needed for sure.
Entrance fees & opening times
An entrance fee needs to be paid only when the main attractions are visited. The entrance fee is valid at all attractions during a day. No entrance fee to be paid when driving through the park to get to the villages, hotels etc.
The entrance fees are 200 Baht for adults and 100 Baht for children, Thai citizens to pay 40 Baht for adults and 20 Baht for children.
There are many villages in the park, so there is no closure time to drive through the park. However attractions have opening times from 8 am until around 4 to 4:30 pm every day but the park will be closed from 1st June until 31st July every year.
Activities
The main must see attraction of Khao Sam Roi Yot is the impressively big Phraya Nakhon Cave and the Royal Pavilion inside it. It is the most iconic attractions of the park and the province.
The national park has quite an impressive bird record and very popular among birders. The area east side of the mountain range through the park has quite a unique habitat for some freshwater birds. The boardwalk over the freshwater marsh is a popular destination. This side of the park has an impressive view of the mountains from the boardwalk.
Khao Daeng Viewpoint is quite an obvious place to visit in combination with a visit to Phraya Nakhon Cave. It has an impressive view over the area.
Other activities to fill a days planning are; a boat trip through the mangrove forests, visiting two other caves or relax on one of the beaches.
While the dusky leaf monkeys can be seen any day at Laem Sala Beach, the long-tailed macaques can be found at Khao Daeng Viewpoint parking area or around headquarters. Most of the other mammals are very rare to see, they hold to forested habitats deep inside the park in montane areas.
A day trip to Khao Sam Roi Yot can be combined with a trip to Kui Buri Wildlife Watching Area to see wild elephants. In case, visitors are advised to leave Khao Sam Roi Yot latest around 2 pm to reach the elephant watching area in time. The wildlife watching area is in Kui Buri National Park, separate entrance fees applied there. For more info, please visit our Kui Buri National Park section.
Stay & eat
Camping
It is possible to camp at Laem Sala Beach and Sam Phraya Beach. Tents available at both beaches from 150 Baht for 2 people, 225 Baht for 3 people and 300 Baht for 4 people. Accessories can be rent per person; pillow 10 Baht, blanket 10 Baht, sleeping bag 30 Baht, sheet 20 Baht.
Bungalows
There are only two bungalows available for rent near the headquarters, one is for 1,000 Baht for 5 people, the other is 1,400 Baht for 5 people.
There are few bungalows at Laem Sala Beach; 1,600 Baht for 6 people, 2,000 Baht for 8 people and 2,200 Baht for 9 people.
A significant discount will apply to all bungalows when booked for Mon-Thu.
Bungalows can be booked through DNP website in advance. As the money transfer must be done within 2 days and the fact that it takes a longer time with transfers from abroad, it is only possible to book from within Thailand only. Payments can be done at 7-Eleven convenience stores or banks.
Eat
There are restaurants at Laem Sala Beach and Sam Phraya Beach campsites. Many other restaurants are spread out in the park, a bunch of cheaper options can be found at the car park area of Phraya Nakhon and Laem Sala Beach entrance.
Phone(s)
You are recommended to ask a Thai speaking person to call on your behalf.
The attractions of Khao Sam Roi Yot
More photos