Private Tour

|

3-days wildlife tour in Kaeng Krachan
Why?
A 3-days wildlife tour in Kaeng Krachan National Park is a great way to explore some of the main attractions of the park, and will also give the possibility to see some of the common species. Kaeng Krachan is the largest and one of the best national parks in Thailand, listed as a World Heritage Site. It's home to a wide range of animals including gibbons, langurs, macaques, leopards, clouded leopards, elephants, civets, porcupines and many more. With more than 420 different bird species recorded, many consider the park as the best birdwatching location in Thailand. You won't regret it!
What?
With a 3-day wildlife tour we will be exploring nature from early hours of the day till after dark, focusing mainly on wildlife watching. The itinerary is as follows; daytime safari drives, jungle hiking, night walks, visiting some of the park's main highlights.
Itinerary
Because it is difficult to plan in the wild, our itineraries often get turned upside down. The following itinerary should be considered as an example;
Day 1, 6 am to 6 - 7 pm
We will start the tour with a slow drive into the park in search for wildlife. And afterwards, we go out for our first jungle hike of the tour.
After lunch at the park restaurant, we continue with some more birding and wildlife watching on foot on the dirt road along a stream.
The late afternoon, we do a safari drive at the lower elevations. Hoping for the larger mammals to show up. You will be returned to your hotel outside the park in the early evening
Day 2, 6 am to 6 - 7 pm
Today we start early, to do a bumpy, but scenic safari drive deeper into the park. Besides looking for the birds and other animals that tend to prefer the higher elevations, you will also get the chance to enjoy the stunning view over the vast forests, sometimes covered under a blanket of mist.
Even though there are no forest trails here, we will walk the road and look for wildlife. You will have a chance to see the uncommon Robinson's Banded langurs, White-handed Gibbons, Dusky Langurs, and more. And the area has some interesting birdlife too.
After a Thai lunch at the park restaurant, we continue to further explore the beautiful forest in search for wildlife. And finally finish the day with a safari drive in search for more wildlife before you will be dropped at your hotel in the early evening.
Day 3, 6 am to 6 - 7 pm
On the last day, we spend the morning looking for wildlife and birdlife by car and make stops at various spots along the road near ponds and forest clearings or other interesting habitat.
We visit the park restaurant for lunch. In the afternoon we walk a trail to a cave. And the last hours of the trip are spend on a game drive at the lower elevations of the park to try one last time to spot interesting wildlife before you will be returned to your hotel outside the park.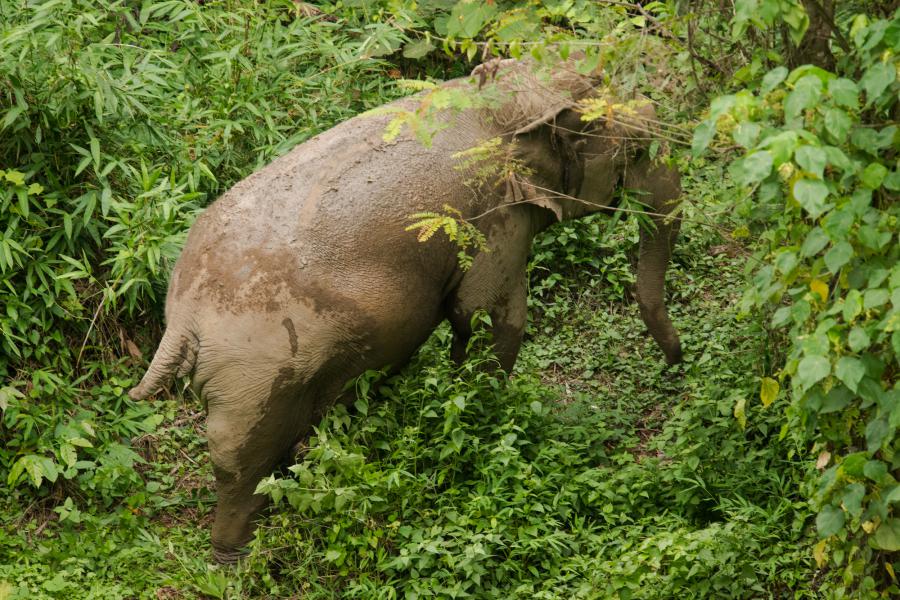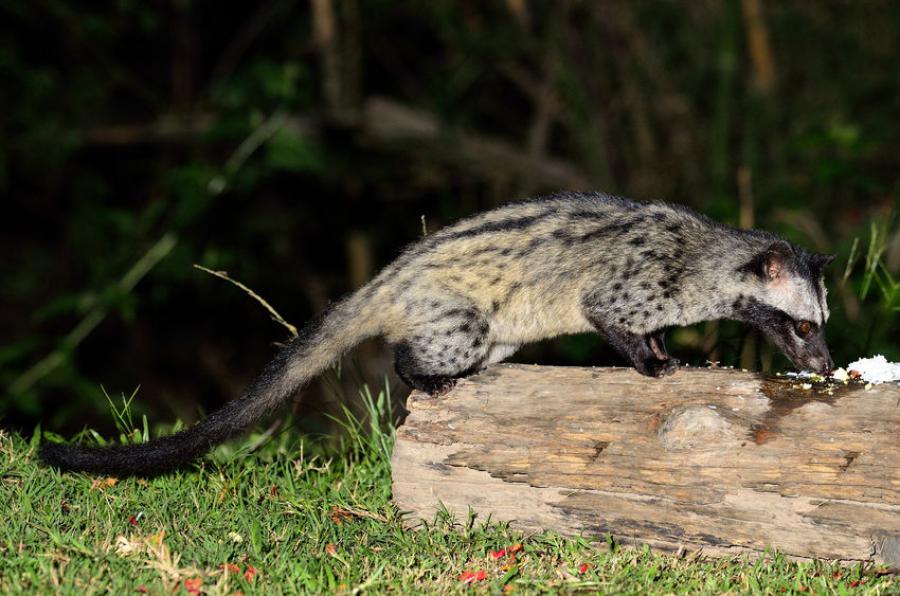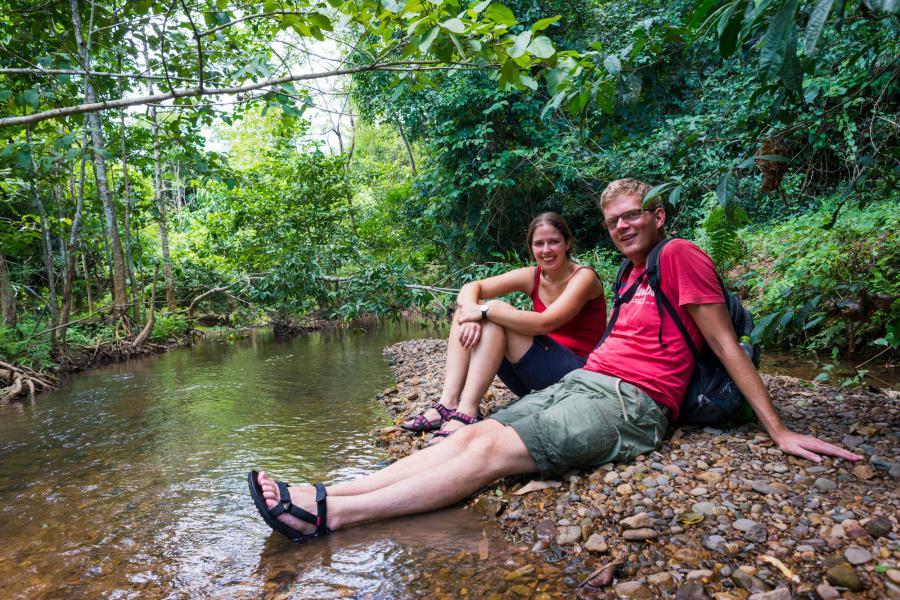 Where & When?
Kaeng Krachan National Park lies about 3 hours from Bangkok and 1.5 hours from Hua Hin. Our tour starts from Kaeng Krachan town, easily accessible by public shuttle minivans from Bangkok Victory Monument. We also offer private transfers from Bangkok or elsewhere on request.
Kaeng Krachan National Park is closed from August to October every year, so our tours are available only from November to July.
Tour details in short:
Duration: 3 day(s)
Type: Private tour
Price: 6,000 - 21,600 Baht per person
Group size: 1 or more people
Grade: Moderate to difficult
Transport: Safari vehicle
Start: 6 am (every day)
End: 6 - 7 pm (every day)
What to bring:
Long trousers
Sweater or light jacket
Rain clothing
Hiking or sport shoes
Sandals
Insect repellent
Hat or cap
Sunblock lotion
How much?
Our 3-days wildlife tours are private tours and all-inclusive.
Pax
Rate per person
1
21,600

THB

2
11,400

THB

3
9,600

THB

4
8,100

THB

5
7,200

THB

6
6,750

THB

7
6,300

THB

8
6,000

THB
Tour rates include:
Entrance fees
English speaking guide
Transportation
Lunch
Drinking water
Leech protection socks
Tour rates doesn't include:
Reviews from our guests
By: Robert Zwahlen | posted Wed 30 Aug, 2023
Negative points: I have not seen any of the large wildlife (mammal) species, probably due to the fact that the rainy season is not the best time to visit Kaeng Krachan NP, and that a part of the park is closed in that season. I was informed about that, but the information received did not give any indication about how much of the park would be closed.
Positive points: the trip was well organised, and I have seen a lot of interesting organisms, and this to a great deal thanks to the guide, Bank.
Tour operator's response
Thank you for your feedback.
I am sorry we didn't manage to lower your expectations in advance to a level that would have avoided the disappointment. Sometimes guests send us a list of target species, and we will then explain how likely, or often how unlikely it's to see such species. The last thing we want, is people arriving with the unrealistic expectations and then getting disappointed unless they get extremely lucky.
It's unfortunate we didn't discuss in advance about which large mammals you wished to see. Then we could have informed you beforehand that Kaeng Krachan is not the easiest park for large mammals. Since on a previous tour you did with our company in Khao Yai, you very specifically mentioned to see gaur, we kind of assumed you had no particular targets this time because you didn't mention any. I am sorry about that. Surely, the list of animals that are present in the park is long. But as mentioned on the website, it isn't the easiest park to actually see most of the larger species. however the interesting smaller scaly and feathered creatures do make up for it. I am glad to read you did see al kinds of smaller organisms. Our guide also told us that you did see a couple primate species like White handed gibbon, Dusky langur, Stump tailed macaque.
In our standard note added to one of the first messages we have mentioned that elephant sightings are uncommon. But I'll admit that we don't provide an entire list of all the species that are uncommon to be seen. Our emails are already very long, haha. But hopefully other people will read your review and this will help them be aware of what not to expect.
Even though the chance to see certain large mammals increases a bit in the dry season, particularly of drier years when the roadside ponds are the last remaining water sources, I wouldn't say that the wet season is a much worse time for the mammals. I would say luck is a larger factor than the season. The group that booked a trip the day after your tour with the same guide actually got to see an elephant, and better even, the rarely seen Fea's muntjac. Now, I don't know if that would have been a species you would have liked to see. Perhaps you hoped more for the large carnivores? For the larger wildlife, the higher elevations, which is the part of the park that is closed off in August - October, are not particularly better. A couple mammal species may be more restricted to higher elevations, like Robinson's Banded Langurs and Malayan tapir come to mind. However, Apart from 1 sighting by a ranger, I don't know of any park visitors to have seen a tapir in the park in all the years we have been running tours in the park. But admittedly, the higher elevations are interesting for different birdlife, and different herpetofauna. But for example for the large carnivores your chances would not really increase even if that part of the park would have been open.
I understand it may have been a bit hard to understand what it meant when we informed you in our correspondence that the entire area beyond km18 would be closed off. It probably doesn't say much to someone who is not familiar with the park, but I'm not sure how else to explain it better. The lower elevation areathat remains open is still a fairly significant area. But that's the reason we don't recommend our 3-day tour package during these months, and rather recommend the 2-day tour package, even though every day in nature, even when visiting the same area may turn out to be different.
Anyway, we hope you are not too disappointed. We are glad to read you seem to be happy with our guide and the trip organization. Hopefully Mother Nature will be more generous a next time.
By: Coral Keegan | posted Wed 27 Jul, 2022
Mong was a wonderful guide! Extremely knowledgeable and friendly, and he tried very hard to ensure that guests saw all their target species.
My only suggestion for the tour in general would be to provide the option for guests to return to their lodge for an afternoon break (perhaps between 12-3). The full day in the park is quite tiring, especially in the heat, and wildlife sightings are best in the morning and evening anyway. Given that I and my companions were young travelers, we were able to make it through the entire day. But for guests who may be older, offering the option of an afternoon break may be helpful.
Tour operator's response
Dear Coral,
Thank you for your review. Glad to hear our guide tried to get the best out of it. We know he is very passionate about wildlife watching, and are very happy to work with him.
About your suggestion. The problem is that driving in and out of the park to a hotel is quite a time consuming option. It would significantly reduce the time spend in the park. And probably leave only a fairly short time to relax at a resort. We prefer to offer the guests to get as much out of their tour as possible. Because even if wildlife watching may not always be as productive in midday, there is still always a higher chance to see something than when relaxing in a hotel room ;)
We've seen some amazing species around midday over the years, that we would have missed if we had relaxed at a resort outside the park. Unfortunately, that doesn't happen every trip, but that's nature. But thank you for your feedback!