About Birdwatching in Kaeng Krachan
According serious birders regularly coming to Kaeng Krachan, the park is the top forested birdwatching location in Mainland Asia. Consisting mainly of evergreen forests, the park is also covered with dry forest and mixed dedicious forest spread over altitudes ranging from 100m up to 1500m, making it possible to see a vast variaty of bird species, some of them very rare.
Although birdwatching possibilities are relatively good at all times, March-April is the most ideal time when bird migration into the park is at its peak and continues a bit until June/July when birds take care of their hatchlings. Birds we mention in every single spot below are only very few of many exciting ones, to see a long list of bird species found in Kaeng Krachan, please visit our wildlife page.
Km 0-15
An exciting journey into this park begins at Sam Yod checkpoint which is kilometre 1.3, this is the reference point for the 36.5km long road through the cental parts of the park. There are several saltlicks, waterholes, fruit trees and few smaller streams crossings along the road.
Few hundred meters into the road birders are often seen stopping mainly to watch black-thighed falconets, ospreys and black-and-red broadbills around the water reservoir on left side. Few km into the road on the right side an oriental pied hornbill nest can be seen in the hollow of a tree trunk. The view to this tree is clear, can be seen from the road, ideal for photography with good depth of field behind.
Common birds further into the road are sultan tit, black-naped oriole, greater flameback, vernal hanging parrot, grey-headed woodpecker, greater yellownape, crested goshawk, thick billed green pigeon, sooty headed bulbul and many more.
The saltlicks around km 7-8 are a good spot to see large scimitar babbler, black-headed bulbul and common flameback.
Various owls, nightjars, woodpeckers and many others can be seen during late hours of the day. One particular good spot to see these birds is around km 9 (6 km east from Baan Krang Campsite), it is a smaller bridge over a tiny stream. Large-tailed nightjar, great eared nightjar, crested serpent eagle, spot-bellied eagle owl, collared scops owl, lesser yellownape, common flameback, streak-breasted woodpecker and common green magpie is just few of many exciting birds to be seen. On fruit trees further up the road towards Baan Krang golden-crested myna, eyebrowed thrush and thick-billed flowerpecker may be seen. Various owls can be heard from late afternoon onwards from the campsite and along the road.
Baan Krang Campsite, km 15
The area we refer to as Baan Krang here is the camp ground but also three river crossings along the dirt road including a small dam 3.5 km west, about a kilometre paved road east, and couple of kilometres dirt road south from the camping area.
After the sunset visitors are not allowed to walk out more than couple of hundred meters in any direction for a very good reason; wild animals, specially elephants are very common in the area. There are reports about visitors walking a bit too far and seen their way back to campsite blocked by wild elephants.
The campsite and 1 km east
Baan Krang is one of very few places where the rare and vulnerable white-fronted scops owl can be seen, it is on top of many birdwatchers list coming to Kaeng Krachan. Another specie to watch after is black-and-red broadbill, Phang Nga and Kaeng Krachan are the only reliable places in Thailand to see this interesting bird. Some other interesting rare birds seen in this area are banded kingfisher and rufous-collared kingfisher.
Presence of few fruit trees in and around couple of hundred meters from campsites makes birdwatching very easy when there are fruits on them. Sometimes it is possible to sit and enjoy oriental pied hornbills fly in and out for more or less an hour to a big tree just down the road from the restaurant. Another busy hornbill route is a tree few hundred meters east on the same road. These trees also attracts other bird species like black-crested bulbul, Asian fairy-bluebird, green-eared barbet, blue-throated barbet, blue-winged leafbird, stripe-throated bulbul and black-crested bulbul, occasionally also great hornbill and brown hornbills.
Little egrets are seen often on the pranburi stream next to the camping ground, during breeding season broadbills nests on branches over the water stream. Pond herons are seen often on the grass in campground.
Km 15-18.5
The Pranburi Stream crosses 3.5km of the dirt road west from campsite at three locations, making it an interesting spot particularly during dry season. There are many small trails from the campsite and along the dirt road towards the water stream, ideal to see brown hornbills and many other species. Most of the trails are difficult to find during the wet season but easier during cool and dry seasons. Most of bird species seen around the campsite can be seen along this 3.5 km bit of the dirt but also dusky broadbill, silver-breasted broadbill, black-and-yellow broadbill, few rare pitta species and many woodpecker species.
Among many exciting birds seen in this area are white-fronted scops owl, collared owlet, brown fish owl and Malaysian night-heron.
The right side of the road after the third crossing is probably the easiest place to see orange-breasted trogon among many other birds. During the dry season it is relatively easy to walk off the trails between trees, good visibility, no risk to get lost as the water stream is not too far away. Other birds common in this area until the dam are big blue-bearded bee-eaters, white-rumped shamas.
Phanoen Thung, km 30
Road to Phanoen Thung and km 27.5
The road after the small dam (km 18.5) becomes more interesting to see some ground dwelling birds; grey peacock-pheasant, kalij pheasant, red junglefowl and some partridge species are regularly seen on the road. Although the subject is birds, worth to mention that most leopard sightings have been reported around km 22-23, good to keep in mind.
The most interesting spot along this route is no doubt km 27.5. It is a smaller open area on the right side of the road, referred as "smaller parking area", some also calls it "the tree". Few hundred meters up the road there is a huge tree, when the tree happens to have fruits it attracts many species. This area is still interesting even if it doesn't have any fruits, a km up and down the road gives opportunity to see many bird species, some worth to mention; the rare ratchet-tailed treepie, silver oriole, red-bearded barbet, blue-throated barbet, black-naped monarch, red-bearded bee-eater, long-tailed broadbill, red-headed trogon, rusty-naped pitta.
The campsite
There are multiple locations in the vicinity of the campsite ideal for birdwatching; the "pavilion"nish small viewpoint next to entrance, the main view point 300m down the road west, the Royal Residence few hundred meters further down and a very short "Orchid Nature Trail".
The most common birds around the camping ground is no doubt several bulbul species with flavescent bulbul being the most common. Few other bulbul species often seen are; mountain bulbul, ashy bulbul, streaked bulbul, grey eyed bulbul and black-crested bulbul. There are several fruit trees on the "viewpoint" end of the camp ground, if trees have fruits it will give opportunity to see great barbet, blue-throated barbet, bulbuls, thick-billed and yellow-vented green pigeons. Among those trees there is one banana tree that regularly attract streaked spiderhunter.
The road to Phaneon Thung and further west from campsite is probably the best place to look after the beautiful wreathed hornbill.
Royal Residence
Around 400m down the road west from Phanoen Thung there is a road gate on right site blocking the road up to the hill. This road leads to Royal Residence and several premises few hundred meters up. It is possible to walk around the gate and go up. The pavilion-ish viewpoint half way up on the left side is the most popular place to get chance to see the very rare ratchet-tailed treepie, the huge tree behind is the one to look after. Piculets among many other "bush-birds" are very common all the way up.
Further down the road, to km 36.5
The road further west continues on a mountain ridge, has quite many beautiful open views and viewpoints on both sides. This bit of the road is the most ideal place in the park to see raptors circulating above or diving after a prey. Black Baza, mountain hawk eagle, crested serpent eagle, rufous-bellied eagle, common buzzard and rufous-bellied eagle are only few of many exciting sightings, most of them relatively common. Plain-pouched hornbill is another exciting bird found in this area.
Also worth to mention, km 34-36 is an ideal place to find stump-tailed macaques and mainland serows which is a species of "goat antelope".
Dark-necked tailorbirds and white-browed piculets are easily found on bushes along the road, pin-striped tit-babblers are also very common.
More photos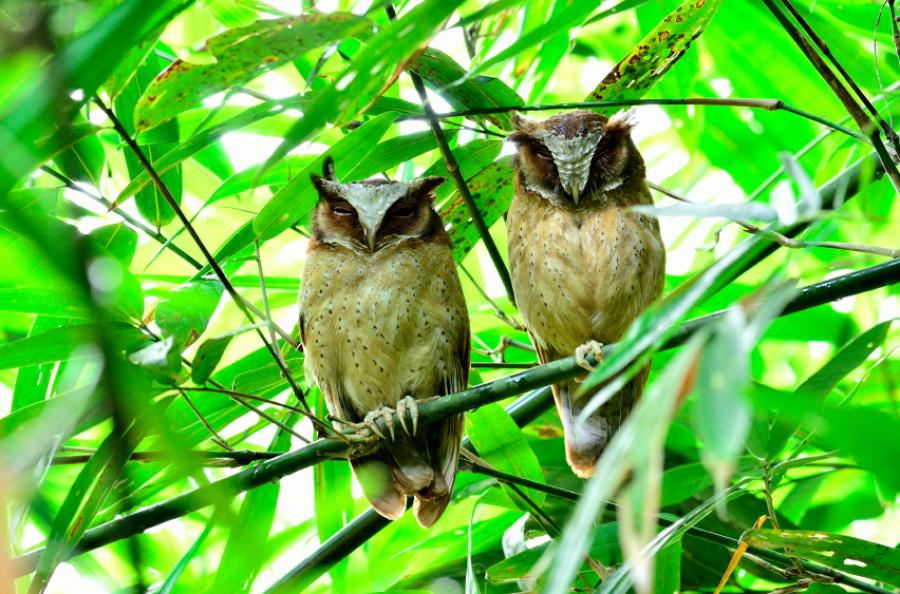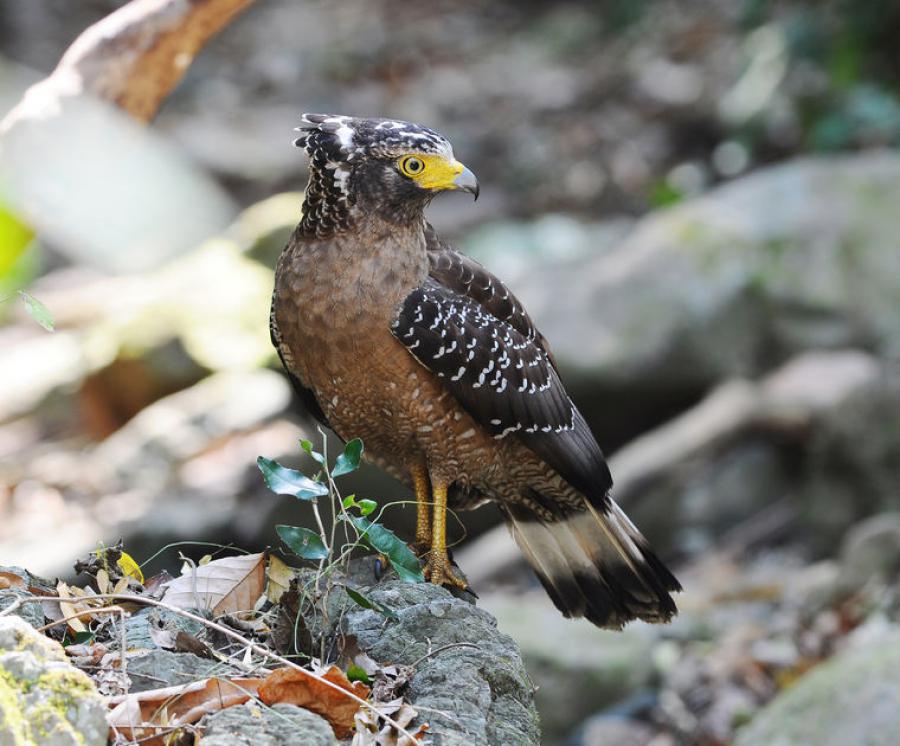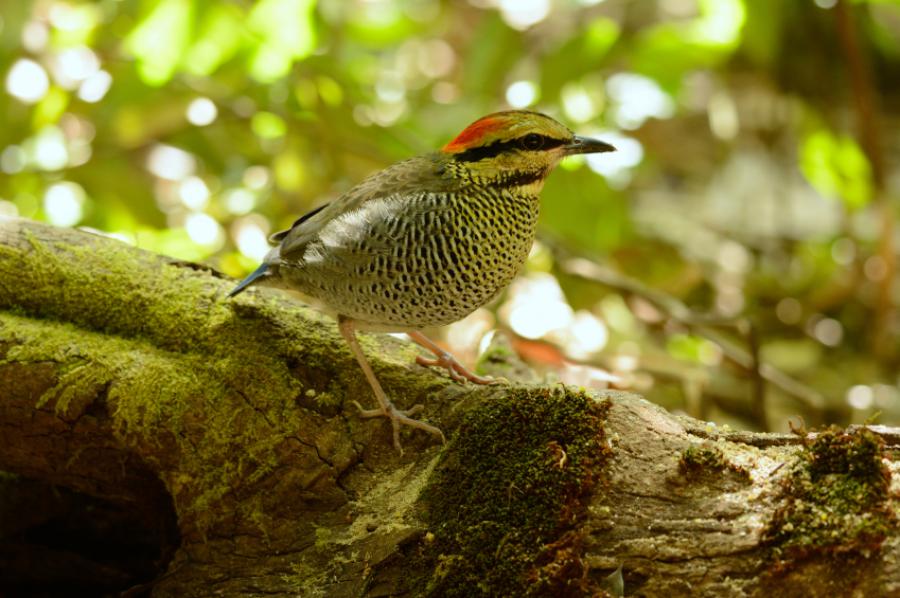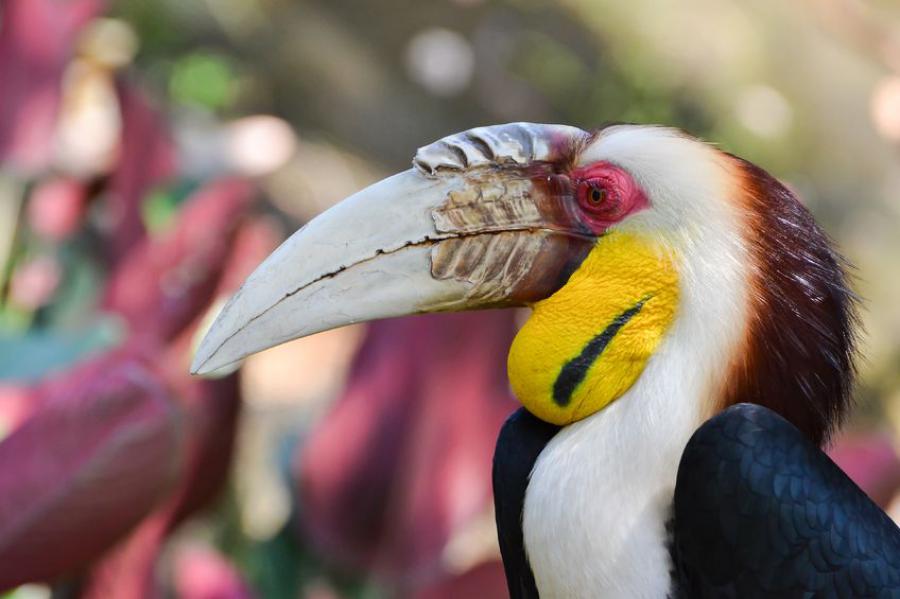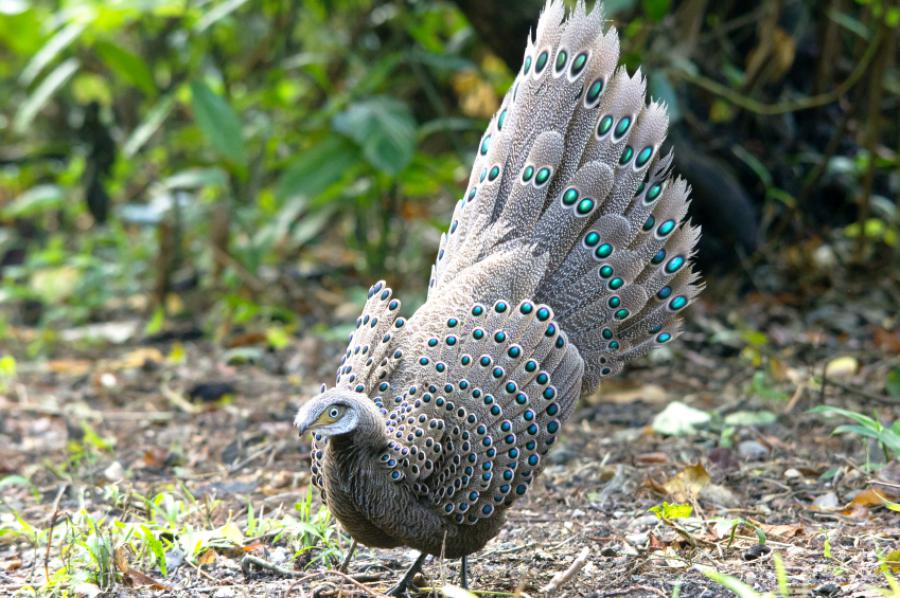 More about Kaeng Krachan National Park