About Chae Son National Park
Covering 592 km² in Mueang Pan, Chae Hom and Wang Nuea districts of Lampang Province, Chae Son National Park is a popular destination for its natural beauties. The main attractions of the park are the misty and picturesque hot springs and waterfalls. Other attractions are caves, viewpoints along the roads, trails and seasonal blossoms blooming in the colder winter months. The park is around 75 km from Lampang, 85 km from Chiang Mai and 180 km from Chiang Rai.
Park mountains are part of the Khun Tan Range with the highest peaks at around 2,000 metres asl. The mountains within the park are an important water source for the surrounding areas.The forests of the national park are mixed deciduous forest and deciduous dipterocarp blankets.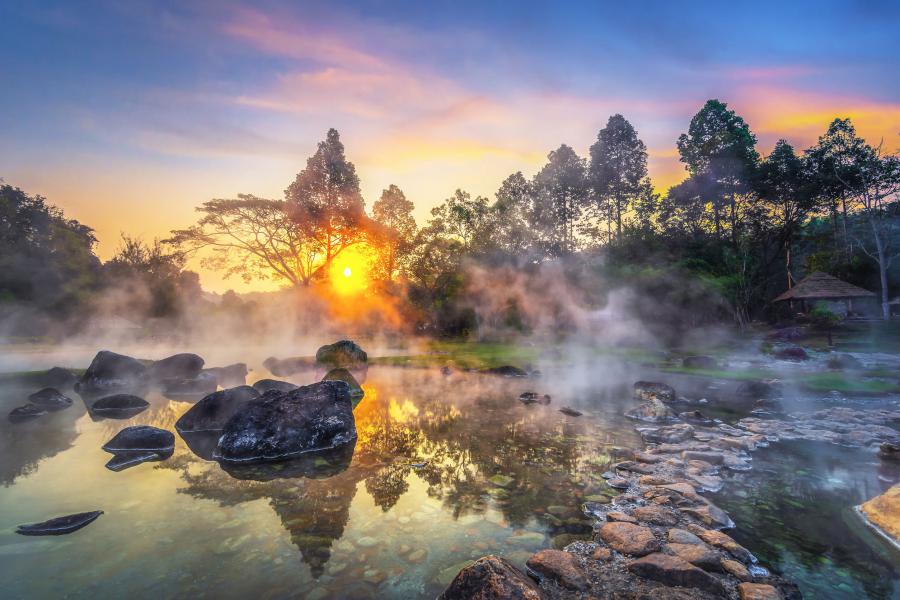 The rainy season is May to November with nearly daily rainfall in August and September months. The rest of the year is quite dry with colder months November to February.
Wildlife
Some of the mammal species found in the park are Indochinese serow, Malayan porcupine, boar, barking deer, northern treeshrew and many others according to the park staff.
So far around 140 bird species are recorded from the park. Few of these birds are; spot-winged grosbeak, sapphire flycatcher, Himalayan bluetail, Buff-barred warbler, striated bulbul, hill prinia, mountain hawk-eagle, greater necklaced laughingthrush, dusky crag martin, greater yellownape, buff-breasted babbler, lesser necklaced laughingthrush, brown-cheeked fulvetta and white-faced jay.
Many of the common reptile species in nearby parks are probably found in Chae Son National Park too. Yunnan water snake (Sinonatrix yunnanensis), Pope's pit viper (Trimeresurus popeiorum), large-eyed pit viper (Trimeresurus macrops), Deschauensee's keelback (Hebius deschauenseei), green tree snake (Gonyosoma prasinum) and big-headed turtle (Platysternon megacephalum) are all recorded from the park.
Getting there & get around
Getting to the park
It is possible to get to Chae Son National Park with public transportation options from Lampang, but also with own car/bike.
The park is not too far from Chiang Mai to west and Lampang to southeast, can be reached from route 1252 that crosses the park between both provinces.
When using a navigator device (Google Maps etc), enter the following coordinates in the search field:
Coordinates: 18.836604, 99.470836
From Chiang Mai
By driving - Take the highway 118 from the northeast end of the city and drive for around 30 km until you reach Ban Pong Din village. Unfortunately no signs pointing the directions, but there is a blue sign points the direction to "Doi Saket Hot Springs" which is the same road, turn right there to route 3005. Drive 4.5 km until you reach to a busy T-junction where you reach "Mae Takhrai National Park" on the right side, turn left to route 4063 and drive 14 km until you reach route 1252. Turn right on route 1252 and drive 35 km until you reach the final turn to the park, signposted. Turn right and drive another 3 km until you reach the visitor center on your right.
Public transport - Take a bus from Chiang Mai Bus Station to Lampang and there get to songthaew stop as informed further below. This is not an ideal way to get to Chae Son as songthaews normally take off when enough people joins, means, there may be some considerable waiting to get to songthaew parking spot and wait.
From Lampang
By driving - Take the route 1039 from northwest end of the town. Once at the outskirts of the city, a big sign turn right to Mueang Pan (signposted) on route 1157. Drive 57 km until you see sign pointing left to "Chae Son National Park" on route 1252. Continue driving around 8 km until you see a much bigger sign pointing left. Drive another 3 km and the visitor center will be on the right side of the road.
Public transport - There are songthaews operating from Lampang 8 am to 6 pm. Sonthaews are converted pickup/trucks for shuttle service. These leave from a small and narrow side street to Talad Gao Road on the south side of Want River. This small street doesn't have any name.
Coordinates: 18.291071, 99.499221
Get around in the park
The attractions around the waterfall are all in walking distance. A private car needed to get to a few viewpoints along the roads and to the caves at the northeast edge of the park.
Entrance fees & opening times
While the entrance fees for foreigners are 200 Baht for adults and 100 Baht for children Thai citizens pay 40 Baht adults and 20 Baht for children. Cars will be charged with 30 Baht, bikes 20 Baht.
The park doesn't have any opening/closure times, basically accessible 24 hours a day but closed for tourism from 1st July until 31st August every year. The park premises are open from 7 am to 6 pm every day.
Activities
The most popular activity of the park is having a bath in the hot waters of the hot springs, either outdoors in one of the ponds or indoors in one of the huts available for rent for a smaller fee.
There are also a number of trails in the park, some relatively short to nearby waterfalls, others a bit longer that require a guide or ranger for guidance.
Pha Ngam Cave at the northeast edge of the park is over 1.5 km long, may be interesting for people interested in caves.
Local tourists loves to boil eggs in the hot waters of springs.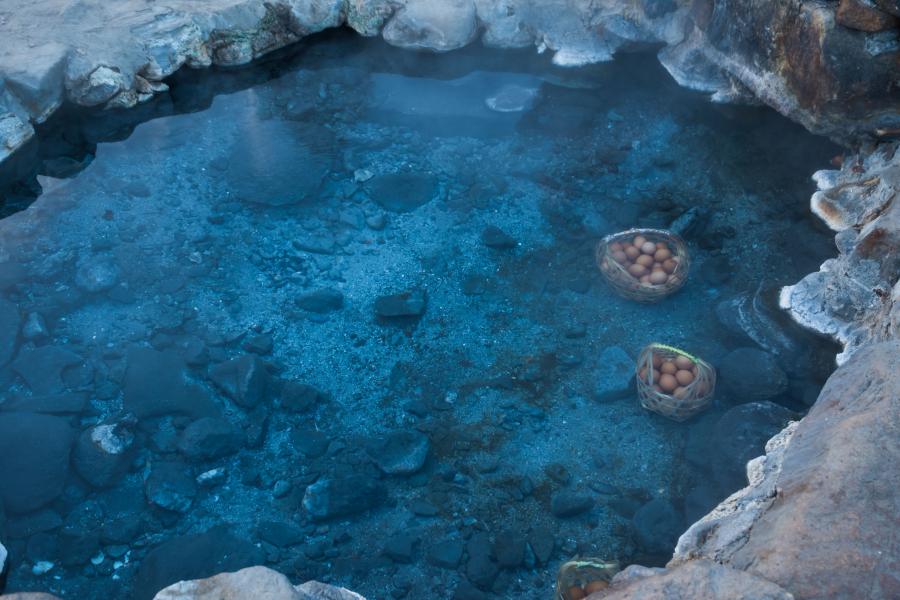 Stay & eat
Camping
Chae Son has a large camping ground with toilet/bathroom facilities. Tent and sleeping set available for rent from the visitor center. The tents are of 3 people size, 150 Baht per night, sleeping accessories 60 Baht per person. No larger tents available.
Bungalows
There are 10 bungalows of various sizes in the visitor center area. The prices for these are among the most expensive ones compared to the other national parks in the country; 1 bedroom for 3 people for 2,700 Baht per night, 2 rooms for 4 people for 3,600 Baht per night and a large one with 3 rooms for 15 people 10,800 Baht per night. A 20% discount will apply when booked for Mon to Thu.
Bungalows can be booked through DNP website in advance or on the spot if available. As the money transfer must be done within 2 days and the fact that it takes time with transfers from abroad, it is only possible to book from within Thailand only. Payments can be done at 7-Eleven convenience stores or banks.
Eat
There is one restaurant at the visitor center area which is daily open from 8 am until 5 pm. Apart from the restaurant there are also a number of food and snacks stalls and a cafe.
Phone(s)
You are recommended to ask a Thai speaking person to call on your behalf.
089 851 3355
093 137 5533
The attractions of Chae Son
Visitor center area & campsite
The visitor center area is right next to the hot springs around 3 km from the route 1252 that crosses the national park. The visitor center area has a campsite, a restaurant, many food/snacks stalls, a cafe, a longer trail to Chae Son Waterfall.
Chae Son Hot Springs
Located at a large rocky area right next to the visitor center and other premises of the park. It is the main attraction of the park.
The hot water that emerges to the rocky surface can be around 70-80 °C which is a bit too hot for bathing. The hot water of the springs flows down to to few other ponds further down where it is more pleasant temperatures for bath, around 38-45 °C. The hot water streams all the way down to the nearby Mae Mon Creek where it is possible to have a bath too.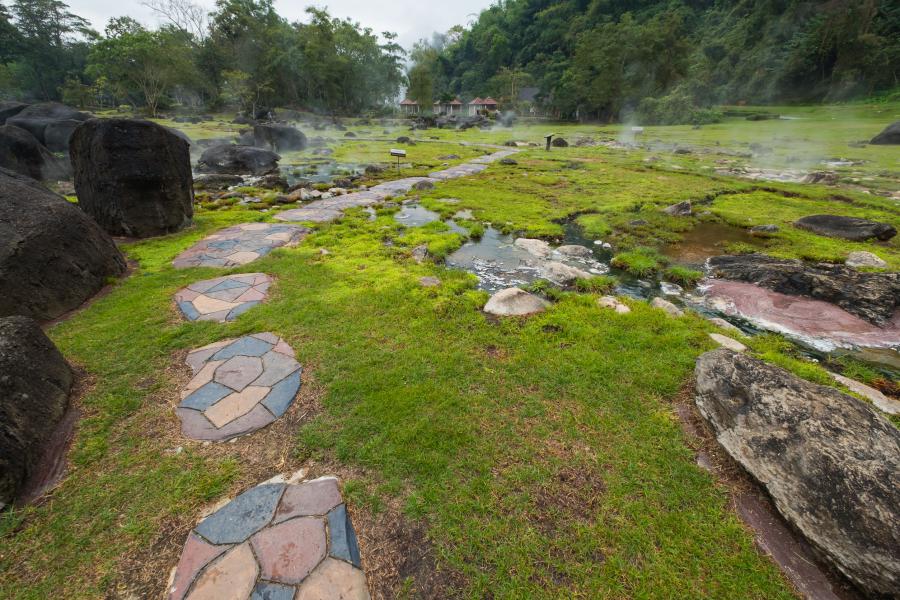 There are a number of huts next to the spring for mineral bathing, with hot water from the springs. These huts are available from 7 am to 6 pm daily, costs 50 Baht per person to use.
One traditional activity at the springs is to boil eggs in the hot springs. Eggs are put in bamboo baskets and lowered down to the bottom of the ponds with a stick.
Chae Son Waterfall
The second most popular attraction of the park, a 6 tiered waterfall about 1.5 km from the visitor center. No guide/ranger accompany needed to walk this trail.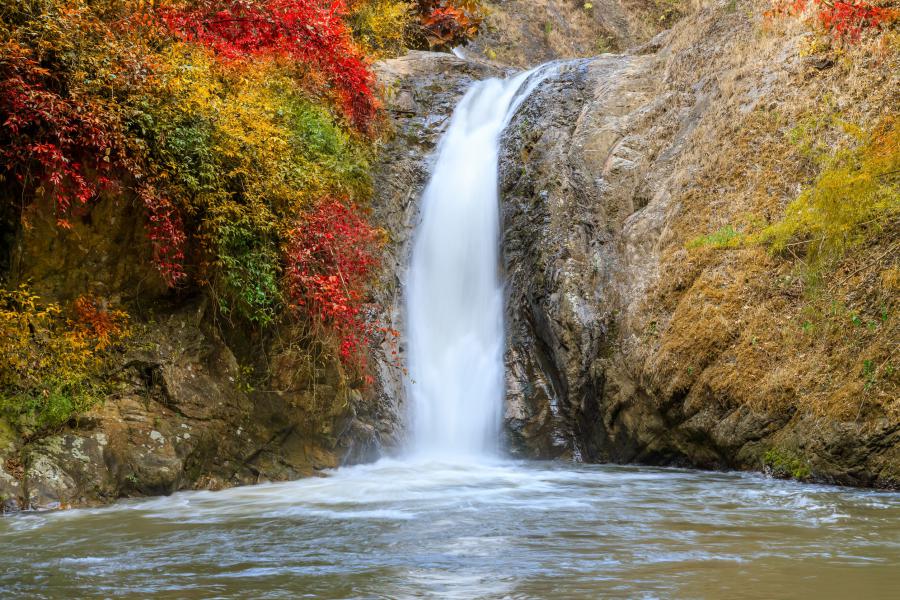 Mae Mon and Mae Khun Waterfall
Located around 5 km northwest from the visitor center area, accessible by a dirt road. Both waterfalls requires a ranger to get to. Rangers can be assigned only on week-days, not during the busy week-end holidays. You are recommended to call and book in advance, best to get help with a Thai speaking person when calling.
Caves near Wat Tham Pha Ngam (temple)
There are 4 caves not too far from each other in Wang Nuea District at the northeast end of the park, about 8 km from the district town of Wang Nuea. The access point of these caves is a temple named after one of the caves, Pha Ngam Cave Temple. A dirt road extends west from this temple to a ranger station, the caves are on the mountain slopes along the road, some easily accessed, others not.
The location of the temple is signposted in Thai only.
Temple coordinates: 19.110466, 99.580539
Pha Ngam Cave
Tham Pha Ngam in Thai, the longest cave in Chae Son National Park with an impressive 1,578 meters length and 41 meters depth. Around 400 meters of this cave is easy walk.
Around a 100 meters before reaching the temple a dirt road branches left from the concrete road. The cave is located 1.5 km from the temple, 800 meters west of the ranger station, uphill from the car park of the cave and signposted well.
Cave coordinates: 19.10832117, 99.56810531
Luk Kae Cave
Tham Luk Kae in Thai, the nearest cave to the temple, about 600 meters from the same concrete road turn to Tham Pha Ngam, before the ranger station. The cave is 306 meters long and about 5 meters in depth. The cave consists of a single fossil passage.
Cave coordinates: 19.11182916, 99.5763315
Mor Cave
Tham Mor in Thai, about half way between Tham Pha Ngam and Tham Luk Kae. It is a 106 meters long cave. It is accessible by a short tail from the ranger station.
Cave coordinates: 19.11250307, 99.57177987
Luang Cave
Tham Luang in Thai, 2.5 km north from the ranger station to the other caves, best to get there with a ranger or local who knows the directions. It is 226 meters long and 9 meters deep cave. The entrance of this cave descends into a large passage that emerges on the other side of the hill.
Cave coordinates: 19.11803435, 99.57161825
Dok Siew Blossoms
During the February month, some beautiful white blossoms can be observed along the road to Ban Paa Miang village 14 km east from the visitor center area.