Private Tour

|

Erawan Falls, Hellfire Pass & historical sites | day tour

Kanchanaburi Province in west Thailand is home to several natural and historical sites popular among both local and foreign tourists.

Erawan National Park with it's famous falls are no doubt one of the most iconic attractions in Thailand but it is also one of the most beautiful falls in entire Asia.
What?
This one day tour includes a visit to popular Erawan Falls in Erawan National Park, Hellfire Pass & Hellfire Park Memorial Museum and Death Railway Wooden Bridge & Krasae Cave.
Itinerary
The itinerary below is for a tour to start from Kanchanaburi City. For an additional fee, the tour can embark from the Sai Yok area but the ordering of attractions to visit will be different.
The tour will embark at 8 am from your hotel in Kanchanaburi City where our guide will meet you. Our first destination will be Erawan Falls.
Once at the falls, we will spend 3 hours walking up to all 7 tiers of Erawan Falls. If you are faint hearted we will only walk to the easily accessible first few lower tiers, you will decide how far we should go. It is possible to swim in blue/green waters which are full of fish. Good to bring with you hiking shoes, swimwear and towel.
After having lunch at local restaurants near the visitor center we will drive you to Hellfire Pass and the Memorial Museum dedicated to the memory of all men and women who worked and died during World World II. The complex consists of a memorial site located within Hellfire Pass (Konyu Cutting), a museum exhibiting artifacts and the Memorial Walking Trail where we are going to hike.
Before continuing our trip to the next destination we will stop by at a café.
After the coffee break we will drive to Death Railway Wooden Bridge and Krasae Cave. There we will walk along the spectacular part of the Death Railway that bends and cuts through steep mountain slopes but also over an interesting wooden bridge which is still in working condition. The nearby Krasae Cave was used as a hospital during WWII.
Around 5:30 pm we will arrive back at Kanchanaburi City to walk over The Bridge over River Kwai. The bridge is named after the film from 1957 based on the novel written by the French writer Pierre Boulle. Around 6 pm you will be taken back to your hotel.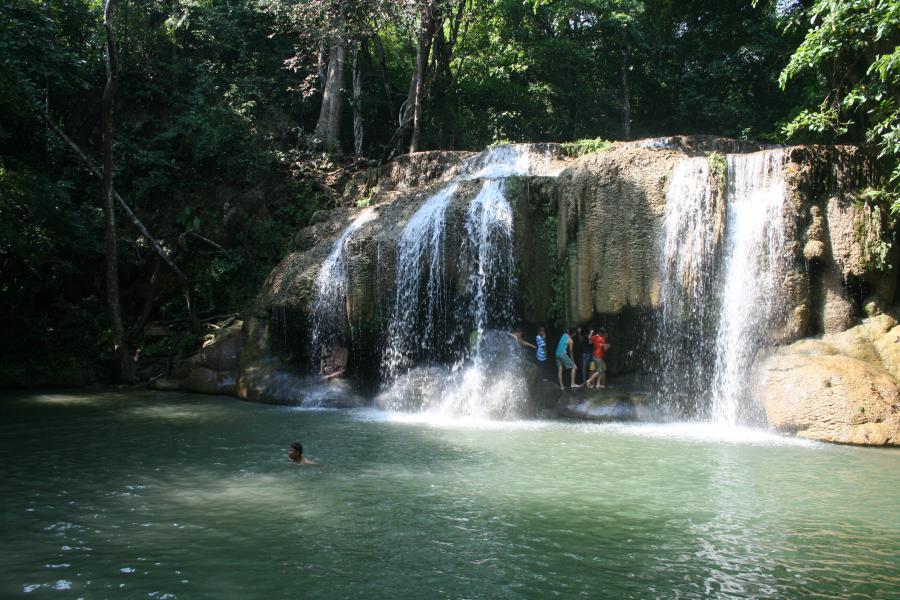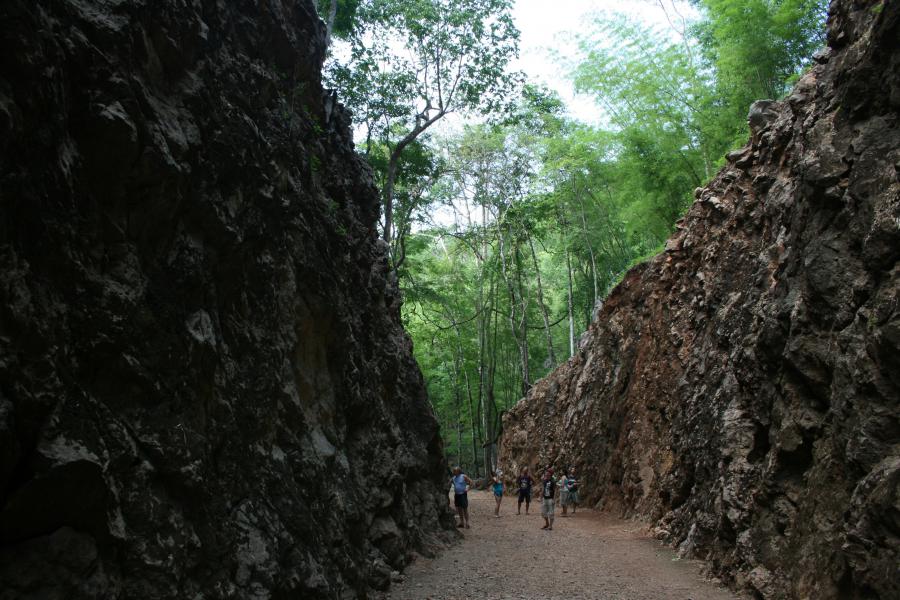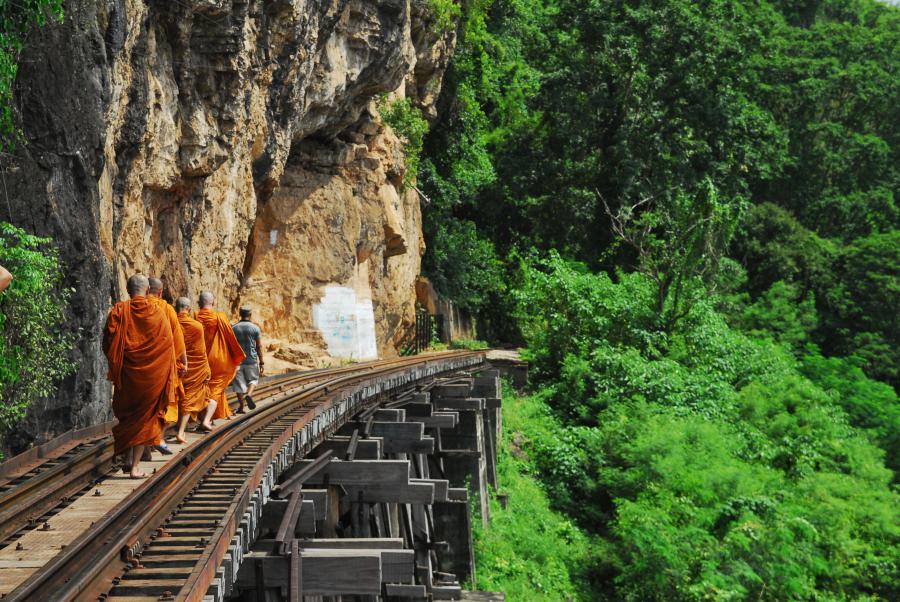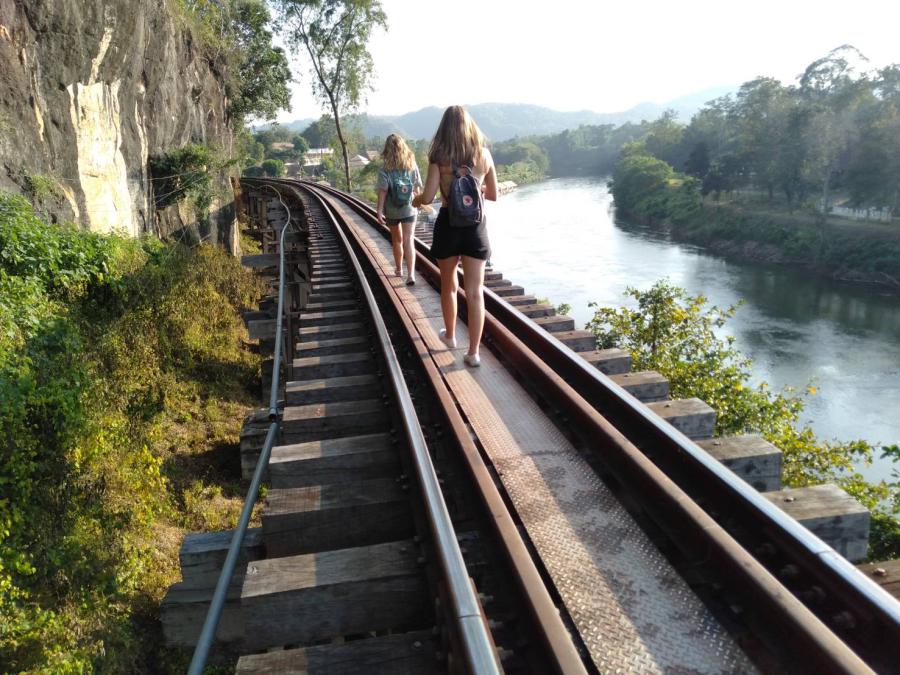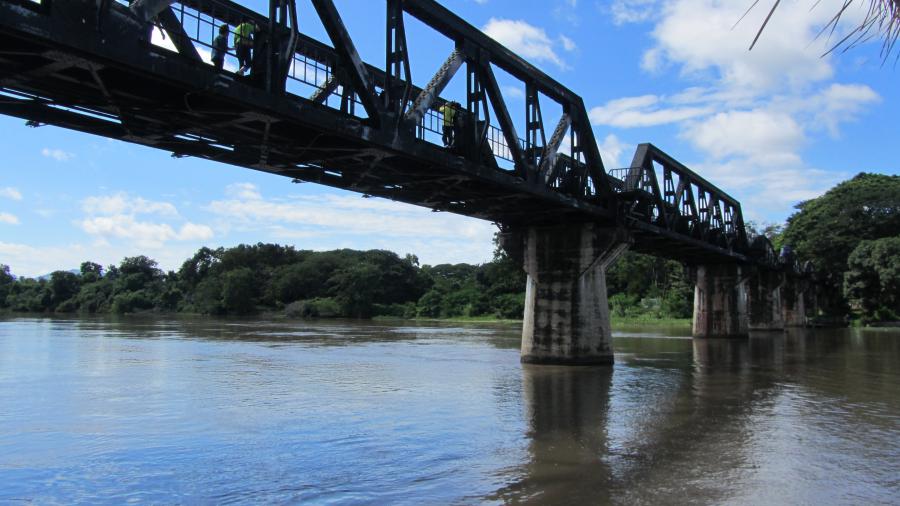 Where & When?
This full day tour can be booked all year-round. Our guide will meet you at 8 am in your hotel's lobby where the tour will embark from.
During the dry/hot seasons the water flow is less in Erawan Falls, but it will be beautiful as the water gets crystal clear and more ideal for swimming.
This tour is available all year round, with exception of long public holidays when Erawan Falls gets painfully overcrowded.
Tour details in short:
Duration: 1 day
Type: Private tour
Price: 1,500 Baht Baht and up per person (depending on group size)
Group size: 1 or more people
Grade: Easy to moderate
Transport: SUV or minivan with a/c
Start: 8 am
End: 6 pm
What to bring:
Hiking or sport shoes
Swimming clothing
Towel
Insect repellent
How much?
This tour is a private tour. You'll be accompanied by an English speaking licensed guide and no other people will join you; the best way to explore the falls and the historic sites. The listed prices below include private luxury transport, entrance fees, refreshments and lunch.
A day trip to the falls including visiting all historic sites mentioned in this trip is possible due to the long driving time from/back to Bangkok. If you need a tailored trip from Bangkok, please let us know and we can inform you of the feasibility with a price.
We can however arrange an early pickup from Bangkok if the drop off location is a hotel in Kanchanaburi.
The listed price below doesn't include pickup from the Sai Yok area where some popular raft houses are located. For an additional fee, it is possible to embark the tour from the Sai Yok area.
Pax
Rate per person
1
5,200

THB

2
3,100

THB

3
2,400

THB

4
2,100

THB

5
1,850

THB

6
1,700

THB

7
1,600

THB

8
1,500

THB

9
1,500

THB
Tour rates include:
Private good English speaking tour guide
Private transport from/to your hotel in Kanchanaburi City
Erawan Falls
Hellfire Pass & Memorial Museum
Death Railway Wooden Bridge
Krasae Cave
All entrance fees
Lunch
Coffee/tea break & snacks
Drinking water
Soft drinks
Reviews from our guests
By: Leonie and Paul | posted Sun 7 Aug, 2022
We had an amazing day in the Kanchanaburi area. We learned and saw a lot of the area and its surroundings. The best part of the tour was our private guide Jacky. Jacky's enthusiasm and knowledge significantly contributed to our experience. We would recommend Jacky to everyone considering a trip in this area
By: Zulfadhli Zulkifli | posted Sat 9 Jul, 2022
Tour was great. Our guide was excellent and would highly recommend her
By: Lorraine Healy | posted Sat 29 Jan, 2022
The tour was superb. Jackie our guide could not have been nicer or more helpful and we really laughed all day with him, he made the whole experience even better. The tour includes food and Jackie is always making sure you have enough water or snacks. He is super knowledgeable about the areas we visited. I couldn't recommend it enough, we had thought about doing this trip alone with a taxi and it definitely would not have been possible to fit so much in. Worth every penny!
By: Catherine Challes | posted Wed 8 Dec, 2021
Jackie was absolutely outstanding - was really informative, went above and beyond and took loads of lovely photos for us!
By: Tarren Mulligan | posted Sat 16 Oct, 2021
From the very beginning, Thai National Parks went out of their way to ensure our comfort. As a large group of 9, we had originally booked a tour in April, but COVID happened with restrictions which did not allow us to travel. Luckily for us, they were more than accommodating and helped us postpone our trip to a later date. They were always professional and courteous in their responses to our many questions before our tour.
They also assigned us the most wonderful guide, Jackie. Jackie is one of the most kind people you will meet. After just one day, we know that the world is a better place with Jackie in it. Not only is he proud of Thailand and its rich history, but he is also incredibly resourceful and he knew so many interesting details about Kanchanaburi. Leading us up to the waterfalls in Erawan National Park, Jackie was patient as we just took it all in, and then showed us the best place for a swim. Later, Jackie took us for lunch which was delicious! We further adventured to museums, bridges and parks for which Jackie could tell us some history. For sure we would book another tour through Thai national Parks and highly recommend them to anyone looking to explore Thailand.
By: Danielle Ranaghan | posted Fri 28 Feb, 2020
My boyfriend and I absolutely loved our day our on this trip! The journey to Erawan waterfall was incredible, a beautiful place and fun adventure to climb the 7 tiers, it's a must see! We learnt a lot about the history of Hellfire Pass and Death Railway Wooden Bridge, important to see those places but it's emotional. Finally the tour was so well organised, the tour guide Mai was lovely and her English was great! The driver Mr J was great, all on time. It was such an amazing day so I'd highly recommend!!! X
By: Nicola Barclay | posted Tue 21 Jan, 2020
The guide Na was lovely. Our driver although pleasant made 2 personal stops on the return journey.
Good trip but consideration should be given to the cost of it.
Tour operator's response
Dear Nicola,
I am glad to hear that you enjoyed your day but truly sorry for the inconvenience we have casued you!
We are a local tour operator handling the
private tours in Kanchanaburi for thainationalparks.com
Na is a wonderful person and a good guide but she has not worked a lot for us (many of our guides are freelance) but has been available in high season when we have had many tours. Na is more used to guide the less expensive tours were nothing "extra" is included.
We as a company have not been clear enough to Na about our guidelines so we take full responsibility for the mistakes that has been done on your tour.
You should not have paid for any non-alkoholic drinks throughout the day, water should have been provided at all times, the meal should have been served fresh at a simple Thai restaurant but with plenty and various dishes and you should have been offered some local snacks, coffee and/or maybe a icecream if wanted...
If the driver has some personal reasons to make one stop (e.g. toilet stop, tired.. etc.) he should of course do this but always ask/inform you first, other personal stop(s) should not at all be made.
I have respectfully noted that you feel the tour was pricy, but with the above mentioned (and in general that you SHOULD have had a smooth, unconcerned all inclusive private tour with us) is the reason the price is a bit higher on our tours.
I am again humbly sorry for not giving you a perfect day, I will shortly contact you personally by e-mail to find a compensation for the mistakes that has been made from our side..!
Yours sincerely
Steffen Trulsen
By: Alicja Wierniuk | posted Thu 28 Feb, 2019
The trip was amazing and our guide Mod was the best guide that you can imagine. He explained us all about the nature and history and he was always adjusting the trip to our needs. This was one of the best trips that we had. Totally worth each bath that we spent. Thank you so much for an excellent service!
By: Narelle Spalding | posted Sun 9 Sep, 2018
Excellent tour guide very informative of area and History loved every bit of the day so worth doing a private tour recommend to any one this is a must do experience
Tour operator's response
Dear Narelle,
Thank you for taking the time to write this review and for the nice words, we are glad to hear that you enjoyed the day on tour with us!
Wish you all the best
Steffen
By: Daniel HARDY | posted Thu 15 Mar, 2018
We enjoyed a lot our excursion.
The schedule were respected.
The guide was very kind and clear in his explanation and the driver was also very good.