Private Tour

|

Erawan Falls, Hellfire Pass & historical sites | day tour

Kanchanaburi Province in west Thailand is home to several natural and historical sites popular among both local and foreign tourists.

Erawan National Park with it's famous falls are no doubt one of the most iconic attractions in Thailand but it is also one of the most beautiful falls in entire Asia.
What?
This one day tour includes a visit to popular Erawan Falls in Erawan National Park, Hellfire Pass & Hellfire Park Memorial Museum and Death Railway Wooden Bridge & Krasae Cave.
Itinerary
The itinerary below is for a tour to start from Kanchanaburi City. For an additional fee, the tour can embark from the Sai Yok area but the ordering of attractions to visit will be different.
The tour will embark at 8 am from your hotel in Kanchanaburi City where our guide will meet you. Our first destination will be Erawan Falls.
Once at the falls, we will spend 3 hours walking up to all 7 tiers of Erawan Falls. If you are faint hearted we will only walk to the easily accessible first few lower tiers, you will decide how far we should go. It is possible to swim in blue/green waters which are full of fish. Good to bring with you hiking shoes, swimwear and towel.
After having lunch at local restaurants near the visitor center we will drive you to Hellfire Pass and the Memorial Museum dedicated to the memory of all men and women who worked and died during World World II. The complex consists of a memorial site located within Hellfire Pass (Konyu Cutting), a museum exhibiting artifacts and the Memorial Walking Trail where we are going to hike.
Before continuing our trip to the next destination we will stop by at a café.
After the coffee break we will drive to Death Railway Wooden Bridge and Krasae Cave. There we will walk along the spectacular part of the Death Railway that bends and cuts through steep mountain slopes but also over an interesting wooden bridge which is still in working condition. The nearby Krasae Cave was used as a hospital during WWII.
Around 5:30 pm we will arrive back at Kanchanaburi City to walk over The Bridge over River Kwai. The bridge is named after the film from 1957 based on the novel written by the French writer Pierre Boulle. Around 6 pm you will be taken back to your hotel.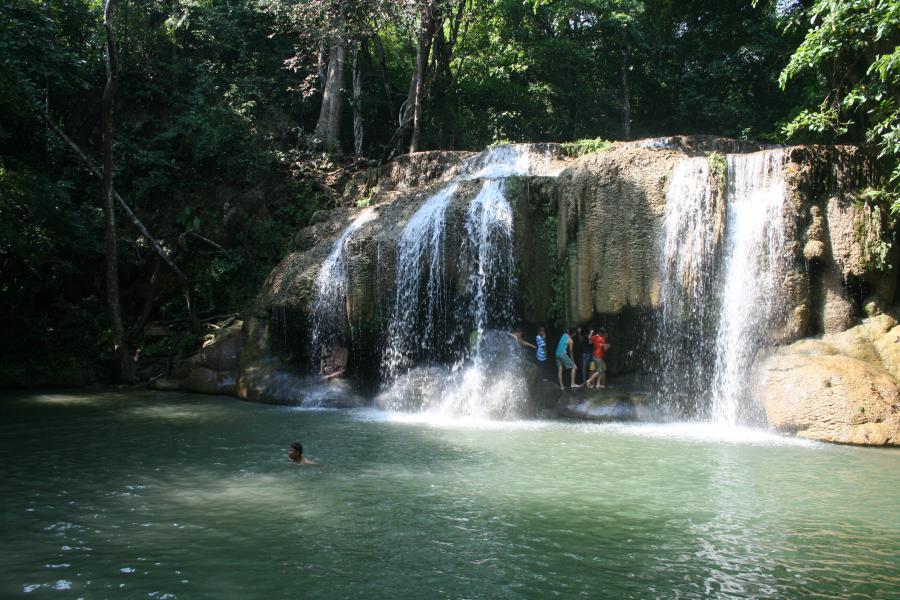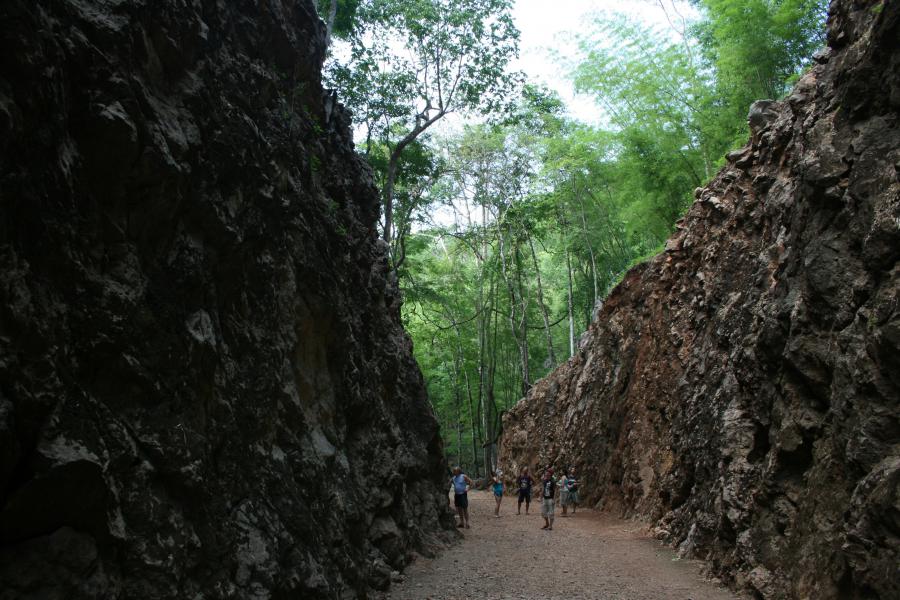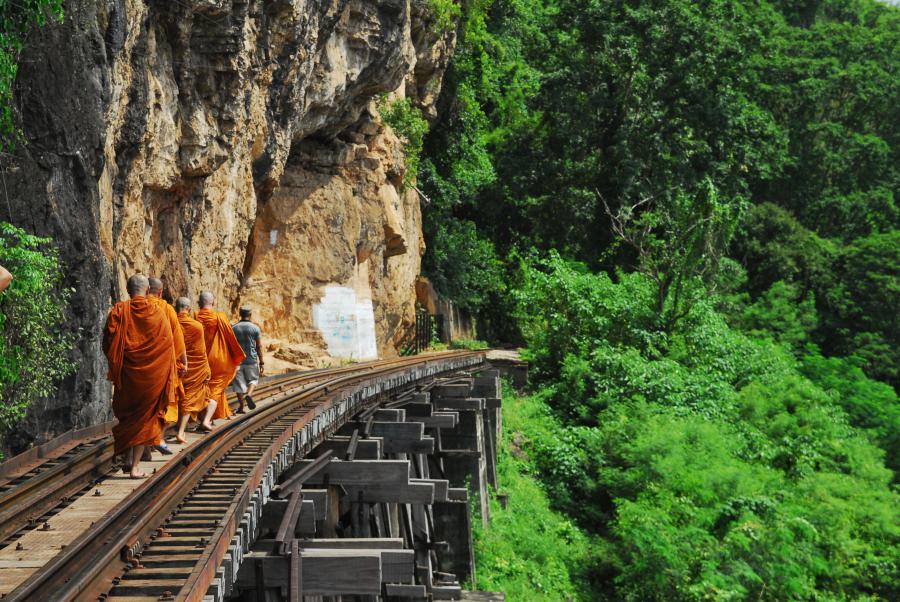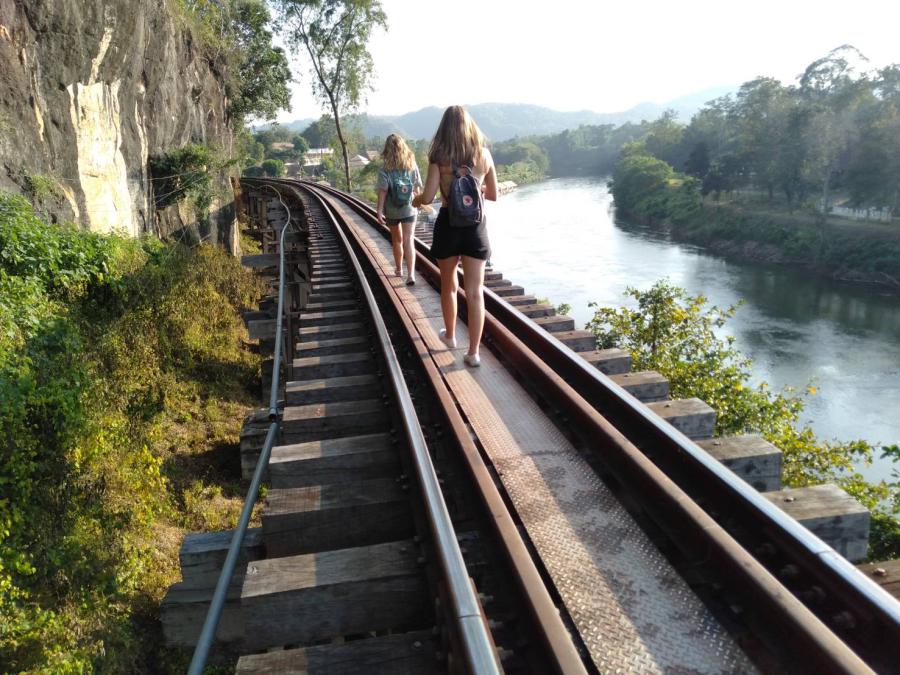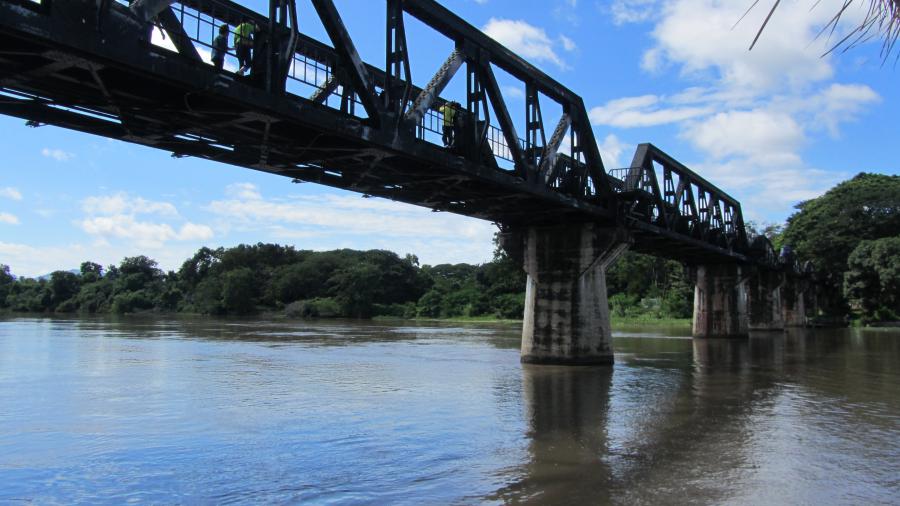 Where & When?
This full day tour can be booked all year-round. Our guide will meet you at 8 am in your hotel's lobby where the tour will embark from.
During the dry/hot seasons the water flow is less in Erawan Falls, but it will be beautiful as the water gets crystal clear and more ideal for swimming.
This tour is available all year round, with exception of long public holidays when Erawan Falls gets painfully overcrowded.
Tour details in short:
Duration: 1 day
Type: Private tour
Price: 1,500 Baht Baht and up per person (depending on group size)
Group size: 1 or more people
Grade: Easy to moderate
Transport: SUV or minivan with a/c
Start: 8 am
End: 6 pm
What to bring:
Hiking or sport shoes
Swimming clothing
Towel
Insect repellent
How much?
This tour is a private tour. You'll be accompanied by an English speaking licensed guide and no other people will join you; the best way to explore the falls and the historic sites. The listed prices below include private luxury transport, entrance fees, refreshments and lunch.
A day trip to the falls including visiting all historic sites mentioned in this trip is possible due to the long driving time from/back to Bangkok. If you need a tailored trip from Bangkok, please let us know and we can inform you of the feasibility with a price.
We can however arrange an early pickup from Bangkok if the drop off location is a hotel in Kanchanaburi.
The listed price below doesn't include pickup from the Sai Yok area where some popular raft houses are located. For an additional fee, it is possible to embark the tour from the Sai Yok area.
Pax
Rate per person
1
5,200

THB

2
3,100

THB

3
2,400

THB

4
2,100

THB

5
1,850

THB

6
1,700

THB

7
1,600

THB

8
1,500

THB

9
1,500

THB
Tour rates include:
Private good English speaking tour guide
Private transport from/to your hotel in Kanchanaburi City
Erawan Falls
Hellfire Pass & Memorial Museum
Death Railway Wooden Bridge
Krasae Cave
All entrance fees
Lunch
Coffee/tea break & snacks
Drinking water
Soft drinks
Reviews from our guests
By: Steven Hulse | posted Mon 13 Mar, 2023
We both thoroughly enjoyed this tour. It was perfect in every way from the moment we were greeted by our guide Pat at our hotel to the moment we were dropped off at the end. Pat was informative friendly and very helpful , even helping my wife down the steps at Erawan Waterfall , she truly enhanced our experience. The waterfalls where beautiful (loved swimming in the pools), hellfire pass interesting, the cave and bridge also great to visit, this added to the fact we unexpectedly had a lovely lunch at a local restaurant made for a perfect day. Also a shout out to Peter our driver whose driving was excellent and transported smoothly around all day.
By: Victoria Goodall | posted Sun 19 Feb, 2023
Maybe a little expensive but an easy way to see all the main attractions (with a local guide). Door to door, punctual, full-day service with lunch. The falls were AMAZING - and we got there before the crowds.
By: Panha Ly | posted Tue 3 Jan, 2023
Great service. Dominic, our tour guide was great and helpful. We had a lovely time.
By: Farhanna Roslan | posted Thu 29 Dec, 2022
First of all, we would like to say we had a very splendid time in Kanchanaburi. Pat (our tour guide) and Mr. Tui (our driver) were extremely accommodating and understanding! We requested for halal/kosher meals and they were able to drive us to a halal place! We opted for the 2pax tour, so everything was private and well taken care of! Pat was such a great guide and she was very concerned that we would arrive our destination (which is about 1.5hours away from the last visit point) safely! She even texted us personally to ensure we reached our hotel safe and sound! Overall, we were happy with the service! Thank you team!
By: Kavita Patil | posted Thu 22 Dec, 2022
Great one day trip to Kanchanaburi from Bangkok. Driver and tour guide arrived on time and took us to all the places per the plan. Took our pics, never hurried us and were very friendly and nice! The guide- Kat- gave us lot of information about local culture and practices too… don't expect in depth details on the world war 2 or the history in general - just a great tour for quick orientation and info on the area and great transitions from one spot to another! Very smooth experience!
By: Niels Walgraeve | posted Wed 30 Nov, 2022
Perfect day 100% according to schedule. Our guide Jackie was the best we had in Thailand. Lots of extra info, entertainment and showing us local insects and plants we would otherwise have missed. We already booked another tour with this firm.
By: Zoe Barr | posted Mon 26 Sep, 2022
Easy to organise and the arrangements were very clear. The waterfall was beautiful and fun! Our guide Pat was great, she had lots of local knowledge, was enthusiastic and helpful. An excellent tour. Well worth the trip to Kanchanaburi
By: Emma Bradley | posted Tue 30 Aug, 2022
Our tour guide Jackie was an absolute delight and made the day the most enjoyable of our trip so far. The falls at the national park are gorgeous and we enjoyed a swim at the 7th tier. Jackie took some lovely pictures of us throughout the day and could not do enough for us to ensure we were comfortable and having a great time. Would highly highly recommend!
By: Niamh Fanthorpe | posted Mon 15 Aug, 2022
Absolutely 5 stars. We as a group of 6 girls loved this tour so much. Our guide Sunny was absolutely fantastic. He is so experienced and had every minute planned. Our driver Aod was fantastic as well and they were both so friendly and accommodating. The tour itself was amazing, Erawan falls was so beautiful and not too strenuous of a walk, Sunny was able to tell us so much about Death Railway and the Hellfire Pass and was so helpful the entire day. 11/10 recommend and it was well worth the money.
By: Leonie and Paul | posted Sun 7 Aug, 2022
We had an amazing day in the Kanchanaburi area. We learned and saw a lot of the area and its surroundings. The best part of the tour was our private guide Jacky. Jacky's enthusiasm and knowledge significantly contributed to our experience. We would recommend Jacky to everyone considering a trip in this area