Private Tour

|

2-days wildlife tour in Kaeng Krachan
Why?
A 2-days wildlife tour in Kaeng Krachan National Park is a great way to explore some of the main attractions of the park, and will also give the possibility to see some of the common species. Kaeng Krachan is the largest and one of the best national parks in Thailand, listed as a World Heritage Site. It's home to a wide range of animals including gibbons, langurs, macaques, leopards, clouded leopards, elephants, civets, porcupines and many more. With more than 420 different bird species recorded, many consider the park as the best birdwatching location in Thailand. You won't regret it!
What?
With a 2-day wildlife tour we will be exploring nature from early hours of the day till it gets dark, focusing mainly on wildlife watching. The tours include the following activities; daytime safari drives, jungle hiking, visiting some of the park's main highlights.
Itinerary
Because it is difficult to plan in the wild, our itineraries often get turned upside down. The following itinerary should be considered as an example;
Day 1, 6 am until 6 - 7 pm
On our drive into the park we start with searching for birds and other wildlife from the car. Afterwards we explore the jungle on foot.
After lunch at the park restaurant, we drive to some spots to continue our search for wildlife by walking on the roadside through tall forest near a stream. This area is rich in birds, but it is also one of the better areas to see for example White-handed Gibbons. Often walking this road is more successful in terms of sightings than walking a jungle trail. Partly because of better visibility in the tree tops. But also because the wildlife tends to be less skittish than deeper in the forest.
In the late afternoon we drive past various waterholes in the hope to see some large animals. And finally we slowly drive out of the park to return you to your hotel in the early evening.
Day 2, 6 am until 6 - 7 pm
Early morning the second day, you will be picked up from your hotel. The day starts with a safari drive into the park. We will make some stops here and there to search for wildlife. Followed by some walking.
After the lunch, we do a hike to the Hua Chang cave. And the remaining time of the late afternoon we drive again past various waterholes and forest clearings to test our luck one last time before we leave the park.
We will bring you back to your hotel outside the park.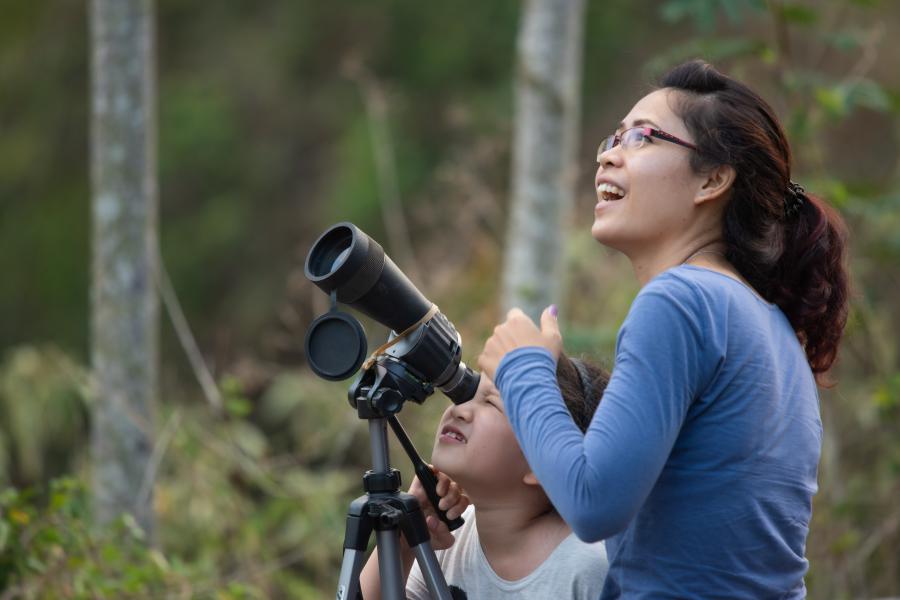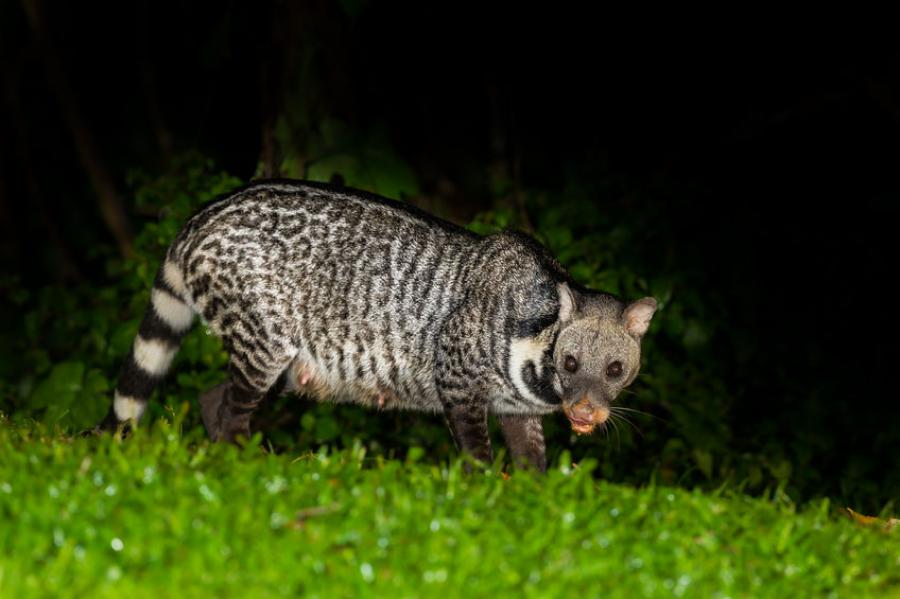 Where & When?
Kaeng Krachan National Park lies about 3 hours from Bangkok and 1.5 hours from Hua Hin. Our tour starts from Kaeng Krachan town, accessible by public shuttle minivans from Bangkok. We also offer private transfers from Bangkok or elsewhere on request.
Kaeng Krachan National Park is closed from August to October every year, so our tours are only available from November to July.
Tour details in short:
Duration: 2 days
Type: Private tour
Price: 4,000 - 14,400 Baht per person
Group size: 1 or more people
Grade: Moderate
Transport: Safari vehicle
Start: 6 am (every day)
End: 6 - 7 pm (every day)
What to bring:
Long trousers
Sweater or light jacket
Rain clothing
Hiking or sport shoes
Insect repellent
Hat or cap
Sunblock lotion
How much?
Our 2-day wildlife tours are private tours and all-inclusive.
Pax
Rate per person
1
14,400

THB

2
7,600

THB

3
6,400

THB

4
5,400

THB

5
4,800

THB

6
4,500

THB

7
4,200

THB

8 and up
4,000

THB
Tour rates include:
Entrance fees (every day)
English speaking guide
Transportation
Lunch
Drinking water
Leech protection socks
Tour rates don't include:
Reviews from our guests
By: Bekka Christensen | posted Sun 23 Jul, 2023
We booked a 2-day tour to Kaeng Krachan national park with pick-up from our hotel 6.00 AM the first day, and 5.30 AM the second day. We were back at our hotel at 7 PM, so do expect LONG days.
But the animals we were excited to see, are most active in mornings and evenings.
The tour consists of a mixture of sightings from car and hiking along trails. Do expect some bumpy roads and moderate difficulty on the trails.
But the tour is all worth it, even though we didn´t encounter any big feline as hoped.
Our guide was very good at explaining and knew a great deal about the animals, plants and landscape we passed. He was also eminent at spotting birds and other animals hiding in the forest.
Thanks for a great experience, the whole family learning a lot about Thailands wildlife in those 2 days.
By: Pierre-Emmanuel Finance | posted Sun 12 Dec, 2021
Beautiful Park and nice trails
Hard to see wildlife as it appears in the plan: Mostly gibbons and birds
Lot of limitations in the activities: some trails closed, cannot go anywhere... Not sure if everything was arranged to get as close as what I asked
Driver driving fast and made us wasting time which is not professional
The team kindly helped us when we realized we forgot some belongings in the truck
By: Rumphai Sangaunprasith | posted Tue 30 Mar, 2021
Great wildlife watching experience with Mong.. he is very knowledgeable about wildlife n birdwatching- very passionate at and obviously loves what he does as wildlife n nature guide .. full of energy. He has managed to find 4 broadbills for me. He is also very polite and amiable. I absolutely enjoyed the trip with him. The trip was well-coordinated and professionally organized. Thank you for great time in Keang Krachan ka
Tour operator's response
Thank you for your kind words!
By: Bjoern Gustrau | posted Tue 28 Jul, 2020
For watching wildlife the principal activity is driving the main road of the park up and down, hoping for the best to come. Having said that we were still able to see a lot of flora and fauna. The few hiking excursions are quite limited, but beautiful and worth the effort.
Our tour guide, Khun Mo, was exceptionally knowledgeable, very patient, friendly and simply very good. We highly recommend him.
Nevertheless the logistics of our our two days tour may be improved. At the moment we were picked-up at the hotel, we were informed that there was no driver available because he was busy. For that reason our guide offered to drive the open pick-up and lead the tour from the drivers cabin. This would have been far from ideal because once on the tour you want your guide staying with you on the pick-up platform, so he is able to better watch out for wildlife and at the same time explain the flora and fauna seen from the pickup platform.
Only because we did not accept this offer right from the beginning, the agency owner decided to drive the pick-up during the 1st day. She was very helpful and friendly. But once again: If we would not have complained from the beginning we would have been left alone with a second best solution for the same price.
The camping equipment provided by the tour operator is very simple and basic and not 100 % suitable for heavy rain.
Summarizing the tour: I can highly recommend Kaeng Krachan National Park experience.
Tour operator's response
Dear Björn,
Thank you for your feedback.
Glad to hear our guide did his very best to make the trip successful. We've heard you had some cool sightings including Gaur, Sunbear, and Gibbons.
We're sorry for the trouble you encountered due to the driver that last-minute ended up only to be available from late afternoon the first day.
Still, we also believe our guide is professional and skilled enough that he would have been able to make the first part of the trip worth it by driving by himself.
In e.g. Khao Yai where we offer similar tours this is rather common practice (that the guide drives the vehicle) and it doesn't seem to make a major difference on the success of those trips. The advantage of self-driving for the guide is that he/ she can fully follow his/ her instinct on where to slow down, stop etc. Something that remains complicated when this needs to be communicated with a separate driver whilst sitting in the back of the car. No matter how experienced the driver is, the driver can not read the mind of the guide ;) . We usually let the guide decide what he/ she prefers: either self-driving or do the trip together with a separate driver.
But we also understand there is the advantage that if the guide would sit in the back with the guests, he/ she can answer your questions right on the spot rather than you would have to ask it once the guide makes a stop when an animal is sighted.
But we admit, our guide in Kaeng Krachan generally prefers to do the trip with a driver, and that is how it normally will be operated.
Hopefully it all worked out in the end.
Secondly, the other point you raised about the camping gear is also somewhat complicated.
The weather was pretty extreme, there's not a lot of tents that stay entirely dry in such a heavy rain storm. To be honest, that kind of weather is pretty exceptional in Kaeng Krachan in the season that the park is open. But we admit it turned out the tent you used is getting towards the end of its life, which didn't help. It had not been put to the test for quite some time, so that sort of caught us by surprise too.
We are planning to replace this one as soon as possible. Not the best time to invest in new gear, not knowing what the future will be in this weird times, and after months of absolutely no income. But we will replace it soon.
Not sure if the gear deserves to be called 'simple & basic' though.
Well yes, it is camping so that generally is more basic than other forms of accommodation. Unfortunately, there is no other lodging options inside the park. But the tents are spacious, we have invested in thick air mattrassess because even though we had good brand self-inflatable mats in the past, the guests found them too hard.
But yeah can not really make camping in the jungle much more fancy, I'm afraid, haha.
Either way, thank you for your feedback, we will try to do our best to improve wherever possible, and hope avoid others going home somewhat unhappy like you seemingly did.
Best regards!
Tour operator's response
The tour was a good and worthwhile experience and we were happy getting to know this marvelous nature park and being guided so thoughtfully.
My in depth evaluation reflects the premium positioning of the tour package which raises expectations, e.g. premium camping equipment.
We are totally aware that camping is basic. My comment was more directed to the basic equipment like the tent and it's suitability for heavy rain. As you mentioned: The equipment was at the end of its life cycle and that was just not ideal for heavy rain.
The camping and it's simplicity was never an issue.
Actually the air mattresses were quite a luxury and not expected.
Our expectation is that if one pays for a tour "driver + guide", this is what should be provided automatically.
According to our own experiences it is the best solution, having direct contact with the guide at all times. This implies the guide sitting on the pick-up platform as well. For that reason I am happy that we finally received the announced service.
We are happy with the experience and knowledge we gained from this wonderful trip. We also believe that it's the little things which makes good things to become exceptional. In this case our guide, Khun Mo, was really exceptionally good and dedicated.
By: Gianluca Soldati | posted Thu 19 Mar, 2020
Amazing experience! It's really difficult for me and my friends to find negative aspects. Our guide Mong was always very nice and provided us many information about the park and its wildlife. We were also very lucky as we could spot many animals: elephants, monkeys, deer, lizards, king cobra and several birds species. Without Mong we were not able to spot most of them. Food was also very good and our tents were comfortable enough to have a pleasant camping experience. We definitely recommend this experience - thanks Mong!
By: Rebecca Weicht Graves | posted Sat 18 Jan, 2020
We had an incredible time on this tour. Our guide was always watching for critters and showed us so much, we wouldn't have seen 90% of the wildlife we did if he wasn't so diligent about looking for and finding them. We were busy looking for critters from the time we started till we were dropped off. Would highly recommend this tour to others. It was easily the highlight of our trip.
By: Sandy Rogers | posted Fri 17 Jan, 2020
My husband and I feel that our experience at Kaeng Kachan National Park was a once in a lifetime experience. We had been on a Borneo Safari for 11 days in November 2019 and this trip allowed us to revisit many of the same animal species. Both days were National Geographic quality in sightings and observing the behaviors of many species of birds, primates, and other mammals. Mong is an A+ guide and his driver was very attentive and capable. The food was surprisingly good and our tent accommodations were adequate. The only thing I will say about my experiences in wildlife viewings is the vehicles are much too loud. Someday I hope to see quiet, electric vehicles in National
Park and safari operations. I would like to have Mong's personal contact information if you could share that with me. Thank you for all you did to accommodate our visit to the park. We enjoyed meeting the other couple and now we have 2 new connections.