About Khao Phanom Bencha National Park
Khao Phanom Bencha National Park is a small national park, covering about 50 km² of area between Maung, Ao Luek and Khao Phanom districts north of Krabi. The park is a popular destination for it's waterfalls, caves and trails through montane forests. The park is located right at the northern edge of Krabi City, but the main visitor center area is around 27 km from the city at the east side of the park.
The visitor center area is the accesspoint to two waterfalls and two circular trails and a cave. There is a restaurant with very good food compared to many other national parks, a parking space and a very small camping ground right next to the visitor center.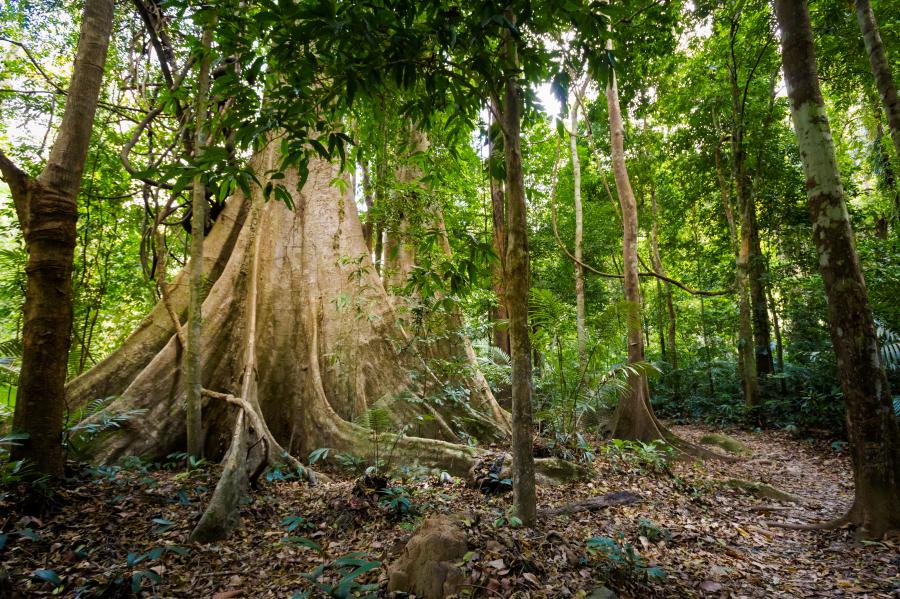 The park is named after Khao Phanom Bencha which is a mountain at 1,397 meters asl.
Wildlife
The park staff claims that there are still tapirs in the park, there is even a camera trap photo of one at the visitor center. National park authorities and number of websites mentions number of mammal species presence in the park such as leopard, clouded leopard, asiatic black bear, Sumatran serow, mouse deer, dholes, wild boar, white-handed gibbon, stump-tailed macaque. Though, we have doubts that tapirs, leopards, clouded leopards, dholes and Asiatic bears are still found in the park, these could be based on historical information. Generally mammal sightings are quite rare apart from primate sightings. The park is also home to couple of hundred different bird species and many interesting reptile species, the very rare Gurney's Pitta said to be found in the park.
Some tour operators advertises signthing of mammals on their tours, this should be taken with a pinch of salt.
Get there & stay
There are no public transportation options into the park. Visitors are recommended to rent a car/scooter or take a taxi. The most straight forward way to get there is to follow route 411 out from Krabi Center north, turn right on highway 4 and after less than a kilometer turn left to route 1016. Once on route 1016 just follow the signs to the park until you reach the checkpoint. The easiest is of course to enter the checkpoint coordinates on a mobile map app and follow the route; 8.240596, 98.913639.
There are tents available for rent from 225 THB for 3 people tent or 810 THB for 8 people tent. Sleeping sets costs 60 THB per person. There are no proper showers in the bathrooms, but there is a big bassin with bowls to take a bath from the old way. The small designated camping area has mostly sandy ground, partly grass, there are no pavilions to set the tents under on rainy days like in some other parks.
There are few bungalows available for rent with fan or a/c; fan alternative for 2 people 600 THB, fan alternative for 4 people 1,200 THB, a/c alternative for 2 people 1,000 THB, a/c alternative for 4 people 2,000 THB. A significant discount will apply when booked for Mon-Thu. Bungalows can be booked through DNP website in advance. As the money transfer must be done within 2 days and the fact it takes longer time with transfers from abroad, it is only possible to book from within Thailand only. Payments can be done at 7-Eleven convinicence stores or banks.
The entrance fees for foreigners are 100 THB for adults and 50 THB for children, cars to be charged with 30 THB.
Khao Phanom Bencha National Park opening times are 8:30am to 4:30 pm daily but will be closed from 16th May until 31st July every year.
Ethical issues
Despite disrecommendations many tourists visits various elephant farms around the park (outside the park boundaries). Elephants are abused hard "behind the doors" or openly, chained long hours, distressed, and yet, these businesses claims that the elephants are treated well.
There are still thousands wild elephants in various national parks in Thailand, many elephant families poached to death so that the calves can be taken away and trained for this dirty business. Please avoice such places, there is nothing ethical about visiting any place with animals in captivity.
Please google "elephant crushing Thailand" on YouTube to see various videos about this subject.
Phone(s)
You are recommended to ask a Thai speaking person to call on your behalf.
061 232 4901 (Visitor Center)
The attractions of Khao Phanom Bencha