About Phu Khiao
Known to be one of the best wildlife spots in Thailand, Phu Khieo covers 1,560 km² in Chaiyaphum Province in Western Isaan Complex. The sanctuary is adjacent to three other protected areas; Nam Nao National Park to north, Tat Mok National Park to west and Ta Bao-Huai Yai Wildlife Sanctuary to south-west.
The forests comprises mixed deciduous forests and dipterocarp forests with some semi-evergreen forests below 800 meters asl, the higher elevations are mainly hill evergreen forests covering 55% of the sanctuary. There are also some minor grassland areas and lakes within the sanctuary. The higher elevations at around 900 meters asl, consists of a plateau and sandstone mountains surrounded by limestone outcrops.
Phu Khieo Wildlife Sanctuary is part of Western Isaan Forest Complex including three other national parks and four wildlife sanctuaries covering 4,594 km² all together. The protected areas within the complex are; Nam Nao National Park, Tat Mok National Park, Phu Pha Man National Park, Phu Kradueng National Park, Phu Khieo Wildlife Sanctuary, Pha Phung Wildlife Sanctuary, Phu Pha Daeng Wildlife Sanctuary and Taboa Huai Yai Wildlife Sanctuary.
The rainy season is from May to October, cold season is November to February and dry season from March to April.
Wildlife
According to the sanctuary's own brochure, there are 111 species of mammals, 419 species of birds, 45 species of amphibians, 110 species of reptiles and 76 species of fish recorded in the sanctuary.
Mammals
The sanctuary is one of the best locations for bigger mammals in Thailand. The most common ones around the headquarters area are Indian hog deer which are re-introduced in the sanctuary, sambar deer, barking deer, Malayan porcupines and golden jackals. The sanctuary is home to many species of cat like tigers, leopards, clouded leopards, jungle cats, marbled cats, Asian golden cats andleopard cats. Some of the other interesting mammals found in the park are; Asian elephants, gaurs, dholes (Asiatic wild dogs), Asian black bears, Indochinese serows, Burmese ferret-badgers, yellow-throated martens, small-toothed palm civets, large-spotted civets, binturongs, crab-eating mongooses, hog badgers, red giant flying squirrels, Indochinese grey langurs, rhesus macaques, Assam macaques, northern pig-tailed macaques andlar gibbons. One very interesting mammal sighting confirmed in recent years is the Yellow-bellied weasel.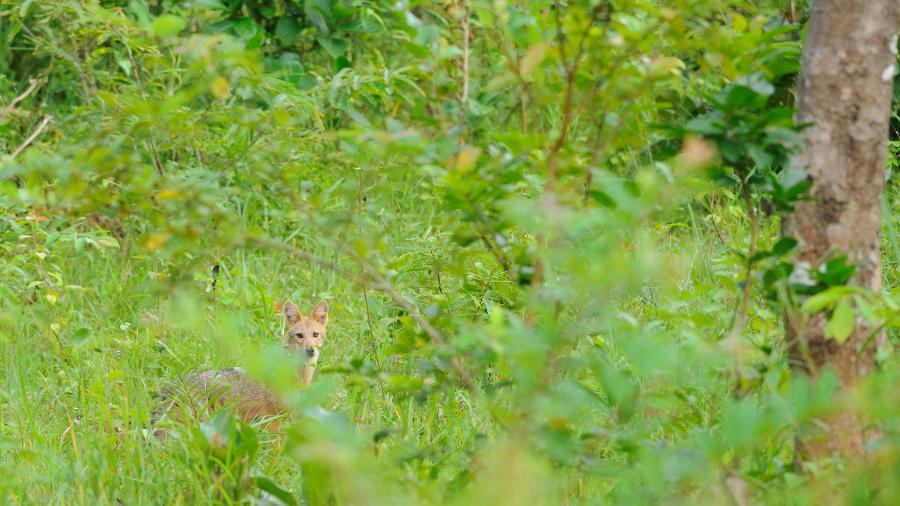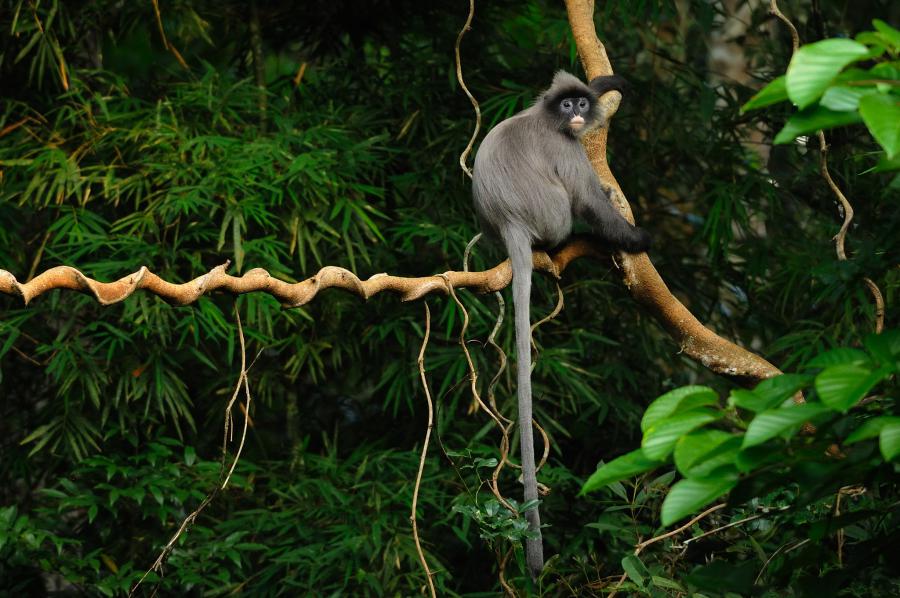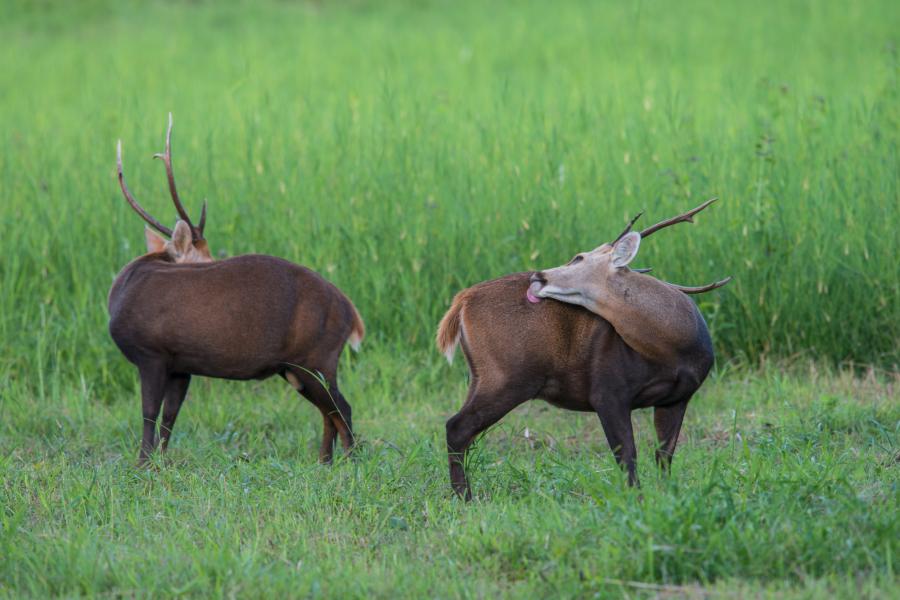 Birds
The sanctuary is a great place for birdwatching. Some of the regular and interesting sightings are Siamese firebacks, Golden-crested mynas, sultan tits, blue pittas, Red-billed blue magpies. There was a group of re-introduced green peafowls which didn't survive the predators. Other very interesting birds are; Sarus cranes, globally endangered white-winged ducks, Austen's brown hornbills, coral-billed ground cuckoos, rufous-tailed robins, black-and-buff woodpeckers, silver-backed needletails and many more..
Visiting
The rules for wildlife sanctuaries in Thailand are stricter than the general rules that apply for the national parks. Sanctuaries are not for typical tourists. While the regular tourists are allowed to visit and even stay in the headquarters area, a written permission must be obtained from DNP headquarters in Bangkok to visit the more remote areas of the sanctuary. Permission will be given to researchers and people who wish to study nature for various purposes.
The best time to visit the park for mammal sightings is when there is little water across the sanctuary, the conditions makes it easy to spot various animals seeking water on ponds, water streams and lakes. March to April/May is traditionally always the driest period, this of course doesn't mean the wildlife watching possibilities are poor the rest of the year. Every season may have its advantages and/or dis-advantages, depending on what one is after.
Visitors are allowed to move around the headquarters area on a few limited areas. There are many trails in all directions, visitors will be briefed about what trails they can walk on their own. Visitors are advised to respect the rules as a quite experienced Thai citizen got lost on one of the trails and found alive 14 days later. The only reason he survived was because he had good knowledge about edible plants, fruit trees and some basics about survival.
There are three trails that must be walked with the accompaniment of a ranger, these are around 2 to 4 km long. There is no fixed price for walking the trails with a ranger, visitors can pay what they think is a fair price. Researchers can be taken to the remote areas of the sanctuary for overnight stay, but all equipment including tent and food/water is not provided, guests must be prepared with all sorts of logistics before the hike.
It is also possible to book a night safari with the rangers on spot, to drive into the park and see some of the common nocturnal animals. The price is 500 Baht per group of max 12-15 people.
Get there
There is no public transportation option to the headquarters area which is quite a remote place. Visitors must arrange private transportation to get there. Motorbikes are not allowed inside the reserve.
It is wise to have a full tank before entering the sanctuary. If you need to fill the fuel tank you are recommended to visit one of many petrol stations in Khon San, there are a couple of LPG stations 7-15 km towards Khon Kaen as well.
Also good to have enough food/snacks/water in time, you may find out there are no shops near the sanctuary.
Getting to the sanctuary is very straight forward, whether coming from Nam Nao direction from northwest or from Khon Kaen direction from east along highway 12, keep an eye on signposts to Chulabhorn Dam and turn to route 2055 in Khon San Town by following signposts to the dam. Good to know that there is a town called "Phu Khiao", so, to avoid mixing the directions between the sanctuary and the town, make sure any relevant sign you are looking at states "wildlife sanctuary".
Once on the road towards the sanctuary/dam, drive straight ahead all the way. At one point ignore a signpost "Phu Khieo '' to the left which is an alternative road to Phu Khiao Town. Following the signposts to Chulabhorn Dam and Phu Khieo Wildlife Sanctuary for nearly 40 km will take you to the main sanctuary checkpoint on your left site. The checkpoint is near a police outpost, signposted well. The headquarters is straight ahead, another 23.5 km away from this checkpoint. The road is paved all the way to the headquarters, no 4WD needed unless you are planning to visit some remote areas in the sanctuary.
Entrance fees & opening times
Sanctuary entrance fees are 200 Baht for foreigners (100 Baht for children) and 20 Baht for Thai citizens (10 Baht for children). Cars will be charged 30 Baht.
Opening times are daily from 8 am till 16:00 pm.
Mobile reception
There is very limited reception for mobile, only around the headquarters area and only through one provider; AIS. The mobile data (Internet) connection is relatively good through AIS.
Stay & eat
Sanctuary accommodations
There are a number of sanctuary accommodations to rent. These can be booked in advance or or if available arranged on spot.
There is no fixed price for the rooms, the visitors are asked to pay what they think is worth. We recommend paying with support of wildlife conversation in mind, not by judging the quality of the stay which is quite poor. Good to keep in mind that a typical cheap price to stay in basic accommodation in most national parks is around 700-800 Baht, an average price is perhaps around 1,000-1,200 Baht.
Camping
There is a camping ground in the headquarters area, but there are no tents available for rent. Campers need to take their own tent with them.
Eat
There is only one restaurant in the headquarters area but it is only for sanctuary staff and researchers. Researchers need to inform and order in advance so that enough meals can be cooked, from 75 Baht. Though, if you inform the staff in time, you likely can order food too.
Phone(s)
You are recommended to ask a Thai speaking person to call on your behalf.
097 002 7290 - Headquarters
The attractions of Phu Khiao
Thung Kramang
A big grassland area nearby headquarters where visitors are allowed to visit without a guide, a good spot to see some mammals. Hog deer can be seen there any day, sambar deer and red muntjac are other common sightings. Golden jackals can be seen visiting the area during late afternoon quite often, other possible sightings are elephants, wild boars and other smaller mammals.
The area is surrounded with coniferous and evergreen forest in most directions, the headquarters end is swamp with few ponds and three watchtowers at the forest edge behind the headquarters.
Mon Lake
A lake where the very rare and endangered white-winged duck can be seen. The lake can be reached by a 5 km long hike accompanied by a ranger. Overnight stay may be needed. For overnight stay, the visitors must carry their own tent and food.
The Amazing Pool
A small pond only a couple of hundred meters into a trail next from the park accommodations. The pond has a smaller wooden bird hide for birders, only few birders can use this hide and a slot must be pre-booked in advance. The hide is very popular among the birders.
More photos