About Yong Waterfall
Yong Waterfall National Park is situated in Nakhon Si Thammarat Province of Thailand along the Nakhon Si Thammarat Range of Central Tenasserim Hills. The national park has several popular waterfalls and a nice montane boardwalk around 1,000 meters asl. The nearest towns are Nakhon Si Thammarat 60 km east, Trang 80 km southwest and Krabi 120 km west. The highest point of the park is Khao Men summit at 1,100 meters asl.
The national park is also referred to as Namtok Yong National Park, namtok meaning waterfall in Thai. The main waterfall of the park is Yong Waterfall, easily accessible at the south end of the park where the park headquarters and the main visitor center is located. Several other popular waterfalls are also easily accessible by car, some need a bit of hiking to reach.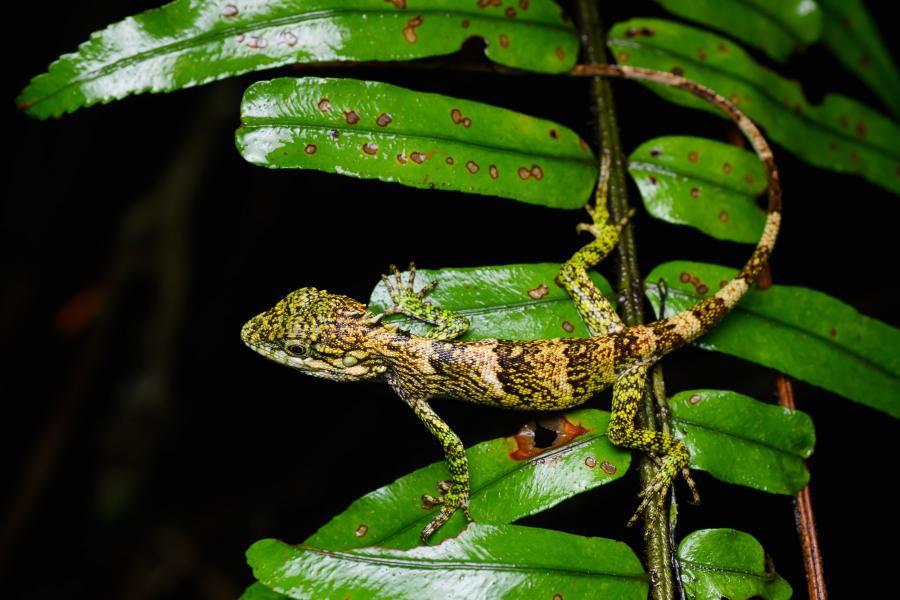 Visiting
The park is not accessible by public transportation options but in easy reach by car/motorcycle from the nearby towns. The park headquarters in Yong Waterfall area is only about 8 km from the nearby Thung Song town center, 60 km from Nakhon Si Thammarat, 80 km from Trang and 120 km from Krabi.
Khao Ram Rome summit can only be accessed with 4WD cars as the final 3 km of the road to the summit is extremely steep. Visitors with 2WD cars won't be allowed to continue to the summit even if it is a "terrain pickup".
Getting to Yong Waterfall
Yong Waterfall and the main visitor center area is only signposted along the east section of the route 403. This road starts from Trang, continues north and turns east in Thung Song Town center. While driving from Trang or Krabi enter Thung Song Town and continue east on route 403. The t-junction to the waterfall is about 5.5 km driving distance from the town center, signposted a few hundred meters before the turn.
While driving from Nakhon Si Thammarat, take route 403 and turn right on highway 41. After 7 km driving, turn right to route 403 and continue driving until a signpost shows the direction to the waterfall.
Yong Waterfall; 8.1712, 99.7410
Get around in the park
Private transportation needed to get between various attractions around the park. Most major attractions have either a visitor center or a parking area where the attractions are within walking distance from the car park. Some waterfalls require hiking along the rocky stream banks and can be slippery in rainy conditions.
Entrance fees & opening times
As of June 2022, the entrance fees are 100 Baht for adults and 50 Baht for children 3-14 years old. Thai citizens pay 20 Baht for adults and 10 Baht for children.
Yong Waterfall National Park is open from 8:30 am until 5 pm every day. You may be refused to continue up to Khao Ram Rome summit if you arrive at the ranger station after 4 pm. Good to get there early as the rangers may call headquarters to allow the visitors to continue up.
Stay & eat
Park accommodations
There are rooms available for rent at Yong Waterfall and Khao Ram Rome summit, all with one bedroom. While the rooms at Yong Waterfall are for 3 people and 500 Baht per day, the ones at Khao Ram Rome summit are for 2 people and 1,000 Baht per day. Around 30% discount applies when booked for Mon-Thu.
If there are rooms available they can be booked from the visitor center or booked in advance via DNP website. As the money transfer must be done within 2 days and the fact it takes a longer time with transfers from abroad, it is only possible to book from within Thailand only. Payments can be done at 7-Eleven convenience stores or banks.
Camping
There is a campsite at Yong Waterfall area but no tents available for rent. There is also a very small grass area at Khao Ram Rome summit where visitors are allowed to set up their own tent.
Eat
There are no restaurants in the immediate vicinity of any attractions in the park but there are some restaurants on the way out from the attractions, often just small stalls selling very basic food. There are a good number of food stalls within walking distance out from Yong Waterfall area but the options around Khao Ramrome requires a long drive out to the nearest villages. Most of the food stalls may be closed during the week-days when there are less visitors.
The attractions of Yong Waterfall
Yong Waterfall
The main waterfall of the park, easily accessible by car or motorcycle and in a very short stroll from the car park and the visitor center. It is a three tiered waterfall where only two tiers can be seen from the lower accessible viewpoint.
The Waterfall is not free fall, it is flowing over a 15 meters tall steep sloping cliff and only the last couple of meters is a free fall. Swimming in the main pond is prohibited but it is fine to have a bit of swim further downstream.
The waterfall can be quite busy during the week-ends and public holidays.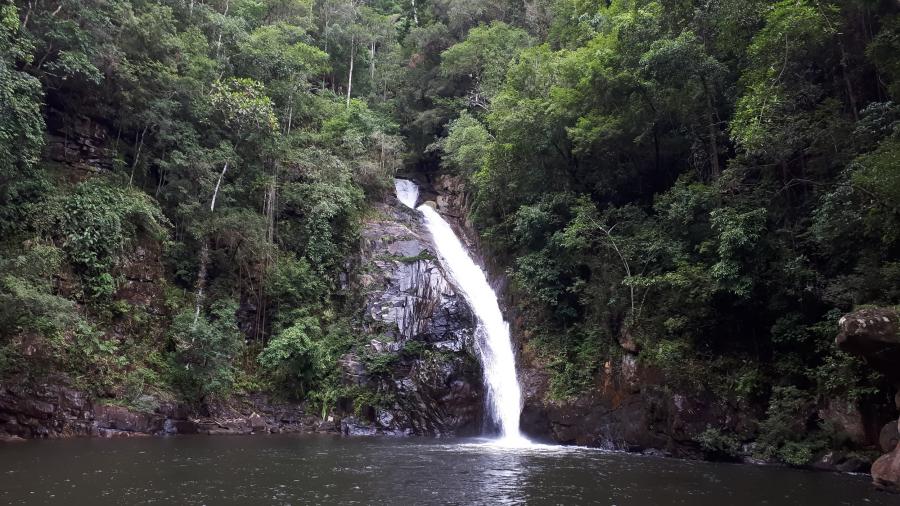 Khao Ram Rome Summit
Situated about 30 km from Yong Waterfall at the east side of the park, it is a mountain at around 1,000 meters asl, with good views on surrounding areas, timewise completely covered in a thick blanket of fog.
The 3 km of the road between Khao Ram Rome Ranger Station and the summit is extremely steep and only true 4WD terrain vehicles will be allowed to drive up, the visitors with non-4WD vehicles will be rejected. The road is mostly concrete and relatively good, but narrow. On the way down from the summit, drivers are recommended to use the 4WD mode of the vehicle and use low gear.
Part of the summit area is a radar station, off limits to the visitors.
There is a small roadside open grass area where people are allowed to park or set up their tents and there are toilet/shower facilities on the opposite side of the road. There are no restaurants available at the summit, visitors are recommended to take food and cooking gear with them.
There are a few park accommodations to rent for 1,000 Baht per night, single room and for 2 people. The price is 700 Baht per night if booked for Monday to Thursday.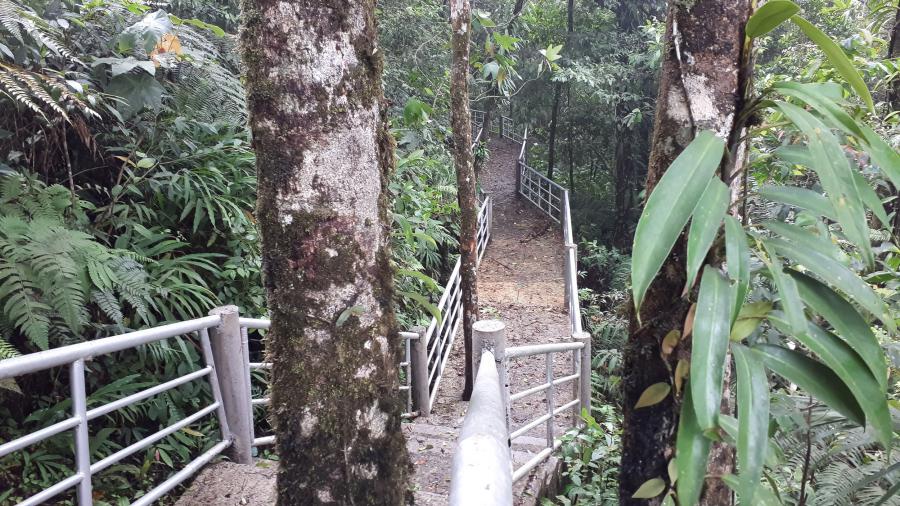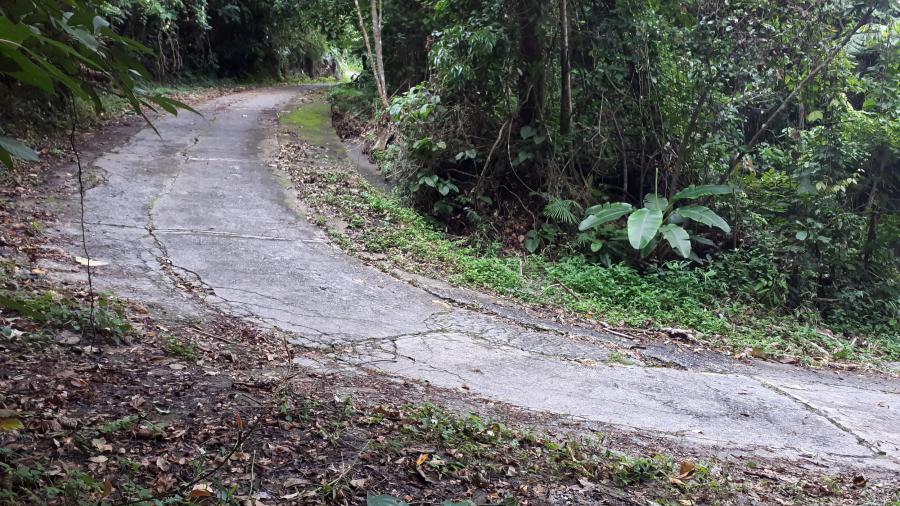 There is a 1.3 km long circular boardwalk at the summit following a path around the radar station. This boardwalk is a nice place for searching reptiles, amphibians and other small creatures found in the high altitudes of the park. At the beginning of the boardwalk there is a viewpoint with a good view of the surrounding areas. The boardwalk was in good shape as of August 2020.
There is also a very small waterfall called Ram Rome Waterfall, a couple of hundreds meters walking distance uphill from Khao Ramrome Ranger Station, signposted well.
During the rainy seasons the summit gets extremely strong and continuous winds that makes camping very unpleasant, risk for the tents getting flattened but also risk for fallen branches or even trees on the tent, then it is better to rent one of the rooms. The air around the summit is cool all year round.
There is a viewpoint and few short trails between the summit and the ranger station around 3 km downhill from the summit.
Other waterfalls
The national park has many other waterfalls, dozens of them are relatively easy to reach by car followed by a short stroll. Most of these falls are not open for visitors but some seem to be getting visitors. A few to mention;
Nan Tak Pha & Nan Plio Waterfalls
Nan Tak Pha and Nan Plio Waterfalls are two waterfalls on the west side of the park about 20 km north from Yong Waterfall. Both waterfalls are along Wang Hip Stream, both are small and cascading. The habitat around Nan Tak Pha is farms with rubber trees and secondary forests but a bit upstream the forest gradually becomes better and further up turns into evergreen forest.
Khuha Sawan Waterfall
A smaller waterfall a bit off route from the road up to Khao Ram Rom.
Nan Chon Waterfall
A small waterfall on the east end of the park, about 30 km from Nakhon Si Thammarat city center.
Pliew Waterfall
In the south end of the park, not too far from Yong Waterfall. Reached by a short stroll, easily accessible by car.