About Sirinat National Park
Sirinat National Park is quite a small coastal park, covering 22 km² of coastal land and 68 km² is sea at the northwest coast of Phuket Island. It is about 30 km north from Phuket Town, right next to Phuket Airport. The park is best known for its white sand beaches and the view of aircraft flying low over a beach for landing. The national park is very commercialized with many resorts in and around the park, frequently visited by a large number of tourists.
The beach forests of about 2 km² consist of mainly pine tree species of common ironwood. Other trees are tulip tree, tropical almond, white barringtonia, cajeput tree, Alexandrian laurel, screwpine, ashoka tree, black plum, elephant apple and morning glory. The park has also around 1 km⊃2 of mangrove forest where a freshwater stream meets the sea. (Source: Wikipedia)
There are also some clusters of coral reefs about 700 to 1,000 meters offshore. Reef species include plate coral, soft coral, sea fan and sea anemone.
The rainy season is May to October with most rain in May, September and October, the rest of the year is quite dry.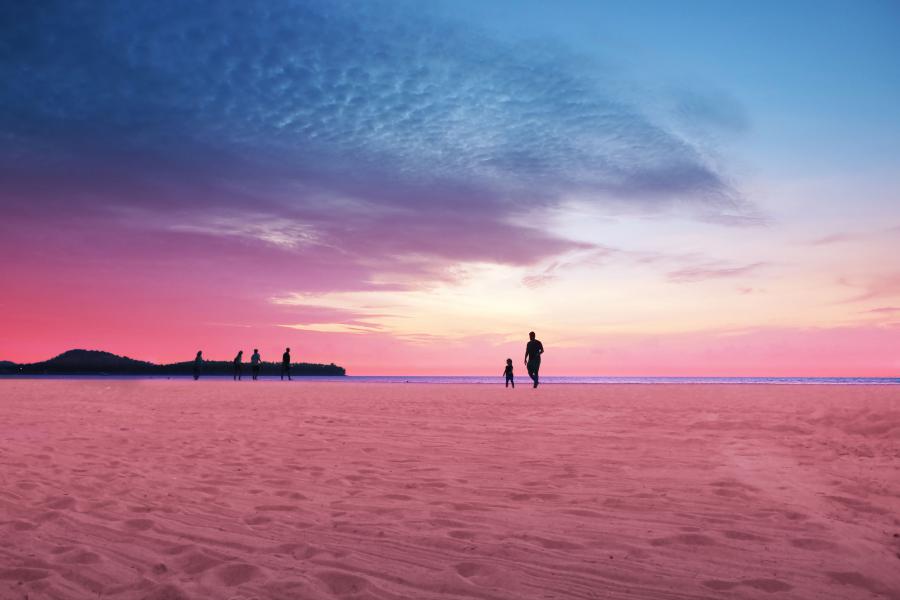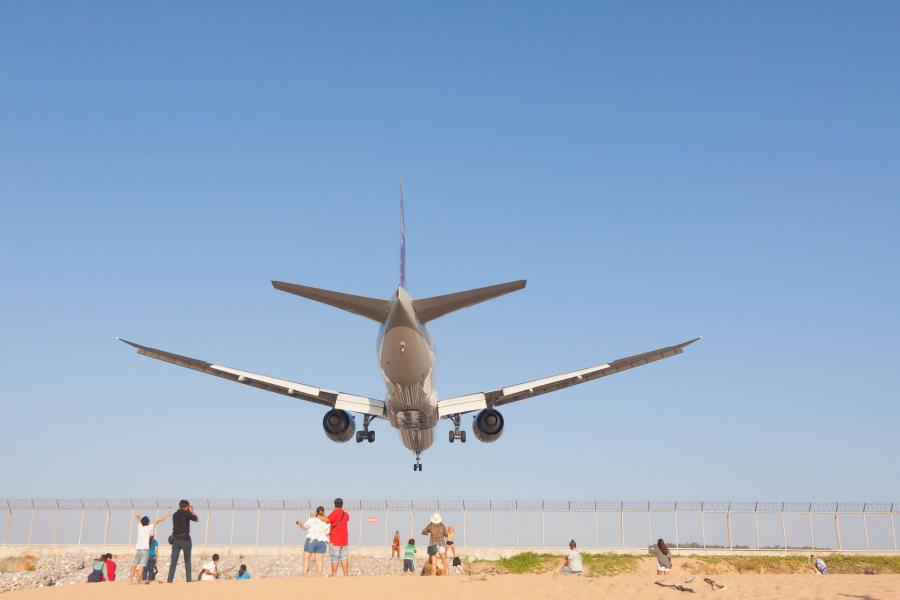 Wildlife
Around 130 bird species have been recorded from Sirinat National Park. Of these birds, some of the less common ones are Nicobar pigeon, Pied triller, Brown-winged kingfisher, Mangrove pitta, Grey-and-buff woodpecker, House crow, Chestnut-bellied malkoha, Rufous-tailed tailorbird, Black-and-red broadbill, Chinese egret, Pied imperial pigeon.
The most common birds in the park are Common tailorbird, Large-billed crow, Black drongo, Brown shrike, Olive-backed sunbird, Streak-eared bulbul, Oriental magpie-robin, Common myna, Greater coucal, Barn swallow, Spotted dove.
The mangrove forest hosts various reptile and fish species like monitor lizard, mangrove pit viper, turtle, mudskipper, shrimp, mullet, grouper and garfish.
Getting there & get around
Getting to the park
There are no public transportation options to get to to the national park. However, the northern edge of the park is in a not too long stroll from the airport, most songthaews/minivans to airport can be used to get to the park.
The most practical way to get to the national park is by a bike that can be rented from many bike rental stores. The only other alternative would be a private taxi or car.
Get around in the park
Once in the park, the only option to get around is either with own vehicle or by foot.
Entrance fees & opening times
The entrance fees for foreigners are 200 Baht for adults and 100 Baht for children. Thai citizens pay 40 Baht for adults and 20 Baht for children.
Sirinat National Park is open 24 hours a day but closed from 1st June until 31st July every year
Activities
The main activisited in the park are beach, watching aircraft flying low over Mai Khao Beach for landing, kayaking and snorkelling.
The park is also a nice place to see various birds.
Stay & eat
Camping
There is an open area designated for campers, however, there are no tent or camping gear to rent. It costs 30 Baht per night to set up own tent in the camping area.
Bungalows
There are 12 bungalows of various sizes in the headquarters area, all with a single room and for 2 people, from 2,000 Baht per night. A 20% discount will apply when booked for Mon to Thu.
Bungalows can be booked through DNP website in advance or on the spot if available. As the money transfer must be done within 2 days and the fact that it takes time with transfers from abroad, it is only possible to book from within Thailand only. Payments can be done at 7-Eleven convenience stores or banks.
Apart from the park bungalows, there are a good number of resorts/hotels in and around the park.
Eat
There is a restaurant in the park open 9 am to 7 pm. As the park is very commercialised there many other restaurants in and around the park.
Conservation issues
In the past, the national park beaches were a sanctuary for egg-laying leatherback and hawksbill turtles. Because of careless management, "illegal" resort development and unregulated tourism no further turtle eggs have been observed in the national park since 2013. Sadly, more effort is made to make the park a tourist magnet rather than a sanctuary for wildlife.
Although it is advertised as a clean park, the national park beaches are far from clean due to constant debris floating to the land from the sea. Only the parts of the beaches in front of some resorts are cleaned regularly.
Phone(s)
You are recommended to ask a Thai speaking person to call on your behalf.
076 328 226
The attractions of Sirinat
Mai Khao Beach
About 9-10 km long, it is the longest beach in Phuket Island, spans from around Phuket Airport all the way north to the northernmost edge of the island. The beach was once an important sanctuary for sea turtles, but due to poaching of eggs and unregulated development of resorts right next to beaches, no more turtle eggs have been seen in the beach since 2013.
Many websites claims this beach to be pristine, undeveloped etc. It is decades old truth, not anymore.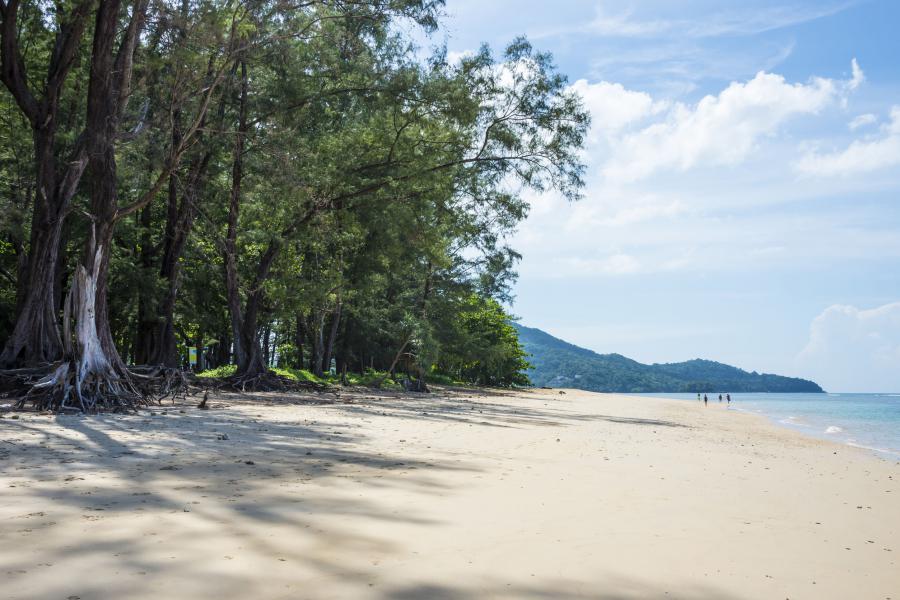 Nai Yang Beach
This is the beach next to the headquarters and the visitor center area of the national park right south of Phuket Airport. Despite being inside the national park, there are many resorts around this beach.
Nai Thon Beach
At the southern coast of the national park. Despite being in the national park grounds, there are resorts along the entire beach too.