About Erawan National Park
Kanchanaburi (~70 km), Bangkok (~200 km), Ayutthaya (~220 km)
Located in West Thailand in the Tenasserim Hills range of Kanchanaburi Province, it is home to one of the most popular falls in the country. Founded in 1975 as Thailand's 12th National Park, it is covering an area of 550 km².
The major attraction of the park is the 7-tiered Erawan Falls with emerald green ponds. There are also several impressive and long caves within the park, some of them deeper inside the park, few of them along the roads around the park. The park and the falls are named after the three-headed white elephant of Hindu mythology. The top tier of the falls is said to resemble an elephant head.
Around 80% of the park is mixed deciduous forests and the rest on higher elevations deeper inside deciduous dipterocarp and dry evergreen forests. The park consists of limestone hills, plains and number of streams. Elevation is around 165 to 996 meters asl.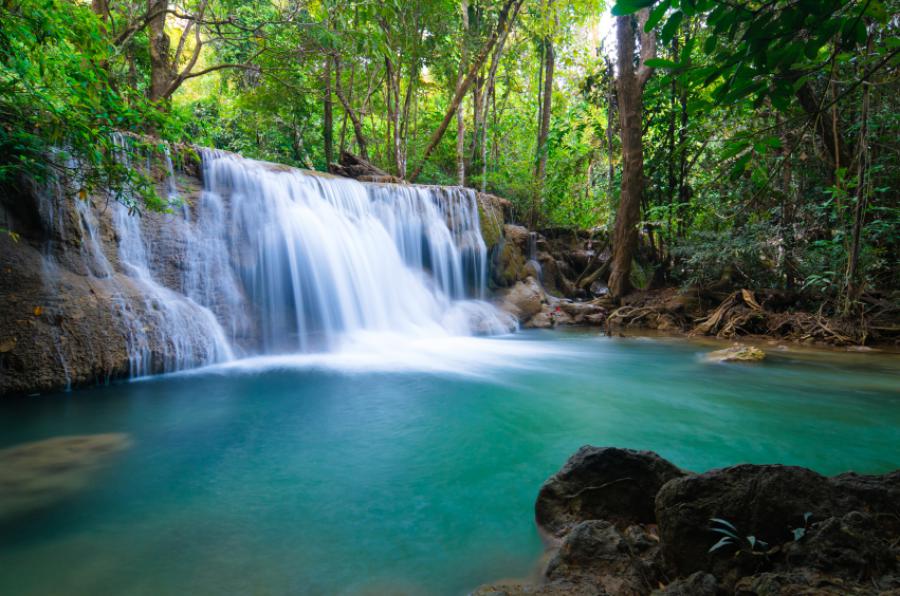 The surrounding mountains protects the park from eastern monsoon resulting in less rainfall compared to the other forested areas further west. The rainy season is May to October with most rain fall around September to October and a bit into November. Rest of the year is quite dry, with a bit cooler weather around November to January.
The park is open all year round, even on public holidays.
Wildlife
Due to limited number of trails, wildlife watching possibilities around the national park is very limited. Only relatively common species elsewhere in the country can be found in the park, not much of unique habitats.
Of the mammal species, crab-eating macaque and wild boar are common. Deeper into the forest some more exciting animals like barking deer, Asian elephant, gibbon, Indochinese serow and sambar deer can be found.
There are around 120 bird species recorded in the park. Birds like crested serpent eagle, kalij pheasant, grey peacock-pheasant, lesser shortwing, , great hornbill are all found in the park.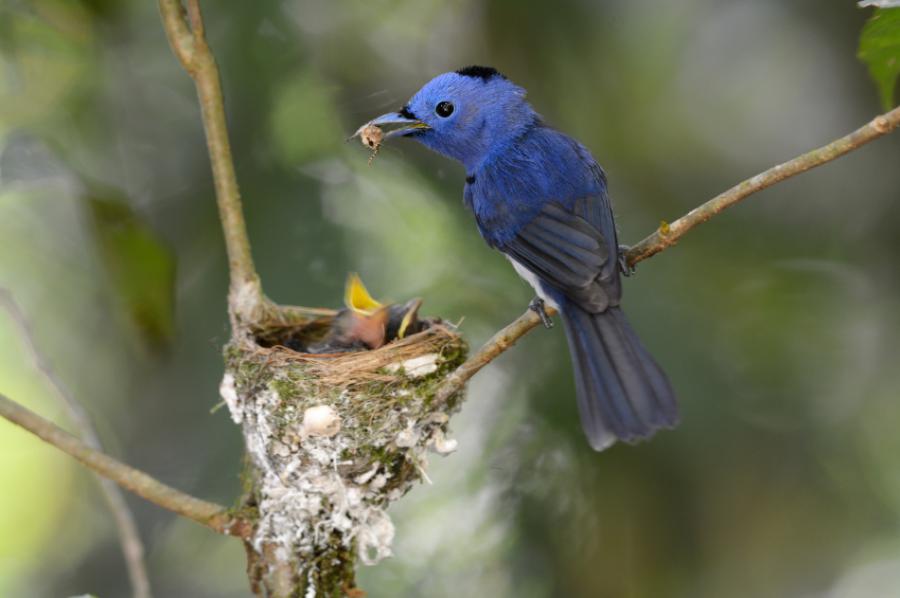 Of the reptile species the rare Kanburi pit viper, Burma smooth skin (Scincella punctatolineata) and many other common species can be found. Big water monitor lizards, sometimes reaching a bit above 1.5 meter long can be found around the streams along the tiers. These lizards are harmless, never attacks, but you are not recommended to get more than a couple of meters near.
Visiting
Getting to the park
The park is easily accessible by public buses from Kanchanaburi. Please see our "Get there & stay" section for various public and private transportation options from both Bangkok and Kanchanaburi.
Once in the park, the first tier of the falls is a few hundred meters from the visitor center, signposted well.
It is possible to rent bicycles at the visitor center area for 20 THB/day, the bicycles can be used to access the first two lower tiers only.
A trip to Erawan Falls could be combined with visiting Bridge Over the River Kwai, Phra That Cave, Death Railway or Hellfire Pass.
Get around in the park
Erawan National Park is open for visitors 8 a.m. to 4:30 p.m everyday all year round. Although the official closure time is 4:30 pm, the rangers start cleaning the trails from the top tier around 3 pm and asks visitors to leave as they slowly move down tier by tier. The lower tiers could be open until 5 pm, depends on how quick/slow the daily cleaning goes.
The park is generally quite busy every day and very busy during the week-end and public holidays. During the annual Songkran Festival 13-15 April, the waterfall tiers turns into a celebration place with water fights. It is not recommended to carry any non-waterproof electronic equipment like sensitive cameras or mobile phones during the festivities. People are recommended to avoid the falls during the longer holidays as there will be kilometer long queue and parking may be only possible along the road far from the entrance.
Bear in mind that food is strictly forbidden beyond the 2nd tier. Visitors must pay a 20 THB fee per bottle of any drinks which can be refunded when the bottles are returned. This to ensure that the bottles are not left behind or thrown away in the nature.
Visitors who are after a less busier, similar and even more impressive falls are recommended to get to Huai Mae Khamin Falls 43 km north/east of Erawan Falls in Sri Nakharin Dam National Park. In week-days very few people are seen around there.
Tours & private transportation
It is possible to book private or joined tours to visit the park. In either case the tour companies would pickup from hotels lobby, get the visitors to the park and return to the hotel. Tours can be booked via various tour operators, agencies, sometimes even from the hotels. As most of the visitors are fine with only a couple of hours stay at the falls, most tour options include visiting one or more other attractions in the area, either caves, The Death Railway, Hellfire Pass or other places.
For group tours, visitors are recommended to book in advance if possible. This mainly because often there is a requirement of minimum 4-5 pax for a tour car to take off. If there are not enough people, it may not be possible to join in last minute.
It is possible to book some private tours from this website;
From Bangkok
Group tours from Kanchanaburi
Private tours from Kanchanaburi
Entrance fees
The entrance fee is 300 Baht for foreigners (children 200 Baht), 100 Baht for locals (children 50 Baht), 20 Baht for a motorbike and 30 Baht for car.
Stay & eat
As most people are fine with few hours visiting of the falls, the general recommendation is to do a day trip from either Kanchanaburi or Bangkok. For people who wish to stay overnight in the park there a bungalow and camping options.
Camping
There is a big camping ground just a few hundred meters from the visitor center & parking area of the park. Tents can be rented from 150 Baht a day for 2 people and 250 a day for 3 people. Other accessories to be paid separately, sleeping bag for 25 Baht, pillow for 10 Baht and sleeping mat for 20 Baht.
Bungalows
The price for the bungalows ranges from 800 THB up to 5,000 THB, a 20% discount will apply when booked for Mon to Thu. Bungalows can be booked through DNP website in advance. As the money transfer must be done within 2 days and the fact that it takes time with transfers from abroad, it is only possible to book from within Thailand only. Payments can be done at 7-Eleven convenience stores or banks.
Eat
There are many restaurants and cafes along the spacious car park of the park. Good to check the price before ordering as some restaurants charges too expensive for some basic food. Few kilometers north from the visitor center there is a market-a-like place where it is possible to order cheaper food.
Phone(s)
You are recommended to ask a Thai speaking person to call on your behalf.
034 574 222 (Visitor Center)
Attractions of Erawan
Erawan Falls
Erawan Falls is located at the east side of the park in a convenient walking distance from parking area next to the visitor center. The waterfall is named after the top tier which said to be resembling three-headed white elephant in Hindu mythology.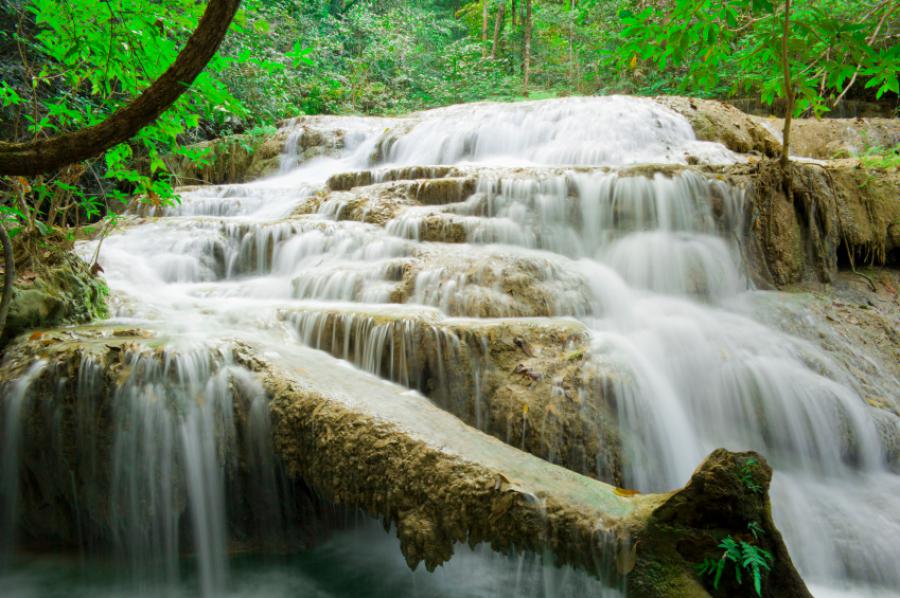 What makes Erawan Falls so popular is it's picturesque emerald green clear waters. It is nowhere near being any of the biggest or widest falls in the country, but much more charming than most.
It has 7 major tiers and few smaller tiers. All tiers are accessible by a series of trails and footbridges all the way up to the 6th tier. Last tier is accessible by scrambling up to few cliffs, for those who like a bit more challenge. Recently, a concrete path was built to make it safer to walk on wet conditions. The total distance from the trailhead up to the top tier is nearly 1.5 km. There are many emerald green ponds along the trails that the visitors are allowed to swim in. The ponds are full of fish.
The first two tiers are easily accessible for most people and there are few picnic spots around them where people can sit on benches if they like. Food is strictly forbidden beyond the second tier. The visitors have to leave their food and bottles at a checkpoint for a smaller deposit which can be collected on the way back.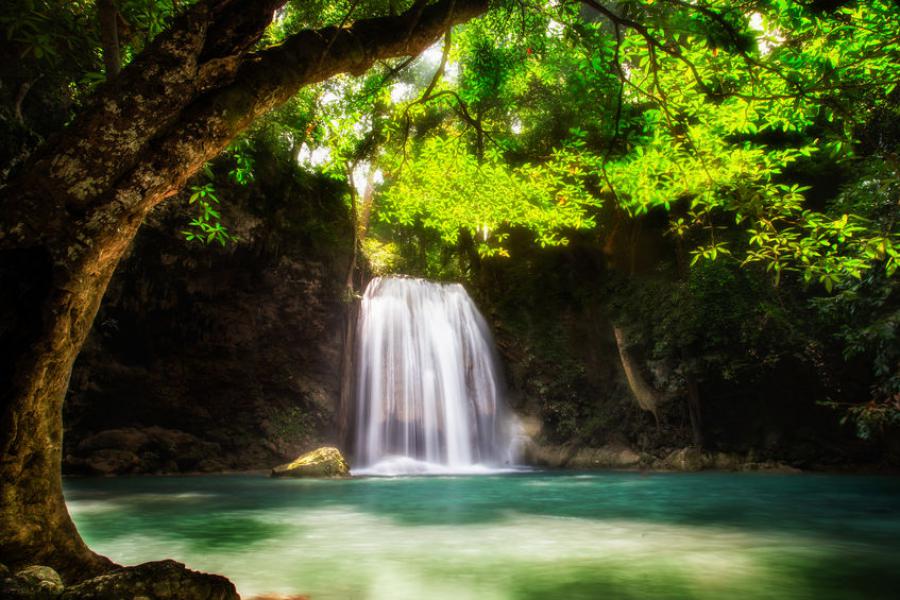 Erawan Falls are so popular that it is visited by a high number of people every day and gets overcrowded during the week-ends and holidays. Ideal time to visit is as early as possible in the morning.
Phra That Cave
Located 12 km north west from the visitor center of the Erawan Falls, Phra That Cave is 544 meters long, the entrance is 15 meters wide and 8-10 meter high. The first chamber is impressively huge, around 40 meters high and 90 x 50 meters wide. The cave consists of both stalactites and stalagmites, inhabited by bats further in.
The cave is accessible by an 800 meter long concrete path uphill from a ranger station. The habitat around the trail is bamboo mixed forests with a bit of scattered limestone karsts. The cave is sometimes closed when heavy rain falls, mainly because it can be very slippery on the concrete path and inside the cave.
While getting there, if following a car navigator system like Google Maps, you may be routed through temple entrance which is wrong. Pass the temple entrance from the main road for few hundred meters until you see a sign that says "Phra That Cave, 1 km".
Wang Bah Dan Cave
A 740 meter long cave, located 54 km from HQ in the southeast side of the national park. It is accessible from Chaiyaphruek Village 2 km into the forest from Highway 323, around 1 km from Wang Bah Dan Ranger station. This cave is officially closed for the visitor since few years back.
It is a limestone cave with a narrow opening and several chambers. The chambers consists of stalactite and stalagmite formations. There is a permanent waterstream running through the last chamber.
Khao Hin Lan Pee Nature Trail
Approximately 5 km and takes 2-3 hours to walk. It ends at the 5th tier of the falls. Permission needed from the park to walk this trail, possibly needs to be accompanied by a ranger for a fee.