About Khao Yai National Park
Khao Yai is no doubt the best national park in Thailand for regular visitors where it is relatively easy to see some impressive animals.
Established in 1962 as Thailand's first national park, it is the third largest national park in Thailand. Situated mainly in Nakhon Ratchasima Province, Khao Yai extends into Prachinburi, Saraburi and Nakhon Nayok provinces. The main checkpoint of the park is 180 km from Bangkok.
The park covers an area of 2,168 km², including rain/evergreen forests and grasslands. 1,351 meters high Khao Rom is the highest mountain within the park. The average altitude of the national park ranges from 400 to 1,000 meters asl.
Khao Yai is part of the Dong Phayayen-Khao Yai Forest Complex; a World Heritage Site declared by UNESCO, covering 5 protected areas from Khao Yai to Cambodian border. The other protected areas are; Pang Sida National Park, Thap Lan National Park, Ta Phraya National Park and Dong Yai Wildlife Sanctuary.
The rainy season is May to October with high humidity and with the most rainfall in September. The rest of the year is quite dry. November to February are the winter months with cooler weather and average temperatures of 22 °C during the day and down to 9-10 °C during the night.
Wildlife
Mammals
Surely there are few other parks in the coutnry with more impressive wildlife, but of the easily accessible national parks in Thailand, Khao Yai is no doubt the best option for mammal watching. Apart from Kui Buri National Park, Khao Yai is the next best park in the country where it is relatively easy to run into elephants with a bit of luck.
Some other often seen mammals include northern pig-tailed macaque, barking deer, sambar deer, gibbon, porcupine, civet. Other more elusive species seen from time to time are are sun bear, Asian black bear, gaur, otter, dhole and jackal.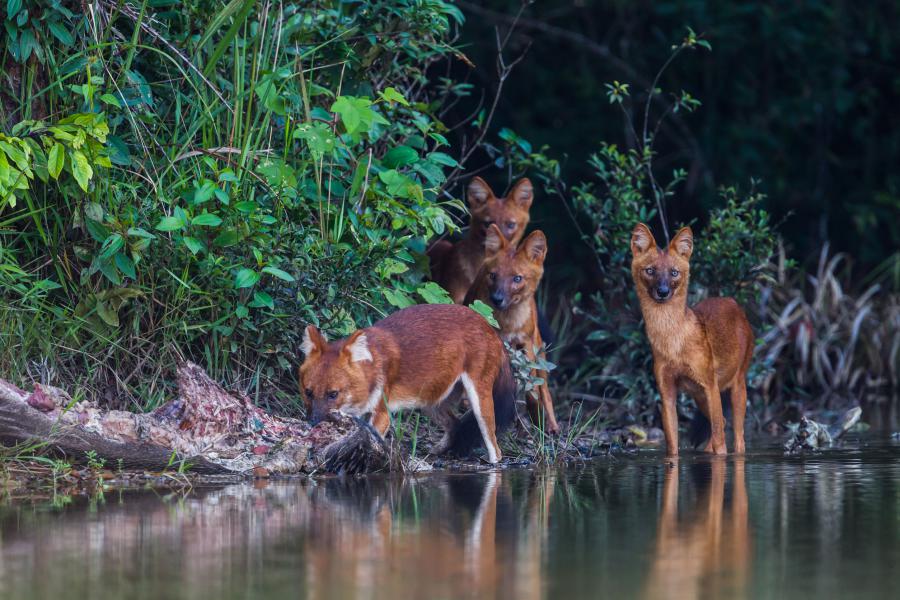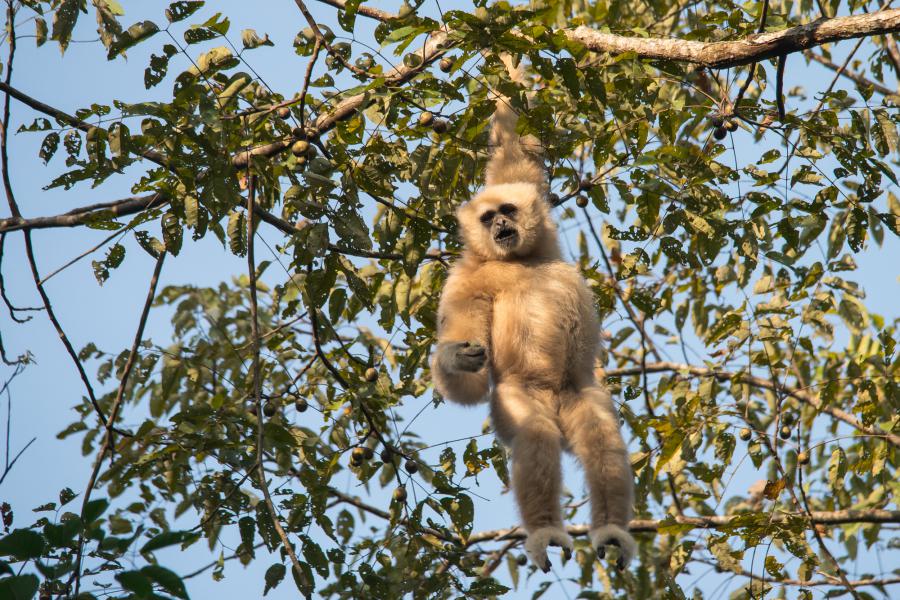 There hasn't been any sign of tiger activity in the park for a while, but camera traps have revealed a significant tiger population in the neighbouring Thap Lan and Pang Sida National Park. Recently, a wide wildlife passage has been built under a busy motorway east of Khao Yai, raising the hope that the tigers will be back to Khao Yai from Thap Lan one day.
Birds
Although some may be accidental records, around 445 bird species reported from Khao Yai.
The park has one of the largest populations of hornbills in Thailand. Great hornbills and Oriental-pied hornbills can be seen flying over the visitor center area almost daily.
Rufous-tailed robin is a rare sighting in Thailand, only reported from Khao Yai National Park. Few other rare species are; Austen's brown hornbill, White-browed fantail, Lemon-rumped warbler, Blyth's pipit, Straw-headed bulbul, Streak-throated woodpecker, Greater adjutant, Trilling shrike-babbler, Japanese thrush, Coral-billed ground cuckoo and Northern goshawk.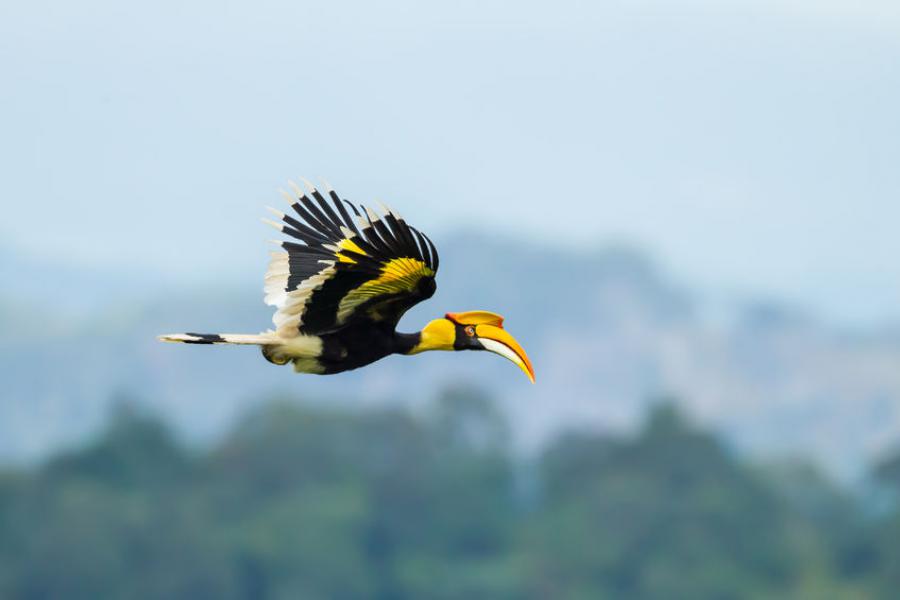 Junglefowls are wild chickens, very common and can be seen almost daily along the roads. Other relatively common ground dwelling birds like silver pheasant, green-legged partridge and Siamese fireback. Best time to visit Khao Yai for birdwatching is during the dry months and during March to April when the big bird migration to Thailand happens.
Reptiles
Khao Yai has also a very interesting reptile fauna, so far over 85 species recorded.
Of the pit viper species in the country three can be found in the park; Vogel's pit viper (Trimeresurus vogeli), large-eyed pit viper (Trimeresurus macrops) and White-lipped pit viper (trimeresurus-albolabris). Although white-lipped pit viper is the most common pit viper species in the country, Vogel's pit viper and large-eyed pit viper are more common in the park, mainly because the park is mostly montane and white-lipped pit viper prefers lower elevations.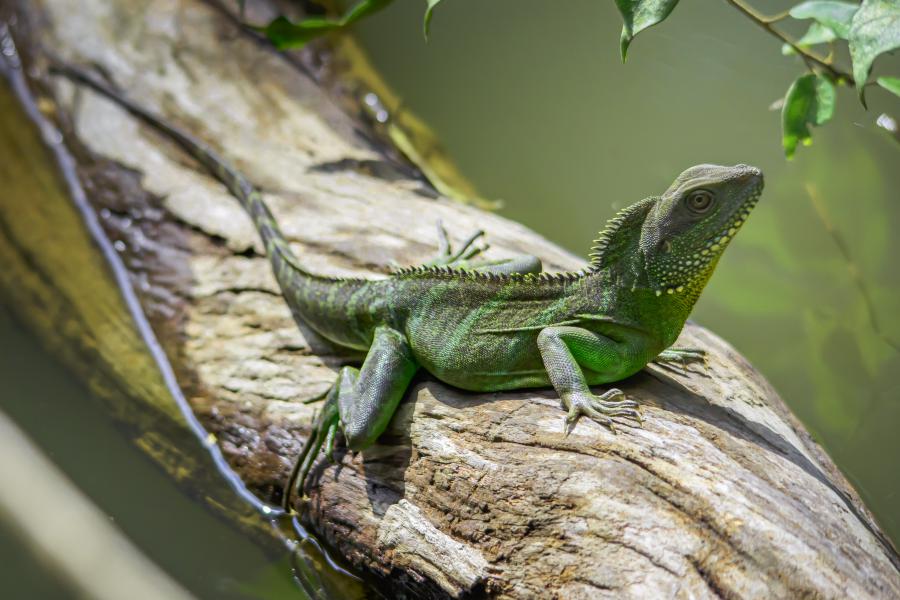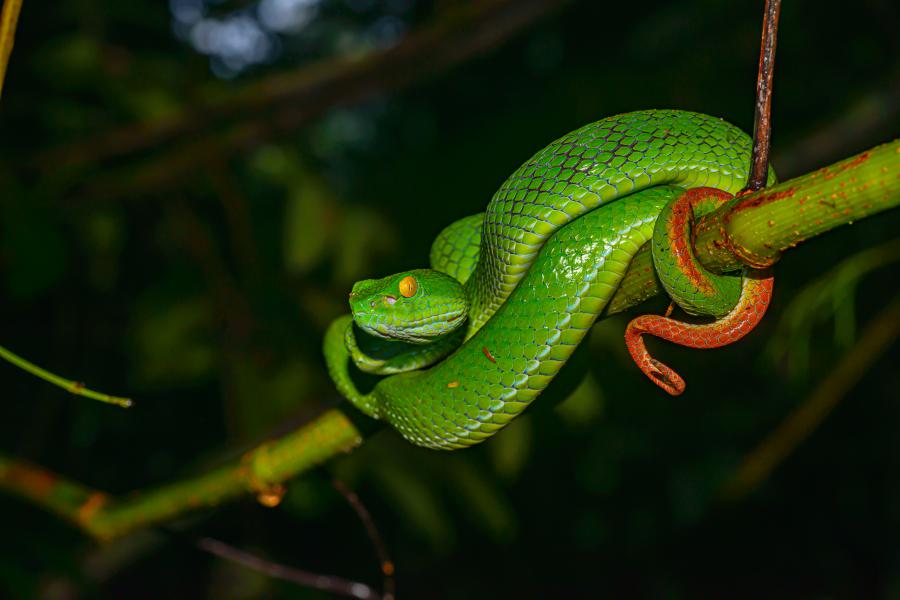 Of the rare species Gibson's wolf snake (Lycodon gibsonae) and Nganson bronzeback (Dendrelaphis ngansonensis) are both found in the park. Some other interesting species are; reticulated python (Malayopython reticulatus), Brongersma's blood python (Python brongersmai), Burmese python (Python bivittatus), king cobra (Ophiophagus hannah), Indo-Chinese rat snake (Ptyas korros), Oriental whip snake (Ahaetulla prasina), long-nosed whip snake (Ahaetulla nasuta) and many others.
The easiest lizards to find are Chinese water dragon (Physignathus cocincinus), a medium size lizard which can be found along the streams, Cardamom tree dragon (Cardamom tree dragon), Emma Gray's forest lizard (Calotes emma) and a number of gliding lizard species like barred flying dragon (Draco taeniopterus), spotted flying dragon (Draco maculatus).
There used to be one single Siamese crocodile in the national park along one of the trails, but it is gone since a while back, presumably dead.
To see a long list of species in the park, visit our Wildlife at Khao Yai page.
Getting there & get around
For planning reasons, it is good to know that the park is a very popular destination for both foreign and local tourists, it can be very busy on the week-ends and extremely busy on longer holidays.
The main entrance is at the north of the park with the nearest town being Pak Chong in Nakhon Ratchasima Province. The second entrance is at the south in Nakhon Nayok province.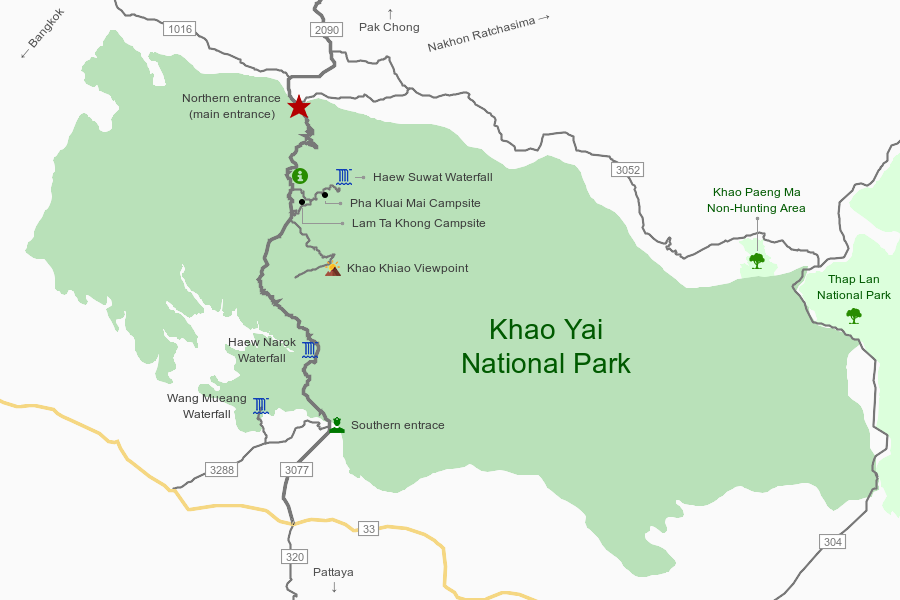 Get to Pak Chong or North Khao Yai
The main entry point to the park is in Pak Chong District, this is the area where most of the hotels are located right north of the entrance. In good traffic it takes around 2.5 hours to get to Khao Yai entrance area.
It is possible to get to certain spots north of Khao Yai with public transportation from Bangkok, but it could take up to 5-6 hours. The reason is; Buses departs from Mo Chit Bus Station which can take a bit of effort and time to get to, particularly during the rush hours. Once at the bus station, it takes a bit of time to purchase tickets and wait until the bus departs. Once reached Pak Chong, songthaews departs towards Khao Yai once an hour, but only when there are enough passengers, means, another long wait could be ahead. Once reached north of Khao Yai, there are no public transportation options into the park. Add to that, not all hotels are along the road of songthaews reach, many can't be walked to.
Get around in the park
It is not possible to enter the park by foot from the checkpoint. The visitor center is around 14 km further in and other popular attractions are much further inside the park. Good to know that even when reached the visitor center area, the distances between popular attractions are too big to walk between. It is possible to hitchhike if there is enough traffic.
As of Nov 2019, there are still some 20 bicycles to rent from the visitor center but only 10 functional. The bikes won't be available to rent if there is too much traffic inside the park. Generally the parks gets too busy in week-ends and long holidays.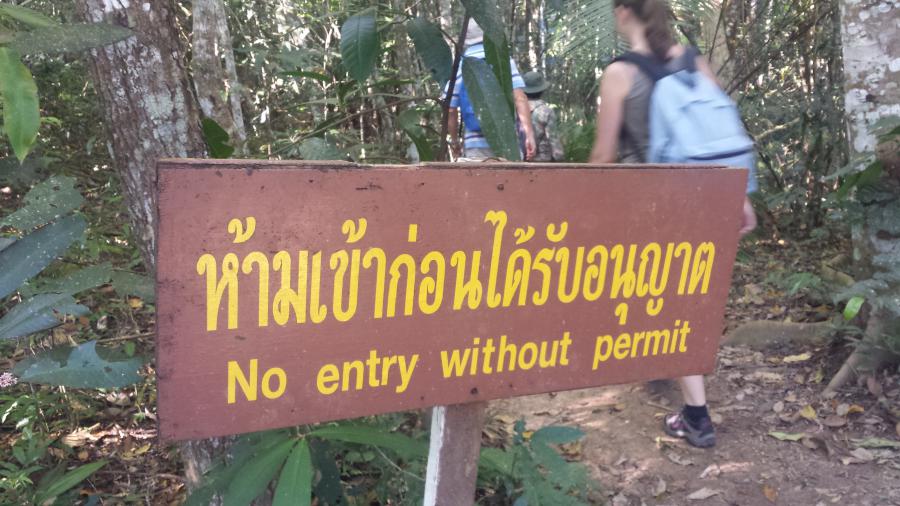 Visitors intending to explore the park on their own should know that it is not possible to walk longer trails without a guide. It is for a good reason; easy to get lost because this is a wild jungle with wild animals. It happens nearly every year that someone gets lost, and found either same day or many days after. In a tragic incident in 2018, one Thai citizen lost his life. Searching "tourists lost in Khao Yai" on search engines will list few incidents over the years.
There are only a couple of trails that the tourists are allowed to walk freely; one is about 800 meters long circular trail behind the visitor center, the other is a recently opened Thai-American Friendship Trail not too far from the visitor center.
Two most popular waterfalls, two popular viewpoints and the visitor center can be accessed by car or bike and reached without any need of a guide, all not too far from their parking area. When planning, it is good to know that, from the moment of entering the park, to those 4 attractions and back to the checkpoint takes around 3 hours driving time, add to that the time to be spent at each spot to enjoy the scenery. It is not short distances with other words.
Wildlife tours
The visitors interested in seeing wildlife or walk trails are recommended to book a wildlife tour. A guided tour will make it possible to walk longer trails in the jungle and see more of the elusive animals. Any tours, particularly the private ones, are best to be booked well in advance to avoid disappointments.
Good to know when booking a hotel north of Khao Yai is that tour operators may not include pickup from hotels too far away from their main service area. It is wise to ask the tour operators if they include pickup from a certain hotel before booking one.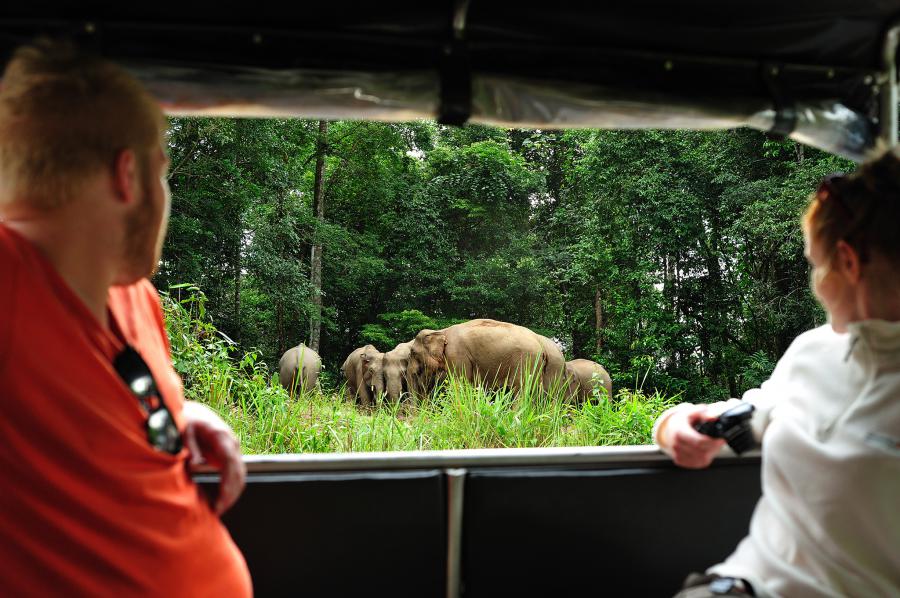 Group tours - Cheaper group tours with up to 10-12 people can be arranged on arrival to various resorts or from tour operators in the area. These tours are not flexible, following a strict itinerary.
Private wildlife tours - The best way to explore the park is by a private tour where no others will join you, flexible and can be adapted to your needs. The most popular tour options are;
Number of other packages, like 1.5 or 2.5 days with some for photography, birding can be seen on our guided tours pages.
Taxi from Bangkok
A single trip from any hotel/airport in Bangkok to a hotel north of Khao Yai costs from 2,200 Baht up. The trip takes around 2h 15 mins to 2h 30 mins in good traffic.
It is possible to book full day taxi service to attractions outside the park north of Khao Yai, to wineries, theme parks, farms, shopping places, etc. The most popular attractions are; PB Valley (winery), GranMonte (Winery), Primo Piazza (domestic animals), Palio Khao Yai (theme park), Farm Chokchai (cattle farm), The Chocolate Factory, Rai Maneesorn (sunflower blooming in December) and many others.
For more detail or online booking of private transportation visit our taxi details page;
Public transportation to Pak Chong and north of Khao Yai
For information about how to get to Pak Chong and hotels north of Khao Yai from Bangkok please visit "Get there & Stay" section of Khao Yai National Park pages.
Entrance fees & opening times
The park is open 6 am to 6 pm everyday all year round, vehicles already inside the park can leave on late hours.
The entrance fee is 400 Baht for adults and 200 Baht for children, Thai citizens pay 40 Baht for adults and 20 Baht for children. When camping or staying in one of the bungalows inside the national park, the entrance tickets will be valid for 3 days, otherwise the entrance tickets are valid for one day only.
As of March 2015, Thai driving licence, work permit or student card holders can't get in for Thai price.
Activities
The main activities in the park are; hiking, wildlife watching, visiting waterfalls & viewpoints and camping.
The visitor center area is a good spot to get some quick information and start a day trip.
The best way for finding animals is via an experienced guide, by diving deeper into the jungles of Khao Yai. It is also possible to find some common animals along the roads or around the visitor center and campsites. While driving around, good to have the car windows open so that gibbon chattering can be heard, makes it easy to locate them by call. There are also few saltlicks along the roads to attract bigger mammals such as elephants, gaurs (rare), deer and boars. Northern pig-tailed macaques are almost impossible to miss if enough driving done.
The bird spots are all over the park, moving around the park with car windows open will give opportunity to locate some hot spots by bird calls, often around fruiting fig trees.
There are many trail options from 800 meters up to 8 km long. Most of the trails are northwest from the visitor center area which all are circular trails. The very short circular trail behind the visitor centre area and a new about 2 km long trail called "Thai-American Friendship Trail" are the only trails in the park that doesn't require guide accompany. Any other trail must be accompanied by a guide. There are also some longer routes that require guides for up to 3 days hiking. To see some of the popular trails, please open the map of Khao Yai from this page.
Although the park is very popular among the local tourists, the majority of the local tourists prefer a picnic style stay at camping grounds and only visits the waterfalls and viewpoints, means most of the trails aren't that busy.
There are a number of waterfalls in the park, most of them easily accessible by vehicles combined with a short walk. Haew Narok Waterfall in Khao Yai is one of the highest and most impressive waterfalls in the country. The jump scene from The Beach movie starring Leonardo Dicaprio is from Haew Suwat Waterfall located 8 km east from the visitor center.
Stay & eat
Hotels
Plenty of hotels and guesthouses can be found right outside the park boundaries. Some of the popular ones are listed on "Get there & Stay" section of our Khao Yai pages. Listed hotels there are ideal for pick up by various tour operators. Some hotels in the area don't like the tour operators to pick up their guests and should be avoided for flexibility. It is always good to consult with the tour operator when booking any hotel in the area.
Camping
There are two main campsites in the park; Lam Ta Khong Campsite and Pha Kluai Mai Campsite. Tents and sleeping gear can be rented from each campsite, can't be booked in advance. See "Attractions of Khao Yai" further below for more info.
Bungalows
There are bungalows in two different spots inside the national park. They costs 800 Baht (2 people), 2,400 Baht (8 people) and 9,000 Baht (20 people).
Bungalows can only be booked through DNP website in advance. As the money transfer must be done within 2 days and the fact that it takes a longer time with transfer from abroad, it is only possible to book from within Thailand. Payments can be done at 7-Eleven convenience stores or banks.
Keys for the booked bungalows can be picked up at the visitor center inside the park.
Eat
There are several restaurants, cafés and food stalls in the park. A restaurant, café and several food stalls can be found right opposite the visitor center. Both campsites has a restaurant and a café each, open from early hours around 6 to 8 am in the morning until 3-6 pm depending on how busy the campsites are. There is one more restaurant at Haew Narok Waterfall on the south side of the park.
Mobile reception
There is good mobile reception in the park nowadays but is limited to three providers; AIS, True and DTAC. Along the main road inside the park, the mobile reception may be gone at some stretches of the road. The mobile reception is quite good around the visitor center, the bungalows, the campsites and all of the major attractions.
Khao Yai on Facebook
If you have questions regarding Khao Yai National Park you can't find answers for or would like to share your photos/experience, feel free to join Khao Yai group on Facebook.
Phone(s)
You are recommended to ask a Thai speaking person to call on your behalf.
+66 (0)8 6092 6529 (visitor center)
+66 (0)8 6092 6531 (checkpoint north)
The attractions of Khao Yai