Hua Hin - Pala-U Waterfall taxi service
About our taxi services
Enjoy a day trip to Pala-U Waterfall south of Kaeng Krachan National Park with a round trip taxi service from Hua Hin.
Huai Sad Yai is a village near the falls, the entire montane area around known to be wild elephant habitat and elephants are seen on the roads daily. With a little bit of luck, perhaps an elephant will show up on the road. We recommend scanning the forest edges along the main road while getting to the falls.
The cars we use are SUVs for up to 4 people and minivans for bigger groups up to 10 people, all depending on the amount of luggage.
Our taxi services are private means no others will join you.
Service hours
The full day taxi service to Pala-U Falls can start at 8 am from an agreed location in Hua Hin Town. The waterfall is 65 km from Hua Hin, takes about 1 hour 20 mins to reach due to partly montane roads.
Our driver will wait at the car park of the falls up until 5 pm and return you to Hua Hin when you are ready.
How to book with us?
Simply by sending an enquiry by following the "enquiry" button further below. You can ask as many questions you like through the enquiry system, we will answer all. If you are happy with our answers, you can decide to book.
Sending an enquiry doesn't mean a commitment to booking. We answer all questions for free even if not booked.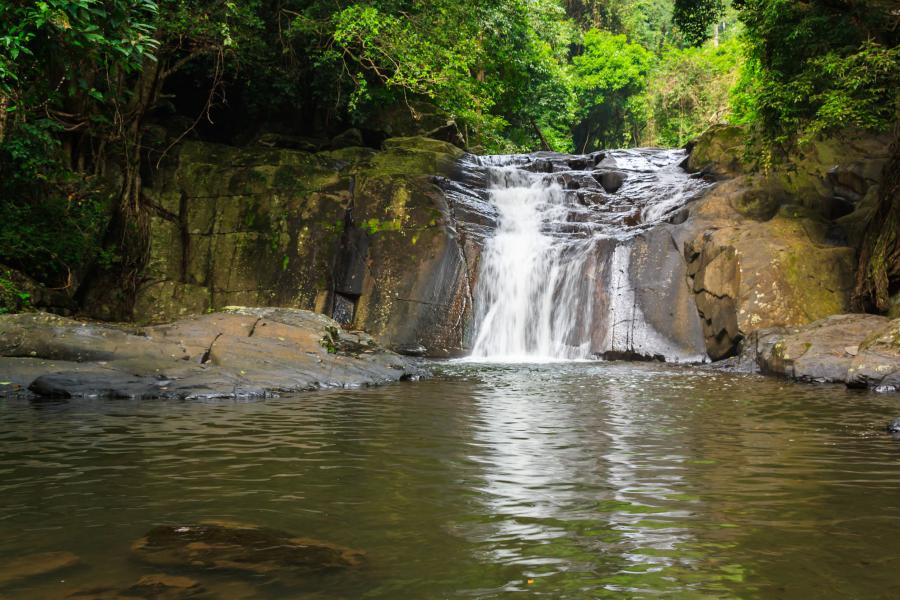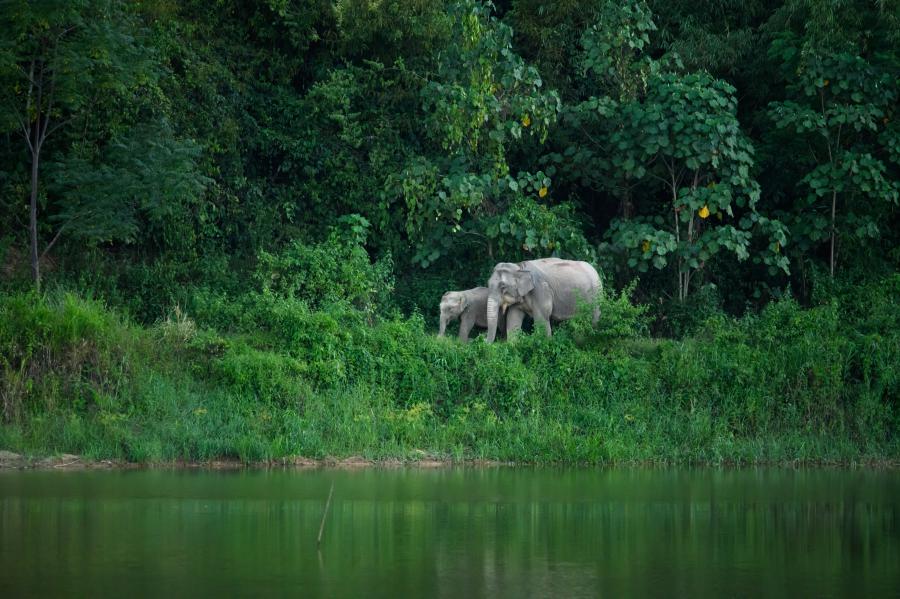 Hua Hin to Pala-U Waterfall
The quotes shown further below are per taxi (not per person) and include fuel.
This is a taxi service only, not a guided tour. Your personal expenses like your own national park entrance fees, meals, refreshments not included. The driver will pay for his own expenses.
| From | To | Type | Pax | Round-trip |
| --- | --- | --- | --- | --- |
| Hua Hin | Pala-U Waterfall | SUV | 1-4 | 1,900 - 2,000 THB |
| Hua Hin | Pala-U Waterfall | Minivan | 5-10 | 2,600 - 2,800THB |
(*) The displayed price are for pickup from Hua Hin City. Pickup from Cha-Am will add +300 Baht. Pickup from south of Hua Hin may also add +100 Baht or more, depending on the location.
Reviews from our guests
By: Mark Wood | posted Wed 25 Jan, 2023
driver is professional. car is clean and neat. driver is probably a local who knows the area well and told me what to look out for.
will engage services again and probably nature tours in future.
By: Christina Querker | posted Sun 15 Jan, 2023
The communication upfront was very quick (although it was on very short notice), friendly and we got all information needed. Also the taxi service itself was good, the driver was at our hotel on time.
By: Jane Chomley | posted Tue 25 Oct, 2022
Nice fellow but couldn't speak English so communication was very difficult.
Tour operator's response
Thanks for your feedback! :)
I can understand the need for a driver with a bit basic English if the taxi service includes multiple stops, but in this case it is between two spots; your hotel and the waterfall. There is no need for communication, the driver was already informed about your destination, to wait for you at the falls until you are ready to head back to your hotel.
As the education system in this country is very poor, there is no point of trying to find a good English speaking driver. One in every 10-15 driver does a bit better, but most are in very basic level, with limited English concerning service related words. Most our guests who need to communicate something important uses Google or other online translation services, it always sorts out.
For anything very urgent that must be communicated with the driver, we always provide our phone number which you got. Our drivers also contact us in such emergencies.
Also; since our drivers doesn't have any guide license, they are not allowed to act like one, this including giving information about the stops like a guide does, or taking around the guests at the stops. This is only a taxi service, not a guided tour. A guided tour quality shouldn't be expected from our taxi services.
By: JuYing Weng | posted Mon 1 Aug, 2022
Taxi service is a good choice for foreigners to visit the beautiful Pa La-U waterfall. The staff in support team of Thai National Parks was good and kindly replied all the details of my questions soon. We've got a wonderful trip, thank you! We'll take this service next time!
By: Bri Oconn | posted Sun 12 Jun, 2022
Even though the day became cloudy we had a most enjoyable time with our guide Nan and our driver. The group we travelled with also made the trip very enjoyable.
Nan was quite knowledgeable about the area and the history of site.
Thanks very much for the day
By: Mikko Nieminen | posted Thu 2 Jan, 2020
Very good service. A car was on time and the driver was food and flexible.
By: Thi Lien Phuong Pham | posted Tue 30 Jul, 2019
I thought the park is much bigger.. like erawann waterfall
Nethertheless we enjoy our visit and end it at 1pm
Best regards
By: Jakob Söderlund | posted Sat 29 Jun, 2019
By: Bjorn Liback | posted Tue 20 Nov, 2018
Nice driver. Came on time, stayed during our trip and dropped us off back at the hotel when we wanted to.
By: Deven Juneja | posted Sat 6 Oct, 2018
Had a great trip. The driver was on time and very cordial. Car was also clean and comfortable.