Taxi services
Hua Hin - Khao Sam Roi Yot National Park taxi service
About our taxi services
With our full day taxi services it is possible to visit a number of attractions in Khao Sam Roi Yot National Park.
The cars we use are sedans for up to 3 people, SUVs for 3-5 people and minivans for bigger groups up to 10 people, all depending on the amount of luggage.
Our taxi services are private means no others will join you.
Service hours
The full day taxi service to Khao Sam Roi Yot National Park can start at 8 am from an agreed location in Hua Hin Town. The first popular attraction in the park is about 50 km from Hua Hin, it takes about 50 minutes to reach.
Once we arrive at Khao Sam Roi Yot National park, our taxi service will continue between the attractions until 5 pm. Most attractions in the park close at 5 pm, this often means you need to reach some attractions 1 - 1.5 hours before the closure time to enjoy it a bit.
How to book with us?
Simply by sending an enquiry by following the "enquiry" button further below. You can ask as many questions you like through the enquiry system, we will answer all. If you are happy with our answers, you can decide to book.
Sending an enquiry doesn't mean a commitment to booking. We answer all questions for free even if not booked.
Destinations
We will not provide any hourly based planning for your trip, only suggest a list of attractions to visit as seen below. You can inform us which attractions you would like to include in your planning and we will draw the optimal route for the driver's attention.
Whether you will be able to visit all listed attractions or not will depend on how much time you will spend at each attraction. Our driver will always be waiting at the car park of the attractions and drive you to the next one when you are ready.
Phraya Nakhon Cave
Laem Sala Beach & Campsite
Sam Phraya Beach & Campsite
Yok Sod Seafood Restaurant (ยกซดซีฟู้ด) | (meals not included), popular restaurant, or any other restaurant in the area
Khao Daeng Viewpoint (latest 3:30 pm entrance)
Khao Daeng Canal (latest 4pm)
Thung Sam Roi Yot Freshwater Marsh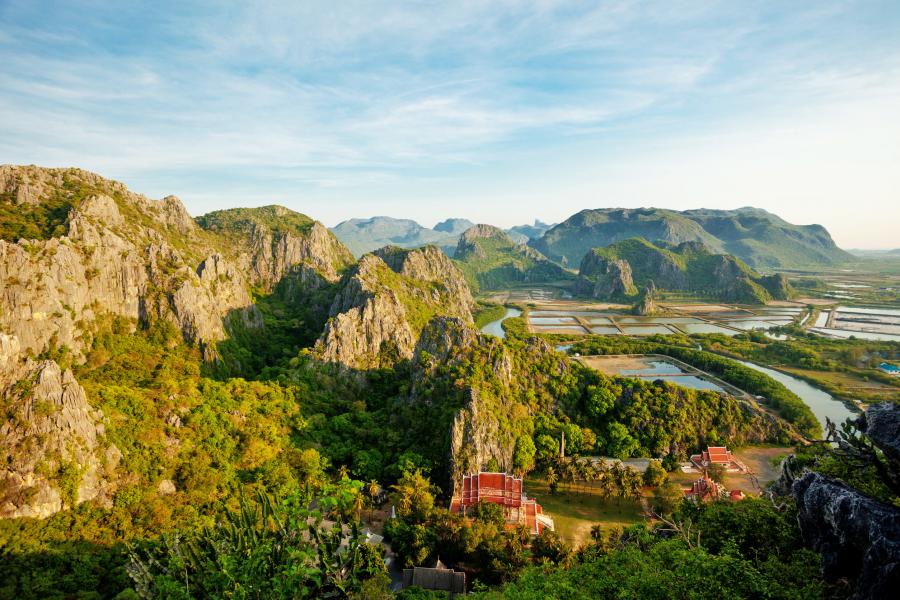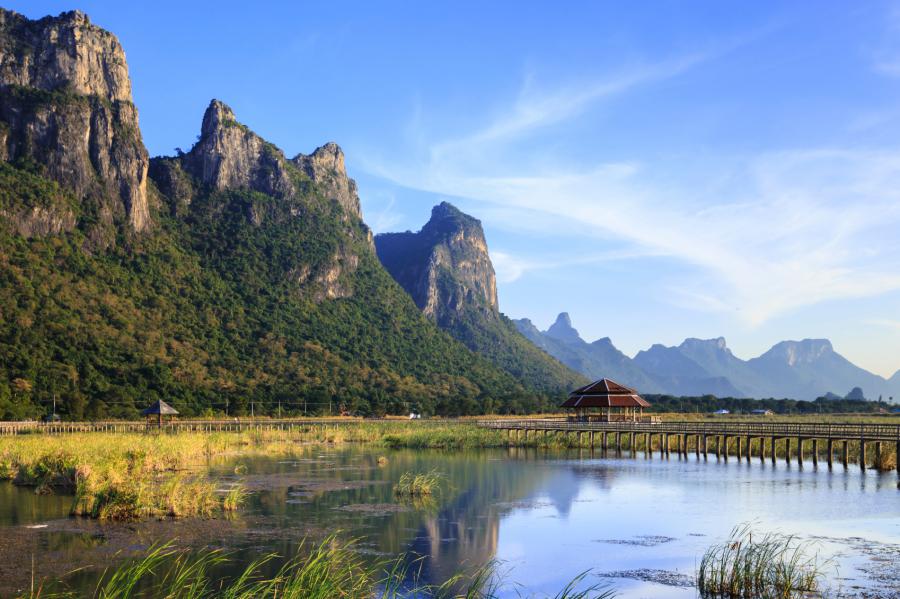 Kui Buri Wildlife Watching Area
For an additional 600 Baht, it is possible to combine this taxi service with a visit to Kui Buri National Park wildlife watching area to see wild elephants. It is the only place in Thailand where elephant sighting is nearly 100% sure any given day of year. When visiting Kui Buri, good to think about is that Phraya Nakhon Cave + lunch will take a considerable time, after that perhaps 1 or 2 more attractions can be visited before heading to the wildlife watching area around 2 pm.
Hua Hin to Khao Sam Roi Yot | Full day taxi service
The quotes shown further below are per taxi (not per person) and include fuel.
This is a taxi service only, not a guided tour. Your personal expenses like your own entrance fees, meals, refreshments not included. The driver will pay for his own expenses.
Any additional hours spent in Khao Sam Roi Yot area after 5 pm will be charged with 200 Baht per starting hour. Drive back time to Hua Hin is always included in the price.
| From | From | Type | Pax | Full day |
| --- | --- | --- | --- | --- |
| Hua Hin | Khao Sam Roi Yot NP | Sedan | 1-3 | 2,200 Baht |
| Hua Hin | Khao Sam Roi Yot NP | SUV | 4-6 | 2,400 to 2,500 Baht |
| Hua Hin | Khao Sam Roi Yot NP | Minivan | 7-10 | 2,600 to 2,700 Baht |
Reviews from our guests
By: Heike Weber | posted Wed 26 Feb, 2020
The driver was 45 minutes too late, but everything else was good.
Tour operator's response
Very sorry for the late driver. We will follow up and find out why. Although for this particular booking we don't deserve 5 star, thanks for your positive review and rating.
By: Adrian Bigaj | posted Thu 30 Jan, 2020
By: Sascha K. | posted Thu 16 Jan, 2020
Excellent overall experience. From the communication in advance to clarify all the details of the trip to the taxi driver being on time, friendly and a good driver to the beauty of the Khao Sam Roi Yot National Park. Great service I can highly recommend!!!
By: Ton Hulsbosch | posted Sun 12 Jan, 2020
The taxidriver was on time at our hotel. His car was very comfortabel.
He was prepared to be able to talk with us in English, by using a translationprogram.
We loved his style of driving. Very relaxed. We feeled save with him.
He brought us to the planned activities which were all known to him.
It was a great day in Khao Sam Roi Yot nagtional park. We enjoyed it very much.
By: David Rihm | posted Wed 8 Jan, 2020
Nice driver. All was perfect.
By: Tom Grace | posted Sat 28 Dec, 2019
Excellent service; driver on-time and very courteous. Well done.
By: Sara Lee | posted Tue 24 Dec, 2019
Taxi service is great! The driver was friendly and able to explain stuff to us when we ask him about the different locations. The car was comfortable and clean.
By: Isolde De Vogel | posted Thu 12 Dec, 2019
The taxi was on time. The driver was very friendly. We could choose the route we wanted, he didn't get a list of things we wanted to visit. He was also driving responsably.
By: Cheryl Phippen | posted Mon 9 Dec, 2019
Driver was early, courteous and delivered us safely to Hua Hin. Also, the booking process was excellent! Thank you ❤️
By: Margaret | posted Mon 7 Oct, 2019
Taxi service was good and reliable.