Hua Hin - Kui Buri elephant watching area taxi service
About our taxi services
This is a round trip taxi service to visit Kui Buri Elephant Watching Area. Once at the elephant watching area you can arrange a tour from the visitor center area while our driver will wait there until you are back from your tour and ready to head back.
Our regular taxis are SUVs for up to 4 people, minivans are for bigger groups up to 5-10 people depending on the amount of luggage. All our cars are spacious, with a/c and comfortable.
Service hours
The wildlife watching area will be open in the late afternoon. We recommend arriving there around 3 to 3:30 pm, this will give you some time to pay the entrance fee(s) and arrange a local guide from the visitor center.
How to book with us?
Simply by sending an enquiry by following the "enquiry" button further below. You can ask as many questions you like through the enquiry system, we will answer all. If you are happy with our answers, you can decide to book.
Sending an enquiry doesn't mean a commitment to booking. We answer all questions for free even if not booked.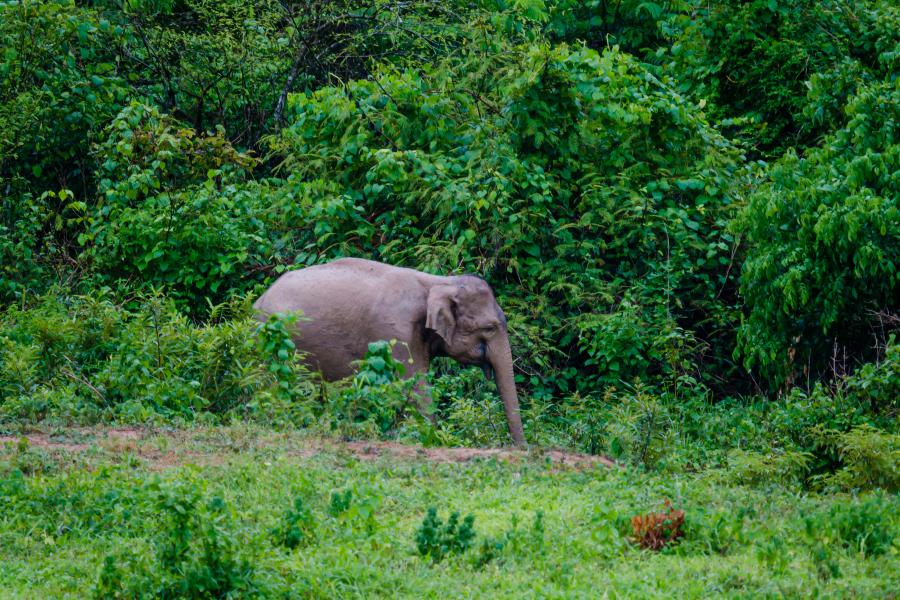 Price
The quotes shown further below are per taxi (not per person) and include fuel.
Hua Hin to Kui Buri elephant watching area
~100 km, 1h 30min
| From | To | Type | Seats | One way | Round-trip |
| --- | --- | --- | --- | --- | --- |
| Hua Hin | Kui Buri National Park | SUV | 3-4 | 1,700 THB | 2,400 THB |
| Hua Hin | Kui Buri National Park | Minivan | 6-10 | 2,000 THB | 2,700 THB |
Reviews from our guests
By: Joel Chen | posted Sun 24 Jul, 2022
By: Beryl | posted Sun 26 Jan, 2020
Very friendly, careful, and punctual driver; easy booking process with friendly person; everything was very good! Thank you very much!
By: Jochen Schmitt | posted Thu 26 Dec, 2019
a very goog trip with a friendly driver.
By: Amélie Darcis | posted Sat 9 Nov, 2019
By: Amelie Darcis | posted Sat 9 Nov, 2019
By: Gerrit Goorhuis | posted Sat 20 Jul, 2019
Great service! Drivers on time, safe journey to Kui Buri and our second trip too Pala U.
Thank you!
By: Csaba Krisztan | posted Sun 16 Jun, 2019
The overall impression is great.
The driver was nice and accurate. The contact with the park was great easy to understand and we got prompt replies.
The driver in the park was patient and the guide was enthusiastic and professional (she was great!!!)
The park itself was a lot better than expected (lot of animals)
Thank you for the trip.
Kind Regards
Csaba
By: Gordon Hermann | posted Wed 20 Feb, 2019
We had a great trip to Kui Buri National Park! Our driver was punctual, courteous and professional. The car was very clean and plenty of room for our group of six. Highly recommend!
By: Vincent Rey | posted Wed 5 Dec, 2018
good!
although the driver did not seem to have clearly understood that there was a 1st stop at the HQ instead of going directly to Huai Luek
By: Daniel Berning | posted Tue 29 May, 2018
We had a fantastic time on the tour of the park which was made possible because of the transportation service provided by Thai National Parks. It was super easy to get into contact with them and to get a date and time set up to be picked up directly from our hotel and then taken straight to the park where we signed up for a tour on the spot. After the tour was over we were taken right back to our hotel. The park was beautiful and seeing elephants and hornbills in the wild was an incredible, possibly once in a lifetime experience since we're from the United States. We can't say thanks enough to the Thai National Parks for making it so easy for us!!!