Hua Hin - Kui Buri elephant watching area taxi service
About our taxi services
This is a round trip taxi service to visit Kui Buri Elephant Watching Area. Once at the elephant watching area you can arrange a tour from the visitor center area while our driver will wait there until you are back from your tour and ready to head back.
Our regular taxis are SUVs for up to 4 people, minivans are for bigger groups up to 5-10 people depending on the amount of luggage. All our cars are spacious, with a/c and comfortable.
Service hours
The wildlife watching area will be open in the late afternoon. We recommend arriving there around 3 to 3:30 pm, this will give you some time to pay the entrance fee(s) and arrange a local guide from the visitor center.
How to book with us?
Simply by sending an enquiry by following the "enquiry" button further below. You can ask as many questions you like through the enquiry system, we will answer all. If you are happy with our answers, you can decide to book.
Sending an enquiry doesn't mean a commitment to booking. We answer all questions for free even if not booked.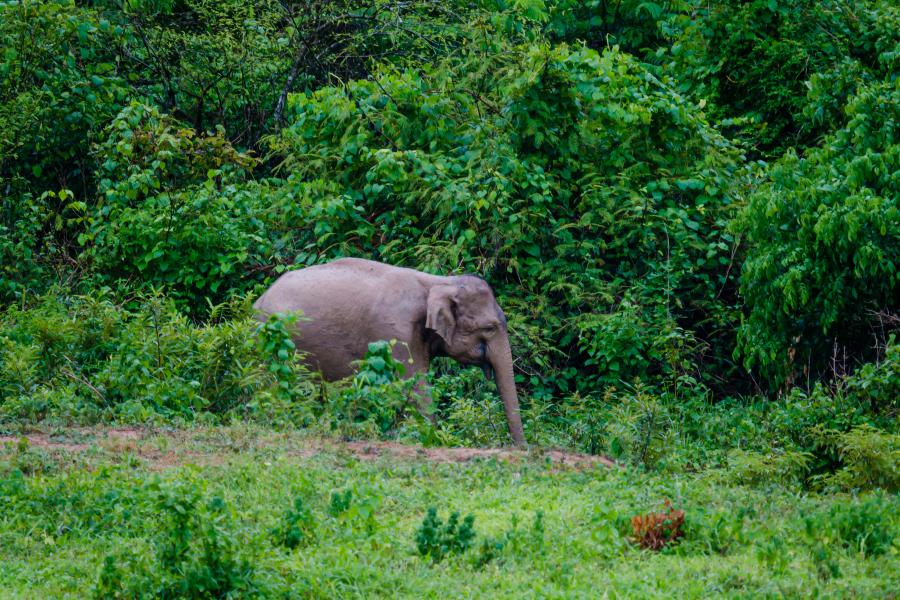 Price
The quotes shown further below are per taxi (not per person) and include fuel.
Hua Hin to Kui Buri elephant watching area
~100 km, 1h 30min
| From | To | Type | Seats | One way | Round-trip |
| --- | --- | --- | --- | --- | --- |
| Hua Hin | Kui Buri National Park | SUV | 3-4 | 1,700 THB | 2,400 - 2,500 THB |
| Hua Hin | Kui Buri National Park | Minivan | 6-10 | 2,000 THB | 2,700 - 2,900 THB |
Reviews from our guests
By: Markus Gotsche | posted Mon 21 Aug, 2023
Perfect! Friendly driver, good price and reliable.
By: Daniel Musso | posted Tue 16 May, 2023
Driver arrived early and was also very efficient in driving us there and back
By: Henri J | posted Fri 7 Apr, 2023
Great driver and comfortable ride to Kui Buri park. We were lucky enough to see half a dozen elephants that day!
By: Helen Sanderson | posted Fri 17 Mar, 2023
Waste of a day. Travelled from Hua Hin at some expense. Didn't see a single animal on whole tour. Neither did other people we encountered. Would not recommend
By: Hal Epstein | posted Sun 27 Nov, 2022
Hi
Just letting you know I had been to Kui Buri some years ago prior to the establishment of the park.Back in Thailand and at Hua Hin I thought it would be nice to show both my daughter & grandson the area.
Dealing with National Parks on line was most confusing
I thought I was booking a package
Tour from which I hoped national parks would get some benefit
As it turned out all I booked was a taxi ride from Hua Hin and then had to pay for park entrance and still more for a guided tour (
with some English)into the Park. The guiding was non existent
and the English as well.
Yes we did see elephants at a distance plus a herd of roaming buffalo.
I had brought with me my binoculars
as well as my camera & lens560 mm equivalent lens.Without these to see the elephants at 500m plus with the naked eye would have been a non event.
Please get some guides that speak english and provide your visitors with the facility to at least see the elephants with binoculars or a tele scope to give them a viewing experience.
What you do now making visitors pay for each individual section does not
provide a positive viewing experience.Make it a package deal
As it stands I could not give the tour a positive recommendation
With regards. Hal Epstein
Tour operator's response
Dear Hal,
In our taxi details page (this page) where you sent this enquiry from it clearly states this is a taxi service. The title of the page says "Taxi services", below that the sub-title says "Hua Hin - Kui Buri elephant watching area taxi service", then the third title says "About our taxi services", followed by the first paragraph below it says;
"This is a round trip taxi service to visit Kui Buri Elephant Watching Area. Once at the elephant watching area you can arrange a tour from the visitor center area while our driver will wait there until you are back from your tour and ready to head back."
.... and when you sent us an enquiry, we typed this to you in person;
"A round trip to Kui Buri Wildlife Watching Area will be 2,500 Baht with a SUV option for 4 pax.
Once there, your entrance fees and guide cost not included in our price. You will be able to arrange a guide at the visitor center where you also can pay your entrance fees."
... which after you agreed to book this taxi service with us.
There is nothing to add if you missed all these.
Further more; we haven't charged you individually for this taxi service. You paid for a taxi service, the total price of 2,400 Baht for all 4 of you, for a round trip from Hua Hin.
Well at the wildlife watching area, the safari vehicle you arranged costs 850 Baht for all of you, it is not individual. This 850 Baht to be shared between a local guide and driver, and imagine, the petrol price is in that 850 Baht too. This shared "850 Baht income" is once a day opportunity as the wildlife watching area is only open on late afternoon.
Why this safari driver requirement from park authorities? It is to reduce human/elephant conflict. Farms in the area getting raided by elephants often, particularly pineapple farms destroyed by herds. We read every year elephant either electroeluted to death, or shot by locals in Kui Buri area. Other elephants found dead in the forest far from farms, further examination reveal many bullet wounds. And also imagine all non-reported case, the hidden bit of the iceberg. That's the reason park authorities try to reduce the conflict by offering job as guide at the wildlife watching area.
By: Susana Celis | posted Sat 26 Nov, 2022
By: Patrick Weiss | posted Thu 25 Aug, 2022
Very reliable and on time. Thank you!
By: Joel Chen | posted Sun 24 Jul, 2022
By: Beryl | posted Sun 26 Jan, 2020
Very friendly, careful, and punctual driver; easy booking process with friendly person; everything was very good! Thank you very much!
By: Jochen Schmitt | posted Thu 26 Dec, 2019
a very goog trip with a friendly driver.